You write high-quality and well-researched content. You launch link building campaigns. You perform social media marketing. And, you put a whole lot of other marketing efforts.
To what end?
I suppose you want to grow your traffic and keep your existing audience engaged. That's what content marketing is all about.
With many of your competitors increasingly publishing content, though, it's not enough to stand out to make a successful sale. It's second nature to a potential customer to click the back button.
Unless…
You blow away your first-time visitor by providing insane value on your website with a huge sense of urgency.
What components will help in setting an incredible first impression?
To counter shrinking attention spans, your website must load within 2-4 seconds. And, it must have a welcoming look that's easy to navigate for a first-time visitor.
Those are the on-page basics. In this article, I've compiled 6 psychology-backed tactics that will help you woo your visitors and keep them coming back for more.
I recommend that you test the response you get from implementing these tips, by including them in your first-time visitors' funnel. Here is the first of 5 sales psychology tips. 
Who doesn't love free stuff?
When we get objects for free, we forget possible downsides. We get an emotional charge that makes us perceive the object as much more valuable than it really is. Marsh has increased its sales by 2000%, by offering free samples.
As per an MIT study on 398 students, "People appear to act as if zero pricing of a good not only decreases its cost but also adds to its benefits."
A little twist here is that people like to feel that they have earned the free stuff. The effort makes them feel a sense of accomplishment and pride.
A great way to balance successful sales transactions and offering free resources is by giving away lead magnets. You don't need to be a good salesperson to get good results with this. It also beats making a cold call.
You can give away anything, from an eBook, checklist, toolkit, survey, guide or course to just a simple pdf version of your article. And, ask people for their email in exchange (this is the payment they make for your offer).
I offer numerous lead magnets on all of my blogs. For example, at Quick Sprout, I offer a free course to my visitors to help them double traffic in 30 days.
Notice that I've associated a $300 price with it in the opt-in copy – this makes the lead magnet more precious and valuable.
I've also experimented with offering my advanced guides in exchange for emails. And, my Advanced Guide to Content Marketing brought 361,494 visitors and 8421 new email opt-ins.
Often, the highest converting lead magnets are content upgrades. Instead of offering the same resource with every blog post, you offer your visitors specialized versions, tailored for specific blog posts.
I offer upgrades with all of my posts and, in case you aren't interested in reading the full post, you can get a summary of it in the lead magnet. This also helps as a social media teaser.
This term 'content upgrades' has been popularized by Brian Dean. And, he has leveraged the to increase his email conversions by 785%.
The main aspect that contributes to the success of a content upgrade is their relevancy.
Instead of interrupting the user, who's reading a post on content marketing, by offering an eBook on SEO, you give him a cheat sheet to implement the strategies that you mention in your content marketing article.
Successful salespeople understand the benefit of the small "yes" in later getting the bigger successful sale from a potential customer.
So, another way of keeping your lead magnets relevant is by creating one for each popular category of content that you offer on your website. This way, you don't need to create a special resource for every post you write.
Derek Halpern uses 3 comprehensive courses as lead magnets on his website. And, he uses them with his blog posts, when appropriate.
You might get lower conversion rates with such category-based lead magnets. But, you'll save some time, as compared to specific content upgrades for every post.
If your blog gets 5000 visitors a month and you manage to convert even 200 of them into subscribers, then you'll add 2400 extra people that serve as a source of repeat traffic each year.
It's a good idea to build this funnel; any good salesperson can convert with these numbers, but you don't even need to be good to increase successful sale numbers.
Email has been a major contributor of traffic for all of my blogs.
2. Design your website professionally and format your content to appeal to the scanners
Shorter attention spans and smaller screens demand that your content be really engaging a potential customer to capture their attention.
But, a first-time visitor will form an impression of your website within 50 milliseconds. Within this short period, web users decide if they stay on or leave your website. And, another study found that 94% of first impressions are design related.
There are two major takeaways from the above points:
Buying an elegant looking theme (if you're on WordPress) or hiring a professional designer is critical. What's equally important is crafting better website copy for scanners, because only 2% of visitors actually spend more than two minutes on a blog.
I've already covered formatting, in detail – here, here and here. Let me quickly summarize 4 key points again:
1. Writing large chunks of text and long-winded sentences makes for a painful reading experience. Rather, keep your sentences short and try to write 3-4 lines per paragraph. The Hemingway App is a great tool to simplify your writing.
2. The first few paragraphs are critical for retaining your readers. So, craft strong beginnings that quickly grip your audience.
One great way of writing compelling introductions is using the inverted pyramid style while writing.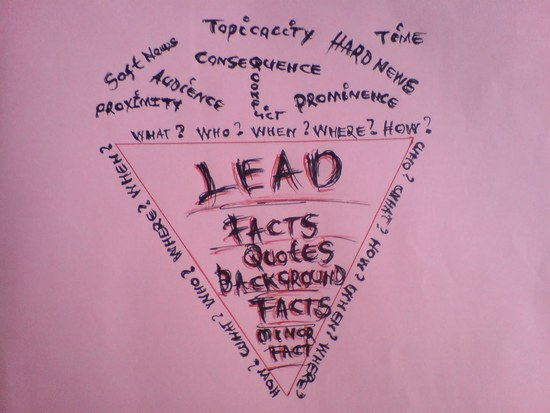 You can also use Brian Dean's APP method (Agree, Promise, Preview), to ensure that your readers stick around.
3. Using relevant images in your blog posts is a great way to break up content and provide breathing space to the reader. Ok Dork found that articles with at least one image got 43% more shares than pure text content.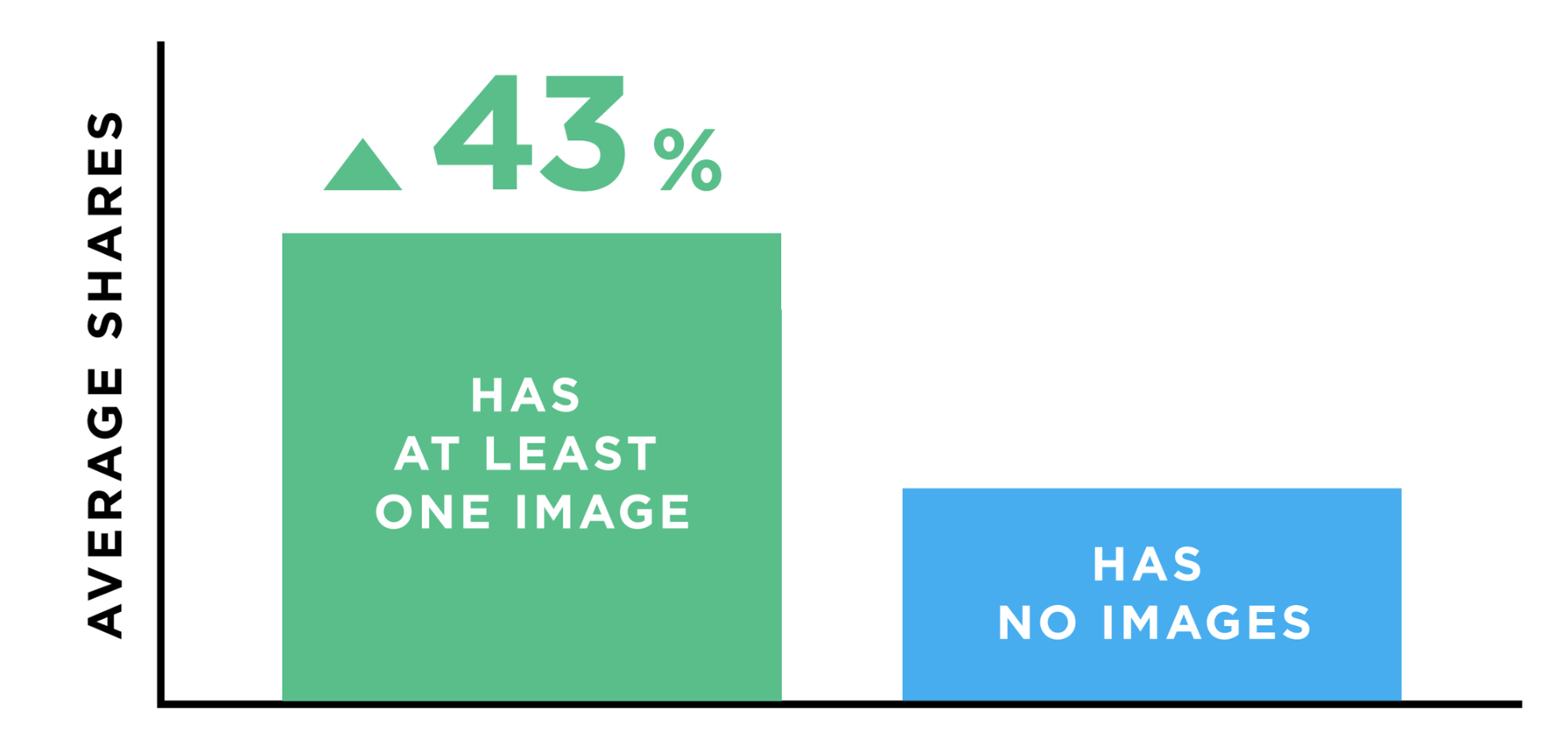 Blog Pros, in their analysis of 100 very popular blog articles, found that they had at least one picture for every 350 words.
You can design custom images for your blog without compromising quality by following the instructions in my guide here.
4. Highlight the key arguments and ideas from your articles with block quotes. They are a great way to draw a visitor's attention and slow the scanners down.
In his articles, Brian Dean regularly features quotes from authoritative people, or his readers that got great results.
For a very basic quote, you can use the following HTML code:
<div class="expertbox">Type in your expert content here.</div>
3. Show off your recommendations and associations with huge brands and industry influencers
Influencer marketing has gained a lot of steam in 2016 – 59% of marketers will increase influencer marketing budgets in 2016.
Wonder why?
Because 92% of people trust recommendations from individuals (even if they don't know them) over brands. 
The internet isn't a safe place for consumers. There are so many sales people and make money online scams that even authoritative bloggers like Derek Halpern have received "you're a scammer" emails.
So, how do you prove to your website visitors that you aren't a cheat that compromises integrity to increase sales?
Social proof…
It's a powerful engagement-driving tool that can send your conversion rates through the roof.
A simple example is the conversion-rate-experts.com website below, showing off their client associations with esteemed organizations.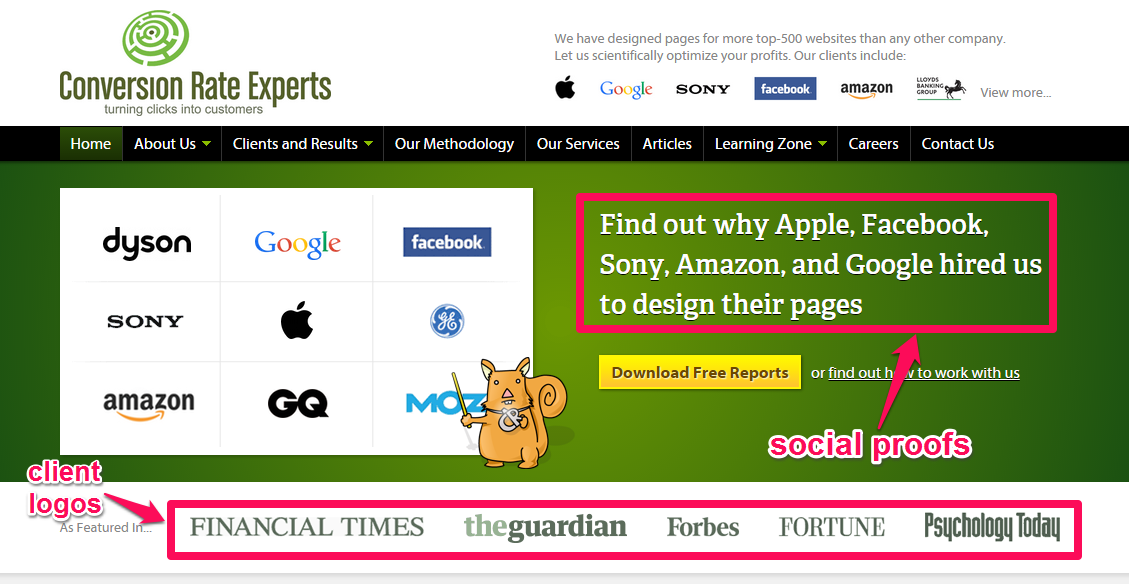 Similarly, Crazy Egg's homepage also used to have just two elements – the URL box that brings visitors a free trial and a section showing off to current and past customers.
At Quick Sprout, I share client testimonials to establish myself as an authority and get more leads for my consultation.
Alright, so how do these testimonials and other kinds of social proof impact successful sale conversions?
Voice.com increased their conversions by 400%, by adding a row of customer logos.
Express Watches increased their sales by 58%, by merely adding a reviews widget on their website.
An advanced version of social proof is case studies. It walks your prospects through the exact steps you took to improve a previous client's sales/conversions. And so, it addresses most of the objections of prospects.
This comes from old school sales psychology tips used in a variety of industries over the decades. And they word in social media and content marketing beautifully.
I've personally used case studies to grow my sales by 185%.
The best part about social proof is that it is effective in raising your loyal audience for every industry. And, there are so many types that you can choose to get started. If you want to explore social proof types and actionable strategies for building social proof, read this article.
4. Craft benefit-oriented webpage copy and compelling titles
Coming back to the people's time scarcity and lower attention spans:
It's difficult to get users to take the first step and start reading.
A simple solution that NNGroup recommends…
Writing user-centric copy that highlights the benefits of your products to the user. Here's an example they shared of feature-driven copy.
Vs. benefit-driven copy.
So, how can you implement this tip in your blog posts, to attract the attention your blog visitors?
By putting the benefits of implementing the strategies you share in your blog posts, front and center.
For instance, Brian Dean uses benefit-rich subheadlines to increase the perceived value of his blog posts, instead of writing random sub-headers that only break up the content for better readability.
He includes benefits in the subheadings, to ensure that his readers stay around to complete the article.
See, your readers always keep questioning, "what's in it for me?"
This is why benefit-driven copy works best – especially in your sub-headings, but also in your article titles.
If you feel that this approach in crafting titles will portray a salesy image, then use clear and specific headlines that shows the visitor what to expect from your article.
Try to meet your audience needs with your titles. Provide "make decision" concepts that appeal to their sense of urgency. And, create a scarcity that can only be met by clicking on the headline and reading your article.
Most popular bloggers get social shares due to the urgency they create with their titles.
5. Conduct keyword research, stalk forums and talk in the exact language of your audience
Marketers have complicated keyword research, the most basic tenant of every SEO campaign, with numerous tools and methods.
Its actual meaning is lost between metrics, like keyword volume and difficulty to rank.
Essentially, keyword research boils down to the following couple of elements:
finding the subjects that are in demand by your audience and the ones that have been gaining more search volume with time,

extracting the exact language that they use for talking about their challenges (it breeds familiarity and makes your reader feel comfortable hanging out on your website).
You might doubt the significance of the second aspect – talking in the language of your reader. But, it's the very important when you run PPC ads.
Here's an example of an ad, with its message not matching the message on the landing page.
Needless to say, when a visitor does not find the offer that is promised on the ad, he/she frequently abandons your website.
Instead, aim for exact match copy and CTAs between your ad and landing pages.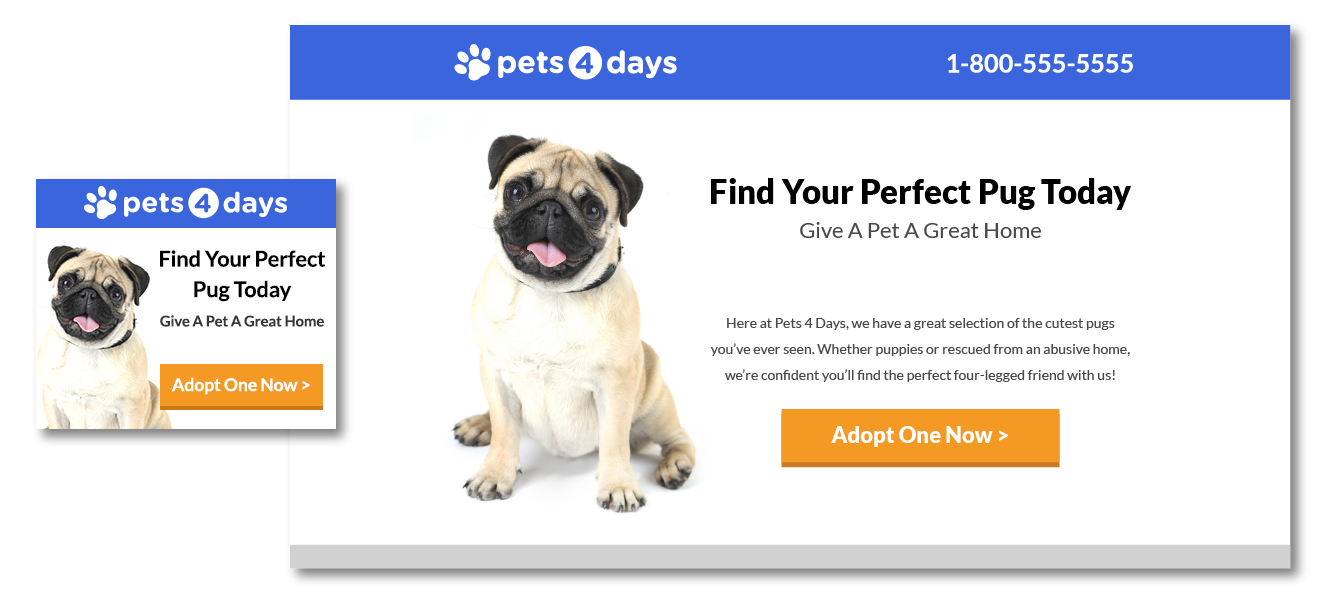 Similarly, you can stalk niche forums to extract the exact language used by your audience.
Brian Dean did this for a post he wrote on TrustRank. He found that many people were using a variation of the phrase "Google hates my site."
So, he used the keyword in the title and then naturally repeated it in the first couple of lines of his post.
The result?
It helped him rank for the low-competition keyword (it was mostly used by forum users – so it's probably not showing in your typical keyword research tool).
Besides ranking for long-tail keywords, you'll also build up authority to the page and maybe start ranking for the high-traffic driving main keyword. Just like that, Brian Dean started ranking for the keyword "Trustrank."
You can also find the phrases that are used by your audience in course descriptions on Udemy.
And, by using tools like FAQFox, you'll find questions that your audience has asked on the internet.
For further reading, I recommend the 5 modern keyword research strategies here.
Conclusion
The internet is full of information that's irrelevant for users. If you put in the extra effort to truly understand your audience and show them that you care about them, then you'll be able to woo them.
Take action now. I want you to implement just one tip from the article. Start with doing better keyword research and editing your existing content to get closer to successful sale numbers.
Or, format your content for better readability and visual appeal. As an alternative, create a special section demonstrating your expertise in the words of an authority in your industry.
Do you use any other strategy for wooing your audience?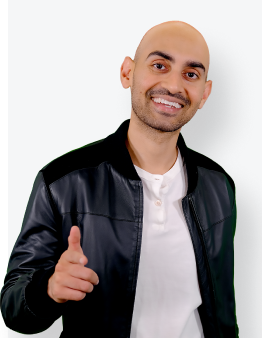 See How My Agency Can Drive More Traffic to Your Website
SEO - unlock more SEO traffic. See real results.
Content Marketing - our team creates epic content that will get shared, get links, and attract traffic.
Paid Media - effective paid strategies with clear ROI.
Are You Using Google Ads? Try Our FREE Ads Grader!
Stop wasting money and unlock the hidden potential of your advertising.
Discover the power of intentional advertising.
Reach your ideal target audience.
Maximize ad spend efficiency.