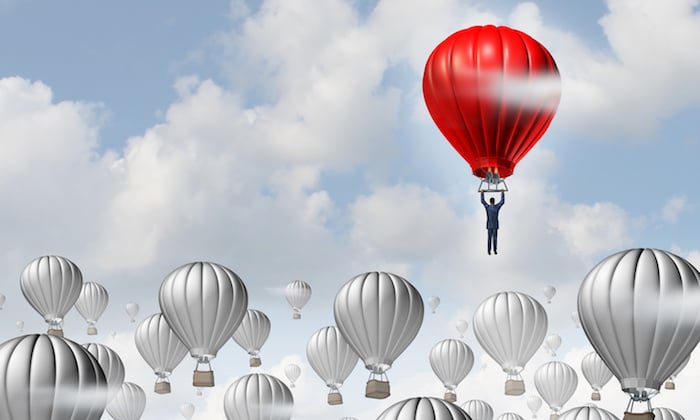 Are you hoping to to take your blog to the next level? Are you struggling with a particular aspect of your marketing plan? Even if you are faced with a seemingly insurmountable challenge, there is always somebody out there who can help. These are bloggers who specialize in different digital marketing niches, including
content marketing
affiliate marketing
email marketing
inbound marketing
marketing automation
(And often all of the above, as most of these digital marketing sectors overlap.)
There are thousands of marketing blogs, many of which you can emulate if you want to reach the top of your niche. 
In this post, we're going to dig into the finer details of 33 top marketing blogs. With each one, we'll inspect a particular aspect that deserves your undivided attention, whether the focus is on content strategy or, specifically, boosting your conversion rate.
By the time you are finished, you'll have a better idea of what makes each one of these blogs so successful and how they can help you and your marketing campaign. You will also be equipped with actionable steps to help boost the reach and authority of your blog.
Let's get it started! 
One of the first parts of building a strong content marketing campaign is getting your team on the same page and coming up with a content strategy for the weeks, months, or years ahead.
The more topics you cover and the more writers you bring on board, the more important it is to create an editorial calendar.
Through my experience with the Content Marketing Institute blog, I know firsthand that staying on track and on schedule is of utmost importance to the organization.
You don't have to look past the main page of the blog to realize that content is being published regularly, that many authors are featured and that a variety of topics are covered, from marketing automation to optimal strategies for raising your conversion rate.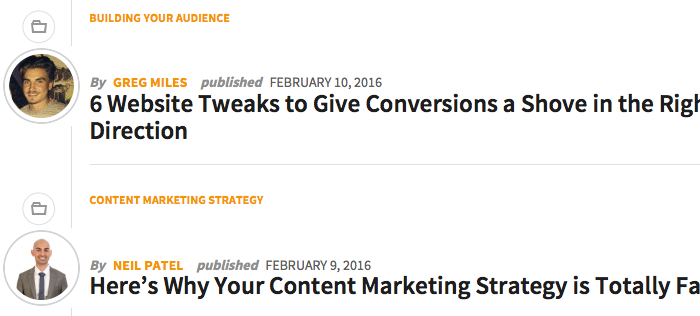 2. Copyblogger – Headline Use for Organization and Guidance
A blog without headlines can turn into a nightmare for the reader. The person eventually leaves the page, never to return.
Copyblogger understands the importance of targeted, detailed headlines. This holds true both for the creation of blog post titles – such as Why Lazy People Make the Best Content Marketers – and for the subheadings.
Take it from them: headlines should play a large role in content marketing strategy.
The aforementioned post is roughly 1,100 words in length. With six subheadings, readers are given additional guidance an average of every 185 words or so. This helps organize the content and move the conversation along, all while keeping the reader's attention.

3. Backlinko – Grab the Attention of Your Audience
The Backlinko SEO blog is best known for its high quality content, detailed approach and hundreds (sometimes thousands) of comments on each post.
But the biggest thing you can learn from Backlinko is the importance of immediately grabbing your audience's attention.
Outside of the headline of the most recent post, there is no blog content above the fold. This space is reserved for a well placed button prompting readers to opt-in to "get more traffic." 
It's also worth noting the well-placed testimonial, courtesy of yours truly, located beneath the button.

With my other blog, Quick Sprout, I make it a habit of getting straight to the point. If you want to captivate the reader, it is a must to deliver on your headline. And by deliver, I mean sooner rather than later.
In a recent post, I discussed five scary digital marketing techniques that are worth the risk. Readers don't want to wait around to learn the five tips, which is why I dove into the first one within the first 300 words.
With more than 4,100 words total, less than eight percent of the content was devoted to the introduction. After that, it was all "meat and potatoes."

5. ConversionXL – Provide In-Depth Content
Go back in time 10 years.  In-depth, detailed content had little to no bearing on search engine rankings. But, as you know, the game has changed. 
While length is important, length with top notch quality is what you are after. This is one of the areas in which ConversionXL excels, and one of the areas in which you and your team should be focusing. Your content strategy will be built on the idea that you need to produce ultra high quality work, which can be accomplished through giving your content texture.
Its post on human behavior is an excellent example of this. As you scroll the post, there is much more than words. Every section tells a story. Every section provides actionable advice. Furthermore, the primary content partners nicely with blockquotes, headlines, screenshots, videos, and images.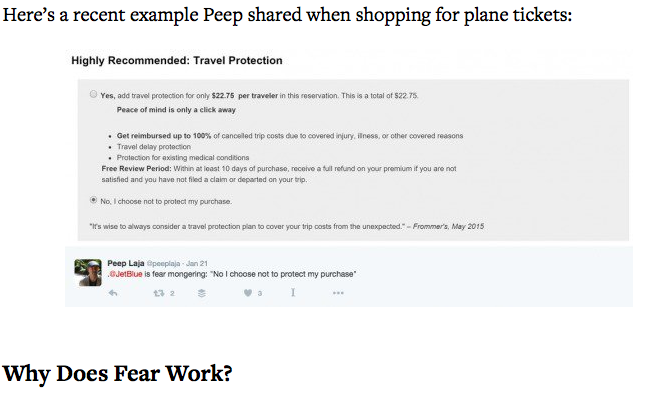 Images are a big part of a successful blog, but only if used in the appropriate manner.
An image should complement the content. It shouldn't be added for the sake of taking up space.
Convince & Convert knows when to add images, when to leave them out and how to avoid "image overload."
In a short post, such as this one, there are only three images. Move onto a longer post, however, and you can expect the number of images to reach 10 or more.
Don't just use images, use images the right way.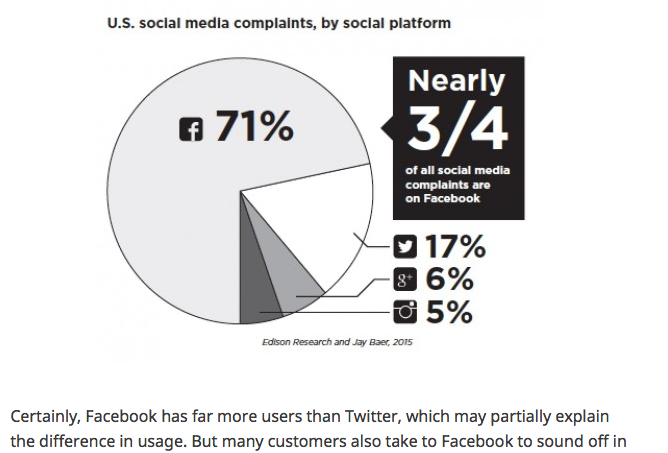 7. Moz – The Use of Case Studies
If you understand the importance of publishing unique, useful content, you should realize that case studies can be your best friend.
Moz takes this to a whole new level, publishing case studies that works of art.
For example, this case study outlines how one website recovered from an ugly SEO situation and revamped their marketing strategy.
Moz had another option: the blog post could have provided basic information on steps to take when faced with SEO disaster.
However, the use of a case study allowed for greater depth, screenshots with examples and a strategy for others to fall back on.

8. TopRank Marketing – Social Marketing, Social Proof
You may understand the power of social media marketing, but that doesn't mean you are making life easy on your readers and taking advantage of every strategy that is available to you.
TopRank makes it easy to share content socially, thanks to a list of social icons displayed prominently above each title.
Even more important is the number to the left of the icons, which displays the total number of shares. The bigger the number, the more important the content appears. This can also prompt other readers to share the content, knowing that their peers have already done so.

9. Econsultancy – Link to Useful Content
Don't be stingy when it comes to linking to useful content. If it can help the reader, it's worth a link.
If you want to mimic a blog that does this well, check out some of the work by Econsultancy.
In this particular post, there are links scattered throughout, including two that standout after the first paragraph. Along the way, there are a variety of internal and external links, all of which support the content and/or provide the reader with another avenue to learn more. The information you'll be presented with here should help you refine your overall marketing strategy if it needs some nourishment. 

10. Neil Patel – Comment Interaction
It's one thing to write and publish a blog post. It's another thing entirely to interact with your audience. Remember, the primary purpose of each post is to teach your audience something, and content marketing as a whole is about engaging with the audience that buys your product.
If you are successful in providing quality information, more and more comments will show up on your blog. You can either ignore these or you can get involved.
I do my absolute best to respond to every comment, even those that do not ask a specific question. Even after a post is published, it's important to continue to provide quality content. Answering comments allows you to add more value, while gaining the trust of your audience.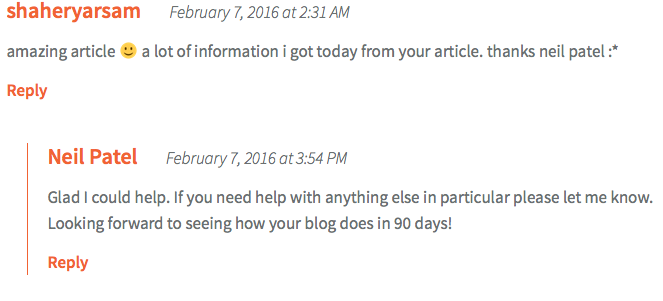 There's only so much you can say about a particular subject, right? Well, Social Media Examiner proves this theory wrong.
By taking a broad approach to your niche, but without losing focus, there is always more to be said. Things change, new trends come about, news happens and so on.
Just in the past five days, this digital marketing blog has touched on numerous aspects of social media marketing, such as: the use of video in a social strategy, how to optimize Facebook ads and things to know about LinkedIn Mobile.
Broaden your scope to keep your content calendar full and to avoid boring your audience.
As important as it is to vary content within your niche, you must also stay on topic.
Experiment Engine is a blog that focuses on conversion rate optimization. Period. It never strays off-topic. If a new post is published, you can be rest assured that it will focus on conversion rate optimization in some form or another.
Staying on topic allows you to more easily plan and create quality content. It also helps your audience understand what they are getting by following your blog. If somebody is interested in conversion rate optimization, they know that Experiment Engine will give them guidance on this and nothing else.
In the early days of your blog, before it gains traction, you may be the only writer. There is nothing wrong with that. Heck, this strategy can generate results even after you hit it big.
But, there are times when a multi-author platform works best and this is what you see on Search Engine Watch (among many other top marketing blogs).
The benefits of a multi-author approach are varied, including the ability to publish more content, unique viewpoints and the option to leverage the audience of each writer.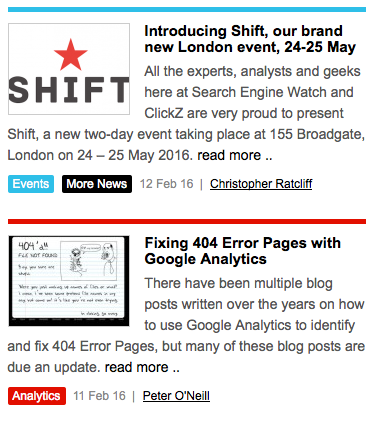 14. Brian Solis – An Authoritative Voice
Authority is something that is earned, not given. There are things you can do to speed up your growth, such as proving your authority in each post you publish, just as there's more than one marketing strategy out there that might work well specifically for you.
Brian Solis does a nice job of helping you prove your authority by taking a unique view on topics that are anything but mainstream.
For instance, you won't find many blogs with titles such as "The Embrace: Creating Experiences that Nurture Attention into Engagement."
If you want to be an authority on your subject, don't tackle the same topics and issues as the competition. This isn't a rule that applies solely to online marketing. It can be implemented in every niche imaginable.

When a reader reaches the finish line, you don't want them asking "where is the rest of the content?" Nobody should ever walk away from your blog with the feeling of being half full.
Despite a multi-author set up, every post on the Duct Tape Marketing blog fills the mind of the reader.
This post, discussing the benefits of alternative domains, is a perfect example of one that slowly but surely fills the reader with the necessary information. By the time it comes to an end, the author is able to close it down with a question and simple conclusion that brings everything together.
16. Buffer – Stats, Stats, and More Stats
I'm not going to spend a lot of time on this point, but, remember this: statistics validate your content, enhance trust between you and the reader and give your audience confidence that you know your stuff. They also enable you to see if your content marketing efforts are helping you reach your goals. 
Many posts on the Buffer blog are full of crazy good statistics. A post on how to boost traffic through advertising utilizes statistics such as:
"For example, at Buffer we have 47,000 likes on Facebook and our posts reach an average of 1,600 people. We reach 3.4% of our audience!" 
Enough said.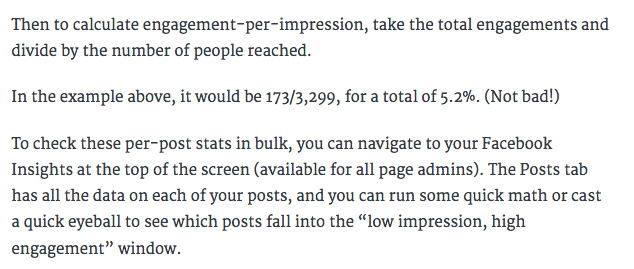 17. Ignite Social Media – The Proper Use of an Introduction
Ignite Social Media has taken to providing a short introductory description of the content, giving the reader a clear idea of what's to come.
Here is an example:
"Snapchat may just be the most powerful storytelling tool in social media today. Once a disposable photo messaging app, Snapchat's various updates and new features helped it gain popularity and marketing potential amongst brands and celebrities."
Providing this in the first paragraph gives you an opportunity to hook the reader.

It doesn't matter if you are a one-man show or part of a bigger digital marketing team, a unique approach sets you apart from the crowd.
The MarketingProfs blog has the same basic layout as many others, complete with the most recent posts first.  But, there are some unique features that allow it to standout.
There is a button prompting readers to sign up for access to exclusive resources. There is a category list in close proximity to the content. There is also a running total of how many posts have been published (more than 8,300).
These subtle changes can make a big difference.
A blog without readers is nothing more than a place to record your thoughts. Increasing your readership means a laser targeted focus on your core audience.
The user centric approach of Social Media Today is a thing of beauty. Every post "talks to the reader." Every post gives the reader the feeling that they are the only person that matters.
This type of personalized, user-centric strategy is not easy to master. But, once you know how to write for your audience, the end result is more engagement and a greater sense of accomplishment.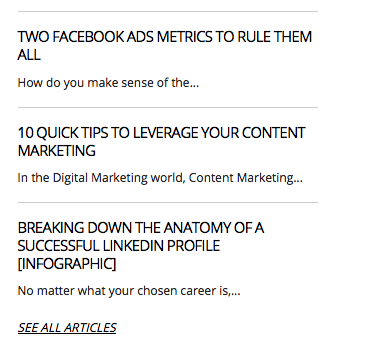 There are times when a reader is intrigued by a post, but doesn't want to digest every last word. This is why scannable content is important.
Search Engine Journal does this well.  Most of its blog posts are able to be scanned in a fast and efficient manner.
Larry Kim penned this blog post on Twitter ads. The paragraphs are short, there are plenty of headings and the content flows from one idea to the next.
When you write content that can be easily scanned, you can connect with a larger audience. Posts on this popular blog will furnish you with a number of excellent content marketing tips to help you hone your overall content strategy. 
Have you ever encountered a blog post that is a pain to read? You are interested in the topic, but everything about the post is choppy.
Search Engine Roundtable has a way of making its content extremely easy to read and understand. Even advanced topics are presented in a simplified manner. Even conversion rate optimization is made exciting. (Well, it should be anyway.)
You never want to alienate your audience. You want to provide ideas in a clear and simple manner. Read this digital marketing ideas to glean some inspiration. 

List posts, such as this one, are easy to scan. Better yet, people love sharing list posts on social media.
There are many types of list posts. The one you are reading is a compilation of a variety of resources.  Kissmetrics introduces another type, as you can see in titles such as:
4 Simple Lessons to Improve Your Customer Acquisition Strategy and The Five-Step Process for Writing Powerful Call-to-Actions By Reverse-Engineering Customer Mindsets.
When you run out of ideas, you can always fall back on a trusty list post.
23. ProBlogger – Work Reviews Into Your Blog
In the internet marketing space, there is no shortage of services to review. This holds true in almost every other niche, including nutrition, travel, automotive and many others.
ProBlogger regularly reviews marketing related services, such as Edgar. Through unbiased reviews, you can provide your audience with detailed information on any product or service that could benefit them.
And, with the right approach, reviews can also be used to generate affiliate dollars.

24. HubSpot – Organization
Maybe your company has more than one blog. Or, maybe you want to segment your content so your audience can more easily find what they are looking for.
HubSpot shows you how this is done, organizing content on its blog homepage into three distinct categories: Marketing, Sales and Agency.
You don't have to use this exact layout, but you should take cues from HubSpot. This type of organization will reduce bounce rates and keep visitors on your blog longer.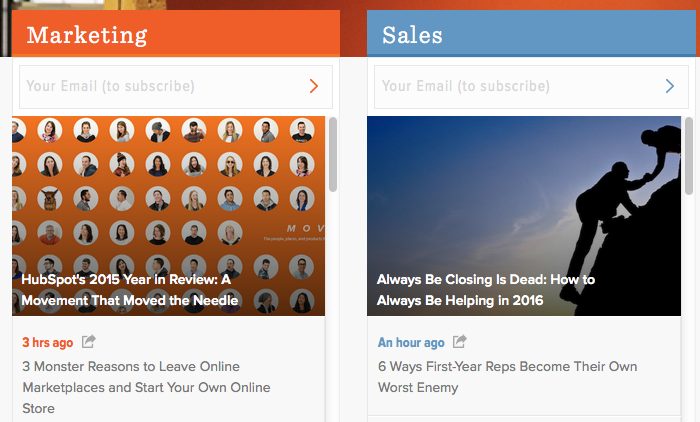 Regular updates are essential to a successful blog. Without this approach, you will find your traffic in a constant state of flux.
It would be easy to list a multi-author blog here, as these alway have fresh updates. But, instead, let's look at Conversation Agent.
This blog, managed by Valeria Maltoni, is a one-woman show. Despite the fact that she is the only author, from what we can see, the content never stops. The blog is updated with killer content almost every day.
Conversation Agent proves that even a one person blog can be updated regularly. If you put in the time and if you are dedicated, it will pay off soon enough.

This success tip goes along with scannable content (#20 above). Your readers should be able to identify key takeaways without searching too hard.
In this post on Internet Marketing Ninjas, the most important data is presented in bullet points. Furthermore, it is broken down within the appropriate category and under a well-defined heading.
You know some people will scan your content for the best information. Make it easy for them by ensuring that the key takeaways stick out like a flashing light.
27. ReelSEO – Video is Your Friend
When it comes to video marketing tips, tutorials, and advice, ReelSEO is a major player. As expected, the company subscribes to the "practice what you preach" mantra.
Visit any post on the ReelSEO blog, such as this one, and you are likely to find the use of at least one video.
Videos can make any blog post more interesting. And, when combined with high quality content, images and infographics, you end up with something that you can be proud to share.
With video marketing continuing to grow in popularity, it's a must for your blog. You can create your own videos or pull content from video sharing services. Either way, think about how it can benefit your blog.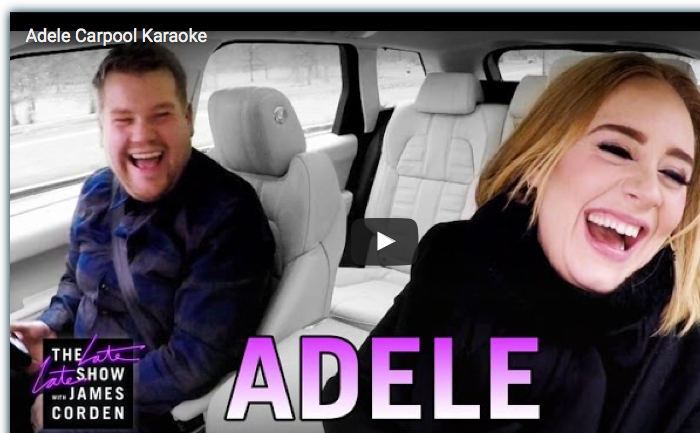 28. Unbounce – An Attractive, Helpful Sidebar
Here's another digital marketing tip.  Your sidebar can be your best friend or your worst enemy.
If you decide on a design that utilizes a sidebar, make sure you do it the right way.
The Unbounce blog utilizes a right sidebar that is not only attractive, but also helpful.  It provides categories such as: most recent posts, search, social media, upcoming events and top blog posts.
Your blog's sidebar can be as basic or advanced as you want. Just make sure it looks good and is helpful to your audience.
There was a time, not that long ago, when most blogs had the same basic look. Header, main content area, right sidebar and footer. You know what I'm talking about.
And then, things began to change. As blogging picked up steam, designs evolved.
If you want your blog to standout for its design, consider what companies like Social Media Explorer are doing.
Rather than the traditional layout, titles are segmented in 12 colorful boxes. As you scroll down, the blog then takes on a more traditional appearance.
You don't want your layout to confuse readers, but you do want it to be different in a good way.
Pop-up ads are not what they used to be. Pop-ups that serve a purpose, however, can do your blog a lot of good.
Chris Brogan's blog is a great example of pop-up success. As you attempt to leave the site, you are served a pop-up allowing you to opt-in for "free updates."
It's a clean, modern pop-up that clearly states its purpose. Taking this one more step, he adds legitimacy to the pop-up with this content:
I respect your privacy. Your information stays with me.

31. John Chow – Push Your Services
Your blog is a place for sharing ideas, helping your audience and building your authority. It is also a place to generate business.
When it comes to product promotion, John Chow knows what he is doing. Before you ever reach the latest blog posts, you are presented with a variety of options. You can sign up for his WordPress installation service, purchase his book and more. Can you imagine what his conversion rate might be?
Don't push your products and services so much that your audience is scared away. As long as you make the information available in all the right places, potential customers will find it.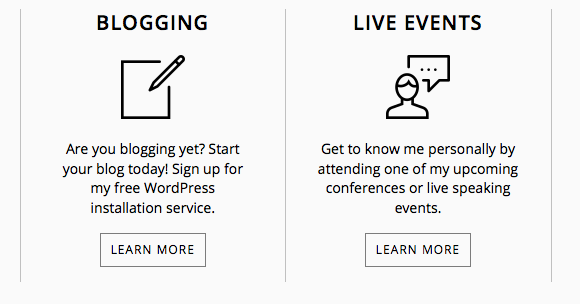 It doesn't matter how much traffic you get or the niche you want to dominate, building a list for your email marketing campaign is a must. This is a task for day one and every day beyond.
Jeff Bullas doesn't go overboard with his approach, but it's effective. At the top of the right sidebar you will find a "subscribe" button. It's above the fold, easy to readand simple for a visitor to complete.
If you want to make the most of future marketing endeavors, now is the time to start your list building efforts. This begins on your blog.
33. Business.com – Create and Post Infographics
There are many reasons to create and post infographics to your blog. They are attractive, fun to read and shared often. Subsequently, they can help boost your credibility and traffic.
Business.com publishes a lot of content and many of its best pieces are accompanied by an infographic.
For an idea of where to start, this post on Facebook marketing tricks will point you in the right direction. The content itself is a great start, but the infographic is what makes the post complete.
Conclusion
If you are among the 76% of B2B marketers (or anybody else) with plans to create more content, now is the time to learn from the best.
These digital marketing whizzes know how to wax poetic about a number of topics associated with content strategy (and more), from affiliate marketing to email marketing to marketing automation. Many of the inbound marketing and other digital marketing tips presented in these top blogs should help you strengthen your marketing campaign and achieve success. 
Did I miss any other topnotch digital marketing bloggers on this list? Who is your favorite content marketing blogger/strategist? Let me know in the comments below.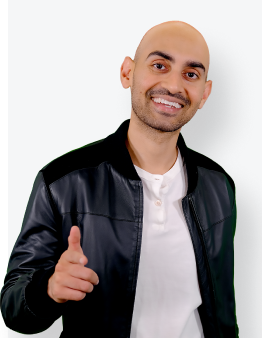 See How My Agency Can Drive Massive Amounts of Traffic to Your Website
SEO - unlock massive amounts of SEO traffic. See real results.
Content Marketing - our team creates epic content that will get shared, get links, and attract traffic.
Paid Media - effective paid strategies with clear ROI.