The average person spends almost two hours on social every day.
This comes out to five years and four months on social apps over the course of a lifetime.
While this number may sound astounding, we all know how great social can be for connecting and engaging with friends, family, and brands we love.
We can get the news, family updates, and current events we need to feel connected all in one place.
But what's one thing we're not looking for on social media?
A sales pitch.
Promoting on social is like walking a tightrope.
When your messaging is on, your social posts can pick up wind, sending your products flying off their digital shelves.
But when you get your messaging wrong…
Coming across too salesy on social can leave your followers racing for the "unfriend" button.
To help you find the perfect balance, here are six ways you can use to promote your e-commerce products without being too salesy.
1. Connect with bloggers and influencers
Friends and family have always been one of the most trusted sources for product recommendations.
According to Collective Bias, 70% of millennials are influenced by their peers' recommendations when making a purchase.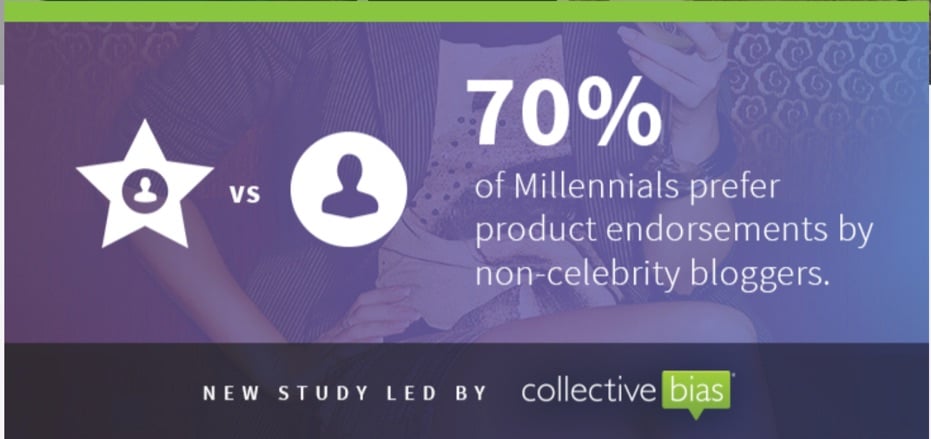 However, with social, that pool of trustworthy "peers" grows exponentially.
Customers now have more than just their friends and family to get recommendations from. They can turn to bloggers, influencers, celebrities, and the trend-makers themselves.
So why not work with those influencers to become a part of the trends they create?
By establishing partnerships with influencers and bloggers, you can increase product sales and grow a more loyal customer base.
Influencer marketing is a driving force when it comes to social promotion because of how seamlessly posts can blend into a user's timeline.
In fact, Tomoson places influencer marketing as the most effective strategy for acquiring new customers quickly.

Establishing relationships with influencers, bloggers, and trusted celebrities gives you the opportunity to promote your products effectively without sounding like a sleazy salesperson.
After all, the post isn't coming directly from your brand.
Instead, influencers share their own insights about your products – building awareness and trust.
While some brand posts are organic, the fastest and easiest way to get your products on an influencer's feed is through sponsored content.
Although the post may be paid, you want it to seem as natural as possible.
Let's not forget Scott Disick's major ad mistake.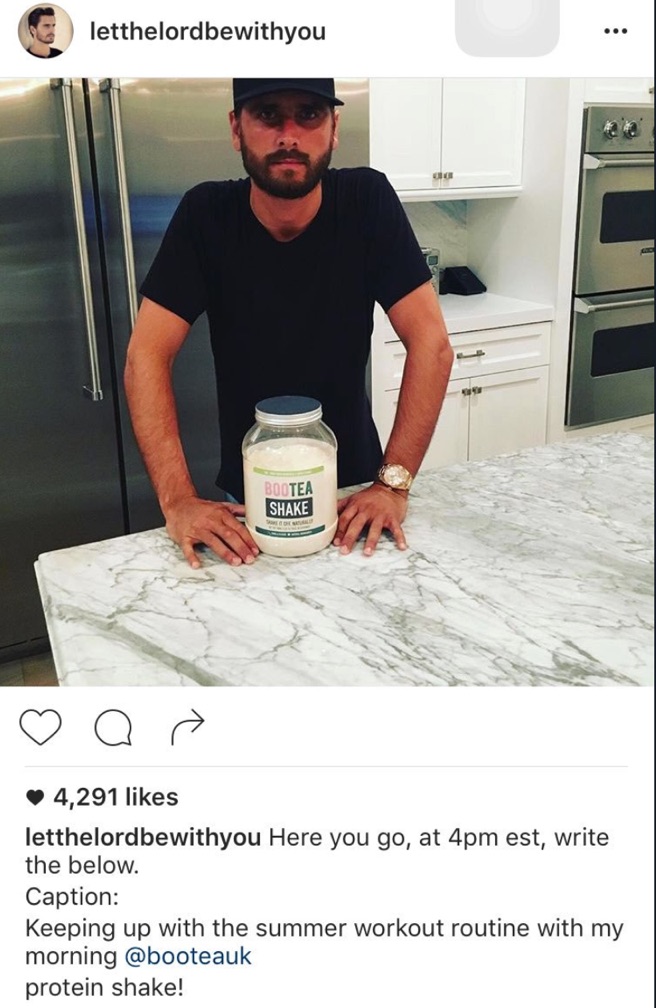 Work with influencers who are excited to show off your brand – and willing to put in the effort to create a caption that helps your content stand out.
Also, make sure they're appropriately tagging each post.
According to some new boundaries established by the FTC, each post needs to be properly tagged as sponsored.
The easiest way to do this is with a simple #ad or #paid, like we see in this example of a sponsored post from Naked Juice.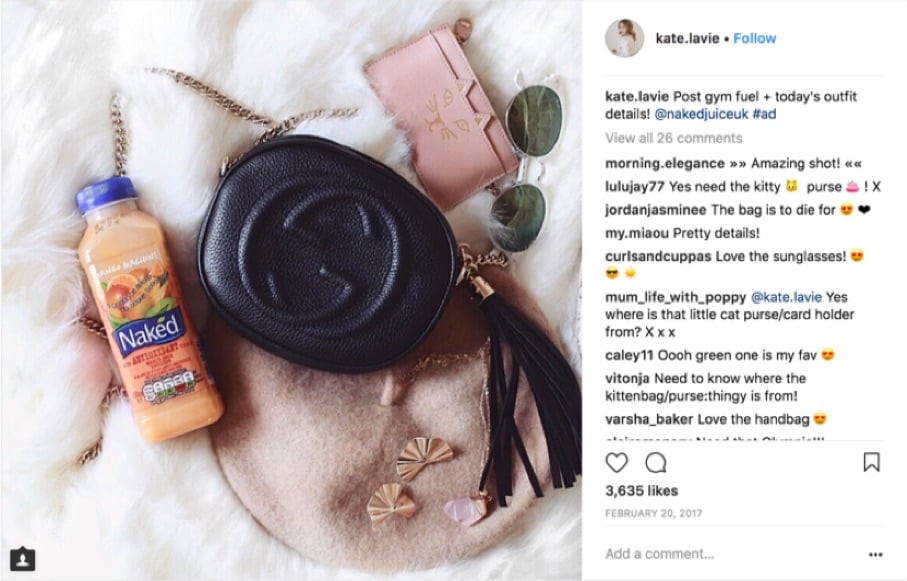 Unfortunately, this kind of hashtag (literally) screams advertisement.
These posts can come across a bit spammy, potentially pushing away followers for both your brand and the influencer you're working with.
Although you need to make it clear that the content being shared is sponsored, you are free to get creative with how you do so.
Try labeling your sponsorships as partnerships. According to this tweet from the FTC, a "partner" hashtag is a unique – and ethical – way to let followers know you've paid for the post.
Yes, hashtag XXPartner should be good enough when XX is brand name. #Influencers101 https://t.co/L8OL4zbk8s

— FTC (@FTC) September 20, 2017
A campaign-specific hashtag like this one can also collect your sponsored images into one place.
When a potential customer clicks your #XXPartner tag, they'll see what other influencers you've been working with.
So what's the bottom line with influencer marketing?
Don't try to deceive your fans and followers into thinking a post is organic.
Focus on creating long-lasting relationships with influencers within your industry and be open about sharing products, promotions, and events.
As your connection and trust develop, you'll see more and more returns out of your influencer relationship – meaning stronger sales from their posts.
2. Run a contest or promotion
Remember when Instagram users lost their minds over a red bathing suit?
In May 2017, Sunny Co Clothing announced a promotion on their Instagram feed. Anyone who shared the image and tagged the company within the next 24 hours would receive a free suit.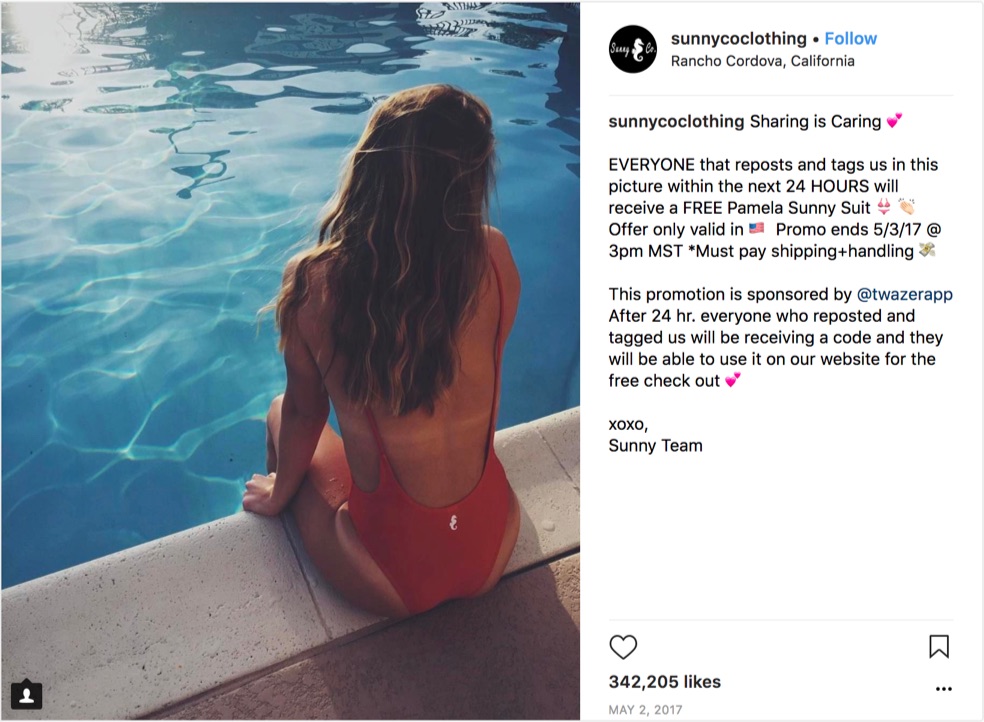 The promo took off.
In just a few hours, Sunny Co Clothing had to post yet another message stating they would reserve the right to cap the promotion if necessary.
A day later, they released another post announcing they would fulfill the first 50,000 orders.
Just 25 hours after the start of the campaign, Sunny Co Clothing's Instagram following had jumped from just 7,000 users to 784,000.
The response to the red bathing suit giveaway was overwhelming, but not that surprising. A free item is always a great way to create a buzz.
Here's another contest promotion from Tom's.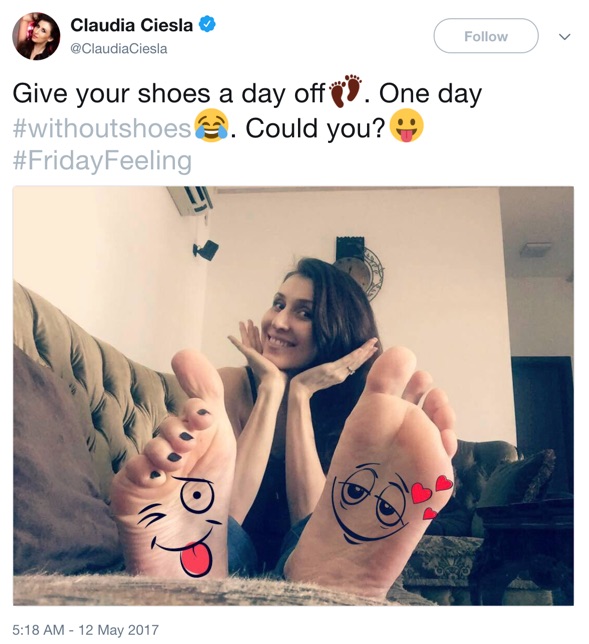 Tom's annual #withoutshoes tradition challenges participants all around the world to spend the day barefoot.
For each image uploaded using the hashtag, Tom's donates one pair of shoes to children in need.
While participants aren't the ones to walk away with a new pair of shoes, the promotion builds awareness about the brand, as well as the causes the company supports.
To see real results from a promotion, stay true to your brand.
Focus on quality of participants – not just quantity.
And remember, proper planning is key when it comes to running a successful promotion.
Lay out your rules clearly and easily.
Here were the rules for Sunny Co Clothing's red bathing suit giveaway.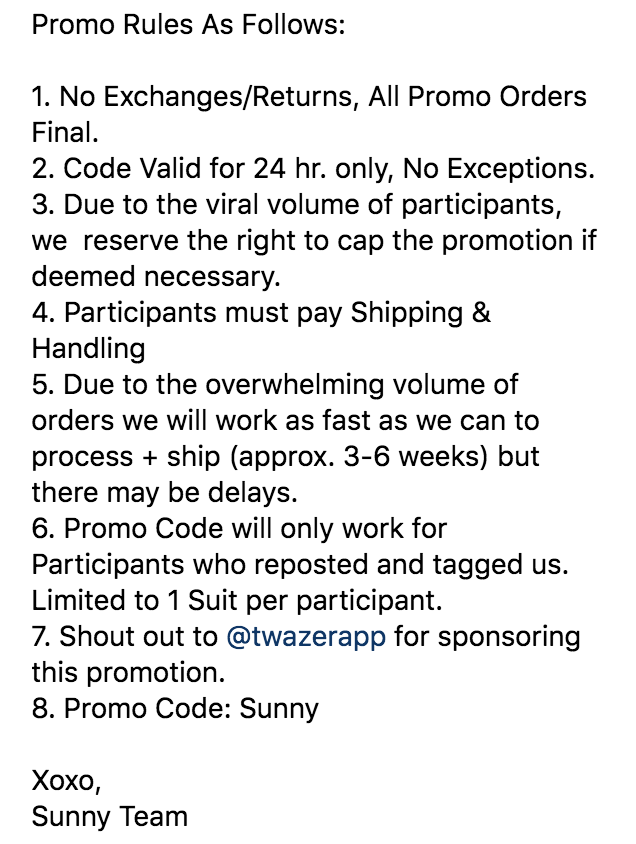 State when you'll pick your winner, when the entry pool will close, and when winners can expect their rewards.
Establishing your expectations early on can reduce confusion and keep both you and participants happy.
Create a promotion plan for your contest. Let participants know it's coming and have a strategy for getting the word out.
Most importantly, have a plan for what you'll do next.
Think beyond just the contest. Develop a plan for getting new leads and customers into a proper marketing funnel once the promotion period ends.
Don't let your new leads escape without first adding them to an email list or getting them to engage with your social profiles.
3. Start producing product videos
There are over 500 million hours of video watched on YouTube every day.
This means over 57,000 years worth of video content is absorbed across the world each and every day.
And according to Social Media Today, video is only going to become more and more popular.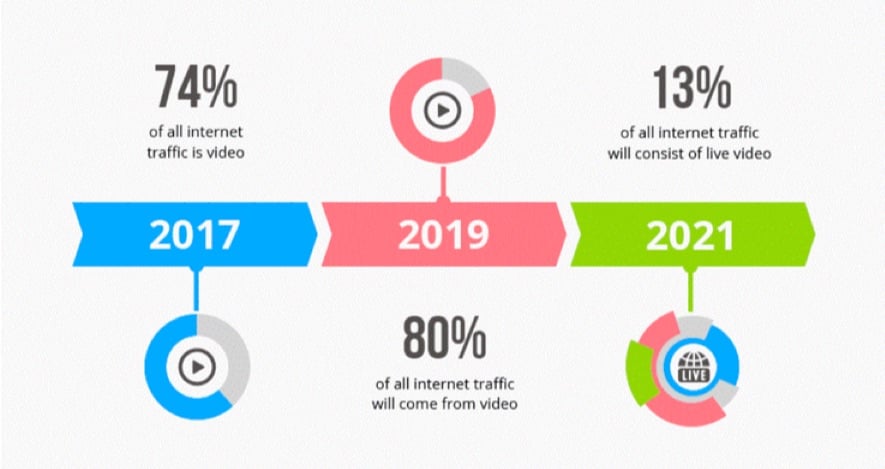 It shouldn't come as much of a surprise that we're becoming more and more attracted to visual content.
Video is becoming easier than ever to create and share.
You no longer need bulky or expensive equipment to create a video worth showing off.
In fact, social makes it more acceptable than ever to post a video you filmed on your smartphone.
Video allows you to engage with your audience in a new way.
You can show off reviews, give tutorials, or give customers a close-up look at your products. You get the opportunity to share your voice, humanize your brand, and strengthen relationships with customers.
The addition of live video on Facebook or Instagram, as well as Snapchat and Instagram Stories, allows you to appear as just another friend to your target audience.
Glossier does a great job at using video to blend into their follower's feeds.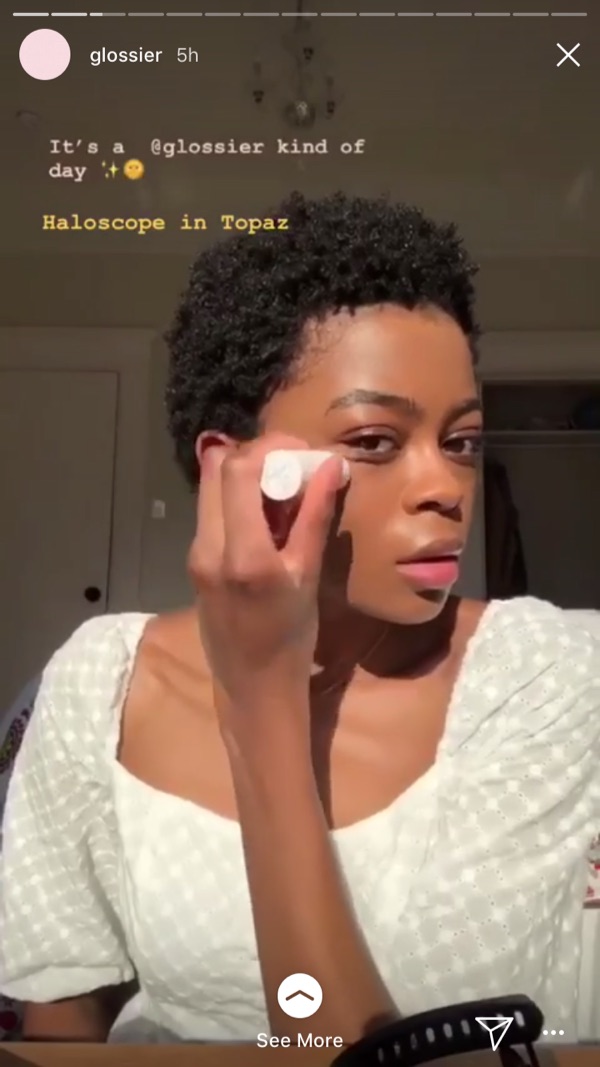 Within their Instagram Story, Glossier goes beyond simply showing off the products they offer.
Instead, they work with influencers, employees, and everyday people to feature real-life applications of their makeup and skincare line.
Videos like these place your viewer in the product user's shoes.
Shoppers can get inspiration, tips, or just see your products from a new perspective. Watching your products in action can help them make more educated purchasing decisions.
If you choose to use Instagram Stories for promotion, be sure to link to your products within your post.
This neat feature can encourage your customer to buy right then and there – decreasing the chances they'll forget to come back later.
Another way to use video comes from Dollar Shave Club.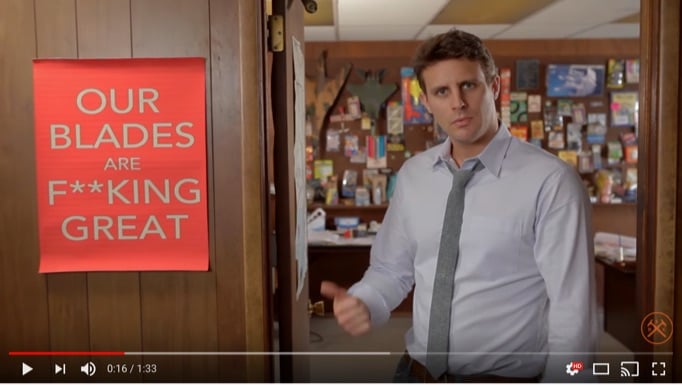 If we didn't watch all of our shows on Netflix, this would be just a typical commercial.
It gives the major benefits of Dollar Shave Club, but it also helps shows some personality.
Is all this information probably located on their website? Yes.
Is this a more interesting way to absorb that information? Absolutely.
A new, exciting spin on the company's most important information can make potential customers stop scrolling.
The video will get shares, a few likes, and maybe even some laughs.
But most importantly, customers will remember it more than a typical text list of benefits posted to Facebook.
According to the Social Media Today study, video can be a powerful influence on shoppers.
With four times more buyers preferring video over text, there's no excuse not to have some strong video content.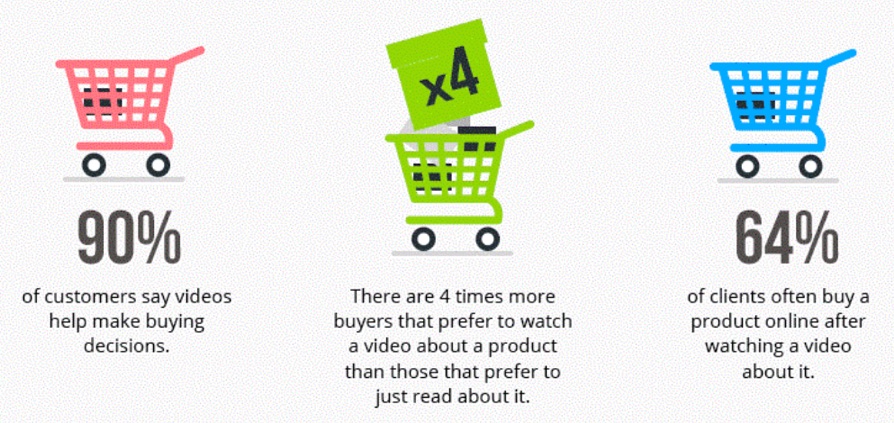 Think of your product videos as a way of letting customers behind the curtain. Show them who you are, what you do, and invite them to get to know exactly who runs your brand.
Focus on providing value. If there isn't clear, distinct, and honest information about your products, it's time for a second take.
Finally, have a promotion plan. Don't assume customers will watch your videos just because they're there!
Know when to post, what to post, and where to post it.
4. Share user-generated content
Who are the best magnets for new customers?
Current customers.
User-generated content is designed to create a community. By using the brand as a middleman to connect other shoppers, user-generated campaigns connect buyers from all over the world.
With 92% of consumers trusting user-generated content more than traditional advertising, it can be one of the best ways to promote e-commerce products on social.
User-generated content, like the multi-channel #AerieReal, encourages actual users to share their own posts using the products they've purchased.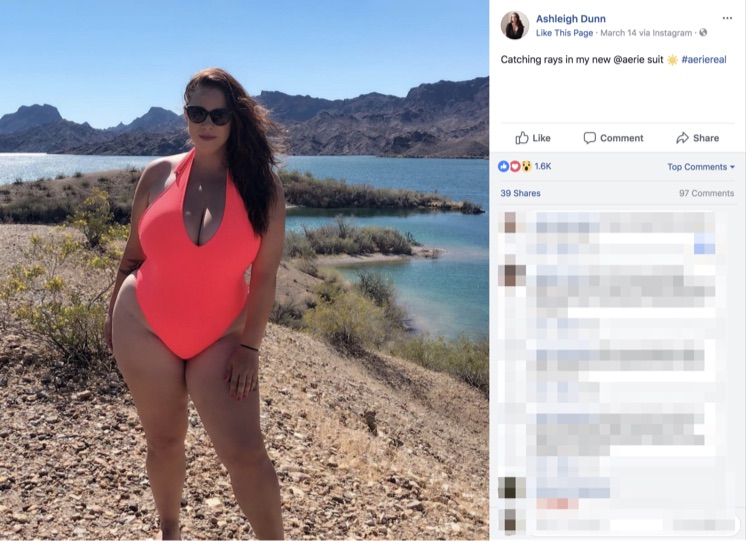 Similar to Glossier's Instagram Story, the #AerieReal campaign allows customers to see what Aerie's products look like on real people in everyday situations.
But Aerie also takes their user-generated content a bit further.
Aerie started their #AerieReal campaign as a way to fight the overwhelming amount of photoshop and image manipulation in the fashion industry.
They use their user-generated campaign in an effort to show off bodies of all types, shapes and sizes.
To encourage users to share their own posts, Aerie donates $1 for every post to the National Eating Disorders Association.
This gives their customers an opportunity to show off their unique style skills while also contributing to a great cause.
Plus, user-generated content can be a way to work around the annoying limitations to Facebook advertising.
According to Mavrck, user-generated content can increase your engagement by almost 7X.
With the new Facebook algorithm centered around improving the user experience, a user-generated campaign can help you improve engagement.
The stronger your post engagement, the more impressions you'll have.
Let's take a look at how LEGO generates content from their users.
Within LEGO Ideas, users become designers.
LEGO Ideas gets end-users involved in the product-creation process similar to a Kickstarter campaign. They brainstorm, vote, and ultimately become a part of the creation process.
This also saves some of LEGO's skin.
Running potential ideas past customers before a project is developed can help save a product from flopping.
Once the project is complete, LEGO can market the idea as a user-generated project.
According to the Harvard Business Review, this can increase sales up to 20%.
TurnTo found that there are many reasons why users tend to engage better with user-generated content.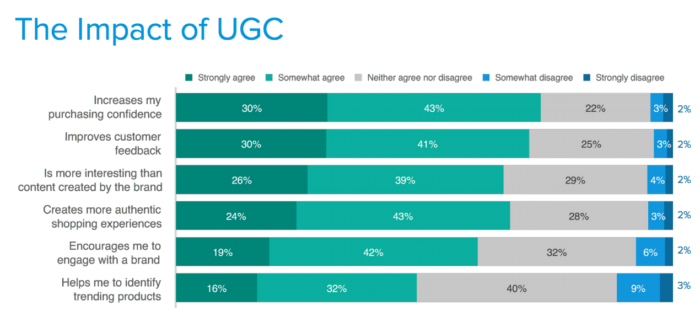 From increased confidence to more authentic experiences, user-generated content can help you establish the trust that your brand otherwise couldn't.
So go ahead.
Show off how much your customers love you.
Ask for videos and pictures.
Create a unique hashtag.
Encourage your loyal fans to share their stories.
Get your customers talking – not just to you, but to each other.
5. Take advantage of enhanced posts on Pinterest and Instagram
What is one of the biggest struggles of getting a customer to buy from social media?
Pushing your customer from the social platform to a purchasing page.
If you can't directly link to the product page, you need to find a way to show your customer where to buy.
While Facebook and Twitter allow you to simply add product links wherever you want, Instagram and Pinterest like to make linking a bit more complicated.
Here's an example of the only place you can feature a link on Instagram:
Unfortunately for you and your shoppers, going to your bio isn't the most convenient way to get to a product page.
With only one link option, users can't get directly to the product they saw in a traditional post.
On Pinterest, you can link to a webpage from each post.
However, that link may be to a blog post or homepage that doesn't directly sell the product your user is looking for.
If it's too complicated for your customers to buy, they're likely to give up before they complete their purchase.
Luckily, each platform offers enhanced post options that make it easier for customers to purchase – without you needing to scream directions at them.
On Pinterest, "Buyable Pins," allow users to buy without ever leaving the Pinterest platform.
They look like this.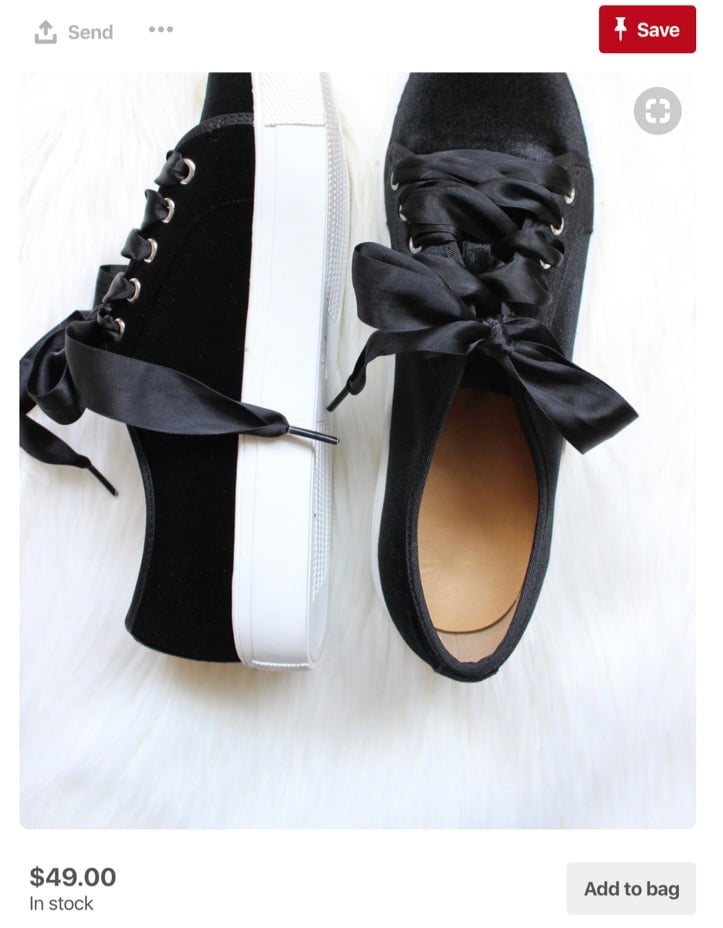 Shoppers are no longer saving items as "inspiration." Instead, Buyable Pins give them the opportunity to store products like a shopping cart.
If they're not ready to purchase at that moment, they can come back to the pin when they are.
Because the posts appear within organic content, Buyable Pins don't seem salesy. They blend in with other pins – only offering the additional step of purchasing if the user is interested.
Pinterest is a social frontrunner for e-commerce products, with almost double the average order amount as Facebook.

Pinterest shoppers are ready to buy.
They're looking up items they want, inspiration for events, and they're ready to pull out their wallets for something they love.
Instagram is similar.
As another visual-centric platform, Instagram is flooded with influencers, brands, and regular people showing off high-quality images of products and purchases they love.
To make it easier for shoppers to buy directly from Instagram, they introduced a new Shopping feature.
You can see it in this example from Warby Parker.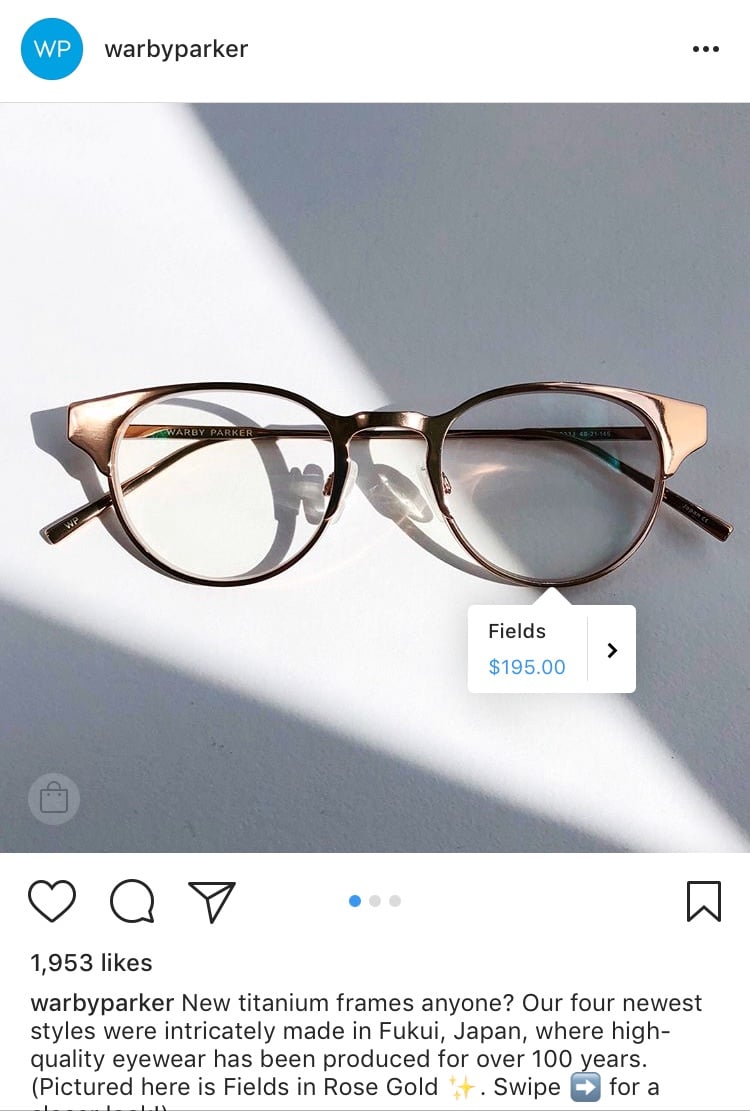 With both Pinterest and Instagram, you'll want to focus on high-quality images that cleanly and clearly display the product, but that don't read "advertisement."
Because they are not featured the same way a sponsored or promoted piece is, they have the power to blend right into the timeline of your users.
If they're not interested, they'll pass right by without the annoyance of being assaulted by an unwanted ad.
If they are, they can tap through to purchase.
Use these enhance posts, but do so thoughtfully. Don't overwhelm your shoppers with purchasing links in every post.
6. Become a part of the conversation
Let me guess.
You have your social media notifications off, posts scheduled, and when you check on your engagement, you only look to see the number of likes and comments you've gotten?
While there is nothing wrong with silencing your notifications or using an automation tool, there is something wrong with ignoring your customers and clients.
Because according to CoSchedule, customers spend more with companies that engage with them on social media.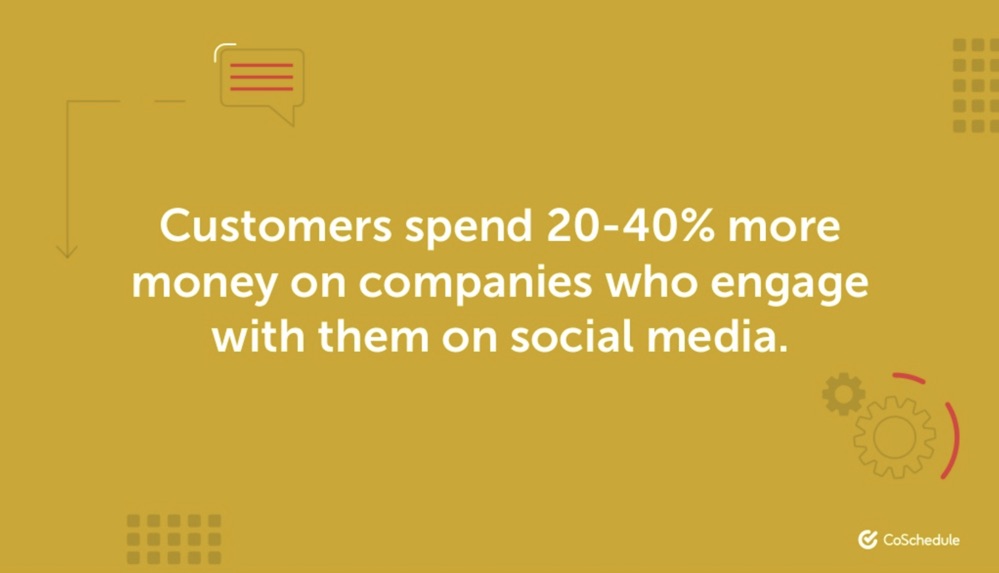 If you could add about 30% to each online order just responding to comments, liking some posts, and giving advice, why wouldn't you?
Social is about creating conversations – not blurting out whatever promotion you have running that week.
While this tip may not be a direct promotion strategy, it's a long-term investment that can improve your sales and strengthen your customer relationships.
Here's a relatively simple communication between REI and a customer.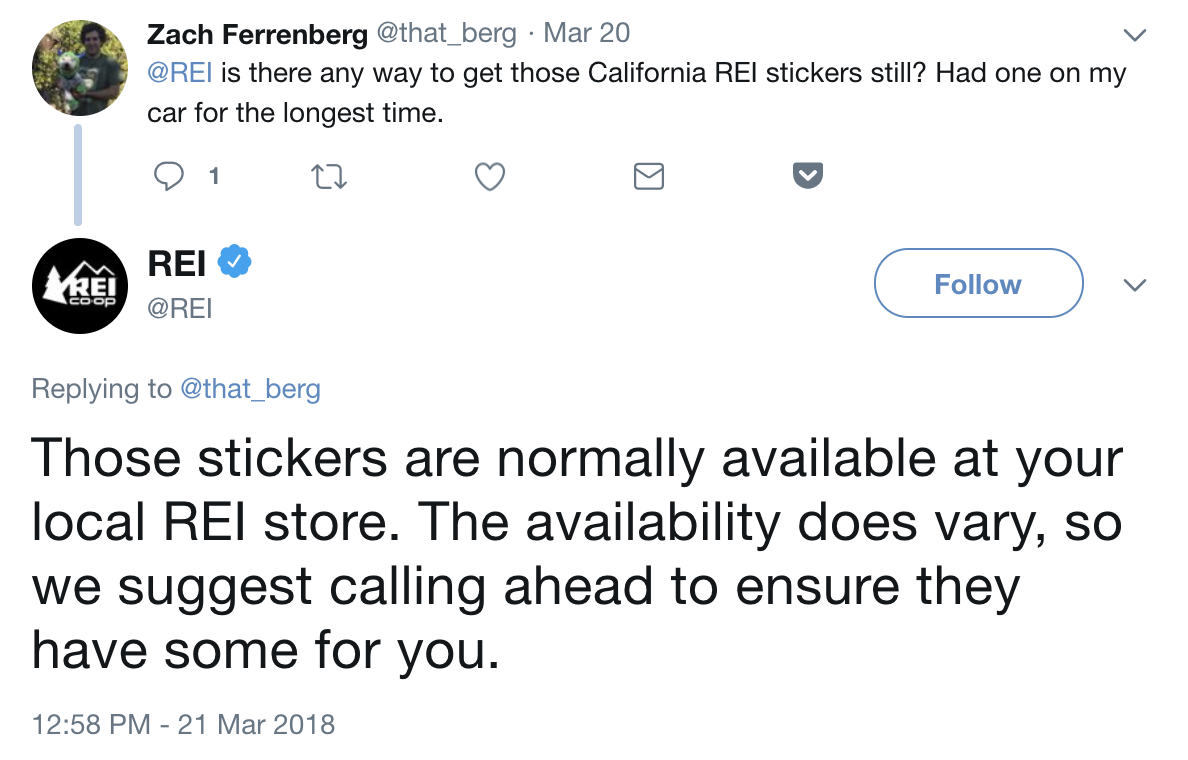 By lending a helping hand and being available for questions, REI is blending sales and customer service – improving the shopping experience for customers.
This kind of unique attention can catch a customer's eye.
Whether a digital passerby sees you assisting another customer or you're speaking directly to the shopper in need, engaging with your audience can make your brand more memorable.
Not only can this improve your chances of getting a sale right then and there, but the customer will also come back for more.
But you don't have to wait for customers to come to you with questions or feedback.
Check out this #DearEverlane campaign.
Using #DearEverlane, the company blends testimonials, user-generated content, and social proof to get some awesome conversations started.
Not only are they providing feedback and responding to comments, but they're also putting it on display for other customers to see.
They're showing that they're human.
Don't be afraid of your audience finding out there are real people running your business.
Encourage them to get in touch, ask questions, and reach out with feedback.
Then acknowledge those comments with genuine, thoughtful, helpful responses.
Try to show some personality beyond your marketing campaigns and product lists.
By actually taking the time to acknowledge your target audience on social media, you're able to create deep relationships that can develop into loyal shoppers.
Conclusion
The traditional sales pitch is long gone.
With the entire Internet at their fingertips, customers are more prepared than ever to make educated purchasing decisions.
They don't need you telling them what to buy.
If you're still hoping to land a sale by telling your customers what they "need," you'll quickly find that your e-commerce store isn't doing so hot.
Rather than trying to push sale after sale, use social to establish genuine relationships and connections with your customers.
Connect with bloggers and influencers to get in front of a new audience. Or run a contest or promotion to increase engagement.
Think beyond the normal product pages and make product videos to show off your products and personality.
Then use your current customers with user-generated content.This shows your products in real life.
And mix it up. Use enhanced posts to sell directly on social media so your customers don't have to go anywhere else.
Finally, use social media to have a conversation with your customers.
By listening to what they want, engaging with people they trust, and developing campaigns that help get them involved in your brand, your social platforms can become selling machines.
What promotion strategy have you seen the most success with for your e-commerce store?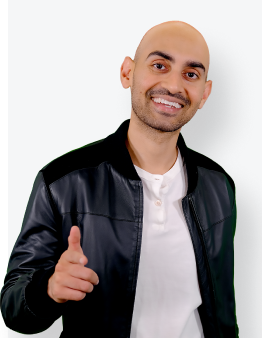 See How My Agency Can Drive More Traffic to Your Website
SEO - unlock more SEO traffic. See real results.
Content Marketing - our team creates epic content that will get shared, get links, and attract traffic.
Paid Media - effective paid strategies with clear ROI.
Are You Using Google Ads? Try Our FREE Ads Grader!
Stop wasting money and unlock the hidden potential of your advertising.
Discover the power of intentional advertising.
Reach your ideal target audience.
Maximize ad spend efficiency.