StumbleUpon is one of the best traffic generators among the top seven social media sites, referring more than other social bookmarking and voting sites such as Digg and Reddit according to Statcounter.
Why?
Because when a user likes, or stumbles, a particular page, it is put into the StumbleUpon lineup. As other StumbleUpon users are randomly searching for new content on a specific
topic using the Stumble button on their toolbar, any pages in the lineup for that topic will be displayed to them.
So how can you capitalize on this great network and start getting traffic?
Great Content
Before we go any further, the main secret to StumbleUpon success is having great content. Sales pages and product info pages will not get you far, unless you happen to be Amazon or have some kind of extremely popular product like an iPad. Poorly written articles and blog posts may get them on there, but users can hit the dislike button just as easily as they can hit the like button and ultimately bury your content.
So what kind of content thrives on StumbleUpon? You can start with using the StumbleUpon search query URL, http://www.stumbleupon.com/search?q=keyword, and replace keyword with your niche or industry. Common popular media includes:
Tutorials – if your guide is the end all guide to a particular topic, then you're in.
Videos – entertaining, informational, or visually stimulating videos from YouTube, Vimeo, and other video networks can do quite well.
Images – the photography community on StumbleUpon is pretty huge.
Infographics – most networks love infographics, and StumbleUpon is definitely one of them. You can see the ones with the most views here.
Lists – people love lists and will often stumble them for their followers.
Essentially, if your content does well on other social networks, it stands a good shot at doing well on StumbleUpon also. Now let's learn how you can get more StumbleUpon traffic for your website.
1. Get Organic Stumbles
Most website owners and bloggers discover the power of StumbleUpon through their analytics, particular when they see a day like this pop up.
This is a good example of how entertaining content can go from obscurity to viral fame with one stumble. ToobBox.com posted a random blog about funny iPhone auto-correct messages in February. A few months later, a random StumbleUpon user with only 179 followers found it amusing and stumbled it. The result was over 7,000 views in one day, and over time, 43,000+ views total.
It just goes to show that entertaining really goes a long way on this network!
If you want to increase your chances of your content getting stumbled, the best way to do so is to add a StumbleUpon badge to your website content. You can grab the coding for it on the StumbleUpon badges page. This page even includes integration tips for Blogger, Feedburner, Movable Type, TypePad, and WordPress integration.
You can also find it bundled with social share plugins for WordPress like Digg Digg and the Active Share by OrangeSoda plugin used on posts here.
The easier you make it for people to stumble your content, the more chances your content will be stumbled!
2. Share Content with Su.pr on Other Networks
StumbleUpon has its own URL shortening system, Su.pr. Once you have signed up for StumbleUpon and logged into your account, you can enter your message or just a URL to shorten with the Su.pr system.

You can then copy this message and send it as a status update, or let Su.pr connect to your Twitter and Facebook and post it directly to those accounts immediately or schedule it for later. When someone clicks on the link, they will get to your website with the StumbleUpon toolbar conveniently above the post, making it simple for logged in users to thumb up your content.
The toolbar even gives logged in users the ability to share the content to their Facebook, LinkedIn, or Twitter networks, so not only will you get additional StumbleUpon traffic, you will also get more shares on other networks!
3. Build a Following Base and Share Content
Want to take matters into your own hands when it comes to traffic from StumbleUpon? Once you have followers on StumbleUpon, you can share your content directly with them.
Getting followers on StumbleUpon is much like getting followers on Twitter except that there is no automatic follow back users to rely on. You have to find users to follow, follow them, and essentially hope that they follow you back. Most will receive an email notification (if they have the option turned on) letting them know that someone has followed them.
Finding followers interested in the same topics as you is simple. You can start by going to http://www.stumbleupon.com/discover/keyword/ and replace the keyword with topics you are interested in. It will then show you users who are interested in the same things. This is generally a good place to start.
When you visit the stumbler's profile, there is a little graphic in the right sidebar of the user's profile that will show you how much you have in common based on interests.

Use this as a guide, plus the user's number of people they are following, to determine the likelihood they will follow you back and be interested in what you are sharing.
Want to be a bit more forward? You can do a Google search for site:stumbleupon.com/stumbler/ "follow me" twitter. This should result in StumbleUpon user profiles who have included a link to their Twitter. You can follow them on StumbleUpon, follow them on Twitter, and send them a friendly tweet that you just followed them on StumbleUpon because of your similar interests.
Increase Your Chance of Being Followed
The best way to ensure a higher chances of being followed (or followed back) by another user is to create a great StumbleUpon profile. So once you have signed up, be sure to:
Fill out your basic bio information under the Settings > Customize Profile to let people know who you are and what you are interested in.
Select the topics you are interested in under the Settings > Manage Interests.
Upload a profile photo of yourself under Settings > Profile Picture. Be sure to use the same photo on StumbleUpon that you do on Gravatar (blog comments), Twitter, Facebook, etc. that way people who are connected with you elsewhere will recognize you here.
Sharing Content
Once you start following people and they follow you in return, you can exchange shares using the StumbleUpon toolbar. I find that the one for Firefox is the most reliable.

Whenever a mutual follower sends something to you, a red number will appear in your toolbar. Clicking on that number will take you to the page that was sent to you. I find that if you like the page and send them a reply that you liked it, thanks, or another personalized note, then when it is your turn to share something, they are going to be more receptive to stumbling your content.
Most people suggest not stumbling your own content, but you have to have your content stumbled in order to share it with your followers. Your options are to wait for an organic discovery (as mentioned above) or to have an online friend you can contact via email or IM to ask for a friendly stumble.
Once your page has been stumbled, then you can click on the Info button in your toolbar while on the page. From here, you can click on the Share now > button and send your content along with a 140 character message to all of your followers, or just the followers you have had the most interaction.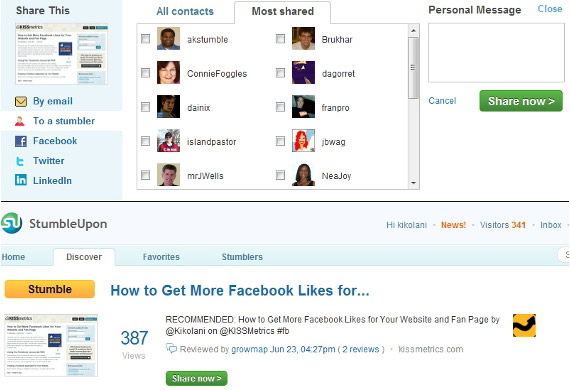 I have found that, if you have over 50 followers, it is best to share in groups instead of sharing it with everyone at once. I have a lot of followers, so I go from A to C, D to F, and so on, otherwise the system tends to get stuck. Most of the time your share will go through, so you shouldn't ever hit the Share now > button more than once otherwise your followers might get your page multiple times and get annoyed with you.
4. Use StumbleUpon Paid Discovery
If you're not getting the results you wanted, don't want to wait for natural discoveries, and want to bypass community building, then StumbleUpon's Paid Discovery is for you. Unlike Facebook Ads, you're not relying on a small space and image on a page in hopes that your link will get clicked upon. When you put yourself into the StumbleUpon discovery system, people interested in your topic will get directed straight to your site.
There are three plans for you to choose from.
­
Simply choose the plan that best fits your needs and your budget, then click the Get Started >. You'll need to sign up for an advertising account (separate from your regular StumbleUpon account).
Once you've agreed to the terms and conditions, you can jump in and create a new campaign by selecting how much you want to spend per visitor. Assuming your site doesn't violate any of the content guidelines, then you have to complete five steps to setup your campaign.
The Basics
First, you will enter the URL you want stumblers to visit. If you are using Google Analytics, you can enter utm_paramenters that will help you track your campaign accurately. Just add the following the end of your URL.
http://yoursite.com/yourpage.html?utm_source=stumbleupon&utm_medium=paidscovery&utm_campaign=bpp
Just change the parts in bold as you would like to see them in your Analytics. Once your campaign gets going, you can go to your Traffic Sources > View Full Report. Then just sort your Source/Medium column and you will find the traffic statistics for your campaign under stumbleupon.com / paidscovery or the custom medium and campaign you set.
Topics
Next, you will choose your topics. You can let StumbleUpon guess, or you can choose up to 10. You can choose to split your campaign per topic or keep one campaign for all the topics you select.
Audience
StumbleUpon can automatically optimize your campaign for you, or you can manually set the demographics for age, gender, location, and device (desktop browsers, iPhone, Android, or iPad).
Priority and Budget
Priority placement means that your campaign will jump ahead of the line before others targeting the same audience. You can choose to upgrade your plan from here and designate your highest daily spend. It will calculate based on your plan and your budget how many visitors you will receive in one day. For example, under the normal plan and a budget of $25 a day, you will receive 250 visitors per day.
Schedule
Finally, you can set the scheduling to automatically start when the ad is approved and continue to run until you run out of funds (which you will deposit – a nice way to put a cap on your ad spending) or you can manually set a start and end date for your campaign. Then click Review Your Campaign >. From here, you can edit any campaign information or click Create Campaign to save your settings.
Last but not least, when you are redirected back to your dashboard, you will need to go under the Account Info area on the right side of the screen and add funds from your credit card or Paypal.
Closing Thoughts
StumbleUpon is an often overlooked social media network that most businesses are not tapping into its full potential. Remember, with all social media networks, you should mind the etiquette and culture of the community to earn your respect.
Got any additional tips or experiences with generating StumbleUpon traffic? Share your thoughts in the comments below!
About the Author: Kristi Hines is a freelance writer, blogger, and social media enthusiast. Her blog Kikolani focuses on blog marketing, including social networking strategies and blogging tips.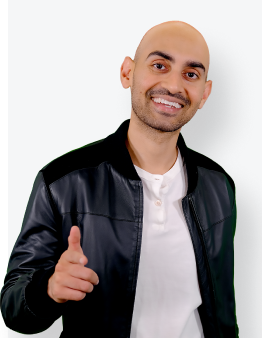 See How My Agency Can Drive More Traffic to Your Website
SEO - unlock more SEO traffic. See real results.
Content Marketing - our team creates epic content that will get shared, get links, and attract traffic.
Paid Media - effective paid strategies with clear ROI.
Are You Using Google Ads? Try Our FREE Ads Grader!
Stop wasting money and unlock the hidden potential of your advertising.
Discover the power of intentional advertising.
Reach your ideal target audience.
Maximize ad spend efficiency.