You might already know the most important conversion metrics you should be tracking.
But how do you improve them?
What can you do to get visitors to engage, buy more, and stay longer on your site?
Today, you'll learn exactly what to tackle on your website to increase conversions and improve. You already know what to track. Here's how to start making progress on those metrics.
We'll start things off with traffic, which comes in three forms: direct, search, and referral.
Should you try to improve direct traffic?
Instead of telling you how to improve direct traffic, I think it's a question you need to ask yourself.
Why?
Because direct traffic is almost nonexistent. Back in the early days of the Internet, people would type in the name of your site, letter-for-letter. But as the Internet grew, it became impossible to remember the names of every site.
And besides, sometimes you wanted information one site didn't have, so you used a search engine like Google.
Today, direct traffic is almost nonexistent. You might type in the URL of a major site like amazon.com or facebook.com, but most of the time we just use a search engine to find the results we're looking for.
That's why it usually takes up such a small percentage of your traffic in programs like Google Analytics.
Because of this, there is almost no way to improve increase direct traffic. You could increase type-in traffic with offline advertising, like telling people on television, radio, print, or billboards to visit your site.
But the ROI on these campaigns is usually minimal compared to other forms of internet marketing. In general, you should consider direct traffic a bonus, and I don't recommend spending time or energy trying to increase it.
Improving search traffic
No matter how well your site is doing, there's always room to improve when it comes to search traffic. Even better, you can get a great return on investment even if you don't have a big budget.
Search traffic comes in two flavors—paid and unpaid.
Unpaid is also known as Search Engine Optimization or SEO. It's the art and science of improving a website's on-site and off-site attributes to be more attractive to search engines.
Of course, the most basic part of this is creating great content, but there are a lot of other factors besides just content.
You'll need to work on link building, which is getting links to your site from other websites, preferably with contextual anchor-text associated with it. In other words, a link to a gardening site that says "top gardening tips" is better than one that says "click here."
If you select the right keywords and optimize the site well, SEO can often yield the most "bang for your buck."
The other type of search engine traffic is Pay-Per-Click Search Engine Marketing, known as PPC or SEM. But the bad part of this technique is that it's more of a short-term solution, and it can be expensive.
As research shows, the average cost per click hovers around $2-3.
Plus, if you ever stop the ads, you lose any traffic you got from this campaign.
The good part of this strategy is that it works quickly—you can start seeing results as soon as the ads run. And you also have lots of control. You can rank for as many keywords as you can afford and say exactly what you want in the search result.
Improving referral traffic
Referral traffic is often the most difficult to increase, but it can be the fastest way to get bursts of visitors.
Social bookmarking sites like Reddit and Pinterest offer ways to increase referral traffic. Quality content that becomes popular on these sites can generate waves of traffic in the tens or even hundreds of thousands of unique visitors.
From there, other site owners can see the content and link to it as well, driving more traffic from relevant sites in your niche.
You can also use social media sites like Twitter, Facebook, and LinkedIn to generate traffic. While the chance of going viral isn't likely, the ability to find visitors from these places can be helpful.
But if you're using this strategy, you need to be wary. Networks are notorious for diluting the importance of messages to their users. For example, businesses used to be able to reach their fans with a simple post.
Today, businesses need to pay for a "boosted post" to get the same amount of traffic.
Improving new visitor conversion
Getting people to your site for the first time is important, but if you can't keep them there, they won't convert.
Study the conversion rates with your new visitors, and make small improvements to keep them interacting on your site.
Design and functionality are keys to making sure that you get the most out of your visitors.
By design, you don't necessarily need to create the most beautiful site. It should be attractive, but a site that is flashy or overly stylish can turn people off as much as one that is amateurish and boring.
Think "clean and effective" when designing or redesigning websites. The best site designs let people find what they're looking for quickly and without much noise.
Functionality is the second factor in retaining first-time visitors.
Websites need to keep conversion in mind and shorten the path to conversion whenever possible. A goal-oriented web design is more impressive than a website that forces people to search around or jump through hoops to convert.
If a site is easy to navigate, first-time visitors are not only more inclined to become return visitors, but they are also more likely to convert into leads or sales.
Improving return visitor conversion
If you're attracting and keeping new visitors, but losing returning visitors, something's wrong.
Chances are, visitors don't have another reason to come back to your site. To keep people returning, you need to provide an incentive.
Updates to a website through blog posts, video content, podcast episodes, or special deals can encourage returns. Another great way to increase return visitors is with a valuable resource.
For example, an automotive website that has a purchase vs. lease payment calculator can compel people to bookmark the site and keep returning often.
As with every page of your website, resource pages should have some method to convert that visitor, whether it's a simple contact form or a link to a conversion page.
You should also work to get people on your email list. This is the best way to reach people on a regular basis and ensure you are able to continue the relationship with someone even after he or she leaves your site.
Improving interactions per visit
If people are not interacting with your site, they are likely not seeing the value in it. By showing the value of your site, you can get people to stay longer.
Why does this matter? Because the longer they spend on the site, the more likely they are to convert. To get them to spend more time and see more pages, you need to show them what they'll get out of it.
It's also a good idea to keep load times as fast as possible. According to Google's own statistics, the longer a page takes to load, the more likely it is a visitor will bounce, or leave after viewing just one page.
Watch your metrics. If a page is linked to from the homepage but it is not receiving much traffic compared to other links, consider moving the link or changing the link format.
You can also rearrange the content on your page for better conversions.
People normally "travel" a website in an "F" shaped pattern. They scan the top horizontal bar, then the mid-horizontal bar, then they return to the top left and scan down.
You can take advantage of this effect by putting your lead conversion tools on the left side or across the top. Or, you can put the most valuable content and authority indicators at the top to build trust.
Then, you can place your conversion tools in the body itself, at the bottom of the page, or in a popup.
Conclusion
Unfortunately, there's no tried-and-true formula to make a website more engaging.
If you want to improve conversions and engagement, you'll need to do things the hard way—revising your site, one piece at a time, until you start to move the needle.
The best way to start is by finding one small change you can make that you believe will improve a metric you're tracking. It might be a single button or link that isn't converting very well.
Don't make massive changes or it'll be nearly impossible to understand the data. Just one change at a time is enough to gradually improve your conversion rates.
By making small changes and improving over time, you'll shift the site into its peak conversion rate.
What change will you make first?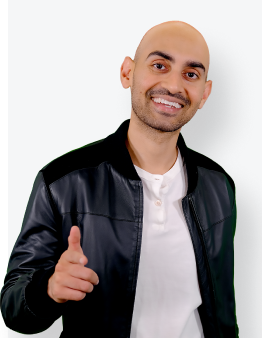 See How My Agency Can Drive More Traffic to Your Website
SEO - unlock more SEO traffic. See real results.
Content Marketing - our team creates epic content that will get shared, get links, and attract traffic.
Paid Media - effective paid strategies with clear ROI.