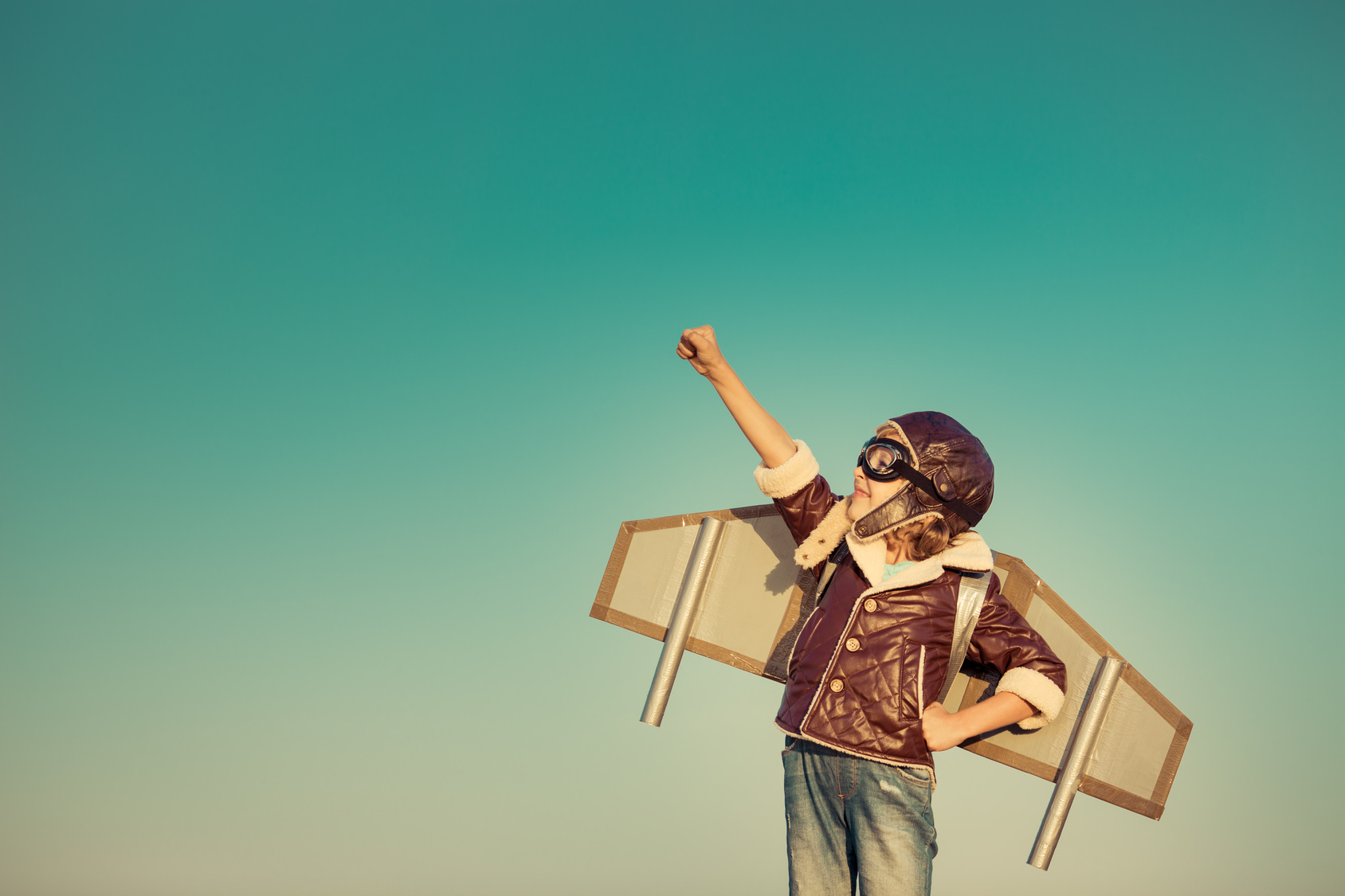 If you're hoping to build your business, you need serious growth.
But for most startups, a traditional marketer might not be the the right fit.
Sure, he or she will understand that growth is key to preventing your startup from failing.
But you need someone who will understand your push for scaling your business as fast as possible without the huge costs usually associated with typical marketing.
To do so, you need a growth hacker.
A growth hacker will provide the creative marketing and obsessive focus on scaling that every startup needs.
But how do you know he or she will actually get the job done?
Well, I've started and helped manage more than one new business. I know what you need to look for when hiring a marketing expert.
In this article, I'll give you my best advice for hiring a top-notch growth hacker.
Be clear about what you need
Before you start the hiring process, you need to have a clear understanding of exactly what you're looking for in a candidate.
To get a clear picture, you need to understand the role you'd like him or her to fill as well as the capacity you have to hire this person.
Understand the difference between a marketer and a growth hacker.
Of course, the first thing you need to understand is what a growth hacker even is!
"Growth hacking" is a term that's a bit difficult to define. At its heart, it's a combination of the words "growth" (which just means getting bigger) and "hacker" (which is just a buzzword).
So what is a growth hacker, really?
GrowthRocks defines a growth hacker as a person with a combination of two skills: marketing and engineering.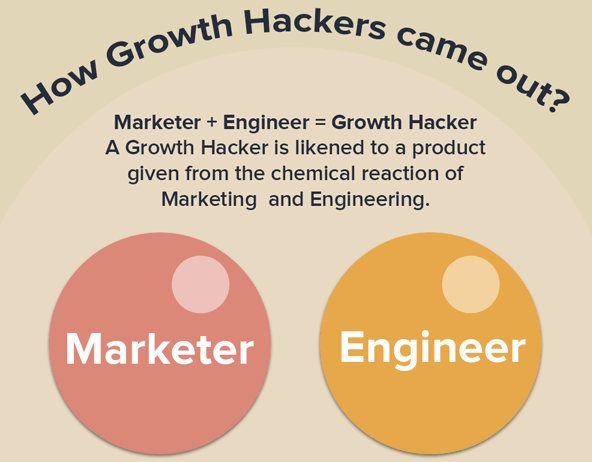 Hiring a growth hacker means looking for someone who is adept at both marketing and interpreting the data that comes from the marketing.
According to Ascend2, basing more decisions on analysis is the most important data-driven marketing objective today.
Hiring a growth hacker means you'll get someone who is adept at not only marketing your company and brand but also interpreting the data that results from those efforts.
Even if you have a marketing plan in place, you could benefit from hiring a growth hacker. He or she will provide a level of expertise that your current staff probably doesn't have.
Know which kind of growth hacker is best.
While growth hacker may seem like a simple term, it can actually encompass quite a few personality traits and skill sets.
According to Melinda Bylerly, founding partner at TimeShare CMO, there are two kinds of growth hackers.
She calls them "prospectors" and "miners," and there needs to be a fit between the employee and the company for true progress to take place.
Prospectors are eager to try a variety of new techniques and unconventional strategies. They're excited by the lack of data that faces most new startups.
When faced with a problem, prospectors will ask, "What can we try?"
Best of all, prospectors aren't afraid of failure and will start dozens of different methods all at the same time and see what works and what doesn't.
Not surprisingly, this type of growth hacker is best suited for a new company with little current growth.
On the other side of the spectrum are the miners. This type of growth hacker is more driven by data than by experimentation.
When faced with a problem, miners will ask, "What does the data say?"
They base their decisions on existing results from current marketing and are looking for gradual improvement rather than massive changes and new tactics.
This type of growth hacker is best suited for a company that's already growing quickly and needs to refine its marketing rather than try new techniques.
To get started, you may want to consider where most of your users are in the acquisition process.
According to InnerTrends, there is an "aha" moment that converts users into loyal customers, which then count toward your growth.
If you already have a defined process in place for bringing users to this moment, you're probably best served with a miner who can slowly bring your conversion rates up.
But if you're struggling to turn visitors into prospects — and get those prospects to buy — you're probably best partnered with a prospector who can try a variety of techniques to change things.
Make sure you have the budget.
It might go without saying, but I'll say it anyway: Don't hire a growth hacker unless you have the budget to make it work.
Research by CMO Council showed that an inadequate budget was the biggest obstacle for marketers to start using data-driven customer strategies.
Since the growth hacker you hire will have an extreme focus on data, you need to be sure you have the budget to support his or her work.
Understand that this isn't just a salary for the employee. You will also need to provide your new growth hacker with the tools for the job.
Most importantly (and possibly most expensively), you'll actually need to implement the strategies he or she recommends.
No growth hacker is perfect, and it may take a series of costly marketing ventures before you start paying off that investment with the revenue spike it creates.
The good news is that a growth hacker will save you money in the long run. You don't need a large budget to build a company that gets valued at hundreds of millions of dollars.
Decide what your goals are
Before you hire anyone, you need to have a deep and thorough understanding of what the goals are for your company.
According to Teradata, there are a few different stages in your startup's goals.
First, you need to explore your existing customer data to develop new insights. This is where you need experimentation and creativity, and is best suited for a prospecting growth hacker.
Second, you need to engage with the right message in the right channel. This is best for a mining growth hacker.
Understanding where you are in this process is critical for setting your sights on the right kind of growth hacker.
This will give you a deeper understanding of your goals that can provide massive payback.
By setting goals for their growth strategy, BuzzStream was able to launch 19 research-driven campaigns. They broke their record for sign-ups in a week.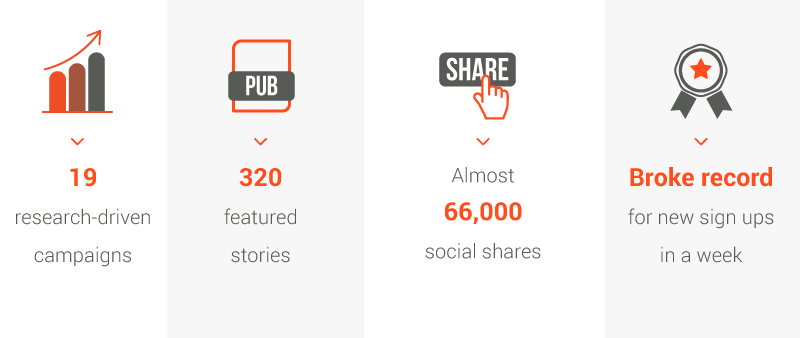 Deciding your goals beforehand can deliver these kind of results. Here's how to do it.
Understand the metric you want to improve.
First, you need to have a clear understanding of what goals you'd like to meet.
Look at the key performance indicators (KPIs) of your business and decide which are the most important.
This could include metrics like billings, customer acquisition cost, customer concentration risk, or daily active users, according to data published by Visual Capitalist.

Painting a clear picture of the numbers you'd like to focus on will help ensure that you hire a growth hacker who is in tune with the goals of your startup.
Have expectations for the first 90 days.
Once a growth hacker starts working with you, you should expect him or her to show significant progress in the first 90 days.
To do so, you need to understand what that progress would look like. Understanding where you are in the growth-hacking process is a great way to do this.
According to ELearning Infographics, there are five steps in the growth-hacking funnel.
Understand whether you're looking for a growth hacker to improve one aspect of the funnel, like increasing activation, or to help shift your focus to the next step, like driving revenue.
This understanding of your short-term goals will help you hire the right growth hacker. It will also provide a way to review his or her success after the first few months with your company.
Be clear on your long term plan.
Different startups have different long-term plans, and what you expect to do with your growth affects the type of growth hacker you'll want to hire.
If your long-term goal is to grow as fast as possible to sell to a larger company, this should guide your efforts to find a growth hacker who focuses on explosive growth in the short term.
But if you want to develop a steady stream of revenue, you need to make sure your marketing focuses on growing not only a user base but also high retention rates.
According to Digital Marketing Philippines, the top goal of marketers in data-driven marketing is personalizing the customer experience.
With 70% of marketers hoping to develop this, you may want to clarify with a growth hacker if this isn't your primary focus.
Either way, you need to make sure that your goals are clearly communicated to your prospects before you make a final hiring decision.
Speaking of hiring, where should you find qualified candidates? Let's cover that next.
Hire from the right places
Because growth hacking is a relatively new term, it isn't easily defined on the standard job boards you'll find online.
Even worse, it's a relatively vague term in which nearly anyone can claim expertise.
But thankfully, there are plenty of other ways to hire a growth hacker who will skyrocket your business's revenue and conversion.
Here's where you should go to find the most qualified candidates for your startup.
Your personal connections
While it might sound surprising at first, the truth is that you very likely have a connection to a growth hacker already.
This is a great way to get a candidate who is vetted and in line with your company's values and goals.
To get started, ask current employees for recommendations. If you don't have a formal program in place, don't worry.
In fact, HR Tech Weekly reported that while 48% of quality hires come from employee referrals, only 39% come from employee referral programs.
You can also reach out to your current customer base.
While it might sound a little crazy, you may find that a current user is excited about the product or service you have to offer and would love to work for your company.
To do this, you should make it known that you're looking to hire a growth hacker. Include it on your website, send it to your email list, and promote it to current followers.
Finally, ask friends in other industries. Each of those friends has a variety of connections, and you may be surprised by the number of qualified candidates who already exist in your circles.
Through social networks
You may struggle to find the right candidate exclusively through your current connections.
If that's the case, leverage the power of social media to expand your reach.
First, post on your accounts on Twitter and Facebook. Include hashtags like #growthhacker and #growthhacking to attract the right kinds of candidates who are searching for those jobs.
You can also use LinkedIn Jobs. While this isn't a free solution, you're more likely to get high-quality candidates with this method.
You should also spend some time browsing subreddits related to growth hacking.
People who are interested and knowledgeable about the topic visit these boards, many of whom have experience in the field.
While this shouldn't be your only strategy, it's worth the few minutes it will take to post your job.
The GrowthHacking subreddit is for all kinds of marketing strategies and focuses on learning the tools of the trade.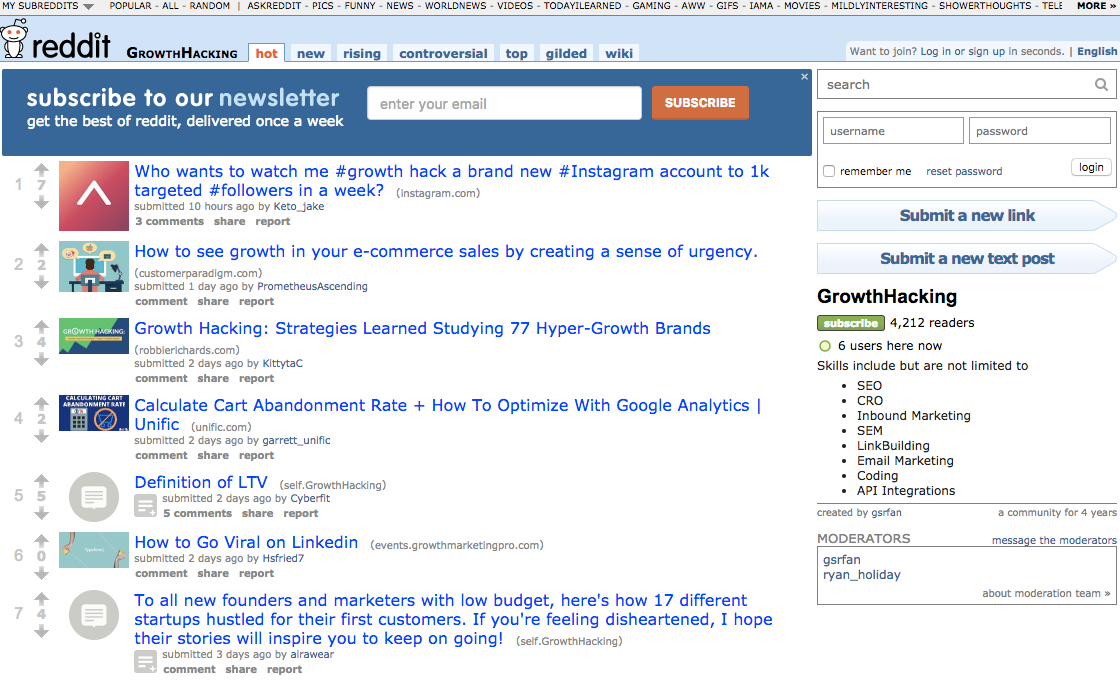 It's unlikely you'll find a hit directly here, but the redditors who read your post will have a broad network of connections that might bring you a referral.
The Growth Hacking subreddit is bigger and more geared toward the advanced growth hacker.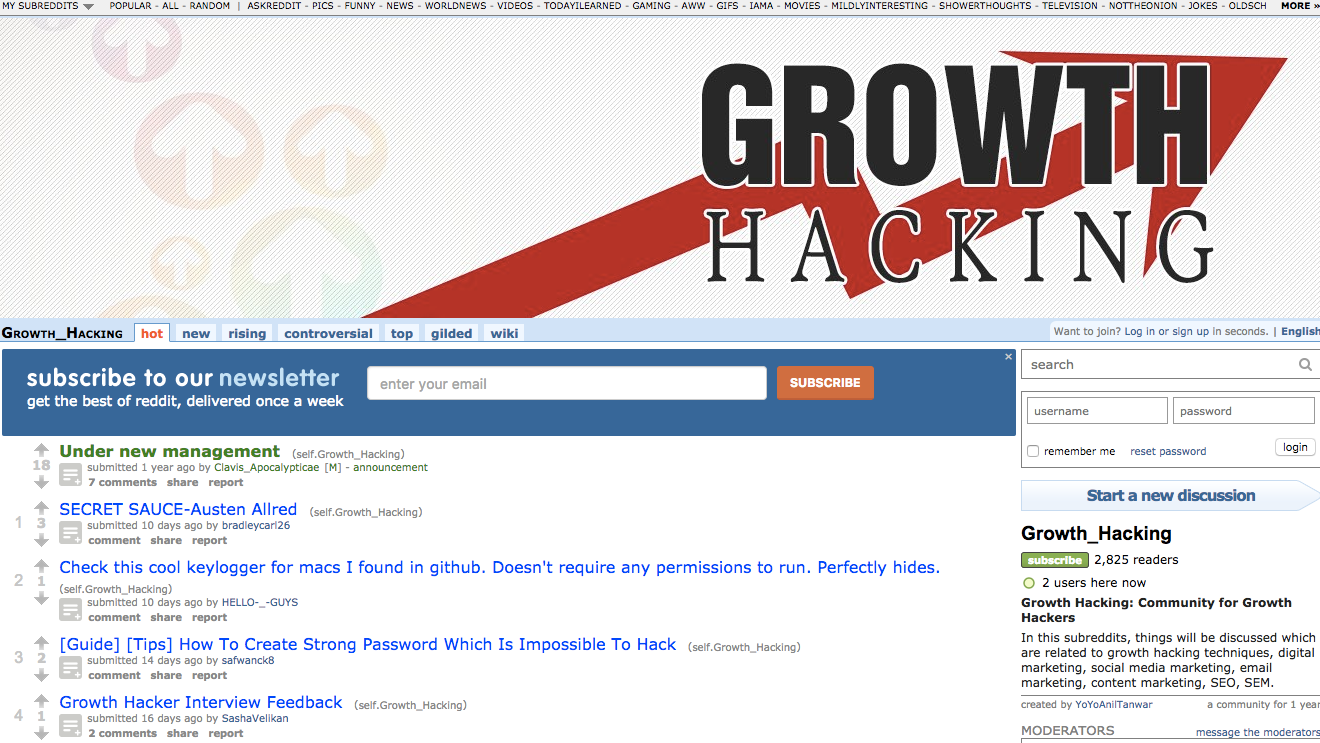 The Traffic and Copy group features a variety of job postings and networking opportunities for advanced and up-and-coming growth hackers.
Job websites
Finally, you can post your job on more traditional sites.
This is the typical way to go and can lead to some stellar leads. Since these sites are focused on attracting the kind of talent you're looking for, you will get higher quality leads.
Start your search at AngelList.
This is where people go specifically for jobs with startups, so you're likely to have a body of candidates familiar with the pressing needs of a new business.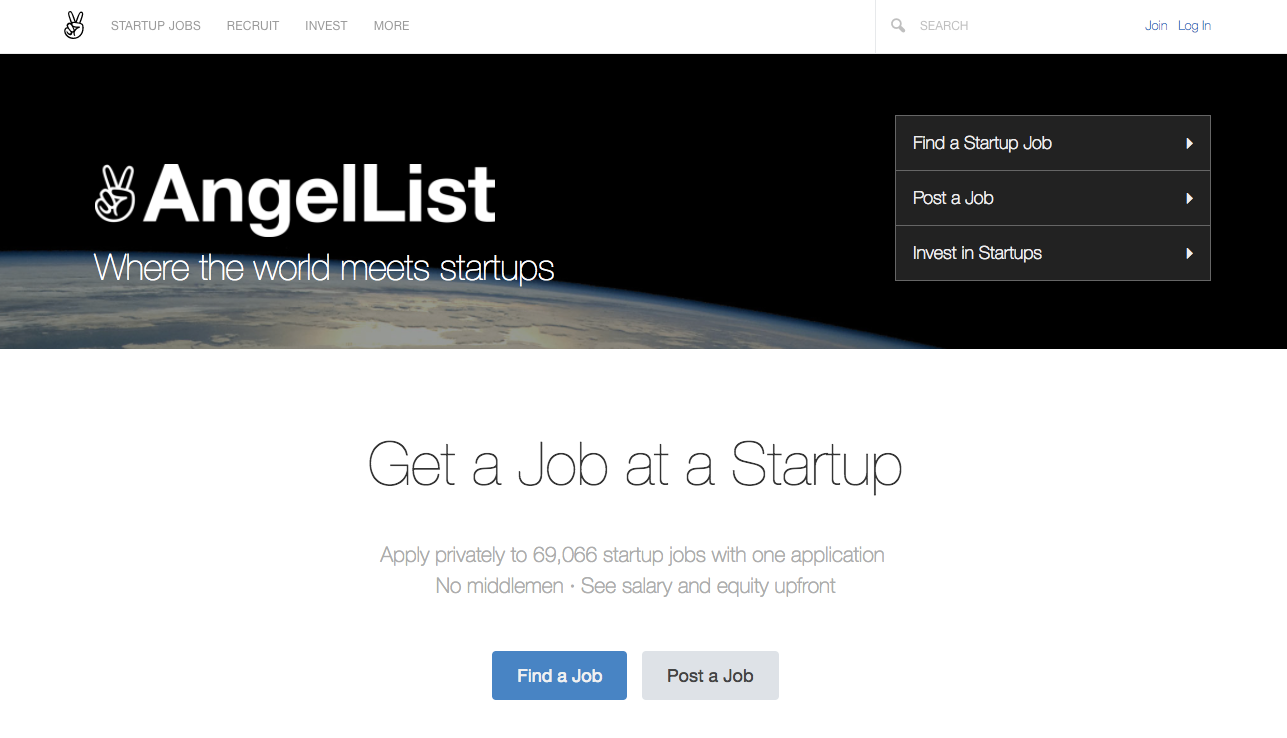 To get a more specific focus on growth-hacking marketers, try GrowthHackers.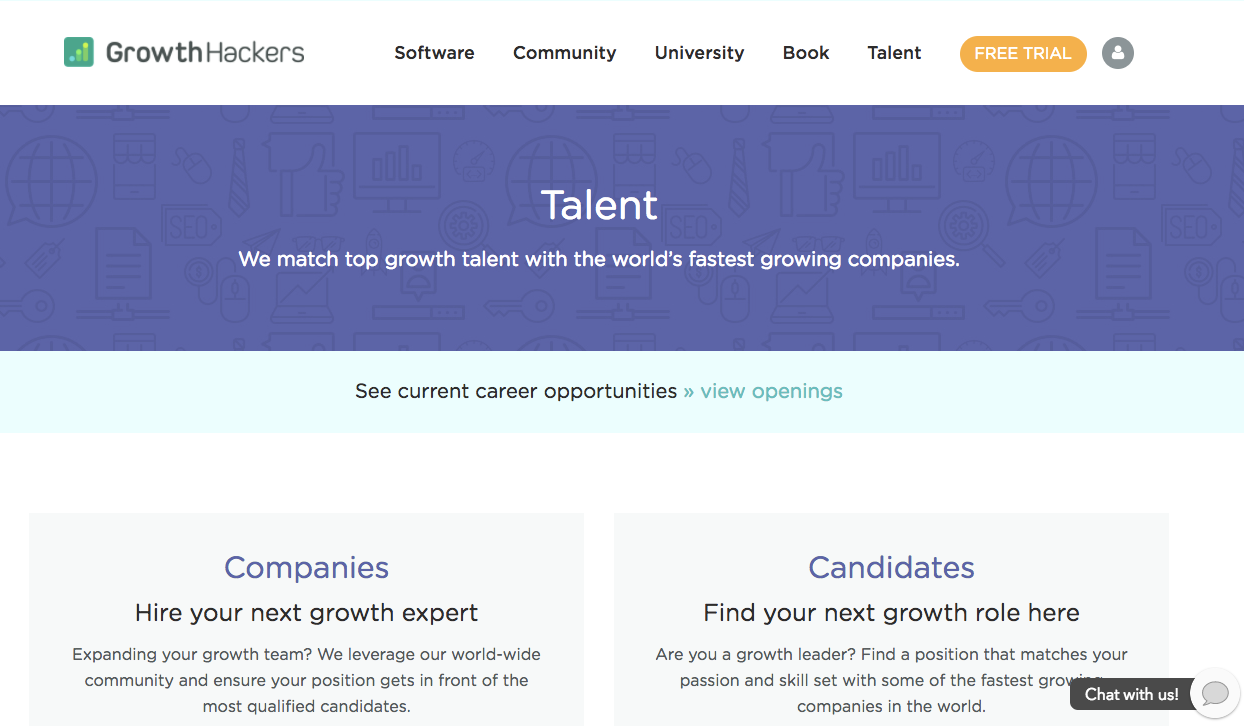 If you're more interested in a freelance marketer before you hire someone full-time, you should post on Growth Engineers.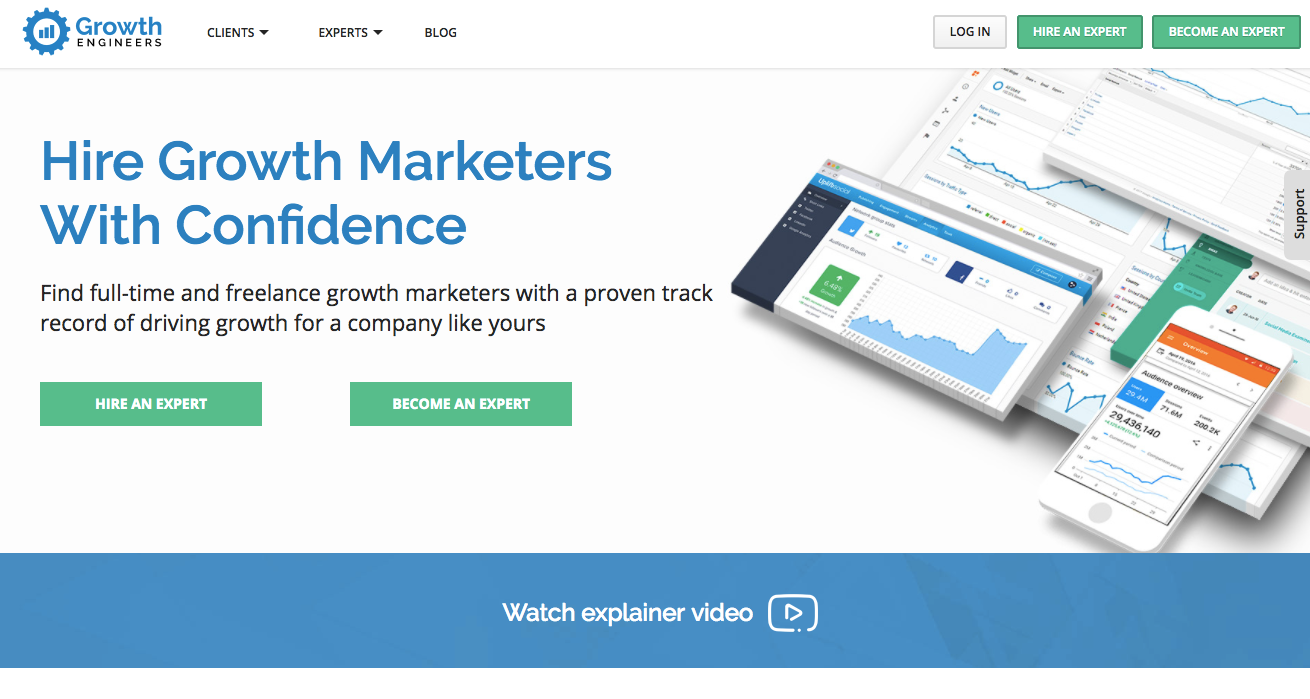 And finally, you can find marketers ranging from traditional to "hacker" types on Growth Geeks.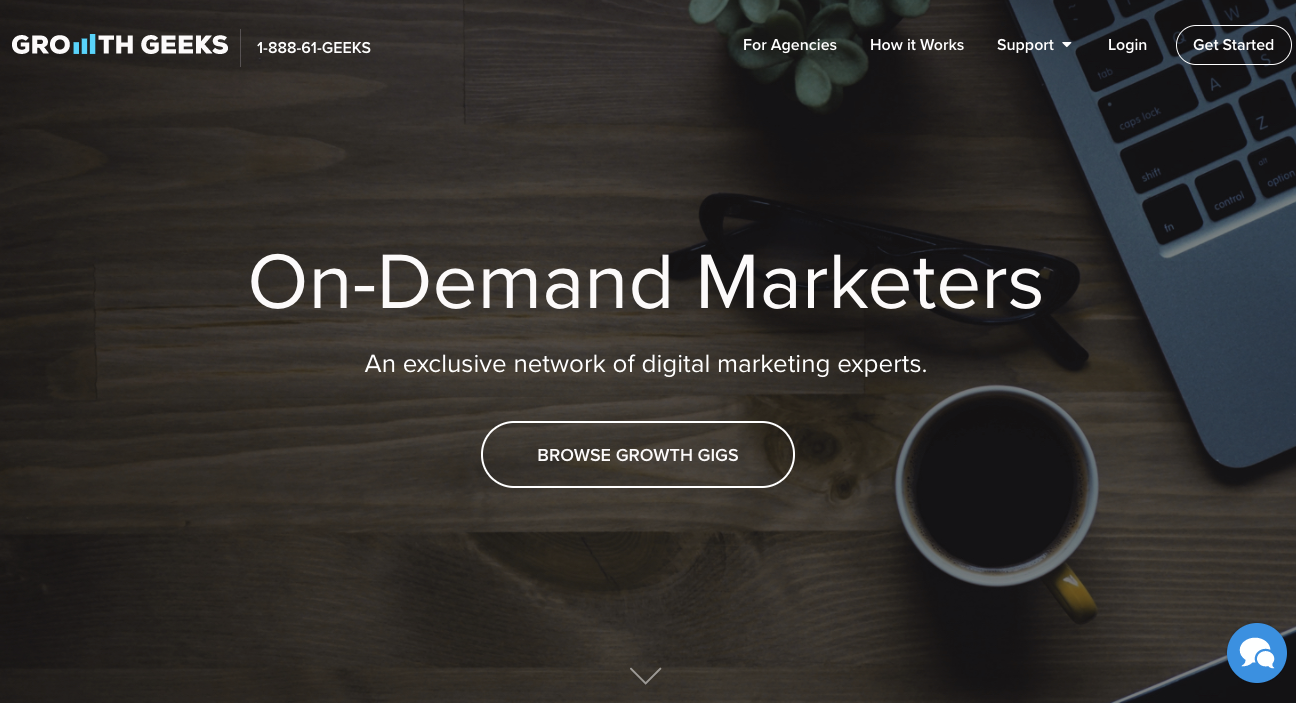 Prove they're a good fit before you hire them
I'm going to be honest.
When you're just starting to interview a possible future employee, you should only trust the concrete data they can show.
Anyone can talk about their massive success, but to hire a growth hacker who does a great job for your startup, you need to make sure he or she can deliver on the promises made.
If you trust a candidate at their word, you may be in for serious disappointment.
And unfortunately, a bad hire isn't an easy mistake to fix.
According to Sysgen, 36% of employers said bad hires resulted in lost productivity, and 33% said it compromised the quality of work.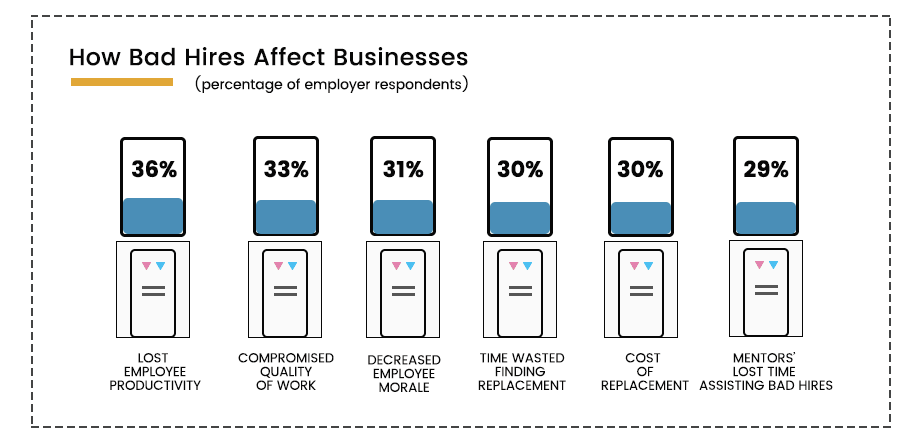 In other words, hiring a poor candidate was worse than not hiring anyone.
Here's how you can solve the problem and make sure the candidate you hire is a bona fide expert at the job you'd like him or her to do for you.
Find serious candidates in the application process.
To make sure the people who apply for your job are serious, you need to make them work a little bit harder.
A candidate who truly wants to work at your company will be happy to provide additional information you request.
Include a few custom questions in your application, and require that they are answered in the cover letter. This ensures that you won't have a lot of copy-and-paste candidates.
(And if you do, you can easily discard the resumes of the ones who didn't follow your instructions.)
If you're not sure what to ask, start with basic questions about the position.
According to a DMA Data-Driven Marketing Report, 92% of marketers say that data management is a key priority for their business.

Take advantage of this by asking the candidate to explain their strategy for managing the data they find during the growth hacking process.
Another topic for questioning is asking where they get ideas for their testing.
According to Econsultancy, 75% of company correspondents said that analytics was the source of their testing ideas.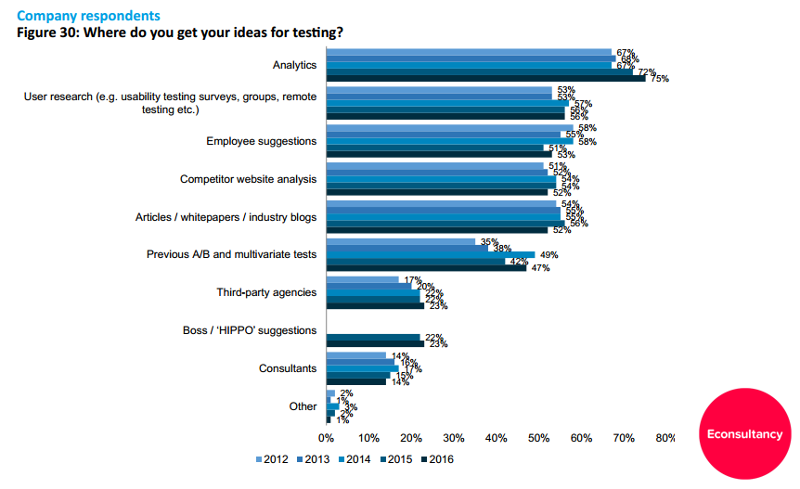 While there is no right answer, look for a response that involves data or analytics of some sort.
Review their past work.
A candidate can claim anything about their work success, but the results will speak for themselves.
Before you make a hire, be sure to check on the past projects of the individual you're considering hiring.
One of the best places to start is with the customer engagement techniques published by Entrepreneur.
Review the webinars, social media, and email marketing campaigns your candidate has performed in the past.
It's fine to ask for screenshots and results for proof since your goal is to get specific numbers.
It's also a good idea to ask potential hires to provide three case studies of projects or companies they've worked with.
Carefully examine the methods used by the growth hacker and make sure they align with your priorities.
According to Econsultancy, customer journey analysis, A/B testing, and website personalization are the three most valuable methods for improving conversion rates.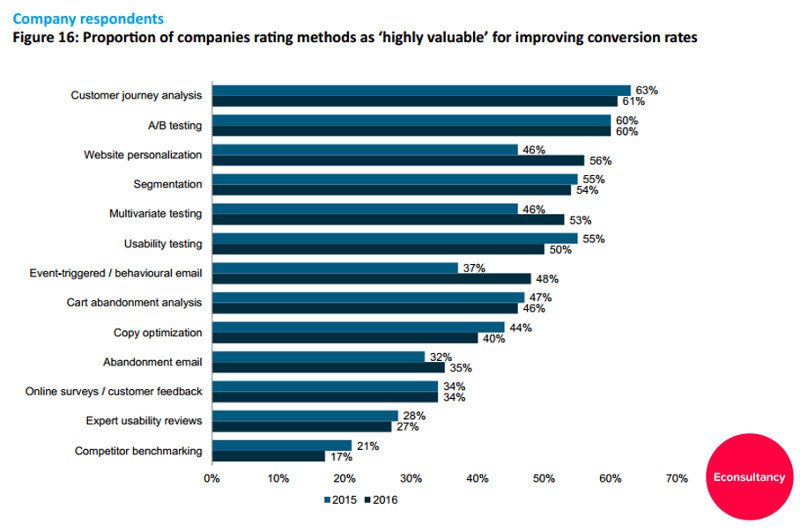 The growth hacker you're considering hiring doesn't have to use these specific strategies, but you want to make sure he or she is aware of these techniques and uses at least one.
Test their knowledge in an interview.
Finally, you want to test the knowledge of the candidate in an interview.
This is the time to ask hard questions, so don't go too easy. Get to the facts and the numbers.
During the interview, see how well they understand the principles behind the strategies and techniques they've used in the past.
Sure, they can talk about viral growth. But do they know the formula that causes that growth?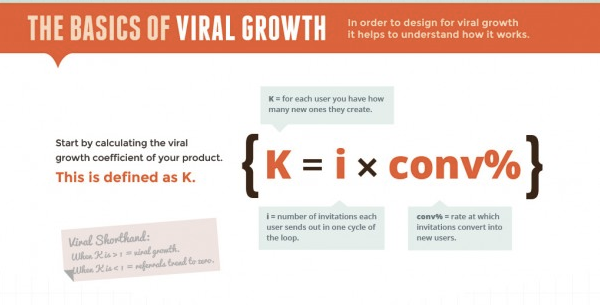 Probe their understanding of the topic and make sure they're familiar with a variety of tools.
To be clear, they don't need to know everything. As I've written before, value strategy over technical skills.
But you need to make sure that they're confident in implementing a variety of strategies and tactics to make your business successful.
During the interview, you also need to understand how they intend to use growth hacking to attract and retain customers.
Do they put the right focus on customers? This is a tricky line for a new company to balance.
Customers can't be the sole driver of growth since they are often blind to the next step your company should take.
But customer service and experience are paramount. According to OpenView Partners, 82% of customers have abandoned a company after a poor experience.
Understand what their position is regarding customers.
You'll also want to ask him or her to analyze and interpret data. While data is easy to collect, it is much harder to make sense of the results of your marketing.
According to Chief Marketing Technologist, crafting a narrative from the data is the most important art of data-driven decision-making.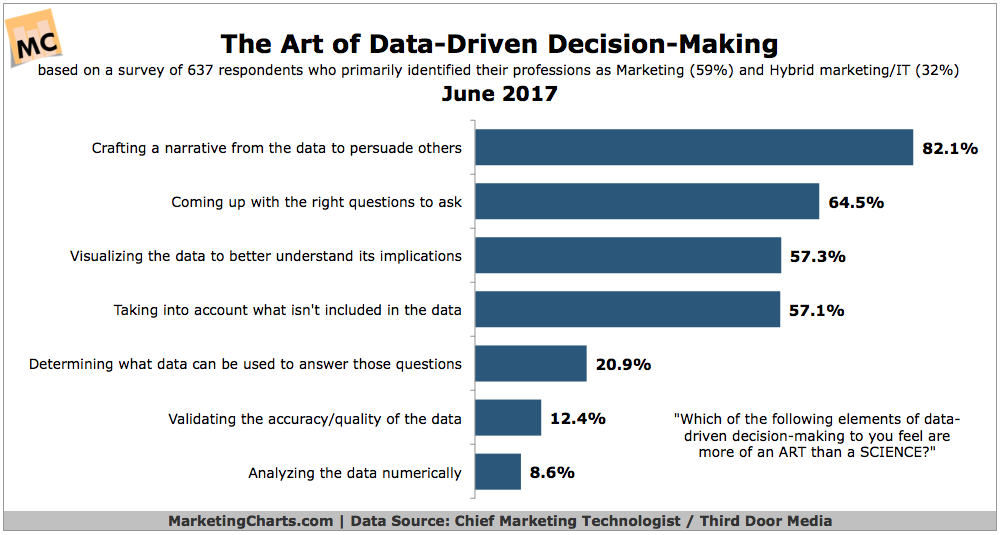 Find out how they interpret data and use it to drive growth.
Finally, you need to observe their body language and presentation of numbers during the interview.
Essentially, you want to find out how well they market themselves. After all, if they can't market themselves, how can they market your business?
Make sure they stick around
Okay, so you've hired an effective growth hacker.
He or she has demonstrated the right skills to expand your business faster than you ever thought possible. Their credentials check out, and you're excited to add them to the team.
But since growth hacking is the key to your success, you need to make sure they'll stick around.
This may seem like an easy task orf a new company, but the reality is much more sobering.
According to Software Advice, the number of employees leaving their jobs by choice is the highest it's been in a decade.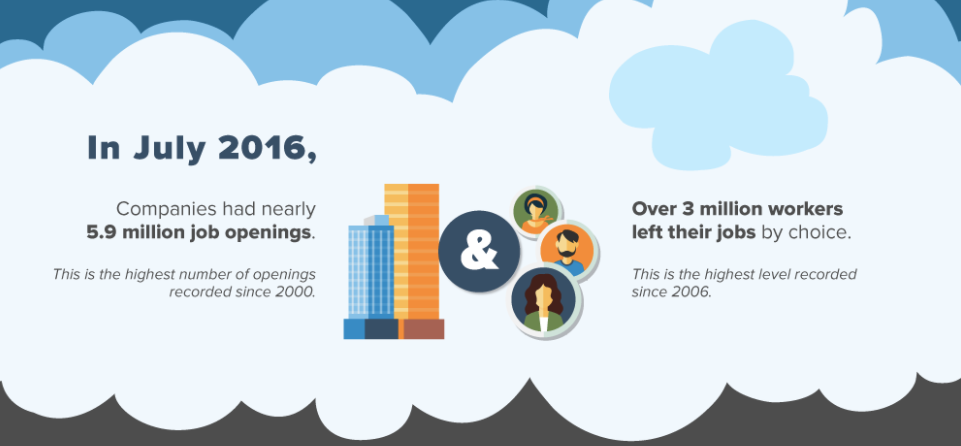 And according to OfficeTeam, employees will only stay with you an average of six years, with 18-34-year-olds only staying for four years.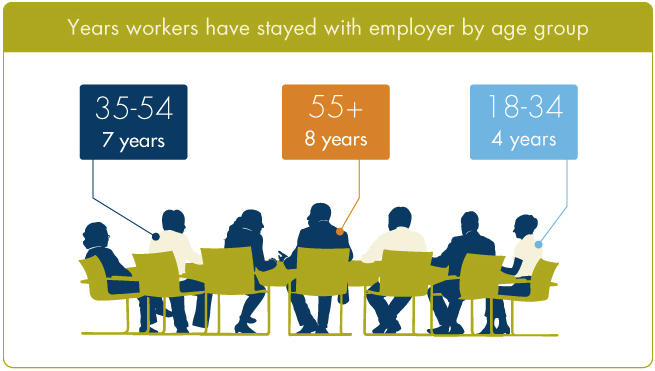 Because of this, it's much more important to make sure that your new growth hacker is committed to your business from the beginning.
If you follow these basic tips, you'll create a company environment that will keep your most high-value growth hacker at your startup for as long as you want.
Keep your top performers engaged.
If you provide your growth hacker with an exciting working environment but don't provide a way to engage him or her, you'll struggle to keep them around.
According to YouEarnedIt, a 5% increase in employee engagement is linked to a 3% increase in revenue growth the following year.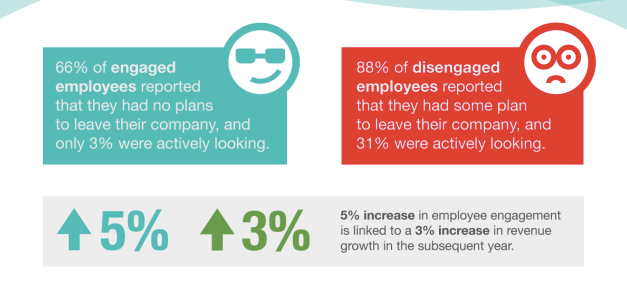 To engage your new growth hacker, ensure that he or she is fully aware of your startup's short-term and long-term goals.
Communicate the company values, and get your growth hacker excited about the future of the company (and his or her career).
To really land a successful long-term employee, you should provide a level of work that is slightly challenging and provides an intrinsic reward of accomplishment.
Provide exciting benefits.
When you hire a great growth hacker who makes huge progress, you're presented with a problem: He or she will have dozens of other career options besides your startup.
One of the keys to making your company stand apart from the hundreds of other ventures out there is to provide fantastic benefits.
According to Progressive Employer, 59% of employees say benefits are "very important" in how they feel about their jobs and their employers.
While great benefits like health insurance and retirement programs will cost you more money in the short-term, they ensure that your top-performing marketers stick with the business.
This means that you'll have longer growth for an extended period of time and will make up the spending on benefits in the extra revenue you generate.
Provide them with the freedom to use their strengths.
One of the biggest errors startups make when hiring a high-quality candidate is gradually constricting them as the business grows.
This is an easy temptation because you'll want to direct his or her efforts toward the most high-value activities for your company.
But if you hire a growth hacker who's constantly trying new techniques and methods to expand your reach, you might find that he or she is reluctant to stay focused later on.
For a prospector-type growth hacker, consider letting them have freedom over choosing tasks that help accentuate their strengths.
According to Quantum Workplace, using strengths has become the #1 driver for employees younger than age 66.
By allowing them to use their strengths, the growth hacker you hire is more likely to stick around for the long term.
Conclusion
If you want to scale your business like never before, you're going to need someone who knows what they're doing.
To hire an effective growth hacker, you need to have a deep understanding of your goals and a solid knowledge of what you're looking for in a candidate.
Besides that, you need to know how to go about the hiring process.
While it'll take a bit of work to get started, the results will skyrocket the success of your startup.
What strategies will you use to hire a growth hacker to build your business?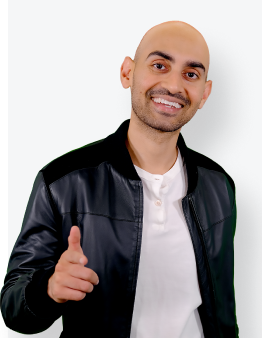 See How My Agency Can Drive More Traffic to Your Website
SEO - unlock more SEO traffic. See real results.
Content Marketing - our team creates epic content that will get shared, get links, and attract traffic.
Paid Media - effective paid strategies with clear ROI.