Facebook has grown tremendously to 1.654 billion users in Q1, 2016. These users actively engage with the content posted in their news feeds boosting their activity log and resulting in an average 20 minutes per visit. But, the users have A LOT to consume in an average visit…
That's because 50 million small businesses have created Facebook pages. Also, 2.5 million advertisers vie for the user's attention on the platform. That's a lot happening on the social network news feed and a lot for these businesses to contend with.
As they keep sharing content (low or high quality) to interact with their target audience, the competition rises and they eventually clutter the news feed with a ton of status updates, latest news quips, and other things.
Many marketers have taken to Facebook, complaining about their drastic drop in organic reach.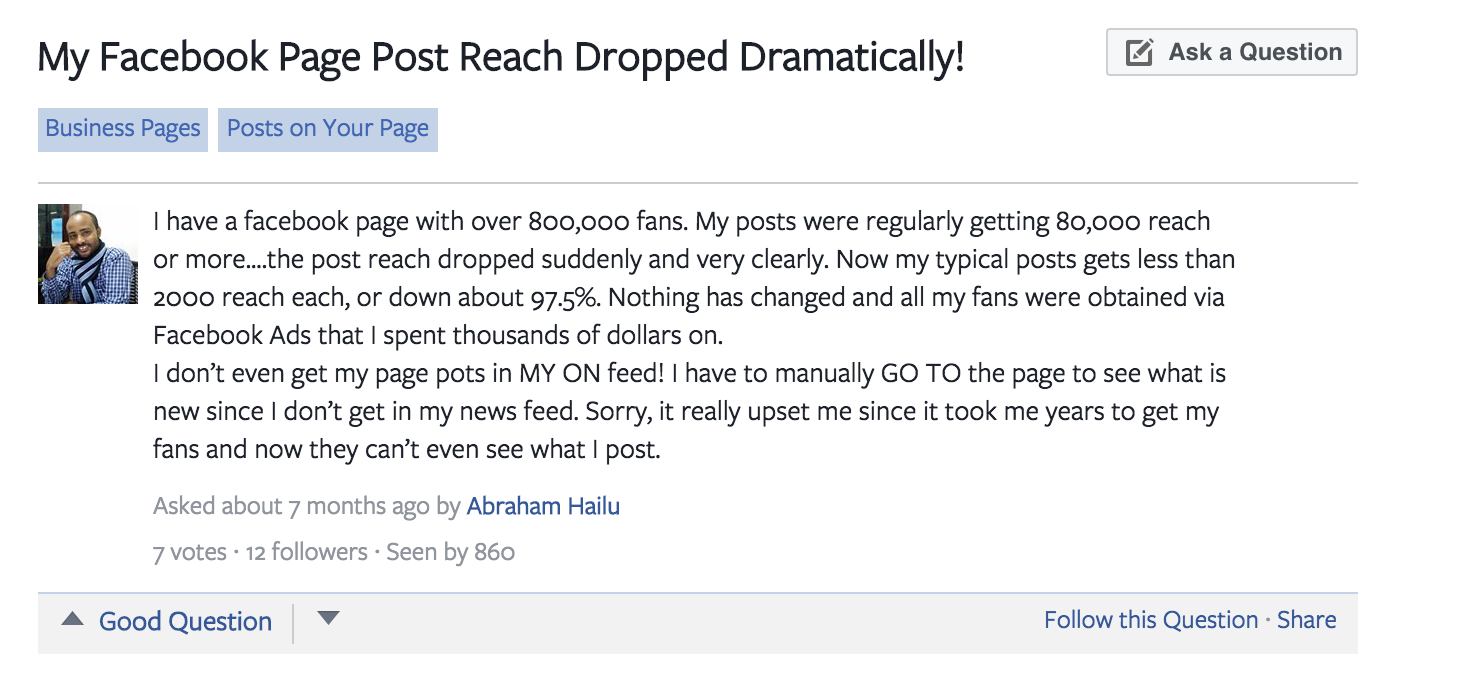 But, the answer from Facebook hasn't really changed. "We want to serve the most relevant content to our users."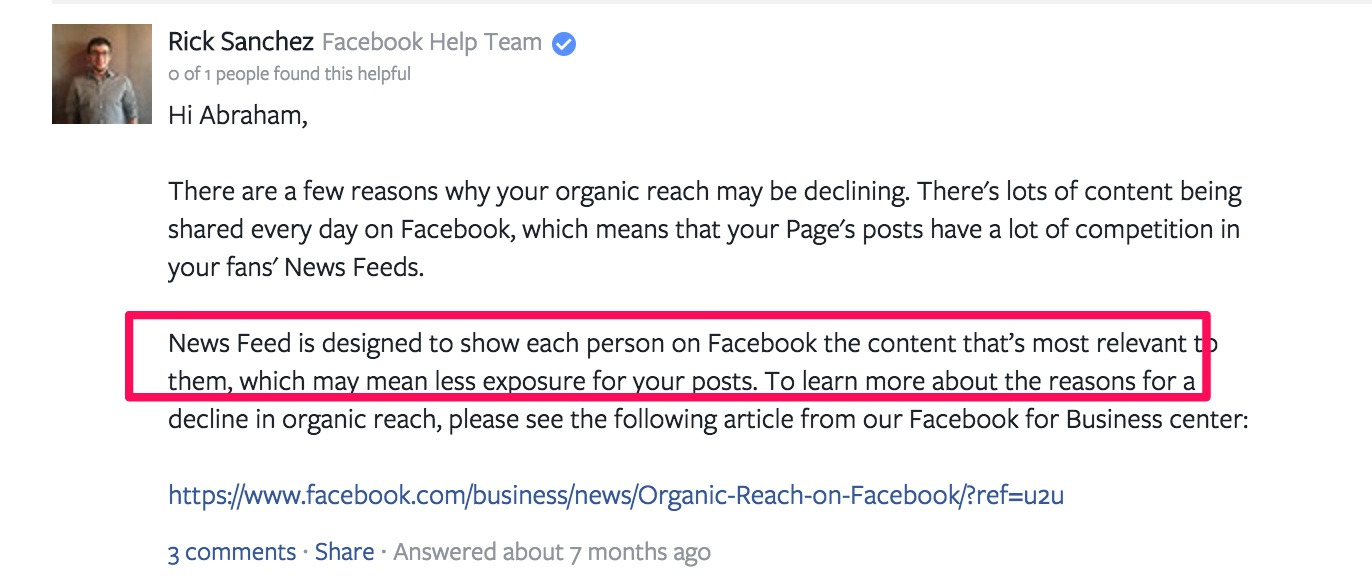 The guys at Facebook aren't really lying. The number of brands promoting on Facebook has risen by 130% since 2013.
With that, the number of brands that promote their posts has also increased by 80% in the last two years. And, organic reach has steadily declined from 7% to about 2%.
In the immensely competitive and rapidly changing landscape, you've got no other option but to refine your Facebook marketing strategy and trust me, its a good idea. This obviously includes adding paid media marketing to the mix and leveraging the powerful targeting inside their advertising ecosystem.
But, in this post, I've compiled a few other neat options to help ensure that your business page gets more visibility. These are based on the current News feed algorithm updates that favor certain types of content on social networks.
Note: If you don't already know, then the EdgeRank algorithm is dead. Facebook now has close to 100k weight factors.
Ready to rock the socks off your target audience by sending engaging content in their news feeds?
Then, here's the first update you need to know about to improve your friend requests, rock your activity logs, boost your news feed notability, and get your social media strategy back on track.
Facebook gives preferred visibility to news publishers
Have you wondered why they call it the News Feed?
It's because Facebook wants to become a goto resource for real-time information, delivering the latest news as it happens.
Along these lines, the social giant announced partnering with Storyful (a social content discovery tool for newswires), to create FB Newswire in April, 2014.
With the launch of this product, Facebook wanted to support journalists and newsrooms to explore and embed newsworthy content (read as breaking news) from their platform directly to their target audience via the news feed.
Digiday even noted that Facebook may have offered free ad units in users' mobile feeds (based on circumstantial evidence of an exponential growth in likes on the CNN Facebook page).
The organic reach of news publishers seems to remain steady, even with a higher posting frequency. Here's the result of analysis of 3,318 profiles, by Sotrender.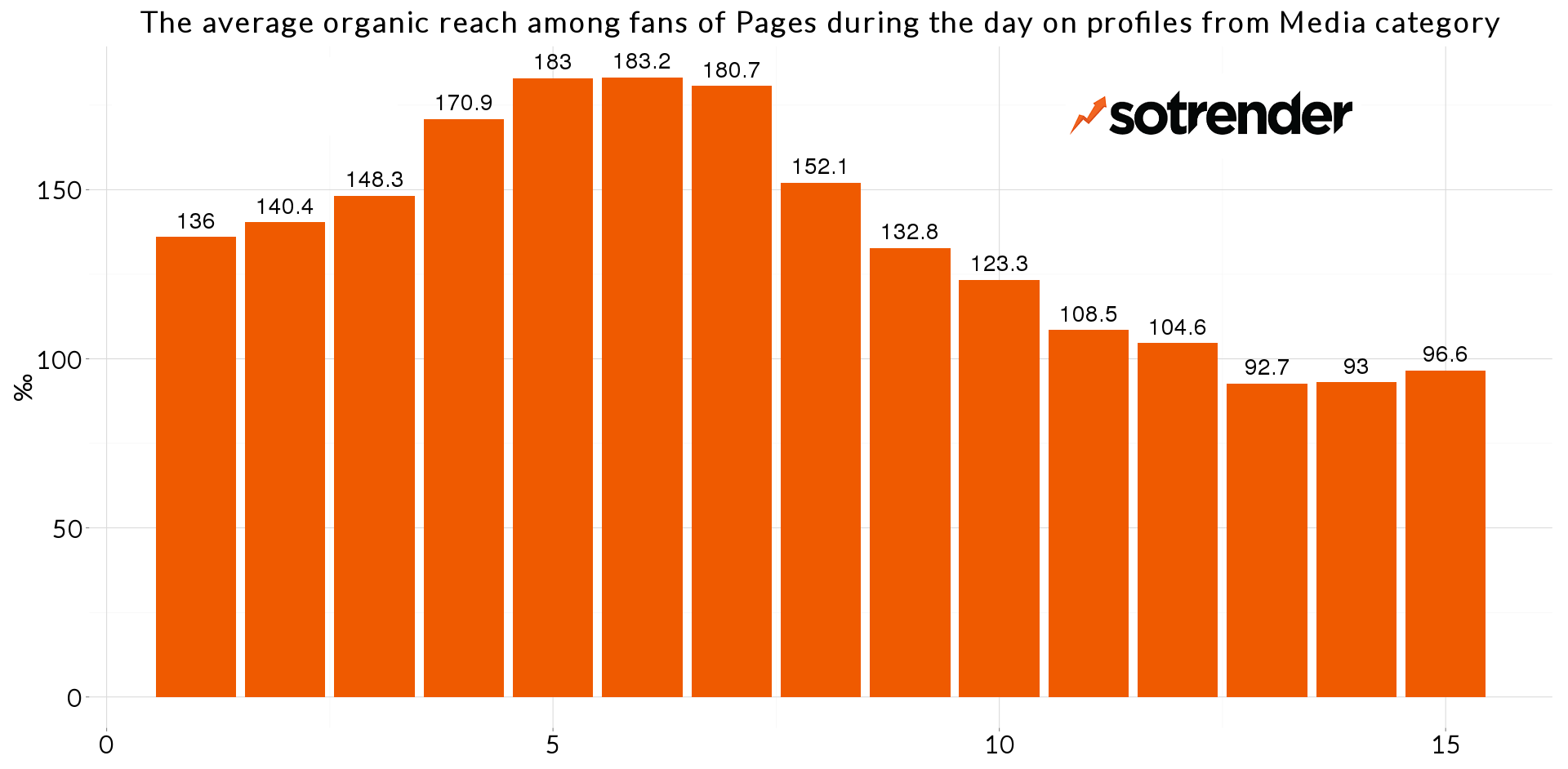 But, for brands, the reach drops with every additional post on the news feed throughout the day.
The engagement with increased activity log and posting frequency also seems to drop.
The data is clear. If you're a media website, then congratulations…
Facebook favors and trusts you to make the news feed a better place. So it's a good idea to use your powers wisely.
But, if you aren't in the news business, then your brand should remember to post less status updates and the like into the news feed while maintaining content quality. Here are a couple of aspects that you can leverage, though.
Break big news first – If you're among the first few pages to post newsworthy content on your news feed (relevant to your audience), then you might get an organic uptick. This is especially true if you manage to send a status update before it shows in the Trending Topics on the right sidebar.
Jeff Goins creatively incorporated 'THE WALKING DEAD' in his news feed post, once, while it was trending which turned out to be a good idea. Look out for such opportunities.
Refer authoritative sources – If you're curating content, then test different sources. Since Facebook shows affinity towards certain pages, you might find a better performing curation source for yourself.
Time spent on the post is now also an indicator of user preference
Many users hate the clickbait headlines employed by websites like BuzzFeed and UpWorthy and it loses these sites a lot of follows and friend requests.
When you promise a HUGE surprise or value-adding content, behind the headline and fail to deliver or if you deliver fake news, then the user is bound to feel cheated. Social networks shouldn't be seen as a cheap fix to up your friend list. You should treat it with the same grace as you would traditional media.
Google already has engagement metrics like on-page time and bounce rate in place for understanding the usefulness of a website's content. And, they even reward websites with higher user interaction in the search engine results page.
Facebook seems to have initiated its own fight against clickbait. It started surveying users on the stories that appeared in their newsfeed and asked them to rate the content.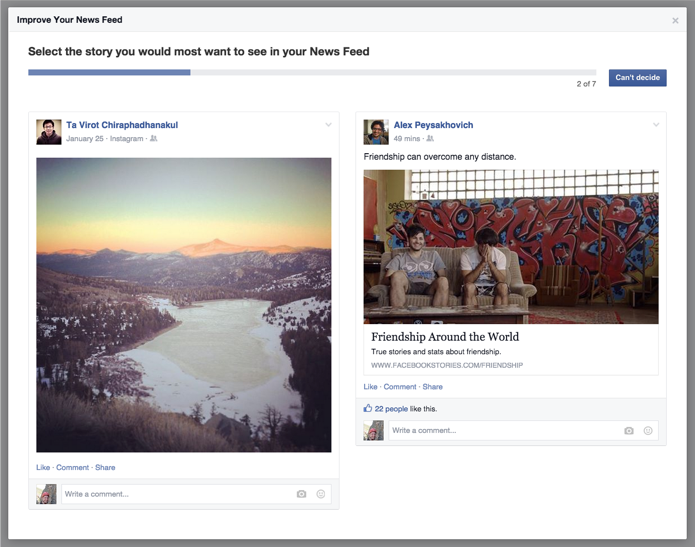 The result?
A news feed that's not just limited to being clickable…
But, users are also more interested in relevant content that's easier on the eyes. You don't need to touch stories in the social network news feed (like, comment or share) to show that you actually like them.
Facebook now takes into account the time people spend on a piece of content (reading/watching) after clicking it. So, suppose you click on an Instant Article link or open a page in its internal browser window. Then, the social platform calculates the time spent by you after the content stops loading.
The time is also controlled by content length. So, the updates and websites where users spend more time overall WIN. They would get served farther and higher in other users' news feeds. And, this update applies both to personal status updates as well as to Facebook pages.
This means that the meaningful updates on serious current content (from friend lists or publishers) will continue to get served to you if you spend time in the News Feed reading them. You don't even actively need to 'click' to show your interest (but social interaction also remains a part of the news feed algorithm).
This is typical of Google's algorithm where pogo-sticking behavior signals user dissatisfaction with a search result. Target audience disappointment can plummet a search ranking.
User satisfaction is of paramount importance for all platforms and businesses.
Which brings us to another important aspect of this Facebook update…
Diversity.
Since people enjoy reading articles from a wide range of publishers, they will be shown a smaller number of stories in a row, from the same source, in their news feeds.
If you write high-quality, insightful and engaging content for your target audience, then this Facebook update is a huge win for you with prominent visibility. I've always emphasized crafting epic content on my blogs. Here are 14 examples of truly awesome content to flatter your readers.
Live Videos are viewed 3x more than recorded videos
Video is the most consumed content on mobile devices. Facebook alone touched 100 million hours of video watching time in Jan, 2016. And, they incorporated signals, like muting a video, watch duration and number of people watching a video to prioritize their distribution in the news feed.
But, social media has increasingly become real-time and about not missing out any IMPORTANT moment.
Users like to log in frequently for consuming regular doses of amusing content, they only have to look back at their activity logs to see this.
So:
Facebook rolled out live video on iOS in December, 2015 and on Android towards the end of Feb, 2016. The engagement they saw was extraordinary. People found videos in the moment more interesting.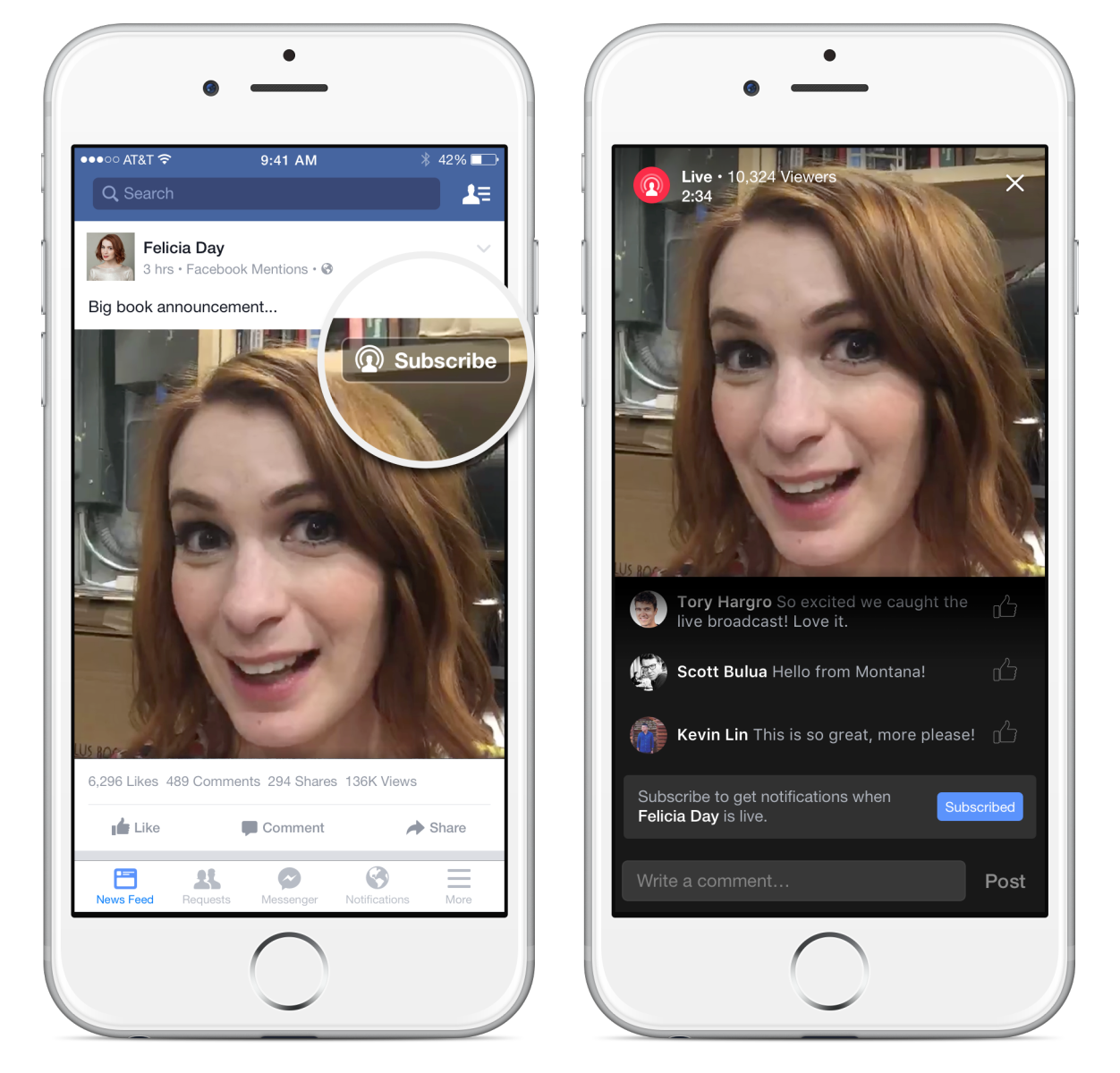 "People spend more than 3x more time watching a Facebook Live video, on average, compared to a video that's no longer live."
In March 2016, Facebook started classifying live video as a new content type.
Although Facebook said that they don't see major effects on pages as a result of this update…
I would recommend that you get your hands dirty with this rich engaging feature. I, myself experimented with live Q&A and received great audience engagement. Vin Diesel interacted with 1 million live viewers through Facebook Live.
You can broadcast live videos to a personal profile, Facebook page and even to a group (based on their privacy settings).
Once you start broadcasting, you'll get stats that show target audience engagement in real-time.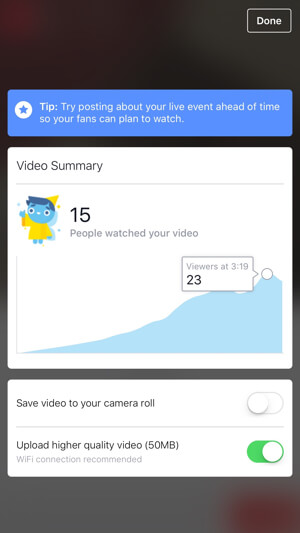 At the end of the video, you can even save it as an HD video and post it on your social network page/profile. You may also see your friend requests go up as a result as more and more people will be introduced to your brand.

You can also promote the video post while it's live or even after you end the broadcast.
You can access more details about Facebook live marketing here.
Experiment with the new audience optimization targeting tool
Facebook wants to help publishers optimize their social media marketing efforts. And, with that in mind, it launched the audience optimization tool with its own how-to guide, listing its 3 related features. Note that this tool replaces the older interest targeting tool that I talked about in this article.
Before we look at its inner workings, you might need to enable the feature (in case you've got less than 5,000 likes). Navigate to Settings in the drop-down menu>> General and turn on Audience Optimization for Posts.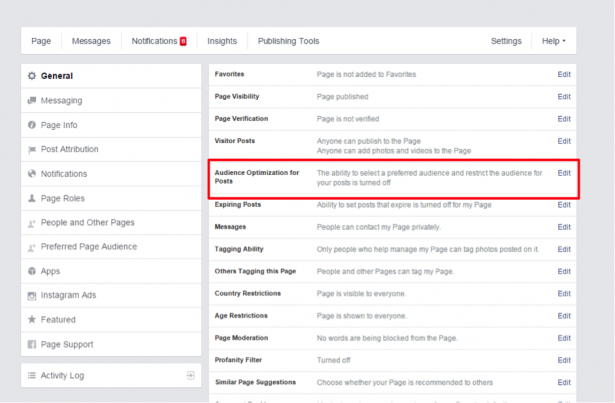 Note: This optimization feature isn't available inside Business manager or the posts created using the Facebook's power editor tool.
Alright once you've activated the tool, you have the following 3 features to work with:
1. Preferred Audience
This tag prioritizes posts that are possibly more interesting for a user, without restricting their visibility to others. You can't create your own tags, though which is a good idea. They are based on Facebook open graph pages, Facebook Ads tags and other Facebook-specific data sets.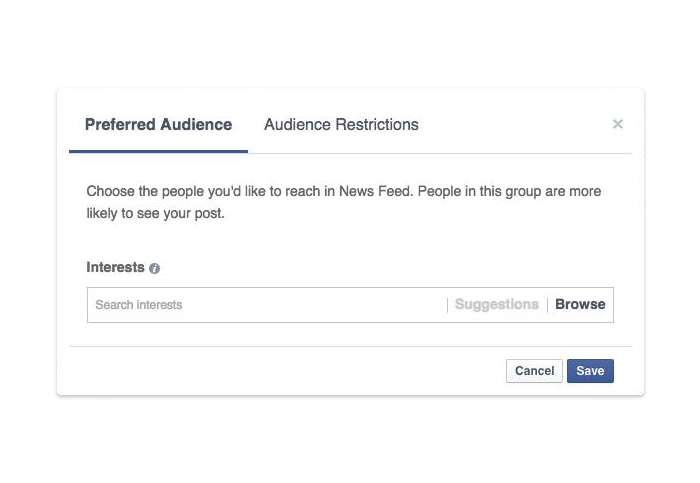 2. Audience Restrictions
Now this was a functionality that already existed on Facebook. And it restricted a news feed post's visibility on Facebook based on age, gender, location, language and other demographic information. You can still leverage it to exclude certain target audience members from viewing your specific posts and status updates.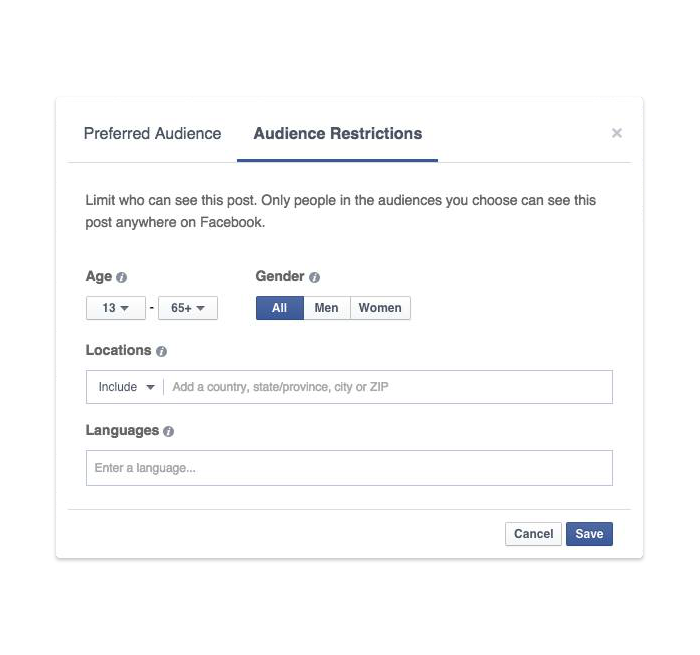 3. Audience Insights
What's the use of interest tags if you can't find out how they contribute to your post's reach?
That's why Facebook offers insights on how a particular tag impacted your post's reach, clicks, shares, likes, comments and more. You receive engagement metrics for every interest tag that you set.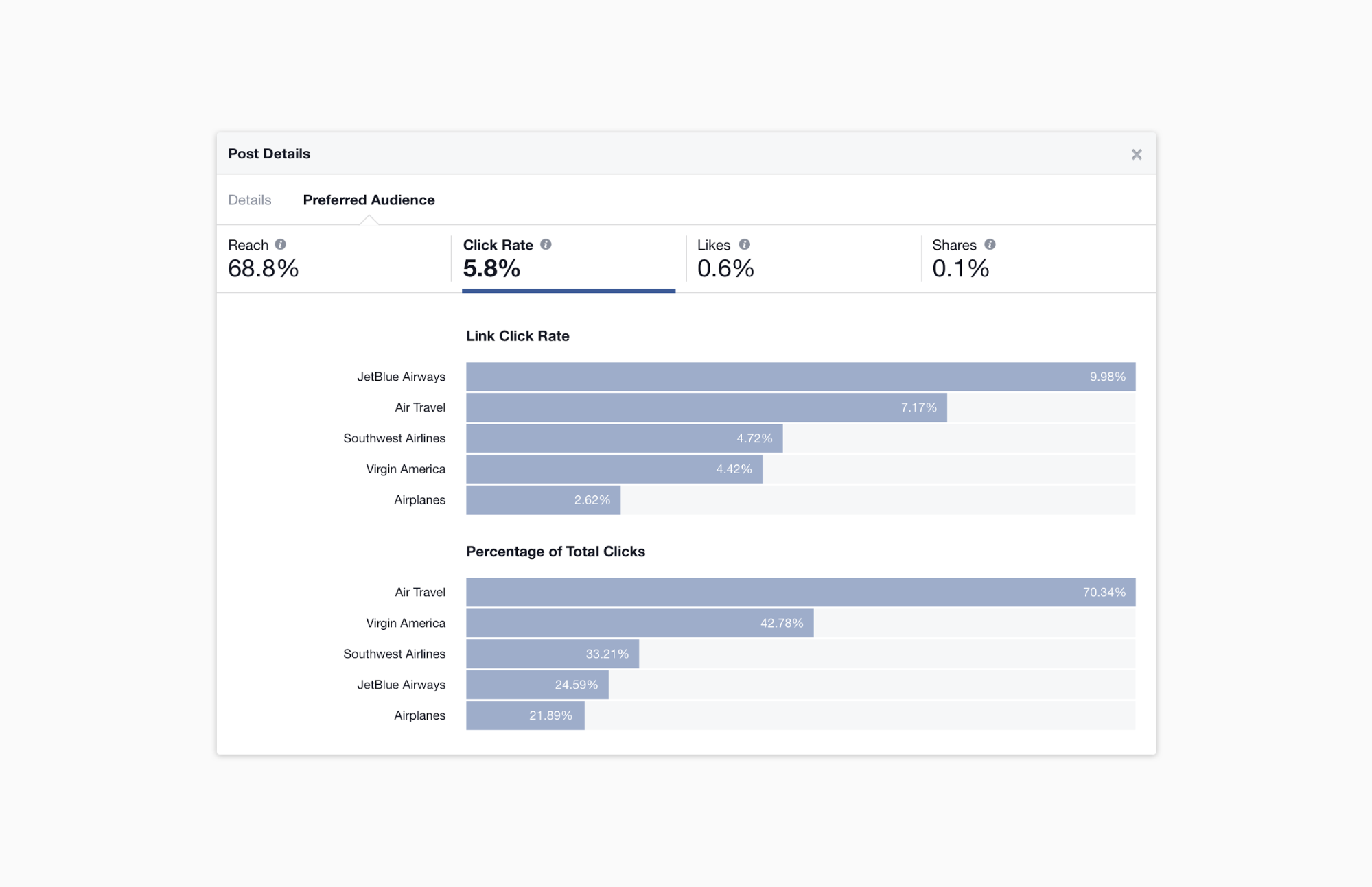 In his feature test at Search Engine Watch, Matt Owens didn't find any major impact of using the interest tags in a post. With about 37k Facebook fans, his post was able to reach 380 people in 5 hours.
I know that's not a huge bump. But I recommend that you test the feature, after reading Facebook's best practices for interest tagging.
While we're on the subject of targeting your audience, I would like to introduce you to another cool new feature, launched in July, 2015 by Facebook.
To personalize the news feed for users, it launched News Feed preference tools inside the settings hood. Here's a video overview.
Updated Controls for News Feed from Facebook on Vimeo.
Users can now preferentially view posts from certain users using their "See First" feature. I think its a good idea that you make your audience aware of this feature. so that they can set your page to appear at the top of their news feeds.
From there, it allows the user to set up to 30 friends on their list and pages that they want to see first (Knock Knock…will you set up my Facebook page already?)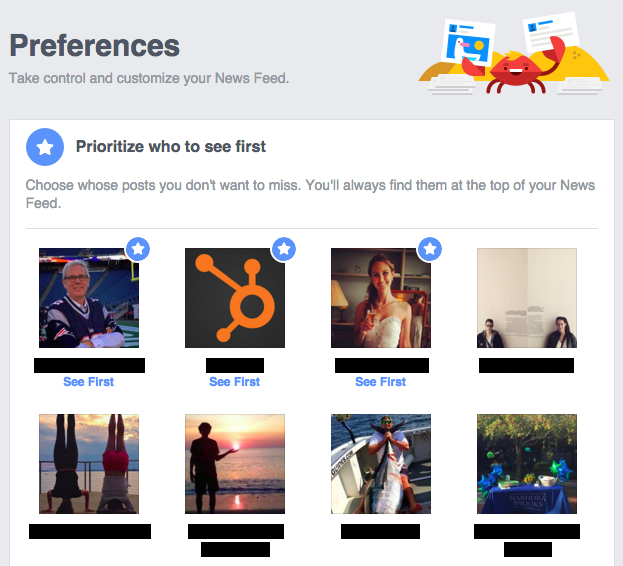 Leverage the granular targeting of Facebook Ads
You just can't survive in the competitive Facebook landscape without throwing in some dollars. There have been comparisons done between the increasing Facebook stock price and the decreasing organic reach.
I've mentioned this many times before…
All social media sites are inclined towards making brands pay for advertising on their platforms.
Don't get discouraged, because even a small budget (about $10/day) can increase your post's reach reasonably. The reason is the richness of over 1,500 data points available to marketers for targeting the users.
Facebook has one of the most robust and powerful advertising ecosystems and it can bring a tremendous ROI for your business.
The recent Facebook announcement on preferring posts from people in the family and friends list over posts by brands makes it even more difficult to remain visible organically in the news feed and activity logs.
As marketers realize and opt for advertising, it's going to get much more competitive. So, its a good idea to join in early while the cost per engagement is cheaper. If you're new to Facebook advertising, I'll recommend that you read these 3 articles to get started:
Conclusion
Facebook is now the top referring website on the internet, sending hordes and hordes of traffic to many brands. Viral websites, like BuzzFeed and UpWorthy, have built their complete business largely off Facebook and continue to generate major traffic through the platform.
You don't need to get upset about the declining organic reach of your brand's Facebook page. Instead, experiment with the strategies and tools I mentioned in this post (based on your requirements) to gain more visibility on the news feed. And, if nothing works, give paid advertising a try.
Are you aware of any other major Facebook news feed algorithm update that can help brands with their visibility in the social network news feed? Let me know in the comments.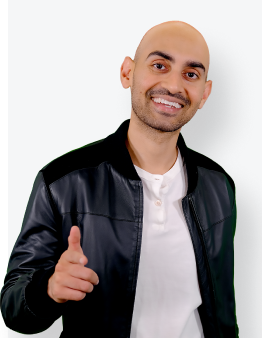 See How My Agency Can Drive More Traffic to Your Website
SEO - unlock more SEO traffic. See real results.
Content Marketing - our team creates epic content that will get shared, get links, and attract traffic.
Paid Media - effective paid strategies with clear ROI.
Are You Using Google Ads? Try Our FREE Ads Grader!
Stop wasting money and unlock the hidden potential of your advertising.
Discover the power of intentional advertising.
Reach your ideal target audience.
Maximize ad spend efficiency.