All great marketing starts with a deep understanding of your customer. If you don't have that, it's nearly impossible to create campaigns that will resonate with your target market. This might seem obvious, but it's easy to get lost in the daily grind of content creation, analytics, and strategy planning and overlook the importance of consistent market research.
Actually, consistency is key––customer research is not a set-it-and-forget-it kinda thing, as I mentioned here.
One of the most effective ways to research your target market is through surveys. With so many great survey tools available it might seem easy to cobble one together. But if you want to gather actionable data that gives you deep insights, you need to understand the science and nuance behind creating a good survey (which requires data analysis chops, a knack for psychology, and copy skills, among other things).
The nice thing about surveys is that once you get good at them and have enough traffic/subscribers/customers, you can automate the process so that you have a constant flow of data coming in––a big help when it comes to being consistent with your research!
For this post, I spoke to seven marketers in order to understand how they create winning surveys. Here's what they had to say …
1. Peep Laja, Founder of ConversionXL –– The best online surveys are qualitative
Peep Laja created and manages ConversionXL, one of the most popular conversion optimization blogs online. He is excellent at crafting blog posts that get shared across the web; he used a specific system to get ConversionXL 55,000 visitors in the first month and, eventually, attract an average of over 100,000 visitors a month.
I reached out to Peep in order to understand how he designs customer surveys to gain insights that will boost conversions. Here's what he had to say:
Survey people who still freshly remember their purchase and the friction they experienced in the buying process. Only talk to your recent first-time customers (who have no previous relationship or experience with you that might affect their responses).

You want to filter out repeat buyers or people who bought a long time ago. If you ask somebody who made the purchase 6 months or more ago, they have long forgotten and might feed you with false information.

The best online surveys are qualitative (open-ended questions). Aim to get in around 200 responses, and avoid multiple choice and ratings.

My experience is that the sweet spot is around 7 to 10 questions. More than 10, and the number of people who take the survey goes down; less than 7, and you might not capture as much information as you could.

Here are some questions that give you really great insights for conversion optimization:

"Which doubts and hesitations did you have before completing the purchase?" → Identify main sources of friction, and address them (or fix them if they're usability problems).
"What's the one thing that nearly stopped you from buying from us?" → This is about identifying friction again, coming from a different angle.
"Which questions did you have, but couldn't find answers to on the website?" → 50% of the purchases are not completed due to insufficient information. This helps you identify some of the missing information your customers want.
2. Felicia Sphar, Direct-Response Copywriter and Founder of Instantly Irresistible –– Use surveys to steal words from your customers' mouths
Felicia is a direct-response copywriter, coach, and blogger. I've noticed that copywriters tend to be incredibly good at customer research––they develop battle-tested systems for collecting data about their target audience in order to distill their key pain points and desires.
While their research methods are intended to support writing killer direct-response copy, the resulting conclusions can shape the messaging and strategy for a company's marketing campaigns at large.
I reached out to Felicia in order to understand how customer surveys play a role in writing effective copy.
Hardly anyone will tell you this, but writing great copy is all about stealing. Literally, stealing the words from your customers' mouths … which is why asking survey questions is so important. One of my favorites to ask that performs consistently well is: "If you had this information, what would it allow you to do? How would you feel?"  I love to ask this question via email because people really open up, have time to think through their answers, and you'll find a lot of "gold nuggets" for your copy.

This is how you get the "painted picture" of what your product actually means to someone––as it's never about the product itself. You have to uncover what's "under the rug" in order to move people with any copy you write––and then USE that exact language.

Thankfully, there are no "copy police" that get you for stealing. You're only rewarded in sales.
3. Chuck Liu uses surveys to benchmark visitors' primary motivation for being on your site
Chuck Liu is a design research manager who helps companies create great user experiences by gathering key insights. Chuck has worked in marketing and IT customer support. I loved Chuck's recent article on building effective surveys and wanted to learn more about how he gathers and applies survey data to make better products.
Here's what he shared with me:
Start with broad questions first and get more specific later on. This is so you can measure general satisfaction or experiences with your product or business before you ask about specific scenarios or features.

Some broad questions that you can start with include:

"How satisfied are you?" → This helps you gather feedback about a current product or service. You can also ask the NPS Score question of "How likely are you to recommend <PRODUCT/SERVICE> to a friend or family member?"
"What is your primary motivation for using <PRODUCT/SERVICE>?" →This is great if you're trying to do research on why people are on your site or using your products in general. This is especially useful if you're a startup and trying to figure out a product-market fit.
"What best describes why you came here today?" → This is a great way for you to benchmark the primary motivation and what users are doing on your site. Repeat customers may be browsing while app users may be doing specific tasks you can analyze.

Here are a few more specific questions:

"What is your experience with using X? Please rate your experience on <feature> on a scale of 1 – 5." → Dive into questions about specific features or purchases. Ask what words they would use to describe the brand or company. You could also ask about competitor products/services such as "Have you considered using any of the following products?" in order to gain insight into what competitors come up. If you don't know competition at all, then ask it this way, "Have you considered using a similar product to <PRODUCT/SERVICE?  List all that apply."
"How satisfied are you with X/Y/Z?" → Amazon and Apple usually ask you how satisfied you are with the professionalism of support staff or technical knowledge.
"How would you describe <PRODUCT/SERVICE> to a friend or family member?" This lets customers, in their own words, tell you what they think your business or service is. This helps you write better copy for campaigns or collateral using real vocabulary and language from customers. It also lets you learn if your product/service is being misinterpreted as something else.

At the very best, you can get a high-level understanding of people's sentiments and people's motivation for coming to your business or product. It helps you understand your market and your customers.

As people go deeper into a survey, you find out more specific details that you can use to optimize your business/product in the right direction or at least pick up some useful information about how you can change people's perspective on your business.
4. Meghan Lockwood, Senior Manager of Content Strategy at Acorio –– Before you send out your survey, make sure to have outside eyes read it
One of the most thorough guides for creating marketing surveys that I found while researching this article is by Meghan Lockwood, a Senior Manager of Content Strategy at a web solutions firm and who cut her teeth at HubSpot and MarketingSherpa. I loved how she dove deep into what it means to ask statistically-valid questions (with concrete examples), the importance of ruthless editing, and how to order your survey questions.
Here's what Meghan shared with me:
On how to edit and test surveys:

My best editorial advice: Keep your surveys as short as humanly possible. No matter how much you want to learn (or how many additions you get from the outside), the fewer questions you ask, the more responses you will get. At Sherpa, we found that with any survey that takes longer than 5 – 10 minutes you watch a dramatic drop-off in response rates.

Before you send out your survey, make sure to have outside eyes read it. You are shooting for objective questions. And, as much as you might think you aren't leading the witness, when you live any environment long enough, certain assumptions––like people are doing digital marketing at all––seem self-evident to you when they often aren't to the larger world.

On why I believe in surveys:

With everyone running to "do content" these days, unique data and original insights are the only true differentiating factor you can count on. A lot of people are doing graphic content––it's almost a table stake. To keep your readers coming back, though, to get them to trust you, you have to get more than skin deep. Give them information they won't get anywhere else, and you will be the numbers that someone else steals.
5. Kristi Hines, Freelance Writer, Social Media Expert & Blogger –– Build a big list of topic ideas for your content marketing with on-page surveys
Kristi Hines is well-known for creating highly-shareable blog content. Her stuff is so good that both Neil Patel and Unbounce's Oli Gardner have said she's the best writer they've hired. I wanted to know how a content marketing pro like Kristi uses customer surveys to improve her content strategy.
Here's Kristi:
Using surveys as a part of your content marketing strategy can help you really get inside the minds of your website visitors.

If you use a small survey popup from platforms like Qualaroo, you can simply ask visitors what type of content they would like to see next. This will help you build a huge list of topic ideas––ones that you know people want to read about. If you send out a survey to your blog subscribers via email, you can go beyond fishing for topic ideas. Ask if they'd rather see longer or shorter posts, additional media (video, infographics, etc.), and other questions that can help you refine your current strategy.
6. Rebecca Corliss, VP of Marketing at Owl Labs –– Use surveys to run successful inbound marketing campaigns
Rebecca Corliss was one of HubSpot's original marketing team members, and she now leads Owl Lab's customer marketing team. She specializes in building marketing programs that drive improved product usage, new feature adoption, and upsell opportunities.
I was curious to learn how a company whose co-founder coined the term "inbound marketing" uses surveys to improve their content, so I asked Rebecca to describe the role surveys play in HubSpot's marketing.
At HubSpot we consistently use surveys both to make our marketing better, as well as to create content that drives future campaigns. For example, we believe you must truly understand your persona inside and out in order to run a successful inbound marketing campaign. To make sure we have a clear idea of the persona we want to attract, we survey and learn from our current customers first.

We also use surveys to make future content, and one of the largest surveys we run drives our annual State of Inbound Marketing Report. In this case, we learn from our customers and community members' experiences with inbound in order to report findings back to our marketing audience. We then use that content not only to attract new leads, but also to support and teach the customers we currently have. It's a win win!
7. Sherice Jacob, Writer and Founder of iElectrify –– Difficult questions can lead your prospect to abandon your survey
Sherice Jacob is a web designer, conversion optimization expert, direct-response copywriter, and contributor to various blogs. She's also written about improving conversions with surveys, so I was eager to reach out to her for some tips.
Here's what Sherice had to say about crafting effective survey questions:
Writing survey questions sounds easy enough, right? But with a little careful consideration, you can glean many more valuable insights than just a simple yes or no.

First, your questions need to be simple and to the point––don't try to double-up questions when there may be two completely different answers, for example "What are your biggest concerns about sales and marketing?" By the same token, don't offer too few answers either. Give the most likely responses as choices, but always have an "Other" or "Does Not Apply" option.

Finally, if your survey questions have an answer that's too difficult for the prospect to recall, chances are they'll simply abandon the survey. Things like "how many times did you shop for clothes online during the past six months?" may be easier to recall than "How many magazines did you browse for clothes the past six months?"

The more likely a prospect is to remember the event or number of times a thing was done, the more likely they will be to see your survey through to completion.
Over to you: How do you use surveys to improve your marketing?
All of these tips might make your head spin a bit; as you can see, there's A LOT that goes into creating great surveys and then applying your new insights to improve your marketing.
What is your golden rule when it comes to creating good surveys? And how do you use the data to build better marketing campaigns?
About the Author: Chloe Mason Gray specializes in digital marketing and growth strategy for small businesses and solopreneurs. Be sure to say hi to her on Twitter.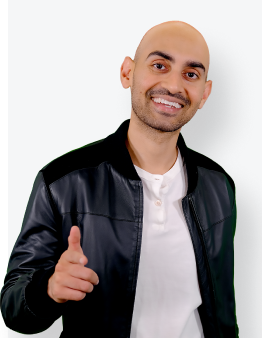 See How My Agency Can Drive More Traffic to Your Website
SEO - unlock more SEO traffic. See real results.
Content Marketing - our team creates epic content that will get shared, get links, and attract traffic.
Paid Media - effective paid strategies with clear ROI.
Are You Using Google Ads? Try Our FREE Ads Grader!
Stop wasting money and unlock the hidden potential of your advertising.
Discover the power of intentional advertising.
Reach your ideal target audience.
Maximize ad spend efficiency.