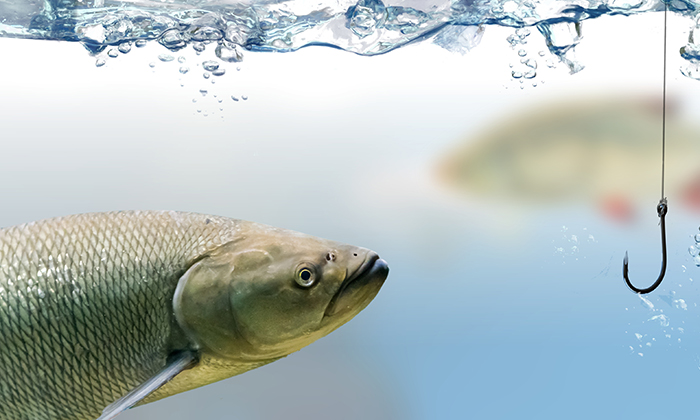 Getting traffic to your content is one thing.
But getting people to stick around, actually read it, and then finally convert is almost impossible now.
Creating content that resonates with your audience is something that is preached daily.
But what does that really mean?
What kind of content do people want to read and how on Earth are you supposed to know?
Finding that elusive hook or angle can give your article great positioning in the eyes of your audience.
But you shouldn't stop there. It's not sufficient to come up with a great topic and a great angle anymore.
As articles get longer and longer, and tasks in the digital marketing world get tougher, people are starting to crave content that shows them how.
Shows them how to fix their problems, how to do better SEO, how to be better at their jobs.
As the age-old storytelling parable goes:
Show, don't tell.
This couldn't be more relevant for creating content that finally converts.
Here's how you can implement the show, don't tell principle to create content that drives sales and conversions for your business.
What is showing vs. telling?
Before we jump into some actionable ways that you can show and not tell in your content, let's give a refresher course for those who aren't sure what the concept is.
Show-don't-tell is a writing technique that tries to enable the reader to experience the story or piece of content through actions, feelings, and visuals, rather than baseline descriptions.
The idea of showing and telling is currently credited to a Russian playwright named Anton Chekhov, who reportedly gave this statement as an example of the concept:
"Don't tell me the moon is shining; show me the glint of light on broken glass."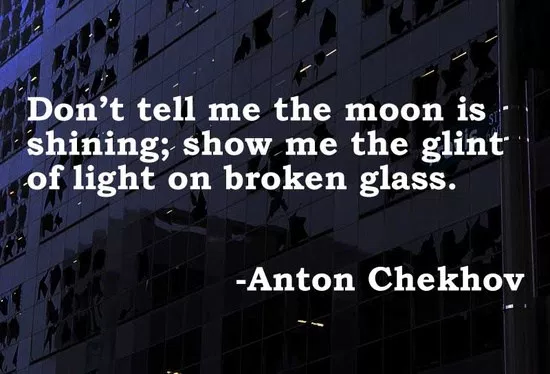 Essentially, the idea focuses on showing the event with descriptive language rather than simply stating that it's happening.
Here's a great example image that shows both — showing vs. telling: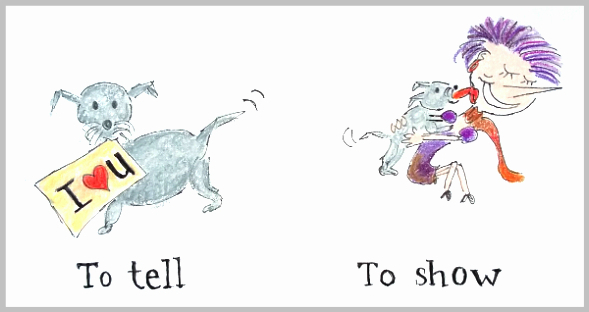 So how does this apply to business writing? How can this become apparent in your content marketing?
Well, first we have to understand that business-based readers are expecting different content.
They aren't looking to immerse themselves in a 100-page novel.
Meaning you don't have all the time in the world to build up your story to a climax point.
That just doesn't work in B2B or digital marketing copy.
You need to have a combination of both showing and telling to get them to stick around.
For example, with your headline, you could tell everyone that you are the best company around or that your product is popular.
But then you need to show it.
Look at how Unbounce tells us about their product with a great headline first, "Build landing pages fast, get more conversions."

But that's not all that they do. That's just the hook to get people reading.
Now they begin to show you exactly how that process happens, giving it life and showing the user that this is achievable and not just some pipedream.
The balance between showing and telling is critical when it comes to converting people from content.
Here are some of the best ways to create content that converts using the show-don't-tell principle.
Create a walkthrough or step-by-step guide
As content marketers, people read our content for one reason:
To solve a pain point.
Think about it: When was the last time you read a blog post?
Did you just head on over to that blog and read for the fun of it?
Probably not. You probably thought of a question or problem and then conducted a Google search to answer the question or solve the problem. Like this:
"How can I get more traffic from social media?"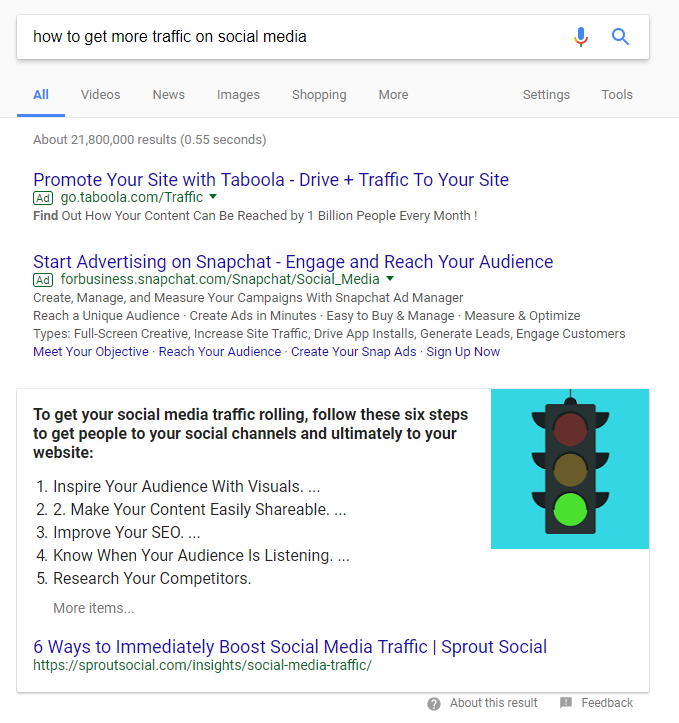 Next, you clicked on a blog post on the first page and you read it, trying to adapt your strategy to some new principles that you picked up.
This is the most common scenario for how people find content.
It's rare to find someone who just enjoys reading blog posts for the fun of it rather than to acquire knowledge on a topic that they struggle with.
It just doesn't happen all that often.
So the next logical step in understanding this trend is that people are reading your content for advice.
Meaning they are looking to you for tips and tricks.
But again, they don't want just any tips and tricks.
Simply saying, "Doing SEO for your social profiles is good" won't get them to like your content and convert.
Why? They don't know what you're talking about or how to do it.
That's why they landed on your content in the first place. To learn!
One of the most powerful ways to "show" with content is by creating a walkthrough or step-by-step guide.
It works like this in two logical steps:
Tell the reader about the problem, the issue, and then introduce tips.
Show the reader how to put them into practice or use them in real-world situations.
Don't believe me?
Just look at my top three most-shared pieces of content according to Buzzsumo: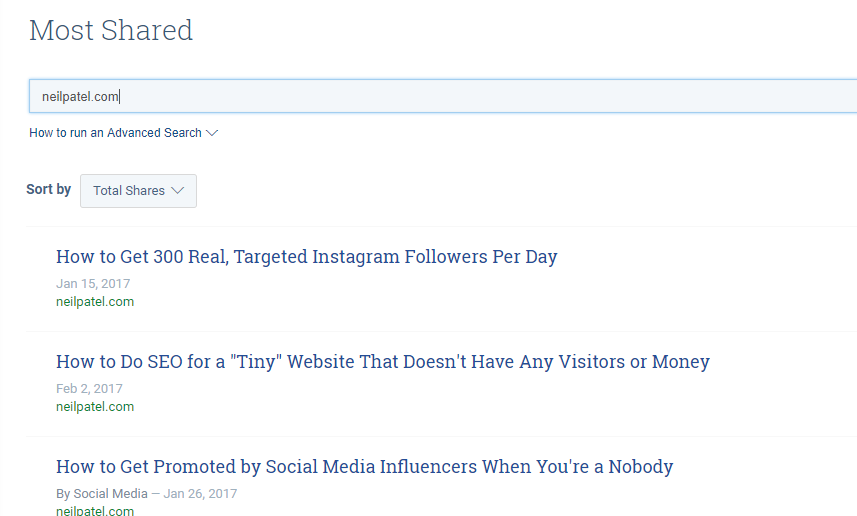 Notice anything?
They are all "How to" style posts.
Meaning they all contain showing, not telling.
They show the reader exactly how to do something rather than me just saying "get Instagram followers by posting more."
Instead, I show them exactly how that can be done: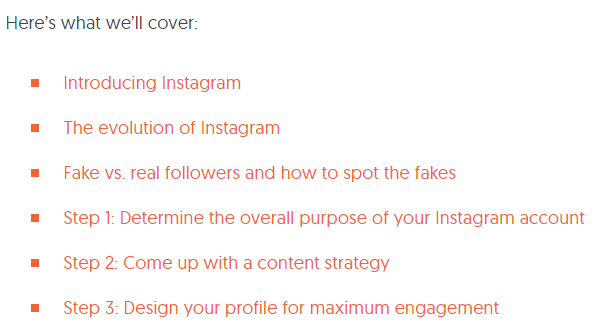 I do this often on my blog because it's the kind of content that I would personally read.
If I don't know something, I don't want to hear blanket statements about how it can be done.
I want someone to show me!
That's pretty much the basics when it comes to learning, when you boil it down.
For example, in school, your teacher probably helped you through each step of figuring out a math problem.
They showed you with a visual example and with their own hands how to perform it.
They didn't just tell you to find the answer because there are no actionable benefits from it.
One of my favorite ways to come up with ideas for walkthrough- and tutorial-style content that shows rather than tells is to visit Google and search for your topic.
For example, if you want to write a walkthrough on local SEO, search for it on Google:
Next, scroll down to the bottom of the results page and look for the related searches box: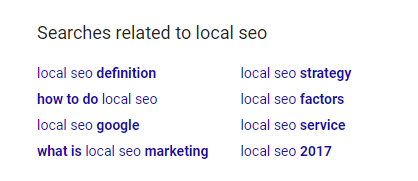 These are the real queries that people are searching after they search for "local seo."
Meaning that people want to know all of this stuff.
Notice the second term? "How to do local seo."
They are practically begging you to show them!
Even "local seo strategy" evokes showing rather than telling.
Put some of these terms together as an outline and you'll be on your way to showing them rather than telling. And I guarantee that your conversions will be higher.
Use more relevant studies and data in your content
Showing someone how to perform a task is critical when trying to get them to convert.
How are they going to know if you're the expert or go-to site when it comes to tutorials if you only tell them?
Often, that's not enough.
You need to get them to understand the why behind the tutorial by showing them real data.
One of the best ways to convert people with content marketing is to show that you know what you're talking about.
And data is a huge aspect of this.
But you can't just simply state the data without showing them. That's a recipe for disaster.
You need the proof to back up your claims.
For example, in most of my posts on my blog, I use studies and data to back up my claims: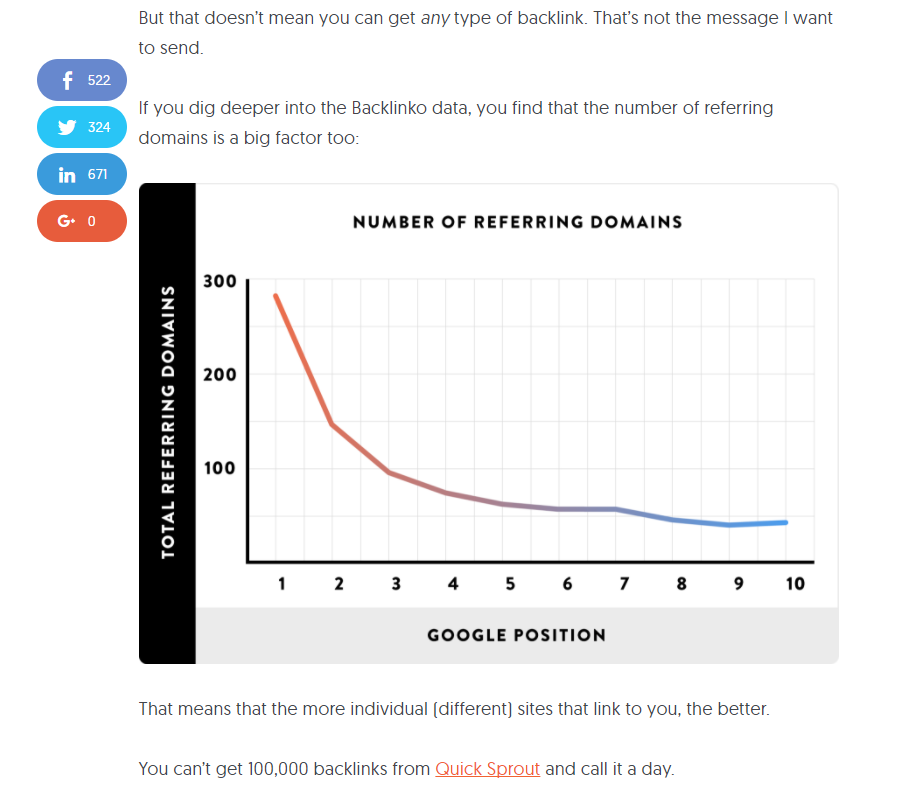 Rather than just telling, it helps to show a visualization.
If you read a statistic without a visual representation, it is often overlooked.
If you want your content to stand out, you need to use visuals.
Blocks of text simply won't get the job done. Showing requires a certain amount of visual stimulus beyond just writing in a way that shows the user how to do something.
So, how do you find studies and data?
It's simple, really.
One of my favorite sites to find data is Marketing Experiments:
The site is exactly what it sounds like. It's a treasure trove of updated, reliable and in-depth data-backed studies.
You can search using their on-site search functionality to find studies related to specific topics too: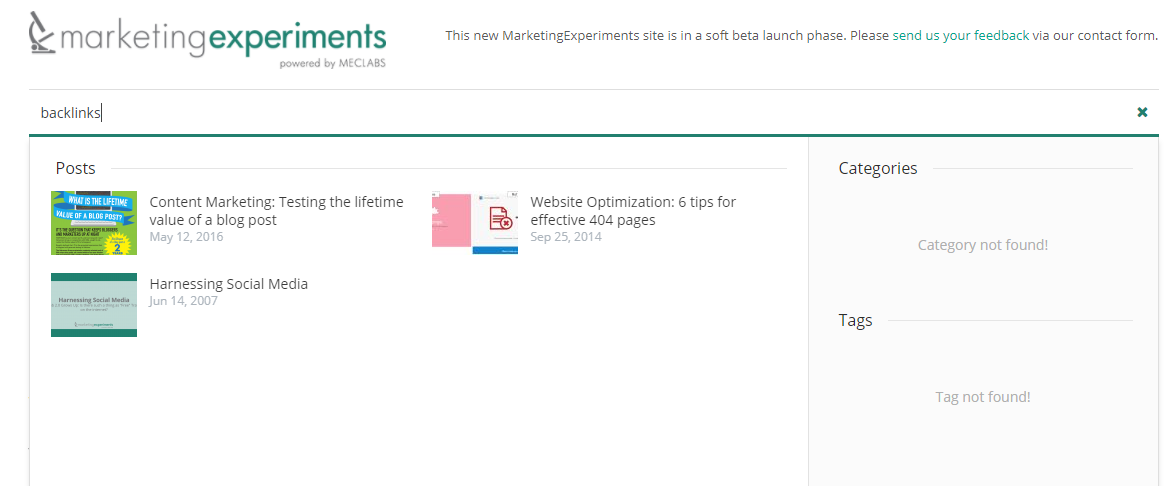 You can instantly pull up results on almost any topic that you want to write about.
If you want a wider range of topics, you can always head to Google.
One of my favorite search parameters to use to find data and studies fast is simply adding "study" to the end of a search:
This should pull up tons of good studies and data sets for you to use in your next post.
Often, they will all have graphs and visual representations too.
It's a great way to add that extra visual aspect and to show how the data can really impact a customer's bottom line.
If you still have trouble finding studies and data, you can always head to Google Scholar and search for your topic: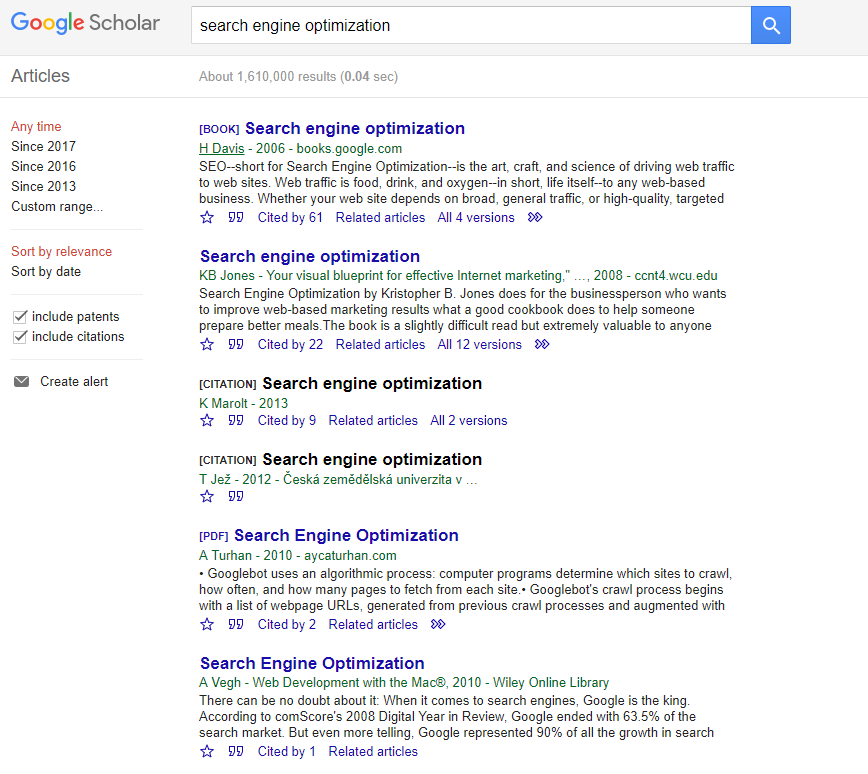 And you can often find comprehensive, long-form studies that have a plethora of information to use.
When writing content that converts, showing the importance of the data is critical to driving conversions.
Words to use in your copywriting
Words are a powerful tool in everything from persuasion to urgency to closing a sale.
They have the power to make or break your copywriting.
To push someone over the edge and get them to buy from you — or to forget you ever existed.
For some inspiration, here are some of the most powerful words to use in your writing to start showing not telling: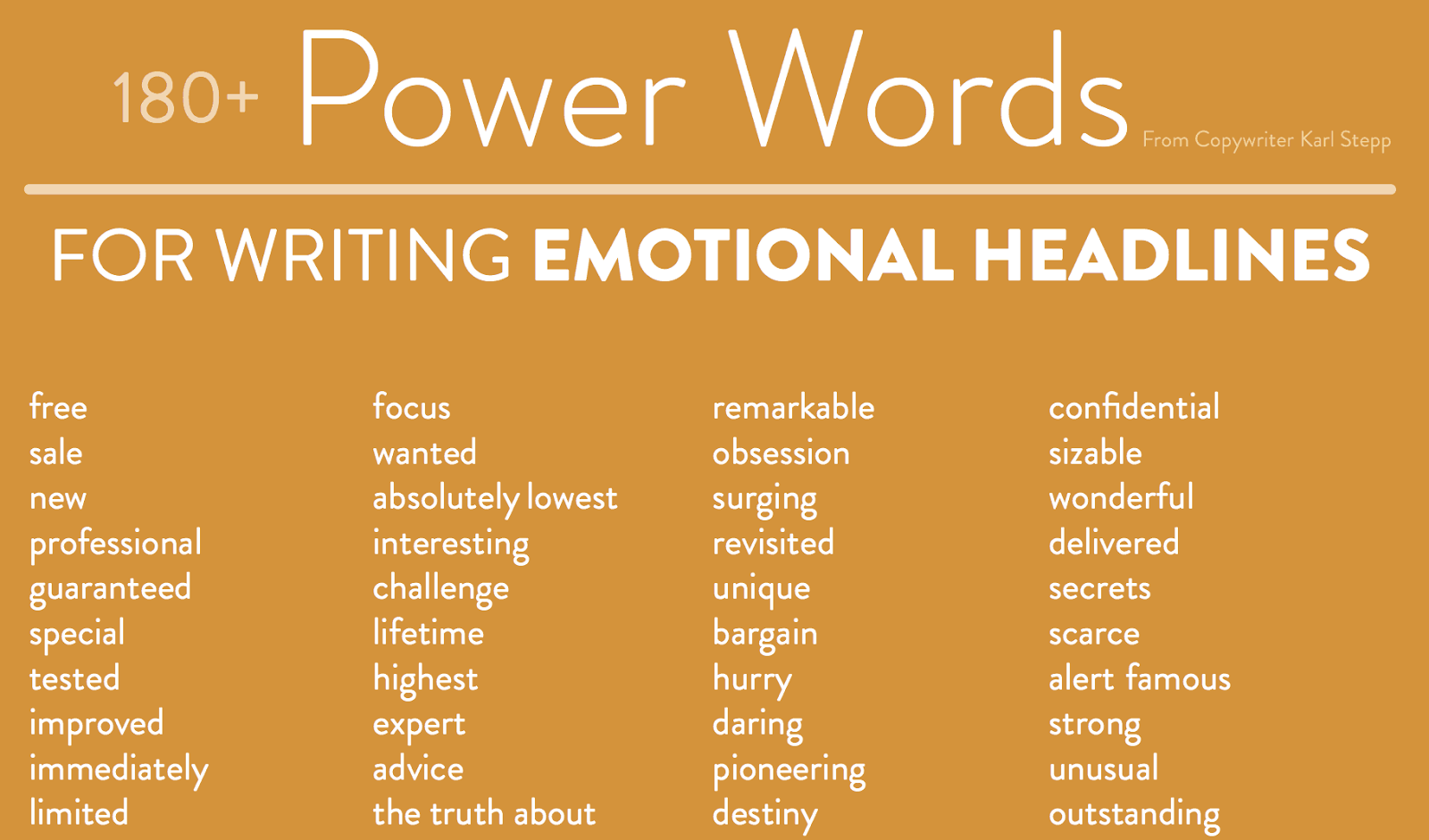 There's another great list from Buffer in which they have compiled tons of data-backed words that convert:
Implementing the right language and verbiage in your content can help convince your audience that they need what you sell.
It's just like a short story or a novel. The writing takes you to that place without simply telling you that it exists.
Great show-based writing doesn't say, "And he walked down the path."
It gives you the feeling of the character doing that exact thing without explicitly stating it.
How? By using power words and words that spark emotion and inspiration.
In fact, Optimizely helped a client increase their conversions by nearly 13% with the use of power words and "show" verbiage.
If you want an entire list of power words to use in your writing so you can evoke emotion and tell a story, here is a master list: 700+ power words.
Use video-based content
Video-based content is on the rise.
In fact, Cisco estimates that video will account for 82% of all worldwide consumer-based Internet traffic by 2021.
Why? People love to watch content more than they like to read it.
And tons of marketers have been jumping on this bandwagon, including myself.
According to HubSpot's State of Inbound Report, marketers are starting to heavily add video-based platforms to their content-distribution strategy: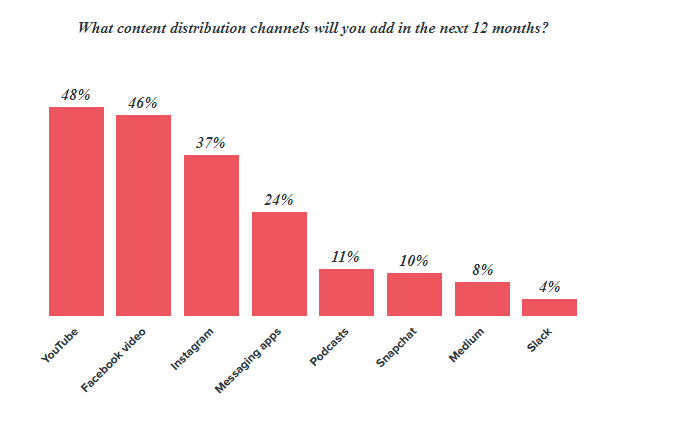 In the next year or so, we will surely see a huge rise in video-based marketing.
2017 reports from HubSpot show that marketers are starting to get a jump on this trend, putting valuable dollars and heavy budgets into it.
Video is quickly becoming the new way that marketers will engage with users online.
I've started dumping tons of time and money into creating video-based content:
Video marketing allows me to do exactly what I am talking about in this post.
It allows me to show the user how to accomplish their goals through examples and direct teaching rather than just stating how to do it.
It helps me to visualize the data in a way that is more user-friendly and easy to follow.
I've seen tons of video-based content that is perfect for "show-don't-tell."
For example, you can do tutorial-based content with a screen-recording software program or you can walk someone step-by-step through a process with beautiful images.
Video is king when it comes to walkthroughs.
One of my favorite tools to use for creating video content like this is Droplr.

You can create a free account and even install their Google Chrome Extension: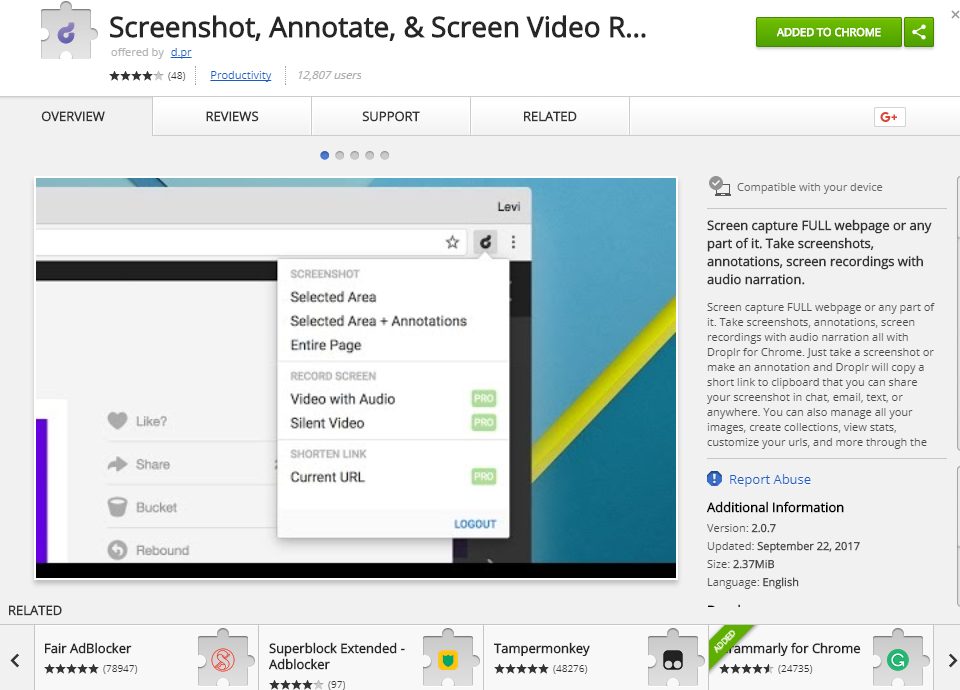 This way, you can create recording-style videos that show a user how to work through a process.
For example, you could show them how to set up a landing page or how to optimize for on-page SEO.
Once you've installed the plugin, you can click it and record almost instantly:
It can also be used to create screenshots or even silent video content.
You can also use diverse annotation-style features to give your content that extra production value that will set you apart from the competition.
After you've recorded a video, you can hit "View my Drops…" to view all of your latest recordings: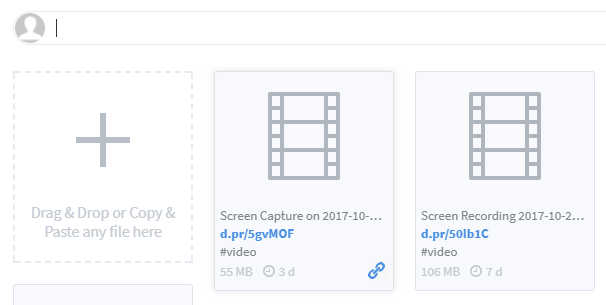 From here, you can download, embed, or share those links on your site.
Once you've created these videos, start sprinkling them into your top-performing posts to add more value with fewer words.
Showing is one of the hardest things to do.
But with video content, it becomes less of a chore and adds tons of value to any post that you have.
Try locating your best content and turning it into a video-based tutorial.
I've been doing that on my own site and seeing great results: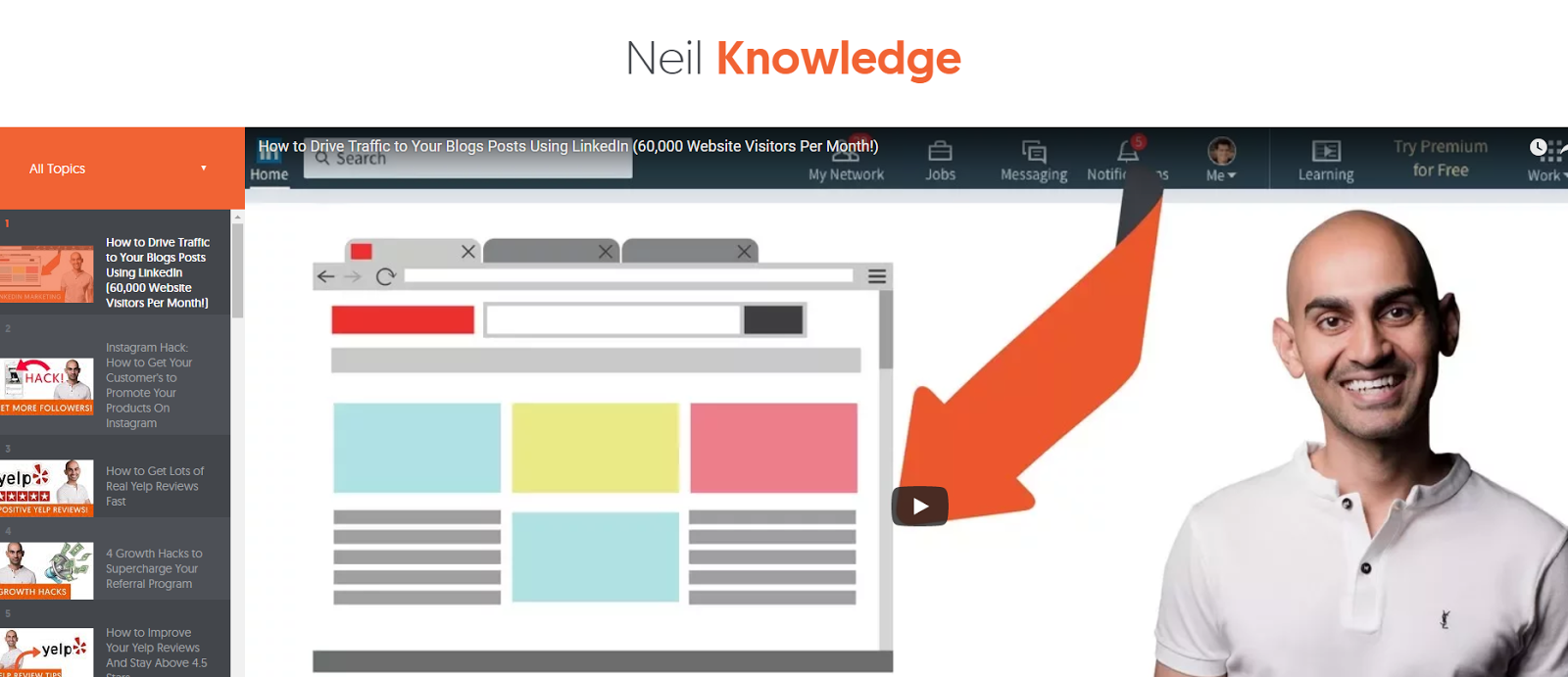 Give it a shot today.
Conclusion
Getting conversions on your content nowadays is nearly impossible.
There is too much competition and the market is saturated.
People are spending less and less time on your site, and even less time reading your content.
But that's not something that you should live with.
You need those conversions and inbound traffic to survive and keep your business running.
You've just got to look at more creative ways to keep traffic on-site and getting them to convert.
One of the best ways to do this is by implementing the show-don't-tell principle.
This is the idea that you want to show the reader what you're talking about, rather than just stating it and expecting it to resonate.
For example, saying something like, "We are the best PPC agency," isn't going to drive conversions.
Nobody will believe you. Simply telling them that won't convince them to convert.
You need to show them why you are the best.
A great way to do that with content marketing is by creating walkthrough-style, step-by-step guided content.
This is the top-of-the-line, gold-standard content that tells people a solution and shows them exactly how to implement it.
Make sure to use relevant studies and data in your content to show a visualization of how serious topics are.
Data always should be present in visual form to establish importance.
Try using relevant power words in your writing to add more emotion and grip the reader into staying.
Lastly, incorporate video-based content for maximum effect.
Want more conversions on your content? Show, don't tell.
How have you used the show-don't-tell principle to increase conversions?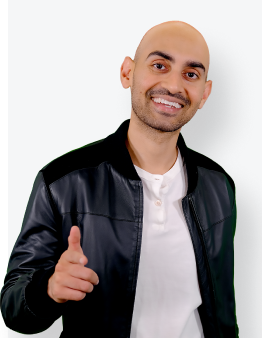 See How My Agency Can Drive More Traffic to Your Website
SEO - unlock more SEO traffic. See real results.
Content Marketing - our team creates epic content that will get shared, get links, and attract traffic.
Paid Media - effective paid strategies with clear ROI.
Are You Using Google Ads? Try Our FREE Ads Grader!
Stop wasting money and unlock the hidden potential of your advertising.
Discover the power of intentional advertising.
Reach your ideal target audience.
Maximize ad spend efficiency.