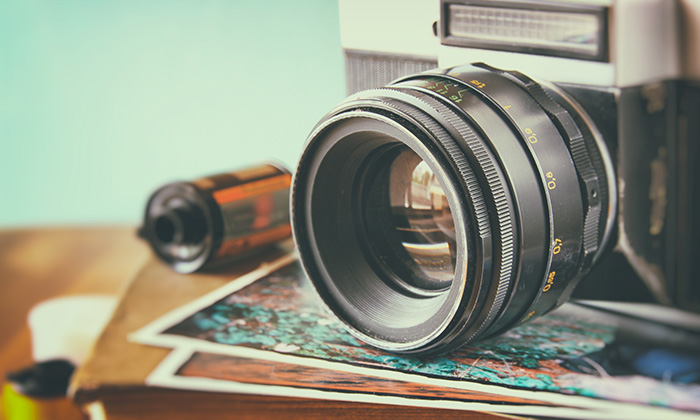 Instagram has become a powerhouse for businesses around the globe.
Scrolling through your Instagram feed allows you to get an up-close and personal view of products, places, and experiences that your friends recommend and share.
Brands are taking advantage of the word-of-mouth marketing features offered by Instagram, and they have quickly recognized the platform as one of the best places to make money.
However, Instagram ads cost money. But it's possible to sell on Instagram without ever having to spend any of your hard-earned cash.
Creating an Instagram storefront that takes your sales up and away is easier than you probably think.
You've already got followers, prospective customers, and loyal ones waiting to buy. You just have to engage with them.
Here's how you can sell on Instagram without ever having to spend a single dime.
No links make it harder to sell on Instagram
If you're new to marketing on Instagram, you may not know that links don't exactly work on photo posts like they do on other platforms.
That's why it's harder to sell on Instagram in comparison to almost every other popular social networking site.
On Twitter, Facebook, and Pinterest, you can post links that accompany your images to direct users to landing pages or product pages where they can make purchases.
On Instagram, you can post a pretty product image and a description, but clickable links that take users to your site can't be added.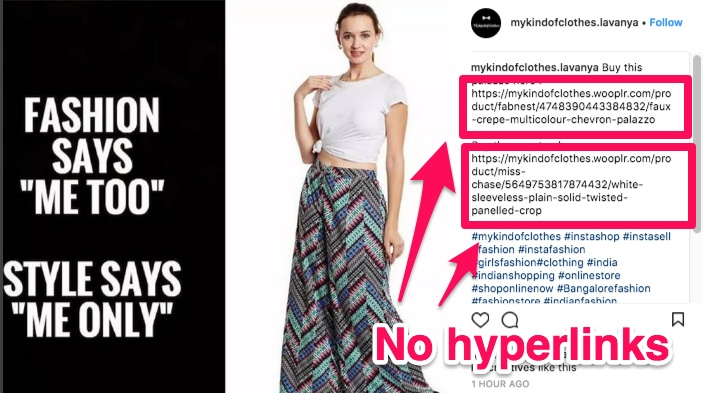 Try and add one in and the link won't turn into a clickable hyperlink, which might distract from the description or photo altogether. Talk about a huge mistake.
That means that if users want to buy the items in your posts, they have to visit your site and find each product on their own.
Most sites feature a long list of products, and most users don't have the time or patience to sift through them all to find what they saw on your page.
This is what makes it so tricky to sell on Instagram.
In fact, Instagram only gives you one clickable link that you can place on the entire platform: the link in your bio. We'll talk more about that later.
Despite Instagram being a difficult place to make sales, it's always been a great place to promote products.
An engaged follower on Instagram is actually worth more than an engaged Facebook follower by about $10.
Luckily, there are ways around the link problem that let you unlock the value of engaged Instagram followers, like shoppable posts.
Sell directly through posts with a shoppable Instagram
According to Yotpo Instagram data, 72% of customers believe that seeing Instagram images of a product increases their chances of buying it.
The same research revealed that as many as 38% of customers said that they frequently buy products that they see on Instagram.
That means that it's up to you to let customers shop your Instagram page with ease.
One way to accomplish this is with shoppable posts.
These posts allow users to click on products that you "tagged" in an image to be taken to the product page where they can make a purchase.
That way, followers won't have to go out of their way to find the products you're sharing. It's as easy as discover, shop, and buy.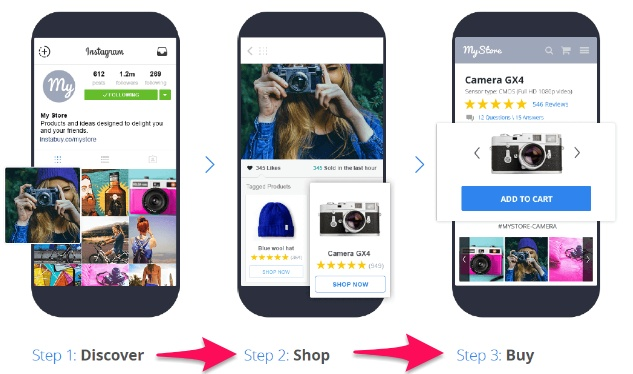 All of this can be done by users without them ever having to leave the Instagram app, too. Talk about convenient.
How can you enable the ability to tag your products on Instagram?
If you're in the U.S., you're in luck. The feature is currently rolling out to businesses that are eligible and approved in the U.S., so you'll have to wait if you're based out of another country.
Once you've connected your Instagram business profile with a shop on Facebook or a catalog in Business Manager, you'll be able to turn on Instagram product tagging.
Before you start the process, make sure that you've got the latest update on the Instagram app. You also need to be the admin of a Page or a Business Manager account.
Then, go to your profile and tap the "Get Started" alert.
If you don't have an alert, tap the gear icon.
Next, tap "Products" and "Continue." Then, select a product catalog that you want to connect to your business profile.
Finally, tap "Done."
Now, your Business Profile will allow you to tag products in Instagram posts.
If you don't see these options, your account may still be under review or may not have been approved.
Another free way to make sales on Instagram is to harness the power of an old-fashioned call-to-action (CTA).
Add a CTA in your Instagram bio that links to an Instagram landing page
One of the easiest ways to drive sales on Instagram is to make your links stand out.
Nearly everyone who finds your business on Instagram will head to your bio, which is the perfect place (and the only place) to link them over to your store.
To make this link stand out, add a simple, short, and sweet CTA, like Forever21.
Write something as simple as "Click the link to view our latest products" or "Shop our products here."
This kind of CTA encourages profile viewers to take a look at your products, which will boost sales and traffic.
Mobile is beating out desktop and tablet traffic at a pretty steady rate. And that trend probably isn't going to change anytime soon.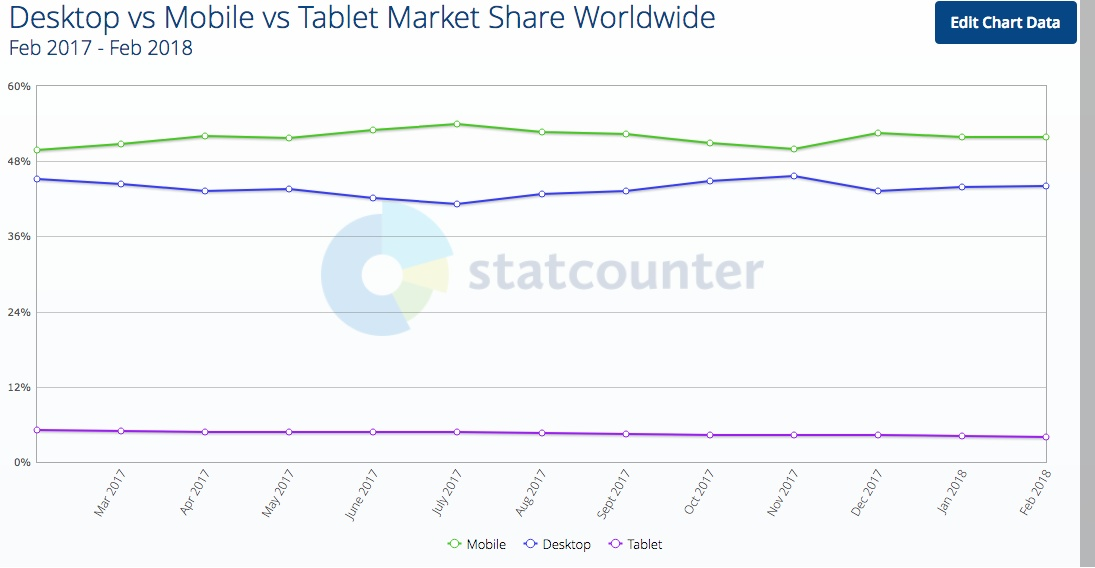 In fact, mobile will probably dominate desktop usage by a landslide in coming years.
This means that mobile-first sites like Instagram are the best place to post your products. Most users access the platform through the mobile app.
You can see huge results if you combine your ads with Instagram landing pages. What is an Instagram landing page, you might ask?
An Instagram landing page is a landing page that uses elements like video, testimonial, or other persuasive content to convince visitors to convert.
It's important to make sure that this is a mobile-friendly page.
You can even add CTA buttons to specific sponsored posts that include phrases like "Sign Up," "Learn More," "Download," and more.
For example, after clicking on the "Sign Up" button on this post, Acquisio users are taken to an Instagram landing page designed to greet everyone who clicked the button.
Here's what the landing page for this post looks like:
The landing page matches the tone and goal of the ad, explains why the webinar is important and includes a simple form that reduces friction.
Create your own Instagram landing pages that can accompany certain specific posts. It doesn't have to be for a sponsored post with a fancy CTA button, either.
Simply add a CTA to your bio or a specific photo that links to an Instagram landing page.
Another free way to sell on Instagram without spending a cent is to post behind-the-scenes content.
Post behind-the-scenes content with Instagram Stories
When Instagram released their "Stories" feature, it immediately became a direct Snapchat competitor.
Now, it's daily use is even higher than Snapchat. Over 200 million people use Instagram stories every day, and more than one-third of the most viewed stories are from businesses.
Talk about huge!
Stories posts go away in 24 hours, and there aren't any public comments or likes. They won't appear in your profile feed.
Text and drawing tools, stickers, and more make stories the place to bring your brand's creativity to life.
Unlike the regular photo feed, users will see Instagram stories at the top of their regular feed every day.
When you post stories, your chances of your customers seeing them are much higher than if you post a regular image or video. There's no true algorithm involved, unlike the photo feed.
Users will see your brand's profile photo at the top of their screen, where they can click on it to access and click through the photos or videos in your stories.
Instagram stories are your chance to get creative and worry less about quality. You can easily showcase your brand's behind-the-scenes culture in stories to boost your trust with followers.
If you want to showcase product development or a special event, Instagram Stories is the best place to do it.
Followers will appreciate the insider scoop and get excited about upcoming releases.
Just look at this Stories post from Ben and Jerry's. Doesn't it make you want to run out and buy a "Chill-aco" before they're all gone?
Stories posts aren't the only place you should be giving followers a preview of your upcoming products, though.
Preview upcoming products in your posts to pique interest
If you want to boost the hype around one of your new products that has just launched or is about to launch, post a quick product image.
You're probably already taking product shots to add the item to your shop. Why not take a few shots for Instagram while you're at it?
Post a caption that says something intriguing, like "Exclusive product alert!" or "Coming soon!"
This works especially well for seasonal items. Here's how Bath and Body Works showcased their exclusive easter products.
Teenage Engineering and IKEA recently collaborated on some compact, bold-colored speakers.
On Instagram, IKEA posted a sneak peek of the upcoming product line that the two brands collaborated on to update followers on the product development process.
Aside from being an eye-catching image, the description plays a huge role in making this photo a success.
The description, which starts off with "From sketch to final prototype…" shows just how much hard work that the two brands put into the product.
You could also be missing a huge Instagram marketing resource that doesn't cost a thing: your current customers.
Let your users sell your products or services for you
At least 77% of people prefer customer photos to professional ones when making a purchase decision.
What does this mean for you?
You've probably got tons of customer photos on Instagram just waiting to be found. You have the right to repost and share these images, as long as you give credit where credit is due.
Customer photos accomplish social proof by showcasing that someone believes in your product and has found success purchasing it.
Curve Fragrances does a great job at sharing and highlighting customer photos, like this one:
While it's a high-quality image, it's a normal person's "selfie." That adds a unique personal touch.
Professional, branded photos, on the other hand, often feel like ads. Customers are less likely to swipe past a relatable, personal selfie image than a branded shot.
Customer photos are more eye-catching because they're more authentic. They look and feel more like what your friend would post to Instagram rather than a brand trying to sell a product.
Prospective buyers can identify with the person who is in this image and imagine themselves holding the fragrance in their own hands.
User-generated content also gives shoppers a more realistic sense of the shape, size, features, and colors of the product, because they'll know it probably hasn't been photoshopped.
That's probably one reason why 93% of consumers find user-generated content to be helpful when they're trying to make a purchasing choice.
Tons of users are probably already posting user-generated photos of your brand on Instagram. If you have a branded hashtag, search for that first.
If you don't, create one that users can add to images when they share product photos to their own pages.
Featuring customer photos also shows that you're loyal to customers. You've noticed their passion for what you're selling, and you want to use your Instagram page to shout them out.
Carbon 6 Rings uses the hashtag "#CustomerPhoto" and tags the original poster in the user-generated images on their page.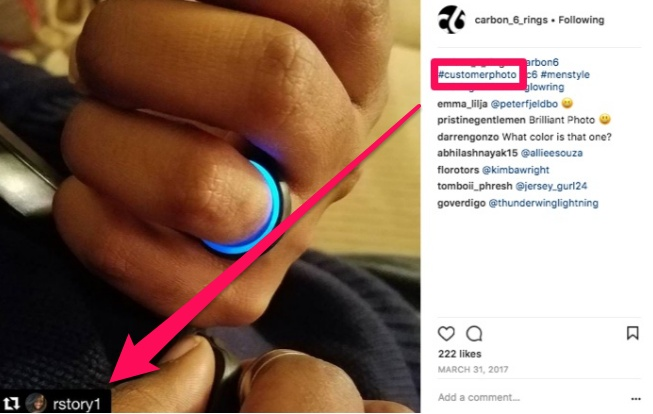 Always tag the original poster of the image when you share it. You have to be transparent when posting images that your brand didn't capture.
Did you know that you can even sell in the comments section of Instagram?
Sell in the comments
What if buying on Instagram was as easy as posting in the comments section? Well, it actually is.
Spreesy primarily uses the comments section of Instagram to sell items.
A seller uses the Spreesy app to create a shoppable Instagram post which can contain tons of unique information, like trackable quantities or shopping cost.
The app is available for both iOS and Android devices.
All that a user has to do is comment their email address on one of your posts created with Spreesy.
Then, Spreesy sends the buyer a secure checkout link to the branded check out page created by the seller.
Buyers can purchase items with a credit card or PayPal.
The only con to using Spreesy is that some buyers may be wary about putting their email addresses on public posts, which may lead to spam emails.
However, sellers can direct customers to delete comments once they have received the checkout link.
Spreesy also chooses featured users to showcase on their own Instagram page often, so if you create a Spreesy shop, the brand just might feature you.
As users create shoppable posts, they will create a shoppable store on the app.
Every store features a customized link that users can post in their Instagram bio. Having a mobile-friendly store that you can direct followers to is as simple as creating a Spreesy account.
All products are posted with an image, product name, and price. Once a user clicks on an item, that can select custom options like size or color.
Instagram users can also subscribe to Spreesy merchants by commenting #subscribe on photos.
Once they post this comment, their email address will be sent a checkout link for any and all future products posted by the merchants they are subscribed to.
The best part? Spreesy is free for both buyers and sellers to use.
The only fees associated with the platform are merchant fees from PayPal or credit card companies.
Comments aren't the only way to sell on Instagram, though. You can even sell through hashtags.
Sell through hashtags
If you're familiar with Instagram (or any social media site), then you already know the importance of hashtags.
More specifically, you probably know how important that branded hashtags are. Branded hashtags represent the majority of all branded posts.
The most used hashtags on Instagram come from powerful brands who have coined their own branded hashtags, like BMW or Mercedes Benz.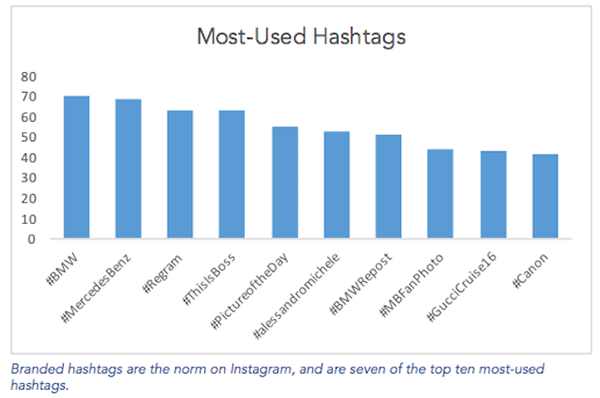 Inselly is an easy to use platform that encourages selling on Instagram through hashtags.
It uses a storefront link selling method, like Spreesy, but users can add the unique #Inselly tag to posts to notify users who search the tag that their image is buyable.
Once you add the #Inselly tag to your product description along with other relevant tags, users will be able to find your buyable content.
Karma Charms Jewelry uses the #Inselly tag often.
Buyers on Inselly can content sellers through messaging available on the Inselly website or app.
It's completely free to use, just like Spreesy.
There are no fees or commission costs. Buyers, however, can purchase "coins" to promote their content on the platform.
Finally, you can utilize the power of Instagram live to send out notifications to followers about real-time content.
Use Instagram live to notify users about real-time content
Instagram came out with a new way to share real-time content shortly after the release of Instagram Stories: Instagram Live.
You can create a live stream on Instagram just like you can using Facebook Live videos.
The real-time content makes it easy to sell on Instagram because you can announce when products are officially live to everyone who follows you.
Better yet, live video may be more effective than a regular Instagram post. Why?
Because the platform sends out notifications to followers once you start a live video, which lets them know you're posting.
It also creates a sense of urgency, since live videos usually disappear once you stop recording.
Product announcements aren't the only way you can take advantage of Instagram live video, though.
You can view comments from users and the total number of viewers in your post, so live video is a great way to interact with your loyal followers instantly.
Or, you can hold question and answer (Q & A) sessions to showcase how personable your brand truly is.
You could even take it a step further and hold a live video interviewing an industry influencer where your followers can ask their own questions.
It doesn't cost a thing to use the feature.
Selling on Instagram Frequently Asked Questions
Are there ways to make money on Instagram without spending money?
Yes. You can earn money on Instagram through affiliate marketing, influencer marketing, paid sponsorships, and selling goods via an Instagram shop.
How much money do influencers make on Instagram?
Influencers with under 10,000 followers can still make up to $88 per post. Influencers with more followers have been known to make more than $5000 per month.
Are Instagram shops free to run?
It is free to create an Instagram shop.
How many followers do you need to get paid as an influencer?
The number of followers you need to be paid as an influencer or affiliate depends on your niche.
Secrets to Selling on Instagram Without Spending Money Conclusion
Instagram is one of the best places to sell online.
But Instagram ads cost money. Luckily, there are ways to sell on the platform without spending any money.
And they're much easier than you might think.
No links make it much harder to sell on Instagram. If you try to add a link to a photo, it won't work. You only get one shot to share a clickable link on Instagram: your bio.
You can sell directly through your posts with a shoppable Instagram page. If you live in the U.S., it's easy to enable product tagging.
Add a CTA to your bio (next to your link) and link out to an Instagram landing page that's optimized for mobile users.
Post behind-the-scenes content via Instagram Stories. They'll show up at the top of all photos in your followers' feed.
Upload preview shots of any upcoming products to your page to pique interest.
You can also let your users sell your products or services for you by re-posting user-generated content. Just search your branded hashtag to find it.
Sell in the comments with a free tool like Spreesy or sell through hashtags with a tool like Inselly.
Don't forget about Instagram live. When you start a live video, your followers will receive a real-time notification that they can't ignore.
How do you save money by selling on Instagram?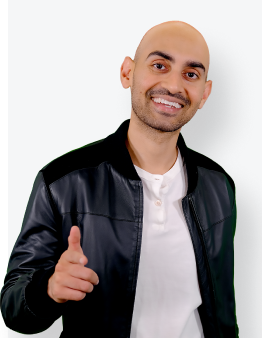 See How My Agency Can Drive More Traffic to Your Website
SEO - unlock more SEO traffic. See real results.
Content Marketing - our team creates epic content that will get shared, get links, and attract traffic.
Paid Media - effective paid strategies with clear ROI.