"Don't count the people you reach; reach the people that count." – David Ogilvy
If you've watched Mad Men, you're more than familiar with names like Lucky Strike and Samsonite. The real-world accounts serviced by the svelte account executives of Sterling Cooper Draper Pryce were clients of real ad agencies like Ogilvy & Mather, Leo Burnett, and Young & Rubicam. Big "whale" accounts were the lifeblood of those agencies.
Today, advertising has given way to marketing, but it's the same old game. While it's easier than ever before to attract and close one-off clients, big agencies need big accounts to survive because they're the only ones able to pay agency rates.
Back then, courting and keeping big accounts was a delicate affair. Copywriters, art directors, and account execs huddled in small meeting rooms to map out key stakeholders for each account. Personalized proposals were painstakingly crafted over several days—or even weeks. Then campaigns were run against target lists for each account.
There was no sophistication. Everything was done by feel, without any guarantee that accounts would stay loyal to their agencies. Everything depended on keeping accounts extremely happy, often at the agency's expense, and nudging contacts to introduce their colleagues over dinner and drinks.
This was how account-based marketing was done in the '60s. Fortunately, it's not what it looks like today.
What is account-based marketing?
"Account-based marketing: a strategic approach that coordinates personalized marketing and sales efforts to open doors and deepen engagement at specific accounts." – Jon Miller, Engagio
Today, inbound marketing—and especially content marketing—are the darlings of the B2C and B2B marketing worlds. These types of marketing have become so ubiquitous that I'll bet many marketers don't even know what they mean.
Even if you do, definitions are very important (especially if you don't want to waste marketing dollars on redundant initiatives). Let's quickly review:
Inbound marketing, like blog posts and social media updates, is marketing meant for public consumption. Its goal is to attract as many qualified leads as possible, and to move them along the first few stages of the buyer journey.
Outbound marketing, also known as disruptive marketing, is put in front of leads to move them through the last few stages of the buyer journey.
Content marketing is a subcategory of inbound marketing. It refers specifically to the content created for inbound marketing, as opposed to other inbound tactics like technical SEO, freemium trials, and other interactive tools.
Then there's account-based marketing (ABM), the subject of this blog post.
Account-based marketers focus marketing and sales resources on a defined set of targeted accounts, using personalized campaigns tailored to each account. In other words, each account is treated as its own market.
By nature, effective ABM is best used by B2B adopters. Account-based marketers sell very specific products and services to very specific clients. There are obvious advantages to this—not only is it easier to narrow the playing field and personalize campaigns, but it's also easier to align marketing with sales and measure ROI.
Companies that rely heavily on ABM might include a medical device company that only sells to plastic surgeons, a design agency that only creates auto ads, or a marketing agency that only targets Fortune 500s.
What does account-based marketing look like today?
Good question. Fundamentally, ABM is still the same as it was in the '60s: it's "account-centric" rather than "person-centric". Take a look at this illustration from Engagio to see what I mean.
Inbound marketing and outbound marketing as they are popularly defined today are both "person-centric". Account-based marketing, on the other hand, is any "account-centric" form of marketing—usually outbound. Although ABM may at times use inbound tactics, it relies on tried-and-true sales methods to unlock accounts.
Why does any of this matter for your business?
In the past 6 or 7 years, with the introduction of marketing automation and digital demand channels like paid search, lead management, and demand generation, marketing as a service is being automated at scale so that marketers can do more with less.
The problem is that most companies outside of tech aren't quite ready for marketing automation. Even the ones that are savvy are scrambling to find marketing automation consultants like me who explain how to put everything together. They're not ready for the sheer number of leads they'll be qualifying, and they don't have the infrastructure to properly handle those leads.
Most leads generated by marketing automation never reach sales or are seen as off-target. Some marketers complain about getting 10,000 leads per month because only 10% align with their target account list. It's madness.
The popular solution many B2B marketers are increasingly adopting is account-based marketing powered by marketing automation. By limiting their target buyers to specific accounts, leads become easier to handle, and marketing automation becomes much easier to implement.
In other words, the main difference between Mad Men ABM and today's ABM is that it no longer has to be a siloed approach—instead of hiring account-dependent talent that may lose their jobs if an account bails and spending sleepless nights designing campaigns for just one person, B2B companies can embrace ABM at scale.
This new account-based marketing technology stack includes things like powerful predictive analytics for ideal customer profiles, updated and fresh contact data, targeted advertising through LinkedIn, website personalization, and management and tracking tools (e.g., LeanData).
Is account-based marketing right for you?
If you want to learn more about the benefits of account-based marketing, read my next post: Why Account-Based Marketing is a No-Brainer.
About the Author: Alp Mimaroglu is a Marketing Luminary. He specializes in marketing automation, demand generation, analytics, and marketing technology. Alp has extensive experience with both business and consumer marketing. He's passionate about how technology is rapidly becoming the key to success in both the corporate sales and marketing landscapes. Follow Alp on LinkedIn and Twitter.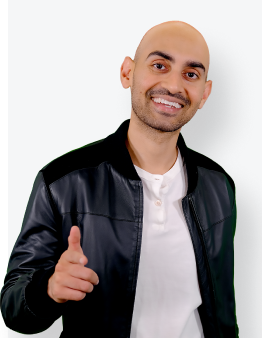 See How My Agency Can Drive Massive Amounts of Traffic to Your Website
SEO - unlock massive amounts of SEO traffic. See real results.
Content Marketing - our team creates epic content that will get shared, get links, and attract traffic.
Paid Media - effective paid strategies with clear ROI.