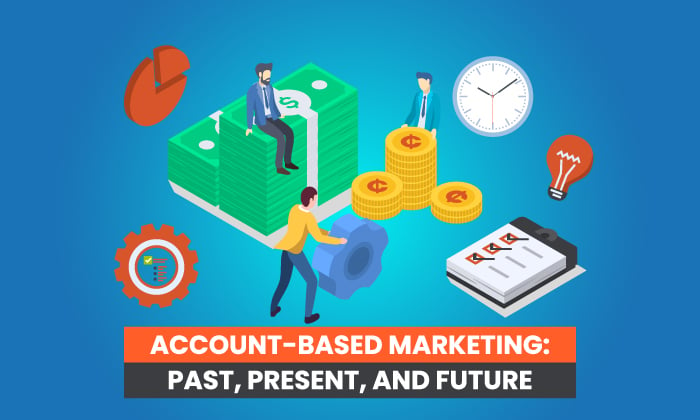 The average email click-through rate is 2.6 percent. The rate of return on direct mail is around 1 percent. A good social media campaign will convert at less than 1 percent.
Why are these numbers so low? Because many new marketing campaigns don't have the right customer research, ideal client avatars, personalization, or segmentation. They dangle a worm out there to see if anyone bites.
These factors are important, and it is why account-based marketing is a great opportunity. It is a great way to find the ideal client who you will pay you month after month.
That's the type of client you want, and that's what we're focusing on in this guide.
What Is Account-Based Marketing?
Account-based marketing is a B2B marketing strategy where the sales and marketing teams work together to find the most qualified accounts to become customers.
You're flipping the traditional sales funnel upside down.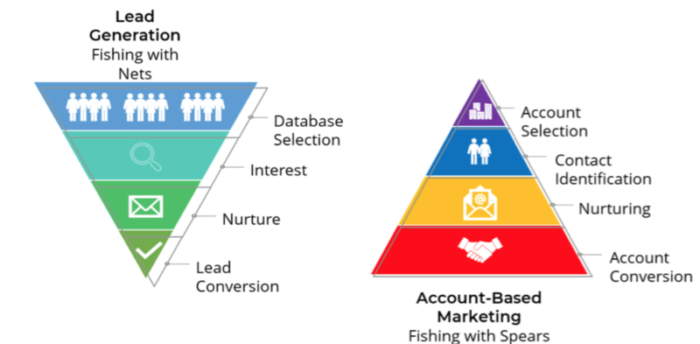 I love the example of fishing with nets versus fishing with spears.
When you fish with nets, you throw out a generalized marketing campaign to fit the needs of your customer persona, but you're not entirely sure what will stick.
When you fish with spears, you pinpoint the clients you want with the help of your sales team. Working together will help the marketing team identify ideal clients and then put together a campaign that speaks directly to that audience.
Examples of Account-Based Marketing
Account-based marketing works by creating campaigns for highly specific audiences. By going in with a certain target group in mind, you are able to customize campaigns like you never could before.
Here are some real-life examples of account-based marketing.
Webinars
Let's say you're targeting an outdoor retailer that creates custom kayaks for professional fishermen. That's a pretty specific audience, right? You can create a webinar dedicated to marketing for custom kayak companies.
Live Events
Even better than a webinar is a live event in-person. Work with the sales team to identify key prospects as you plan this event. You can also create personalized upsells such as VIP passes, VIP rooms, or merchandise for the people you want to close.
PPC
Google Ads, Facebook, LinkedIn, and Instagram are all ways to reach high ticket clients through account-based marketing. Once you've identified your targets, you can create specific campaigns for those few prospects.
Remember the fishing with spears versus fishing with nets analogy? We're no longer just throwing a net out to see if we catch anything. We know what we want to catch, where it is, and how to get it. We just have to do it.
Why and When You Should Use Account-Based Marketing
We tend to open the funnel with a broad-based marketing approach to "play the field" and see what's out there. Eventually, we need to get away from that and narrow down to focus on the clients who will pay us what we're worth and stick with us.
I like to call this the "ideal client." Once you know who these clients are, account-based marketing helps you reach them.
Here are some ideal situations where you should use account-based marketing:
To Bring Marketing and Sales Together
One of the biggest issues many companies face is not having their sales and marketing team on the same page. Account-based marketing gives these two departments a chance to work together, understand a common goal, and help each other out.
To Increase Engagement
One indicator you're targeting the wrong audience is if they're not engaging. This can be a sign of fatigue with your marketing campaigns as well.
How often have you seen ads over and over to the point where you don't notice them anymore?
When this happens, it's time to change things up and switch to a personalized strategy that will speak to one specific audience.
To Maximize ROI
The goal of both marketing sales is to bring as many people through the funnel as possible. That is a key indicator for long-term success.
Even better is bringing qualified people through the funnel versus bringing everyone.
If we focus on ROI, we only bring the most qualified accounts through the funnel. This will save you money, time, and resources.
Benefits of Account-Based Marketing
Now let's talk about the direct benefits of an account-based marketing strategy versus something more broad.
Shorter Sales Cycle
Shortening the sales cycle can save you so much time and money. This is one reason why an account-based marketing approach maximizes the ROI.
You are able to connect directly with key decision makers early instead of using resources to engage with employees who may not have that authority. Because you are targeting decision makers directly, you know they can pay, and you can serve them.
Personalization Saves Time and Money
How often does your sales team spend their time speaking with prospects who barely understand what your business does? That's a sign of broad marketing.
With account-based marketing, you attract prospects who are already warmed up, familiar with your company, and ready to make a decision. This type of personalized marketing saves time and money in the long run.
Easier to Measure ROI
When we narrow down the funnel, we focus on fewer prospects. This makes it easier to figure out the ROI and deliver better results.
For instance, if we reach 100 ideal clients and convert 10 of them, we know our account-based marketing conversion rate is 10 percent.
This sure beats reaching out to the entire east coast with a marketing campaign and converting 10 people—then having four of them duck out after their first month.
Instead, you're nurturing long-term, well-qualified prospects that will stick with you.
How to Plan and Begin Account-Based Marketing
Now that you have an overview of account-based marketing, let's put it into practice with some actionable steps you can take.
1. Zero in on Your Targets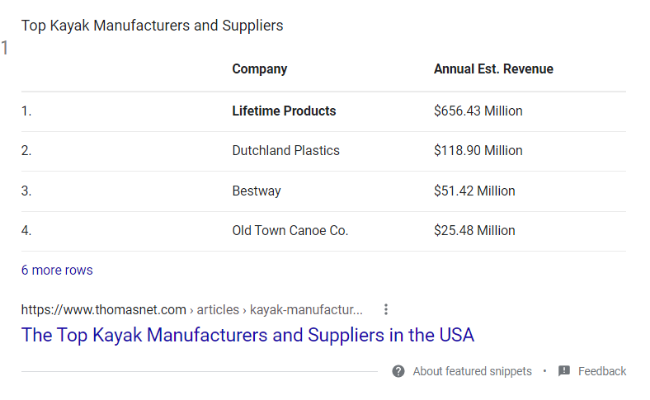 Work with the sales team to figure out some warm prospects. What characteristics describe them? What type of revenue do they have? What platforms do they live on?
Use all of this information to put together a personalized marketing campaign.
2. Research Them
Do plenty of research. Figure out what makes prospects tick and put together creative ideas that will make the prospect feel like the marketing campaign was made just for them—because it was.
3. Choose Your Avenue
Where are you going to market to this audience? What are you going to use to do it?
Do they have a younger demographic on platforms like Instagram and TikTok? Are they older executives that prefer direct mail or live events?
These are some key questions you should be asking before starting your campaign, especially if you expect to reach them and maximize your ROI.
4. Run Your Campaigns and Measure Frequently
One thing marketers are advised to do when running PPC, social media ads, or any other type of campaign is build up enough data before making a conclusion. With account-based marketing, things are a little bit different.
You can spill your entire ad budget pretty quickly when you have a narrow audience. You want to check on these campaigns frequently to see if your approach is hitting or not. If you don't see the signs of success early, it is a good idea to adjust accordingly.
Tips for Implementing Account-Based Marketing
Here are some higher-level tips to make the most of your account-based marketing campaigns.
1. Plan Out Every Detail
You're targeting a specific account, so the marketing campaigns need to be highly targeted. Information like competitors, customer relationships, buying points, selling points, and best-selling products/services are all important.
2. Align With the Sales Team
Make sure everyone is on board, from the president of marketing to the new trainee in sales. There should be no miscommunication on either side since everyone has the same goal of securing these high-ticket clients.
3. Build a Dedicated Account-Based Team
You should have a team of dedicated account managers working with these prospects before they become clients. Their focus should be on building relationships and understanding the needs of each account to streamline communications and limit the number of people you need to speak with before a close can happen.
4. Have a Small Target
Don't spread yourself out too much. By limiting your focus to two or three high-value accounts, you are able to make sure that your campaigns speak directly to their specific needs and paint points.
If you go too broad too early, you risk the chance of your campaign alienating some or all of your target accounts.
5. Work With Decision Makers Only
You're pouring a lot of resources into these two or three accounts, so you need to make sure you're not wasting time. The key is to only deal with decision-makers in the company. If you can't target specific decision-makers, they're not a high-value target.
6. Target Warm Prospects Only
In addition to reaching decision-makers, work with your sales team to find the warmest targets. These people know who you are and have shown interest in the past but never converted.
7. Don't Be Afraid to Adjust
Be sure to measure your results, change things as needed, and work with everyone involved to figure out what you can do differently.
Account-Based Marketing Frequently Asked Questions
What is an account-based marketing platform?
An account-based marketing platform is a form of technology that allows you to scale your marketing campaigns. These platforms allow you to run larger campaigns at narrower audiences.
How much does it cost to set up an account-based marketing plan?
It depends entirely on how much you do yourself and what you outsource. We can help you set up your account-based marketing to get you started on the right foot.
Why is account-based marketing important?
Account-based marketing is important because it caters to a specific audience which helps you maximize your ROI and bring in more high-ticket clients. This increases client retention over time and generally improves your company's ROI.
How is ABM used?
Account-based marketing is used in various ways, but one of the most popular is to align marketing and sales teams. When these two departments work in perfect harmony, it helps bring in more high-value clients and shortens the sales process from beginning to end.
Conclusion: Account-Based Marketing
Account-based marketing is a smart choice for companies of sizes, allowing you to create deeper relationships with clients who will be more meaningful to your bottom line.
Taking on this strategy will bring in the exact type of clients you need to keep retention rates up and build a strong base. Work with your sales to identify the right accounts, create your ideal buyer persona, and pick an avenue to reach that audience.
Have you ever implemented a successful account-based marketing campaign?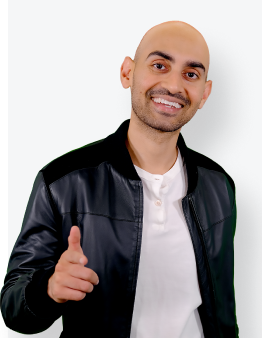 See How My Agency Can Drive More Traffic to Your Website
SEO - unlock more SEO traffic. See real results.
Content Marketing - our team creates epic content that will get shared, get links, and attract traffic.
Paid Media - effective paid strategies with clear ROI.
Are You Using Google Ads? Try Our FREE Ads Grader!
Stop wasting money and unlock the hidden potential of your advertising.
Discover the power of intentional advertising.
Reach your ideal target audience.
Maximize ad spend efficiency.