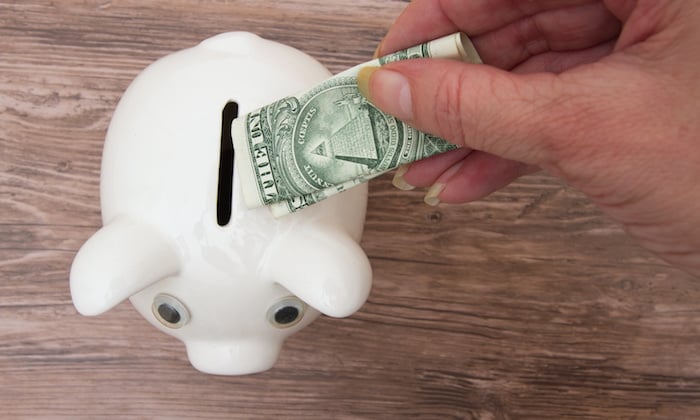 Pay Per Click (PPC) advertising is often the fastest way to get in front of your ideal customer.
You are, though, as the name suggests, paying for this privilege.
So, while PPC advertising is fast, some find this form of marketing viable only if you have a lot of money.
But, is that really true?
Do you really need to have a big budget, in order to benefit from pay per click marketing?
I would say no.
The issue, for many, is that they're simply wasting their money, when conducting pay per click campaigns – not because pay per click campaigns are pointless, but because they're newbies making mistakes.
In this post, we're going to take a look at how you can save money on your PPC ad campaigns by avoiding these mistakes.
We'll take a detailed look at each of the factors that cause PPC ad costs to rise and we'll also break down how you can deal with each factor, so that you can get the most out of a small budget.
By the end of this post, you'll feel confident that you don't need to have a big budget for pay per click marketing. You'll also understand what steps you can take, in order to stop your campaigns from bleeding money.
Let's get started. 
Pick the right network
Picking the right network is one of the first things that you should be focusing on, if you want to keep your ad spend reasonable.
The fact of the matter is this – different ad networks have different levels of inventory.
That means that some ad networks have less 'ad space' to go around and so, the competition for this ad space tends to be higher – pushing up the price.
On top of that, some networks, such as LinkedIn, aren't necessarily incented to make their ad spaces as cheap as possible, because they're dealing with a B2B market – a crowd that can generally afford higher advertising costs.
In fact, if you go to their site, you'll notice they have a $2.00 minimum bid for their ads.
Factoring that into account, the best two networks to go with, if you're a beginner, are AdWords and Facebook.
Now, AdWords can still be a little bit expensive for some newbies. So, for the sake of this post, we're going to focus on Facebook, since it is generally cheaper.
Part of that lower cost is because they have such a massive amount of inventory – remember, they have 1.13 billion daily active users.
The other reason is that Facebook is trying to make itself desirable to ad buyers.
Note: The fact that Facebook has so many users means that your target market is most likely on the network. Keep that in mind, if you feel a little bit worried that you won't be able to reach a B2B crowd, for example.
Okay, so by picking the right network, you've taken the first step towards saving money on your pay per click campaigns but maintaining a quality score.
Now, let's take a look at what you need to do next.
Target your ads tightly and make sure that your ad copy is clear
If your ad copy isn't targeted properly, you will end up losing a lot of money on your campaigns.
This is because you'll get all sorts of people clicking on your ads – when you only want your target market clicking.
In most cases, when anyone outside of your target market clicks on your ad, you're left with wasted ad spend.
That's because those people will not generate a positive return on investment for you.
They're unlikely to enter your conversion rate sequence and then subsequently buy whatever you have to offer.
Rather, they're just going to click on the back button, leaving you with nothing but an unneeded cost.
So – it's important to know how to target your PPC ad copy properly.
If you want to become a master of PPC ad copy targeting, there are two key tasks that you need to complete.
You need to develop an understanding of who your customer is
You must develop an understanding of how to use the targeting features on your chosen ad platform
When you understand who your customer is, you then need to make sure that you have an in-depth understanding of the targeting features within your chosen ad platform, so that you can apply your market research to it's fullest extent.
Obtaining a better understanding of your customer isn't as hard as you might think it is.
It's often a good idea to create something, known as a Buyer Persona, that acts as a portrayal of your ideal customer.
Only 44% of B2B businesses use Buyer Personas – a figure that should be higher, when you consider the benefits.
Here's an example of a Buyer Persona that was created by American Express.
The information that you populate your Buyer Persona with is going to depend on the industry that you're in.
The information needs to be valid, as you need to make sure you can apply what you learn to your advertising.
Otherwise, you'll join the 85% of marketers who aren't using Buyer Personas effectively.
If you're struggling to create a Buyer Persona, you can always work backwards, using the input fields provided by Facebook, when creating your PPC ad copy.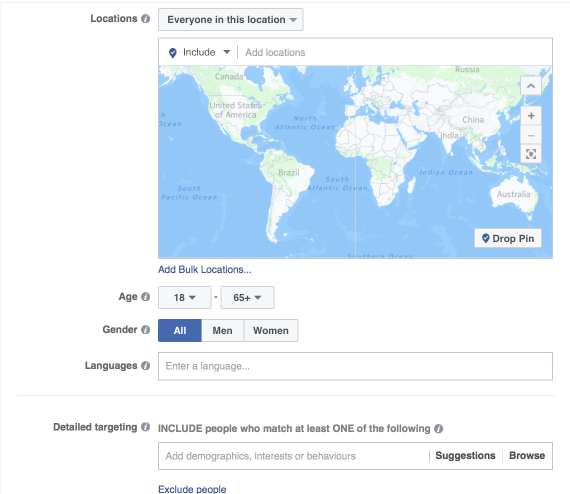 If you can come up with information for each of these fields, of which represents your ideal customer, you should be on your way to crafting a reliable Buyer Persona.
You can even take a look at the 'Browse' section, to help identify some Interests, Demographics and Behaviors that might represent your ideal customer.
On the other hand, provided that you're happy with your existing clients, you can also develop a Buyer Persona by taking a look at the customers that you're dealing with already.
If you have an email list of customers, you can use the Facebook Audience Insights tool to help you develop a Buyer Persona that's built on your existing customer base.
If you want to do that, you need to first upload a list of your customers to Facebook and create something known as a 'Custom Audience.'
You can do that by going to the Audiences section, within Facebook Ad manager.
Once there, click on 'Create Audience' and select 'Custom Audience.'
Then, pick the 'Customer file' option.
Here, you need to decide how you're going to provide the data. If you have a Mailchimp account, you can directly import the data from there. If you don't, however, you'll need to select 'Choose a file or copy and paste data.'
Upon selecting that option, you're taken to a section where you can upload data or 'paste' it in.
Once you've provided the relevant data here, you'll have to wait for Facebook to develop the Custom Audience.
When Facebook has done so, you can then head on over to audience insights, so that you can get a clear idea as to who exactly your customer base is.
When there, click on 'Custom Audience.'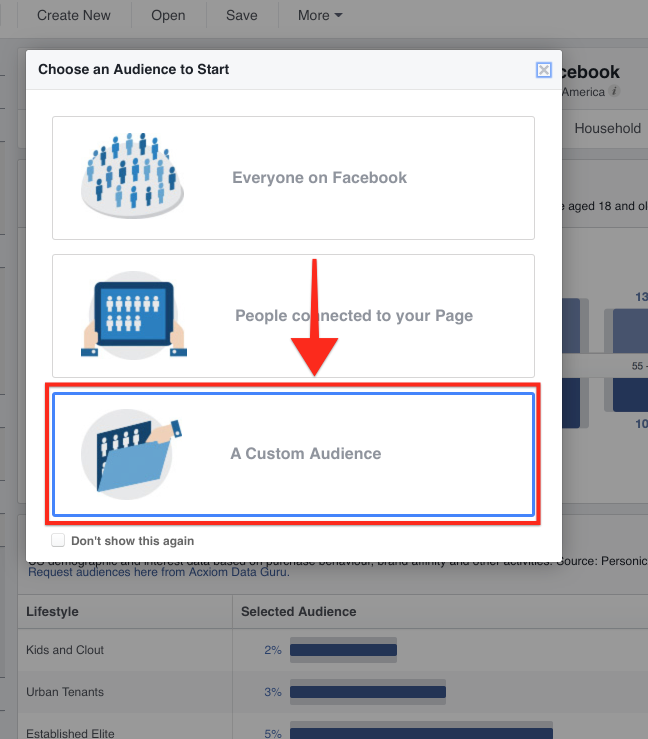 Then, pick the Custom Audience that you have just created.
You'll then be presented with data that will provide insights into who your customers are. You can use this information to develop a plan on how to reach future customers with greater precision.
Facebook also provides a feature known as 'Lookalike Audiences.'
This is a feature whereby Facebook will take care of the targeting for you. All that you need to do is to provide Facebook with a base audience that it can use for inspiration.
Note: It is essential that the audience that you provide, when creating a 'Lookalike Audience,' closely matches the target market that you want to go after. If not, your PPC ads will end up being shown to people who don't care for them.
You can create a Lookalike Audience, by going back to the 'Audiences' section – https://www.facebook.com/ads/manager/audiences/.
This time, however, when you click on 'Create Audience,' you select 'Lookalike Audience.'
Then, you just need to provide a relevant 'Custom Audience' and pick the country that you want to target.
For the 'Audience Size,' it is worth keeping the figure small for now, say at '1', as this will allow for your PPC ads to be more precisely targeted.
If you want to create an ad that targets this Lookalike Audience, just select the audience from the 'Custom Audiences' box, when creating your ad.
That's how you can better target your PPC ads…
However, you'll also want to make sure that your ad copy is clear, in the sense that it 'calls out' your target market.
You can either do this by calling out the target audience as a whole or by calling out a segment of your target audience that you're looking to help, by mentioning the specific challenge that you have a solution for.
So, if you're creating an ad targeting gardners, you might begin with – "Are you a Gardner?".
If you use this method, you can always provide more detail, in the body text of an ad.
Or, you might create an ad saying "Struggling to control Garden Pests?" and get straight to the point, by calling out the problem that you're offering to solve.
Both PPC ads call out my target market, but in different ways – making it easier for people to identify whether or not an ad is relevant to them, therefore reducing wasted pay per click ad spend.
Optimize your funnel
Another way that you can save money on your PPC ad campaigns is by optimizing your funnel. That means that you take the steps needed to generate more revenue, from the same ad spend.
For arguments sake, I'll quickly explain why optimizing your funnel will help you save money while maintaining a quality score.
Imagine you're generating $200 from $100 in PPC ad spend. If you optimize your funnel, your revenue may jump to $400 from the same ad spend.
You're saving money because, previously, you would have had to spend $200 to generate the $400 – but now you're only spending $100.
It's a simple and retrospective way of looking at things.  But, it's something that you need to acknowledge, if you want to keep your ad spend efficient and save money in the long term.
Okay, so now let's talk about how you can optimize your funnel and raise your quality score.
One thing that you can focus on is the conversion rate method you're using.
If you're sending people directly to a sales page, or even just an email autoresponder sequence, you might want to experiment with using Webinars instead.
I have used webinars myself.  They're well known for being on of the highest converting methods of selling online.
In fact, I have found them to have a conversion rate of around 22%.
Of course, it will take some time to get used to running webinars of your own, but it's worth learning all of the steps required.
For most people, webinars make them nervous, because of all the speaking that's required.
It's normal to feel nervous about conducting a webinar of your own, though you'll often find that your nerves quickly fade, once you begin covering the main content that people came to learn.
If you know the content well, you'll be in your element, and you'll find things just flowing naturally after a couple of minutes.
On top of that, you can always have another person with you, to help you co-host the webinar.
The other individual will be able to check in on any questions there are and will be able to help you, should you freeze or get stuck at any point during the webinar.
If you want to see some webinar examples, you can head over to Kissmetrics.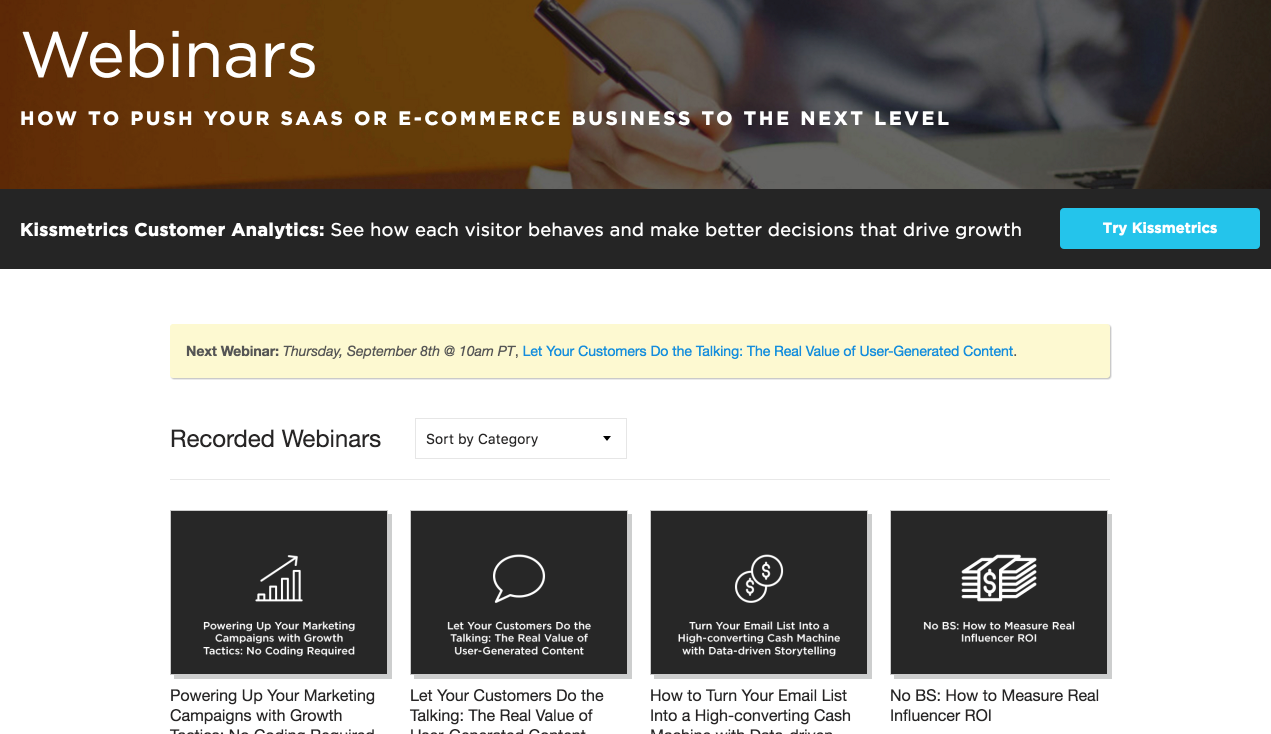 Additionally, though you're not exactly optimizing your funnel here, you might also want to take a look at what it is that you're selling.
You may want to question if it really meets the needs of the people that you're targeting with your PPC ad copy. If you can come up with a better product, then there's a good chance that you'll be able to increase revenue and improve your quality score.
And so, once again, you're going to save ad spend indirectly, as you'll generate more conversion rates by selling to the same number of people.
Become a better copywriter
Though an unusual consideration  – becoming a better copywriter is probably one of the most important things that you can do if you want to save money on your pay per click campaigns while improving your quality score.
You won't become a better copywriter overnight.  This is something that you'll need to focus on for the long term.
Improvements in your copywriting ability can lead to improvements across the board, when you're running ads.
For example, if you're a better copywriter, you'll be able to get more clicks on your ads and a higher quality score, as you'll be able to invoke more curiosity.
On top of that, you'll also be able to convey your point more clearly, within your PPC ad copy, so that you can get more relevant clicks at the same time – an important distinction.
Your landing pages will also do a much better job at conveying whatever you are offering. If you're offering a webinar or a PDF, you'll be able to better persuade the person on landing pages, that they should engage with what you have.
Combined with the increase in relevant clicks, you can see how this will improve conversion rates.
And then, once people are within your funnel, you'll be able to send them to a sales page, that again, just like with landing pages, is highly persuasive in terms of the benefits to be had, should someone engage with what you are offering.
This again, leads to an increase in conversion rates.
So, by improving your copywriting skills and content presented on landing pages, you are able to squeeze more revenue from the same ad spend – indirectly saving you money.
If you don't believe me, take a look at this example…
Here, a change in wording on landing pages lead to a 39.03% increase in conversion rates – and there wasn't even a massive change in the presentation of the words!
The best way to develop your copywriting skills is by taking a look at what works for other marketers and understanding the psychology behind their use of language.
Consider keeping a 'swipe file' of anything that causes you to buy or sign up and question why the words worked so well in convincing you to take action.
Conclusion
PPC advertising can work for you, if you take the time to understand how you save money on your PPC ad campaigns.
If you've previously written off pay per click advertising because it cost you too much, maybe it's now time to make a change.
Whether you better target your ads or your optimize your funnel – there's a good chance that there are plenty of changes that you can make, in order to save money, maintain a quality score and make PPC advertising a viable option for you.
Get started now and let me know how things go.
Do you have any tips you can share when it comes to saving money on your pay per click ad campaigns? Please share them below!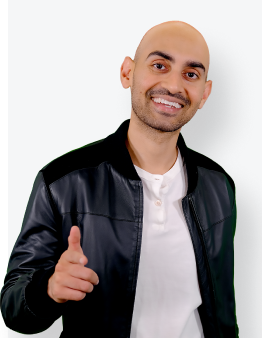 See How My Agency Can Drive More Traffic to Your Website
SEO - unlock more SEO traffic. See real results.
Content Marketing - our team creates epic content that will get shared, get links, and attract traffic.
Paid Media - effective paid strategies with clear ROI.