The marketing world is forever evolving, but that doesn't mean tried and tested methods like word of mouth marketing are irrelevant.
In a fast-moving, competitive world, word of mouth marketing (WOMM) is more critical than ever. Why? Just look at the facts.
Jonah Berger, a marketing professor and the author of Contagious, explains that word of mouth marketing is so effective because of the trust element: consumers trust their friends and relatives more than brands.
Another reason WOMM works is it allows better targeting. As Berger explains, we tend to share products with people we know are likely to be interested in them.
Word of mouth marketing is great because it can work for everyone, even lesser known brands or start-ups.
For example, the e-commerce platform Ugmonk relies heavily on word of mouth.
Jeff Sheldon, founder and designer of Ugmonk, credits word of mouth marketing with a considerable part of its success, estimating 50 percent of its customers come from this method.
As Sheldon explains, Ugmouth's word-of-mouth strategy is straightforward:
"…it's all about making remarkable products where people can't help but tell their friends about them…".
What Is Word of Mouth Marketing?
Word of mouth marketing occurs when satisfied customers spread the word about your business, happily recommend you to friends and family, and write positive (or negative) reviews.
This tactic is an essential part of your business toolkit because, as we've already mentioned, consumers are more likely to listen to their friends, family, and other customers' perspectives when making purchase decisions.
Consider these stats:
There are two types of word of mouth marketing: organic and amplified.
Organic word of mouth marketing is where happy customers make recommendations. Amplified word of marketing occurs when brands incentivize buyers to get the word out with user-generated content and influencer marketing.
Take Tesla, for example.
Most people are familiar with Elon Musk's company, yet it doesn't spend much on advertising—its success is primarily due to word of mouth marketing.
When Musk spoke to YouTuber Marques Brownlee, he shared:
"The key to selling a product is having something people love and will talk about. If you love it, you're going to talk and that generates word of mouth."
Why You Should Care About Word of Mouth Marketing
Today's consumers are savvy, using user-generated content, reviews, and social media to research purchases. They care what people say about your product or service, or as Swellcx.com puts it:
"Prospects choose businesses with the best reputation."
There are more benefits to word of mouth marketing, including:
It's free: If you're a start-up with a limited budget, you can use WOMM for promotion and build a solid reputation.
Word of mouth marketing continues well after the first interaction: In other words, when a happy customer talks about you, they keep talking and promoting your business.
It provides vital feedback: Customer reviews help improve your product/service and learn from mistakes.
It promotes customer loyalty: In some sectors, even a five percent customer retention rate could add at least 25 percent to the bottom line. Loyalty isn't just nice to have—it impacts your bottom line.
Builds credibility and connectivity: Word of mouth marketing adds credibility to your brand and helps you connect with leads on social media.
The History and Evolution of Word of Mouth Marketing
Some argue that word of mouth has been with us throughout history. However, psychologist and author George Silverman is often referred to as the pioneer behind WOMM, with his 1970s "teleconferenced peer influence groups," or focus groups.
In the 1990s and 2000s, word of mouth marketing became more sophisticated thanks to the rise of social media platforms like Facebook and Twitter. Nowadays, people are increasingly turning to social platforms to share product reviews.
Naturally, brands have realized just how powerful social media and reviews are for their reputations. Rather than leaving it to consumers to spread the word, they're actively taking steps to urge shoppers to talk about their brands.
Apple, for example, has word of mouth down to a fine art. Like other top names, Apple creates unique, innovative products that people can't wait to shout about.
It also:
builds excitement with pre-announcements
makes great-looking products that buyers can't wait to share on social media
creates easy-to-use, intuitive products
reinvents its products with fresh features to keep people talking
Any business can use these methods to create excitement and increase word of mouth marketing.
Word of Mouth Marketing Strategies and Uses
Word-of-mouth marketing builds trust and makes consumers more confident about making purchases. If so many people are raving about a product or service, it's got to be good, right?
However, there's plenty more to WOMM than exceptional products: you need to give customers something worth sharing, and you need effective techniques to get buyers talking.
Below are several word of mouth marketing strategies you can start using today.
Leverage Social Media for Word of Mouth Marketing
Social media platforms are an ideal way to leverage word of mouth marketing because that's where many of us go to find out more about a company. Research from BrightLocal shows that in 2021, 48 percent of consumers went to Facebook to evaluate a local business.
Some brands are exemplary at social media, and you can copy their methods.
Let's look at the fast-food chain Wendy's and its winning approach to social media. It uses several tactics, including:
humor
interacting with customers
using memes
referencing pop culture
offering freebies
Additionally, Wendy's takes the view that people come to its social channels for entertainment value. The brand adapts its tone to the social media platform it's using.
Wendy's also:
happily trolls competitors
employs a team to respond to tweets quickly and in their chosen manner
hosts regular contests for follower engagement
doesn't hold back during its National Roast Day: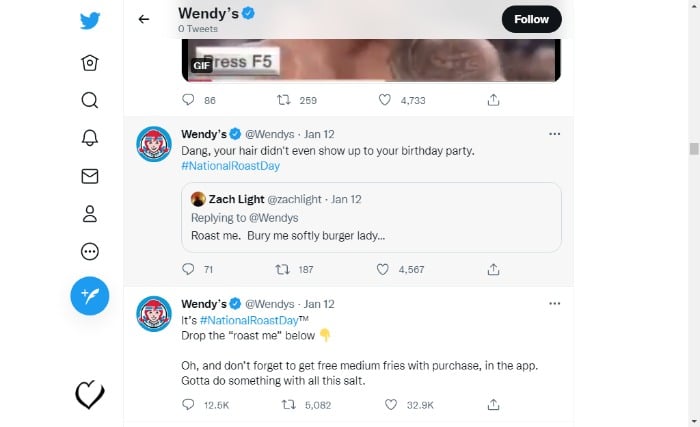 Leverage Online Reviews for Word of Mouth Marketing
There's no denying the power of online reviews, and in this day and age, reviews have the power to make or break your business.
With the prevalence of online review sites, consumers don't hesitate to turn to platforms like TrustPilot, Google Consumer Reviews, and Feefo to state their opinions. According to research by PowerReviews, 99.9 percent of consumers read reviews, making them crucial to your word of mouth marketing strategy.
The best way to get your customers to write reviews is to reach out to satisfied customers and ask them to share their experiences online.
To get the most out of online reviews, make sure to:
use social listening to see what your buyers are saying, and act on negative reviews
use surveys to invite feedback on the services/products you offer
add social media links to make it easier for customers to tell their friends about their experience
offer incentives for customers to leave reviews, like a discount (just make sure it's not against the terms of the review site!)
add a customer satisfaction survey as part of your after-sales strategy.
Once customers leave reviews, you can then make them part of your marketing campaign.
At Home did this well.
It sent out emails with an intriguing subject line: "You rated and reviewed; we rounded up your faves," encouraging subscribers to open the email and find out more about the rated products and read their reviews.
By doing this, At Home is driving traffic back to its site and tempting customers to make another purchase.
Reputation Management as a Form of Word of Mouth Marketing
The goal of reputation management is to proactively manage your company's reputation by responding to negative reviews, providing stellar customer service, and solving customer problems.
Like reviews, reputation management is essential to any business that wants to succeed these days and marketers understand this.
According to reputation management company Birdeye, in its 2021 State of Experience Marketing report, 57 percent of marketers prefer using reputation management to paying for ads.
Additionally, the survey found 88 percent of multi-location marketers experience a direct relationship between an excellent online reputation and growing revenues.
As one consumer surveyed by Birdeye says:
"In this digital age, reputation is everything,"
Dave Lehman, CEO and president of Birdeye, explains:
"This survey further validates that successful businesses are seeing more customer interactions and increased profits through reviews, referrals and their overall online reputation. Marketers should focus on growing their businesses through happy customers."
That's why the likes of Starbucks, Nike, and Yelp use reputation management as part of word of mouth marketing. Below are some of their strategies you can adopt:
Starbucks gives out free drinks vouchers for the next visit when an order gets delayed, keeping the customer satisfied and increasing customer loyalty.
Nike responds to complaints quickly and even has a dedicated Twitter platform to ensure customer issues are addressed quickly.
Yelp responds quickly to complaints and is swift to own up to any errors.
These companies all have considerable budgets, but any brand can own its problems, respond efficiently to complaints, and offer freebies or discounts. User-Generated Content as Word of Mouth Marketing
Thanks to the smartphone, consumers have easy access to camera and video technology—and are keen to share their content. It's no wonder some describe user-generated content as the "new word of mouth."
Top brands like Coca-Cola and Hilton Grand Vacations employ user-generated content regularly.
Although word of mouth marketing is vital to every sector, research indicates it's especially crucial to the travel industry, helping consumers to:
make travel decisions
create a sense of loyalty
influence tourist behavior
However, user-generated content works just as well for other niches.
Smart wearable company Amazfit is one of the top brands in the East, but it's not familiar to many Western consumers. Amazfit launched a UGC campaign by adding content to its main digital touchpoints including their homepage, community pages, and blog.
Amazfit's approach allowed consumers to see how others were using its products, and the results are impressive. With its strategic placing of UGC, the Hong Kong-based company:
doubled its page views
increases sales by 29 percent
grew its online audience by seven percent
If you want to create a similar campaign, you can:
identify what kind of content you want to produce
create a plan for how you will promote your campaign and get people to participate
decide where to post the content, such as on social media, your website, or blog
measure the success of your campaign by looking at traffic, engagement rates, and conversions rates
Offer Incentives for Customer Referrals
Sometimes your customers need a nudge to start referring products or sharing your content. Why not make it worth their while with incentives?
Giving incentives is a great way to build word of mouth marketing; it's a win-win situation for both the customer and the company. Offering incentives is a simple concept, but does it work in practice?
Absolutely. Just look at Airbnb.
Its incentive program is among the most popular and uses a two-pronged campaign: one email offers $25 for the referrer, while the other gives the referrer and their friend $25.
Airbnb found referred customers:
make more reservations
host more holidays
refer additional users and send out more referrals
Combined, the referral program enhanced bookings by more than 25 percent in some sectors, and its upgraded 2.0 referral scheme created an impressive 300 percent additional bookings and signups.
However, Airbnb's success didn't happen by accident. Here's how the brand found success:
it used A/B testing to find the most successful advert
it combined the shopping and sharing experience
it tracked its results
How can you use this strategy? Consider offers like:
discounts on the product or service
free shipping
a free gift with purchases over a certain value, or some other type of incentive that is relevant to your industry
You can also create a process for telling customers when their friends or family join so they can discuss their purchase.
Try Influencer Marketing
Word of mouth marketing is difficult to control. You have little impact over who's talking about your brand, what they say, and where they say it.
However, influencer marketing allows brands to target specific communities by connecting with names they already know. It's like word of mouth marketing, just on a larger, more focused scale.
Brands are increasingly realizing the value of influence marketing, and the sector is on an upward trajectory.
According to the State of Influencer Marketing Benchmark 2022 report, the global market size is now worth $16.4 billion and 75 percent of marketers are dedicating a budget to influencer marketing.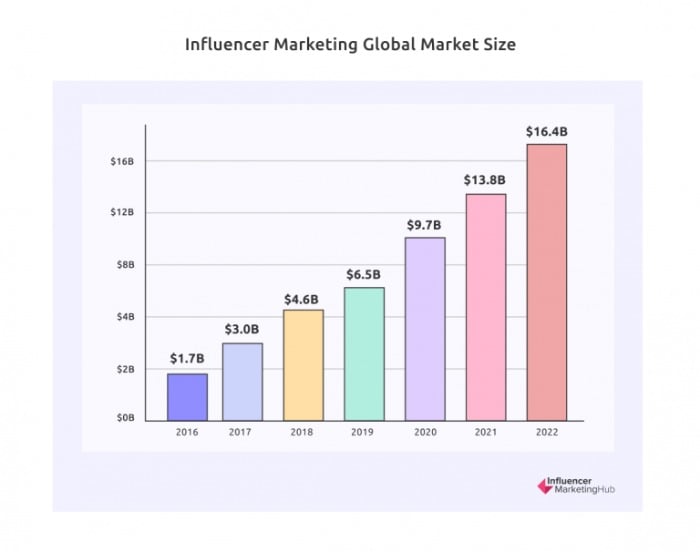 If you decide to give influencer marketing a try, you are going to be in good company. Learning portal Lynda, Audible, and Adidas are just a few brands using this tactic.
Adidas teams up with celebrity influencers like Selena Gomez to host contests. The results can be dramatic; in the campaign with Selena, Adidas gained 41,000 new followers, a surge in hashtags, and a 24.2 percent increase in sales.
You can identify the right influencers for your brand and work with them to create content that will help you reach your target audience and make a lasting impression.
You don't need award-winning musical artists to see results from influencer marketing. Micro-influencers with a hyper-targeted audience can be incredibly effective for smaller brands or more niche products.
Word of Mouth Marketing Frequently Asked Questions
Is word of mouth marketing the best form of marketing?
Most marketers agree that word of mouth marketing is one of the most effective forms of marketing. After all, it's often free, and any size brand can use it. The changing world of word of mouth marketing, which encompasses review sites, influencer marketing, and social media, also gives brands and marketers a wider audience.
What are the most common types of word of mouth marketing today?
The most common types of word of mouth marketing include customer reviews, and posts on social media platforms like Facebook, Twitter, and Instagram.
What are the digital versions of word of mouth marketing?
Digital word of mouth marketing includes online reviews, social shares, and blogging.
How effective is word of mouth advertising for small businesses?
Word of mouth advertising can be very effective for small businesses in terms of building consumer confidence, trust, and loyalty, resulting in returning customers.
How do you encourage word of mouth marketing?
The best way to encourage word of mouth marketing is by providing excellent customer service and innovative and developing quality products/services that stand out from other brands. Asking users to leave reviews or share their favorite products can also be effective.
Conclusion: Word of Mouth Marketing
Word of mouth marketing has been around for centuries but is changing fast thanks to the internet.
Consumers have moved a long way from spreading the word among friends, family, and colleagues and now share their experiences on social media and review websites.
Brands can leverage these trends by incorporating reviews in their email marketing campaigns, running user-generated content campaigns, and influencer marketing.
Word of mouth marketing is so effective it has the power to make or break a brand. Best of all, any brand or marketer can use word of mouth marketing, regardless of their budget.
Although the results can be dramatic, the techniques are simple and easy to implement.
Do you use word of mouth marketing? Which are the most effective techniques?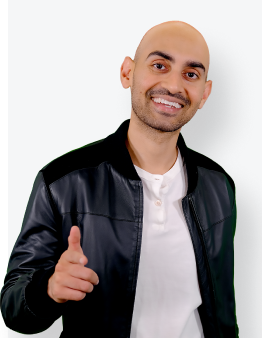 See How My Agency Can Drive More Traffic to Your Website
SEO - unlock more SEO traffic. See real results.
Content Marketing - our team creates epic content that will get shared, get links, and attract traffic.
Paid Media - effective paid strategies with clear ROI.
Are You Using Google Ads? Try Our FREE Ads Grader!
Stop wasting money and unlock the hidden potential of your advertising.
Discover the power of intentional advertising.
Reach your ideal target audience.
Maximize ad spend efficiency.