Content marketing, mostly by blogging, is the name of the game for bringing in new traffic.
It's the only viable strategy in 2017 to get more inbound visits.
But what about 2018?
Consumer behavior is constantly shifting in our industry. It's here today and gone tomorrow.
For 2018, I'm placing my bets on video-based content, not typical content marketing pieces like blogs and e-books.
Currently, I'm spending $6,000 a year on video shoots alone.
I've dedicated $24,000 of my budget to a team that gives me extra input on topics for each video and any possible show notes to add.
A large portion of my budget, $54,000, goes toward equipment and editing in order to provide the best-quality videos I can.
The lion's share of my budget, $60,000, is dedicated to a video marketer who is helping me with the promotion of my content and hyper-specific factors like optimization for watch time.
I'm currently doubling down on video for 2018, spending $144,000 total.
I'm pivoting my typical strategy away from text-based content and taking a leap into the deep end of video marketing.
Here's why I'm doing it, and more importantly, why you should be doing it too.
Typical content marketing is saturated
Like I said earlier, our industry is constantly changing. Strategies that seemed bulletproof yesterday might drive your ROI into the ground tomorrow.
Why is that?
Andrew Chen wrote an insightful article that explains this phenomenon. Here's his basic premise:
Things that used to work extremely well will have declining performance over time.
As more people start to catch wind and jump aboard the train, it slows down.
The train becomes bogged, overcrowded, and saturated, making it harder and harder to reach the final destination.
Essentially, things that worked at one time will deteriorate as the market gets saturated.
Let me give you an example.
I'm sure you're familiar with display advertising, right? Do you recall the average click-through rate of display ads right now?
That's abysmal. Completely awful.
Sure, implementing various tricks like CTA button testing and color A/B testing can lift that a good amount.
But the fact of the matter is, it's not what it used to be.
The first display ad ever appeared in 1994 on HotWired. Here's what it looked like:
Imagine airing this ad today. It's vastly different from the norm.
It has a directional arrow, tie-dye coloring, and a subliminal "you will" message in the background.
Most ads today look nothing like it.
But here's the unbelievable part:
The click-through rate for that ad was 78%!
Yes, you read that right. As shocking as it is, that ad got 78% of people to click.
Why? It was new. Nobody had ever seen something like it before.
But now, the average CTR for display ads is 0.05%.
Here's the principle: Things that used to work simply don't perform as well anymore.
You can see the same thing with email marketing open rates:
And now, the same thing is happening with blogging.
There are too many players. Too many companies are looking for a piece of the pie.
In fact, users publish millions of blog posts every single day.
That live counter is almost at two million, and it's not even 9 A.M. here in Seattle.
In 2015 users were publishing over two million blog posts every single day, and that number has only been skyrocketing since.
Blogging is a saturated market, and we can't sit back and expect results to be the same as they were five or ten years ago.
The same thing is happening with typical content marketing pieces.
That applies to anything from e-books to whitepapers and checklists.
And those are the typical types of lead magnet content that get new emails for your email list.
It's why I've transitioned most of my lead magnets to focus on video-style content like webinars or free tools.
On top of that, the fight for your blog to rank on the SERPs is getting too competitive.
Perform any basic Google search for a long-tail keyword that you want to rank for.
For example, let's search for:
"How to do SEO for small businesses"
Notice the top two ranking sites?
They are gigantic players in the SEO industry.
High-ranking sites that you have no shot at outranking are dominating your long-tail keywords.
Blogging and content marketing in 2017 are saturated.
So you need to find other ways to reach my target audience without competing in the SERPs for content that will take years to rank for.
It's one of the main reasons I'm doubling down on video.
Here's another.
Video is growing rapidly
Beyond the fact that typical content marketing tactics are saturated, video is simply taking flight.
It's launched like a cannonball and shows no signs of slowing.
Recently, Cisco released an important whitepaper that shows the massive impact and potential of video and marketing.
They found that by 2021, 82% of all consumer Internet traffic (globally) will be video-based.
That means nearly everyone is going to consume almost entirely video-based content in the coming years rather than text-based.
Blogs, e-books, white papers, you name it: they are all toast. Users are pushing them all aside to make room for video content.
You can see this trend directly with the growing user base of YouTube, who just recently surpassed 1.5 billion monthly active users.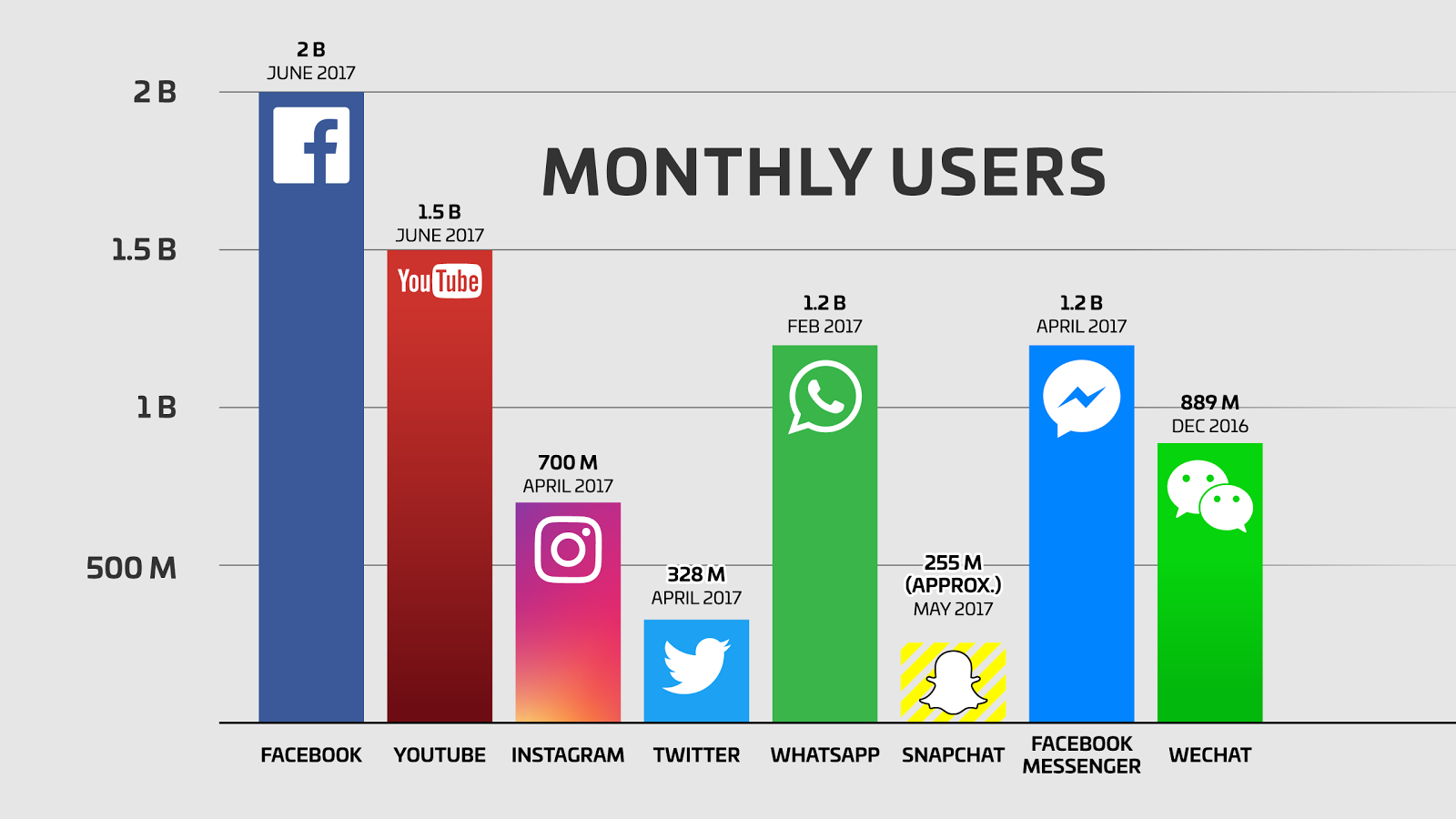 Our current worldwide population is hovering at nearly 7.6 billion.
That means one out of every five people in the entire world are logging into YouTube each and every month.
That's astounding. But that's not all:
Logged-in monthly active users are spending more than an hour per day watching video content on the platform.
That's unprecedented. We've never seen such engagement on a single platform.
But all of this amazing potential comes with a serious caveat:
Being first to the market is critical.
Now is the time to invest in video-based content before the market becomes too saturated and your efforts don't hold much weight.
Let me prove it to you.
HubSpot's yearly report, called the State of Inbound, surveys marketers from around the world on their inbound strategies and goals.
Their latest 2017 report found that 48% of marketers were planning to add YouTube to their content distribution channels in the next year.
Another 46% said that Facebook video was a top priority too.
That means that in 2018, or toward the end of 2018, the market will become overly crowded.
Tons of marketers and companies are noticing a massive trend in video-based content.
Being first to the market is critical if you want to build brand awareness and establish yourself as an expert in video marketing.
Video converts extremely well
Not only is video content growing rapidly, but it also converts at a high rate.
I got a taste of this myself back in 2014 when I was trying to optimize Crazy Egg for conversions.
I first focused on creating long-form landing pages because I thought those would convert best.
After all, most studies show that longer blog content is best.
And that's true. There is no doubt that long-form blog content ranks you higher and converts better.
I thought the same would apply to my homepage and landing pages.
But it didn't.
So instead, I implemented video-based content and explainer-style videos on the homepage.
By doing this, I cut the length of my page by 60%, removing tons of unnecessary content that I thought was critical for conversions.
In the end, my conversion rate increased by 13%.
A simple addition of video in exchange for text-based content helped to shorten the page, and it got users to sign up at much higher rates.
It did a better job of showcasing my product and developing want and need than my original text-based landing page.
I then put this to the test a second time with a good friend of mine, Kimberly Snyder.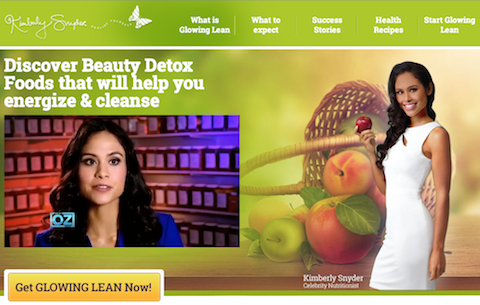 She originally had a long-form landing page with crowded text, just like mine.
But simply adding video allowed us to communicate her offering without text while also showcasing social proof.
The end result was a 40% increase in conversions within just a few days of the edits.
We did all of this in 2014, and video content has only grown since then.
Currently, according to the latest data, companies using video get 41% more website traffic from search engines than those that don't.
On top of that, video content on a landing page can increase conversions by 80% or more.
Homepage video additions can even increase conversions by 20% or more.
Companies using video right now are seeing massive growth in their revenues when compared to companies that aren't.
Their growth is 49% faster as a result of simply switching their strategy to video.
Another study by Blue Corona found that companies using video marketing tactics, on average, receive a 27% higher click-through rate and 34% higher website conversion rates than those that don't.
The bottom line is:
Video-based content is what's hot right now.
It converts extremely well, and it's a new way of reaching your target audience.
Plus, more people want to enjoy video content than ever before.
People are spending hours daily watching YouTube, and even the simple addition of video to a landing page can increase conversions.
Now is the time to implement video, before it becomes just another saturated market.
Here are a few best practices to follow to dominate the competition and get ahead of the game for 2018.
Get ahead of the game with these video marketing tips
If you haven't started video marketing, it's key to start on the right foot.
You need to establish a brand for your videos that includes:
Great, helpful content that solves a user problem. For example, "how to do on-page SEO in 5 minutes."
High-quality video. This includes anything from camera quality to studio quality and editing. It needs to be professional.
These are two things that you can't get wrong when starting to implement video.
For example, take a look at all of the uploads on my YouTube channel right now:
Do you notice a trend?
All of my content and thumbnails are alike, making it easy for anyone to recognize my videos in a search on YouTube.
The goal here is to create consistent branding that will allow users to recall my brand and content even for an unbranded search.
I want them to be able to quickly realize that my content is consistent and powerful.
The same thing goes for the homepage of your channel:
Branding consistency is key to developing a following that remembers your brand and associates great content with it.
I then link back this YouTube content directly on my site. I put it in the videos section, which I call "Neil Knowledge:"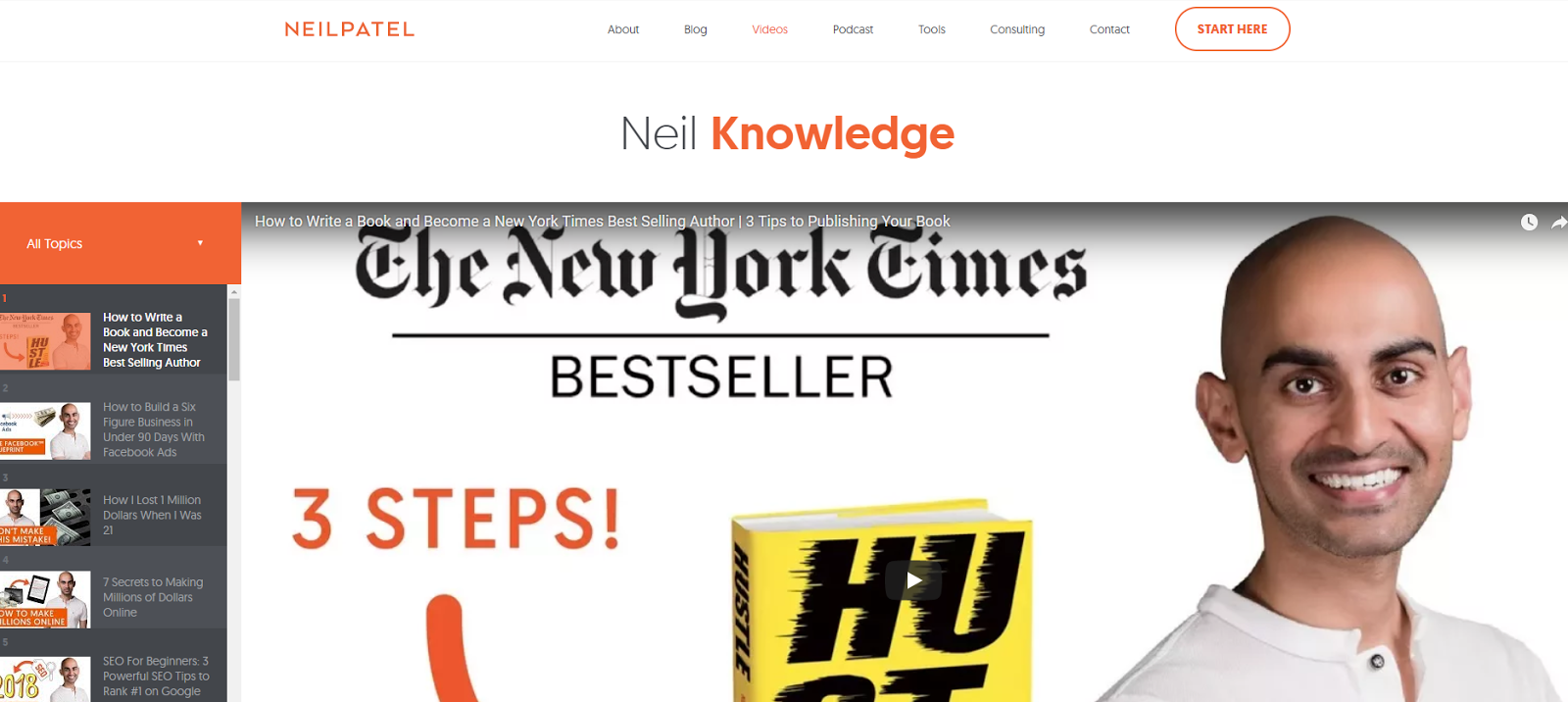 This allows me to remain consistent throughout the user experience.
After you nail down your branding, it's time to focus on producing the best-quality videos that you can.
In my content, I try to include as many smooth edits and transitions as possible.
The quality of my videos remains constant with each video, meaning you get the same experience every time.
Recently, HubSpot studied video content from over 500 businesses to develop a benchmark for success.
I've taken tons of helpful information from this study and applied it to my content with great results.
Currently, viewers watch 86% of business-related videos on desktop browsers and only 14% on mobile devices: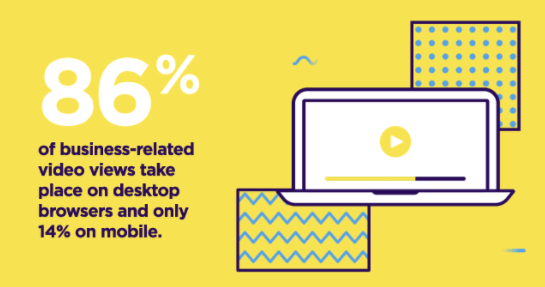 This means that you should optimize your video content first and foremost for desktop despite the growth of mobile.
You can do this by adding scripts to the description of your video:
This will allow people to read along on their desktop while also hearing and watching you speak.
It's a great way to combine traditional blogging efforts into a condensed video and appeal to the desktop users who watch your content.
HubSpot also found that the most popular viewing time is on Wednesday between 7 and 11 AM Pacific Time.
If your video marketing strategy is going to be one new video each week, make sure that you upload it somewhere in this allotted time for maximum engagement.
Current data shows that videos under 90 seconds see a high average retention rate, while extremely long videos don't:
Wistia similarly found that the longer the video goes, the less engagement you can expect:
More specifically, videos that extended past two or three minutes in length saw big decreases in engagement:
Videos under three minutes are the winners in terms of engagement and performance.
But, do you notice the middle of the graph?
After the first drop-off point, videos from 6 to 12 minutes don't see much of a drop at all:
If you want to focus your videos on longer content, or can't cover a topic in less than three minutes, make sure that your content hovers in the 6-12 minute range for the second best performance.
If you go any longer, you risk a higher drop-off rate.
But remember:
Always direct your video content based on typical sales and marketing funnels.
This is something that I've been doing with great success.
For example, if you have a bottom-of-the-funnel lead who's almost ready to convert, sending them a 90-second video won't do much.
That's not going to educate them or convince them.
They probably need a long-form video with case studies and tons of data to examine.
Here is how I currently structure my video content based on funnel stages. It's how I recommend you do it for optimal success, too:
TOFU, or the top of the funnel, is where users aren't brand aware. They don't know you.
With that in mind, you want your video to be short and sweet with a takeaway that they can implement ASAP.
This will create the most value for them without wasting their time or causing them to wonder why they clicked on your content.
For MOFU, the middle of the funnel, you want to focus on creating content that's at least five minutes long to offer more value and detailed options for solving a problem.
These users are brand aware, so they want a bit more content from you than a first-time user.
Lastly, your BOFU, bottom of the funnel, wants long-form content.
They are highly educated and ready to convert on your offerings. You just need to keep them educated and produce massive value for them.
Create action-packed videos for your BOFU audience, and you'll be driving conversions in no time.
Be sure to implement these best practices to get a fast jump on the video marketing trends of 2018.
Conclusion
Content marketing in 2017 is all about blogging.
Write more blog posts, e-books, and whitepapers.
But what about 2018? As consumer demands and behavior change, you must change too.
It's an ever-evolving market that is hard to pin down, but you should welcome a change in tactics.
Currently, I'm spending $144,000 to double down on video-based content for 2018.
Competing in a saturated blogging and content-marketing world isn't fun, nor is it conducive to profit and a solid return on investment.
You need other ways to stand out from the crowd and grow your business.
Typical content marketing methods won't do it anymore.
As we have seen, tactics lose their impact over time as more people jump on the bandwagon.
It's critical to be the first to the market and grab as many users as you can before it's saturated and the cycle repeats.
Now is the time to invest in video, or you risk jumping ship too late.
What are your plans for video-based content in 2018?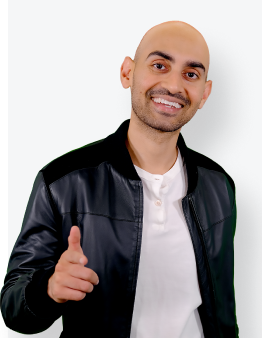 See How My Agency Can Drive More Traffic to Your Website
SEO - unlock more SEO traffic. See real results.
Content Marketing - our team creates epic content that will get shared, get links, and attract traffic.
Paid Media - effective paid strategies with clear ROI.