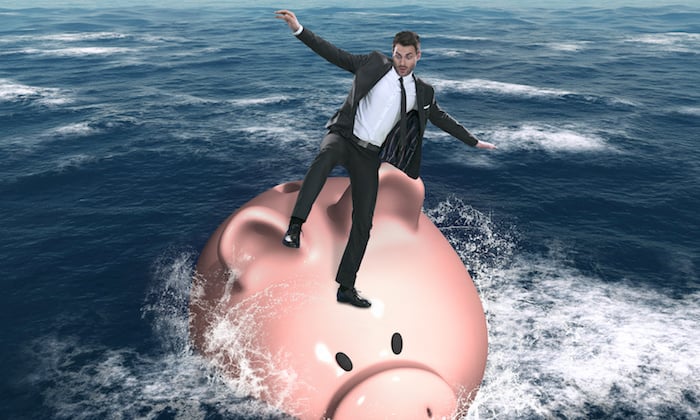 Pay-per-click marketing can be one of the fastest ways to generate customers for your business.
However, running a pay-per-click campaign the right way isn't necessarily easy.
Many people end up wasting money when running paid online ads and this often leads to them believing that pay-per-click marketing isn't for them – or their business, and won't have a positive effect on their quality score.
Yet, in most cases, people are just making a few simple errors that can be easily fixed and will help their online advertising efforts. 
In this article, we're going to take a look at the common mistakes people make, when running pay-per-click campaigns.
We'll analyze how to deal with these mistakes and how to adjust your marketing strategy and PPC accounts so that they'll work out for the better.
By the end of this post, you'll know more than enough when it comes to avoiding the newbie mistakes that people make when running PPC campaigns meaning that you can get your pay per clicks just right.
Let's begin. 
Incorrect targeting
Failure to target ad properly means that your ads are going to be shown to the wrong people which is not so helpful to your marketing strategy.
This is a problem because your ad campaigns are going to end up being shown to people who don't care for them rather than your target audience.
After all, would you click on ad text for a 'dog walking service' if you didn't even own a dog?
Thankfully, poor ad targeting can easily be fixed and isn't something that takes forever to master.
If you want to target your online ads properly, there are two things that you need to learn.
The first is who your customer actually is.
You can figure that out by creating something known as a buyer persona.
A buyer persona is where you write down the characteristics of your ideal potential customer.
With a Buyer Persona, you aim to figure out the following about your potential customer:
Their age

Their occupation

Their hopes

Their fears

Their interests/hobbies

Who Influences them
There's a lot more you'll want to write down when creating a buyer persona, but these characteristics should be enough to get you going.
Knowing your buyer persona means that you can hone your marketing strategy and landing pages to suit them, you can select the right ad groups, and even boost your conversion rate.
A second important consideration is how the targeting options work for the pay-per-click platform you're using.
For example, with Goole Ads, you're targeting by keywords, search terms, and search engine use. With Facebook Ads, however, targeting is accomplished by demographics.
Though there is a little bit of crossover between the two platforms, they are still quite different in their targeting mechanics.
So, just because you're effective with one pay-per-click marketing platform doesn't mean that you'll be effective with another.
I've covered here how you can target your Facebook Ads properly and here how you can target your Google Ads.
Here are some tips that you can use if you want to improve your ad targeting for higher quality ads that reach your target audience.
If you're using Facebook Ads, consider creating a 'Lookalike Audience.'
This is where Facebook will target your pay-per-click ads based on a 'Custom Audience' that you provide.
Such an audience can be compiled from an email list, or from the people who visit your website via organic search engine results, social media, or following other landing pages.
If you target your Facebook Ads effectively, you may even be able to keep your CPC below the Facebook 2019 average of $1.86.
If you're using Google Ads, ensure that you're using keywords that have buyer intent.
These are keywords used by people who are looking to buy something, and, as a result, ads based on these keywords are more likely to add to your conversion rate and quality score.
Brian Dean refers to this as keywords with commercial intent.
Whether you're running a display campaign or a search ad campaign, it is important that you get the targeting right, or else your ad might not fare well amongst the target audience who are viewing it. This means no one will click on your landing pages which will also do little to drive up your quality score and increase conversion.
If your ad isn't targeted properly, it may receive negative feedback and this will spell disaster for your marketing strategy and your return on investment.
Improper bidding
Not all PPC campaigns are going to get eyeballs. Arguably, part of this could come down to improper bidding or from your PPC account.
If your ads seem to be converting well but are not generating enough clicks or calls to action, consider raising the bids.
Even if you find that your ads are not getting clicked on at all, raise the bids and see what happens to your ad rank.
In doing so, you'll find out if you have a bad pay-per-click marketing campaign on your hands or just a PPC strategy in a highly competitive space.
Provided you have set a daily budget, there is no harm in doing this to try and improve your bounce rate.
Keep a close eye on the numbers, as you don't want to waste money in the long run on a marketing strategy that isn't delivering a return on investment.
If you raise your bids, but your ads are not being clicked on, then your targeting might be incorrect, or your ad text might need work, or your ad needs to be of a higher quality altogether.
If your ad campaigns are generating more clicks, but you're not generating customers following your call to actions or improving your conversion rate as a result, then, again, your targeting may be incorrect.
Keep in mind, however, that it may also be that your landing pages are not fulfilling the promises made in your ad.
Ad copy & creatives
Ad text is one of the harder things to nail down when it comes to marketing. It can be a difficult thing to get right, especially if you're new to online marketing and have never used a Bing Ad (or other new to you ad network) in the past.
Even if you have experience with online marketing, the fact that each ad platform demands a different style of copy can still make things difficult.
The best way to improve your ad copy is to study other ads that appear in the search engines of on social media.
If you have clicked on any ads recently, take a screenshot of the ad that you clicked and keep it in a 'Swipe File.'
Keeping a record of an eye-catching ad is important, as there was something about that ad that made you follow a call to action.
Because of this, it's a good idea to study that ad and figure out what it was that caused you to click on it.
More often than not, you'll be able to deduce a formula that was used by the ad creator to pen the persuasive copy for that ad in order to help their marketing strategy.
If you want to look at a Swipe file created by another marketer, I recommend that you visit Swiped.co.

You don't want to copy any of these ads – just use them as inspiration for your own PPC account and bing ads.
You'll also want to keep an eye out for PPC ads that have been running for a long time.
The very fact that they've been running for a long time means that the advertiser has earned a positive return on investment that can pay for the ad to remain visible.
Keep an eye on your Facebook feed or on certain search ad groups and see if you notice any long-running ads.
You can also use competitor analysis tools, like Spyfu, to get this done.
In the long term, you'll want to understand the psychology behind what makes an effective ad when it comes to pay-per-click marketing.
This will give you a more complete skillset when it comes to writing ads and it will also stop you from making fundamental errors when writing copy inspired from other ads.
You can do that by buying some books on the topic or by taking some online courses that teach you the fundamentals of PPC ads. Simply typing a search query in can return plenty of search results within that niche.
Having good ad creative (the images) is also an important part of creating profitable pay-per-click campaigns.
Not all forms of PPC ads allow for images, so the tips below will apply to some platforms more than they will to others.
On top of that, different ad platforms will have different rules when it comes to creative ad copy and PPC accounts.
For example, Facebook only allows for 20% of the image to be covered in text. This is a great resource by Hubspot for anyone looking to run Facebook Ads in 2019. 
You can, however, be more 'persuasive' in Facebook image copy, as well as with a Google Display campaign, but you need to be a little more cautious.
For instance, you can't insert 'click here,' into the image.
Should you not follow the rules, Google isn't afraid to disable your ad – in 2018, a whopping 2.3 billion ads were disabled due to policy violations.
You can find the rules for Google Ads here.
In any case, as with ad copy, the best thing that you can do is to study other ads and the images that they have used.
Pay special attention to the ads that have caught your eye and have inspired you to click on them and follow their call to action.  After all, if you've clicked on them, the ads have done their job.
Often, pictures of people tend to work well in most ad creatives.
Additionally, ads that look too professional generally do not do as well as more 'amateurish' style ads.
For example, the ad below does a great job at capturing attention, even though a lot of money hasn't been put into designing a nice looking creative.
While keeping in mind the tips pertaining to the rules of image text I mentioned earlier, try to insert some copy within the image that describes the benefit you offer, should someone click the ad.
Here's a great example of how that can be done for a Facebook Ad.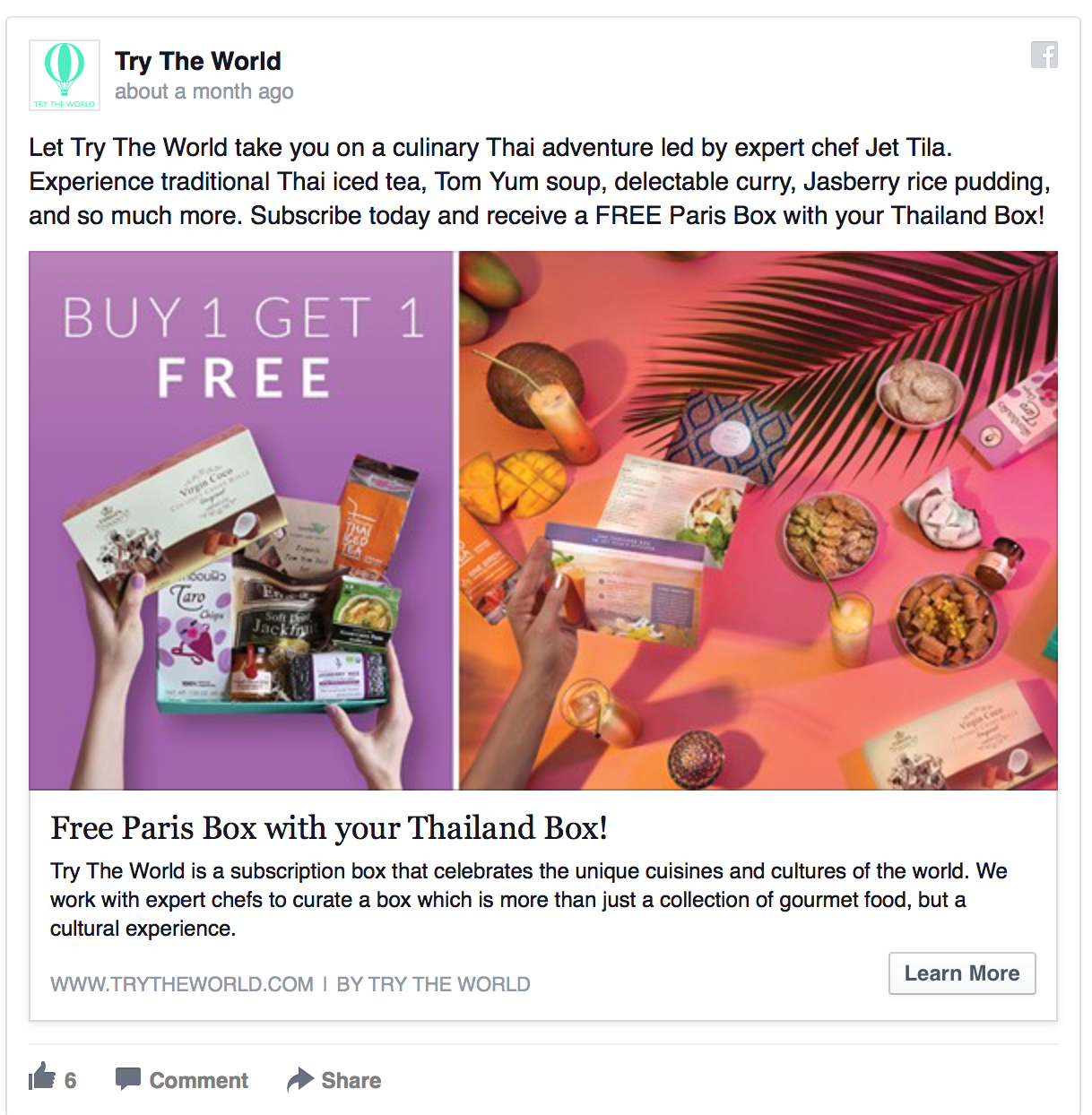 And, here are some examples for Google Display Ads.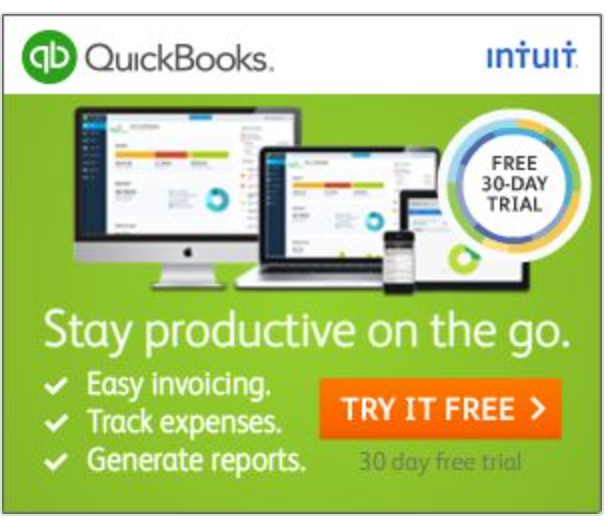 When creating a Google Display Ad, experiment with making the call to action on your ad look like a button.
You tend to see this a lot with Google Display Ads and it's often because such a method tends to increase click-through rates as people are more likely to follow your call to action.
Not split testing
With split testing, you don't have to 'guess' what is going to work when setting up your campaigns and landing pages.
You're going to let the data guide your decisions and tell you what's working.
Even the best pay per click advertisers in the world need to split test their ads and landing pages, in order to work out what kind of ad is going to work best for a particular pay per click marketing campaign.
That's because you'll rarely get things right on the first go – even if you're a pro.
When done correctly, split testing can massively improve your conversion rates.
Here's an example of a split test, done on Facebook, that managed to increase conversions by 143%.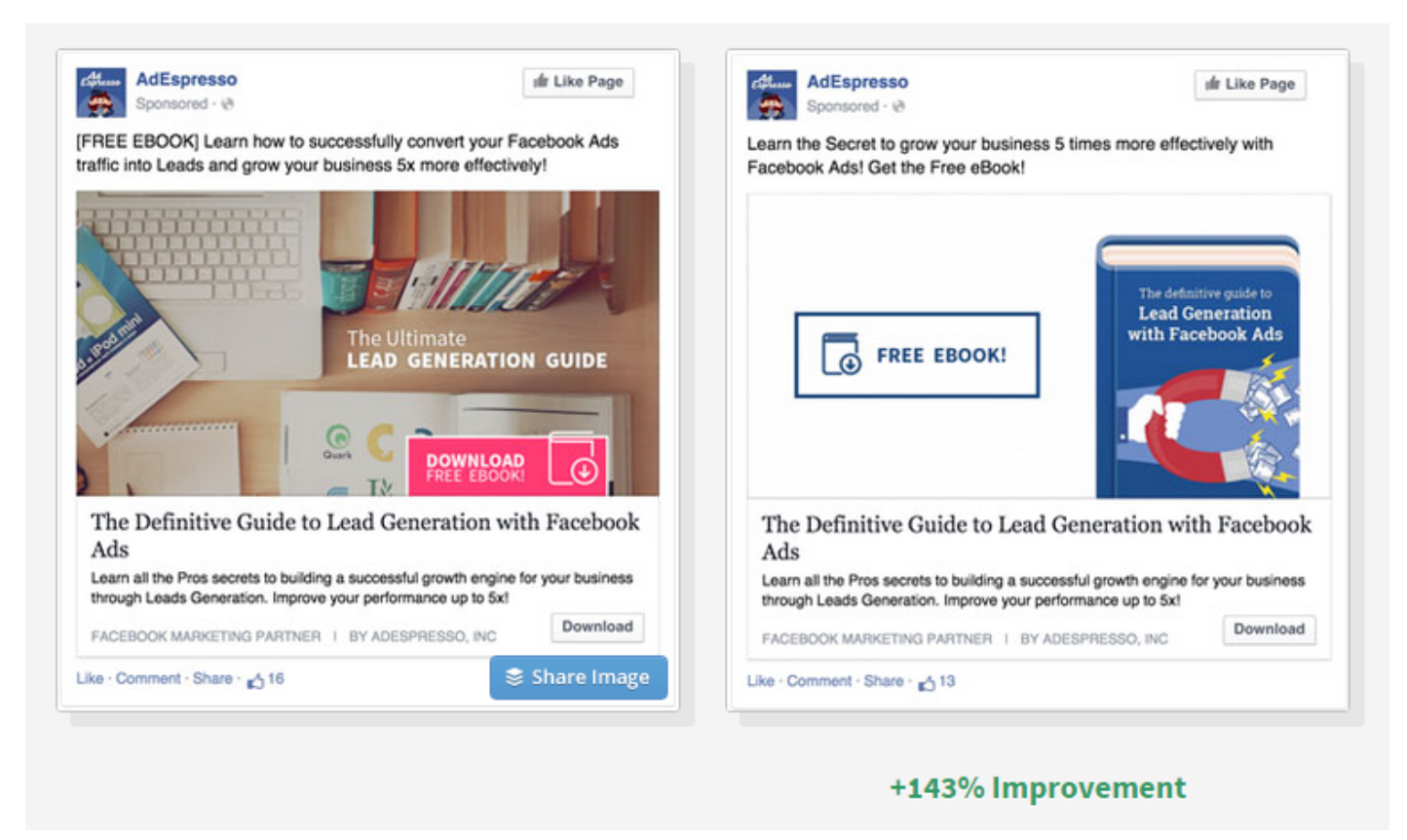 So, how do you go about split testing?
You can carry out a split testing experiment by creating small variations of a single ad.
Each variation is the same as the original ad, except for one aspect that has been changed.
You then measure how this singular change impacts the performance of the ad and decide if you have a winner on your hands or not.
When you're split testing your ads, there are a couple of things that you need to remember.
First, make sure that you do not change more than one thing, or else you will not know what has caused the change in conversion rate.
Knowing what caused the change in conversions is important because such knowledge can improve your ability to create ads in the future that work right out of the gate.
Second, when you find a winning ad, you need to make sure you quickly ramp up the spend for the ad.
With ad platforms like Facebook, you're working against the clock.  Sooner or later, 'ad fatigue' is going to set in.
Third, when you are split testing your ads, be careful how you're grouping them.
Ads within the same ad group, both for Facebook Ads and Google Ads, have been known to influence each other and therefore muddy the numbers of your PPC account.
This tends to happen because ad platforms will keep an eye on the numbers and display the highest performing ad over all of the other ones in the same 'Set,' or 'Group.'
This might sound like a good idea, but it can mess things up if you're trying to split test.
This is especially true if each of your ads haven't been shown a statistically significant number of times.
An ad that looks like it is performing badly within the first hour might end up being one of the better performing ads by the end of the day.
Therefore, when split testing, create different ad groups for each of your ads.
For Facebook, create different ad sets for each ad variation. Use the campaign structure shown below as inspiration.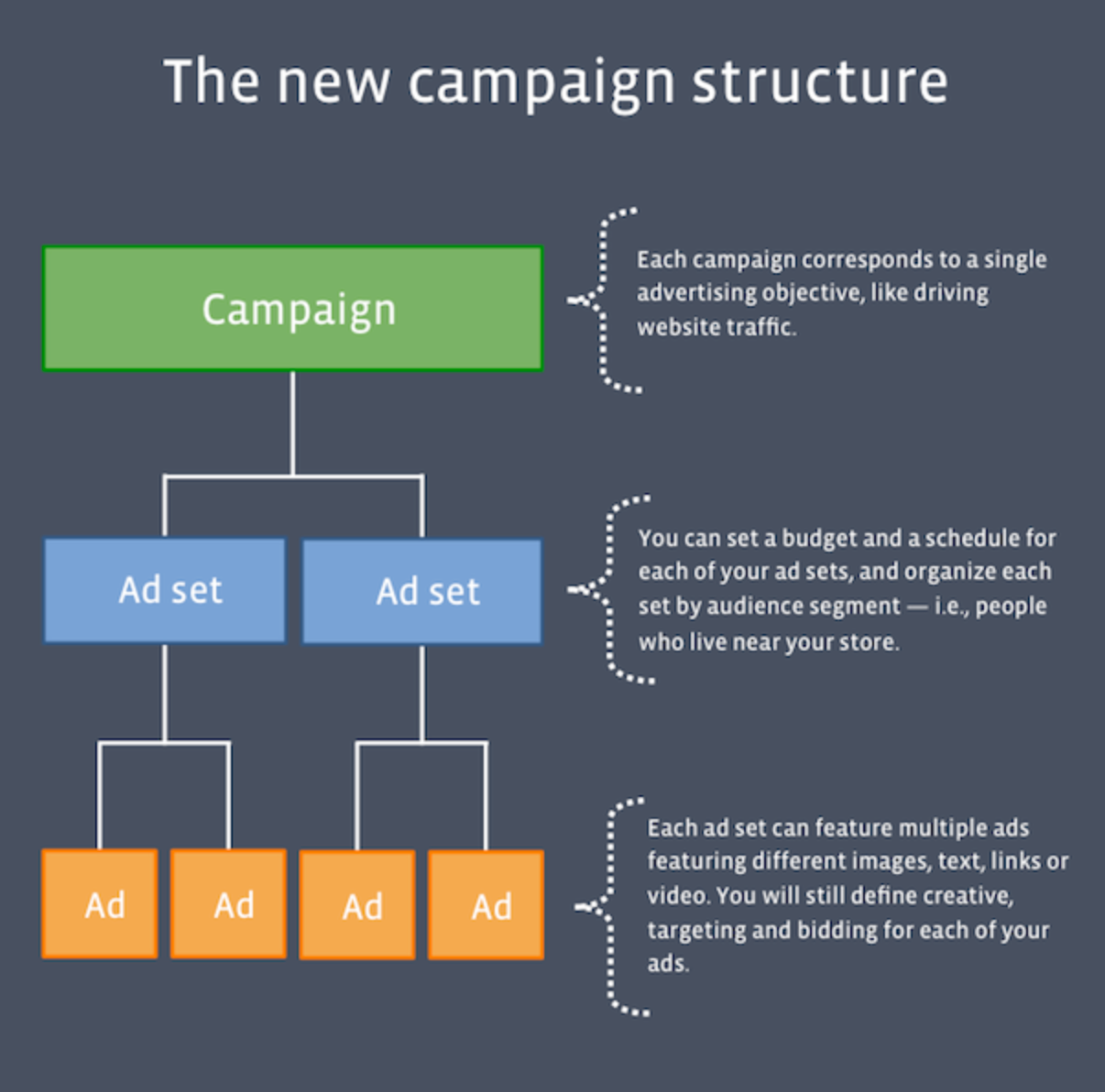 For Goole Ads, use a different Ad Group for each ad variation, as shown below.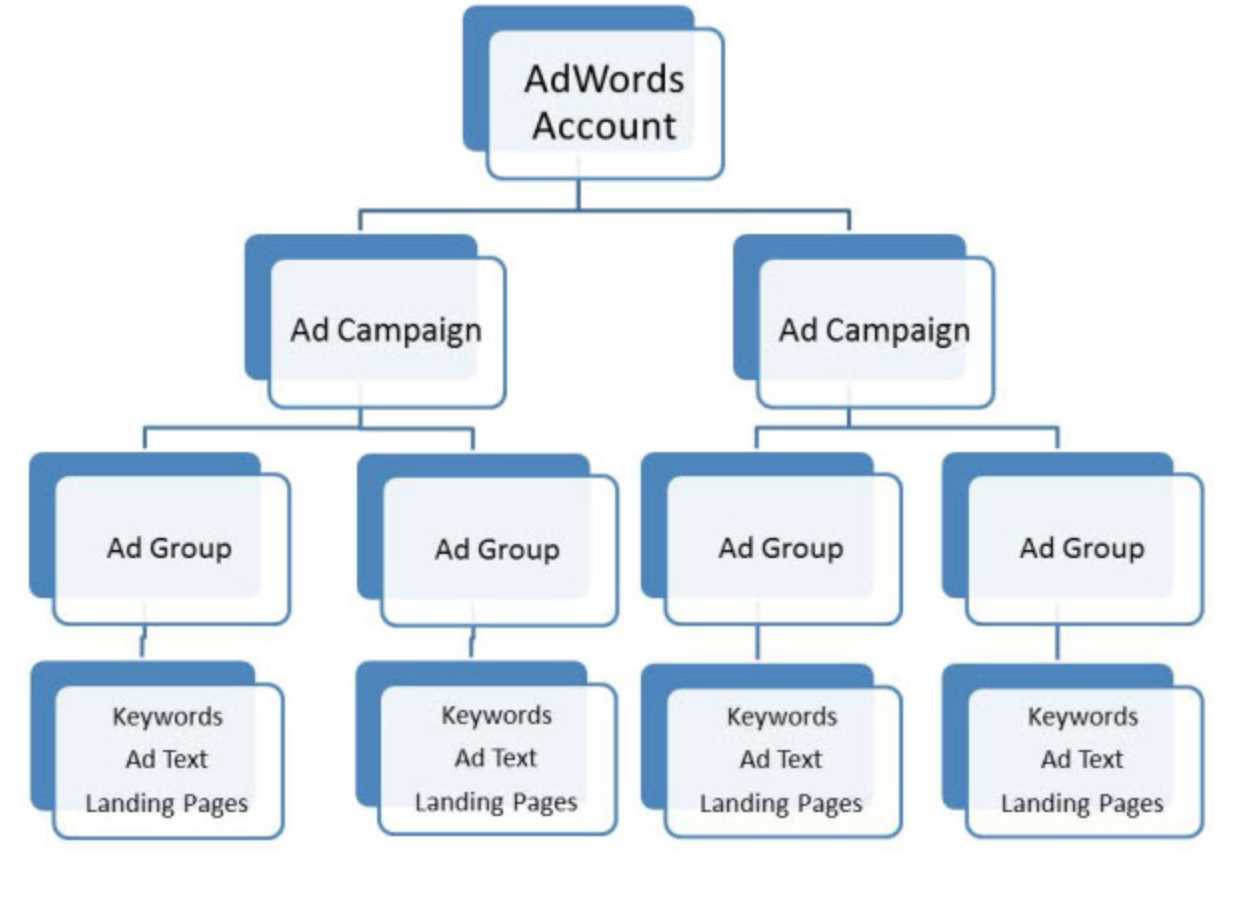 Conclusion
When executed correctly, Google Ads, Facebook, Ads, and Bing Ads can take your business to new heights.
The issue, however, is that most people end up wrecking their PPC accounts and marketing campaigns by making some simple mistakes that could have been easily avoided.
When such mistakes are made, money is often lost and results fail to be generated – leading people to label pay-per-click campaigns as a poor means of gaining customers. It also doesn't really help your quality score.
However, after reading this post, you should no longer need to worry about any of that happening to you.
By learning how to target your ads, bid correctly, write effective copy and split test, you should be well on your way to a winning campaign.
Once you take action, you'll be amazed by the power of a well developed and executed pay per click campaign.
How have you prevented mistakes from wrecking your pay per click campaigns? Let me know below!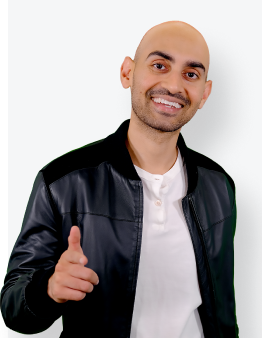 See How My Agency Can Drive More Traffic to Your Website
SEO - unlock more SEO traffic. See real results.
Content Marketing - our team creates epic content that will get shared, get links, and attract traffic.
Paid Media - effective paid strategies with clear ROI.
Are You Using Google Ads? Try Our FREE Ads Grader!
Stop wasting money and unlock the hidden potential of your advertising.
Discover the power of intentional advertising.
Reach your ideal target audience.
Maximize ad spend efficiency.