One of the worst things to happen to content marketing was when marketers, at some point, took an assembly-line approach to creating content.
In an attempt to maximize output while reducing the overall cost, the web experienced a tsunami of "me-too" content that provided little to no value.
And while updates from Google played a big part in wiping that content aside to help audiences find more valuable answers, it hasn't stopped people from creating fluff.
Creativity isn't something you can scale or manage in that way.
You just wind up sacrificing quality for output, and when quality suffers, you'll quickly become outdated.
Your audience will ignore you.
Those short posts churned out quickly with little value might make you feel productive, but they leave the audience wanting more.
According to a study from State of Inbound, most marketers spend between one and two hours writing a 500-word blog post.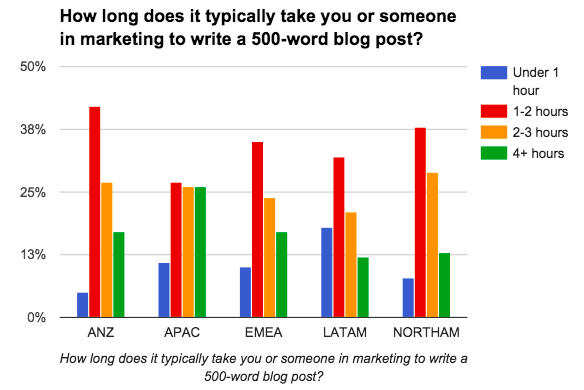 Andy Crestodina of Orbit Media ran a similar study, polling more than 1,000 bloggers and found similar results.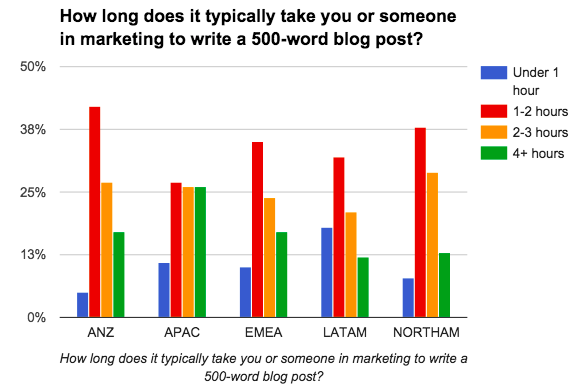 More than half the bloggers spent two hours or less per post, and only 6% of them spent more than six hours on a post.
Keep in mind that the amount of time you spend on a post doesn't necessarily indicate quality.
The faster you churn out content, the less likely it will be to provide value for your audience.
Unless, of course, your own experience has led you to research and produce quality content faster.
When I first started blogging years ago, it took me upwards of five hours to write some posts.
Over the years, I've learned to improve my research process, outlining, writing, and overall production of the content to get this down to two hours (or less) for a long-form post, without sacrificing quality.
Still, some articles can take even longer.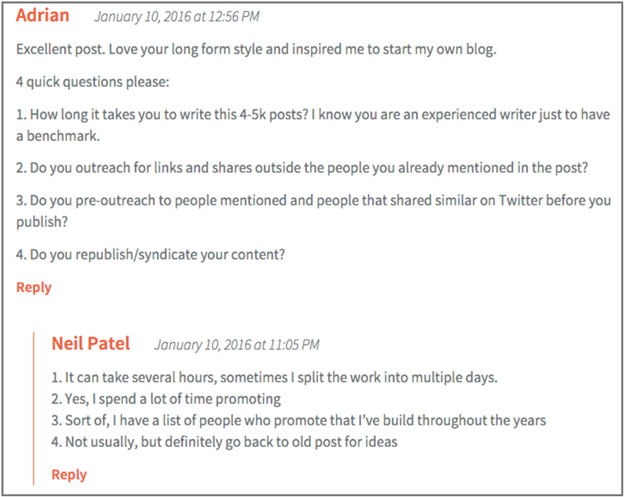 That's because I'm making every effort to produce evergreen content that will stay relevant and won't get outdated.
If you want to avoid becoming outdated, you have to commit the time to producing quality content.
But it's more than just taking the time to write well. There are other components of content marketing to ensure your content doesn't get ignored by your audience.
Regular research – listen to your audience
Whether you're trying to come up with a strategy for your keywords or you're picking a topic for your next post, you always want to start by focusing on the topics your audience is most interested in.
So, when was the last time you did audience research?
It's not uncommon for brands to create buyer personas when they plan their content strategy, and that's great.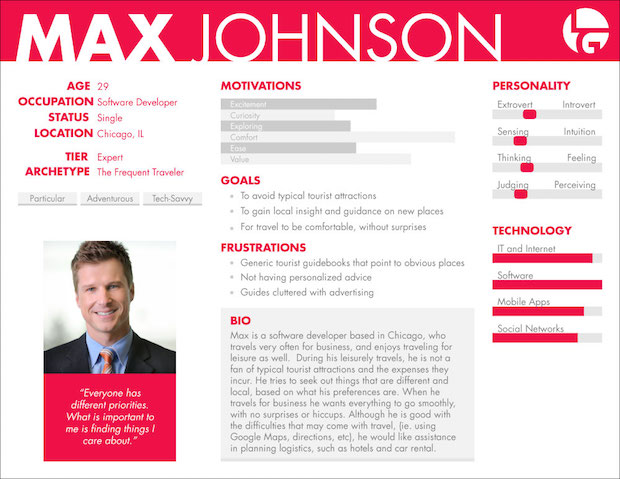 Unfortunately, those audience details can become dated. Every audience evolves and changes due to market trends and other influences.
A smart content marketing strategy incorporates regular updates to audience research, but only a small portion of businesses utilize a documented content marketing strategy.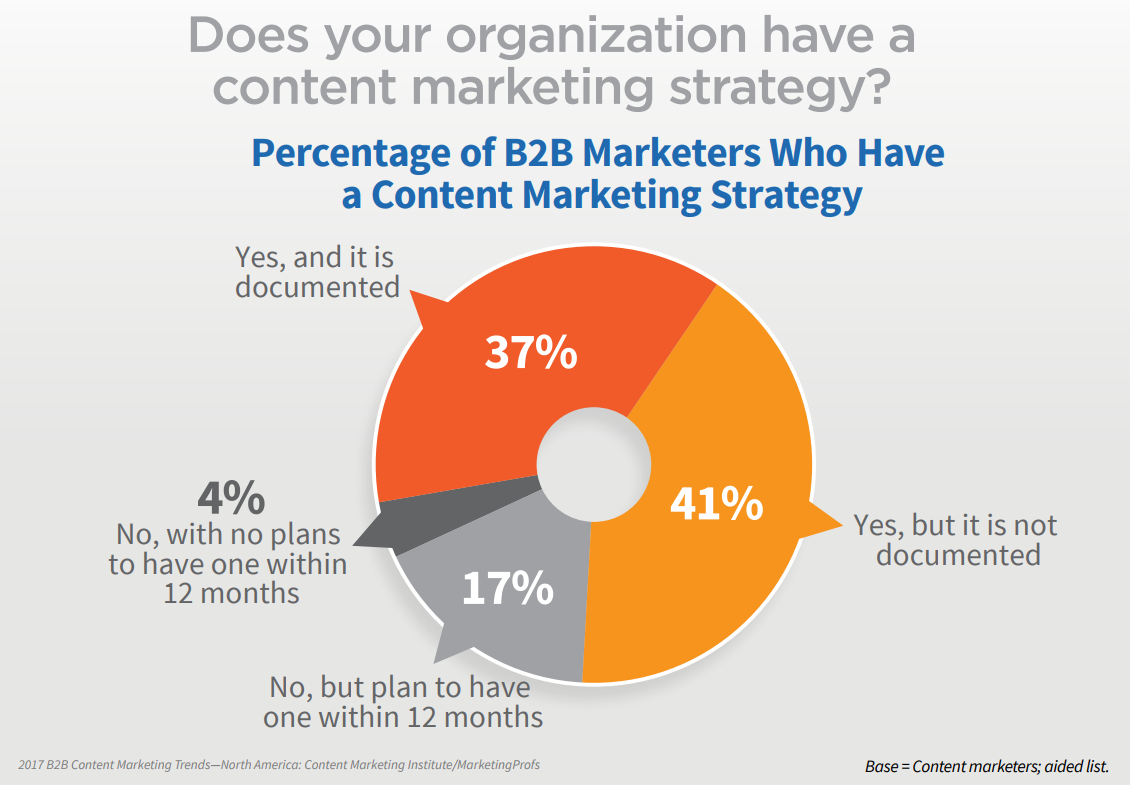 While more brands may have a strategy floating around, a lack of documentation makes it more difficult to track what needs to be done — including audience research.
Creating content that stays relevant to your audience means regularly updating your customer profiles.
You need to use the right blend of active and passive data so you're always producing content that aligns with what they need and want:
Listen to what they talk about online (with each other and with competitors)
Poll customers with surveys
Review help topics and frequently asked questions
Use purchase-journey data
Check who they're following
Look at the content they're sharing the most
Review analytics and social insights
Working from your data, you'll always be able to plan content that's far more likely to capture the attention of your audience.
Stay up to date on content marketing trends
The type of content you produce, or the format in which you serve it to your audience, is as important as the content itself and the topics you cover.
What worked last year, or even several months ago, may not still hold the attention of your audience today.
Along with regular audience research, you should stay on top of content marketing trends to avoid producing content your customers no longer embrace or are moving away from.
Compare the tactics used between 2014 and 2017, according to data compiled by CMI. Here's data from the 2014 Benchmarks and Trends report.
Now, look at the tactics being used according to the latest 2017 report from CMI and Marketprofs.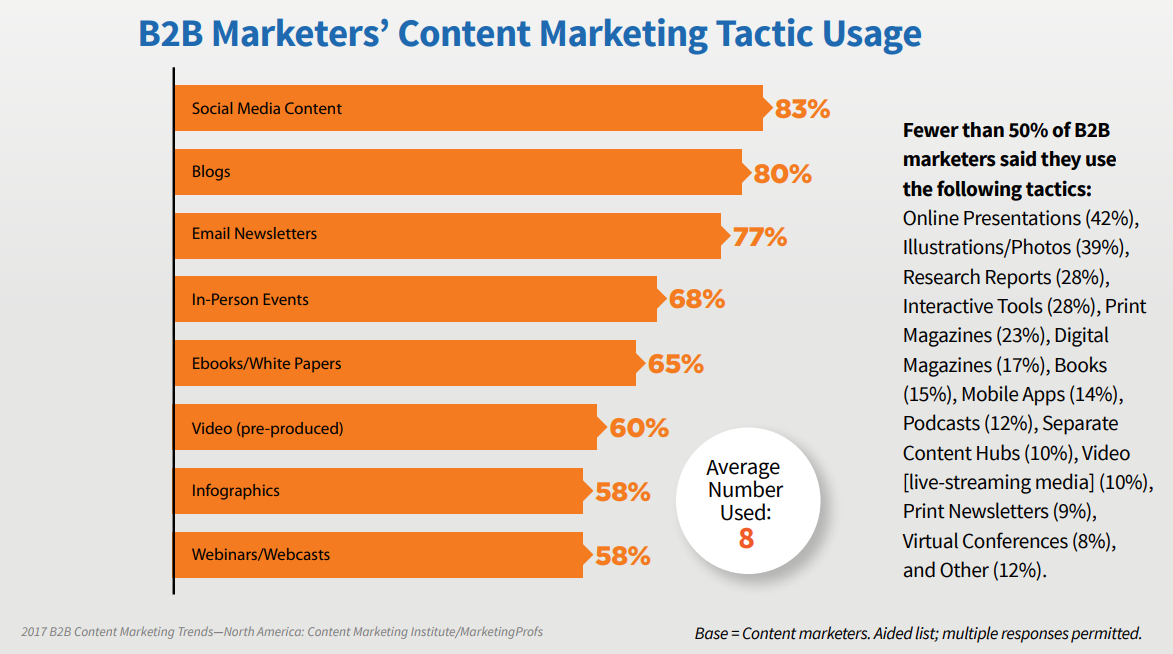 Not only has the average number of tactics used dropped, indicating a greater focus on certain tactics, there have also been significant changes in the tactics used between the last quarter of 2014 and the last quarter of 2016.
For example:
About 81% of marketers used website articles (separate from blogs) in 2014, but those completely dropped off the list in the 2017 report.
Some 73% used pre-produced video in 2014, compared to just 60% in 2017. But, 10% of marketers in the 2017 report were now using live video, indicating a change in how video is used.
Approximately 26% used podcasts in 2014, compared to just 12% in the 2017 report.
Print magazine use dropped from 35% down to 23%.
The use of interactive tools grew to 28%, where it was nonexistent in 2014.
You'll even see changes in the data between 2014 and the 2015 data supplied by CMI, indicating that content trends can change quickly.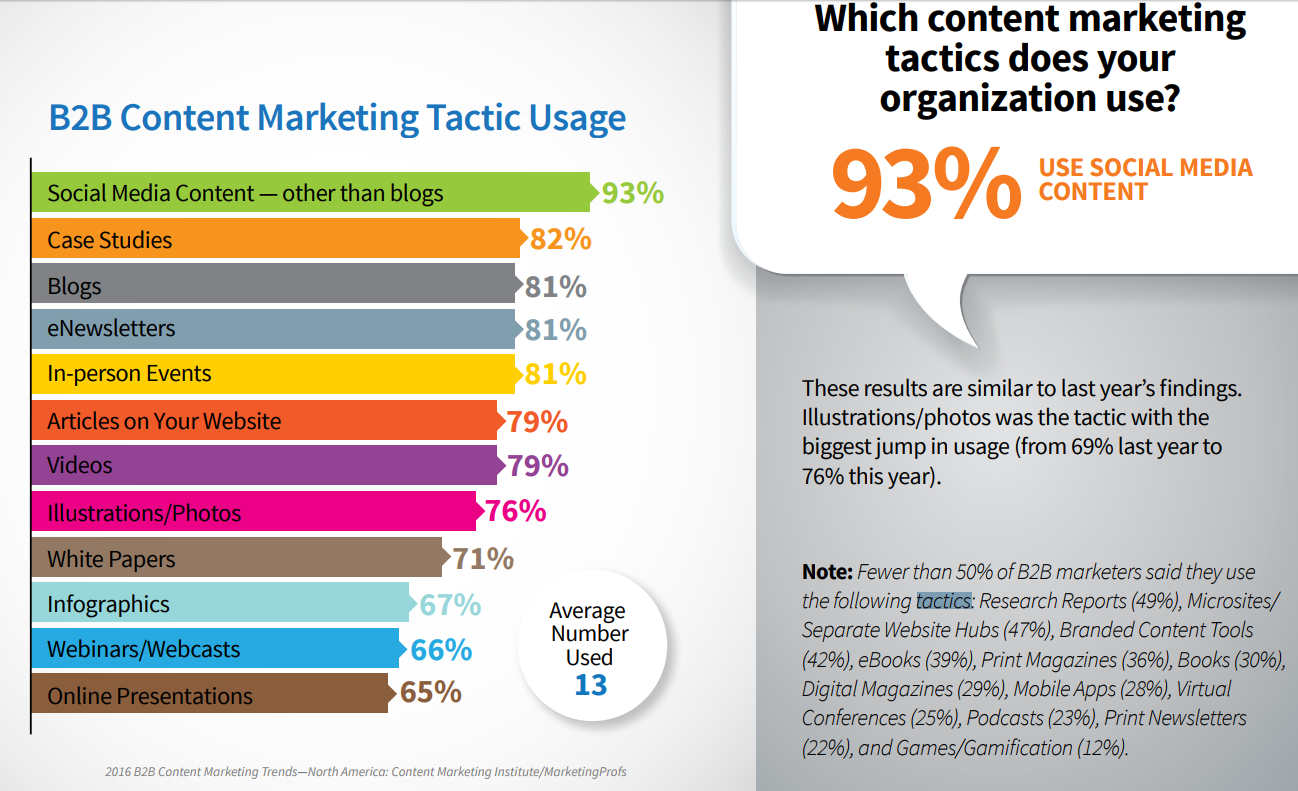 Stay ahead of technology
One of the (many) reasons content trends shift is because of technology updates. That can include:
Tech improvements that change how people access content
New platforms that offer a new way to digest content
Advances that bring about new kinds of content
Advances that make the development of certain content types easier
In the above comparison of content tactics, I listed the emergence of more interactive content. Even Forbes listed interactive content as one of the top-three must-do tactics for 2016 (especially for B2B).
Interactive content comes in all shapes and sizes, like this ROI calculator from HubSpot.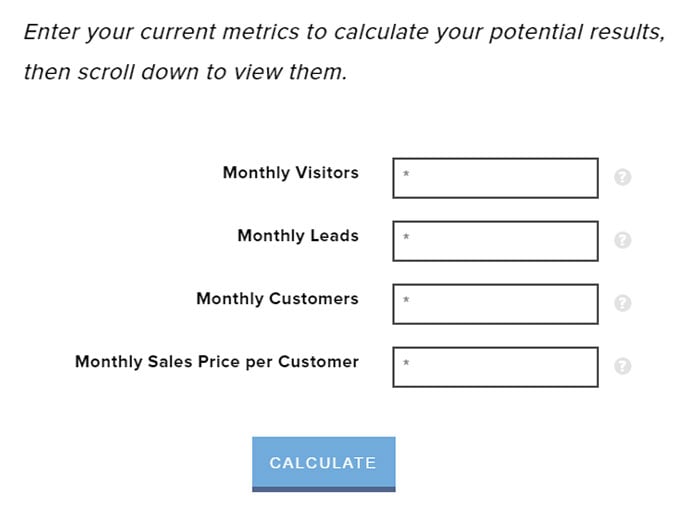 For the customer, this provides a lot of value because they get information about the benefits of their investment before having to speak to a sales rep. It's great middle-funnel content.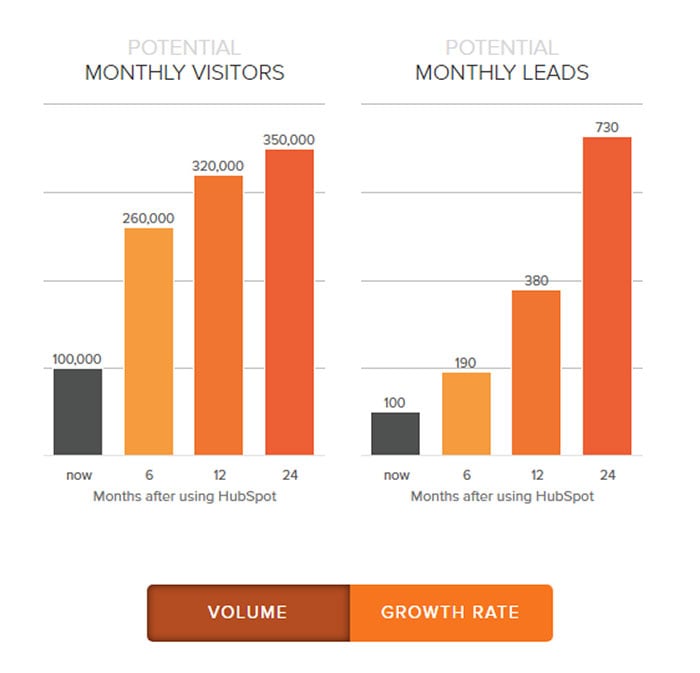 And HubSpot benefits because as Snapapp puts it, it becomes a hands-off content tool for the marketing and sales teams until it's time to analyze the data.
Even existing content can become more interactive, like this infographic from Influitive.
It engages the user while providing valuable information customized to their experience.
And then there are the tech advances that change how your audience is accessing content.
According to recent data from Hootsuite, there are now 4.9-billion unique mobile users.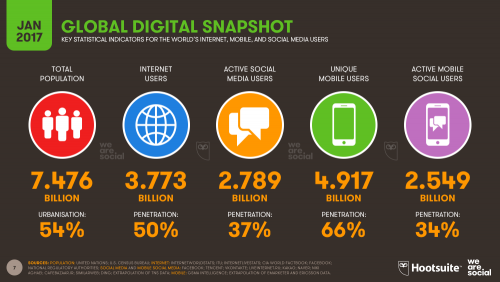 Mobile email opens have grown by 180% in recent years, and while desktop market share is declining, global market share for mobile has been on the rise.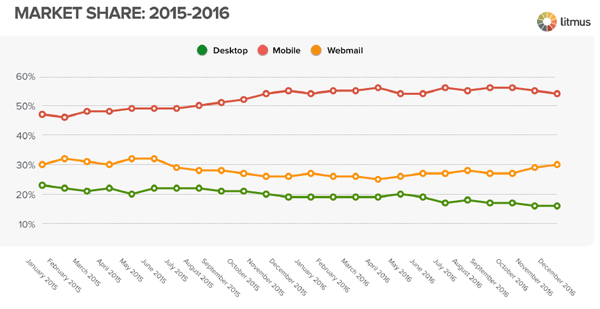 This has created a growing trend toward making sure content is optimized for the mobile experience.
If you're not adapting to those tech trends, you'll be shutting out a good chunk of your audience who will leave in search of content more easily accessed on mobile.
And then there's video.
According to HubSpot, 43% of people want to see more video content from brands and marketers, and over 50% of marketers worldwide say video has some of the best ROI among content types.
With the emergence of live-video streaming, video consumption is continuing to grow as customer preferences change.
Data provided by Livestream shows that 81% of Internet and mobile users watched more live content in 2016 than the previous year.
Likewise, 87% of users are drawn to behind-the-scenes access footage and prefer to watch that over television.
What's more, 80% of Internet and mobile users would rather watch live video from a brand than read blogs or keep up with social posts.
The most successful marketers will be those who stay on top of new advancements in technology, test driving those advancements to see what kind of marketing opportunities may arise.
Don't wait to get into new technology until after other brands have climbed onto the bandwagon.
Pay attention to your success metrics
If you're not tracking how your content is doing, you have no way of knowing if the content you're providing to your audience is effective.
Your topics could be completely missing the mark, resulting in no engagement, shares, or contributions to our funnel.
Or maybe the topics are on point, but you're providing written content to an audience that would much rather get bite-sized content via video or audio.
Keeping an eye on metrics will help you measure the success of your campaigns, the accuracy of topics, audience engagement, goal tracking, and more.
Here are the top content metrics tracked by B2B marketers according to CMI.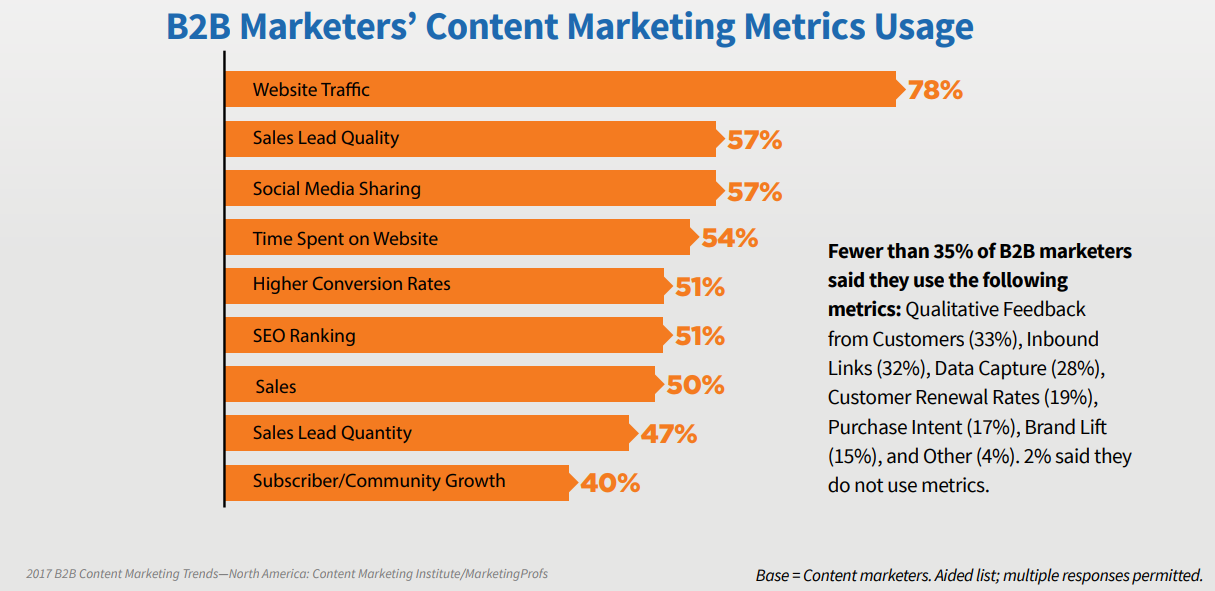 And here's the top metrics used to determine success for B2C marketers.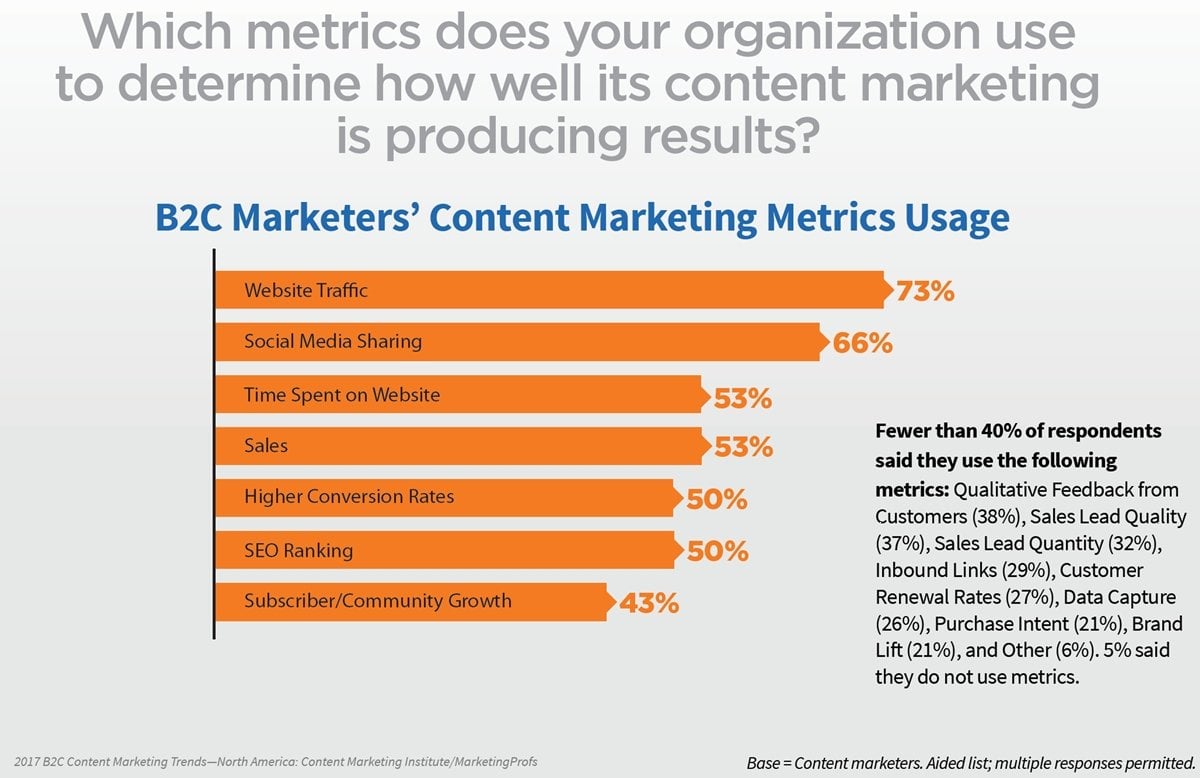 The data is there, you just have to know how to use it.
That's the caveat though, right?
Current and prospective customers are sharing information with you, but how do you leverage it?
Data shared by Kissmetrics reveals the majority of organizational data remains largely untapped and ignored.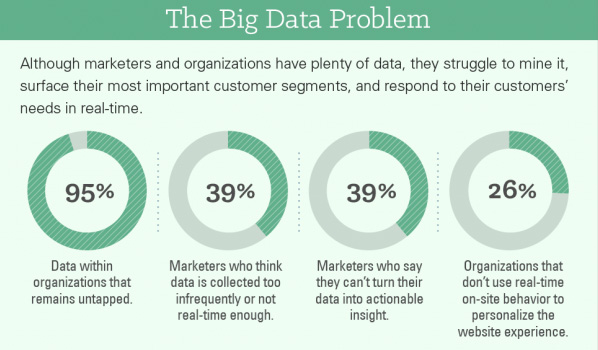 If you're watching the data, you'll know which of your on-site content pieces is performing the best.
More importantly, you'll be able to measure the performance of off-site content to see if it's engaging, if it's sending you traffic, and if it's contributing to your overall organic visibility.
And of course, you'll need those metrics to know if you're getting a return on your investment.
Use the data to get the right content, to the right audience segments, in the right formats, so you have real control over the ROI of your content marketing.
Don't regurgitate ideas
Just because you've created some content with actionable takeaways and information you perceive to be valuable, it doesn't mean your audience will find it valuable.
In this case, I'm not talking about making sure your topic is on point with their needs, problems, and interests.
Rather, you need to provide better information than what everyone else is publishing.
That's one of the biggest problems with the production-line mentality of content marketing.
That mentality is also what led to changes in search, like the Panda updates to Google's algorithm, which aimed to identify thin content and reduce its search visibility.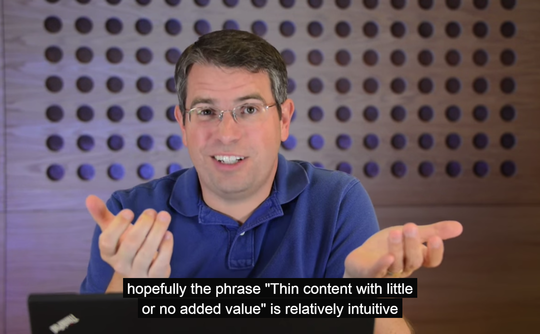 Too many people were churning out repetitive content — a regurgitation of what everyone else had already said with no new angle, no new data, no new tips, and no current value.
Your audience will quickly grow tired of it and go elsewhere.
If you don't want to be outdated and forgotten (or ignored), you need to become the key resource in your market.
That's the idea behind writing 10x content. It's 10-times better than anything else around it in the organic results, and it's 10-times better than anything your competitors are creating.
Social Media Today has a nicely detailed infographic that breaks down the components that make 10x content.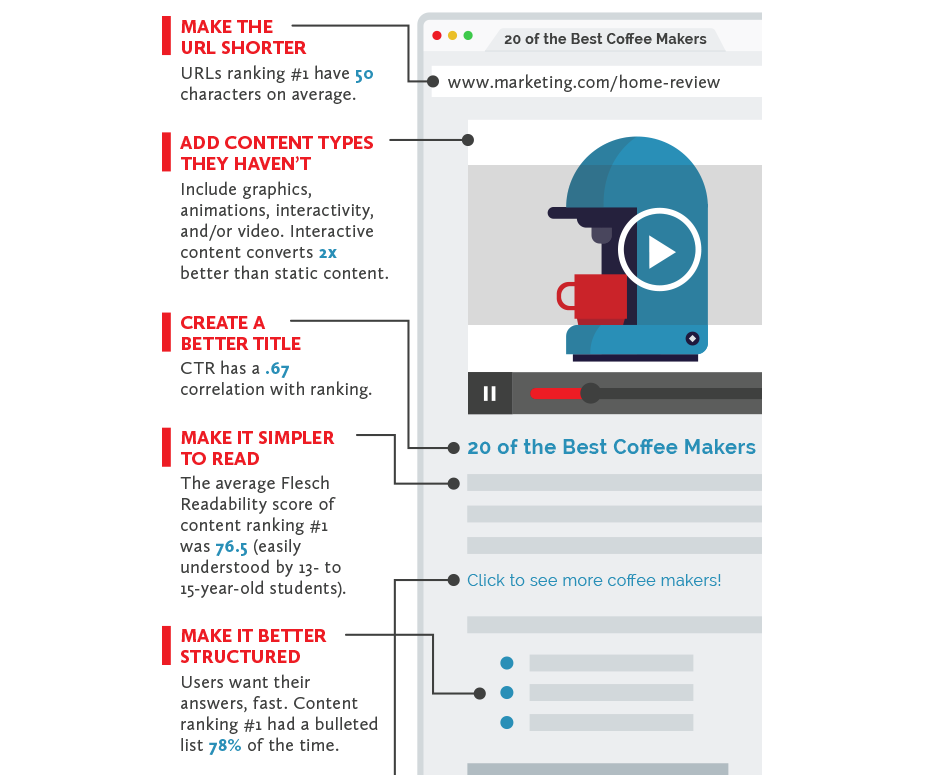 But here's how to do it in a nutshell. 10x content is content that's:
Well researched
Provides unique insight and takeaways to stand out
Is typically longer and more comprehensive
Is simple to navigate and well organized
Has clear effort put into it (lots of data, sources cited, helpful and relevant images, etc.)
While it may take more time to create a long-form post with a few thousand words, it's absolutely worth the effort to load your content with value.
Time and again, I tell people their content must be packed with data.
In all my posts, including this one, I try to inject recent statistics, examples, and case studies.
Packing content with information is what keeps it relevant and attracts the largest share of your audience. Just look at a quick search for "content marketing statistics."
Google isn't just showing the most recent data, it's showing older posts that are packed with quality and value for the reader.
The most successful marketers are catching on as well.
Check out the data from Orbit Media's research into what gets included with content. Notice how content, outside of text, is increasing?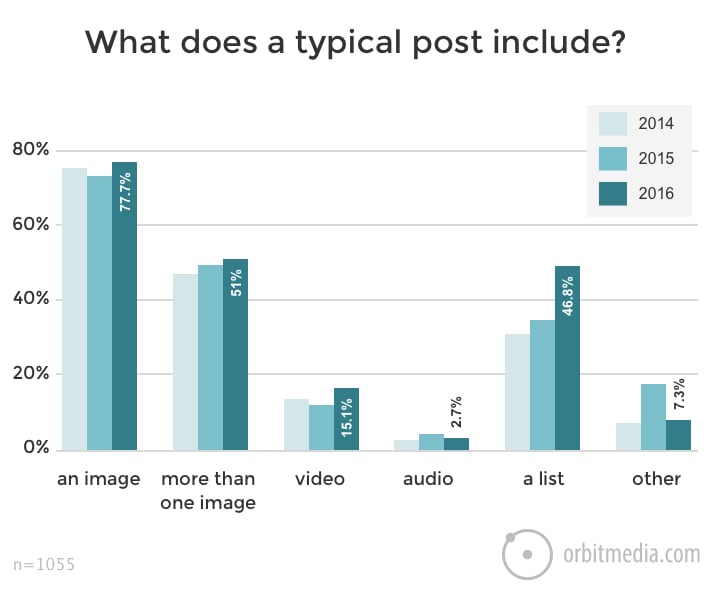 But it's not just visual media that's being added.
Blog posts are getting longer because the marketers who are doing it right are working to pack more value into their content.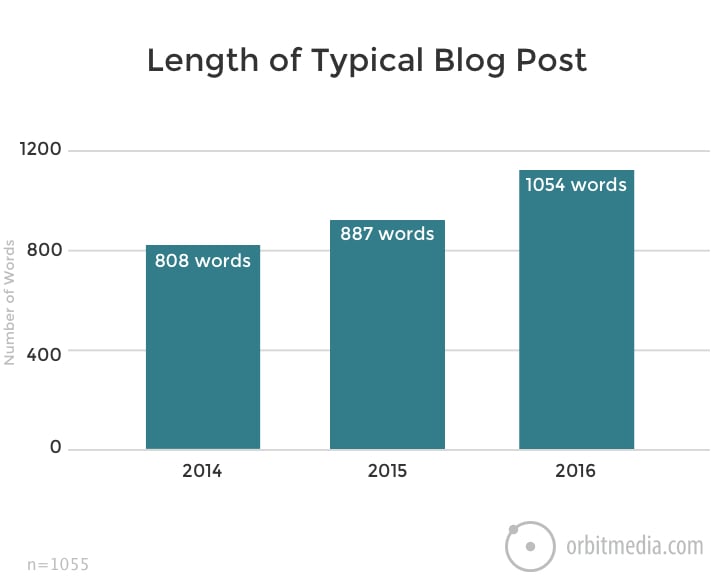 HubSpot's resource center is a great example of how to become a 10x resource for your audience.
It's free content designed to help their audience grow and flourish. It has a simple user interface that's easy to navigate and it features in-depth content loaded with value.
Or how about this epic guide on how cars work at HowaCarWorks.com.
This is the kind of comprehensive content approach that propelled ConversionXL to the top as the leading resource in conversion optimization.
It's also the method Brian Dean uses when he talks about his Skyscraper Technique for building comprehensive content.
He aims for quality over quantity.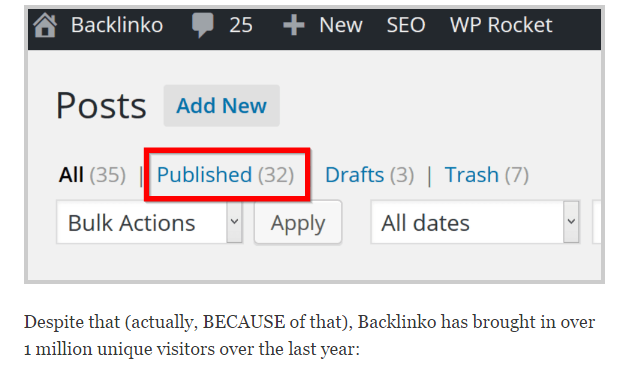 The blog at Backlinko isn't exactly dated, but he has a small number of posts compared to most marketers.
He's not hurting for results, though.
His post "Google's 200 Ranking Factors: The Complete List" earned him somewhere in the range of 250 quality backlinks, generating more than 15,000 unique visits every month.
According to Brian, the secret to getting those results is pretty simple, and he echoes what I already said:
Make it longer
Make it more up-to-date
Give it a better design
Make it more thorough
In short, make it better.
10x better.
Pay attention to influencers
If you're not sure what kind of content is going to turn the heads of your audience, look no further than the influencers in your industry.
Those are the people who capture the attention of your target audience, and they probably got to that point by knowing what to share, when to share it, and how to best connect with those people you've got your eye on.
There are simple, manual ways to locate influencers:
Search relevant key phrases in social channels and look at recommended profiles.
Check the "following" lists and "likes" of your followers for indication of influencers.
Look at popular blogs and publications around your niche to see who's contributing as well as commenting.
Check upcoming and past conventions and trade shows in your industry, and look into the people hosting workshops or appearing as featured/guest speakers.
It'll take some time if you go that route, but it's a good way to turn up some influencers that might not be on your radar.
A faster method is to use a tool like Buzzsumo.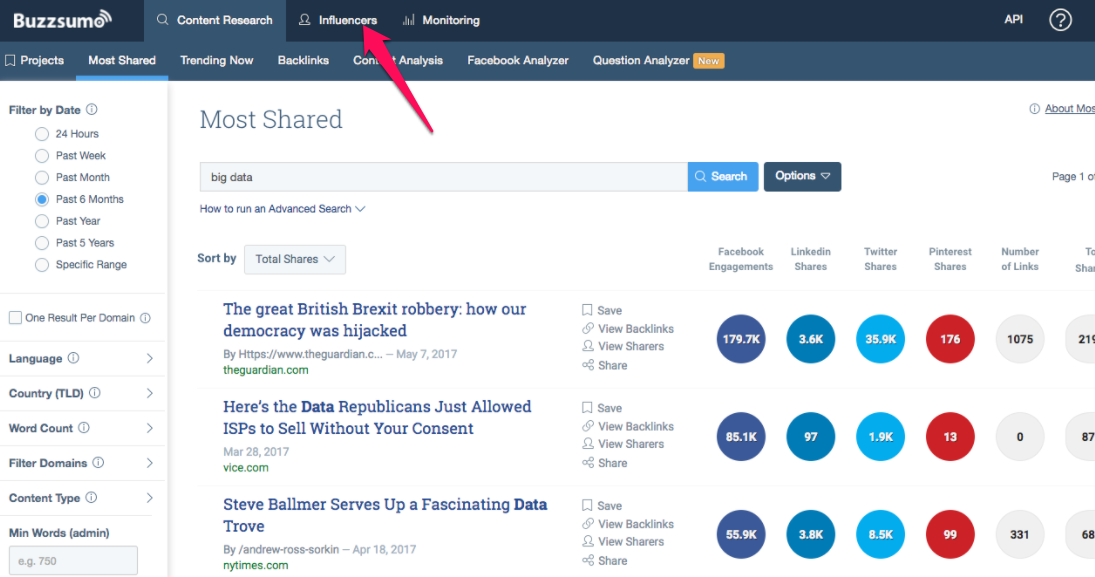 There's a tab devoted specifically to influencers so you can plug in keywords to find out who's sharing content related to that keyword.
It even provides information on their social engagement and the number of followers that influencer has on Twitter.

You can also search for content by keyword. Buzzsumo will return the most-shared content related to your search.
This kills two birds with one stone. Not only are you turning up influencers and the kind of content they're creating and sharing, you're also discovering the most popular topics in your niche.
Use that information to guide your own content strategy and capture the attention of your audience.
Conclusion
The content you create should always resonate with your target audience.
The only way to know if that's happening is to make every effort to deliver only the best content, customized to meet the needs of the audience in the format they're most likely to enjoy.
Most importantly, you need to pay close attention to your success metrics. Track everything you do and monitor the health of your content.
Learn to leverage what's working and build on your content to ensure you're providing the topics they want the most with value and information your competitors can't beat.
If you aim to be the best resource for whatever topics you create and share, you never have to worry about being outdated and losing the interest of your audience.
What do you do to make sure you stay relevant and current with your content marketing?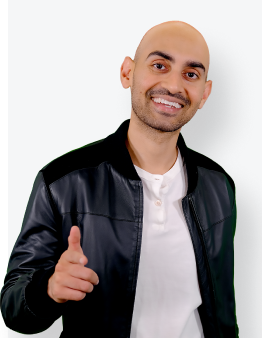 See How My Agency Can Drive Massive Amounts of Traffic to Your Website
SEO - unlock massive amounts of SEO traffic. See real results.
Content Marketing - our team creates epic content that will get shared, get links, and attract traffic.
Paid Media - effective paid strategies with clear ROI.