Back in 1925, when cameras used film and Route 66 had just connected Chicago to Los Angeles, a brushless shaving cream company called Burma-Shave was on the rocks.
Alan Odell, the son of the founder, was sick of working as a traveling salesman—and also of not making money. So he thought very hard, and prognosticated that roadside advertisements could turn Burma-Shave's fortunes around.
Now in those days, there were no billboards—so in a way, Burma-Shave invented the idea. But their signs weren't the enormous, technicolor monstrosities that blight our landscapes today. They looked more like this…
The genius of the idea was that this sign was just the final piece in a longer sequence. A sequence that looked something like this: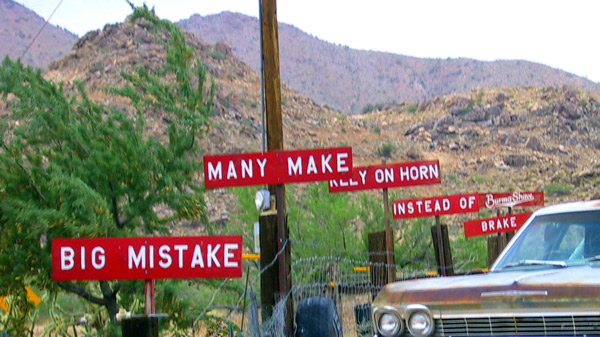 At the height of this campaign's success, there were about 7,000 signs like this scattered around the United States. But to start out there were just a dozen or so, installed on two roads leading into Minneapolis—as many as $200 would buy in those days, which is all Old Man Odell would give his son to test the idea.
The signs just advertised Burma Shave. Nothing fancy; just clear, straight-forward marketing copy:
SHAVE THE MODERN WAY
FINE FOR THE SKIN
DRUGGISTS HAVE IT
Burma-Shave
Goodbye! shaving brush
Half a pound for
Half a dollar
Very fine for the skin
Druggists have it
Cheer up face the war is over
Burma-Shave
Much to Old Man Odell's surprise, drug stores started asking them for repeat orders. People traveling the roads around Minneapolis in their new-fangled automobiles were apparently keen on being modern, and were asking for Burma-Shave when they next went to the druggist looking for a shaving cream.
Transferable principle #1: Clarity and brevity tend to be very effective in marketing—far more so than persuasion "tricks" and "ninja" tactics.
Transferable principle #2: Finding a way to contrast your message with your competition's is critical to being noticed. If your message looks the same as everyone else's, prospects will think it is the same—and ignore it. And the converse is true: messages which look different get people's attention. In this case, Burma-Shave was able to contrast their message to the nth degree because no one else was even using the medium of roadside signs. We don't necessarily have that luxury; but we can still use contrast. For example, in PPC we can spot trends in the wording of ads, and deliberately phrase our ads differently.
As the company grew more prosperous from the success of the signs, they refined their method. They began to take full advantage of the sequential nature of the signs by presenting each as the next line in a humorous rhyme—all but forcing motorists to keep reading so they could piece the verse together and discover the punchline:
Every shaver
Now can snore
Six more minutes
Than before
By using
Burma-Shave
Shaving brushes
You'll soon see 'em
On the shelf
In some
Museum
Burma-Shave
SHE PUT A BULLET
THROUGH HIS HAT
BUT HE'S HAD CLOSER
SHAVES THAN THAT
WITH BURMA-SHAVE
Transferable principle #3: Adapting your marketing to be easy for your prospect to assimilate—indeed, tailored to his situation—increases response.
Transferable principle #4: Curiosity is an extremely powerful way to motivate people to keep reading—and becomes almost a magic bullet when combined with humor to make reading genuinely entertaining.
The signs at first all tied into Burma-Shave's value proposition—an extremely close, smooth shave at a very low cost, with no brush required. But many did so only by implication. The real value being offered was actually the humor; the benefit of using the product itself played second fiddle. This humor was amplified with many obviously outrageous or exaggerated claims:
THE BEARDED LADY
TRIED A JAR
SHE'S NOW
A FAMOUS
MOVIE STAR
Burma-Shave
The 50 cent jar
So large
By heck
Even the Scotch
Now shave the neck
Burma-Shave
Candidate says
Campaign
Confusing
Babies kiss me
Since I've been using
Burma-Shave
Transferable principle #5: In Scientific Advertising, published just a couple of years before Burma-Shave's signs went up, Claude Hopkins warned:
Advertising pictures should not be eccentric. Don't treat your subject lightly. Don't lessen respect for yourself or your article by any attempt at frivolity. People do not patronize a clown.
This is one thing Hopkins was simply dead wrong about. He was wrong then, and he is even more wrong now. People buy from people they know, trust, and like. And nothing is more important for establishing rapport than humor. If you doubt this, take note of how often you laugh at things that aren't actually funny when you talk to your friends. Humor is fundamental to forming positive relationships, and people who are genuinely funny seldom want for admirers.
The company also quickly picked up on the fact that many women find a clean-shaven face pleasing, whereas—as my wife likes to remind me—stubble feels a great deal like sandpaper against the cheek. The suggestion that using Burma-Shave would lead to more success with the ladies was combined with some frightful puns to generate knockout advertising slogans:
A CHIN
WHERE BARBED WIRE
BRISTLES STAND
IS BOUND TO BE
A NO MA'AM'S LAND
Burma-Shave
THIS CREAM MAKES THE
GARDENER'S DAUGHTER
PLANT HER TU-LIPS
WHERE SHE OUGHTER
BURMA-SHAVE
USE THIS CREAM
A DAY
OR TWO
THEN DON'T CALL HER—
SHE'LL CALL YOU
Burma-Shave
Transferable principle #6: The saying that sex sells isn't entirely without merit. However, the key to Burma-Shave's success here is almost certainly the same as the key to Old Spice's success with Isaiah Mustafa (you remember the Old Spice Man, don't you? "I'm on a horse.")
The reason these campaigns were so successful isn't that sex sells. In fact, as a general rule, it is counterproductive to explicitly mention the "base" motives people have for buying. The genius of Burma-Shave and Old Spice was that instead of approaching these base motives obliquely, they took the opposite approach: discussing them so brazenly it's funny. The appeal seems almost like a joke, and so it becomes covert. Because the humor of it distracts the mind, the underlying message can worm its way into the subconscious.
These weren't the only ads along these lines. There are many more. I find them hilarious, but my wife tells me they are only moderately amusing. I'll let you decide:
BEN MET ANNA
MADE A HIT
NEGLECTED BEARD
BEN-ANNA SPLIT
BURMA-SHAVE
SPECIAL SEATS
RESERVED IN HADES
FOR WHISKERED GUYS
WHO SCRATCH THEIR LADIES
BURMA-SHAVE
IF CRUSOE KEPT
HIS BEARD MORE TIDY
HE MIGHT HAVE MET
A LADY FRIDAY
BURMA-SHAVE
Transferable principle #7: Did you notice the examples above use a negative perspective, as opposed to the positive perspective of the previous three? Rather than focusing on how using Burma-Shave will give you good success with women, these examples focus on how not using it will lead to heartache and suckiness. This is smart, because some people respond more to the desire for gain, while others respond more to the fear of loss.
But men weren't the only targets of Burma-Shave's signs. Often it is wives who do the shopping (especially back then)—and so wives are an important demographic, since they can be key to getting their husbands into a product.
The wife
Who keeps on
Being kissed
Always heads
Her shopping list
Burma-Shave
6 million housewives
Can't be wrong
Who keep
Their husbands
Right along in
Burma-Shave
Does your husband
Misbehave
Grunt and grumble
Rant and rave?
Shoot the brute some
Burma-Shave
Transferable principle #8: In marketing, you must always know exactly who you are talking to, and speak to that person only. Don't worry about your copy being uninteresting to other people—you can always reach them at another time. Worry about it not being interesting to the person you want to reach.
As cars got faster and roads got busier, Burma-Shave had to make its signs bigger and more widely-spaced. But it also did its part for road safety by designing many signs along the following lines:
Is he
Lonesome
Or just blind–
This guy who drives
So close behind?
Burma-Shave
Why is it
When you
Try to pass
The guy in front
Goes twice as fast?
Burma-Shave
Slow down, Pa
Sakes alive
Ma missed signs
Four
And five
Burma-Shave
Transferable principle #9: marketing doesn't have to focus on value propositions and features to be effective. In fact, some of the most effective marketing recognizes that value can be found in unorthodox places—specifically in the perceived relationship between customer and company. I've already talked about the importance of customers liking you. Often they need no other reason than that to buy from you instead of someone else. But here we see the importance of you liking your customers. We tend to like people who like us. So what better way to cultivate good-will than by showing people you care about their safety and sympathize with their driving frustrations?
Burma-Shave occasionally came up with clever campaigns that led to unexpected results. Here are two:
Free offer! Free offer!
Rip a fender
Off your car
Mail it in for
A half-pound jar
Burma-Shave
Free—free
A trip
To Mars
For 900
Empty jars
Burma-Shave
The first saw hundreds of fenders mailed to them from all over the country. And every fender was exchanged for a half-pound jar of Burma-Shave, just as promised—even though the company never expected anyone to actually do it.
The second was answered by an enterprising supermarket manager in Wisconsin. The company sent him and his family on a holiday to Moers in Germany—the closest place they could find with a name pronounced more or less like Mars. This campaign raised Burma-Shave's profile even more—not to mention the supermarket's, which played into the situation with all kinds of cheesy early sci-fi props, including a rocket ship on display. Burma-Shave kept up their side of things by providing the manager with extra jars of their product for bartering with the Martians.
Transferable principle #10: Being a good sport is one of the most powerful ways to build rapport with your customers—and bring in new ones. What's the use of showing a sense of humor in your advertising if you don't retain it when the status becomes not quo? In the face of unexpected challenges, how you respond, the clarity with which you do it, and the lengths to which you're willing to go to be true to the customer relationships you've built, will decide whether you gain popularity (and profits)…or lose them.
Sadly, Burma-Shave's roadside ads didn't last. As the economy changed after World War 2, and other companies began to compete more fiercely—and as cars got faster and larger billboards began to overshadow their homespun signs—Burma-Shave faltered. In 1963 the company was finally sold to American Safety Razor Products, and the signs disappeared.
Transferable principle #11: The number one is the most dangerous number in business. Never rely on a single method for generating revenue. A chair needs at least three legs to stand, and so does any business if it wants to survive in the long term. If you have just one or two major revenue sources, now is the time to think about adding another.
Did you see any other marketing principles in the Burma-Shave story?
I'm sure there are many more; these were just the ones that stuck out to me. Why not leave a comment to share your own insights into this fascinating piece of advertising Americana?
About the Author: D Bnonn Tennant is the author of the free email micro-course, "5 Sales-Spiking Website Tweaks Gurus & Designers Don't Know". Like Burma-Shave's signs, it is delivered sequentially in easy-to-read, bite-sized chunks, with plenty of personality.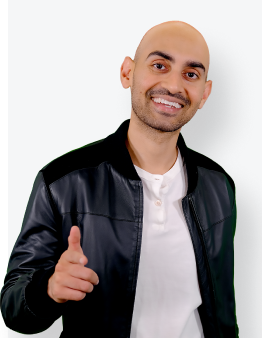 See How My Agency Can Drive More Traffic to Your Website
SEO - unlock more SEO traffic. See real results.
Content Marketing - our team creates epic content that will get shared, get links, and attract traffic.
Paid Media - effective paid strategies with clear ROI.