Rebranding.
It's the latest marketing trend in a whirlwind of efforts to appear fresh, new and relevant to today's audiences. But oftentimes, a rebranding campaign focuses too much on the aesthetics and too little on the core components that drive it.
Rebranding is about more than just slapping up a new logo and calling it a day. It's about helping your company, and your customers, make the switch gradually and confidently to a company that demonstrates how it aligns with the very same values it presents to its customers every day. It's about making sure that pride, quality, and satisfaction are more than buzzwords. And it's about honoring your commitment to the new brand without abandoning the old.
Here are five companies that successfully rebranded themselves – and what you can learn from them.
CVS Pharmacy: Do the Right Thing, Even if it's Seemingly Unpopular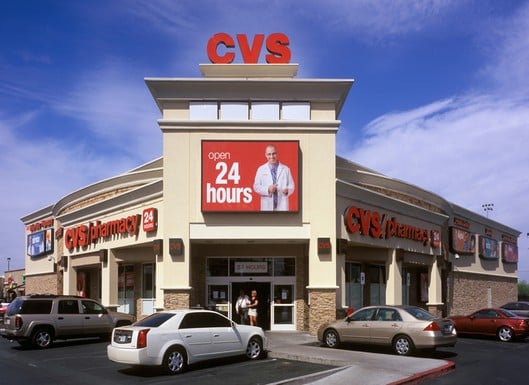 The Problem:
The pharmacy. It's where you go to get your medications, your vitamins, your protein shakes, and your cigarettes.
Say what?
The Rebranding:
CVS is the first chain pharmacy to stop selling tobacco products – which, although they accounted for around 4% of its sales, was a positive step that perfectly illustrates the company's commitment to health. In addition, they changed their name to CVS Health from its previous iteration as "CVS Caremark" (which meant nothing to anyone but them).
Changing their name and their stance on tobacco products resulted in doing more for the brand that nearly any other marketing initiative they've done. Through public relations support and social media buzz, they were able to generate over 100,000 tweets and even a comment from the President.
By making their actions louder than their words, CVS as proved that they stand for something rather than just talking about it. So far, no other pharmacies are following suit, but at this point, it really doesn't matter – since the first one to make a bold move is always the one you remember.
What You Can Learn from Them:
When rebranding, make a strong statement and then stand behind it, even if it seems to be bold or unpopular at the time. Your unwavering commitment and dedication is what people will remember, and suddenly, the bold, fresh step you took becomes the norm. Just look at smoking on airplanes and in restaurants to see an example of this philosophy in action.
Burberry: The Luxury Brand of Thugs?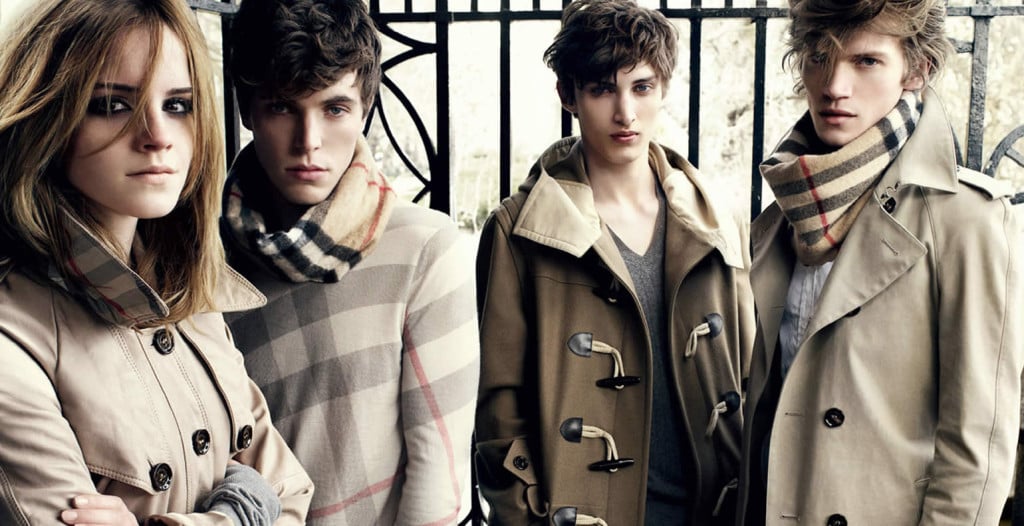 The Problem:
Burberry is commonly seen as a luxury brand. With over 150 years of history, this company brought the popularity of waterproof gabardines and trench coats to our shores. Their iconic design is reflected everywhere, from clothing to handbags to fragrances. Unfortunately, they had also become a target as gang wear.
At one point, the use of the brand by thugs was so widespread that anyone caught wearing Burberry was banned from certain city pubs.
The Rebranding:
High priced clothing is always going to be attractive to gangs, but Burberry took the initiative in reinventing itself, putting a sexy spin on utility clothing and getting endorsements from well-known and well-liked celebrities.
Of course, the transformation wasn't completely about focusing on the new and forgetting the old. Burberry still carries trench coats and swimwear – except now, they've taken an even more creative, artistic approach without sacrificing the 150 years of heritage and brand goodwill they've generated.
What You Can Learn from Them:
Although there's nothing you can do to keep your brand from being adopted by an unintended target audience, you can look for ways to adjust that brand to become more modern and unique, without giving up years of quality and the reputation you've built.
Old Spice: Not Your Grandpa's Deodorant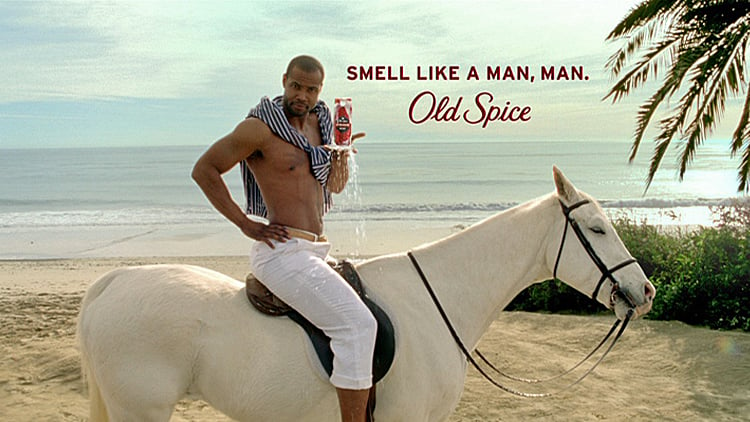 The Problem:
Old Spice is a men's deodorant much like any other. It reminds many of the younger generations of their grandparents. Interestingly enough, the very first Old Spice was designed for women. When you think of something old-fashioned, you tend to think of stagnant, head-in-the-sand, traditional and unflattering fragrances. It may seem hard to sell something as every day as deodorant, after all, there are thousands of options out there.
The Rebranding:
Old Spice worked with NFL Player Isaiah Mustafa, affectionately known as the Old Spice Guy, on a series of commercials aimed at women that portrayed Old Spice as something seductive and alluring. It even referred to its deodorant and body wash line as "scent vacations" rather than the same, old, antiperspirant pitch we've heard a million times before.
In addition, Old Spice didn't have to change its logo. Rather it changed people's impressions of Old Spice by using someone young, fun and attractive – all qualities that Old Spice wants people to think of when choosing their deodorant.
What You Can Learn from Them:
Message and brand consistency are crucial in improving customer awareness and sales. Look for ways to turn something every day (deodorant) into something new and interesting (scent vacations).
Pabst Blue Ribbon: Frat Beer Retails for $44 in China
The Problem:
Pabst Blue Ribbon is an inexpensive, commonly found beer that's hugely popular among the college and fraternity crowd. It's not exceptionally refined, nor is it artisan quality – at least not in the U.S. China, however, is a different story.
The Rebranding:
Pabst is known as Blue Ribbon 1844 beer in China, based on the year the company was founded. A third party licensed the Pabst brand and formulated the beer slightly differently than its American version. The Chinese version sells for roughly $44 and is hugely popular due to an upswing in the artisan beer market from upper-middle-class Chinese consumers.
Why China?
Well, they have leaped beyond the U.S. and even Germany as the world's largest beer-drinking market, so although the ad itself (above) looks like something you'd see for a fine wine or brandy, it's actually the very same Blue Ribbon you see at keg parties.
What You Can Learn from Them:
It's never too late to change what people associate with your brand. One culture's perception of what you stand for may be radically different from another – something that is particularly important for companies that do business on a global scale (which means pretty much any business on the internet!)
Corn Syrup: Not as Sweet as You Think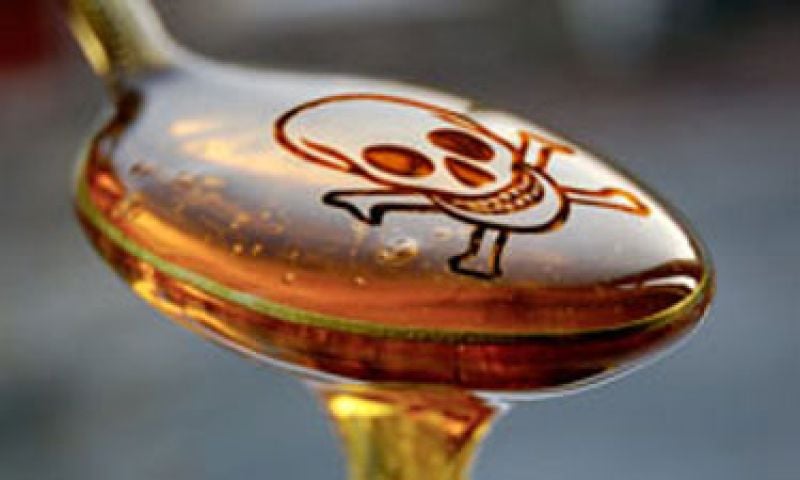 The Problem:
If I say the words "high fructose corn syrup" do you cringe? If so, you're like the millions of others who have been clamoring for changes in the things we eat and drink every day. Facing a backlash from consumers over the rising rates of diabetes and obesity, food and drink manufacturers have started putting sugar back into their foods (as evinced by "Mountain Dew Throwback" and other original formula items) in place of previously favored high fructose corn syrup.
Not surprisingly, the corn industry is upset by this sudden vilification of their product.
The Rebranding:
Seeing money slip through its fingers, the corn industry rapidly tried a rebranding tactic that, had it worked, would've been a very slick trick. From a health point of view, it was rather low and sneaky. From a marketing point of view, it was brilliant. The answer?
Relabel corn syrup as corn sugar!
Corn sugar sounds natural and healthier than "high fructose corn syrup" doesn't it? And it doesn't have the same stigma that corn syrup has. Fortunately (or unfortunately for the corn industry), the FDA said "nope!" For one thing, syrup and sugar are two different substances. For another thing, corn sugar already exists (it's chemically known as dextrose) and it has been used for over 30+ years by people who have had trouble digesting or processing sugar.
BONUS: Rebranding Disaster: Could Nothing Save "The Shack"?
The Problem:
RadioShack wanted to expand its brand to be more than just where your grandparents used to shop or where amateur hobbyists went for odd batteries.
The Rebranding:
They decided to rename themselves "The Shack" – but that didn't help either. You don't associate "The Shack" with electronics or technology. You associate it with a run-down place where questionable things happen. And for RadioShack, that, along with many other factors was the final nail in the coffin.
Conclusion
Want to know more about branding? Then watch this video:
Had you been in charge of their rebranding effort, what would you have done instead? Tell us in the comments below!
About the Author: Sherice Jacob helps business owners improve website design and increase conversion rates through compelling copywriting, user-friendly design and smart analytics analysis. Learn more at iElectrify.com and download your free web copy tune-up and conversion checklist today!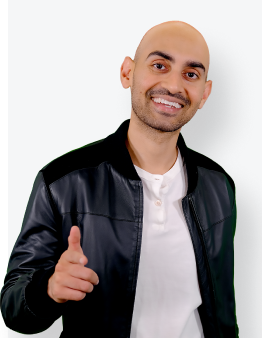 See How My Agency Can Drive More Traffic to Your Website
SEO - unlock more SEO traffic. See real results.
Content Marketing - our team creates epic content that will get shared, get links, and attract traffic.
Paid Media - effective paid strategies with clear ROI.
Are You Using Google Ads? Try Our FREE Ads Grader!
Stop wasting money and unlock the hidden potential of your advertising.
Discover the power of intentional advertising.
Reach your ideal target audience.
Maximize ad spend efficiency.