Email personalization is huge for a reason.
It makes your clients feel like you want to develop a lasting relationship with them, and it causes them to feel like you see them as human beings instead of dollar signs.
But personalization shouldn't stop at emails.
According to Marketing Charts, homepage personalization is the second most popular type of personalized experience that marketers use.
The age of having just one homepage is dead. You need multiple pages that target every kind of website visitor your brand encounters.
Your customers and visitors are using different devices and channels to surf the web, and they all have different backgrounds.
They're coming from different locations, they're different ages, and they have different needs.
Their experience with your website should reflect that and cater to it, just like your emails do. Considering the tools that exist today, it's especially important and achievable.
You can personalize pages to create unique experiences, CTAs, and messages for every unique visitor. And, you can do this regardless of the Content Management System (CMS) you've built your site with.
So, what are you waiting for?
In this article, I'll show you why personalization is so important for your website and walk you through several ways to do it.
First, what exactly are the benefits of personalizing your pages?
The benefits of personalized pages
One of the biggest benefits of using personalized pages is that they boost the quality of your leads.
By personalizing your pages, each visitor will know what you have to offer for them specifically. A generic page might not show every visitor what you've got to offer. A personalized one does.
Just look at how Optimizely targets specific companies when they recognize IP addresses visiting their site from buildings owned by Microsoft:
It doesn't get much more personal than that. By offering each visitor a specific, customized message, they'll know that they've tailored the user experience effectively.
And since you can constantly A/B test your personalized pages, you can bring in more targeted leads by doing what works and changing what doesn't.
That means that your conversion rates will soar.
Personalized pages can also help you with your account-based marketing (ABM) efforts in a huge way.
According to Marketing Profs, personalizing content and messaging is now the most effective tactic when it comes to succeeding with ABM.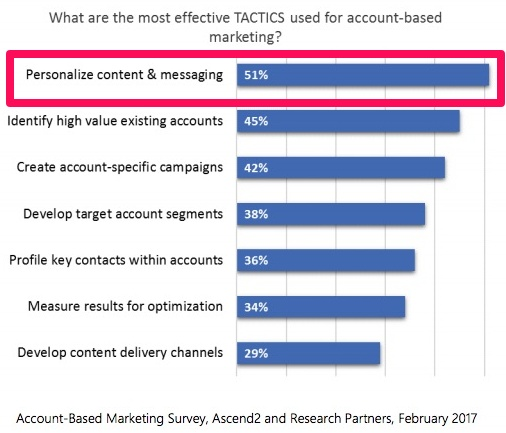 As a matter of fact, a whopping 51% of respondents said that personalization is even more important than identifying existing accounts of high value and creating account-specific campaigns.
It makes sense because personalized pages combine sales and marketing to send a laser-focused message to each account.
Every page has a purpose, so each unique visitor will engage with the page.
When you personalize pages, you will also be able to widen your global reach by personalizing your pages based on location.
Something that's trending in the U.S. might not be trending in Brazil, so why would you deliver the same content to Brazilian customers as you do your U.S. ones?
Personalizing your pages ensures that visitors from all over the world will have a meaningful experience with your website.
If you still need convincing, the proof is in the pudding.
Case studies
In a Moz article earlier this year, Cara Harshman wrote about her work with Optimizely to help them optimize their own website by sending personalized messages to each visitor.
If you didn't know already, Optimizely is a content optimization tool that helps users experiment with their web pages to find the best results.
It makes sense that a website optimization company would want to make sure that their site is as personal as possible.
The company began by running a simple A/B test of an original web page (A) and a personalized one (B).
The site showed half of all visitors the old version, and it greeted the other half with the personalized page.
Here's what the A and B versions looked like:
There's a pretty big difference, right? The version on the right is much more extensive.
The company kept track of metrics like lead conversion rate, accounts created, and lead qualification rate.
According to Harshman, they also tracked "softer anecdotal data like how it helped our sales team in conversations and how our customers reacted to it."
If you visit the site in the late hours of the night, for example, you might see the following page:
That's neat, right?
The phrase "Still awake?" on a homepage would probably catch your eye if you were up browsing the web past your bedtime.
And that's just one example of the changes Optimizely made.
They also optimized their homepages to recognize a company's IP address. Then, they used imagery from the company visiting their page.
For example, check out this page they used for Target employees who visited their site:
Imagine being a Target employee and seeing the infamous Target mascot, Bullseye, on a website that has absolutely nothing to do with Target.
That's pretty exciting to think about, isn't it?
People absolutely loved the changes.
Overall, the company saw huge success after personalizing their pages. In fact, they saw:
A 1.5% increase in engagement
A 113% increase in conversions to the "Solutions" page
A 117% increase in their conversions with the "Test it Out" CTA that started the account creation process
Eventually, the company moved 100% of their website traffic to the new homepage.
VWO found similar success on their website by personalizing pages.
The company was searching for new employees to work at their new office in Delhi, India.
To boost the number of applicants, they added a small banner to their homepage that read "We're hiring in Delhi :)."
VWO then targeted that version of their homepage to users accessing their site from India.
Here's what their homepage looked like to most users: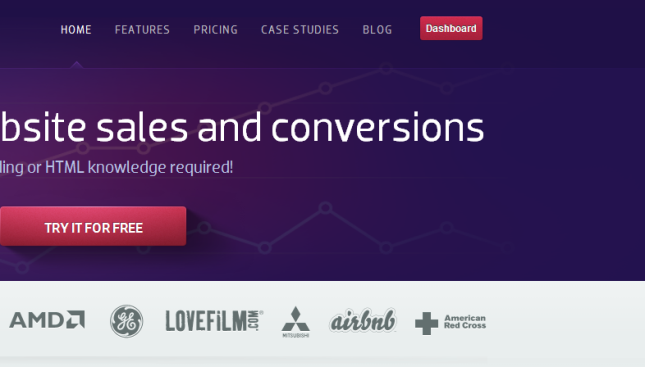 And here's what it looked like to users visiting their site from India: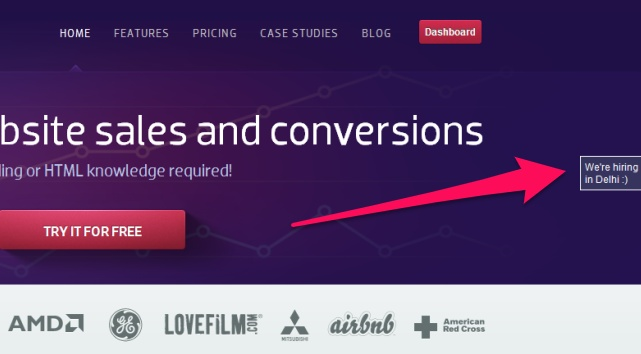 The company saw a 149% increase in click-through rate to their "Careers" page.
So how can you achieve the same results as Optimizely and VWO? Start with plain old visitor information.
Visitor information
As a website owner, you're able to access information about where your visitors are coming to your site from.
You can tell if they clicked over to your page from an email, a Facebook post, or a Google search.
Use this information to your advantage. For example, show users who are repeat visitors to your site a different page than first-time visitors.
Adobe is notorious for this. Here's what their homepage looked like when I visited their site for the first time:
The blurb read:
"What's next. Now. The next generation of Creative Cloud is here with all-new apps for UX design, 3D compositing, photography, and more. It's everything you need to create, collaborate, and get inspired."
The CTA buttons said "Individuals" and "Business."
I roamed around on their site a little bit, specifically in the "Marketing & Analytics" section, and clicked off of their site.
Then, I went back to Adobe.com a few minutes later. The homepage I saw was completely different than before:
They customized it to me based on what I had been looking at on their site during my last visit.
Not only had the imagery changed, but so had the blurb and CTA button. Now, it read:
"It's an experience. Leading retailers are using design and data to create amazing customer experiences. Make experience your business."
The CTA button said, "Learn how."
Adobe knew that I had been looking in the "Marketing & Analytics" areas of their site, and they assumed that I was interested in creating amazing customer experiences.
They're not wrong.
AdRoll is doing the same thing but on a much smaller scale.
They constantly experiment with CTAs to give each visitor a unique experience on their website.
For example, they might show a CTA to existing customers telling them to head to a support center. On the other hand, they may give prospective customers a different CTA that tells them to contact a sales team.

Even small changes like that can make a huge difference.
Another thing to consider is targeting users based on their location.
Location targeting
When visitors head to your website, they want to see relevant content.
If they're heading to your page from California, they might not be interested in customer testimonials from users in Missouri.
Successful sites use IP address data to make sure that visitors in different locations see different pages — like Amazon, for example.
A visitor from Singapore going to their site will see an entirely different homepage than a visitor from Brazil or Virginia.
YouTube does the same thing with their homepages. That makes sense when you consider trending content is different from country to country.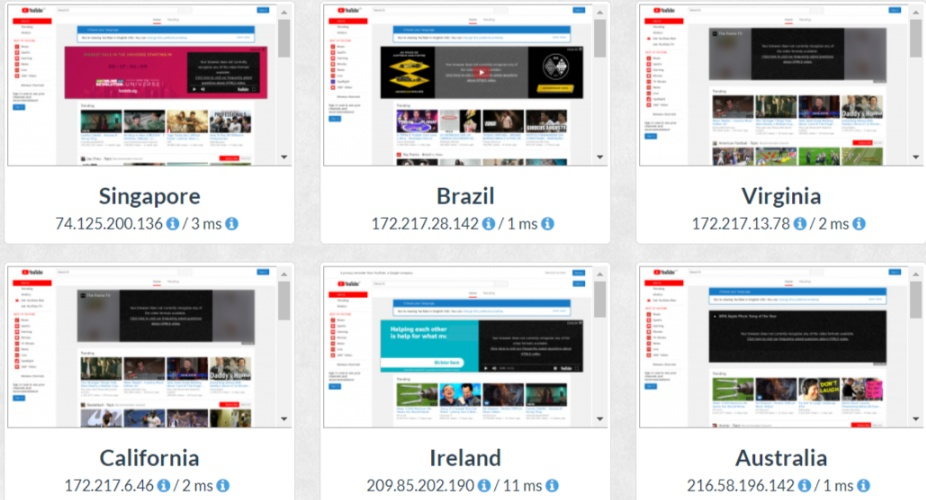 Homepages in Virginia and California are the same, but visitors in Singapore, Brazil, Ireland, and Australia will see something completely different.
If you have multiple business locations around the country, you can add a "Find locations near me" button where users can enter their zip codes to receive a customized list of locations.
KinderCare has one on their site where users can find daycare centers closest to their current location.

You should also use visitors' previous browsing and purchase histories to provide personalized recommendations on your pages.
Recommendations
When you've gone to Amazon's homepage, have they ever greeted you with items related to products you've previously viewed?
I know they've done that for me.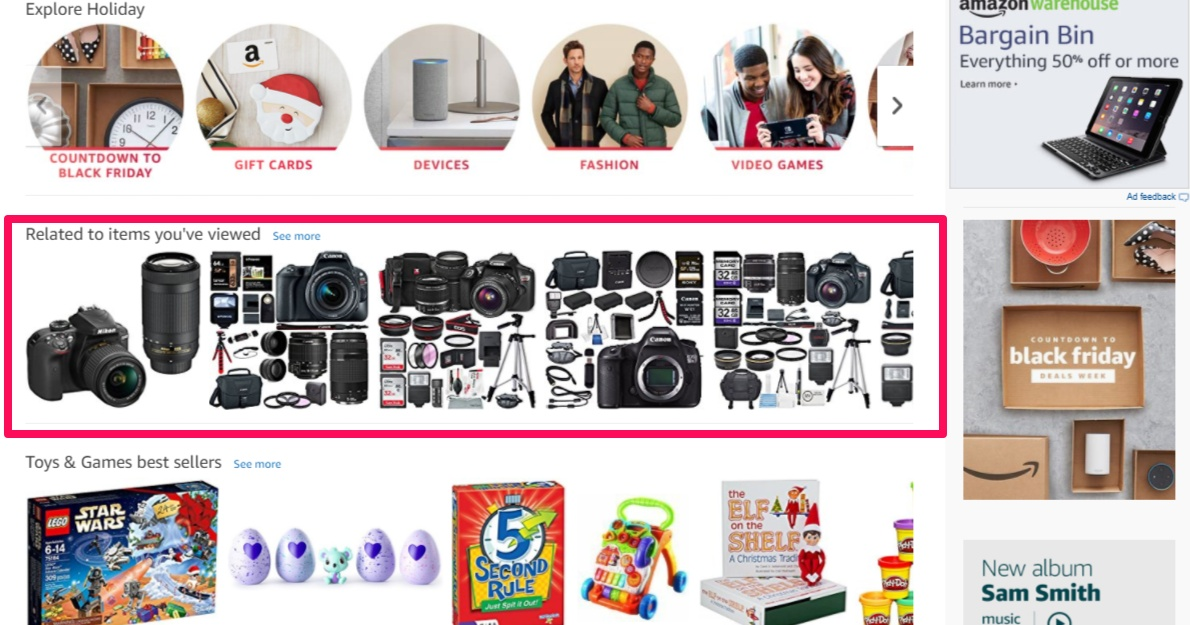 And I actually look through them from time to time. It's nice to know that Amazon does some of the looking for me and that they know what I'm interested in.
However, if I had been browsing items that were completely unrelated, those recommendations would have been useless.
That's why you've got to keep up with your visitors in real time and update recommendations as users browse, regardless of whether you're selling products or services.
YouTube does this same thing when they recommend videos to me based on videos I've previously viewed: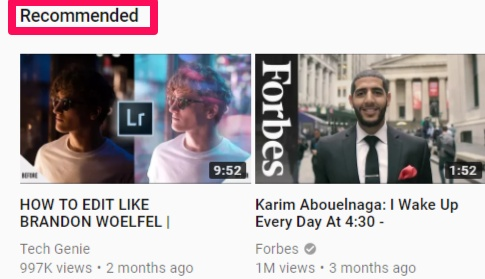 Finally, you have to know how to master complete individual personalization: one-to-one messaging.
One-to-one messaging
When you practice one-to-one messaging, you're customizing a visitor's experience by combining everything you know about them into one package.
At this point, they're not just a company employee or a website visitor from Texas. They're someone whose preferences you really care about.
One-to-one messaging focuses on the relationship-building aspects of ABM.
This could mean giving a visitor who has abandoned their checkout process on your website a once-in-a-lifetime offer. Offer certain customers exclusive sales, deals, and more.
By providing different pages to users in different locations of your sales cycle, you can move them along through your sales funnel more quickly.
Use your website to communicate to customers directly — not just from your email account.
If someone revisits your site, display an exclusive offer for an item they were thinking about buying, for example.
Now that we've covered some ways to personalize your web pages to each unique visitor, you might be wondering how to do it.
Luckily, there are tons of personalization tools to help you optimize your site.
How to personalize web pages
To get started with personalizing your web pages, all you have to do is pick the tool that works for you and your company.
Convert.com, for example, has tons of integrations to choose from.
You can integrate Google Analytics, WordPress, and more so that the software knows as much as you know about each of your website visitors.
There are other tools, like Personyze, that you can try for free with no credit card required.

You can view examples before trying out the trial, too.
In the following example, Personyze recognizes a visitor to an e-commerce website as a returning visitor who is interested in purchasing a mobile phone.
Before Personyze, the website visitor would see a combination of products that aren't customized to fit their needs or previous browsing history:
After Personyze, their experience is completely personalized. They see interest-specific product recommendations, and the ads and banners they get actually relate to their interests.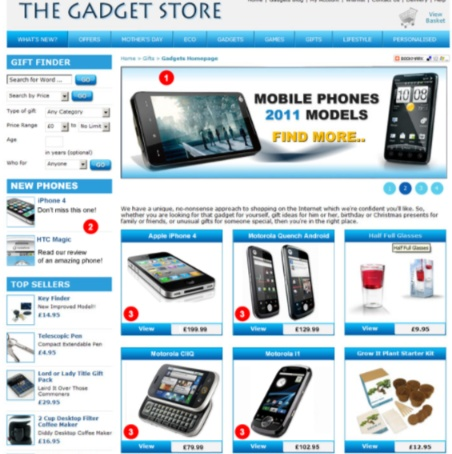 Other tools for personalizing pages include Monoloop, Monetate, and Apptus.
But Optimizely is one of my favorites.
No matter what tool you choose to use, start out by deciding on your variables.
You should begin by really analyzing your incoming traffic.
Where are visitors coming from? What are they doing while they're on your site?
Then, look at which keywords they're using to get to your web pages. Once you know that information, try to make their buying experience even more seamless.
Choose a few audience segments at first and create more segments as you know more about your audiences.
A quick way to start is by doing some basic URL targeting to choose the pages that your first personalization experiment is going to run on.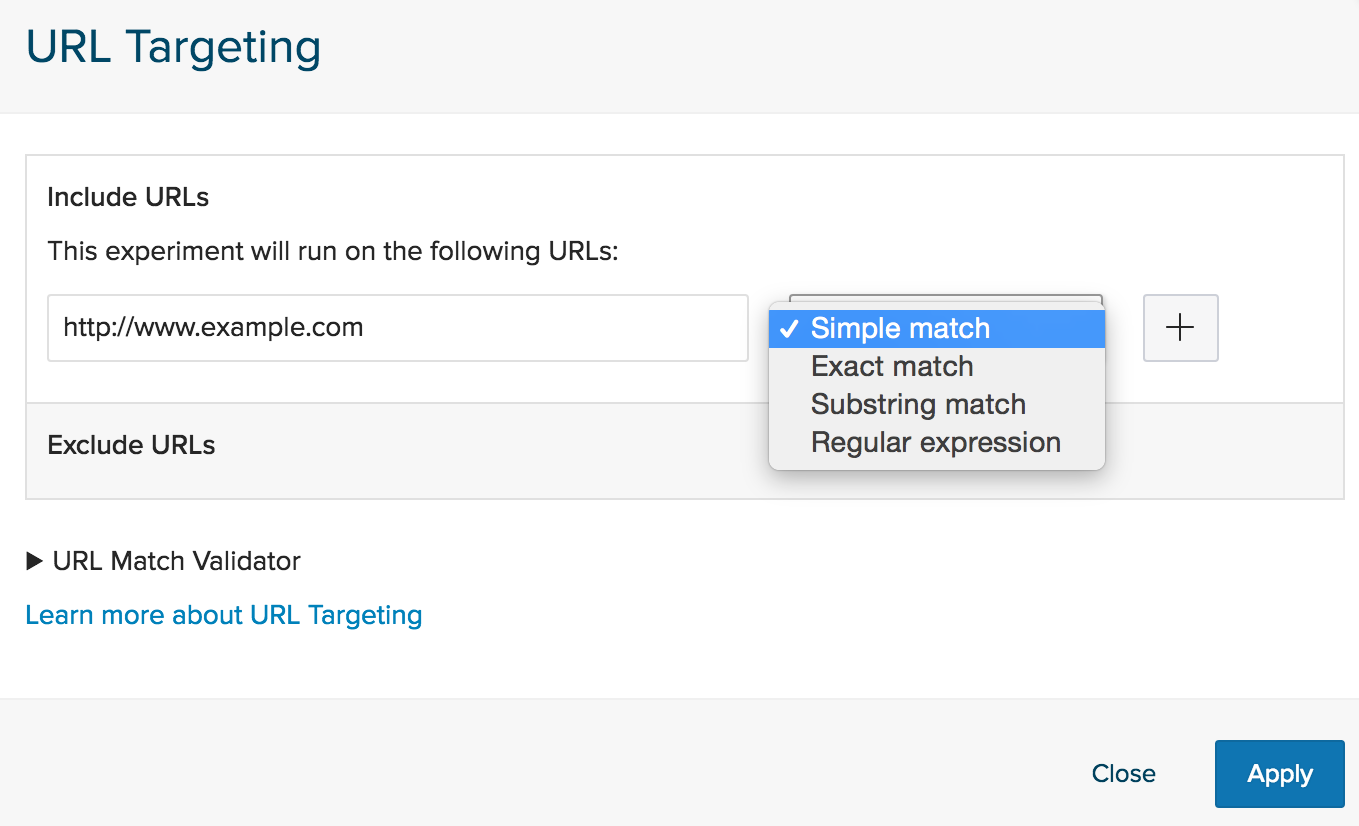 From there, you need to create some rules and variables and actually create the segmented content.
In Optimizely, you can lay down rules by deciding which visitors to target from certain ad campaigns, keywords, browsers, and past spending values.
The next step is to run your personalized segments and wait.
Track your results in real time and make any adjustments that can improve the quality of how you're personalizing pages to segmented audiences.
If something works, don't change it. If a change isn't boosting conversions, take a step back and reevaluate what your target audiences really want to see.
In Optimizely, you'll be able to see a results page for all of your personalized pages and variations.
Conclusion
You already know that email personalization works.
But did you know that you can also personalize your web pages to target each unique website visitor in the same way that you personalize your emails?
Personalized pages can not only boost your CTR, but they can also help with lead generation, ABM, and more.
Plus, personalized pages help you develop a deeper, lasting relationship with everyone who visits your website.
Each person who goes to your site is different, so you have to treat them differently.
By using the visitor information you've collected about users, you can provide content based on how they have interacted with your site in the past.
A first-time visitor shouldn't see the same web page as a returning one.
Location targeting allows you to optimize your site for people in different areas.
You should greet a visitor from Canada with a completely different website than a visitor in the United Kingdom.
You should also offer up recommended products and services to your visitors based on what they've looked at or purchased in the past.
They'll appreciate the suggestion and be more likely to buy.
And don't forget to communicate with each visitor one-on-one.
If they abandoned the checkout page, retarget them with a discount for that same product or service next time they head to your website.
Finally, use a tool of your choice, like Convert.com or Optimizely, to segment your audiences and personalize your pages.
How do you personalize your web pages?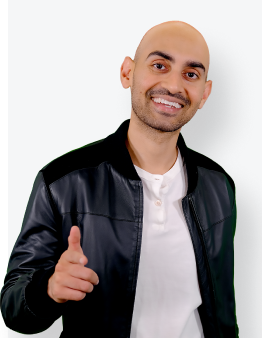 See How My Agency Can Drive More Traffic to Your Website
SEO - unlock more SEO traffic. See real results.
Content Marketing - our team creates epic content that will get shared, get links, and attract traffic.
Paid Media - effective paid strategies with clear ROI.
Are You Using Google Ads? Try Our FREE Ads Grader!
Stop wasting money and unlock the hidden potential of your advertising.
Discover the power of intentional advertising.
Reach your ideal target audience.
Maximize ad spend efficiency.