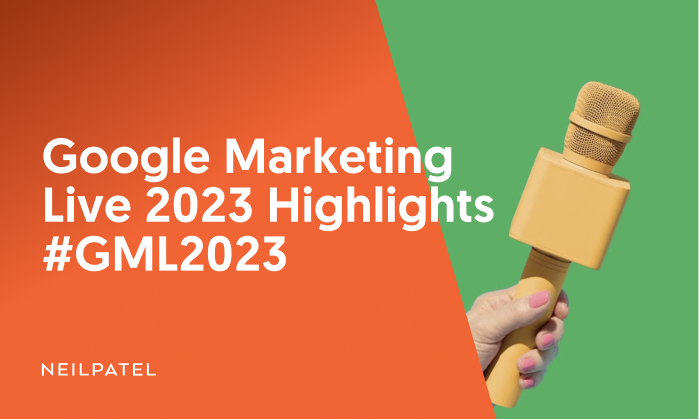 Today we watched the exciting announcements from Google at Google Marketing Live, a momentous event highlighting all the major exciting possibilities of AI and Google products.
As marketers, we celebrate the continuous AI updates and shift in technology that we've been preparing for — and as a global agency, we will ensure that we're with you every step of the way.
So, buckle up and enjoy the highlights that matter for you and your business – so we can build the future of marketing together.
Google Ads Conversation Experience: Create Campaigns By Talking To The Platform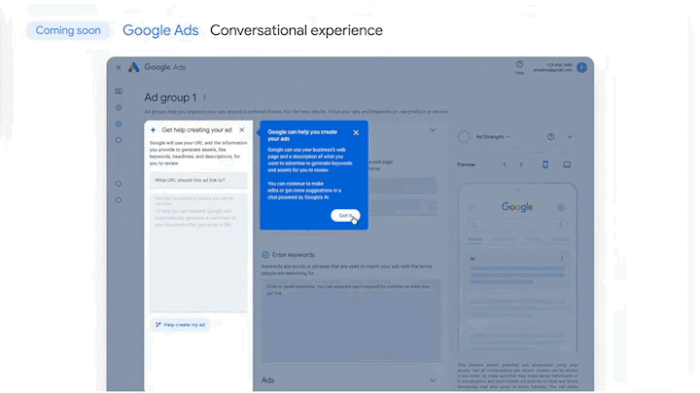 At the Google Marketing Live event, one exciting update that stood out was the conversational experience in Google Ads. As a digital marketing expert, I believe this can revolutionize the way we at NP Digital engage with our customers and enhance our collective productivity.
Inspired by the challenges marketers face in creating high-quality keywords and ads with minimal effort, Google has developed this novel capability to address these issues. Quality is multifaceted, encompassing readability, grammatical correctness, policy compliance, and performance alignment with set goals from a user and advertiser perspective.
Google's conversational experience is designed to better understand these nuances of quality. While some advertisers and agencies had issues with other generative tools, such as a lack of context understanding and policy awareness, Google Ads has addressed these concerns by integrating this feature directly into the Google Ads platform. This ensures the tool has the necessary context, understands policies, and is grounded in the advertisers' actual offerings.
In early tests, users have reported higher ad strengths and significantly reduced effort, which underscores the potential of this tool as a collaborative solution. It allows marketers to work with AI to create high-quality ads, reshaping how we communicate with our customers and optimizing our advertising efforts.
Google Product Studio and Google Ads Will Enable The Automated Creation Of Text Assets And Images Using Artificial Intelligence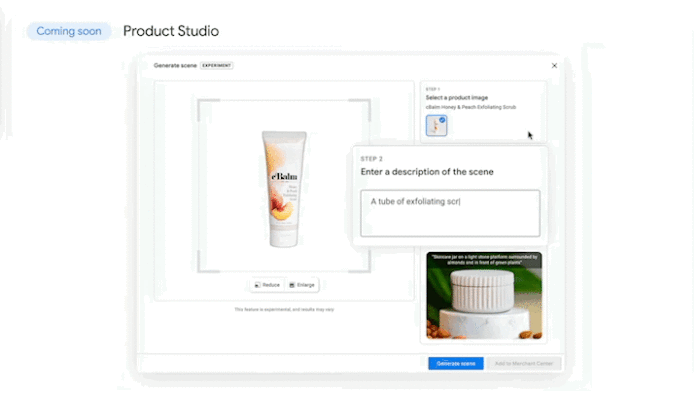 The Google Marketing Live event brought several breakthrough updates to light, including generative AI to create text assets and images in Google's Performance Max (PMax) campaigns. We see immense potential for this technology in transforming our approach at NP Digital, boosting our productivity, adding infinite A/B test possibilities to improve CPA, and allowing us to provide even more comprehensive services to our customers.
Incorporating Google AI into the campaign setup process, PMax is set to offer an even more automated experience, facilitating a seamless marketing workflow. With image creation using generative AI, we now have an exceptional tool at our disposal that can generate creative assets for image and video-heavy campaigns. Coupled with an enhanced goal and a new goal for targeting ideal customers, this update provides us with additional control and precision.
The inclusion of generative AI is a significant stride in making digital marketing more efficient, intuitive, and effective. It empowers us to do more with our customers, ensuring that their unique marketing needs are met with the best AI technology offers.
Google Merchant Center Next Will Replace The Current Merchant Center Version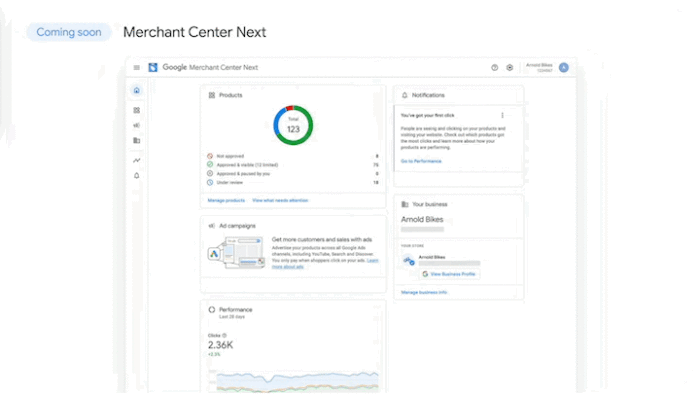 The unveiling of Google Merchant Center Next, slated to replace the current Google Merchant Center by 2024, is a game-changer.
Designed to simplify the home for product feeds, this platform has an innovative feature that utilizes website data to streamline the feed creation process. This will undoubtedly be a boon for our clients, eliminating some of the more technical tasks and making the platform more accessible, particularly for those who may be less tech-savvy.
Furthermore, the platform has undergone a UI makeover, which, coupled with insightful data available in the Performance tab, enhances the overall user experience. This means we can more effectively monitor and optimize our clients' product feeds, leading to more impactful marketing campaigns.
As a digital marketing expert, I'm thrilled about the potential of Google Merchant Center Next. I believe this will allow us to take our clients' marketing strategies to the next level, and I'm eager to explore the new opportunities this platform will present.
New Campaign Types In Google Ads: Video Views, Demand Gen, And The New Lookalike Segments Builder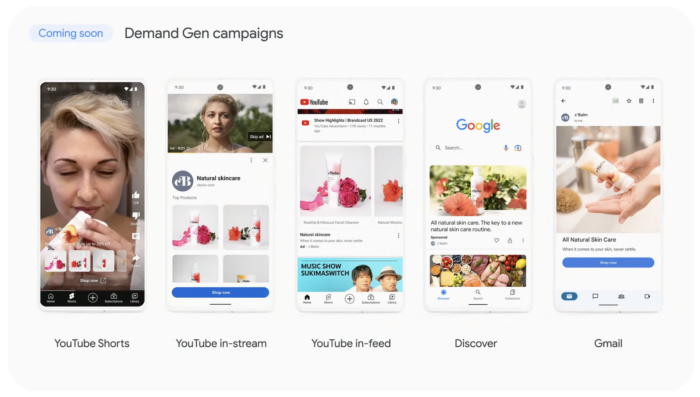 Two innovative campaign types were unveiled that are set to significantly impact the strategies we implement at NP Digital. The introduction of Video Views and Demand Gen campaigns offers a fresh approach to enhancing YouTube views and demand generation for our customers.
The Video View campaigns merge skippable in-stream ads, in-feed ads, and Shorts ads, ensuring maximum exposure and views for any given video. On the other hand, Demand Gen campaigns are designed to drive conversions, presenting across an array of platforms including YouTube Shorts, YouTube in-stream, YouTube in-feed, Discover, and Gmail.
These campaigns come with an exciting feature, a new lookalike segment builder. This tool will enable us to extend our clients' reach by identifying and targeting audiences similar to their existing customers.
As a global performance agency, we're thrilled at the possibilities these new campaign types present, and we're confident they will allow us to provide even more value to our clients as we navigate the constantly evolving digital marketing landscape.
GA4: Link Google Ads And Google Analytics 4 To Fuel AI Performance Capabilities — Migrate NOW!
One of the highlights was the enhanced integration of Google Ads and Google Analytics 4 (GA4), which I am eager to utilize for our clients at NP Digital.
By linking your GA4 property with Google Ads, there is an elevated flow of data between the two platforms that can revolutionize how we interpret user engagement and conversion data.
This integration opens the door to superior reporting with access to new Google Ads dimensions in the User Acquisition report, visibility of Google Ads campaigns in the Advertising section, and the ability to import Analytics conversions into your Google Ads account. Furthermore, this enhances Google Ads remarketing with richer Analytics audience data.
The key evolution here is the utilization of machine learning to augment data collection in the face of rising global user privacy regulations.
Machine learning is not only essential for data gap bridging but also elevates data interpretation to a new level. With it, GA4 can provide advanced insights by detecting anomalies, generating predictions, and spotting trends, in turn, delivering superior reports and automatic performance change alerts.
This shift empowers us at NP Digital to provide more insightful and efficient services to our clients, enhancing both their and our success.
Display & Video 360 – Digital & TV Report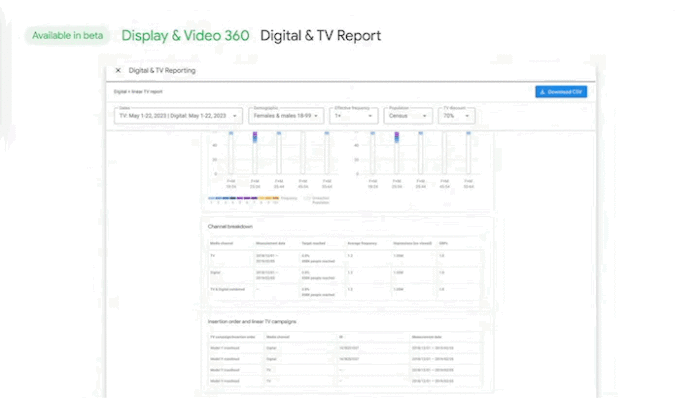 The Google Marketing Live event presented insights on 'Digital & TV Report', a game-changer for our clientele at NP Digital.
The growing popularity of Connected TVs in the US offers a vast audience, and this tool is designed to measure the efficacy of ad campaigns across this platform.
By showcasing the effectiveness of our campaigns on Connected TVs alongside traditional TV campaigns, it provides vital insights that inform our future media investments. Also, with cross-device conversion measurements, we get a comprehensive view of how these campaigns impact our marketing goals across the sales funnel.
This allows us to connect with audiences at scale using different formats on YouTube. Given today's fluid consumer journeys, this tool provides us with a competitive edge by optimizing customer engagement.
The AI "Checklist" By Google

The Google Marketing Live event introduced a captivating concept – the AI "checklist", an innovative tool that has the potential to reshape our work at NP Digital and our relationship with clients. The checklist is designed to amplify business results using Google AI, to drive fresh customer connections, build high-quality creative content, and make data-driven decisions with confidence.
The checklist has three main elements. Firstly, it underscores the need to establish a solid foundation with high-quality data, guiding Google AI to optimize ROI and business outcomes. Emphasizing the value of first-party data sourced directly from customer relationships, it encourages us to fortify our measurement strategy.
Secondly, the checklist promotes the use of AI-powered campaigns to optimize performance in real-time, enhancing conversions and maximizing budget value. It also encourages the discovery of untapped demand and drives incremental results through new search queries, channels, and audiences.
Lastly, it calls for a shift in mindset to unlock the full benefits of Google AI. It advocates for organizations to embrace agility, test new approaches, and be ready to redirect budgets toward the most promising opportunities.
This checklist presents an exciting challenge for us at NP Digital, as we can leverage these guidelines to enhance our services and forge stronger partnerships with our clients. It truly underlines the transformative potential of AI in digital marketing.
Get Google's AI Essential Checklist here.
GML 2023 Conclusion:
AI (Always Improving) Marketing
Reflecting on the insights from the Google Marketing Live event, it's crystal clear – Google AI is a true game-changer for both SMBs and Enterprises.
This powerful set of improvements significantly amplifies marketing efforts by driving unprecedented efficiency and real-time optimization.
At NP Digital, we recognize that our services, combined with Google AI, equate to a compelling marketing force. This combination is poised to generate new customer connections, construct high-quality creative content, and foster insight-driven decision-making.
Google's even testing out new AI tools, which you can check out at g.co/labs.
As we embrace these dynamic tools and technologies, we at NP Digital see an exciting future of immense growth and boundless potential.
With the power of Google AI, we are more equipped than ever to unlock new opportunities and provide superior service to our clients, reinforcing our commitment to success in the ever-evolving digital marketing landscape.
How would you rate the most recent update? What impact can this have on your business?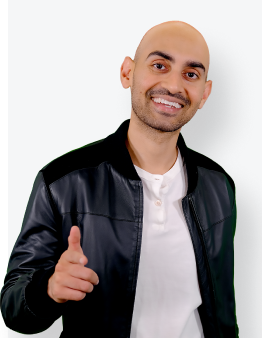 See How My Agency Can Drive More Traffic to Your Website
SEO - unlock more SEO traffic. See real results.
Content Marketing - our team creates epic content that will get shared, get links, and attract traffic.
Paid Media - effective paid strategies with clear ROI.
Are You Using Google Ads? Try Our FREE Ads Grader!
Stop wasting money and unlock the hidden potential of your advertising.
Discover the power of intentional advertising.
Reach your ideal target audience.
Maximize ad spend efficiency.