The free trial is a common SaaS marketing strategy. Even though a free trial is a potentially dangerous offering, many companies continue to rely heavily on this strategy.
What happens after the free trial? You can't rely on the free trial alone to persuade customers to convert. You must have a method for retaining the customers once the free trial is over.
This article shows you how to do that. What you're about to read are seven techniques that will give you the most marketing bang for your buck. Don't let those potential clients get away!
1. Offer your free trial without requiring credit card information.
Let's back up to the beginning of the process. In order to best convert customers at the end of the free trial, you must make sure that you've created the best process for them to do so — the beginning of the free trial.
That brings us to a crucial question:
Should you require users to provide their credit card information in order to get a free trial?
If you do, then you may be able to convert them easier when the free trial is over, right?
There are two strategies surrounding credit card information.
Strategy 1: Require the customer to provide credit card information in order to start a free trial. This makes it easy for the customer to convert after the free trial. However, it may cause the customer not to try the free trial at all. You sacrifice lower initial conversion rates for higher post-trial conversion rates.
Strategy 2: Don't require credit card information to start a free trial. Instead, only require credit card information when it's time to purchase an actual subscription. This makes it easy for the customer to engage in a free trial. However, it may produce lower post-trial conversion rates. You sacrifice high free trial users for lower post-trial conversion rates.
So, which one is better?
Don't guess. Instead, look at the data from a few years back:
Based on this information assimilated from 100+ SaaS companies, your overall conversion rates will be better by not requiring credit card information upfront.
Viewed another way, the no-credit-card method earns 120 customers after 90 days, while the credit-card-required method earns only 60 customers in the same amount of time.
This approach — not requiring a credit card — reinforces one of the essential tenets of SaaS marketing. What is that essential tenet? Engagement!
Lincoln Murphy beats this drum all the time: "Let me be 100% clear… it is up to you to drive engagement using whatever channels make sense."
If that channel is to remove credit card barriers in order to introduce engagement, then so be it. The app is supposed to sell itself, and the only way it can do that is through sparking customer engagement.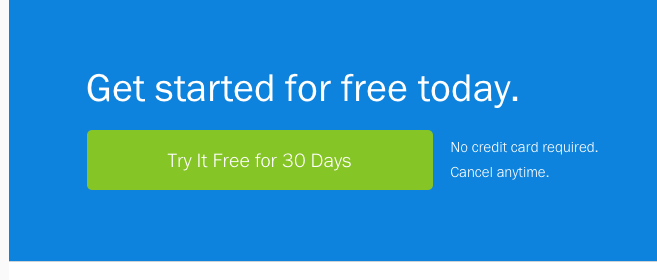 Your app may be different for many reasons. You may even have compelling reasons to require credit card information before a free trial.
Keep in mind, though, the data says this: Not requiring payment generally produces improved conversions. However, you must aggressively maintain other methods of marketing to customers after the trial.
As New North's Tobin Lehman wrote, "With a SAAS model, the best acquisition plan can be crushed with poor followup."
2. Use email.
Your number one tool for gaining free trial users is email.
Early on in the process, you should have gained the user's email address. Now, it's your chance to use that email address to send marketing emails.
The best way to communicate with users during the trial period and once it's over is email.
This is an obvious point, right? Yes, but you'd be surprised at how few companies are actually using automated emails to keep in touch with their customers.
The term for getting a customer to use the software is activation.
If you don't have a system in place for activating users via email, it's time to get it going.
3. Remind them when the free trial is going to expire.
It's common to send SaaS customers emails after the expiration of their trial. What's not so common is to send free trial customers such emails before the expiration.
You should send at least one email before the trial expires. This way, the customer is prepared for the cutoff date. Depending on the duration of the trial (e.g., 15 days or 1 month), you should probably send even more emails.
The idea behind these notifications is to remind the customer to use the software. The only way that you're going to gain a customer is if that customer engages with it. Reminders will help encourage usage. Maybe they forgot about the free trial. Maybe they didn't realize how soon it will end. Maybe they just need a reminder.
You can be really simple with it. Just a few bullet points will do it.
So, go ahead, remind them before it's too late.
4. Provide an early discount if they buy before the expiration.
Among many SaaS products, it's popular to lure the customer in with a discount if they don't purchase within 30 days after the free trial.
That's a fair approach. However, I suggest using this strategy in reverse.
Here's how it works. The customer signs up for a two-week free trial.
One week into the trial, they receive an email that says something like this,
Hey, we just wanted to let you know that if you've decided on subscribing to ABC, now would be a good time.
For the next five days of your free trial, we're dropping the membership price to only 20%.
Click this link to subscribe. We won't be able to offer this discount once the free trial has ended, so please consider purchasing now.
This way, you can earn more active signups during the usage phase, rather than at the end of it.
5. Ask for action, any action.
I like the way that the article from Inbound put it: "Encourage the prospect to take the next baby-step down the sales funnel."
Baby steps. Anyone can take baby steps, even reluctant customers. To enhance the likelihood of a free trial user becoming a customer, they need to take some sort of action. It doesn't matter if that is a big action or a little action. They just need to take action — to do something.
Here are some of the actions that you can request.
Read a blog. If you're doing content marketing (and you should be), ask the user to read your blog. The very act of reading your article helps the customer to engage with your business.
Provide feedback/fill out a survey. Sometimes, surveys can be very annoying. Other times, they could be exactly what a customer needs in order to take action. Surveys provide a good excuse to get back in touch with the free trial user and to ask her to do something. Make sure that the survey is easy, simple, and friendly.
Send an email. Make sure you allow them to simply "reply" to this email. Sometimes, a potential customer simply needs to air his concerns, or ask a question. That's fine. A few simple exchanged emails could be the perfect way to tip the scales in your favor. Don't merely allow the customer to ask questions or provide feedback; ask for it.
When they take action, it builds their trust in your business and product. Action tends to create a sense of connection and obligation.
6. Allow the free trial user to extend their trial period.
Go ahead, and give them a few more weeks. More time to use the product does several things:
Allows them to use it if they haven't had time.
Allows them to depend on the product more.
Allows them to deepen their experience with it.
Here's what Freshbooks does when the free trial expires:
Why not? If the user hasn't effectively engaged with the product, then how can they validate their interest in purchasing it? Give them a second chance.
What do you have to lose? Oh, nothing, except maybe a customer. That's all.
7. Make it easy for the customer to buy.
Once the free trial has ended, it should be absolutely easy for the customer to buy the full version.
Too often, developers and marketers overlook this crucial stage. They assume, somehow, that the user is going to know how to purchase and activate a full version.
Don't assume that. Customers need to be told, step-by-step, how to buy the product. And it shouldn't be complicated.
Here's a SaaS FAQ that I came across while researching. This is an example of how not to do product purchases.
By the way, if the customer has to ask how to buy the product or activate a new account, you're doing it wrong. The process should be childishly simple.
Conclusion
SaaS companies are obsessed with customer retention, and rightfully so.
Let's view the free trial phase as a form of customer retention. They're not paying…yet. The goal is to retain them as a user right into the paying phase.
As soon as you turn up the marketing charm, they're going to be on board. It's time to take your marketing to the next level with a little bit of post-free trial marketing.
What techniques do you use to encourage free trial customers to convert?