Content marketing can seem too indirect.
How are you supposed to create compelling content that also encourages purchases?
Yes, you could include a call for sales at the bottom of every article, but won't that seem too salesy?
Balancing the "content" with the "marketing" can be a difficult endeavor. But if you're wondering how to make content marketing work effectively, you're not alone.
According to Hubspot, 79 percent of marketers believe content marketing is effective, but only six percent know how to implement it.
The truth is that if you're looking to drive more conversions from your content, you need to focus on the copy itself.
Instead of tracking a new call-to-action button at the end of your articles, you need to write the articles themselves to drive conversions.
There are specific psychological hacks you can use to increase conversions and engage readers as they discover your content.
If you implement these 27 techniques, you can rest assured they'll drive conversions, even if you don't want to include links to your signup page in every paragraph.
Here's how to make content marketing work for you.
1. Use emotions
Humans are emotional creatures, and the way we feel about something is usually one of the biggest indicators of what actions we'll take.
If you want to drive conversions with your content, you need to appeal not just to the logic of your readers, but also to their deepest-held beliefs and feelings.
Throughout your content (but particularly at the beginning) focus on the inner feelings of your readers. Explain their struggles and accomplishments in language that pulls heartstrings.
Throughout the articles on the Intrepid Travel blog, the authors tell stories that pull readers in with descriptive language of feelings of excitement and adventure.
This emotional connection is more powerful than any bland marketing content you could write to drive conversions.
2. Write in-depth content
It's no secret that long-form content does well in the search engine results pages.
But did you know that in-depth content is also more compelling?
According to Point Visible, long-form blog posts generate nine times more leads than short-form content. That's crazy.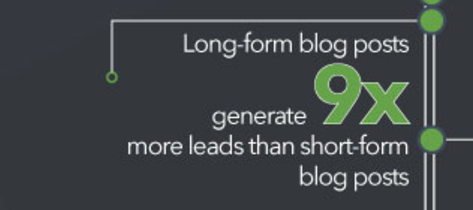 The reason behind this is that you present an authoritative image to your content readers.
Instead of short blog posts or 30-second videos, start creating long-form content. This is a great way to start driving more conversions from the content you produce.
3. Use an honest, authentic voice
Oftentimes, I see blogs by companies that are pretty bland and superficial.
While these businesses mean well, they're losing out on conversions because they're not using their true brand voice to appeal to potential leads and customers.
You'll noticed that Velocity Partners takes a completely different strategy on their blog. Instead of speaking in formal, stilted prose, they're honest and authentic.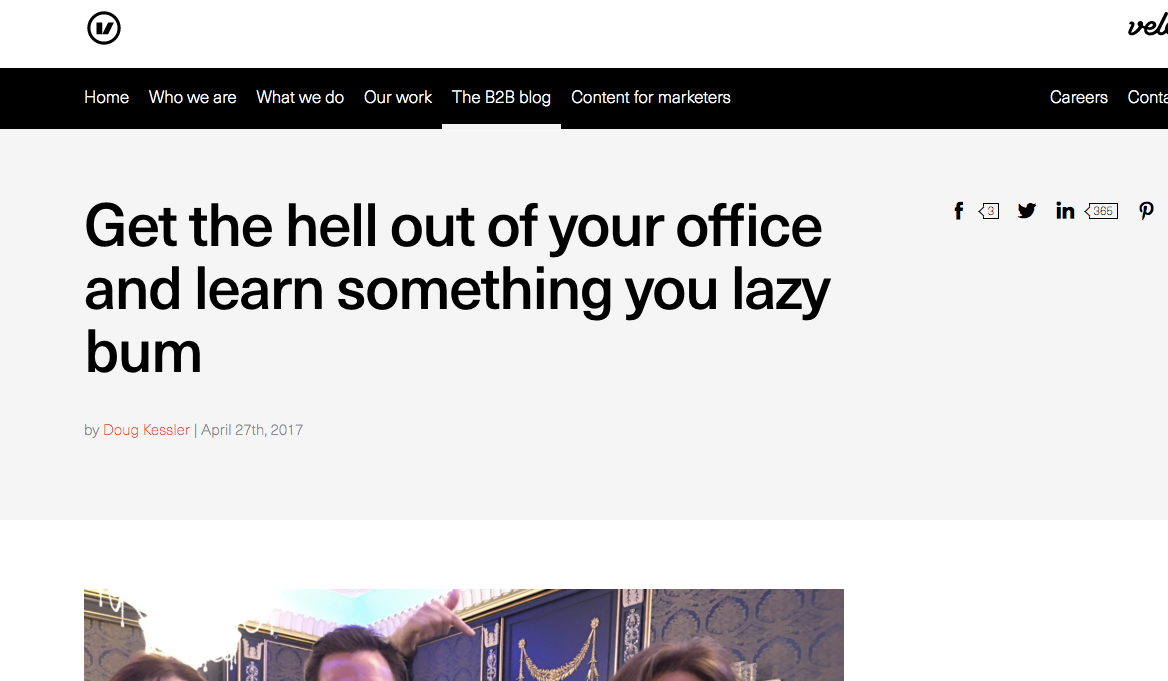 They aren't afraid of offending people, if it means their brand is represented correctly.
Of course, I don't recommend you try to offend people. But use your authentic voice, and readers will be more likely to believe you and convert.
4. Split-test your headlines
Headlines are one of the biggest ways to get more people to read your posts, but they'll also increase your conversion rate.
When people are engaged with the content you write, they're more likely to subscribe and read what you have to offer.
Headlines are so important, I consider them one of the A/B tests that will double your conversions.
According to Hubspot, 91 percent of marketers share their content on Twitter. This is a great way to run a simple split test.
To do this, tweet about an article twice with different headlines. Then take whichever headline gets more traction and use it to rename the article.
5. Engage readers with above-the-fold content
What you include at the top of your content, where the reader doesn't need to scroll, is critical real estate.
To make the best use of this, include ways to engage the reader before he or she scrolls down.
This will keep the reader interested in your content, and may even drive a conversion before he or she leaves your page (or even reads the whole article).
The Evernote blog is a great example of this in action. There are over a dozen ways for readers to engage above the fold.

Look to tweak your site design and include compelling links at the beginning of your content to make this work best.
6. Write list posts
List posts have a unique appeal, and that applies to content that sells as well as content that doesn't.
We like reading things that have a specific number of items, and this kind of content actually provides a way for us to process difficult or complicated information.
Canva Design School makes use of list posts across its content strategy, using them to drive more reader engagement, to get people excited about the site, and to convert.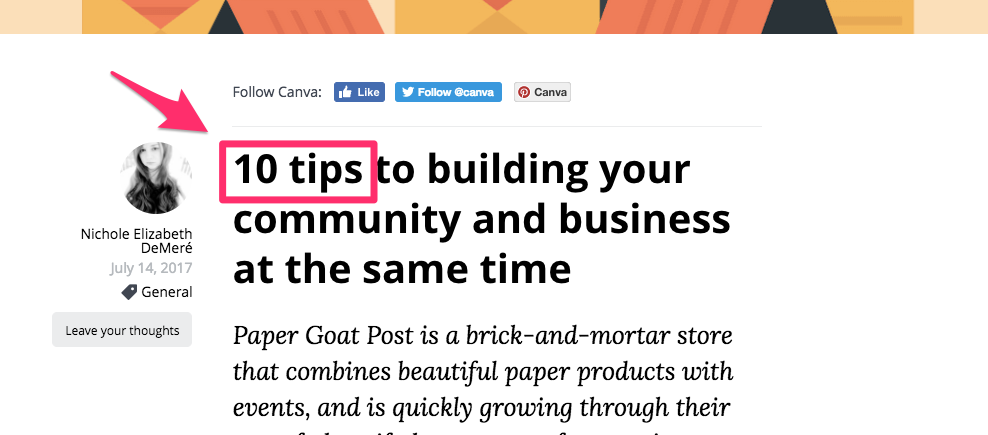 This is a simple yet effective way to drive conversions for your content. You can even include signing up for your product as the last option in the list.
7. Follow current trends
There's a reason major publications like UrbanDaddy spend so much time covering current trends: they work.

People are continually interested in what's popular now, and the content you write can encourage people to engage with it in this way.
To make the best use of current trends, find topics that aren't controversial or complicated. Include subtle (or even overt) references to pop culture to make your articles stand out.
This gives your brand a sense of relevance that will drive more conversions and encourage signups and purchases.
8. Create urgency
There's no denying the power of urgency to drive massive conversions.
If your content doesn't currently feature some type of urgency, it's time to include it. According to data published by Entrepreneur, urgency can improve sales by as much as 332 percent.
To make this work, include references to low-stock, limited-time deals, and countdowns for products or services.
Using urgency in this way is one of my favorite hacks for increasing your conversion rate.
9. Create anticipation
If you want people to follow through with the content you write, you need to draw them in. One of the best ways to do this is by using anticipation.
Like a movie trailer includes subtle hints about what's to come on the actual film, the beginning of your article should tease about the content that follows.
Innocent Drinks does a great job introducing the stories on their blog. After reading the introduction, you can't help but wonder what happens next.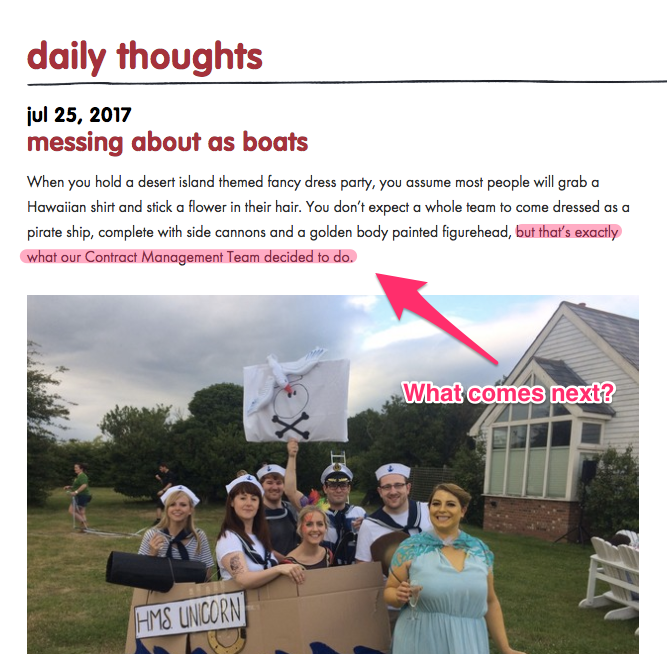 This encourages people to read the full article, but it also creates a feeling that there's something to come.
If your article starts with a cliffhanger that only your product will fully solve, you're set up for a massive spike in conversions.
10. Tell a story
For millennia, humans have been telling each other stories.
It's one of the primary ways in which we communicate, and it's a great way to get people interested in what you have to offer.
You should take advantage of this effect, and leverage storytelling for a huge improvement in your conversion rate.
If you're just starting, don't worry too much about the structure or the details. Start with the beginning, and explain it all the way through to the ending.
Warby Parker uses a common event, the 2017 solar eclipse, to tell a story about their company culture.
While it seems like just a story about the solar eclipse, it's also a great way to drive sales with their brand.
We like doing business with companies and people we know, and telling stories is a great way to create likeability and trust with prospective customers and leads.
11. Proclaim the opposite
We can't resist something that tells us not to click.
You can use the same technique in your content to drive conversions. Instead of always telling what your content is about, try doing the opposite.
In her post about customer service (as told through an experience with Delta Airlines), Ann Handley claimed the post wasn't about Delta Airlines.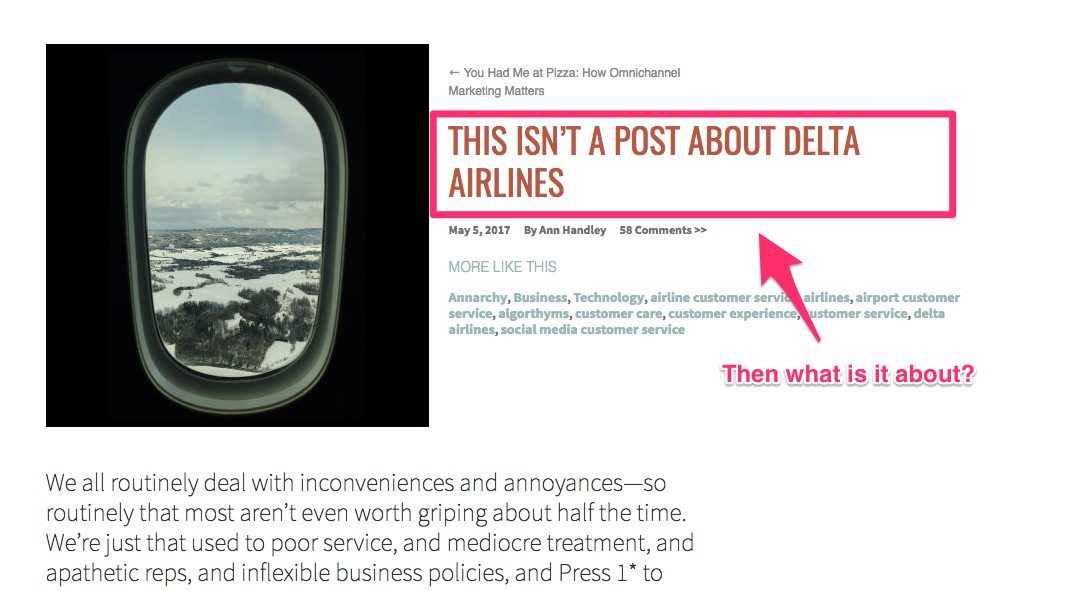 Of course, a heading like that makes you interested in reading what the article is about, if it isn't about Delta Airlines.
Her message about effective customer service is suddenly made all the more compelling with a negative proclamation.
12. Use social proof
We like what other people like, and we usually trust the opinions of others more than the messaging from a brand.
Social proof is a great way to increase your conversions.
When a fashion magazine or blogger referred people to a campaign, the conversion rate improved by 200 percent. This type of social proof can be massive.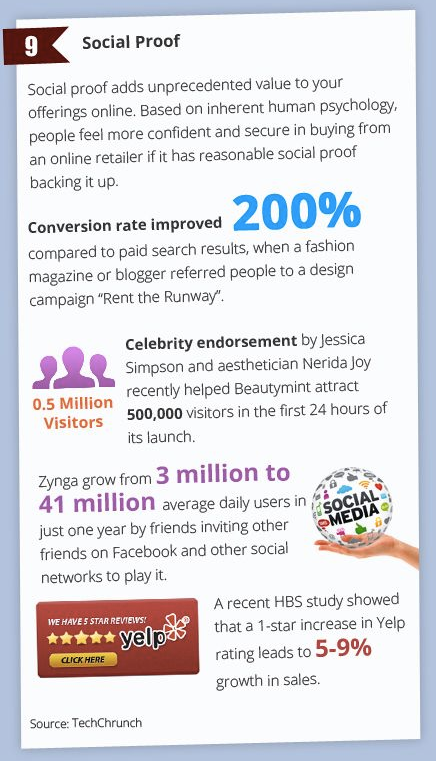 To use this effectively, you just need to include quotes from happy customers in your copy. You can also include endorsements from larger names or companies.
For maximum effect, include a few customer case studies in your normal content marketing strategy. This is a great way to overcome objections, tell a story, and increase conversions.
13. Feature compelling images
Images are a huge way to increase the conversion of your content, but they're a largely untapped resource.
So many of the brand blogs I see only include a few stock photos.
While this is better than nothing, it's a far cry from the type of conversion-driving images that really make a difference.
According to Marketing Insider Group, 65 percent of senior marketers believe that visual content is the core of how their brand story is communicated.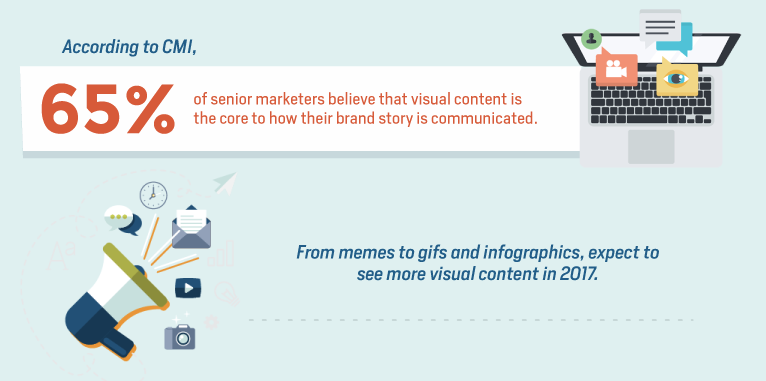 There are plenty of ways to include visual content, but the best method is to use engaging and interesting images with your articles.
Gymit does this with the articles on their blog. They include a variety of different, engaging, custom images to pull readers into the content they have to read.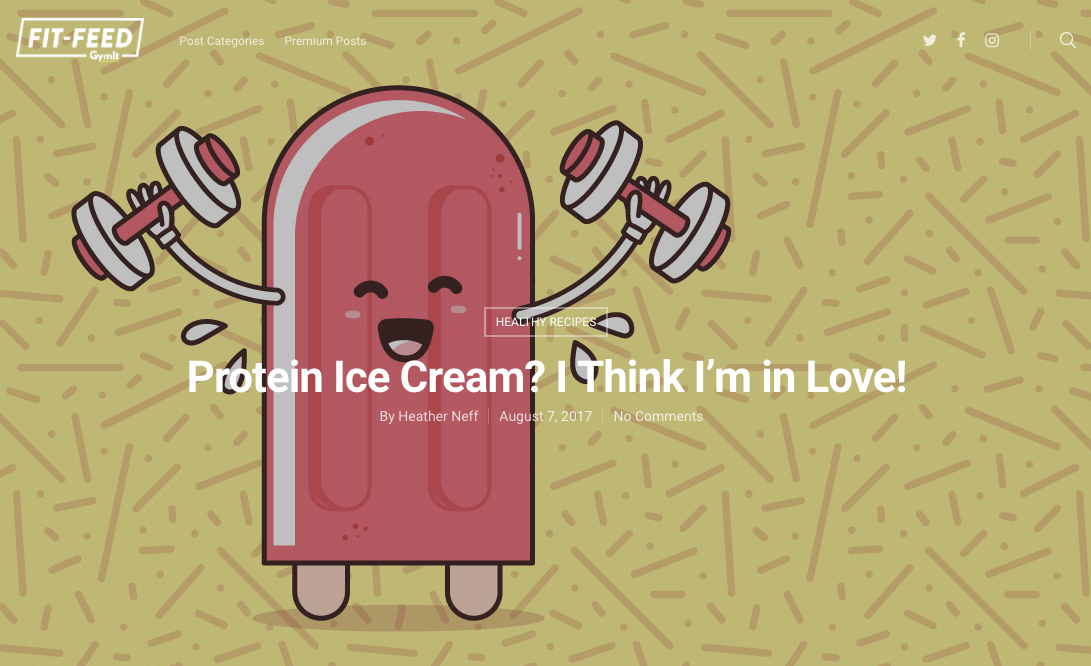 While you don't need to spend money on custom images, you can improve your conversion rate with them.
Simply include more images or even create an infographic using a free tool like Canva.
14. Understand your audience
If you're going to drive more conversions, you need to truly understand who your audience is.
Perhaps more importantly, you need to know the different types of audiences who might be interested in your product.
While Tesla might only be considered a luxury car, they include customer stories that depict it as a car for all kinds of people, from retirees to families of five.
By knowing your audience and appealing to all different kinds of customers who could be interested in your offer, you can increase the number of people who convert.
15. Don't jump to a sell
If you've hit a wall with your content, the problem might just be that you're too focused on selling.
Instead, take a break and show how other things are related to your product.
Slack uses a variety of topics to show the importance of their product, and not all of them are directly related to the precise features of the tool.

This article talks about how office workers can feel left out and get less done because of it. There's a connection, of course, since Slack is a communication tool.
But it isn't an overt call for someone to purchase the product.
16. Respond to objections in your content
In the articles you write, you can gradually reduce the barriers people have to converting with your product or service.
On the Mint blog, the authors cover common objections frequently, but blend it with useful tips and other valuable content.
This piece on saving for retirement counters an objective of many of Mint's younger customers: worrying about retirement too early.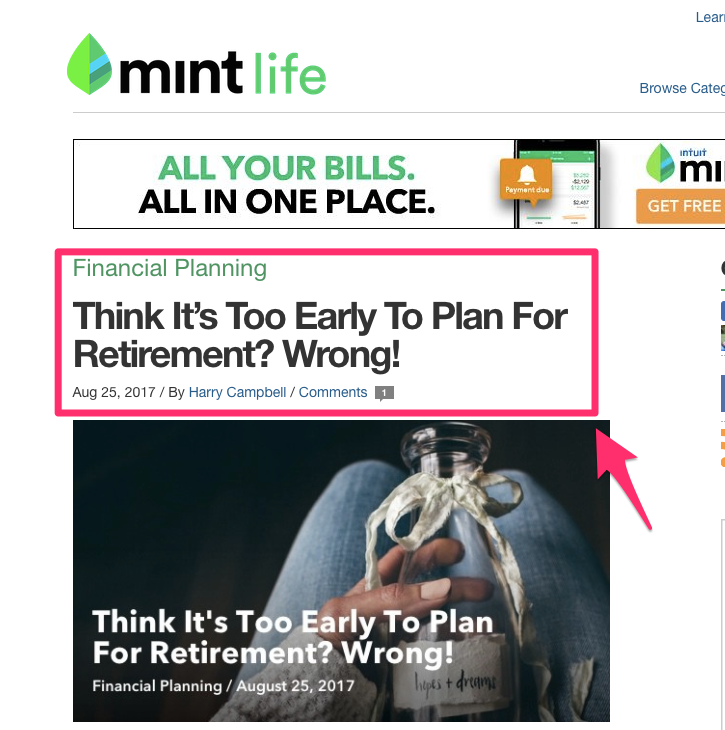 By attacking these misconceptions, they're providing advice and engaging content, while also making it easy for a reader to convert later on.
17. Address pain points
To truly appeal to your customers, you need to address their pain points. Find out exactly what their struggles are and provide in-depth analysis that provides solutions.
The writers at Zendesk know that one of the biggest frustrations of marketers is being overwhelmed with a chat feature.
Since this is a common reason people will sign up for Zendesk, they spend the entire article responding to pain points and showing how their product will solve the problem.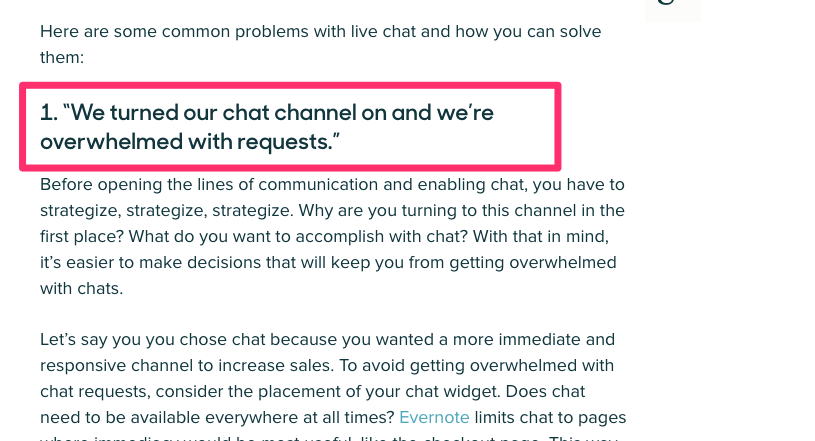 Using this technique, you can gradually build up a case for your product without ever making a direct call to action.
18. Create a content upgrade
A content upgrade is a downloadable bonus based on the content of one article.
To make this work effectively, find an article that's already performing well. Create a must-have supplement to the article that your readers will find enticing.
This could be an additional tool, a checklist, or even a PDF version of the article. In this piece by Jon Morrow at Smart Blogger, he offers a calculator for the math discussed in the article.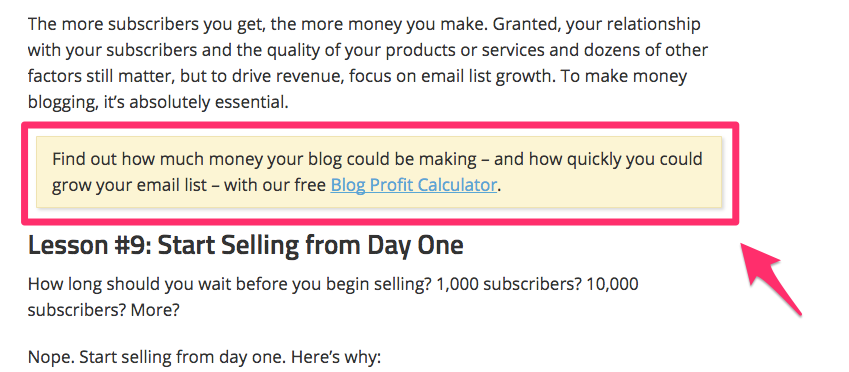 Because it's carefully targeted to readers of your article, this type of lead magnet tends to convert much higher than standard offers.
19. Repeat what you want people to remember
Studies in psychology have shown that people interpret things they hear more often as true, compared to the ideas they're only introduced to once.
In one particular study, researchers told a series of lies to participants. Some of the lies were new, and some were repeated again and again.
When asked which of the ideas they believed most, participants agreed that the lies they heard repeated were more likely to be true.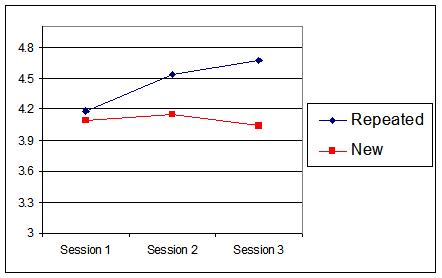 Of course, I don't recommend you lie to increase your conversion rate.
But if you repeat one message again and again, you'll start to see your customers engage more and more with the content and come to believe your common message.
20. Make the content scannable
According to Point Visible, the average reader only spends 37 seconds reading an article or blog post. That's a tiny amount of time.
To make your content easier to read, be sure to include plenty of scannable features in your articles.
Write short paragraphs, include subheadings, and provide lots of images. You can also create more interesting text using parentheses, bullet points, and quotes.
The Wordstream blog does a great job with scannable text.
Content like this is easier to read, meaning more people will find out what you have to offer and convert.
21. Include conversion-oriented keywords
When visitors look to your content, they're either coming with the intention of converting or not.
Of course, you can convince someone they need to convert. But it's far easier to appeal to an audience member who's already excited about signing up or buying.
To do this, you should adopt the strategy published in Entrepreneur: use a trigger word like "free." Just using that one word increased conversions by 28 percent.
But it doesn't have to be something for free. Look into what trigger words encourage conversions based on your key metrics and include them in your copy.
22. Provide an easy out
While it's easy to use a high-pressure voice in your marketing content, it's more effective to use a more subtle call to action and give the reader the choice of converting or not.
A meta-analysis of 42 studies showed that in the 22,000 people surveyed, the likelihood of a positive response was doubled when researchers gave an "easy out."
Specifically, by using the phrase "you are free not to," people tend to go along with the action.
It's a form of reverse psychology. By telling people they don't have to do something, they're more inclined to follow along. This kind of choice is important in your content.
According to Point Visible, 70 percent of people would rather learn about a company through articles than ads, and 68 percent feel more positive about a brand after consuming its content.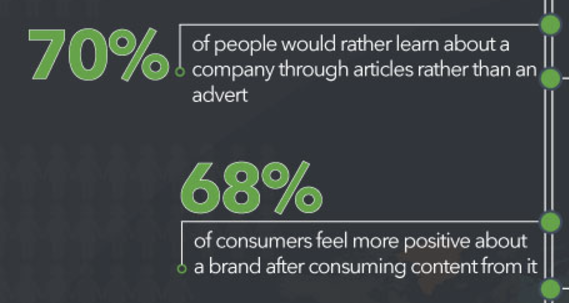 Instead of spoiling the positive feeling of your content with a direct command, give consumers a choice, and you'll see your conversion rates skyrocket.
23. Leverage the P.S. line
No matter how compelling your content, the truth is that people will always read your postscript to see what you have to say.
Instead of using it to provide extra information or other non-converting copy, leverage it to drive your most important actions.
This email from Buffer, featured on Kissmetrics, provides a great example of a P.S. that drives conversions.
It reiterates the main call to action of the body of the message without being repetitive.
24. Sprinkle in textural adjectives
The words you use can have a huge influence on how people perceive the product you have to sell or the action you want them to take.
To increase the perceived appeal of your specific call to action, include textural adjectives. These are words that describe something with clear textures and elicit the senses.
This content from Mouth Foods does a great job of describing products with vivid language.
I've highlighted the adjectives they've used to achieve this effect. Try to read it without your mouth watering.

Even if you don't sell food, you can use words like this to make your product seem more appealing and drive conversions.
25. Make your content unusual
According to Hubspot, 85 percent of marketers defined success in content marketing by an increase in traffic.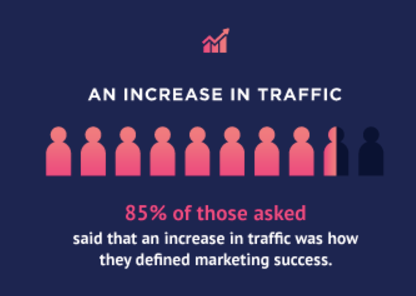 Of course, that traffic leads to more conversions. But there's a technique that will both increase your traffic and improve your conversion rate.
To use this well, you need to create noteworthy, out-of-the-box content. This is content that's worth sharing for some reason.
Not only will it drive traffic, you'll engage readers and encourage them to convert. This example from Cultivated Wit uses an eye-catching headline to drive attention to its content.
By creating content that's out of the ordinary, you'll increase your conversions and the number of people familiar with your brand.
26. Focus on the first and last points
Psychological research has shown that humans pay careful attention to what comes first in content and what comes last, while largely ignoring everything in the middle.
This illustration from Copyhackers shows the effect.
You'll notice that the recall percentage is highest for concluding information, nearing 75 percent, while the first piece of information has recall over 50 percent.
These recency and primacy indicators are a great hack you can use to improve what people remember from your content.
Include the most important details at the beginning, and a call to action at the end.
This is a strong way to increase conversions while using our natural tendencies to focus on the specific order of information.
27. Use the Barnum effect to "see" into your readers' souls
At its simplest, the Barnum effect is a way of appealing to everyone using the same types of language.
Psychological research spanning decades has revealed that certain phrases, like "you have a tendency to be critical of yourself," apply to nearly everyone, yet feel deeply personal.
Strategies like this have been used by magicians and other performers for "cold reading," to appear to discern information about a stranger.
You can use these techniques to touch on deep feelings of your prospect, while appealing to nearly everyone.
An example of the Barnum effect was used in this article on the Trello blog, by asking if the reader is overly critical of him or herself.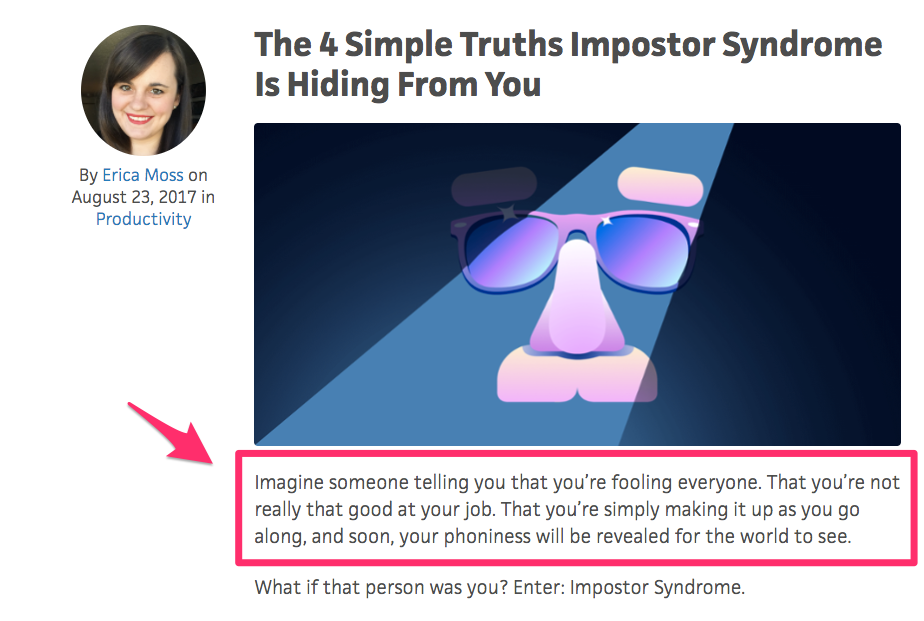 This hack can draw the reader closer to your content and give a feeling of closeness that engages trust and grows your conversions.
Conclusion
Making your content marketing convert readers to loyal fans and customers isn't difficult if you know what you're doing.
By using these 27 techniques, you can make your content powerful and engaging, while driving visitors to do business with you.
To use them, experiment with one or two and see how it works in your content marketing. As you continue to produce content, gradually add more.
Then, as you continue to experiment, test, and refine your systems, you'll start to see your conversion rate take off.
Content marketing doesn't have to be an uphill battle. You can use it to drive conversions immediately.
What hacks will you use to get more conversions from your content?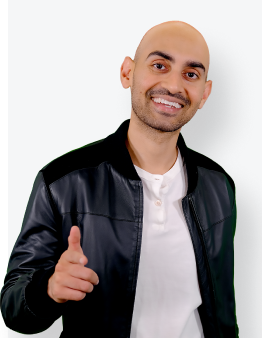 See How My Agency Can Drive Massive Amounts of Traffic to Your Website
SEO - unlock massive amounts of SEO traffic. See real results.
Content Marketing - our team creates epic content that will get shared, get links, and attract traffic.
Paid Media - effective paid strategies with clear ROI.