If I had a dollar for every time someone told me they wanted a viral video, I'd be rich. But here's the problem …
A viral video is not a win for a brand. It's just an amazing video. It's a unique thing unto itself and has little to do with a brand. If you really want to use YouTube effectively, I recommend that you take the time to cultivate a channel so your brand will have a personality.
Fundamentally, the principle boils down to regularly educating your audience or customer base on topics they care about. If you focus on consistency, you will build an extremely valuable asset — an audience your brand can rely on in the future.
Optimize for your audience, not pageviews
You don't want to generate traffic, you want to build an audience. While the difference may seem subtle, it actually is the defining factor in this strategy. A lot of people want a "viral video" for their brand, but what happens when your viral video isn't even hosted on your own channel? (It happened to DIRECTV.)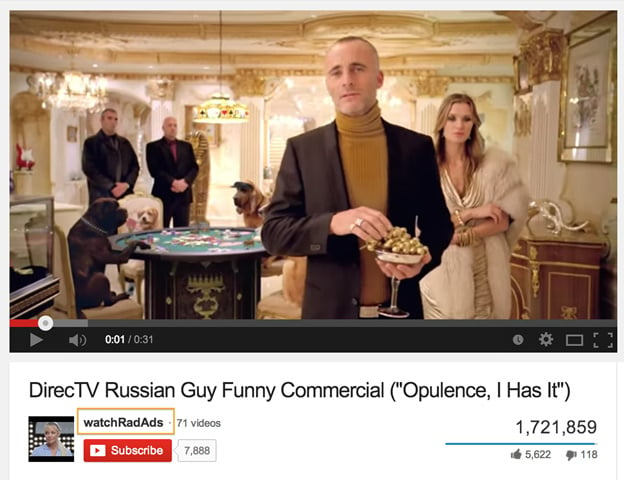 Instead of aiming for a viral video, strive to build your channel consistently. The two can go hand in hand, but the first is just generating one-time pageviews and the second involves actually building an audience.
If you have an audience, you can build a brand relationship with them. Volvo built a real audience on YouTube and was able to capitalize on that infrastructure and strategy when their video featuring Jean-Claude Van Damme went viral.
Even if you do try to create a video for the purpose of going viral, it shouldn't be completely unrelated to your brand. While I loved the piano staircase video, I struggled to remember the brand behind it. That's because Volkswagen isn't the initial brand I associate with such an event. (With that said, I like the theme they created with The Fun Theory initiative.) Your content — viral or not — should always connect your brand to your audience.
There are many benefits to building a channel. If you establish an active community, you will get better results on each new video because the audience will be tuning in ready to watch and share your content.
When you're gauging success early on, any engagement is good engagement. Your likelihood of getting a subscriber on the first video is not high. You just want people to care enough to make some noise. Remember, as Dave McClure once said, "Hate is closer to love than indifference — you can't iterate around indifference, but you can around hate."
While pageviews and subscribers measure fundamentally different things, if I had to choose, I would say measuring subscribers is more important. If you're ten videos in and not getting any additional traffic to your website, you're not failing.
There's an inherent value to brand awareness, even if it's not on your brand property. When it's time for a viewer to buy something you sell, they won't have to search through generic product categories. They will be more inclined to search for your specific brand.
I've explained why building an audience is more important than attracting viewers, and I've talked a bit about the principles and metrics I focus on. Now I'd like to explore some specific techniques to make your videos more conducive to building an audience than generating pageviews.
Educate your viewer
While network programming like TLC prioritizes entertainment first and education second, as a brand, you should flip the script on YouTube. Put education first and entertainment second. Figure out the utility value of the content.
In other words, what does the viewer get out of it?
The fundamental rule is to educate your viewer. That's not to say you don't have to figure out the entertainment part of it, just that it should serve as the sizzle of the educational steak.
Example 1: BigCommerce
E-commerce software and shopping cart solution provider BigCommerce hosts a series of educational videos on YouTube, which they've branded the BigCommerce University and organized into playlists.
The majority of videos are effectively video tutorials to educate users or prospective clients of the platform, but they've also got a series that mainly targets marketers who want to learn the basics of SEO and keyword research, and it doesn't sell BigCommerce too aggressively.
Although it sounds straightforward, it has proven effective: BigCommerce has earned over 10,400 subscribers by focusing on education.
Example 2: Beardbrand
Beardbrand is an e-commerce retailer that sells beard grooming products (e.g., oil, grooming kits, etc.). Its YouTube channel is populated with beard-related education, such as the key to finding a suitable beard style or advice on beard washing. It also informs viewers about the products in stock. Over 1.2 million YouTube users have subscribed to Beardbrand's channel because of their educational efforts.
Other best-in-class examples:
HubSpot does a great job of educating and informing their audiences on YouTube. Similarly, REI does a good job connecting expert advice to interesting customer stories.
Use consistent characters or themes
Having recurring characters and gags are tried-and-true methods of making content more consistent. For example, Pepsi does a good job with racing champion Jeff Gordon taking unsuspecting car salespeople on wild test drives, and with professional basketball player Kyrie Irving posing as an elderly figure named Uncle Drew schooling other players in real life.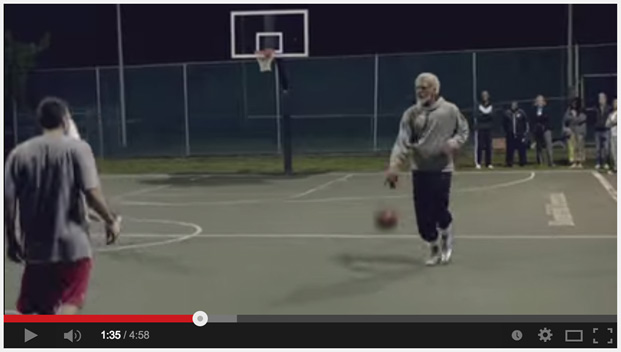 While these videos are extremely potent in terms of virality, the most important point is that the audience naturally becomes more familiar with the characters. This can present a challenge because the characters are, and should remain, just concrete examples of a larger running theme. Brands must strike the right chord when working with these characters, who are usually celebrities.
Visualize for a minute those novelty sets where a person can poke their head through a hole and become the head of a cartoon body and have their picture taken. Basically, this is the same concept. Brands need to plug celebrities into their sets and become the frame around them.
Unfortunately, most brands do the opposite. They attempt to plug themselves into the frame of the celebrity. It just doesn't work.
Moz does a particularly good job aligning their celebrities (or thought leaders) with the company. Most of their popular videos feature a team member in front of a whiteboard explaining something about internet marketing.
Example 1: Free People
Free People is an online swimwear and surf gear retailer. One of its most successful formats on YouTube is the music video themed around "movement." These videos feature characters that dance to ballet, catch waves, or practice yoga.
They also feature a regular series titled "Love Stories." Free People has gained over 50,0000 subscribers and earned over 14 million views on YouTube.
Example 2: Nasty Gal
A natural theme to consider is a look behind the scenes. It's been used — usually with pretty decent levels of success — for decades. E-commerce fashion retailer Nasty Gal uses behind-the-scenes videos effectively, in part because founder Sophia Amoruso built a multi-million dollar business that started as an eBay store.
These videos give viewers an opportunity to see how the Nasty Gal team functions and a chance to watch photo shoots and some of the daily operations and activities. Nasty Gal now has over 11,500 subscribers and just over 1.8 million YouTube views in total.
Other best-in-class examples:
Coca-Cola has a larger running theme of happiness. Their videos involve their product connecting people from two nations that never got along or kids having fun. Their greater challenge is capturing happiness, but I think they've met the challenge well. Even their Tumblr property is very happiness-centric. As another example: TOMS explains their One for One principle well on their YouTube channel.
Develop a publishing cadence: Leverage economies of scale
As you may have gathered, quantity is important when it comes to building a channel and an audience on YouTube. When you're starting off, you most likely have a shoestring budget for testing these ideas and strategies for your brand. That's totally understandable. Because quantity and cadence are crucial (as is consistent frequency), your strategy should be to compress as many video shoots into as few separate meetings as possible. Compress more shoots into fewer trips in order to reduce fixed costs like setup, travel, hiring, and the like.
Even for low production quality and cost, the videos can be costly. You'll need to hire a videographer or a video team, a celebrity or a micro-celebrity, stylists, and other staff. Don't pay $10,000 for a one-minute video. By paying another 10–20%, you can get more than triple the output.
If you're new to YouTube, you can shoot four short videos every day for three days, which means you will have twelve videos. This is enough to last you once a week for three months, or once a month for a year. I wouldn't recommend aiming for much more frequency than that until you have a larger budget.
Do something big enough that you believe should work, but small enough that you can try again if it doesn't. For example, hire a local celebrity instead of bringing one in from out of town. Almost every city in the U.S. has a cool spot. Many video shoots are indoors, so your challenge would be to find a venue and light it up appropriately.
Example: Vocus (now Cision)
Marketing software company Cision regularly hosts conferences and live events. As a byproduct, they've invited industry luminaries such as The Huffington Post co-founder Arianna Huffington and bestselling author Seth Godin to speak.
While most companies would draw the line there, Cision films these speeches and uploads them to YouTube. Since the event is happening anyway, they just capture the dozen or so speeches throughout the conference and upload them onto YouTube as independent clips.
Similarly, B2B and SaaS companies should shoot videos with thought leaders at conferences. If necessary, negotiate publishing costs as part of the payment package. Cision Global now has over 1,000 subscribers and over 564,000 views.
Other best-in-class examples:
Salesforce does this well by filming at their flagship event, Salesforce1.
Spike interest
When you're building an audience, you have to be interesting. Some of the best channels and themes that do well on YouTube involve entertainment, sexiness, celebrity, or how-to videos. Combine more than one of these to make them more powerful. For example, BodyRock is a combination of how-to and sexiness. Blendtec started off purely with entertainment but started involving celebrities.
Example 1: NET-A-PORTER
Luxury designer fashion e-commerce retailer NET-A-PORTER has videos featuring celebrities in the fashion world, such as Christian Louboutin, Kate Moss, and Miranda Kerr. It combines these celebrities with education or how-to elements, such as Miranda Kerr sharing the recipe for her morning smoothies.
They've used it to great success; the channel has over 258,000 subscribers and over 62 million views.
Example 2: Etsy
Online craft marketplace Etsy faces a media landscape saturated with competitive brands publishing many more high-budget promotional videos. Nonetheless, they've found an interesting gifting angle with how-to videos. For example, here's a tutorial that shows the viewer how to create a box out of scrap paper. Etsy has gained over 60,000 subscribers and 43,00,000 views.
Other best-in-class examples:
When you're figuring out the angle for entertainment value, have a look at videos being done in the industry and what's working (in terms of subscribers and page views). For example, Shopify mixes education with various micro-celebrities (such as bestselling author Tim Ferriss and photographer Chase Jarvis). HootSuite newsjacked a season of Game of Thrones (with much success).
Think within the limitations of what other brands have done successfully. For example, I was doing research on a product for young women. I had little idea of what's relevant to teenage girls.
So I talked to my younger cousin, who's fifteen, and I watched some videos on YouTube. I ended up on instructional dance videos. Immediately, I knew that was an interesting angle for the brand.
That sounds a bit formulaic, but I didn't want to run far left because I didn't know enough about the culture. In the future, if the instructional dance stuff works, then I'll look into crossing different categories — for example, taking a hip hop dancer into classical music or jazz.
As you can see, this is a combination of celebrity, education, and how-to. To hit the ground running, I can start by looking at the people who do those instructional dance videos — the micro-celebrities — and ask them if they are interested in working with this brand, which is consistent with their current demographic of young women.
Use micro-celebrities for entertainment and distribution
Micro-celebrities are people who haven't been on television but typically have a pretty significant Twitter, Instagram, or YouTube following, which means you'll have platforms for distributing your content as soon as it's out. At the same time, they're not Britney Spears, so it's not a million dollars to do a photo shoot.
A funny scenario: conducting a Q&A in the shower
Because micro-celebrities often aren't actors, I don't recommend you try to get them to act.
Instead, just set up scenarios that you — as a viewer — might find entertaining, but where the micro-celebrity can still be himself or herself and naturally be interesting. That also saves you from having to hire a scriptwriter or an editor.
When I was working with Ecko MMA, I put MMA fighter Brendan Schaub in a video where his phone got blended by the Blendtec guy (two micro-celebrities). Fighting's not too difficult, so let's try something more B2B:
If I were working for a CRM company (like Salesforce.com), I would use the communications platform as a medium for funny things that happen. While this opens up the possibility for a ton of gags, I would personally employ the celebrity or micro-celebrity approach.
Since Salesforce.com is about being organized and managing communications between salespeople and contacts, I would share a narrative where a company decides to hire a celebrity to call their customers. For example, imagine if Salesforce.com hired Michael Jordan to call their customers, but the customers didn't believe it was Michael Jordan, and we captured their reactions on camera.
Now substitute a micro-celebrity for Michael Jordan. It's not difficult to work backward here. Find a customer that's fun and that you're friendly with, and look over their social media to figure out what sports or TV shows they like. Find out if they follow any micro-celebrities — individuals with anywhere from 250,000 to 1,000,000+ followers on Instagram or Twitter.
When you're looking for your micro-celebrity, keep in mind the size of the industry. I would happily take 10,000 followers with deep engagement over 1,000,000 followers with light engagement any day. (Look at retweets, likes, or comments as proxies.) Do they write their own social media posts, or do they hire an "intern" to write them? Do they react to their audience and talk or reply to them? Avoid micro-celebrities with negative associations. When in doubt, prioritize quality over quantity in this case.
One more note: when you're working with micro-celebrities, work only with the people you get along with. I get that this may sound a bit idealistic or bizarre, but keep in mind that you could be seeing a lot of these people. You'll have to travel with them, eat dinner with them, and hang out with them. You have to have personal chemistry with them because it will also translate into the quality and atmosphere of the video. It's not petty or personal; it's good business.
For example, earlier in my career, I thought I was helpful by keeping my mouth shut and playing a passive role in generating video and social content. But I happened to have an idea where a boxer would fight a wrestler and win by pinning him. So when the professional crew took a break, I took a $150 camera and shot a quick clip with these fighters.
While the quality of production was much lower than the other videos, my video did better nearly eightfold. Focus on the quality of content, and people will come running. That's true even if it's a commercial. Warby Parker's on-TV commercials have been among their most popular videos.
Example 1: Rapha
Performance road-wear e-commerce retailer Rapha films their videos with a crew of cyclists known as Team Sky.
Through the behind-the-scenes activities of these micro-celebrities, Rapha shows the viewer what really goes on in the world of cycling and performance on roads. (Here's a fascinating video on biker physiology.) Rapha has gained over 55,000 subscribers and over 14.5 million views.
Example 2: Oracle
Larry Ellison, the co-founder of Oracle, is also one of the wealthiest people in the world. He makes a great micro-celebrity for his company, Oracle, and they use that to their advantage. Some of their most popular videos feature Ellison and have been viewed millions of times.
Your company may not be led by Larry Ellison, but still, you can allocate some resources to building the leader's reputation and developing a sustainable micro-celebrity. Your leader will be less likely to leave the company in the long run, and the thought leadership will pay off for your organization. Oracle has over 67,000 subscribers and just over 17.7 million views.
Closing thoughts
The Super Bowl is the event where viewers don't mind commercials. Heck, they actually enjoy them. Brands know they have to invest in them. When you think about it, many viewers subscribe to channels that are, in essence, commercials. If you choose to put effort and creativity into your work, it's possible to get people to happily watch the commercial for your product.
Remember that introduction video for Dollar Shave Club? It was a complete plug for the product, but it was extremely entertaining.
Don't chase page views, and build your audience (slowly and steadily, if you have to). Educate your viewer, create consistent characters and themes, ensure you're building the right cadence by leveraging economies of scale during production, and spike interest using genres and micro-celebrities. Best of luck, and have fun!
About the Author: Eric Samson is the founder of Group8A. Group8A is a Boutique Consulting firm focused on developing and executing integrated marketing and digital solutions for companies of all sizes.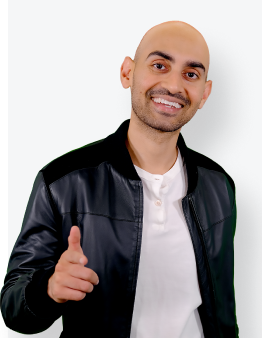 See How My Agency Can Drive More Traffic to Your Website
SEO - unlock more SEO traffic. See real results.
Content Marketing - our team creates epic content that will get shared, get links, and attract traffic.
Paid Media - effective paid strategies with clear ROI.
Are You Using Google Ads? Try Our FREE Ads Grader!
Stop wasting money and unlock the hidden potential of your advertising.
Discover the power of intentional advertising.
Reach your ideal target audience.
Maximize ad spend efficiency.