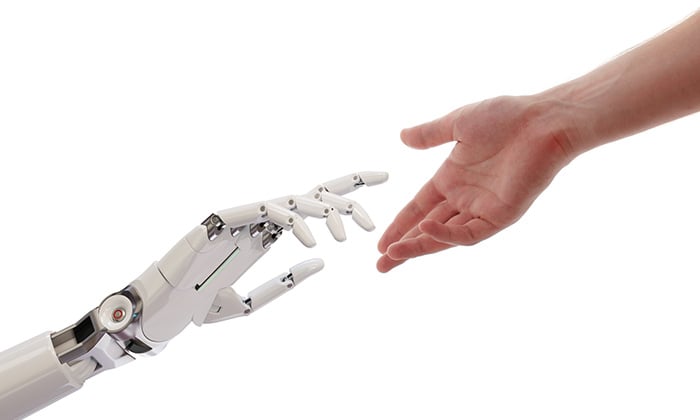 For years, humans feared the robot uprising.
Movies like "I, Robot" with Will Smith made us tremble at the thought of creating AI that was too smart for its britches.
As the story goes, the robots will become smarter, faster, and stronger than us. And will eventually rule the world.
The story is a little horrifying.
But it's not entirely out of the question.
The fact is, we are in the midst of a bit of a robot uprising right now, and it's only gaining momentum.
Already, there are 30,000 bots living on Facebook Messenger and Kik.
But they're not just on our social media channels. They're in our homes.
With new AI technology like Siri from Apple and Alexa from Amazon, robots are reaching into our pockets and listening to our voices.
And it gets worse. Not only are bots multiplying like crazy, but people also don't seem to mind.
Most modern-day consumers are not afraid to make purchases through messaging apps.
I know. So far, it's not pretty for the average worker.
What's the good news in all of this?
Those intruders could save businesses a lot of money.
Chatbots make up the largest portion of artificial intelligence and they, alone, could save insurance, financial services, sales, and customer service departments $174 billion.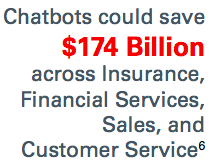 That's no small chunk of change.
OK, so maybe the robot uprising isn't so bad.
In fact, you can create your own minion without much hassle. Just go to Letsclap, a chatbot platform, to do just that.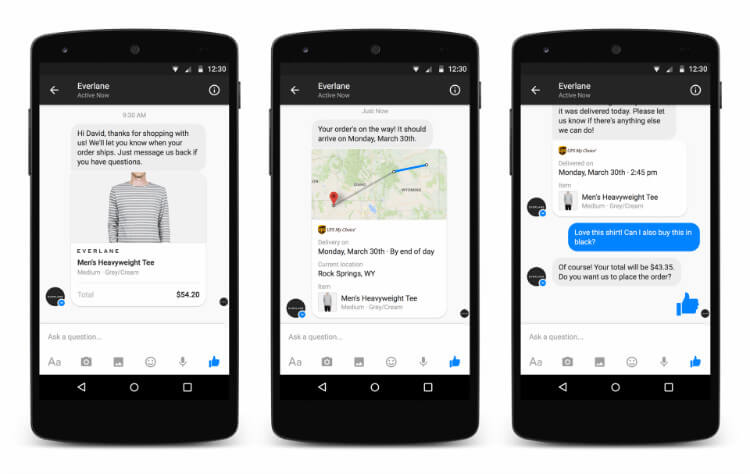 Still not ready?
Stick around to learn how artificial intelligence is going to rule lead generation come 2018. I'll give you 10 ways.
1. Lead generation
Obviously, I wanted to start this article with the most compelling point.
We're talking about why and how AI is going to rule lead generation in 2018, so let's cut right to the chase.
AI actually generates more leads than our current marketing methods.
I know. That's a hard pill to swallow.
Marketing Profs reports that businesses that implement AI see 59% better close rates for sales, 58% increased revenue, 54% more traffic and engagement, and 52% higher conversion.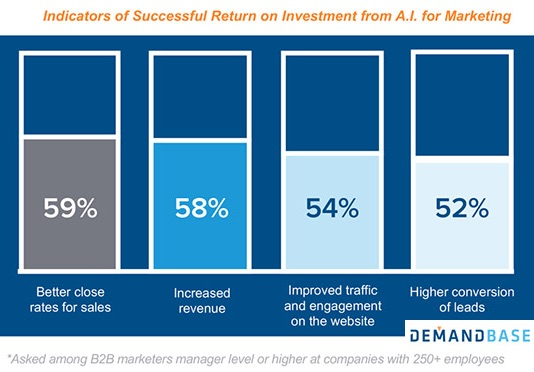 If that's not enough reason to let robots take over the world, I don't know what is.
On practically every front, AI wins against human marketing. AI is more effective, less expensive, and less time-consuming.
Of course, you could argue that humans can still deliver a level of personalization that robots can't, and you'd be right.
There will always be a place for the human salesperson, marketer, and support representative.
But regardless of human ingenuity, you've still got to admit: robots are learning fast.
80% of companies believe that AI will change the marketing industry in the years to come.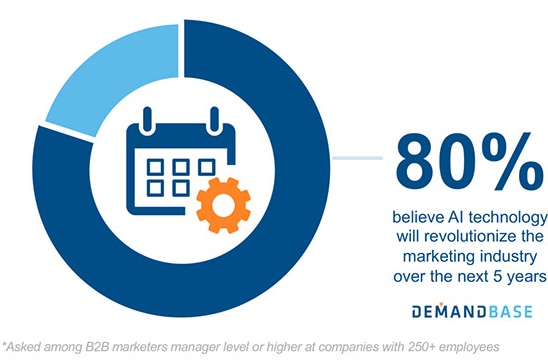 If there's a single reason that AI is going to rule lead generation in 2018, it's that it provides more bang for your buck than the average human.
2. Lead nurturing
Most people don't just visit your website and then buy.
Marketers know that the average prospect will visit your website and see your product multiple times before ever purchasing.
And that is the very reason why lead nurturing is so important.
Lead nurturing is contacting leads with additional information, offers, and follow-up sequences.
The hope is that, in time, the prospect will turn from a lead into a customer.
Before AI, lead nurturing was accomplished through preset email messages, email segmentation, and even manual prospect messaging.
And because of that personal touch, it's tempting to assume that lead nurturing is better left to the humans.
But further analysis would prove otherwise.
59% of Americans are willing to receive coupons or special offers through a chatbot.

Much of lead nurturing includes sending the right offer at the right moment.
Since people are increasingly comfortable with receiving offers from chatbots, using them won't make your business suffer.
In fact, it'll probably do just the opposite.
When it comes to customer retention, which is basically nurturing customers instead of leads, chatbots won when pitted against apps.
The average retention with the bots after just one month of use was 40-60%. The apps? 20-40%.

Because chatbots respond quickly and never forget to send a message, they are the perfect candidate for retaining customers and nurturing leads.
Not to mention all the time it will save you sending email after email.
3. Prospect data
In the world of marketing, data is as valuable as gold.
Think about when you come across a test revealing that the color of a button can increase conversion.
Wasn't that exciting?
I'll bet you immediately changed the color of all the CTA buttons on your website.
Without meaningful data, digital marketers are dead in the water. We need validated tests that show us right from wrong.
One of the best ways to run tests on your prospects and customers is through A/B testing.
And A/B testing is becoming even more possible with the rise of artificial intelligence and chatbots.
Botanalytics specializes in providing the meaningful chatbot data every marketer craves.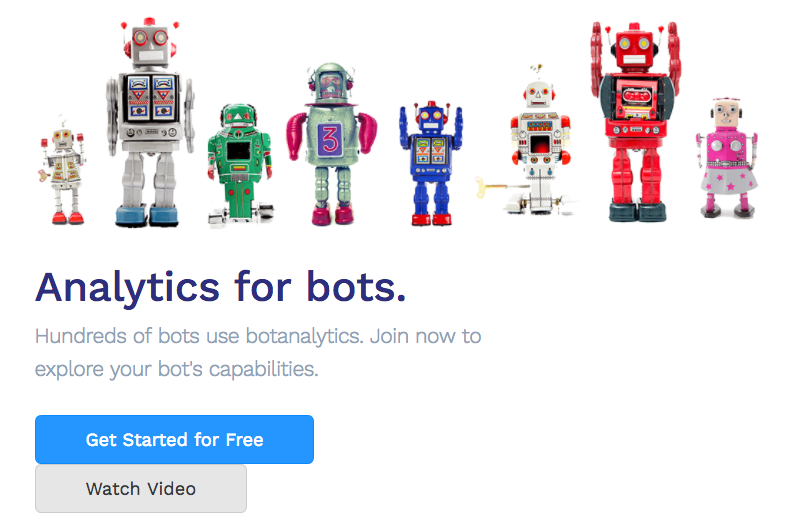 Since chatbots are a new industry, they are highly experimental.
There is a lot of unknown and untapped opportunity surrounding them, so testing is more important than ever.
But there's another thing that chatbots allow you to do.
Bots can have a tremendous amount of conversations in a short period of time, and each conversation is a piece of data.
Consider the shopping bot, Celebstyle, as an example. It allows you to steal your favorite celebrity's style. So you pick a celebrity.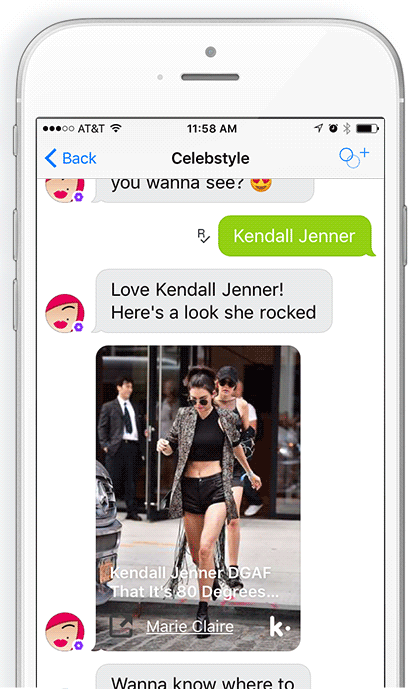 Then it offers suggestions so you can buy clothes based on that celebrity's outfit.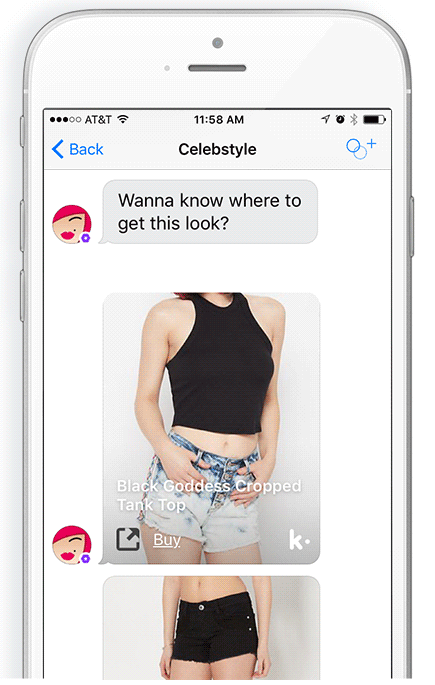 Every single customer that chooses a celebrity and buys a piece of clothing represents a piece of data.
Instead of letting all that gold go to waste, bots will be able to provide you more data than you ever thought possible by funneling noteworthy stats into a spreadsheet or analytics tool.
And data generation on the backs of bots is only going to grow in the years to come.
4. Brand engagement
Would people rather respond to an email or a chatbot?
The answer might surprise you.
Even if an email is sent from a human, because of impersonal email-marketing campaigns, sometimes the robot feels more approachable than the person behind the email.
You see, email has been utilized for years, and it's only getting more crowded.
Every marketer has an email list, and the inboxes of innocents everywhere get bombarded by special offers.
But chatbots are largely untapped.
They are a new marketing arena.
Where consumers have become numb to email marketing tactics, they are still interested in messages sent from chatbots.
But you don't have to take my word for it.
In one case study, a business built a bot that received an amazing amount of engagement.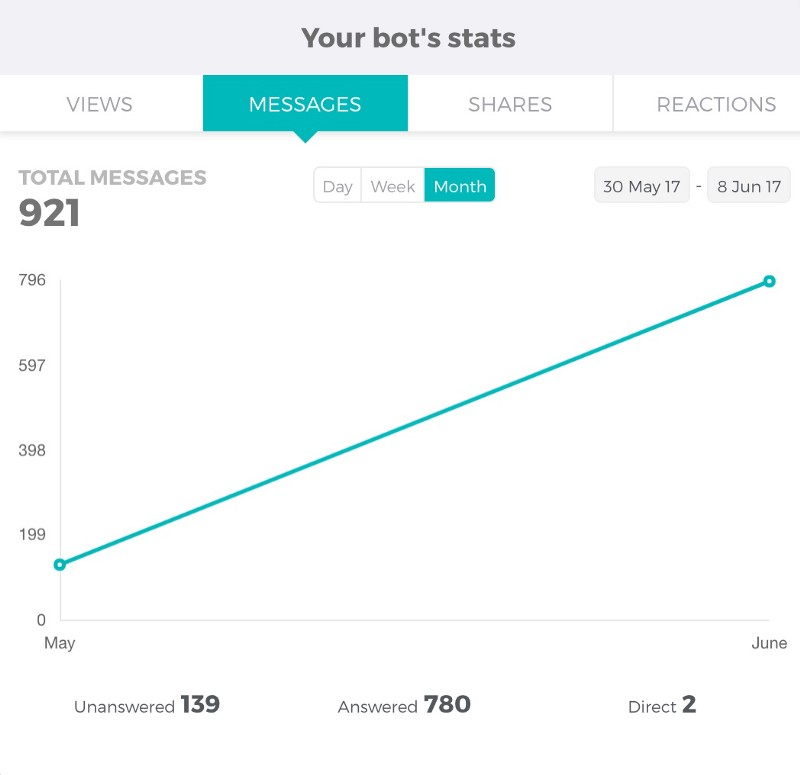 They received 780 replies, and people spent an average of 4.5 minutes engaging with the bot.

But customers and chatbots are also engaging in ways we've never seen before.
Take shopping bot, Madi, for example.
After users take a picture of their face and hair, Madi gives personalized hair color recommendations based upon current hair color, face structure, and a host of other factors.
Between creativity and the temporary fascination that chatbots create, brand engagement is ripe for the taking in the world of artificial intelligence.
5. Meaningful conversations
Can a bot have a meaningful conversation with a person?
The answer to that question depends on what I mean by "meaningful conversation."
If I'm asking whether or not a bot can sympathize with a person's experience, the answer is no.
But can they do so artificially?
Perhaps.
What's more important for our purposes, though, is asking whether or not a bot can create a meaningful purchasing experience with a human.
And to that question, the answer is an emphatic, "yes."
Bots can help by offering useful product recommendations, but they can also leverage emotional experiences.
Like with the experience of planning a wedding.
BlingChat's bot for Facebook Messenger, with optional responses of "I do" or "I don't," allows users to choose dresses, rings, and shoes for their perfect dream day.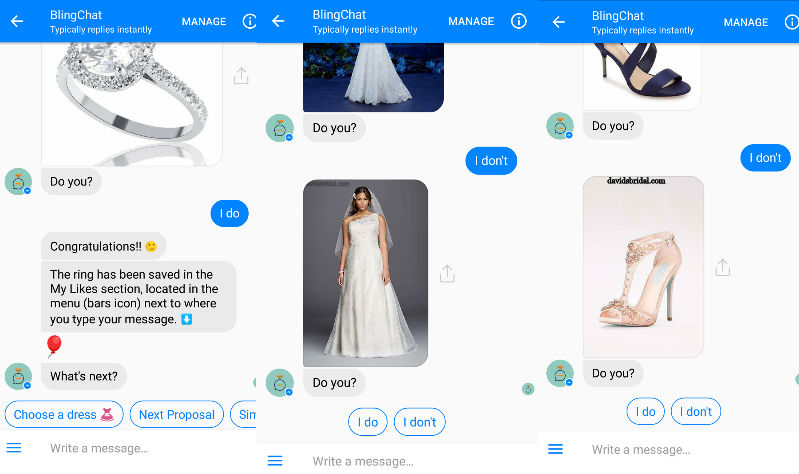 These bots are only able to do what their designers have programmed them to do, but that doesn't totally mitigate the experience that humans have when engaging with them.
One could ask whether or not bots will become more personal in the years to come.
And that's a question for the future.
But the answer seems to lean toward an increasing number of meaningful conversations.
6. Customer support
For years, customer support has been a challenge for businesses.
Because customers often require help, having a call center or chat center to answer inquiries is a must. Sadly, it's also a drag on business.
And it makes customer support a hefty part of any business's budget.
But with bots, that might change.
In the healthcare and banking industries, with a bot answering questions instead of a person, an average of 4 minutes is saved per inquiry.
The reason is simple. When a robot is answering questions, that frees up money and time for people to do what only people can.
Additionally, more than 50% of customers expect businesses and their support center to be open around the clock.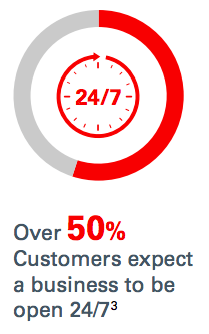 Doing so is a whole lot easier when robots are the ones staying up and working all night — seeing as they don't get tired.
Finally, and in favor of chatbots, 71% of consumers want to be able to solve problems on their own.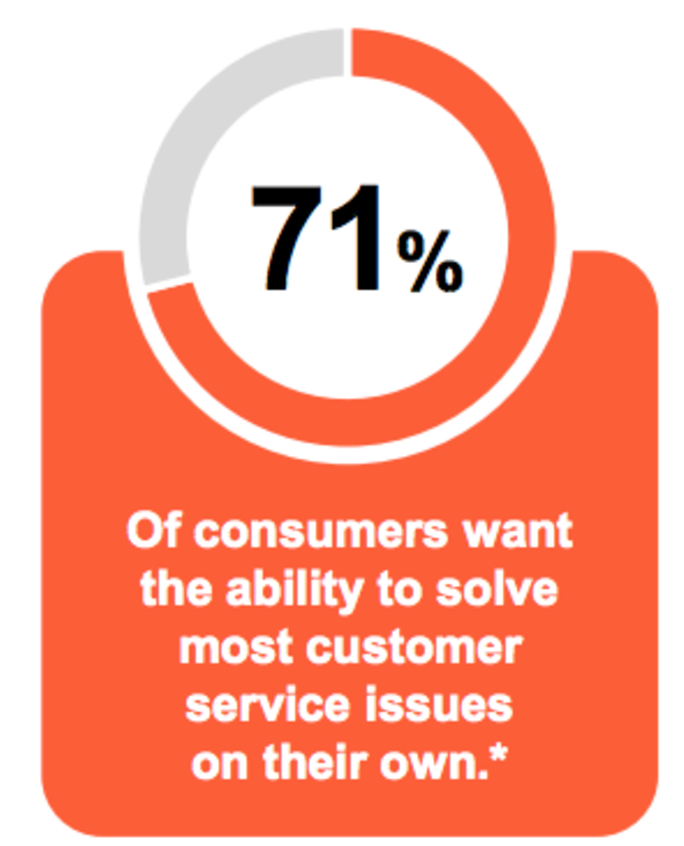 Some consumers actually prefer chat to talking on the phone.
Fortunately, chat is the best medium for bots to communicate, since that robotic voice lacking personality doesn't come across.
Bots save money and time, and will likely be a big part of customer support in the years to come.
7. Affordable costs
At the heart of lead generation is the desire to gain leads without paying much.
So far, that has been difficult.
Social media ads and paid search quickly create a hefty sum of advertising spend.
Of course, AI can be expensive as well. Because the more depth your bot has, the higher the cost of it will be.
But when you compare chatbots against traditional lead-generation methods, 58% of businesses claim that AI reduces costs.

And bots aren't just saving money in regards to lead generation. They're saving money for companies across the board.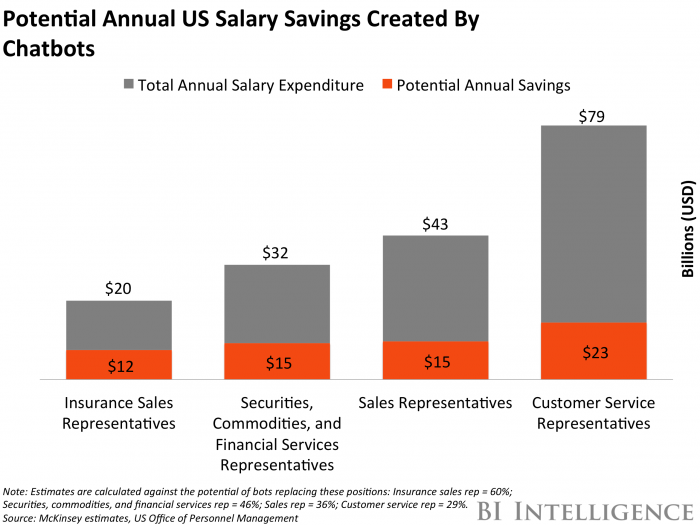 While bots ruling the world is scary to some, our pocketbooks can certainly benefit from the takeover.
In the end, AI might be a go-to for businesses simply to save money.
And any smart businessperson knows that saving money is half the battle to growing a profitable business.
8. Streamlined segmentation
Imagine if bots were able to learn about each person and then send them messages that catered to the customer's specific location on their buying journey.
Basically, that's exactly what happens with email segmentation.
Low-commitment prospects are sent low-friction emails, so you don't lose them, and high-commitment customers are upsold on the latest product.
MailChimp sees a more than 14% higher open rate and a 100% higher click-through rate with segmented campaigns.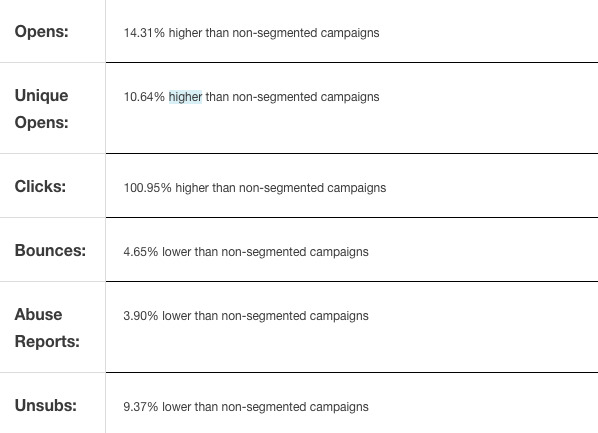 And surely, this will spread into the world of artificial intelligence as well.
In time, it will be easier for bots to learn about customers and then send them the appropriate message.
Meaning that this whole segmentation business is close to becoming fully automated.
H&M's bot, for example, already does this on a small scale.
By asking users which outfit is their favorite, the bot automatically creates a user profile for each person, becoming increasingly better at showing outfits that appeal to the customer.
The robots are already learning, and chances are high that this trend will only increase as more time passes.
9. Faster and better salesmanship
Is a bot a better salesperson than a human?
They just might be.
At first, you might think that such a claim would be impossible. After all, humans are far better at reading other humans and acting appropriately.
But then again, bots aren't too bad at that either.
And besides, the hardest part of salesmanship is simply responding in a timely fashion and being available when the prospect needs you.
As a human, doing that is a game of chance. If and when you're busy will largely determine when you're available.
The same is not true of bots.
Consider the Shopify bot that is always available for customers to talk to.
So just how much better and faster is a bot than a person?
The average company takes 10 hours to respond to a prospect's message.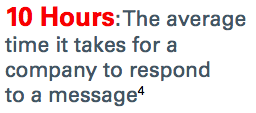 Conversely, a bot is always available and friendly.
They don't get moody or cranky after a long day.
Consider this conversation with a shopping bot named Magic.
Immediately, the customer gets what they request when they're ready to receive it.
Beating that level of salesmanship is no easy task, even for the expert salesperson.
10. Easier comparison shopping
Consumers love to find a good deal.
And a big part of finding a good deal is comparing prices of the same and different products.
But in the past, doing so has been a matter of opening several tabs on your computer or phone or calling different SaaS companies.
Now, that level of research is unnecessary. Bots can do all of the work for you, allowing customers to comparison shop like the money-savers they all want to be.
5Gifts4Her is a shopping bot that allows users to shop for gifts by easily comparing different products and different prices.

Similarly, with the shopping bot Needed, users start by selecting from a list of items that they'd like to buy.
Once the list is created, the bot does the rest of the work, finding the best deals for every item that the user is seeking.
It even compares local prices based on the user's location, further personalizing the experience.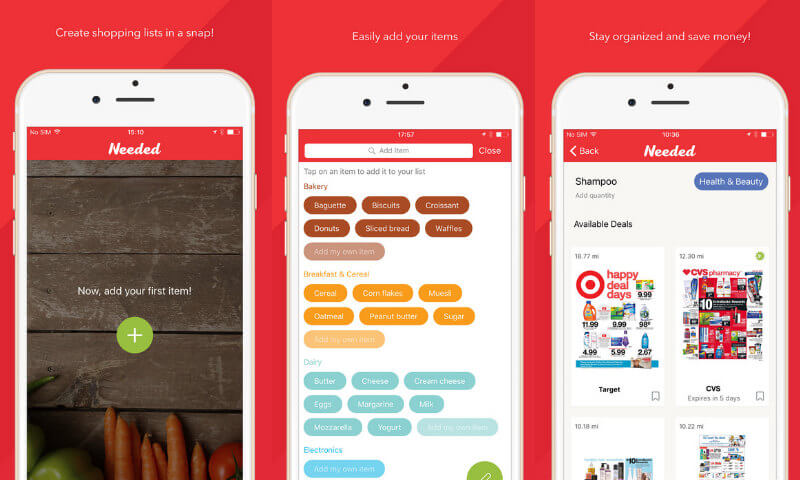 With AI, comparison shopping has never been easier.
And as the bots get smarter over the coming years, the deals will likely get even better.
Conclusion
As it turns out, you and I don't need to fear the robot uprising.
In fact, we should relish in it.
With the increasing abilities and commoditization of AI, services such as customer support, list segmentation, and prospect data are cheaper, faster, and more readily available.
And that's a good thing.
It means that more entrepreneurs and solopreneurs can utilize the benefits of AI and build successful businesses with less risk to their wallets.
But the benefit isn't just for small companies.
It's also for large corporations, where the savings are exponentially greater.
In 2018, lead generation will be ruled by AI because the bots have officially become smarter, faster, and better than us. But don't be afraid.
Robots might rule the world.
But we rule the robots.
How do you think bots are going to rule lead generation in the years to come?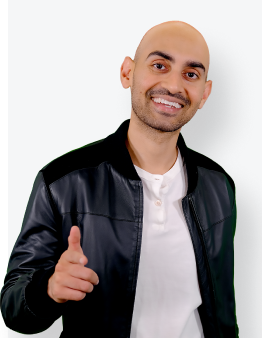 See How My Agency Can Drive More Traffic to Your Website
SEO - unlock more SEO traffic. See real results.
Content Marketing - our team creates epic content that will get shared, get links, and attract traffic.
Paid Media - effective paid strategies with clear ROI.