If you are just getting started with paid search marketing, there is one great strategy you can use to get insight into keywords, ad copy, and even which AdWords extensions to use – competitor research.
Chances are your competitors have been paying for ads a while, which means they have been learning what works and what doesn't. So, instead of reinventing the wheel, you can learn from their successes and failures to get more out of your own campaigns right away.
When researching your competitors' paid search marketing strategy, you can use free Google search or you can pay to use other search tools. In this post, we're going to cover both methods and what you can learn from each.
Competitor Research via Google
The easiest way to find out who your competitors are in the search marketing landscape is to do a Google search for the keywords you are considering targeting. This will allow you to do all three of the following:
1. Determine if the keywords you have in mind have commercial intent.
People use keywords for two reasons. Either they are searching for products or services to buy (commercial intent) or they are searching to learn about a particular topic (informational intent). For example, people who search for web analytics may be looking for information about website analytics, whereas people who search for web analytics software may be researching a future purchase.
As you can see, web analytics software has a lot of competition in paid search, making it a great keyword to target if your business sells it.
2. Get some alternative keyword ideas.
When you scroll to the bottom of the search results page, you will find up to eight additional keyword phrases you can target.
Again, you'll want to check each of them for commercial intent. They can help you find more specialized keywords to target, which would lower the number of competitors but increase the likelihood that people who click on your ad would convert.
3. View ad formats, copy, and landing pages your competitors are using.
Do the ads have social following numbers? Do the ads have links to internal pages on their website?
What text do the ads use? What landing page do the ads go to? Do the ads include additional contact information?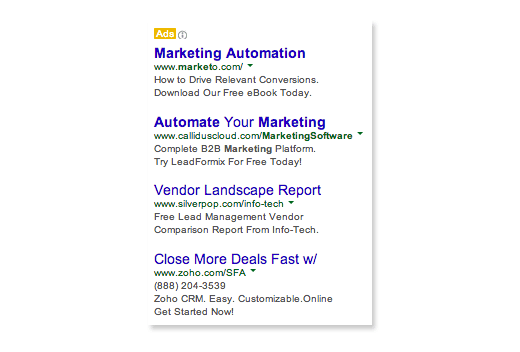 All of these questions can be quickly answered by analyzing the ads your competitors are using in Google search results. Things like phone numbers, internal page links, and other elements beyond the title, description, and link can alert you to your competitors' usage of various Google Ad features, like call extensions, site links, social annotations, ratings, and more.
The text your competitors use in their ad copy can be particularly crucial. Some competitors may quote their starting prices to show affordability, or offer free quotes and information to capture leads, or note the year they began the business to show experience. These may be items you want to include in your ad to draw attention and clicks to your website.
Ad copy and format are not all there is to paid search marketing. Landing pages are essential when it comes to converting your clicks into customers. You may want to visit your competitors' landing pages to see the copy they use to describe their products or services, the special offers they give paid search visitors, and the ways they allow people to contact them. Something as simple as adding a phone number to your landing page could make the difference between whether a person who clicks becomes a customer of yours or a customer of one of your competitors.
Competitor Research via Other Tools
Now that you know how to research your competitors using Google, let's look at some of the top paid search marketing tools that can help you dive even deeper into your competitors' strategies.
KeywordCompetitor
KeywordCompetitor gets your competitors' paid keywords, ads, and landing pages. It also updates you daily on any changes to ads, keyword positions, and landing pages so you know if competitors are gaining on you. Pricing for this tool starts at $29 per month. You will need to sign up for a free trial to sample data provided by this tool.
Best Use of KeywordCompetitor: Search and find your competitors' paid and organic keywords. When competitors begin to get the upper hand, you get notified instantly. Take the 30 day free trial and see how it works.
iSpionage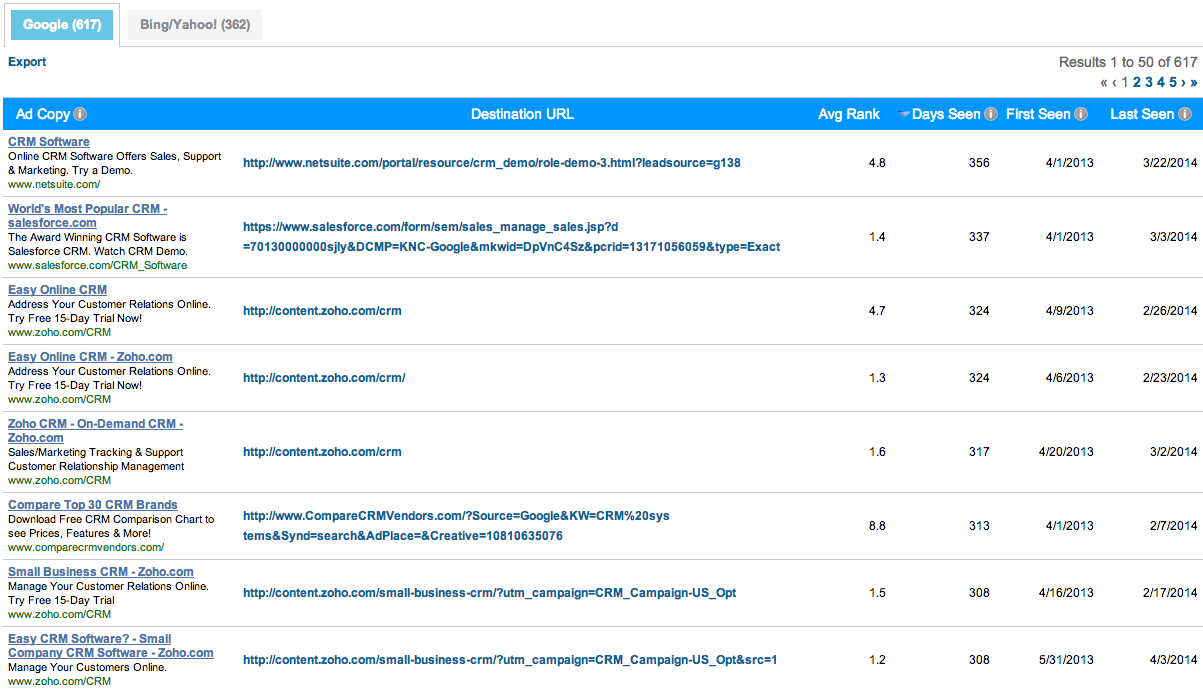 iSpionage allows you to gain insight into competitors' effective keywords, ad copy, and ad budget. Pricing for this tool starts at $59 per month. You can run a few sample queries to see limited data provided by this tool.
Best Use of iSpionage: This tool is fantastic. The ability to go in and find out exactly what your competition is up to gives you an almost unfair advantage. Whether you're an agency or running your PPC/organic campaign at home on a small budget, iSpionage will give your business the tools to enhance your ROI.
SEMrush
SEMrush allows you to quickly find your advertising competitors based on the keywords you plan to target. Then you can click on your competitors to see what other keywords they target their ads toward and the ad copy they use. Pricing for this tool starts at $99.95 per month. You can run a few sample queries to see limited data provided by this tool.
Best Use of SEMrush: Quickly see who the top organic and paid competitors are for a particular keyword in Google or Bing. Also, see your competitors' ad copy. The software is easy to examine and easy to compare.
SpyFu
SpyFu allows you to see every place your competitor has shown up on Google, including all of the keywords they have bought and the ad variations they have used. Pricing for this tool starts at $39 per month. You can run a few sample queries to see limited data provided by this tool.
Best Use of SpyFu: See the most profitable keywords of competitors based on their last several years of advertising history.
KeywordSpy
KeywordSpy allows you to uncover the competitive landscape by showing your competitors' PPC campaign strategies and pinpointing the most profitable keyword and ad copy combinations they use. Pricing for this tool starts at $89.95 per month. You can run a few sample queries to see limited data provided by this tool.
Best Use of KeywordSpy: Use the ROI indicator to quickly see value of keywords.
Adbeat
Adbeat allows you to uncover any advertiser's online strategy and see what works for them, spy on ad copy split testing, and find all unique creatives used by an advertiser. Pricing for this tool starts at $249 per month.
Best Use of Adbeat: Browse top ads and ads by format (text, flash, video, etc.). Great to help you become a leader in content network advertising channels.
WhatRunsWhere
WhatRunsWhere allows you to see your competitors' advertising strategies in Google AdWords and beyond, including text, display, banner, and mobile by tracking over 150,000 unique publishers. Pricing for this tool starts at $299 per month.
On a side note, if you are considering display/banner advertising and need some inspiration on designing creatives, try Moat Ad Search for free. You can quickly see lots of banner ads used by top brands – brands that know how to split test for conversions, evidenced by the number of variations you will find. You can hover over each creative to see what website it was last displayed on as well.
Best Use of WhatRunsWhere: See your competitors' "entire" paid advertising strategy to see where you can go in addition to, or after, Google AdWords. A tool highly recommended for developing a strategy that helps combat big market player dominance.
The Search Monitor
The Search Monitor is a precision ad intelligence tool for enterprise-level ad monitoring that allows you to have full visibility into the paid search activity of competitors, affiliates, and industry leaders across 1,200 verticals. Pricing for this tool starts at $599 per month.
Best Use of Search Monitor: This is a fantastic tool for search and affiliate marketing. Get insights from comScore about advertising in your industry as a whole.
AdGooroo
AdGooroo offers several products and services that allow you to access knowledge about your competitors' PPC strategies including keywords, ad copy, landing pages, spend, impressions, and much more. Pricing for these tools is unlisted on the website.
Best Use of AdGooroo: Get in-depth analysis of your ad copy and landing pages along with that of your competitors. Assess your competitors' PPC strategies on both desktop and mobile.
Bonus: Social Media Advertising
What about advertising on Facebook, Twitter, and LinkedIn? When it comes to social media advertising, competitor research is a little trickier due to the lack of tools and highly personalized targeting capabilities social networks have to offer. If you do want to research your competitors' social media marketing strategy, here are some tips.
Create social media profiles that match the people you will be targeting with your social media advertising. On Facebook, you will need to get granular about your target audience's likes, demographics, family status, and similar details. On LinkedIn, you might need to create a company that matches the B2B customers you are targeting with your ad.
Follow/like your competitors' pages with your example ad audience profile.
On Twitter, perform keyword searches that match the keywords you will be targeting with your ad.
On Facebook, visit "Info and Ads" on a competitor's page to see the ads they're showing in your region and around the world.
While it's tougher to analyze your competition for social advertising, it's not impossible, and it can help you have an even more profitable campaign.
In Conclusion
If you want a quick glance at your competitors' search marketing strategy today, then free Google search is the easiest answer. If you want an in-depth look into keyword performance, ad copy, and profit analysis, then you'll want to try to pay and dive into one of the above-mentioned tools. Either way, you now have the knowledge and tools necessary to learn from your competitors and out-advertise them in search!
About the Author: Gary Victory is a Business Analyst at Elite Group Marketing, located in the heart of London. He delivers digital marketing solutions to an extensive portfolio of private, public, and multinational companies, both locally and internationally.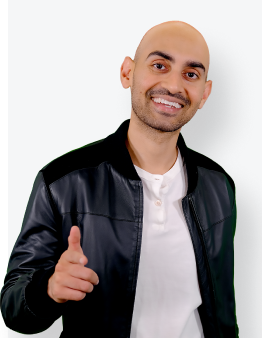 See How My Agency Can Drive More Traffic to Your Website
SEO - unlock more SEO traffic. See real results.
Content Marketing - our team creates epic content that will get shared, get links, and attract traffic.
Paid Media - effective paid strategies with clear ROI.