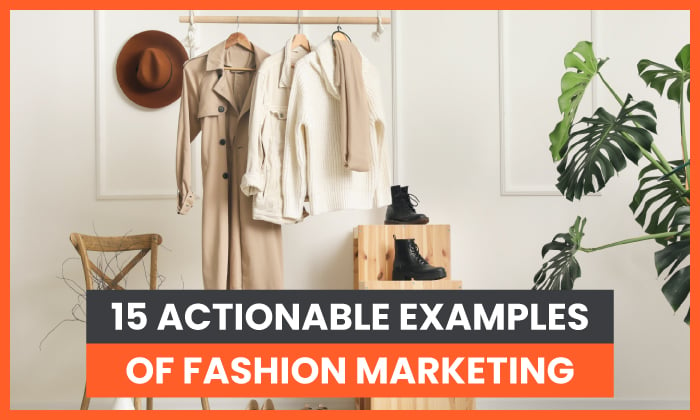 From high fashion to a terrible sense of fashion, wherever we fall on the spectrum, fashion marketing comes our way online, on television, catalogs, billboards, window shopping, and more. We are bombarded with messages of what we should be wearing, and why.
If you're on the marketing or sales side of fashion, how do you leverage your message to reach the right buying audience? In this guide, let's learn what fashion marketing truly is and how to form your own strategy if you work in the fashion field.
What Is Fashion Marketing?
Because we interact so often with fashion marketing from a consumer perspective, we may think we have a clear picture of what all goes into it. We may have some idea of what fashion marketing is, but maybe we don't understand all the logistics behind it.
Fashion marketing is about advertising and promoting fashion to the right market in various ways, from print to online, in-person to digital. Remember that it's more than clothes; it's also accessories, including hats, shoes, jewelry, and outerwear, that help people connect with and showcase a certain style.
What Sets Fashion Marketing Apart From Marketing in Other Industries?
While any industry can leverage the wide world of marketing opportunities, fashion marketing has its own unique practical implications that may impact certain marketing choices.
Just like any kind of marketing, fashion marketing has to start from a pain point, and there's often kind of an obvious pain point, as well as the deeper whys.
For instance, there's hunger with food marketing, of course, but there's also why you want to buy, cook, or eat that food.
Let's switch back to fashion marketing and think about that obvious point first. Fashion marketing does have a practical side. We have to wear clothes. Fashion marketing tells us which ones we should wear.
Then there are the deeper whys. It's not just about protecting your body from the elements. Style is about being part of a community and expressing something about yourself.

That's the story that brands can tell across their marketing campaigns.
As fashion marketers consider those pain points and the motivations of their consumers, they also have to think about seasonal changes and when consumers are primed to purchase for that next season.
They also have to stay ahead of style trends, while maintaining a balance with practical options for consumers. Price points are another tricky topic for fashion marketers. Fashion can range from thrifty and economical to high-end and luxurious.
There's a lot we can learn from luxury marketing, but it's important to remember that fashion marketing can span a more approachable and inclusive market as well.
15 Examples of Great Fashion Marketing
There are many ways to get the word out about your fashion brand, but you can get a lot of tips from big-name brands that are out there.
1. Allbirds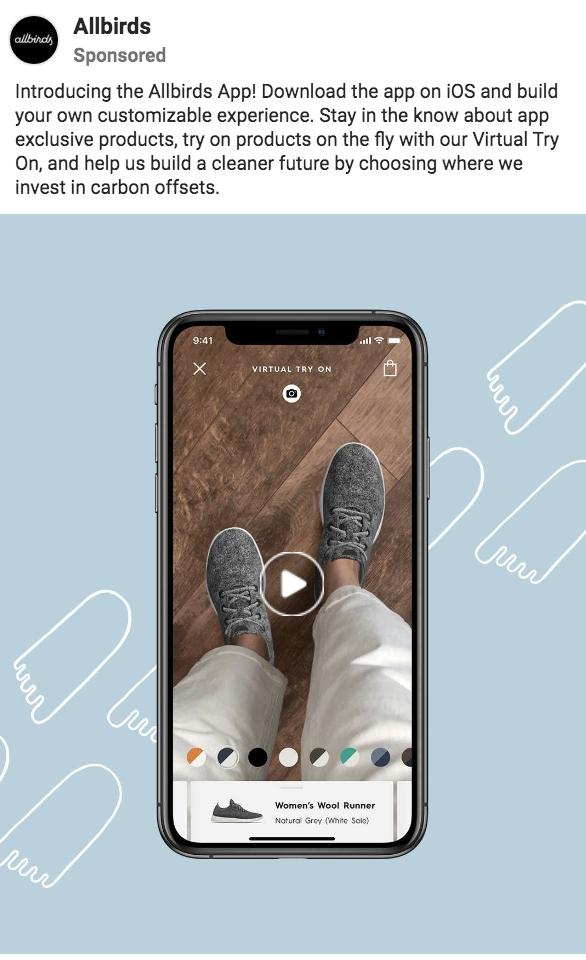 It's hard to know what an item is going to look like on your own body when ordering the product online. Allbirds advertised an in-app, try-on experience. Using augmented reality, the try-on feature allows you to see what the shoes would look like on your own feet. To advertise this feature, Allbirds created a social media ad series with a video showcasing how you can do a virtual try-on. The ad also speaks to the brand's environmental causes.
2. Warby Parker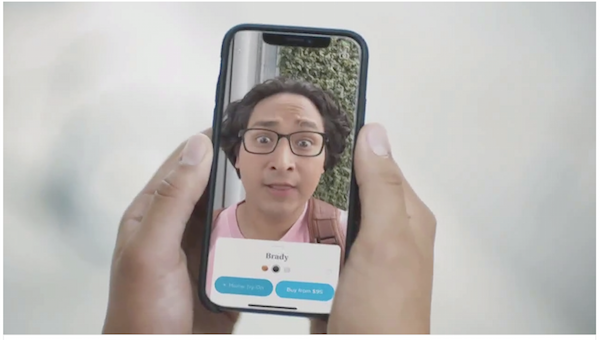 Warby Parker did something similar to help their customers get an idea of what their glasses would look like on themselves before they order. They created an app-based, virtual try-on experience and a series of TV ads to get the word out about the app. Since it's a relatively new idea that many may not be as familiar with, the TV ad shows how it works and how customers can "try on" glasses to decide which ones to order.
3. Patagonia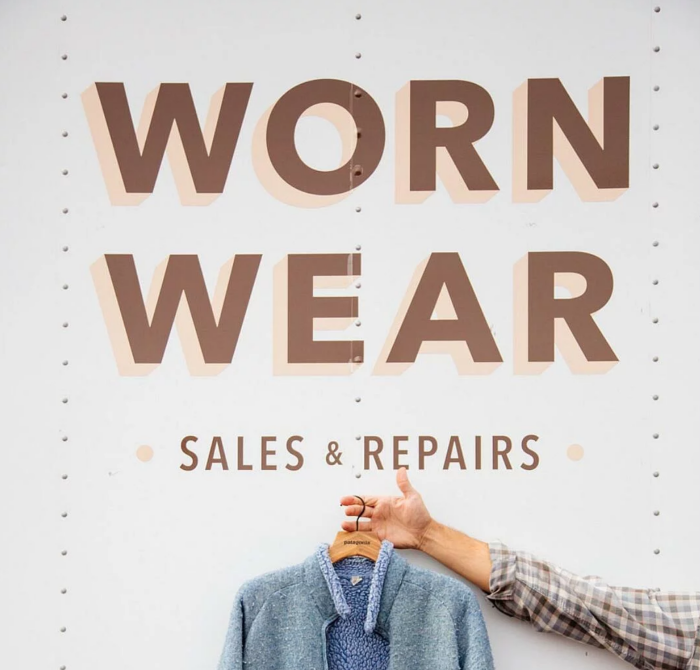 Patagonia also wanted to use their marketing efforts to speak to a certain cause greater than their own brand. To encourage environmental awareness and a better use of resources, they created a Worn Wear campaign. They took to the road and did a cross-country trip with a team of people who could repair clothes. People were invited to bring worn-out clothes and be given new life. These kinds of long-term marketing efforts are quite the undertaking, but the sense of giving back to the community, aligned with your brand's philosophies, is something that any brand could try, even on a local level.
4. Ted Baker
Ted Baker came up with an interactive catalog or lookbook, using a 360-degree film experience. The video consists of various vignette scenes of a midcentury family in their home and neighborhood. The scenes are relatively minimal to really showcase the clothes. It went along with a series of commercial style videos with the hashtag #MeetTheBakers. Even if you don't have the Ted Baker budget, anyone could use videos to showcase their clothes on the whole family and highlight how they could be worn in everyday, or fantasy, life.
5. DKNY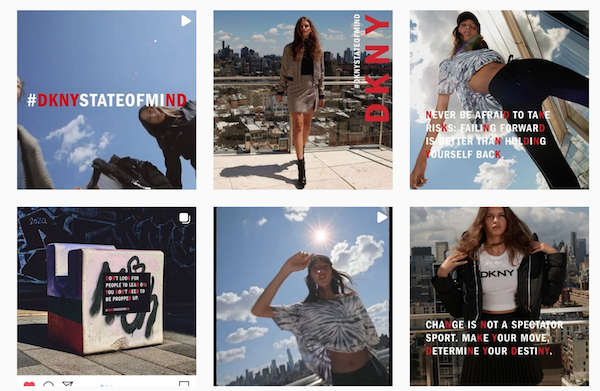 DKNY leveraged the power of hashtags and of having a brand consisting of four letters, in their #DKNYStateofMind campaign. That hashtag became popular among influencers, bloggers, and other content creators. In addition to launching a new line with this, they also utilized inspiring graphical messages, with the letters D, K, N, and Y highlighted. It showcased who they are as a brand, both in their clothes and their message.
6. Everlane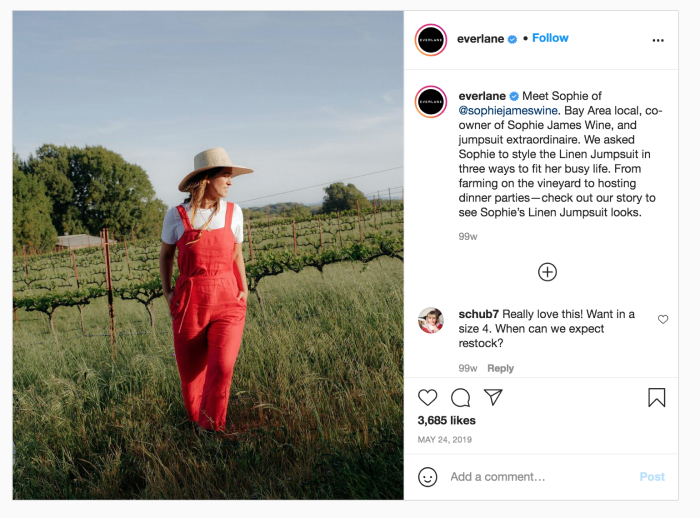 One of the challenges of selling fashion is helping buyers understand how a piece would work in their wardrobe. Just a single image in a catalog or on a sign may not be convincing enough. Everlane created an influencer marketing campaign where they asked fashion bloggers to create three looks with their jumpsuit. This helped potential buyers see the versatility of their product, as well as the different women wearing them. Everlane shared these on social media, but they also got coverage on blogger websites, such as The Golden Girl Blog. This was great for SEO and backlinks for Everlane.
7. Nike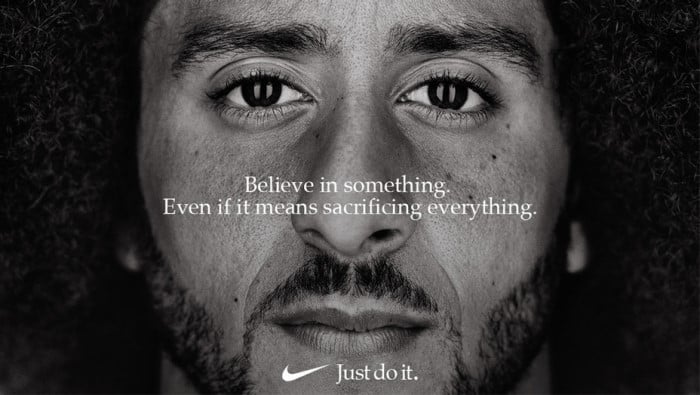 Sometimes it's about more than selling shoes. Fashion marketing can sometimes take up causes or philosophies greater than just the clothes they are selling. Even when ads take that approach, it's about aspiration that is connected intrinsically to fashion. We wear what we wear to send some kind of message.
Nike has long had a history of memorable ads, starting with "Just Do It" and leading to their Colin Kaepernick "Believe in Something" campaign. This kind of fashion marketing doesn't necessarily showcase the actual products, but they do get people talking, such as in this Forbes article. By taking a stand and creating a campaign around it, fashion brands can align themselves with a certain ambition or way of thinking that may convince consumers to buy and wear their products to align with that mission, too.
8. Lululemon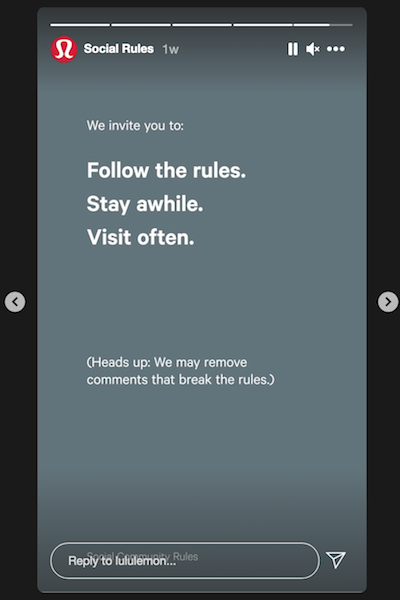 In a similar fashion (pun intended) to Nike's stances, Lululemon has leveraged the community to build their brand. They talk about believing in what their athletic wear is capable of helping people do by living the life they want.
They use their social media platforms to create that community, sharing ideas and tips and allowing others to share their experiences through their ambassador program. In that vein, they use those platforms not just to share their clothes, but to share guidelines they expect from themselves and those in their community. It's a way of leverage aspirational marketing, like Nike does, in a welcoming, inclusive manner.
9. Boden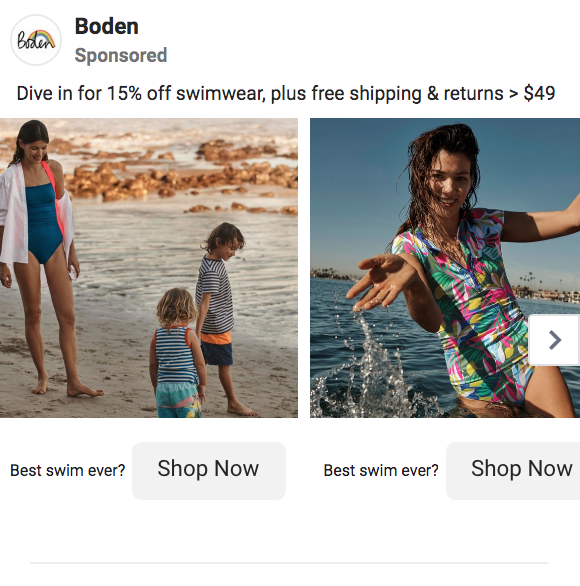 When it comes to fashion marketing, sometimes it's about being there at the right time, with the right offering. In other words, keeping it simple can be some of the most effective fashion marketing. Here's an example of a Boden Facebook post highlighting their swimsuits with beachy images. This ran in April just as spring is starting to warm and people are starting to dream about summer vacations and beach plans. Seeing this post in this season, with that discount incentive may have daydreamers clicking through.
10. Threadless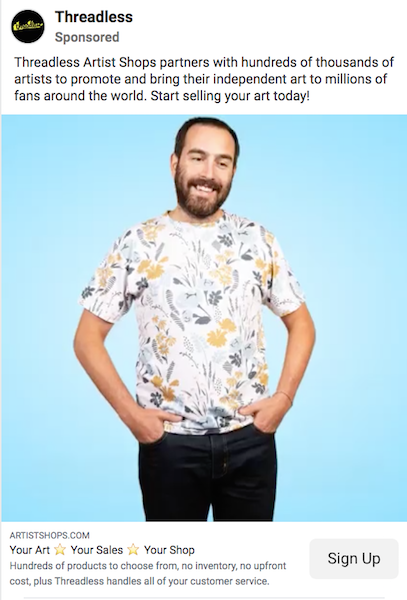 Social media campaigns are also a great way to tell your brand story. In fashion marketing, the story behind the products can be as important as the products themselves. Explain to consumers how products came to be, including the design process and the production. People want to know where their clothes and accessories come from and are intrigued by interesting stories. Threadless uses its social media posts to talk about its work with independent artists in creating unique product lines. People who are seeking a different look, and who also want to support independent artists, will resonate with that story.
11. Levi's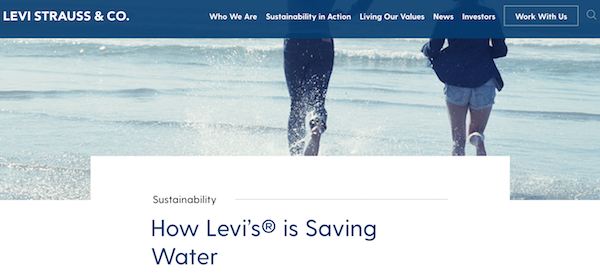 We've talked about fashion marketing in regard to aspirations and bigger thinking as well as telling brand stories. Levi's has built a campaign around its water-saving measures. They developed a trademark around their techniques called Water<Less™. They shared this story on their website and social media.
12. Kotn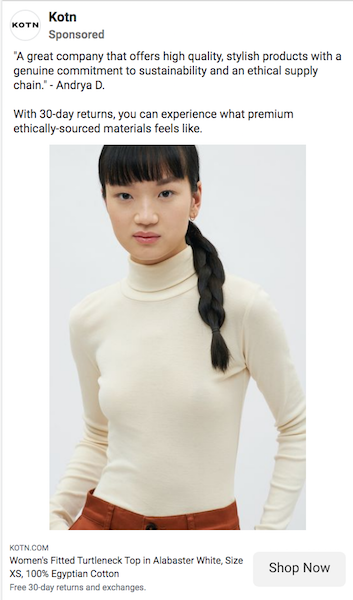 Another way to leverage word-of-mouth marketing is to share reviews from customers. In a sponsored Facebook post, Kotn leveraged a review from a customer who talked about the company's ethics and commitments to sustainability. They paired this review with an image of a product and a link to shop now. They also included their return policy, which is a great reminder for those who are shopping online and can't try on.
13. Atlas Supply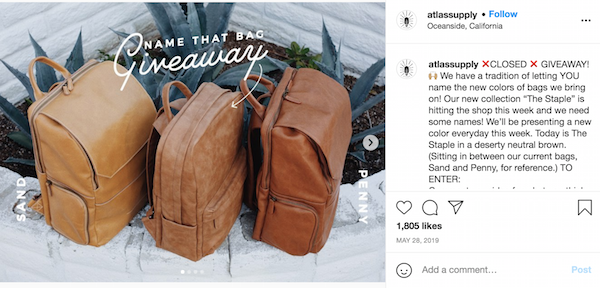 Getting consumers involved with a brand is a component of fashion marketing. Customers can grow loyal to certain fashion brands they believe in and with whose values they align, as we discussed above. Finding ways for customers to be involved in the whole process, from design to sales, is great to build that loyalty. Atlas Supply did this in an Instagram post where they asked followers to help them name their next product, in return for a free bag.
14. Tommy Hilfiger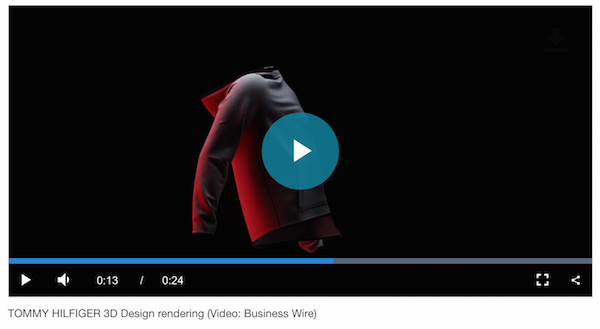 Sometimes fashion marketing is about being cutting edge, not just in design and style, but in how you design and style. Tommy Hilfiger announced that they would be incorporating 3D design into their process to lean into digital opportunities and be more sustainable. To make more of a splash, they didn't just start the process but announced that their spring 2022 line would be designed this way, giving fashion aficionados something to watch for.
15. ThredUP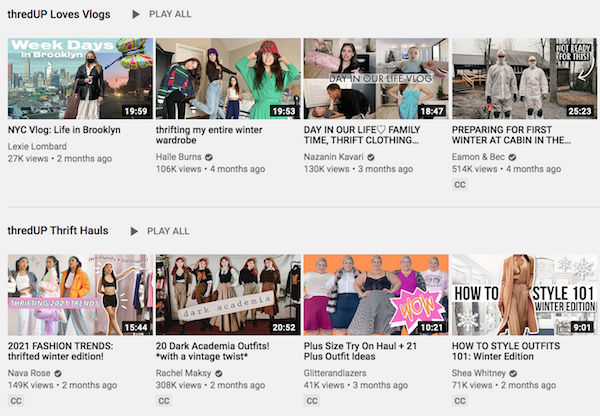 As discussed, engaging with your loyal customer base is a great way to share your message and get the word out about your brand. Allowing customers who love your brand to share that in their own way can bring authenticity to your fashion marketing, rather than just your speaking all the time. ThredUP has included sections in their YouTube channel where they share user-generated content.
Conclusion
Fashion marketing covers a wide range of brands, from the thrifty to the luxurious, but what they all have in common is the need to understand your target audience and why they wear what they wear.
E-commerce fashion marketing touches on everything from the actual products to aspirations and greater causes. Consumers can hear from loyal customers about what they love about your products, how they are made, what your brand stands for, and more.
Are you a fashion brand looking for help with your strategy? Our agency can help with everything from SEO to social and paid campaigns. Reach out if you want to hear more.
What new fashion marketing idea are you ready to try for your brand?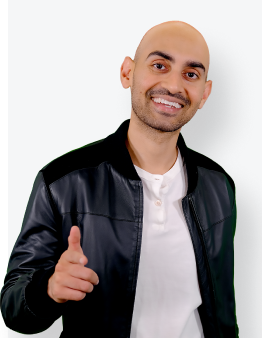 See How My Agency Can Drive More Traffic to Your Website
SEO - unlock more SEO traffic. See real results.
Content Marketing - our team creates epic content that will get shared, get links, and attract traffic.
Paid Media - effective paid strategies with clear ROI.
Are You Using Google Ads? Try Our FREE Ads Grader!
Stop wasting money and unlock the hidden potential of your advertising.
Discover the power of intentional advertising.
Reach your ideal target audience.
Maximize ad spend efficiency.