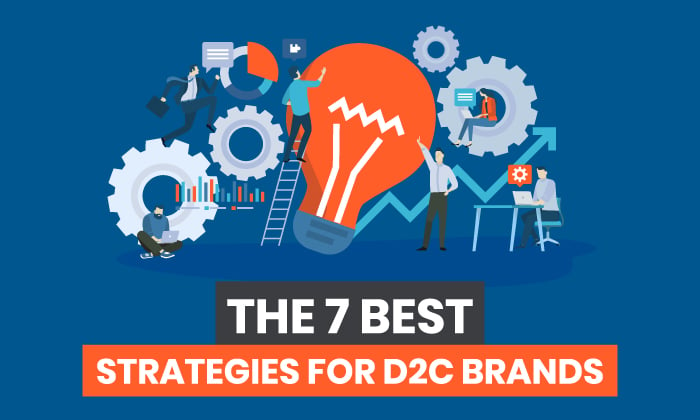 D2C companies, by definition, take out the middleman and sell their products "direct to consumers."
In many ways, this seems like an obvious choice. You sell your product straight to them and cut out any fees required with wholesale and other sales platforms. Plus, you don't have to charge markup fees to cover those additional costs, so you can keep the prices low for your customers.

The hiccup comes with marketing. Stores you could be selling wholesale to have the advantages of customer loyalty, brand recognition, a diverse inventory, and convenient locations.
With D2C, you have to find those customers and convince them to buy directly from you, rather than grabbing that item the next time they are out shopping.
It can be a challenge, but when done right, it can be worth it.
Examples of D2C Brands
We live in a world of disrupters. As a result, many of the most popular D2C brands tend to have a rebellious or revolutionary angle to their product or service.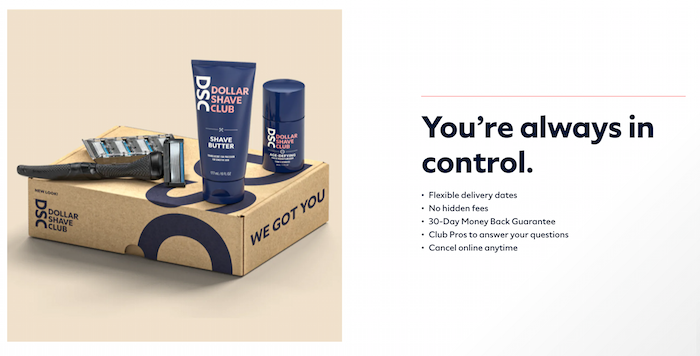 Dollar Shave Club is the epitome of D2C brands because their product is often a last-minute purchase. Razors for shaving aren't often something you search the internet for.
Dollar Shave Club found a way to directly sell in a way that also helps their customers avoid the inevitable: Forgetting to add it to their shopping list or not realizing they need it until it's too late.
Warby Parker isn't the first D2C eyeglasses company, but they are one of the first to make it cool.
Eyeglasses are often sold wholesale in doctors' offices after appointments. Offices have captive audiences, and eyeglass sellers can connect with and supply them with the latest styles.
The problem for consumers comes when the office doesn't have a style they like or when all options are too pricey for them. They may feel pressured to settle for something so they have a pair in their new prescription.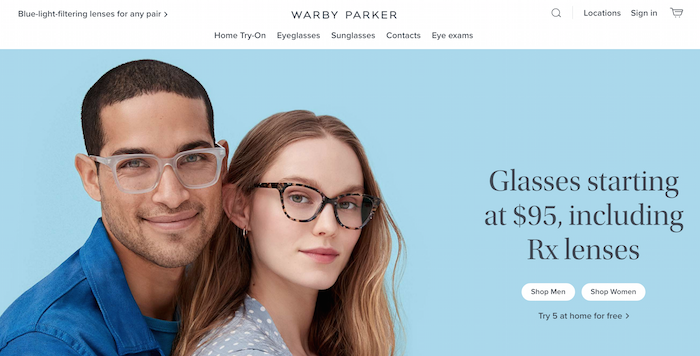 Warby Parker took a D2C approach to bring some very stylish brands and let customers try them out. As a result, customers don't have to feel that pressure to just choose something.
Through Warby Parker, customers can use an app to see how they look in lots of "rental" pairs of glasses. Between this and having time to show the styles off to their friends, they can take a few for a sort of test drive, then purchase the one(s) they love.
Warby Parker can offer competitive prices by selling directly and avoiding markups at the doctor's office.
Most of us grab our coffee at the grocery store—sometimes only because we realize we've already run out. We don't often think to buy directly from the coffee maker unless we are talking about a local coffee shop that brews their own.

Peet's brought these concepts together with their coffee subscription service. As a result, the same products you would usually get at the store are now available in an exclusive-feeling monthly delivery.

Nearly all the brands that use a specialty D2C subscription option in addition to their retail locations allow consumers to feel closer to the headquarters of these coffee producers. That is, the brand is best known in a particular part of the country, and they market their subscriptions to those who lived there and have moved away.
7 Strategies for D2C Brands
D2C, by definition, means you need to be able to reach your target audience. However, before you can reach them, you need to know who they are. The more you can learn about them, the better your chances of not only finding them with your message but of them converting to your brand.
1. Make Good Use of Reviews and Testimonials
Word of mouth is powerful for any brand, but D2C relies heavily on loyal customers spreading the word. Leverage this power by collecting reviews and testimonials and sharing them in your ads, social media, landing pages, product pages, and other relevant locations.
Unearth stories from your customers that speak to your key differentiators and use feedback that tells the story of the impact you made in their lives. For example, what was different about what you sell? How did it finally provide the solution they've been looking for?
Those reviews and testimonials sound like talking with a friend and help potential customers feel heard.
2. Be There When They're Looking For You
Using SEO (search engine optimization) and PPC (pay-per-click) ads can place your brand before your potential audience where they look for you. By researching them well, you can learn the keywords and phrases they use to find what you're selling.
Start with on-page SEO, capitalizing on keywords your target market is looking for and ensuring your website uses those keywords effectively. Weave those keywords into headlines, product descriptions and tags, page titles, and more.
Then create ads that leverage those keywords. You can place them on Google to show up when people are searching. Make sure your ads paint a clear picture of the solution you are providing.
Stay at the forefront of your customers' minds by using retargeting ads that will pop up when they are scrolling other sites later. After a while, your brand should begin to feel familiar, and you may enter your potential customers' subconsciouses.
3. Get Creative With Ad Placement
You can take the approach to another level by showing up in other places where you know your target audience is. You might use keywords your competitors would be using or are slightly off-topic but still related, keywords your target audience is searching for. It's a disruptor approach that can work very well for D2C brands when done creatively and intuitively.
Although not D2C, you can see this a lot with software and technology brands. Here's an example.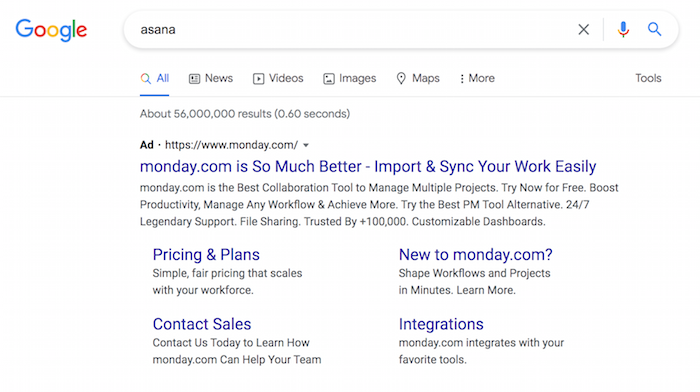 You need to know your audience to make this work: What are they looking for? What sense of humor do they have? What makes them unique?
4. Offer Something Different
This is a crucial step for D2C brands. If you are going to sell a product directly to clients, you've got to give them a reason to buy.

Sometimes a lower price or a unique brand personality can help them choose you over Amazon, the mall, the drug store, or Target.

However, to get traction with a D2C brand and build enough momentum to make it long-term, you need to come to the market in a fundamentally different way.
For many D2C brands, this may mean a monthly subscription, like the coffee mentioned above. You can bring the convenience of not forgetting or running out of a needed product.

You could also offer a unique approach to your consumers. For example, how are items in your industry typically packaged, sold, and delivered? How can you make the experience better? How can you provide more?
5. Referrals and Word of Mouth
As you build up your D2C brand, your customers will be your best marketers. When they love what you're doing, they can help others get excited. In addition, they can probably talk about your product or service better than you can, so let them talk!
Dial up your referral program by offering incentives to those who refer others to your brand and even better kickbacks to those who put the work in and bring in a lot of referrals.

Make it easy for your audience by providing unique URLs they can share with others. You can also drop postcards and little treats into your shipments to help your customers spread the word.
6. Set Up a Chatbot
Successful D2C companies build relationships with their customers from the start. Those relationships start with first interactions, and you can add a chatbot to those first interactions on your website.
A chatbot allows people to immediately start "talking" with someone to get their questions answered. Although those initial interactions will be automated, you can and should follow up with customers who interact with your chatbot to find out how you can help more.

Bring some humanity to your brand, and you can stand out from the corporate competition.
7. Turn Customers into Product Developers
What do your customers want from you? Just ask!

Among the most significant benefits of D2C is that you have access to your customers. You can communicate with them, so do it.
Ask questions and listen to your customers: the happy ones and the unhappy ones. They are going to be your best research and development department.

They can tell you about what's working well and what needs improvement, as well as what other products or services they would like to see in the future.
Not only does this help you bring products to the market that people will like, but it also builds rapport with your customers. People want to feel heard, and you can stand out as a brand that listens.
Additional Resources for New D2C Brands
If you're thinking of starting a D2C business or want to offer some products direct-to-consumers, you may want to learn more about the advantages and challenges of this approach and some strategies for success.
You may have noticed some overlap in the millennial market and the uptick in D2C brands. Fundera explains more about how to leverage that connection in this article.
If learning by podcast is more your style, here is an excellent roundup of podcasts, episodes, and themes that you might find interesting as you explore this opportunity.
As we've discussed, building a loyal customer base is not only a necessity of the D2C approach, but it's also an advantage of setting up your brand this way. Learn more from the team at Shippo about how you can use various tools and resources to win customers.
Direct to Consumer (D2C) Frequently Asked Questions
What does D2C mean in retail?
D2C means "direct to consumer" and refers to maintaining inventory and selling products directly to your customers.
​​Is Amazon a D2C company?
Mostly no; D2C companies sell own products directly to customers. Amazon does have some branded products, but most items are owned by other companies using Amazon as a sales platform.
What brands are going to D2C?
Brands from every industry have begun to try this method of reaching and interacting with customers.
Can you make a lot of money with D2C companies?
Success with D2C depends on whether you can connect with your target audience and provide them directly with a product or service they can't get elsewhere or in a better way. This trend is growing and many companies are seeing success with it.
7 Strategies for D2C Companies Conclusion
D2C companies are growing in popularity as e-commerce marketing technology makes it easier to connect with your audience and build sales processes in-house.
If you're looking to overcome standard wholesale or dropshipping models, or if you just want to dabble in new methods, you may want to try direct to consumer. It can give you a closer relationship to your customers and provide new opportunities.
Are you up for a D2C sales approach?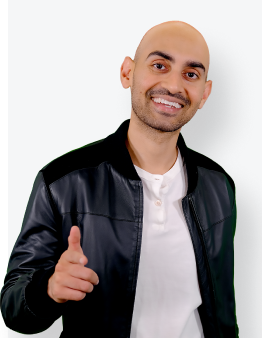 See How My Agency Can Drive More Traffic to Your Website
SEO - unlock more SEO traffic. See real results.
Content Marketing - our team creates epic content that will get shared, get links, and attract traffic.
Paid Media - effective paid strategies with clear ROI.
Are You Using Google Ads? Try Our FREE Ads Grader!
Stop wasting money and unlock the hidden potential of your advertising.
Discover the power of intentional advertising.
Reach your ideal target audience.
Maximize ad spend efficiency.