Sometimes, you look at the marketing of mega-corporations and shake your head.
Here they are with billions of dollars, hundreds or thousands of people to work on a single campaign, and supposedly some of the brightest minds in the business community giving them advice.
But when we consumers see the final product… it's sometimes disappointing. We're stuck wondering how a world-class team ever approved such a strategy.
I've been studying branding fails for years, and while I can't tell you why they continue to happen, I can say there's a lot to learn from watching products flop.
After a few examples, you'll see what I mean.
Fail #1: Leaving out a clear marketing story
In the 1970s, health food was all the rage. Consumers were suddenly aware of "natural" marketing, and it was becoming clear that environmentally-friendly, health-conscious products weren't just the domain of hippies anymore.
Taking inspiration from the new trend, personal care company Clairol introduced two shampoos named "Look of Buttermilk" and "Touch of Yogurt."
But there was no explanation of the product. No story behind why dairy products would improve your hair.
And the products flopped.
Consumers must have wondered… would they be washing their hair in actual yogurt? And if so, why would they want to do that?
And what exactly is the "look of buttermilk"?
In both cases, the products were inexcusably vague. Not only did they fail to communicate the benefit, but they failed to communicate what the product actually was. It's no wonder they flopped.
Fail #2: Overextending your brand
Some brands can build buzz around any product by simply attaching their name to it.
Regardless of the quality, there will always be a group of customers for the latest products from a company with a die-hard fan base.
Apple can release almost any type of electronics product, and people will buy it just because it's Apple. Stouffer can release almost any type of prepackaged meal, and people will buy it because they trust the brand.
But the key is that these brands stick with what they know—and the areas in which their customers trust them.
Harley-Davidson fans will buy just about anything emblazoned with the famous logo: t-shirts, lighters, jackets, and of course motorcycles.
But when they tried to introduce Harley-Davidson perfume and aftershave in the 1990s, fans revolted.
If you drive a Harley, you likely aren't looking for a "heady aromatic blend" to "start your day the right way," as the product description for one cologne promised.
Sometimes, brands can push things a little too far. Just remember where your expertise is, and stay within those boundaries.
Fail #3: Not evolving with the market
Ask your grandparents about Ovaltine, the malted milk drink, and chances are they can hum or whistle the radio jingle that used to accompany it.
But these days, Ovaltine fails to gain much brand recognition among anyone younger than 70.
Why?
Because it held too tightly and too long to its previous purpose: a sleep aid before bed.
But as the market changed, customers were more likely to choose health-related meal replacement drinks like Ensure or SlimFast.
Today, Nestlé markets Ovaltine with a similar message of health, claiming Ovaltine "makes nutrition easy by providing 12 essential vitamins and minerals."
But for most consumers, it's too little, too late. Ovaltine should've evolved with the market, but they didn't, and now they are suffering for it.
The lesson: nostalgia does not always equal better sales.
Fail #4: Launching before the market is ready
No one but the most mobile of urban professionals carried a smartphone in the early 90s, but that's precisely when Apple leaped onto the scene with its Newton personal digital assistant.
But unlike recent Apple innovations like the iPad or Apple Watch, the Newton didn't beget long lines of early adopters. Instead, its poor handwriting recognition got blasted by talk show hosts, comic strips, and even an episode of The Simpsons.
Plus, it had a steep price tag of $700, equivalent to $1,200 today. Since no trendsetter wants to align themselves with something unpopular, the Newton faded into tech-antiquity.
Meanwhile, cheaper, smarter devices like the Palm Pilot and Blackberry began to stake their claim in the digital market, which was ready for innovation.
Apple announced a product that the market just wasn't ready for. The concept of a premium handheld device wasn't on anyone's mind and made it an incredibly tough sell.
But of course, Apple learned from its mistakes. Devices like the iPod, iPhone, iPad, and Apple Watch have changed personal digital devices forever.
Fail #5: Underestimating customer demand
If you're going to launch a campaign, be sure you understand how many people are interested in the promotion—and make sure you can meet the demand.
In 1992, Hoover vacuums in Europe had a problem: too many vacuum cleaners.
The solution? An outrageous campaign: two free flights to the US with every purchase of £100 or more.
Needless to say, British customers quickly realized that £600 worth of plane tickets were worth far more than £100 and clamored to buy products they didn't really want. The demand pushed Hoover production up to seven days a week.
More than 200,000 people bought the vacuum cleaners in a fiasco that ended up costing the company around £50 million—to sell £30 million worth of appliances.
Ultimately, the European branch of Hoover was purchased by washing machine company Candy—a haunting warning for anyone considering a "too good to be true" promotion campaign.
Another example comes from McDonald's in 2017 when they decided to play along with a throwaway joke in the TV series Rick and Morty.
In the series, a character goes on an intergalactic quest for the now-unavailable McDonald's limited-edition Szechuan sauce (released in 1998 to promote Disney's Mulan). To play off the popularity of the series, McDonald's decided to relaunch the sauce for one day only in October 2017.
But they sorely underestimated customer demand, leaving multi-hour waiting lines for the sauce around the country—only to run out and leave fans without anything.
Remember: before you launch a promotion, make sure you can keep up with demand.
Conclusion
They say hindsight is 20/20, and it's truest when looking at the mistakes of others. The marketing mistakes above seem obvious, even stupid. We laugh at them, roll our eyes, and wonder how anyone could think the strategy would work.
But if you've been a marketer for any length of time, you also know how easy it is.
When you get excited with a particular product or campaign, it's easy to overlook its flaws and forge blindly ahead, believing the market will fall in love with it and everything will work out. You feel like an idiot when it doesn't happen, but it seems to make total sense at the time.
Of course, consult experts and get feedback on your ideas. But one of the best ways to combat it is to look regularly at history's biggest branding failures and see if you're repeating a similar mistake.
Forcing yourself to think critically takes a little time, but can save enormous amounts of effort and money down the road.
It's our responsibility as marketers to remember that.
About the Author: Sherice Jacob helps businesses improve web design, performance, and conversions at iElectrify.com.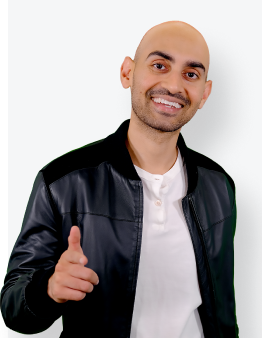 See How My Agency Can Drive More Traffic to Your Website
SEO - unlock more SEO traffic. See real results.
Content Marketing - our team creates epic content that will get shared, get links, and attract traffic.
Paid Media - effective paid strategies with clear ROI.
Are You Using Google Ads? Try Our FREE Ads Grader!
Stop wasting money and unlock the hidden potential of your advertising.
Discover the power of intentional advertising.
Reach your ideal target audience.
Maximize ad spend efficiency.