When we think of webinars, we picture hour-long presentations with mediocre audio and outdated PowerPoint templates. Their promise of teaching us something new keeps us tuned in longer than we'd like, and then we move on, forgetting it ever happened.
But today, more than ever, we have the tools to re-imagine the webinar experience and create something more dynamic and productive for our audiences. For instance, we can enable them to use webinars as vehicles for networking and socializing.
Think about it, you have a group of people (your webinar attendees) who registered for an event that covers a very specific topic in your industry; clearly, they have something in common with each other. Shouldn't you be helping them build their networks?
Absolutely.
Even though nothing beats going to seminars in person and rocking the networking events until the seams in your pockets rip from the growing stash of business cards, your online event audience can come close to achieving similar results when you incorporate the following networking strategies into your webinars:
1. Include Social Media Links in the Confirmation Email
Webinar registration is often confirmed by an automated email that lands in the registrant's inbox just seconds after they click "submit." That email has precious information regarding access to the web room on the day of the event (date, time, webinar link, etc.). However, it could have a lot more, such as links to your company's social media channels.
Adding links to your social media channels is important because (a) you can never have too many Twitter or Facebook followers, and (b) people use social media to interact with brands and stay informed.
The American Marketing Association does an exemplary job of implementing all the right information (including social media links) in their confirmation emails when someone registers for one of their events:
Knowing I'll need this information again, I flag any emails I receive from the organization, while also following them on Facebook and Twitter (to be reminded there again in case I lost the email).
Interacting with your audience on Twitter or Facebook, whether it is to remind them of your upcoming event or to start a conversation among your followers, helps create a community around your brand where participants can share information, provide feedback, and collaborate on ideas; thus, adding value to your brand. If I see that someone I follow on Twitter also follows your brand, I am more likely to do so as well because I want to belong to the same "social circles."
Always make it easy for people to find you. That's networking 101.
2. Promote Your Speaker's Social Media Profiles
It is standard webinar procedure to include a short bio detailing your speaker's knowledge and experience on your event's landing page. And now, brands are realizing that their speakers can play a greater role in engaging the audience outside the live event, leading to greater networking possibilities. Here's how to facilitate this:
Promote your speaker as much as the event itself.
People want to follow thought leaders, not companies, so give them what they want by sharing your speaker's Twitter handle and LinkedIn profile (with their permission).
I've seen several conversations that started during a webinar's Q&A session carry over to Twitter after the speaker ran out of time, as in the example below:
Have your speaker pose a question on Twitter to generate interest days before the event.
Your speaker (and everyone else) can then follow those who interacted because they most likely have industry knowledge others can benefit from.
Bonus tip: The speaker can then use people's answers from Twitter to start a discussion during the webinar (thereby highlighting different points of view), making the attendees who tweeted feel engaged, and motivating the ones who didn't.
3. Add a Twitter Feed to Your Webinar Platform
Most webinar platforms have a built-in chat pod where people logged in to the web room can communicate with each other or submit questions/comments to the speaker. However, people rarely use it for anything other than submitting commonly asked questions like "Will the slides be available at the end of the presentation?" or "Is anyone else having audio issues?" Those questions are not really networking material.
One way to tackle this issue is to add a Twitter feed to your webinar platform that allows people to communicate the way they normally would on Twitter without having to leave the web room. This would work only if you have a unique hashtag assigned to your event (so when people tweet with your hashtag, your Twitter feed streams it).
The advantage of adding a Twitter feed to your webinar platform is that it'll encourage people to tweet more than usual because it's right there. Sometimes people forget to tweet or don't realize the benefit of sharing their insight with others on Twitter. The benefit is that other like-minded individuals will connect with the tweeter if they find the post helpful and valuable.
The other great advantage is that since people can watch the stream right there in the web room, they won't have to open a new window (to go to Twitter) and be tempted by other distractions.
But remember, not all webinars are the same.
Webinars are used today for a multitude of reasons, including earning education credits and renewing an industry-specific license. In those types of situations, you'll definitely want to leave the Twitter feed out of the web room to guarantee attendees are concentrating 100% on the webinar presentation.
The rule of thumb is if your webinar is a paid-to-attend webinar or a continuing education webinar, you do NOT want to have a Twitter feed in the web room.
4. Assign a Hashtag to Your Event
By now, you've learned the importance of putting social media links in your emails and encouraging your webinar speaker to engage with your audience on Twitter. But without a hashtag, posts will float aimlessly in the Twittersphere without direction or purpose. Remember, "[the hashtag] was created organically by Twitter users as a way to categorize messages" (Twitter).
When used correctly, you can maximize your webinar's reach on Twitter by fostering event-related conversations among your attendees. This will create a buzz around your event, increasing interest (and possibly boosting your event's registration rate).
Here's how you can start using Twitter for your webinars and web events according to HubSpot:
Create a hashtag specific to your event.
Communicate to your attendees that you will monitor and accept questions via Twitter.
Make it easy for attendees to tweet with your hashtag.
Make it easy for attendees to follow the conversation related to your event.
Have someone monitoring and responding on Twitter as necessary throughout the event.
It seems as if every day more and more people (and businesses) are figuring out the purpose (and benefits) behind a rightly timed (and relevant) hashtag. Make sure you're there at the right moment, too.
5. Use LinkedIn for Furthering Your New Webinar Acquaintances
Although Twitter is great for instant gratification (Whoa! Look at all those people interacting with me!), the "fame and glory" are brief and temporary, making LinkedIn ideal for real long-term networking.
By "real," we mean more personal. (It is common practice to follow strangers on Twitter, while LinkedIn is more about connecting with people you have previously interacted with.)
And by "long term," we mean more profound. (Twitter followers don't really know you or what you do, while LinkedIn lets you dig a little deeper.)
You also have to consider that not all working professionals have jumped on the Twitter bandwagon. (Many feel that it's irrelevant to their industry or it's just too time-consuming.) For those reasons, we feel it's necessary to use both LinkedIn and Twitter in the pursuit of turning webinars into networking events.
Here's what you can do:
Create a private LinkedIn group. Extend the invitation to only those who register for your webinar. You can do this by adding the group's invitation link inside your webinar's confirmation email and making an announcement at the beginning of your webinar presentation (for the people who overlooked it in your email).The benefits to your attendees of joining a private LinkedIn group are plenty: networking, collaborating, sharing ideas, and so on. This can be perceived (and promoted) as an incentive to register for your webinar – learn AND network.

The benefit to you is that you can monitor what kinds of ideas and questions are being shared, which can then help you choose your next webinar topic.

If you're afraid that your webinar topic is not interesting enough or that you will soon end up having to manage too many groups (one for every webinar), you can always just create one "broad" group that focuses on your industry as a whole and not just on one webinar topic.
If your webinar topic appeals to a very niche audience (such as legal marketers), you may want to create a group with a focus that appeals to them. Or find the groups that already exist for your industry and join them there (and encourage your attendees to join as well).
6. Throw a "Twitter Party" during Your Live Event
If your webinar platform is unable to provide you with a built-in Twitter feed in your web room, you can always throw a "Twitter party." "These events, also called Twitter chats, happen when small business owners create a hashtag around a topic and then invite their Twitter followers to follow that hashtag at a specified time and converse with other followers" (Open Forum).
It's a little different from saying, "Here's our hashtag for the event, please tweet with it" because it's much more organized and structured. There's usually some kind of moderator monitoring the "Twitter party" by asking questions, replying to people, and keeping the engagement going.
It's also different in that there are numerous tools you can use to make your "Twitter party" more formal and effective outside of Twitter.
The benefit to your webinar attendees is that they can engage with you in a space that is much more user-friendly because the tweets appear larger and are therefore easier to read, and the stream is more organized so it's easier to follow along.
7. Get the Most out of the Webinar's Chat Pod
If none of the ideas mentioned above is an option for you, don't worry! There are a few things you can do to get the most out of your webinar's chat pod:
Introduce yourself!
It seems obvious, but many of us fail to do it. Don't be afraid to drop a quick hello that tells who you are and where you would like to connect with your fellow attendees (Twitter, LinkedIn, email, etc.):
Start your own hashtag, if there isn't one already in place.
Simply choose something relevant to the webinar topic and let your fellow attendees know that you're interested in continuing the conversation on Twitter.
8. Collaborate with Like-Minded Businesses
Your webinar topic is an opportunity to find other businesses that share the same audience and industry as you; but stay away from competitors, for obvious reasons. Identify those businesses and reach out by offering them the opportunity to sponsor your event in exchange for brand exposure during your webinar.
The benefit of doing this is that you will help your webinar attendees connect with other businesses (besides you) that are relevant and potentially helpful to them.
"When you meet others whom you think might be a great resource for your business, offer to partner with them on a project that is mutually beneficial to both of you […] [partnerships give] you the opportunity to showcase your industry expertise while tapping into and connecting with their existing network."
The other benefit to you is that your new partners can help you promote the event to a bigger audience (including their own network), which will result in higher attendance rates and more networking possibilities.
9. Add Your Webinar to MeetUp.com by Creating a New Group
I haven't seen too many businesses explore the possibility of putting their webinar on Meetup.com by creating a new group, which is why I think you should get in there before others do.
The MeetUp group that brought this to my attention and sparked this idea is a meditation group that I recently joined. I was trying to find the group's next "MeetUp" event when I noticed that all the events are delivered online via webinars. It seems crazy but brilliant at the same time!
If this group can bring together like-minded individuals to deliver meditation guidance via webinars (of all places) AND help its members connect with each other, why can't you?
Here's what I envision (especially if you're planning on delivering webinars more than once):
Create a group with a focus on your industry, such as "MeetUp Group for Busy Healthcare Professionals."
Explain the purpose of your group (to learn and network).
Create an event for each of your webinars.
Because MeetUp.com was created to bring people together, this is the perfect space to get your attendees to mingle without asking them to use Facebook, LinkedIn, Twitter, and other profiles they may feel uneasy participating with.
10. Create a Google Doc and Share after the Event
If none of the suggestions above really fit your networking style, simply ask your attendees for permission to share their email addresses with the other attendees. If enough of them agree, create a Google Doc that includes their names, titles, companies, and email addresses. Then, attach the document to your follow-up email and leave it up to them to decide if they want to personally reach out to other individuals. It's not my favorite method, but hey, everyone has a different way of doing things!
Conclusion
With 59% of all marketers using virtual events in their B2B marketing strategies (Content Marketing Institute), it's no surprise that webinars are becoming a valuable source for expanding our networks.
The way we connect with people, professionally and personally, has been evolving for quite some time now, and capitalizing on this transformation is viable when we use what's working (social media) to meet people's networking needs.
Even though creating a sense of inclusion and exclusivity in a space where everyone and anyone has access is hard, these strategies can make networking with people in our field (who share our interests and goals) possible online.
About the Author: Leidy Restrepo is the Marketing Coordinator for BeaconLive, a virtual events company that partners with customers to produce professional webinars, webcasts, and on-demand solutions. Follow @BeaconLive on Twitter or LinkedIn for industry tips.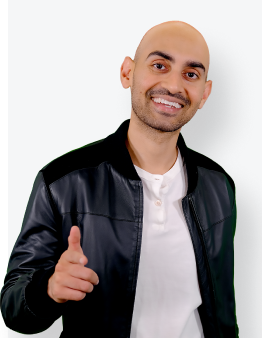 See How My Agency Can Drive More Traffic to Your Website
SEO - unlock more SEO traffic. See real results.
Content Marketing - our team creates epic content that will get shared, get links, and attract traffic.
Paid Media - effective paid strategies with clear ROI.