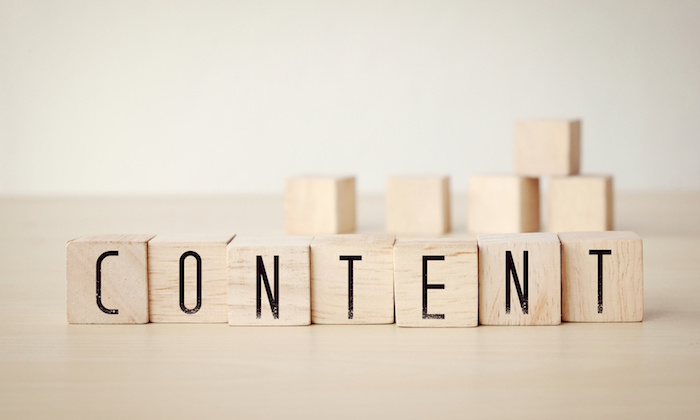 Chances are, you're looking to improve the results from your content marketing.
Maybe you want to get more visitors, convert more leads, or make more sales.
Whatever it is, your goal is to learn more about effective content marketing. And that's a great goal.
According to IMPACT Branding and Design, 77 percent of marketers now use content marketing, but 66 percent of businesses rate that content as "basic."
In fact, 62 percent of businesses want to create higher quality content. It seems like everyone's using content marketing, but we all want better results.
I've been doing content marketing since the beginning.
Along the way, I've learned that just a few simple changes can completely revolutionize the results you're seeing from your content marketing efforts.
In this article, I'll show you 26 changes you need to make immediately with your content marketing.
Implementing these tips will increase your visitors, boost your conversions, and skyrocket your sales.
Let's jump in.
1. Plan an actionable content marketing strategy
To start things off, you need to make sure you have a concrete content marketing strategy in place.
While this seems like common sense, it's a surprisingly rare factor, and one that will make or break the effectiveness of your content marketing.
According to Contently, only 39 percent of companies have a documented content strategy. That's a big mistake.
When creating your plan, you need to consider a few different pieces of information.
Of course, the most obvious is listing the goals you want to achieve.
Are you looking to sell more products, get more signups for a trial subscription, or just increase the visitors to your site?
Once you have clarity on this, understand how you'll measure success. What key performance indicators (KPIs) will you use?
Sometimes these are the same as your goals, but they're often different.
If you sell an expensive B2B product, you might measure success by leads, since it will take ongoing communication to convert that lead into a customer.
2. Implement the strategy on all your content
It's not enough to simply create a strategy, however. In the same infographic, Contently goes on to explain the next step: implement the strategy you've created.
Since 72 percent of B2B marketers attribute their success in content marketing to strategy, this is a place you can't miss out on.
Once you know your goals and KPIs, I recommend creating a content marketing checklist with the items you want to make sure to implement.
For example, this checklist could include the features that must be present in every piece of content, how you plan on sharing, or what you'll use for promotion.
I'll cover these techniques in depth in a minute, but remember: a plan is worthless unless you implement it with every new piece of content you write.
3. Commit for the long-term
It's easy to start a content marketing plan, but it's much harder to stick with it for the long term.
The problem is that content marketing isn't a short-term fix. It's a strategy that will only work if it's done consistently for years.
When HubSpot looked at the success of their content marketing, they found that 92 percent of their leads and 76 percent of their views came from old posts.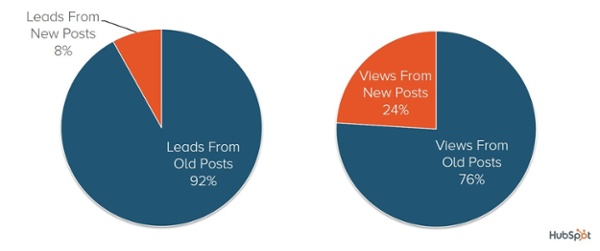 If the benefits of your content marketing system are slow in coming, don't get discouraged. Remember, the best results will come months or even years after you click publish.
4. Promote as much or more than you create
If you're publishing content on a consistent basis, but not getting much traction, the problem might not be your content at all.
The issue at hand might be the strategies you're using to promote that content.
If you're just starting content marketing, you're not going to have much success with search engine traffic at the beginning.
Instead, you need to focus your efforts on building social shares (which will drive traffic in the short term) and acquiring backlinks (which will help your efforts in the future).
CoSchedule uses Google Alerts to build backlinks. Whenever someone mentions them in an article, they reach out and ask for a backlink.
This is a simple way to promote your content to increase its ranking in Google and get your more results down the road.
If you focus on promotion, it isn't hard to promote your content, even if you have no followers.
5. Understand exactly what your audience wants
When you create content, how do you decide on the topic?
If you're like most marketers, you use an idea you've had for a while, or think of a topic you're interested in.
While these can work very well, it's the exception and not the rule.
For truly successful content, you need to write based on what your audience wants, not what you care about or think they should want.
One of the keys to writing this kind of magnetic content is creating and using a buyer persona for the pieces you produce.

A buyer persona is that "ideal audience member" that can help you craft what you write. Instead of writing to everyone, imagine your content as a conversation with this buyer.
Even better, think as that person. What would he or she want to know? What questions do they ask about the topic?
These are gold mines for powerful, compelling content.
6. Cover evergreen topics
While there's nothing wrong with writing about common trends, your content marketing will never take off if you do this.
To keep up with what's popular, you'd need to publish multiple times a week or even every day just to stay relevant.
This trend-chasing tactic works for huge news sites like The Huffington Post, who publish thousands of times per month, but it's not a sustainable strategy for most businesses.
What's the solution? Simple. You need to focus your efforts on writing evergreen content: the content that covers an enduring topic and stays useful for years to come.
When Drift reviewed its content in June, it found that less than 16 percent of traffic to its site came from content published then.
The remaining visits were from evergreen content they published earlier.
CoSchedule found the same thing. Their evergreen pieces from years ago have helped their SEO traffic increase 594 percent over two years.
By producing this kind of content, you can guarantee success for years to come.
7. Create different types of content
When most people think of content marketing, they only consider blogs and articles.
But the truth is that content marketing is just as diverse as the people creating and consuming it.
If you're only writing articles on your blog, you're missing out on huge opportunities. The Online Marketing Institute has listed 11 different types of content marketing.
Look to expand your horizons with new types of content, including audio, social media, and even in-person techniques.
8. Optimize your content for social sharing
Most marketers know they should be sharing their content on social media, but they often don't know how to do this.
There is an infinite number of answers, but a few are easier to implement than others.
One of my favorite ways to expand reach on social media is to use the Splinter Technique explained by Digital Marketer.
To make this work, create bits of shareable snippets from the content you create. You can then schedule that to share across social media for weeks after you publish.
9. Include video in your content marketing strategy
It's no secret that video is huge, but you might still be underestimating just how important video will be to your long-term success in content marketing.
Video is projected to be responsible for 79 percent of all consumer web traffic by 2018.
With more than three-quarters of web traffic based on this single type of content, are you prepared as much as you should be?
One of the easiest ways to make this work is by converting an existing piece of content into video.
With a few tweaks, you can turn a blog post, podcast, or even infographic into a script.
Using some basic equipment, you can easily convert your content into a video to make the best use of this burgeoning content channel.
10. Write high-quality content backed up by research
If you're unsure of where to start with your content, I have a definitive answer for you: research.
To get the most benefit from your content, you need to be using up-to-date analysis and data to prove your points.
Include lots of graphs, charts, and statistics. It proves that you're basing your claims on provable facts and not just something you thought of without any support.
It's the only way to stand apart from the millions of opinion pieces flooding the Internet.
It's true, this kind of writing takes more work. I spend hours researching and writing each post. But the results speak for themselves.
CoSchedule writes this kind of detailed, research-based content. It's helped them build over 37,000 backlinks.

Put in the work, and you'll start seeing the massive results that come from this strategy.
11. Find and leverage your best social platforms
You've probably heard that you should be on all the social media platforms.
And it seems like every day, there's a new way to be more popular. "Everyone" needs to be on Snapchat, or Instagram, or whichever platform is most popular this week.
But the truth is, you shouldn't waste your time on social media channels that don't help your cause.
Data by Curata shows that the best platforms for B2B businesses are very different than those for B2C companies.
If you're in the B2B content marketing space, you should be using LinkedIn. But it barely registers on the radars of the B2C companies I've worked with.
The point is to understand what platforms are best for you. Don't just jump to the most exciting trends. Focus on where you're getting the most impact.
12. Maintain an ongoing conversation with customers
Earlier, I mentioned you should create buyer personas to effectively write for your readers.
But what you may not know is that your customers change, and the target market you thought you were reaching perfectly might have shifted since you created that persona.
To prevent your focus from becoming stale and disassociated with the people reading your content and buying, look to have ongoing conversations with your customers.
According to HubSpot, 42 percent of B2B businesses hold customer user groups or other events to learn more about their target market.
If you don't have the capability to meet in person with your target customers, at least make time to regularly survey them so you can update your buyer persona.
Customer research is an ongoing process, not a one-time decision.
13. Pay for content distribution
A huge number of content marketers I talk to don't pay for content distribution at all.
A lot of them feel like this isn't a fair way to get traffic, or isn't how content marketing "should" be done.
Why not? I pay for content distribution all the time. It's a great way to increase the awareness of my brand and articles.
According to MyCustomer, the most common paid methods used to promote content are social promotion and search engine marketing.
If you aren't using these to increase the visibility of your content, you're missing out on some huge opportunities.
Invest a small amount in some paid ads, and watch your traffic, leads, and sales skyrocket.
14. Update and refresh your old content
A lot of content marketers publish their content, do some promotion, and never return to it.
This is a huge mistake. Everything you publish can and should be updated every once in awhile.
Since your old content already has some success with backlinks and social shares, it's primed to be successful when you release it again.
You can easily expand on your old content and give it new tips, strategies, or templates.
By doing this, you'll not only make it more popular now, you can increase its ranking in the search engine results, since recent content is a ranking factor for Google.
15. Include action steps in your content
Have you ever wondered what kind of content buyers like reading from you?
The truth doesn't need to be so elusive. The fact is that people prefer to read highly actionable, step-by-step content that gives a process for completing something.
According to Uberflip, 62 percent of buyers want marketers to include prescriptive content with numbered steps to achieve something.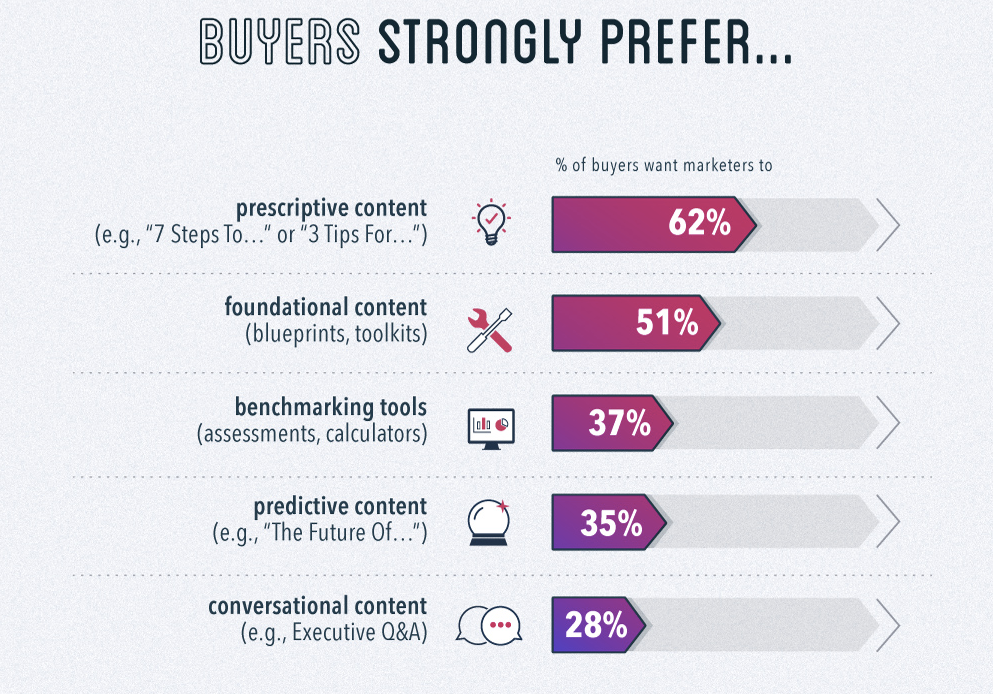 The second and third most popular topics are also related to actionable content, with blueprints and toolkits (51 percent) and tools and calculators (37 percent) taking those places.
In short, your content needs to teach your readers how to solve problems more than anything.
16. Include more visuals
You've probably heard that people are driven by visual content, so why aren't you using it more in your content marketing strategy?
Despite being one of the most important parts of your content, Venngage reports that 71.1 percent of marketers spend less than five hours per week making visuals.
That's crazy.
You can easily create new images using a few techniques that converts your content into visuals without much work on your part.
Digital Marketer lists five easy ways to visualize your content: quote boxes, images like photographs, infographics, GIFs, and screenshots.
All of these are fast and simple ways to increase the visual appeal of your content to skyrocket its shareability.
17. Write long-form, detailed content
There's a common myth that blog readers don't have long attention spans, and prefer to read articles that are 500 words or less.
Well, I'm here to dispel that myth. It simply isn't true.
In fact, I would argue that the reality is the complete opposite. My most popular posts are lengthy, and this kind of long-form content does very well in search engines.
I'm not alone, either. Data suggests that the "ideal" post is about 1,600 words long.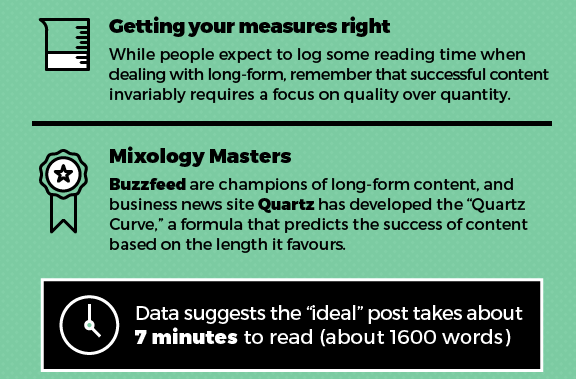 And if you're looking for great results with search engines, as I am, you're going to want to write posts that are even longer.
That's why most of the articles I write are 3,000 words or more. They're detailed and they contain high-quality content that is supported by research and data.
Since I write for advanced marketers, this kind of long-form content helps them the most.
If you're only writing short content, experiment with some long-form pieces and see how well they work for your goals.
18. Focus on the most effective strategies for your market
Everybody seems to be telling you all the different ways you need to improve your content marketing, and it can be overwhelming.
Should you spend time sharing content on social media?
Promoting old articles to your email list?
Publishing every day?
It's too much to take in. I'm happy to say there is a better way: focus on what works.
There's nothing wrong with testing all of those different strategies, but if you don't see results from them, move on.
Nothing is more frustrating than focusing constantly on one strategy, only to realize years later that your time was wasted.
The example to-do list that Coredna created demonstrates how lots of marketers think about their system. They feel like they should do everything.
This is a guaranteed way to burn yourself out and probably not get much done in the process.
Instead, find out what works best and focus your efforts there before you experiment with a thousand techniques that don't work so well.
19. Use your content to teach, not to sell
If you're only using your content to sell to your prospects, you're making a big mistake.
The people who will eventually buy from you aren't interested in hearing sales pitches in your content marketing. They're looking to learn.
In research by Uberflip, 74 percent of buyers said they wanted marketers to curb the sales messages.
(Also, 76 percent of buyers wanted more data and research, which I covered earlier in point number 10.)
While you should still use your content marketing to sell, remember that this is a secondary benefit, not the primary activity of your content strategy.
Reach out to new clients and prospects first with useful content, then work to sell on other channels later down the funnel.
20. Pay careful attention to SEO
If you're just starting your content marketing efforts, it can seem like the results from your search engine traffic will never come.
And yes, it will take a few years before it starts making a big difference in your traffic. But the truth is that SEO is something you need to take seriously from the beginning.
SEO is crucial for generating high-quality traffic, and you're going to be thankful later if you focus on SEO best practices now.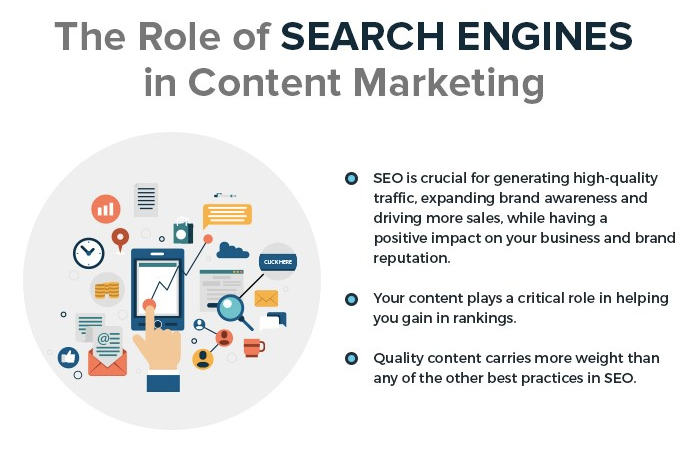 The most basic way to get started with SEO for your content marketing is to include keywords in the most important places on your page.
This simple on-page SEO will make your content more effective and drive massive amounts of search engine traffic in the years to come.
You can even look back over old articles and implement on-page SEO to improve their ranking.
The sooner you get your content ready for search engines, the quicker you'll start to see that traffic.
21. Create and use an editorial calendar
If you're struggling to publish content on a regular basis, the problem might just be the system you're using to manage that content.
I recommend you create an editorial calendar to keep track of all the posts you publish and promote.
How you do this is up to you. Buffer uses a Trello board to keep track of the articles they have in the pipeline, where they assign responsibility for writing and editing.
This is a great option to keep things streamlined, but some people prefer a time-based tool like Google Calendar.
Whatever you choose, the important thing is to keep the responsibilities clear and have a process for managing and publishing the content you create.
22. Repurpose your content to other media
I mentioned earlier that you need to be creating video and visualizations from your content, but it extends to a variety of other media as well.
The hub and spoke method, as explained by Dreamgrow, is a great way to get this process working.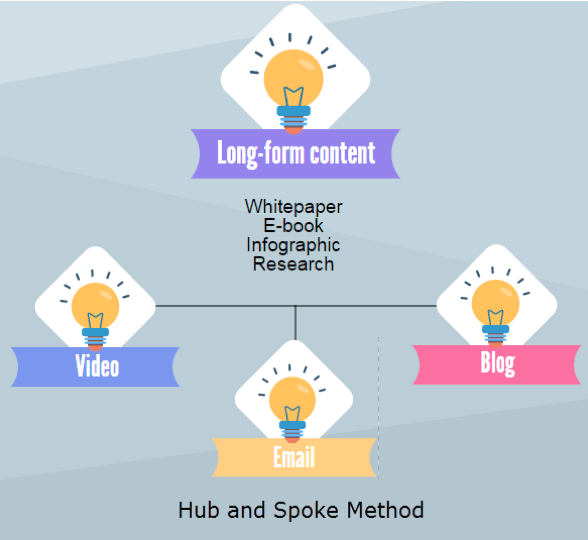 To use this method, find a piece of popular content you created. Then take that content and repurpose it to a few different channels.
For example, you can take a popular blog post and use the ideas in the post to create a video, slide deck, podcast episode, infographic, and/or email series.
The possibilities for this technique are truly endless.
Instead of struggling to create different types of content, just use your same ideas to reach an exponentially greater number of people.
23. Understand what formats do well in your industry
If you're not sure where to begin as you repurpose your content to other channels, it's a great idea to look at the industry where you operate and see what's successful.
According to IMPACT Branding and Design, the best content format for B2B buyers is a whitepaper.
While this may not be a surprise if you're in the B2B space, few B2C customers would even consider a whitepaper, much less create one.
If you're copying strategies from other industries, you need to look carefully at how your particular market affects the type of content you produce.
If you're in the fitness market, for example, videos might do very well for you, while a podcast languishes.
But for language learning, you might find that a daily podcast brings in more sales than a year's worth of high-quality videos.
Experiment and focus on what works best depending on your unique needs and industry.
24. Write follow-up posts to your most popular topics
I mentioned the hub-and-spoke method earlier for repurposing your content to other media, but you can also use it to create new pieces of content.
If you've had an article go viral (or even just hit a new record in popularity), you can leverage its success to create more content that will do well in the same way.
Codeless recommends creating a series out of one blog post to expand your reach in this way.

Break up the main points of the post and turn each of them into posts of their own.
This is a great way to find compelling topic ideas without the often-tedious customer research the process usually entails.
25. Focus on a specific, narrow topic
While it can sound fun and exciting to write broad topics that appeal to giant markets, you're going to struggle to get great traffic or a high search engine placement with this content.
Instead, find a small topic that encompasses only one particular aspect of what you want to discuss. You should then narrow that down to a specific group of people.
For example, rather than creating content on social media marketing, focus on Twitter. Then narrow it down by profession, perhaps just for freelance graphic designers.
Targeting topics like this gives you more leverage for your target market since you're appealing to a specific audience.
But they also allow you to reach the long-tail keywords that do best in search engine results, according to Placester.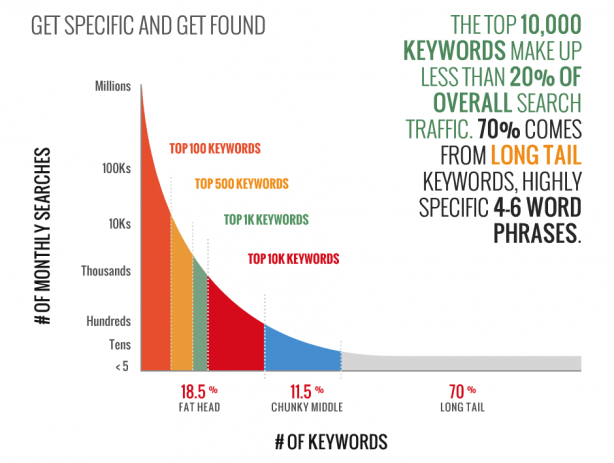 Leverage these specific topics to see huge improvements in your content marketing strategy.
26. Test everything and repeat what works
Finally, and most importantly, you need to test everything.
Ultimately, everything you read online (even content I've written) is formed by personal experience and research that may not apply to your situation.
While my recommendations are based on the best research available, you may find that the complete opposite is true for you.
If that's the case, you should definitely focus on what works best for your market, your industry, and your audience.
According to MyCustomer, 84 percent of marketers use analytics tools to measure their content marketing. This is great.
Using the data you get from these tools, you need to test and experiment with a variety of techniques.
Don't be afraid to quit using a technique that isn't successful for you. Rather, try something new to see if you can make improvements.
No matter what changes you make in your content marketing, look to test and refine, then focus on what works best for your business.
Conclusion
If you're looking to maximize your content marketing results, there are probably a few areas where you could make quick improvements.
By studying your customers, writing high-quality content, and focusing on distributing that content, you can create a massive increase in your content marketing effectiveness.
As you look to make improvements, keep testing to see what works and what doesn't. Study what other leaders in your industry are doing, and experiment with their methods.
Start by implementing one change, then add another and another until you've improved in as many areas as you like.
With these 26 changes, you can be sure your content marketing will gain traction and bring you visitors, leads, and customers like never before.
What changes will you make to your content marketing?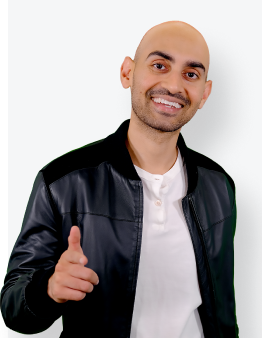 See How My Agency Can Drive More Traffic to Your Website
SEO - unlock more SEO traffic. See real results.
Content Marketing - our team creates epic content that will get shared, get links, and attract traffic.
Paid Media - effective paid strategies with clear ROI.
Are You Using Google Ads? Try Our FREE Ads Grader!
Stop wasting money and unlock the hidden potential of your advertising.
Discover the power of intentional advertising.
Reach your ideal target audience.
Maximize ad spend efficiency.