Driving traffic and converting that traffic into leads is tough.
Brand-awareness ads on Facebook are great as a first step in the process.
But what's your next step?
Typical lead magnets like e-books and whitepapers aren't performing as well anymore.
Why?
They aren't interactive or engaging.
It can take hours on end to read them and extract actionable data from them.
Plus, they're all too common now.
As Andrew Chen has demonstrated, tactics lose their effectiveness over time.
As more and more companies use tactics like e-books, their impact will become less noticeable.
That means that you need to find a new tactic fast if cheaper customer acquisition is your goal.
And trust me: That should be your goal.
Thankfully, the e-learning and digital education market is booming.
The e-learning market amounted to over 46 billion dollars in 2016.
Now is the time to start an online course to capture more leads and drive more sales.
But you can't choose just any platform to host it.
Some can make or break your online course.
So, here's a guide on what online course platforms are, why you should use one, a list of some of the best ones, and the platform that I think is the overall best for selling your knowledge in 2018.
What is an online course platform?
An online course platform is simply a hosting platform that allows you to create and feature your online course.
For example, companies like Rizuku and Kajabi are both online course platforms.
They each have their own tools, but they focus on the same goal:
Creating a platform, like WordPress, which allows you to manage a website or landing page dedicated to your online course. Some of them offer even more functionality.
WordPress is a blogging platform. That's what it does best. An online course platform is best at helping you sell your knowledge.
It's a content management system that provides you an all-in-one package for hosting, creating, and analyzing the success of your online course.
Here's why you should create one ASAP.
Why should you create an online course?
With such a saturated blogging market comes two major pain points: one for consumers and one for business owners.
Consumers have difficulty finding the right information and implementing it.
Business owners have difficulty standing out and capturing leads.
This means that users are turning to new platforms and new ways of consuming knowledge.
E-books are outdated.
People aren't downloading whitepapers.
Lead magnets are becoming less and less effective.
This paves the way for new mediums to shine.
Simply put:
The online course market is growing fast.
Statista predicts that it will surpass $243 billion by 2022.
The market is exploding right now, and it's for a good reason.
Online courses are one of the best ways to learn a new skill or reach a goal.
You can find online courses on virtually any topic under the sun. People have learned that they can make money off what they already know.
There are courses on everything from marketing to sales to general consumption of knowledge.
Want to use it to grow your business? Check.
Want to build a brand following? Check.
Want to make it into a side business? Check.
The options are nearly limitless when it comes to online courses.
So, what are the best platforms to host your course on?
Let's take a look.
What are the best online course platforms in the industry?
There are dozens of online course platforms out there.
Choosing the right online course platform can make a big difference in your overall success.
From powerful data to integrations and tools, finding the right platform is crucial. This is especially true if you already have a brand to protect.
Here is a current list of the best online course platforms in the industry today:
Kajabi
Kajabi is an all-in-one online course platform with an easy-to-use interface.
It features a landing page builder, an email marketing machine, an online course creator, e-commerce hosting, and more.
They have some of the most diverse integrations around. You can integrate it with MailChimp, Facebook, Google Analytics, and more.
Their pricing works annually or monthly, and you can start a 14-day free trial to test it out: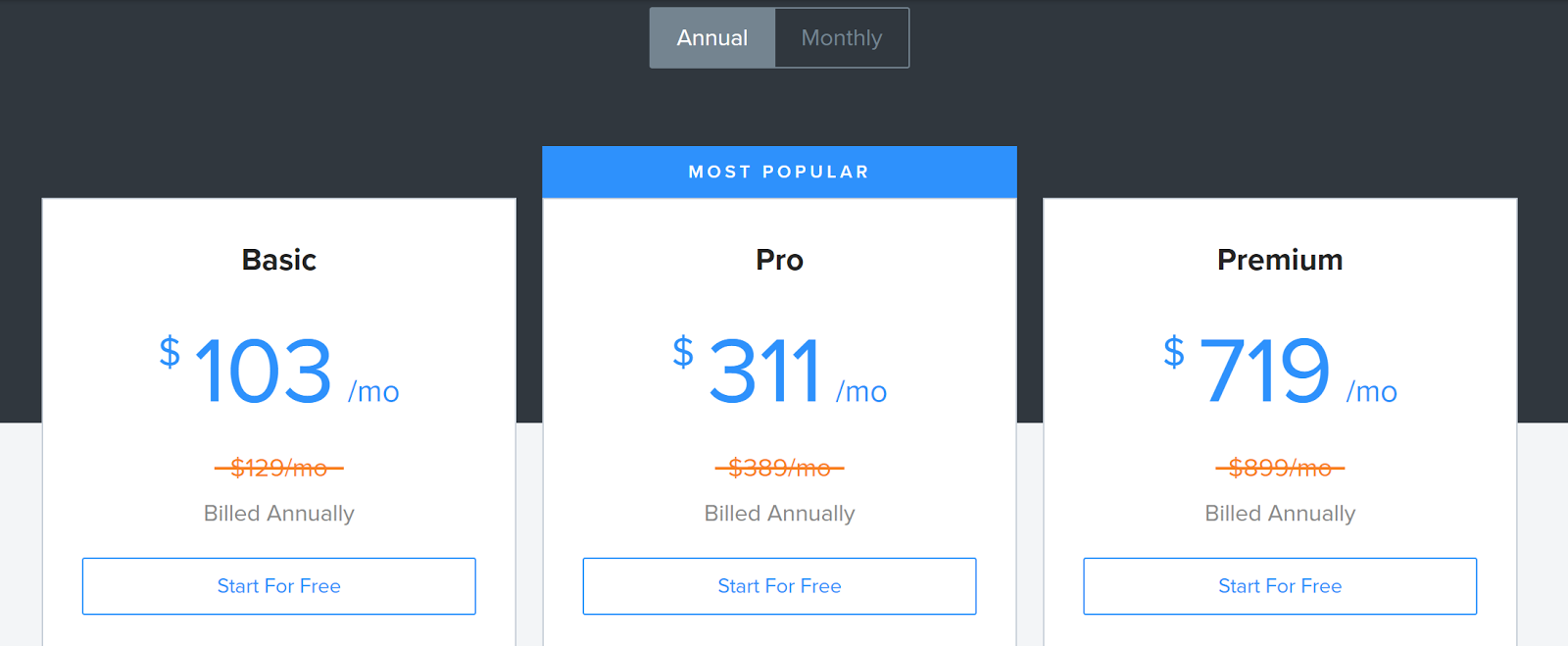 Thinkific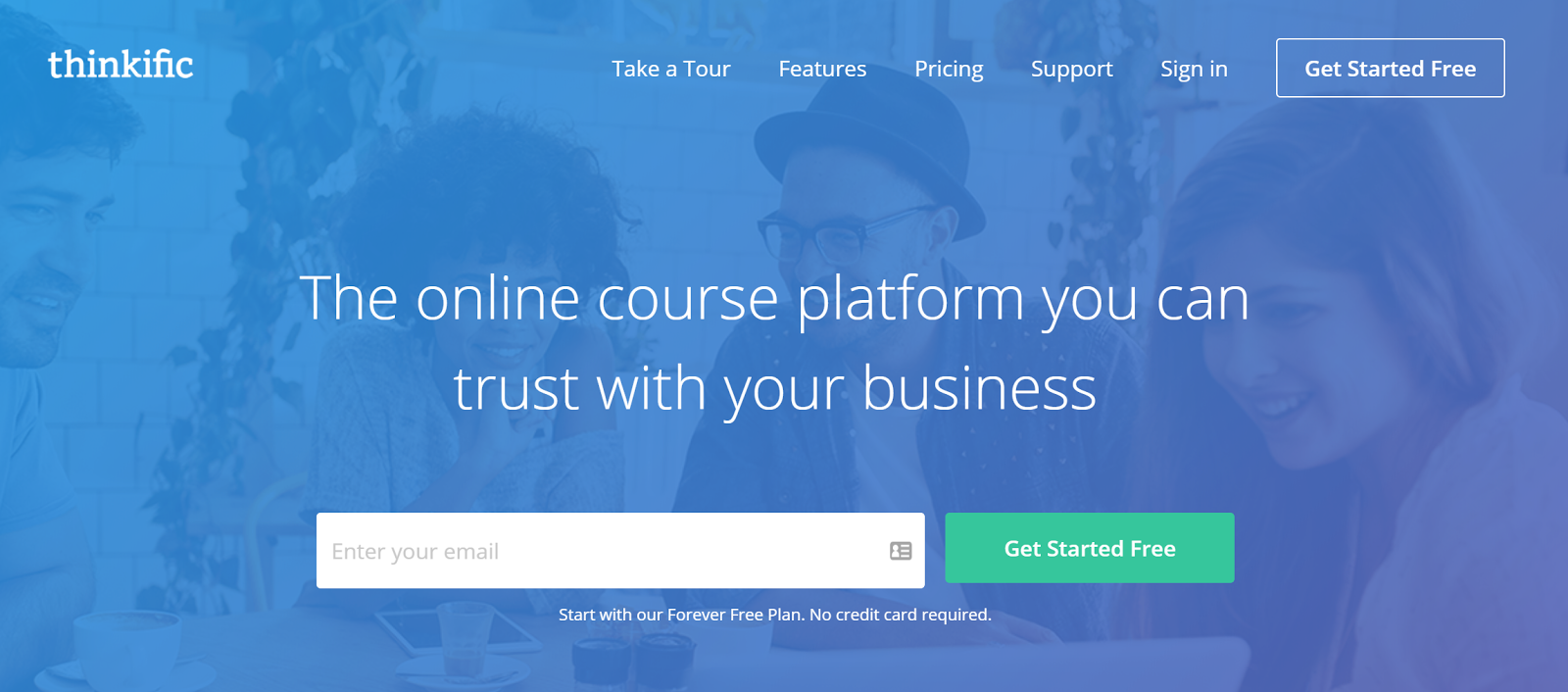 Thinkific is a powerful online course platform that offers control over site design, content, course pricing, student information, and more.
They offer amazing e-commerce and sales-oriented integrations like PayPal and Stripe, too.
You can create and host video content, have multiple instructors, produce drip content, and develop powerful quizzes, exams, and surveys.
Thinkific offers monthly and yearly pricing options. You can even start with a free starter plan until you're ready to upgrade to a better plan with more features.

Teachable

Teachable has some of the most impressive payment integrations of any of the online course platforms available today.
You can take payments from 130+ international currencies through Stripe or even take regular payment options like PayPal and credit cards.
Teachable's drag-and-drop platform makes it easy to work with for users of any experience level.
It only takes a few minutes to set up courses.
Teachable's pricing also has monthly and annual options:

Rizuku

Rizuku is a great platform for developing an online course.
One of its greatest strengths is the simplicity of the platform.
It only takes a few minutes to get courses up and running.
And with their outline format, you can quickly structure lesson plans: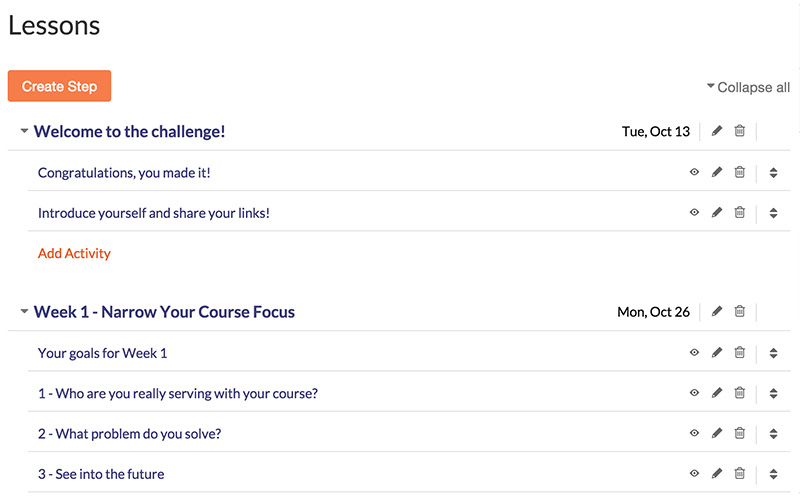 Rizuku takes payments from Stripe and PayPal, and it can even integrate with MailChimp.
You can develop coupons, personalized logins, and more.
Rizuku offers pricing plans on a monthly or yearly basis with the features varying within each price range:
Thankfully, they offer a free 14-day trial to test the waters before purchasing the expensive plans.
LearnDash
LearnDash is a great course platform that comes in the form of a plugin on WordPress.
This makes it incredibly easy to add to any existing WordPress site, meaning you don't need an overhaul to get started.
But with that ease of integration comes a trade-off:
You don't get the powerful, simple-to-use builder and tools that come with other platforms like Kajabi and Thinkific.
Like most platforms, LearnDash takes Stripe, PayPal, and hundreds of other payment options worldwide.
LearnDash structures their pricing annually, not monthly, and they don't offer a free trial:
They constantly offer a sale price, but it isn't the cheapest of the course platforms available.
LearnWorlds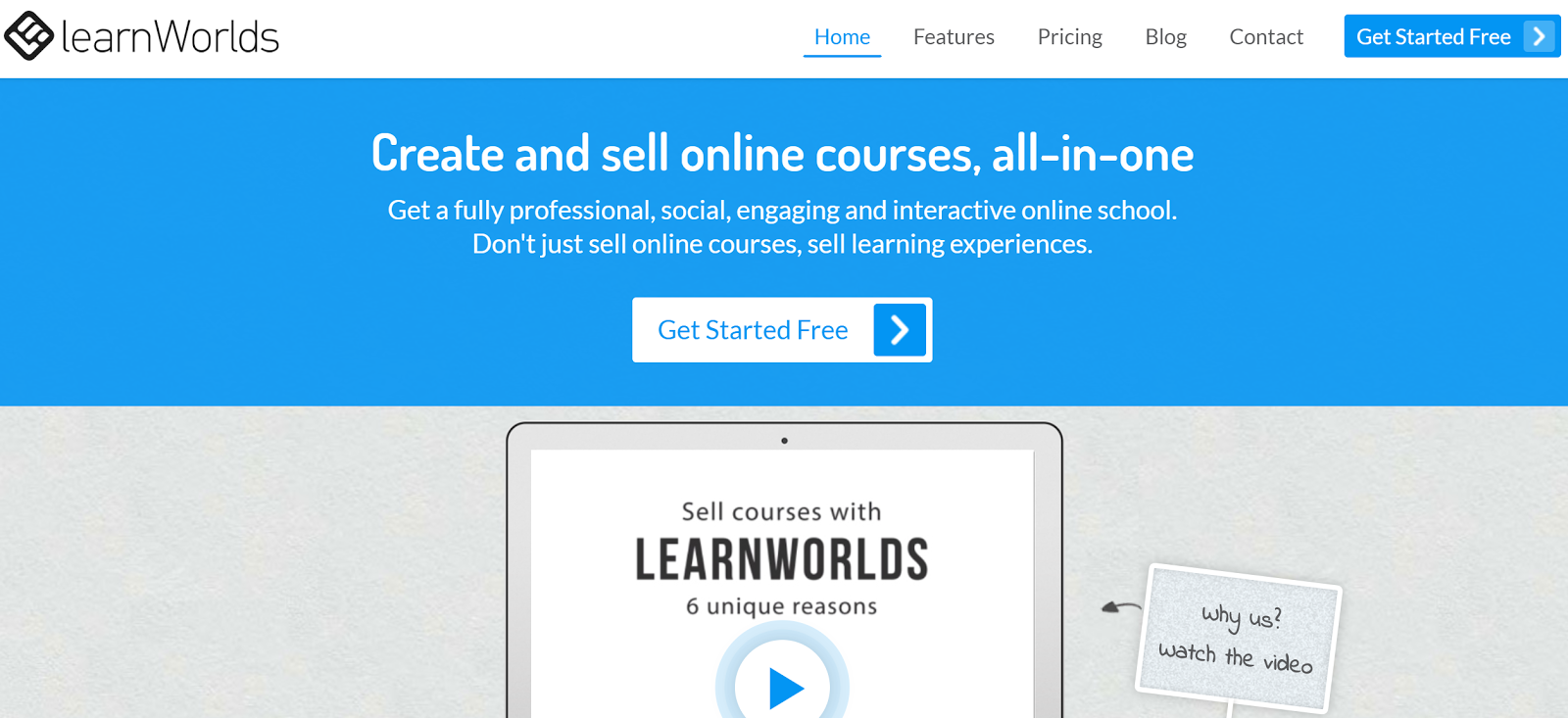 LearnWorlds is one of the easiest platforms to use.
You don't need any tech or coding experience whatsoever.
With great course-customization options and a sales/landing page builder, it's a great choice.
Plus, their platform is mobile-friendly. That's a big win.
You can also create coupons, offer discounts, and take advantage of diverse integrations with the most common marketing tools around.
LearnWorlds offers pricing by the month or year, and you can even try a 30-day free trial without giving your credit card information:

Podia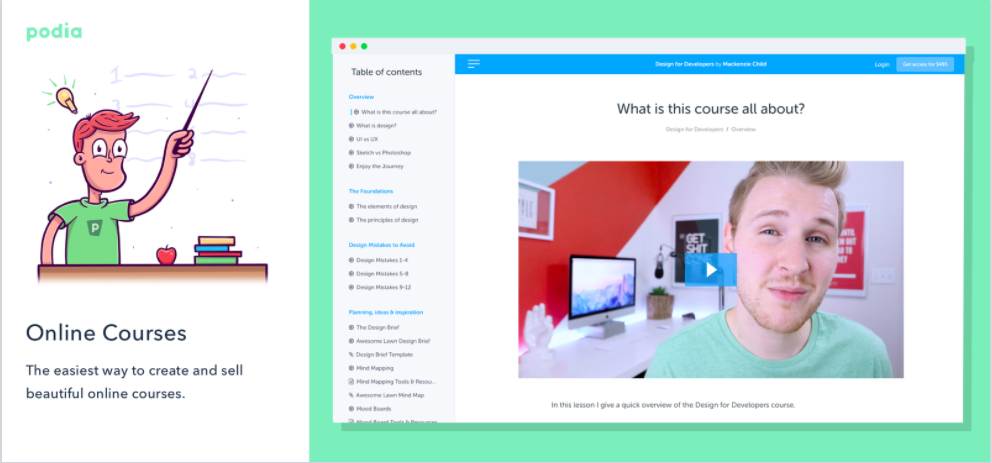 Podia is a fantastic platform that offers some amazing benefits:
You can create a digital storefront to sell your courses, e-books, PDFs, and more.
Plus, they'll migrate your existing content from other sites or platforms for free!
And they have one of the easiest checkout processes I've ever seen. All you need is an email and a credit card, Stripe, or PayPal.
That means frictionless conversions and quick sales.
They structure their pricing annually and monthly with a free trial and a 30-day money-back guarantee if you aren't satisfied:
What factors should you consider when choosing an online course platform?
Most online courses list a plethora of features and tools on their sites.
Deciphering what you really should be looking for on a platform quickly becomes a tedious process.
Here are a few factors that you should keep in mind when considering which online course platform to choose.
Creating your online course
Creating an online course can involve many things, from structure to lesson planning and more.
Some tools will offer great value in this facet of course building, giving you easy tools and templates to go off of.
When choosing an online course platform, be sure to consider the setup process and how long it takes an average user to create their course.
Look for course features like design, templates, outlines, and more on the features page of a given tool.  Kajabi, for instance, incorporates a handy assistant to make course-creation easier.
Marketing your online course
Integrations are key.
Be sure to consider factors like email marketing, advertising, and social promotion when choosing a platform.
For example, can the course platform connect to MailChimp? Does it have its own built-in email marketing functionality?
Can it give you powerful data to analyze beyond vanity metrics?
Look for platforms that offer form customization, too:
This is a big plus that will help you capture more leads from the traffic and buzz that your course will generate.
Structuring payment plans for online courses
Payment plans should always be of concern when looking for a new platform.
Be sure that the site allows basic payment options like PayPal, Stripe, or credit cards.
Next, scour the site to see what types of discounts and coupons you can create (if any) to drive more sales.
Affiliate programs should also be present in your tool, helping you get more traffic and sales through the door.

Expanding into other digital products
Does your platform allow you to turn your courses into e-books, PDFs, and social updates?
These are key features that you need to have in your course builder.
Why?
Because you need ways of producing engaging content where you can send guests after they attend your course.
This will help you gain customers with high lifetime values, and it will give you additional content to leverage.
Building a website
Themes and blogging options are critical elements of a good online course platform.
Content marketing (blogging) is key to driving inbound traffic, especially for an online course.
Make sure that you choose a platform that has blogging capabilities and beautifully-crafted templates for you to customize.

Hosting webinars and other events
Does the platform allow you to host live webinars and other live events?
Online course hosting shouldn't be the only benefit of your platform.
If it is, it should be incredibly cheap. Look for platforms with multiple points of value beyond just online courses.
See if they integrate webinars and live events too.
Building a community
Creating an online course that attracts repeat customers isn't easy.
But building a community is a huge aspect of success in the online course market.
If you can grow your following and build an active community, you can find success for years to come.
Always be on the lookout for course platforms that allow you to create a "members" section for each individual user.
For example, Kajabi allows users to create their own accounts that they can access via a private portal:

Ease of use
Ease of use should always be of concern even if you're an experienced techy or coding genius.
Online course platforms should be easy to use, and it should only take minutes to set up a single course.
They should allow you to get in and out fast all while creating powerful courses.
Dive into the features section of a given platform to see if they have a drag-and-drop system or if you'll need any special skills.
Updates and enhancements
How often does the platform update its offerings, features, and internal tools?
These are big questions to ask a customer support team before deciding to use a platform.
Most platforms will have an FAQ section or live chat.
Be sure to ask them how often they update their offerings to make sure you always have the most up-to-date software and integrations.
You don't want to pay for outdated tech that won't help you drive sales.
My money is on Kajabi. Here's why.
There's no doubt that other platforms can get the job done.
But when you're entering a new market, you want to make a lasting impact.
Entering a new market is tough. You often need multiple — even a dozen or more — tools to accomplish all of your goals.
Not only does Kajabi have one of the easiest platforms to use, but it also presents a powerful platform that isn't just online courses.
The strength of Kajabi lies in being an in-house marketing and online course machine.
Instead of just giving you online course hosting and tools, they offer deep integrations with the most popular marketing tools, like Zapier.
Collecting emails from leads has never been so easy with an online course.
On top of that, they are literally an all-in-one platform.
Do you just want online courses? You're covered.
Do you want online courses, landing pages, membership logins, marketing emails, and more? It's the go-to platform.

The best selling point of Kajabi is their features. They have any and every feature you could want in an online course builder.
It combines the toolsets of every platform into one without any give-and-take based on price.
Host live events without going into another program, rely on built-in analytics, and collect feedback from your customers.
Setting up your site and online course on Kajabi is simple, too.
They have hundreds of diverse themes to choose from:
Plus, if you're more tech-savvy, you can customize the coding entirely.
The e-commerce-focused offerings are also amazing.
Creating an online store takes just minutes using the builder, and you can integrate both PayPal and Stripe to sell products without a merchant account.

And of course, we can't forget about the data.
Most online course platforms offer subpar data, and many don't even integrate with Google Analytics.
Kajabi has a full-scale analytics section with powerful, customizable dashboards to put your key metrics front and center:
Do you want to integrate with Google Analytics? No problem.
You can even download the reports and save the data yourself.
One of my favorite features is their Kajabi University:

They provide their own set of in-depth online courses that teaches you how to succeed and produce the most profitable courses online.
Kajabi is the clear winner for one big reason:
If you go with platforms like Teachable and Rizuku, you'll end up having to pay for more outside tools and software. That's the last thing you want.
With other platforms, you'll find that landing pages, email marketing software, and integrations will cost you extra.
And trust me — those costs add up.
Worse yet, some platforms don't even allow you to integrate third-party features.
Kajabi packs it all under one roof at a competitive price point, so it only makes sense that it's the winner right now.
If you're looking for a one-stop shop to get your online course started, Kajabi is a great place to start.
Just remember that you need a valuable set of digital product to succeed, even on a platform like Kajabi.
Create an online course that offers more value, information, and dynamic content than any of your competitors.
And don't forget to give away some of your content for free. Show that you're credible and knowledgeable before you ask people to pay for what you know.
Conclusion
Driving traffic and converting prospects into leads has never been more difficult.
Increased competition, fading consumer interest, and shifting consumer behavior are all stacked against us.
Thankfully, the e-learning market is growing fast.
There has never been a better time than now to take advantage of creating an online course.
Companies like Thinkific and LearnWorlds allow you to establish your own e-learning business, whether's a side hustle or your main gig.
But you can't just choose any course platform.
Most aren't sufficient to host a marketing course with the proper tools and analytics to net a positive ROI for your business.
One of the only all-inclusive platforms is Kajabi.
The features list is almost too long, surpassing any other online course platform available.
It's a winner in my book due to the deep integrations and marketing toolset. You know how concerned I am with growth and analytics.
Most of the other platforms lack email marketing, landing page software, and the tools necessary for capturing powerful leads.
And getting those on top of a course platform will drive your costs through the roof. Most entrepreneurs don't want to shell out that kind of cash.
Give online course marketing a shot and watch your leads skyrocket.
Which online course platform have you found to be the best for selling your knowledge?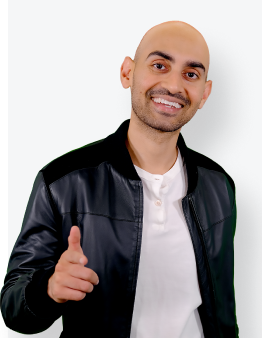 See How My Agency Can Drive More Traffic to Your Website
SEO - unlock more SEO traffic. See real results.
Content Marketing - our team creates epic content that will get shared, get links, and attract traffic.
Paid Media - effective paid strategies with clear ROI.
Are You Using Google Ads? Try Our FREE Ads Grader!
Stop wasting money and unlock the hidden potential of your advertising.
Discover the power of intentional advertising.
Reach your ideal target audience.
Maximize ad spend efficiency.