You're done writing for the day.
You hit 'publish' on your latest blog. And another masterpiece has made it online.
Crickets.
You've been watching your page views and post engagement for months now. It seems like you are getting some traction, but instead of celebrating with your team, you're disappointed. Again.
"It's the writing, right?"
The fears and doubts pour in.
Fear is a liar.
Every blogger has been here. Every. Single. One.
Finding where your tribe is congregating online is no easy task for anyone — even the biggest brands.
We all start with an audience of one. The key to getting traffic back to your site is getting your writing in front of the right audience.
Enter: Medium.
Medium for Marketing
The Medium.com publishing platform, started in August of 2012 by Twitter co-founder Ev Williams, could be your new best friend for finding an audience and getting additional traffic to your site.
Initially, I had my doubts about its effectiveness as a marketing platform. Check out my initial take from my daily Marketing School podcast with Eric Siu from October of 2016.
What has changed since then for marketing on Medium?
Traction.
If you follow the steps below, I'll show you how to get followers on Medium that will lead to additional traffic to your site without the need to write even more content or pay for traffic on another channel.
Everyone could use more traffic to their site.
Why not re-publish and repurpose your best, evergreen content on the Medium platform to get more followers to your site?
Medium has grown from over 60 million monthly unique visitors in 2016 to 153 million as of this year, according to SimilarWeb.com.
Stats don't lie.
What is your target audience? Working adults? College and graduate school graduates?
If that is your ideal audience, Medium could be the best place to connect you with your tribe.
Just check out these metrics from Alexa.com on Medium.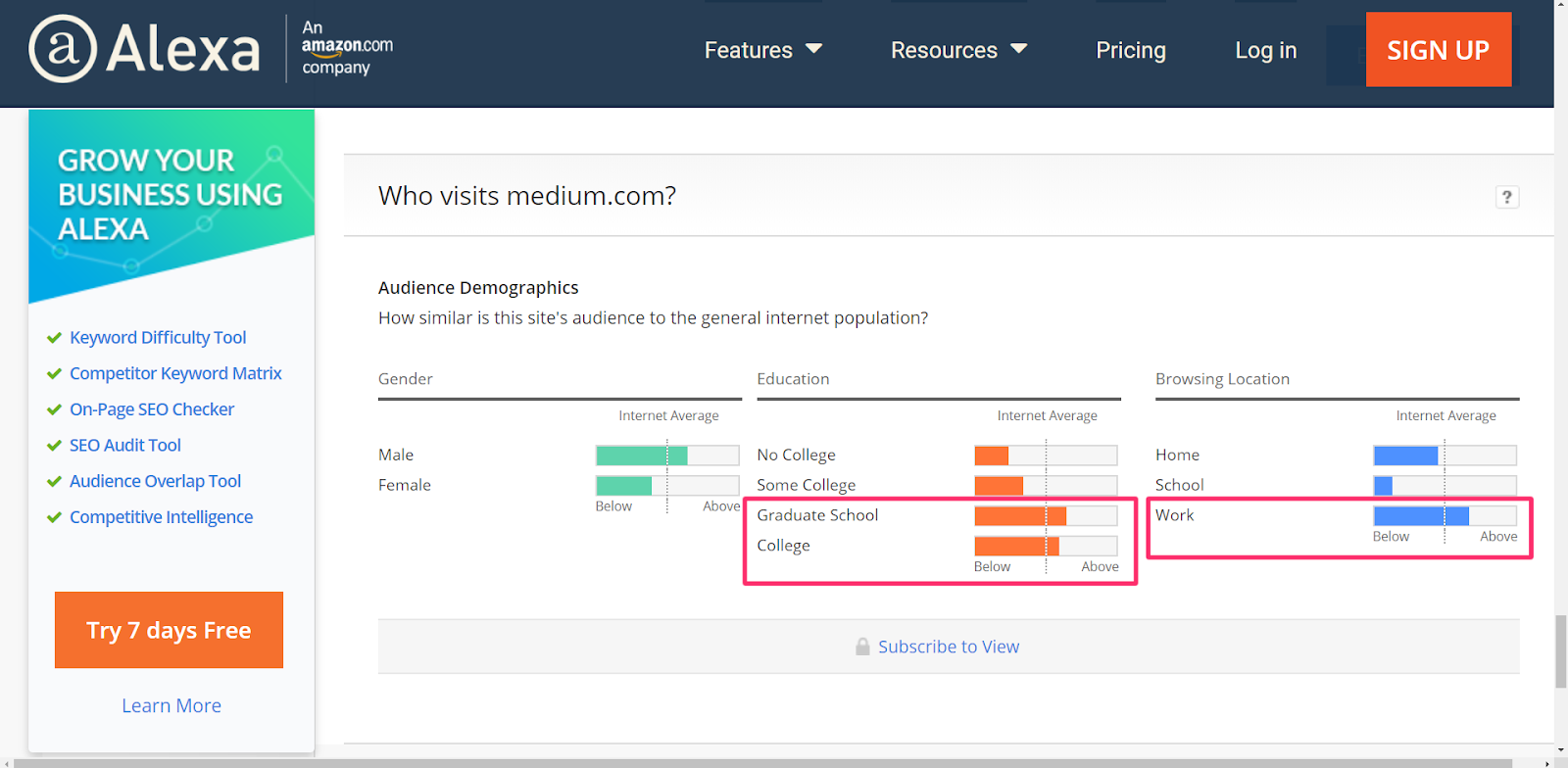 But the problem is, many marketers are skeptical they will get punished by Google Search for publishing duplicate content.
Simply scroll to the comments on this other post I wrote about growing your blog on Medium, and you'll see what I mean.
Skeptics abound.
If you still have work to do to optimize your site and bank some more engaging content, don't rush over to Medium to set-up your profile today.
The Medium platform is a commitment. You do need to maintain a presence and produce valuable content to find success with it.
Taking on an additional channel is not for everyone and every brand — especially if you still have work on your existing website or you already stretched too thin.
How do you know if you are stretched too thin?
For starters, if the thought of adding Medium to the mix makes you want to scream, you might consider filing this away in your "ideas for the future" box.
If you are reading this and ready to go, Medium makes set-up super easy for writers and publishers.
I'll try to make this easy too.
I'll show you how to grow your followers to 1,000 or more in 30 days and get traffic of over 40,000 page views.
Sound like a plan?
But first, are you curious how the Buffer organization is using Medium to increase traffic to their site — without writing new content?
Seems too good to be true, right?
Here's how they do it.
1. Your audience awaits at Medium
I know what you're thinking: "Here is just another platform that I don't control, like Facebook, Twitter, and LinkedIn, where they want me to publish my content for their audience."
True.
I get it. It's natural to have reservations about investing time and energy in a platform that might change how they distribute your content tomorrow.
Nobody wants to find themselves back at square one after investing time and energy into new a platform.
That is what the team at Buffer had to decide.
Go for it, or continue on their own?
They chose to publish their existing content on Medium and even created their own custom branded publication — Buffer Stories.
More on publications later.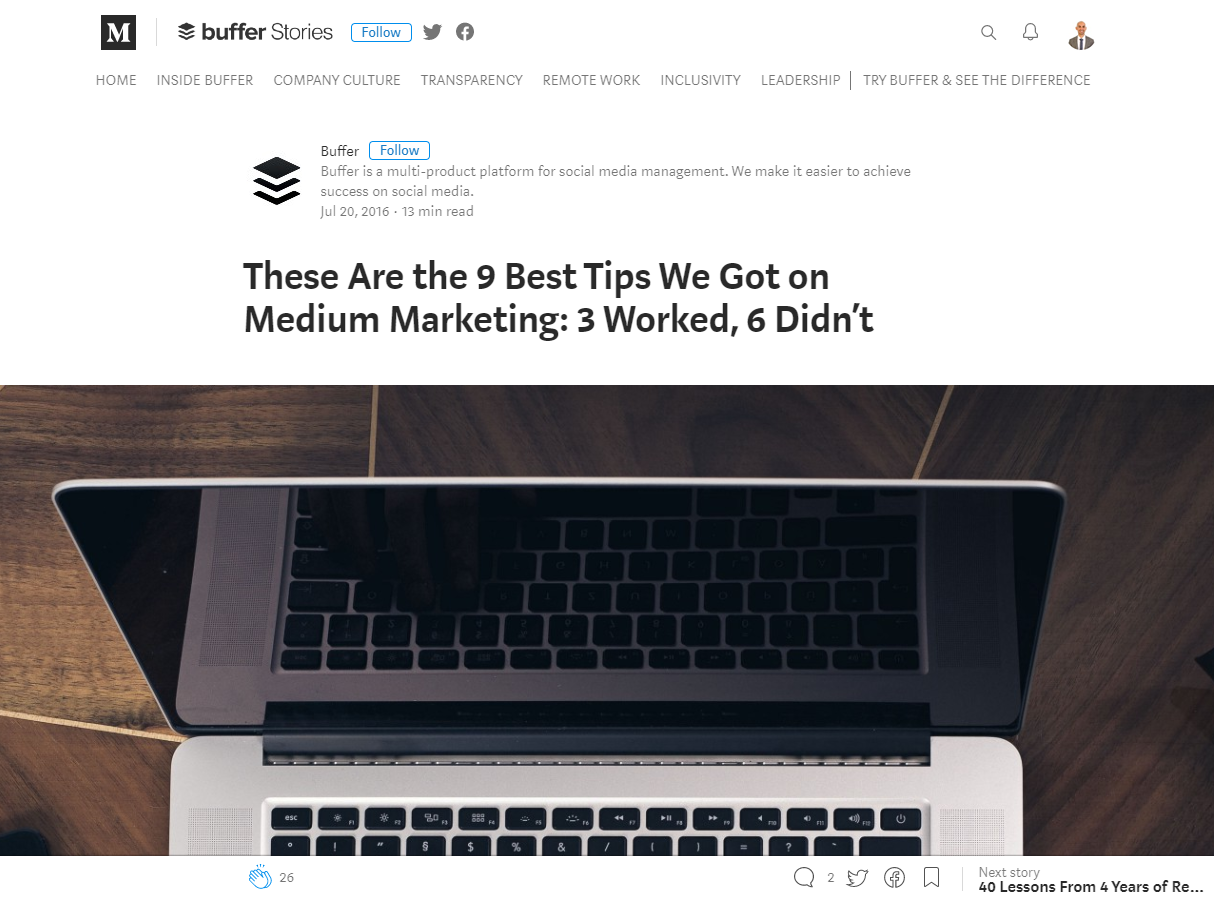 The Buffer team wanted to understand how to get more out of Medium.
Like other brands and publishers, the Buffer team decided to build a publication on the platform to augment what they were already doing on the Buffer blog.
Sometimes you have to be willing to experiment a little.
What the team at Buffer discovered was when you repost older, evergreen content you still have the potential to increase views by 1215%.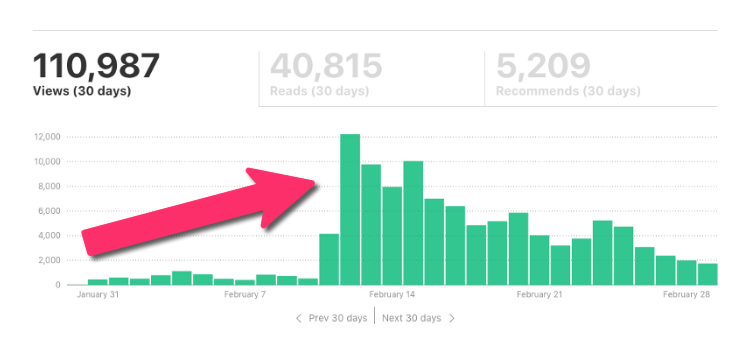 A thousand views a day to 12K virtually overnight?
I would ski down that hill of evergreen content views.
Are you getting almost 153 million visitors to your site each month? Probably not.
But Medium is.
Most of us dream of that kind of traffic to our blogs or websites.
Doing a little investigating, I tried to discover just how people are writing on the platform.
Are you curious?
I sure was. They had me at "153 million visits."
How would you like to get results like Mitchell Harper who got over 5k followers and 260k views in just 30 days on Medium?
Mitchell was a little hesitant to share his formula for success on the platform.
What he learned though, is that even people without a big audience can share a great story and it can be seen by hundreds of thousands of readers.
It certainly helps to have followers and be featured in a popular publication, but great content gets rewarded on the Medium platform.
Be willing to make an upfront investment of time with your existing content and you can have similar results to Mitchell Harper and others who have found success publishing on Medium.
TIp: To see an estimate of how many people are on the platform, after you set-up your profile and start following someone else, you will automatically be following the Medium Staff's recommended reading.
Click on your picture in the upper right and then 'Profile.'
Now click on 'Following' and then scroll to find 'Medium Staff.' It looks like it is currently at 14.4M active users accounts.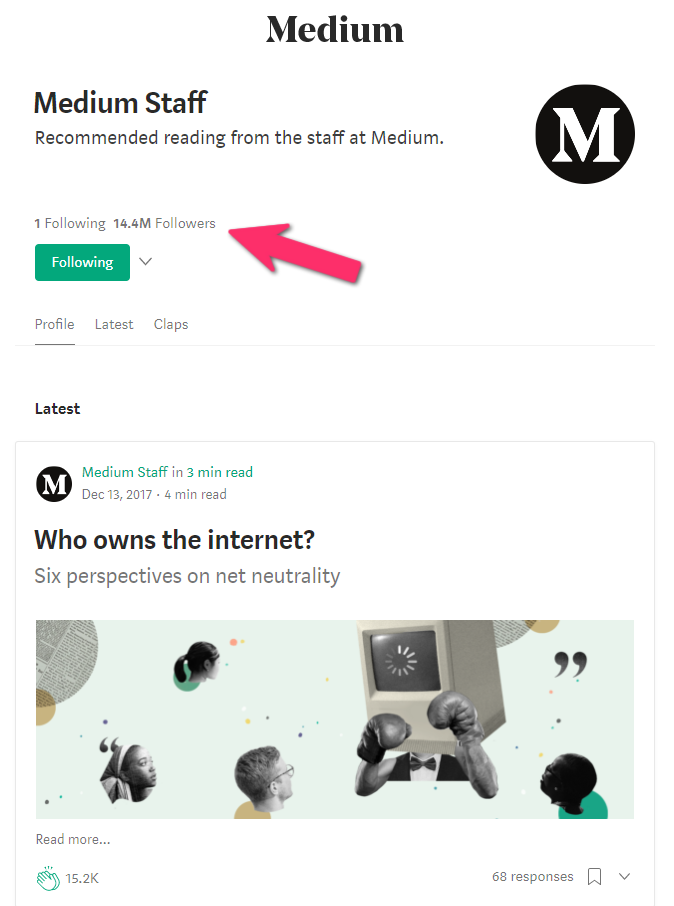 This Kissmetrics blog post on Medium from 2014 estimated active users at 625K using a similar trick of looking at the number of followers for the "Editor Picks" collection, which all users follow.
If my math is correct, the platform has grown from 625K to 14.4M (or +2200%) in the last four years.
What's that called? Traction.
In fact, that is serious growth for a site that already boasted 625K monthly active users just a few years ago.
Medium bills itself as a writing and discovery platform.
The audience, according to Alexa.com, has a better than average internet audience of working college and graduate level readers and writers using the platform and visiting the site each month.
These are educated professionals in the highly desirable 18-34 age range.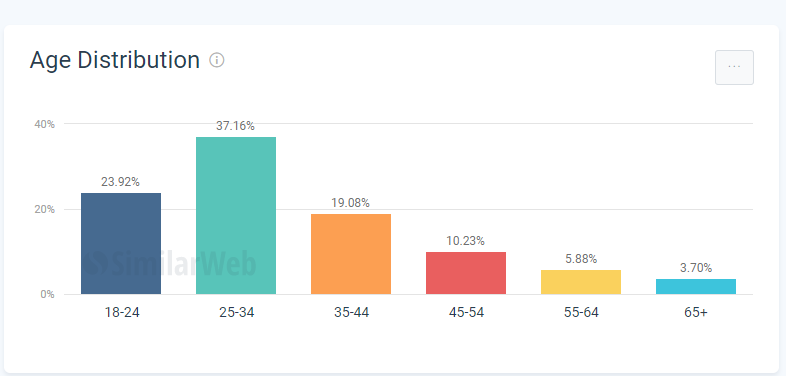 Seems like a no-brainer if you want to get your message in front of highly educated professionals.
So what could be holding you back from republishing some of your existing content?
As I see it, there are two significant concerns you might have with publishing your content on Medium today.
I understand.
Both are valid concerns. We all know the risk of another third-party platform leveraging our content for their audience and then changing the rules on our brands and publishers.
Rented land comes with risk.
The issue that always comes up with my readers is the potential for Google to penalize you for syndicating that duplicate content to their platform.
I'll talk more about it in a moment, but let me offer a spoiler alert: Google does not punish you for duplicating your content on Medium.
Let me say that again. Google does not punish you for syndicating your existing content on Medium.
Here is proof, directly from Medium:
"Medium's publication and cross-posting pathways automatically add canonical links to protect your original content posted offsite. This means that Medium can only boost — not cannibalize — your SEO."
Boost! Medium can give your SEO a boost!
Improved SEO is always good, right?
The second concern of maintaining control of your audience and content on a third-party platform?
It is a risk. Always will be.
I will address the strategies we can use to leverage Medium to grow your followers on the platform and drive traffic to your external site in a moment.
But you have to take that first step.
2. Get on Medium now
If you are new to Medium, Buffer has published an excellent guide for getting started on the platform on their blog.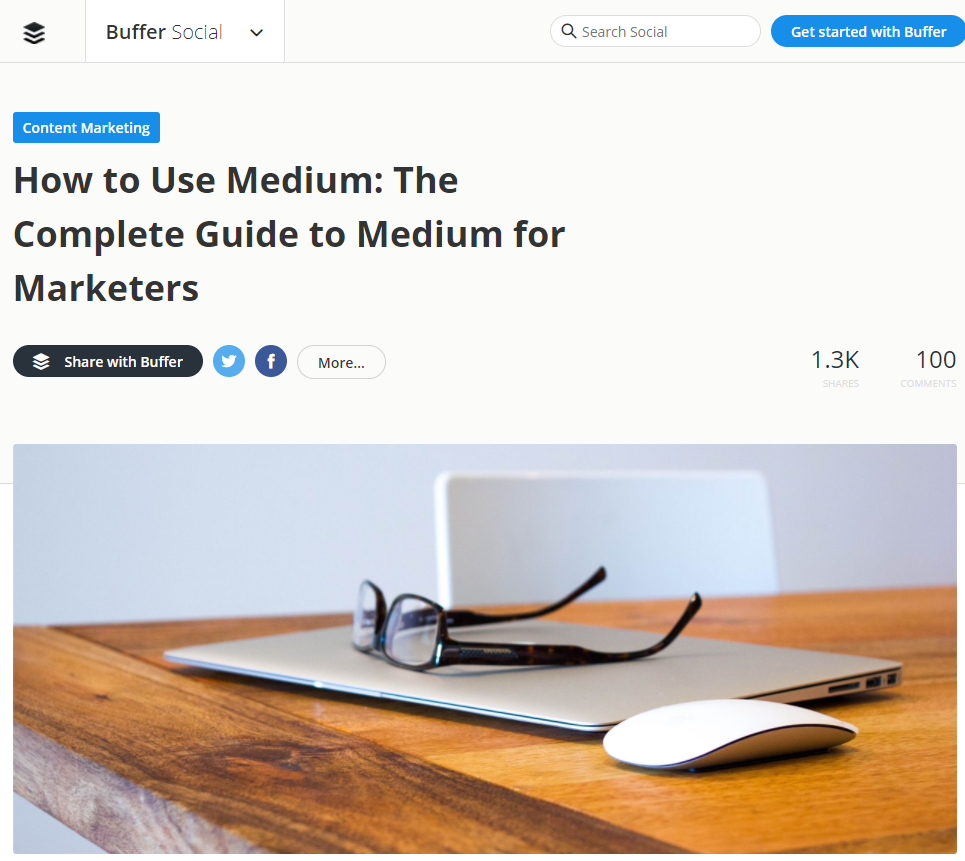 This will help get you get started as a marketing organization or an individual blogger that is considering a move to Medium with your content.
The blog article goes into great detail about the platform for new users and some helpful tips.
One of the features of the platform that they mention in their article (that does not get talked about enough) is how they handle comments.
Comments are in the margin instead of the end like more platforms.
I'm a fan of notes in the margin.
You can use the notes for collaboration on Medium, too. Your followers not only get a sneak peek, but they get attribution for contributions that make it into the final published post.
I also produced a blog about blogging on Medium that you may find helpful. It will walk you through some of the simple best practices for better blogging on the Medium platform.
You have to get signed up first.
It is easy to begin on Medium whether you sign up from a phone, tablet, or computer.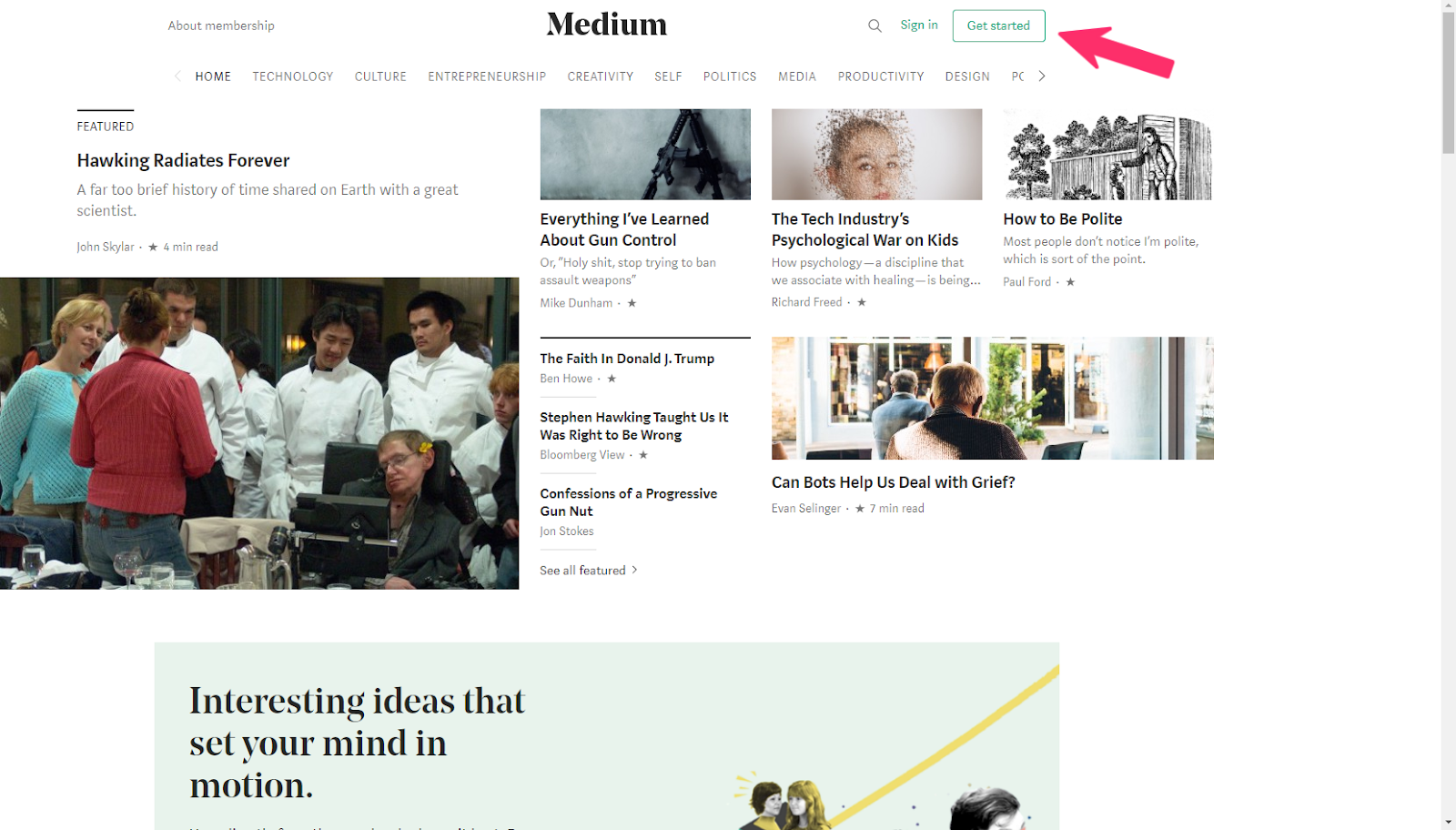 Follow the prompts after clicking the 'Get Started' button. You can also use one of your social login features from Facebook, Twitter, Google, or an email account to begin.
Ev Williams naturally brought some benefits to users who use their Twitter account to sign up.
Who wouldn't want to know what your friends and followers from Twitter are reading and reacting with applause to if you're new to the platform?
Medium is a discovery platform that attempts to bubble-up the most relevant quality content that matches your unique interests.
During the set-up, you provide them with some initial content interest areas. The algorithm is continuously improving — like what you would see with your Netflix preferences for content.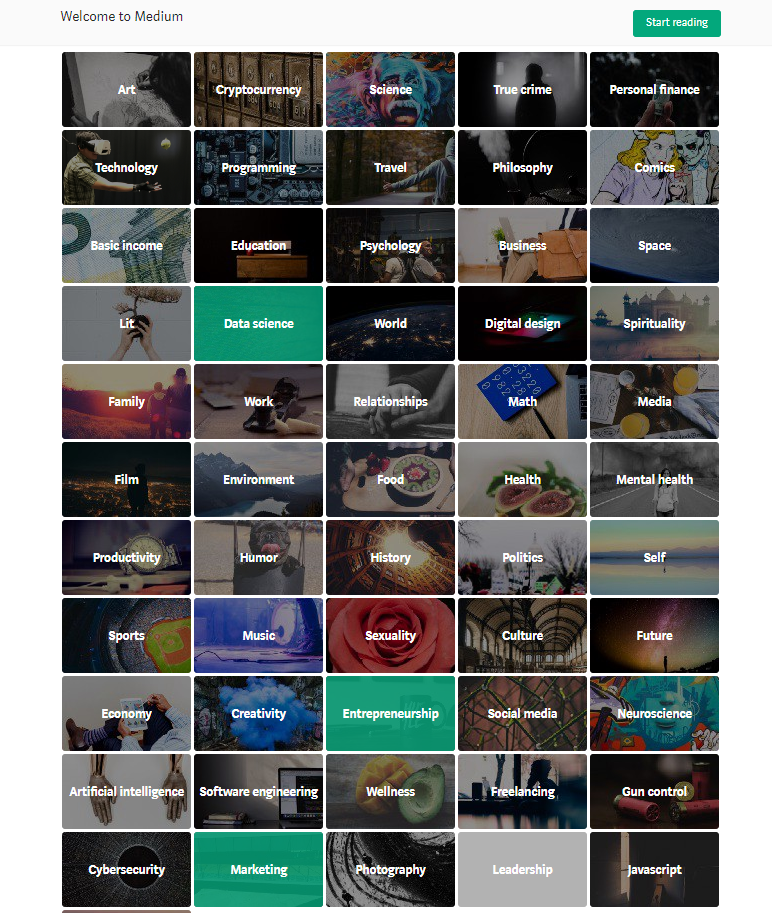 Active users of the platform will discover your stories and content through the same process of grouping interests that you complete when you sign up.
As a writer, you will tag the content to match these interest areas or as you get your stories published in a publication grouped by editorial content categories.
I'll talk about why publications are important in the next section.
You can begin publishing immediately, either through the process of importing stories or writing through their interface — which is quite elegant and user-friendly.
It's simple with a lot of white space to get creativity flowing, and tools to add images and other media quickly.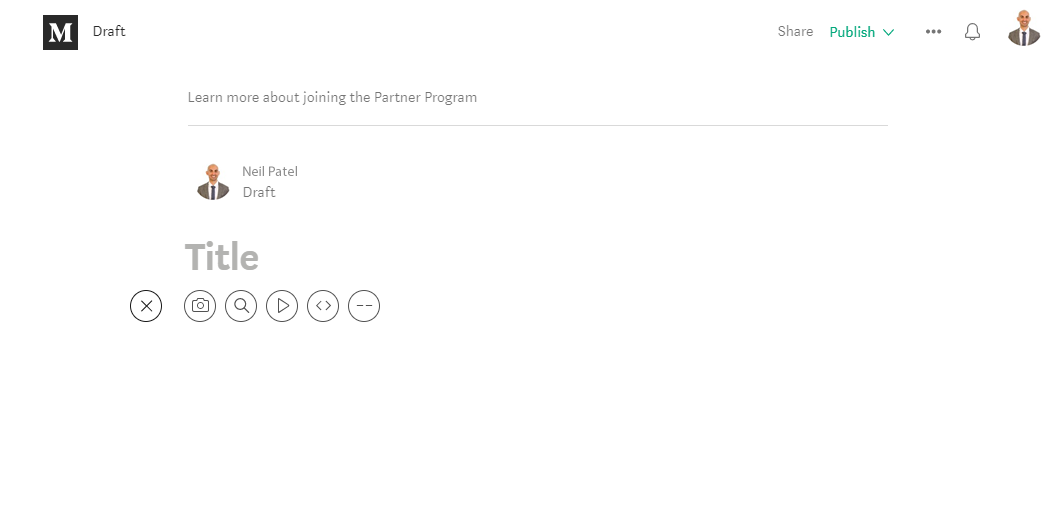 There was a time when it appeared that the team at Medium was going to move in the direction of Facebook for their monetization strategy.
This would undoubtedly have an impact on how marketers can and will use this platform for marketing their content.
This recent focus on writers may have some marketers upset about the recent changes.
The current direction Medium has taken, however, is for users over advertisers.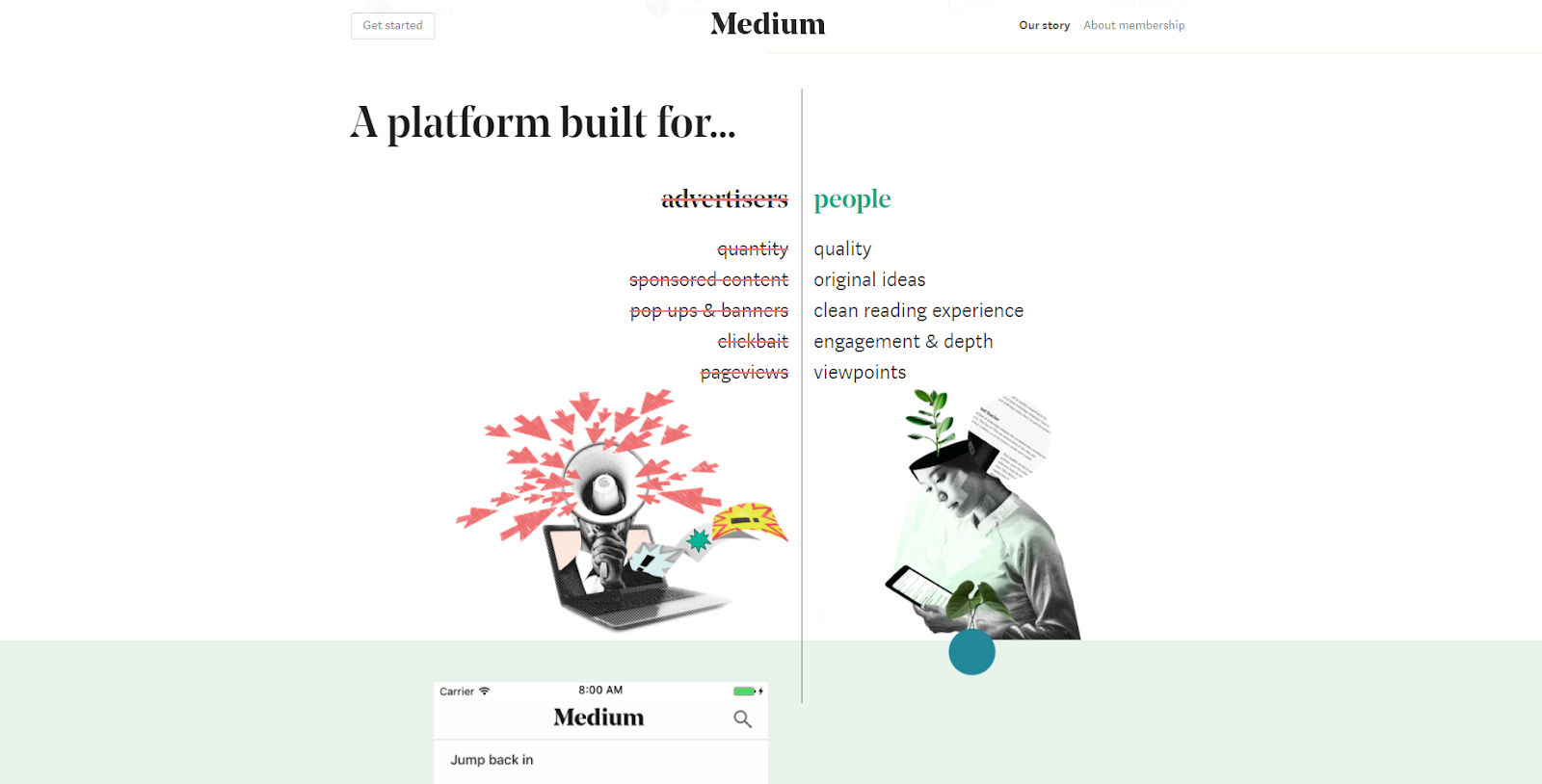 Only time will tell if that changes. One thing is certain: great content, original ideas, and compelling stories get noticed on the platform.
3. Medium well
If you want to be successful on Medium, it starts with great stories. Readers vote with their attention and their applause (with "claps") on the platform.
You can clap once — like a digital "golf clap."
Or clap many times for something you really like.
I have not tested the limits, but the prompt gives an example of 40 times — that is applause.
As a publisher and public speaker, it nice to get a standing ovation — even if it is digital.
Medium also has some guidelines for new publishers.
No one is closer to their information than Medium, so they know what works.
Pro-Tip: Once you re-publish some great content or write something new for Medium, don't forget the tags.
They are vital to discovery on the platform. Too many good writers don't put enough time into them.
Be discovered by using great tags that match your content.
We all could use a little guidance sometimes, especially if we are venturing into something new.
I've found on the platform that there are a vast amount of resources like this one that offer practical tips for growing your audience on the platform.
You will find that the 35 actionable tips that were published by this author give you some creative ways to revive older articles as an example of content you have published in the past.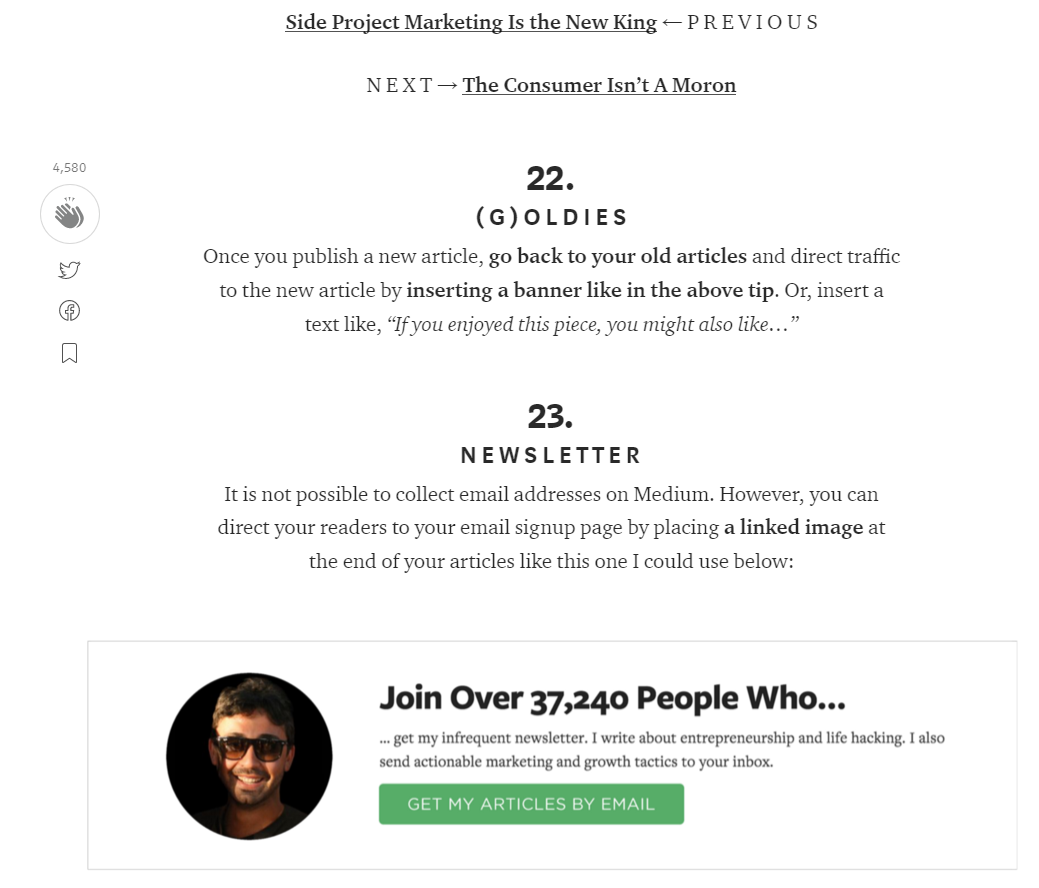 If you have existing evergreen content, Medium is a great platform to republish it to reach a new audience.
The tool to import your stories is a great place to start.
If you notice that you are not getting the followers, views, or claps you want for your content, it might require a little polish to get your stories shined up on the platform.
Test it out.
Hopefully, your valuable archives of quality content will already be ready to go.
It takes three things to grow your followers as a storyteller on Medium:
A great headline
An interesting story
Thoughtful formatting
You've invested all of that time and energy in the post and crafted the perfect headline. Great photography or images can make or break a great story.
A picture is worth a 1000 words, right?
Paint with pictures.
This author used Medium's formatting tools to give readers some interesting visuals to hook them on their story.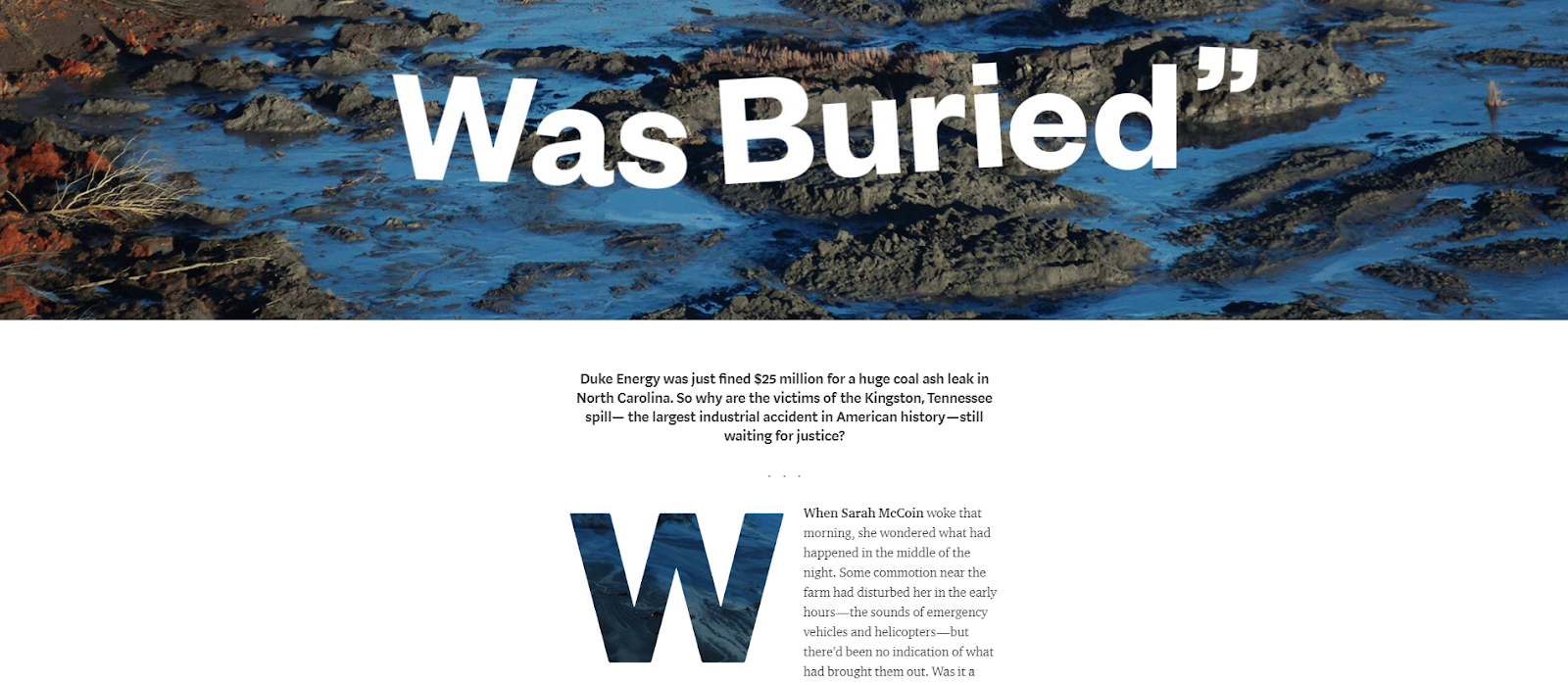 After the work has been done publishing the stories, evaluation and optimization begin. The analytics inside of the platform will help you track the engagement activity of your stories.

We've already discussed that Medium is growing as a publishing platform.
Nearly all of the new applications being built around the platform are for publishers and writers.
If publications are a key way to get more of your tribe to discover your content, wouldn't you want an application to help you find the biggest and best publications?
The answer is yes.
The Startup is one of the most popular publications on the platform. You can see which publications have the largest amount of followers at Toppub.xyz on Medium to help you with your upfront research.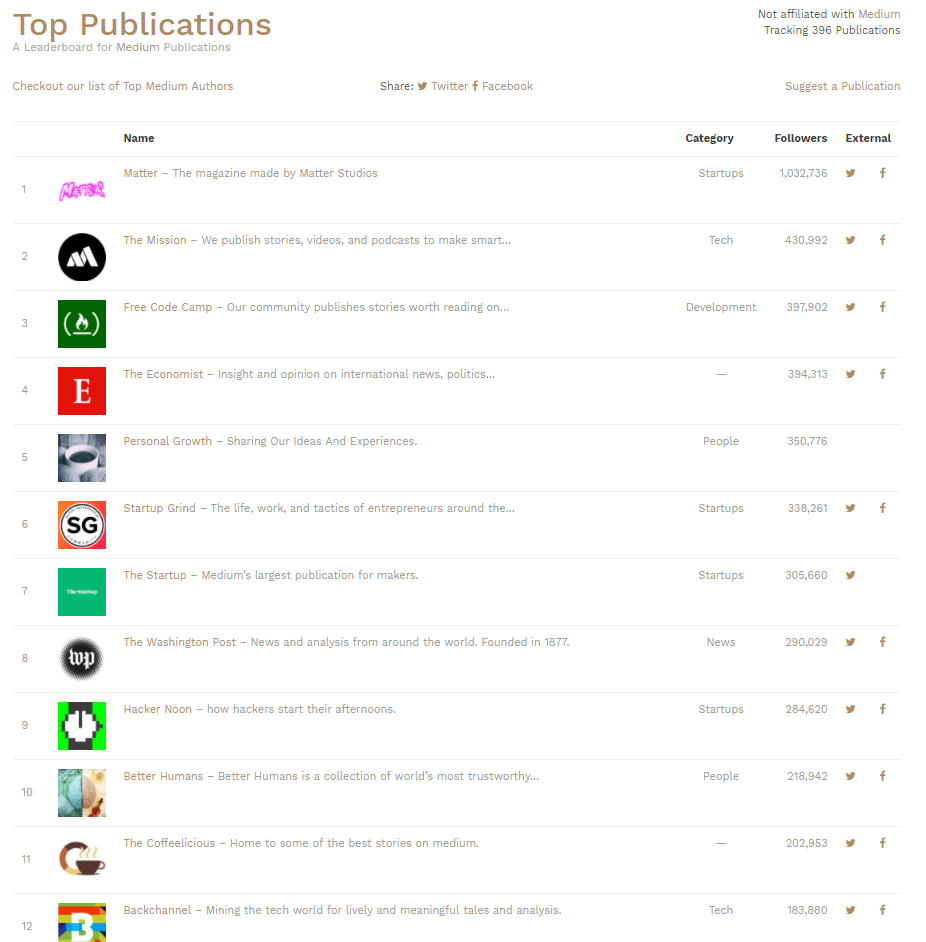 (As an aside, the publication discovery application is not directly affiliated with Medium.)
After you've polished your existing content for Medium, you'll want to spend time researching which publications are compatible with your ideal readers. Toppub.xyz is a great place to start.
Good writing that gets discovered in a publication targeted to your content is certainly a great way to build your audience.
And I would be remiss, (and possibly in trouble with Ev Williams), if I didn't remind you about social.
Leverage the social media sharing tools inside the app.
Links to these channels will help you reach a broader audience and potentially bring back new followers.
Your Medium followers are usually not the same as your Facebook or Twitter followers.
I know what you are thinking.
Pushing links of your Medium content in Tweets and posts on other platforms is not driving new visitors to your site.
But it will.
You can also target Medium users on other platforms and direct them back to your content on Medium.
Yes, it is going to cost you some time and effort, but if you are building out your audience on the platform, it will only help grow your followers when done right.
Last and certainly not least is capturing emails inside the platform.
At the end of your posts, you want to obtain some information, right?
The strategy on your other properties and platform do not change on Medium. Email addresses are the holy grail.
Upscribe is an email capture tool that is just for the Medium platform.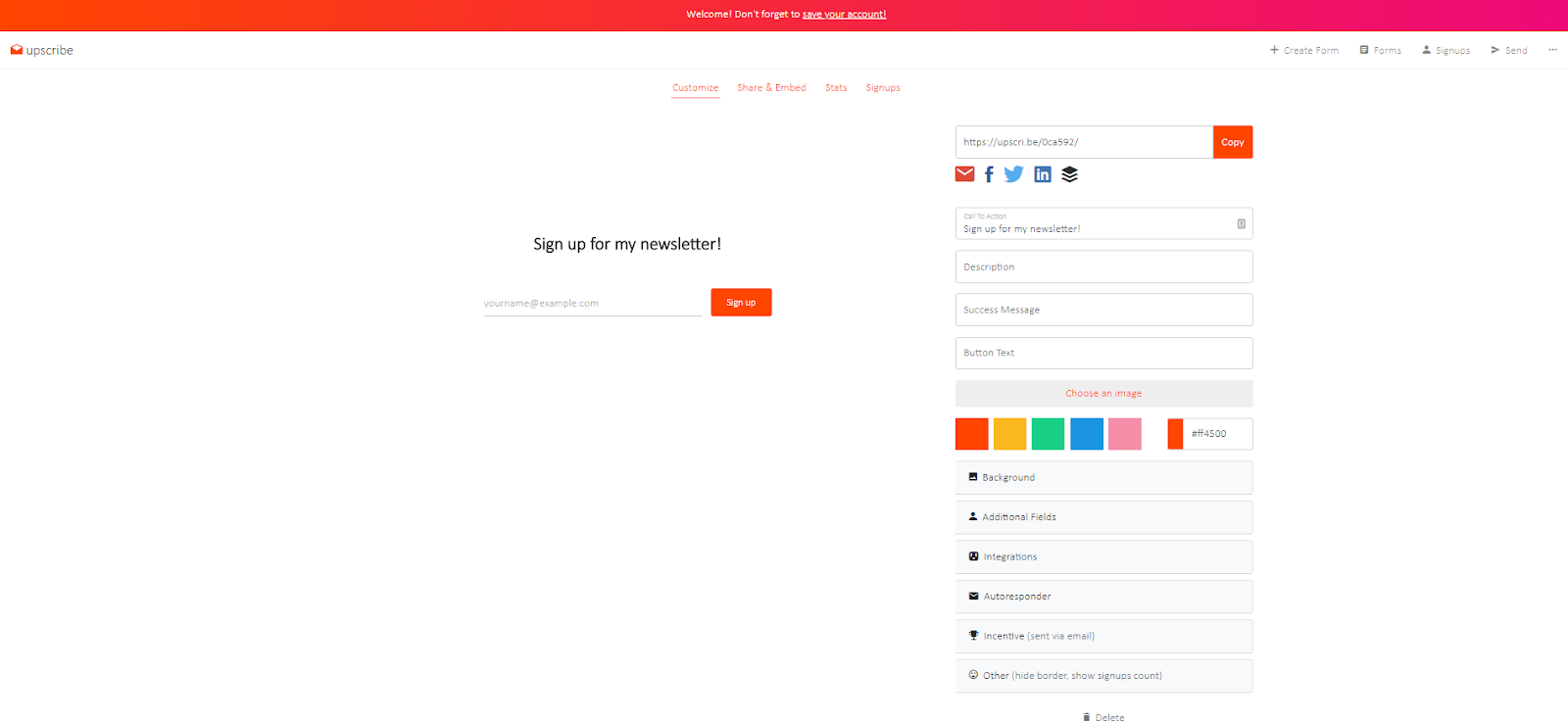 There are some different options and plans for embedding forms right into your content on Medium for capturing emails.
You would never think of not having a lead capture tool on your blog to get readers to signup for newsletters or opt-in to your private email list — why would you not use a tool like Upscribe on Medium?
Give it a try and see how many email addresses you can capture in your first month.
Conclusion
Every marketing organization could use more traffic, right?
When a channel is growing as quickly as Medium has grown over the last six years, we can't ignore the potential for increasing our traffic and leads for our site by using their platform as our platform.
While giving up control of the content to a third-party is not any marketers dream, the rewards outweigh the risk in the case of Medium.
I know I have had to reevaluate my early take on it after following their growth and success.
When we say "yes" to Medium, it might mean we have to say "no" to something else.
And that's okay.
Repurposing content without penalties from Google for duplication makes the decision even easier to start leveraging the growing audiences congregating at Medium.
I'm ready to say "no" to hoping the right audience finds me through search and paid advertisements.
Are you ready to follow Mitchell Harper's lead and get thousands of new followers and visits to your site in the next 30 days?
Start re-posting your stories to Medium.
It really is that easy.
How have you used publishing platforms like Medium to boost traffic to your website?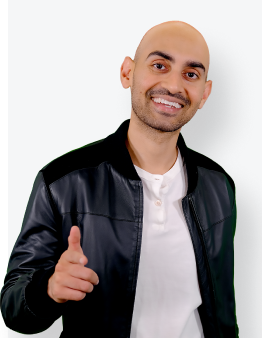 See How My Agency Can Drive More Traffic to Your Website
SEO - unlock more SEO traffic. See real results.
Content Marketing - our team creates epic content that will get shared, get links, and attract traffic.
Paid Media - effective paid strategies with clear ROI.
Are You Using Google Ads? Try Our FREE Ads Grader!
Stop wasting money and unlock the hidden potential of your advertising.
Discover the power of intentional advertising.
Reach your ideal target audience.
Maximize ad spend efficiency.