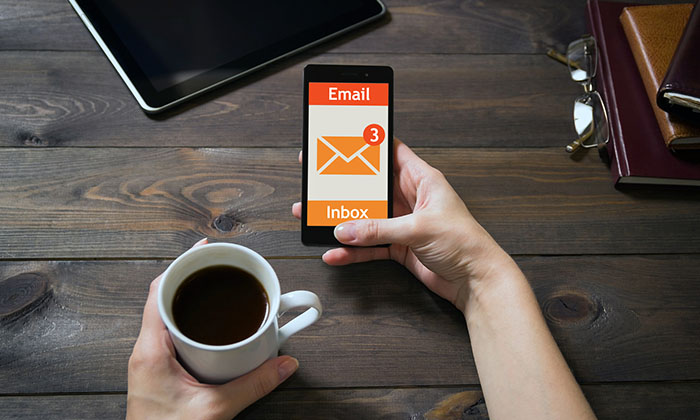 Email marketing is not dead.
You should be emailing your customers and subscribers on a regular basis.
But with so many content marketing strategies being used by marketers today, you might be caught up in the new trends and taking your focus away from email.
This is a mistake.
Email marketing is still effective.
If you're not having success with your current email campaigns, it's time for you to reevaluate what you're doing.
Your emails should create user engagement.
What's the best way to do this?
Increase interactivity.
Interactive emails are trending upward in 2017.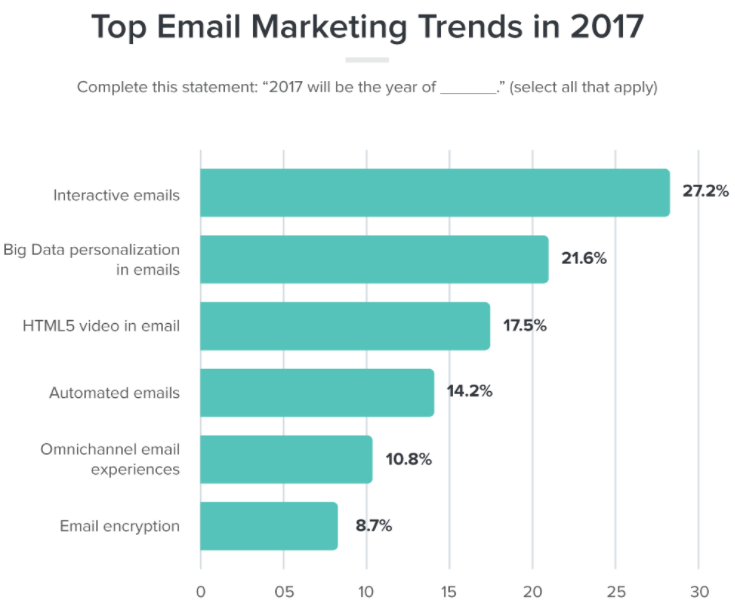 Look at the data from this graph.
Interactivity ranks number 1 on the list of 2017 email trends.
For those of you that aren't incorporating this concept into your email campaigns, it may be the reason for your lack of success with email marketing strategies.
Don't worry.
It's not too late for you to learn the basics of interactive emails.
Your customers still want to receive emails.
It's your job to make sure they are getting the right emails.
Here's what I mean.
If your emails aren't adding value to the customer, they may unsubscribe or mark your messages as spam.
You can enhance their experience with interactivity.
It's also essential that all of your messages are optimized for mobile devices.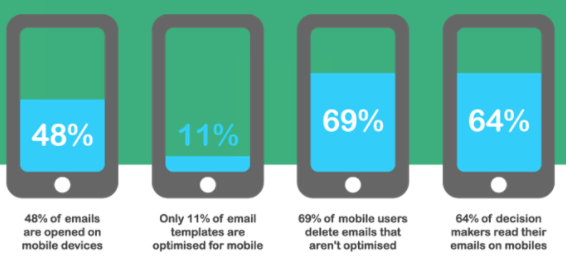 Nearly half of emails get opened on mobile phones.
Over 2/3 of mobile users will delete your email if it's not optimized.
Keep this information in mind when you're creating an interactive message.
Your subject and content might be great, but that's useless if your subscribers are just going to delete the message.
All of your interactive emails must be optimized for mobile devices.
Period.
I'll show you the top 12 ways to increase interactivity with your emails.
1. Use real-time marketing
In short, real-time marketing encompasses up-to-date situations and events.
You want to pursue an additional sales opportunity with your customer.
The strategy entices the consumer to make a decision based on a certain interaction.
Apply this concept to your email strategy.
I'll give you an example.
Moveable Ink helped Delta increase click-through rates by 123%.
How?
They sent out interactive emails that included real-time marketing.
Here's an example email.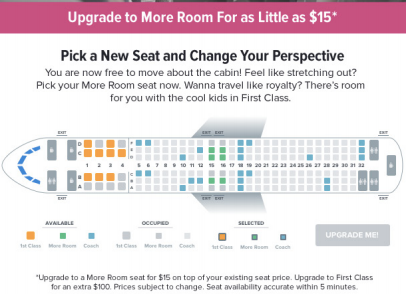 Airlines can send this to their customers after a flight gets booked.
It shows the customer real-time information about the available seats on the flight.
Now they a chance to make an additional sale.
Sure, their customer could just select a different seat at the same price rate.
Maybe they prefer a window or an aisle.
But they also have the option to upgrade to a seat with extra legroom or to first class.
This strategy makes it easier on the consumer to make a decision.
Alternatively, you could send them a message saying, "Click here to change your seat."
It would take them to your website where they would have to log in and verify some information before they do anything.
That's too many steps.
It's too many chances for the customer to decide that they do not want to upgrade a seat.
The interactive email is much simpler.
Open the email and click a seat.
That's it.
Consider applying this real-time marketing strategy to increase email interactivity.
2. Incorporate polls, surveys, and reviews
Surveys are great.
I've explained before that you can use surveys as part of your amazing customer service strategy.
Instead of sending a link to a survey via email, you can build an interactive email survey.
Here's an example from an Expedia email.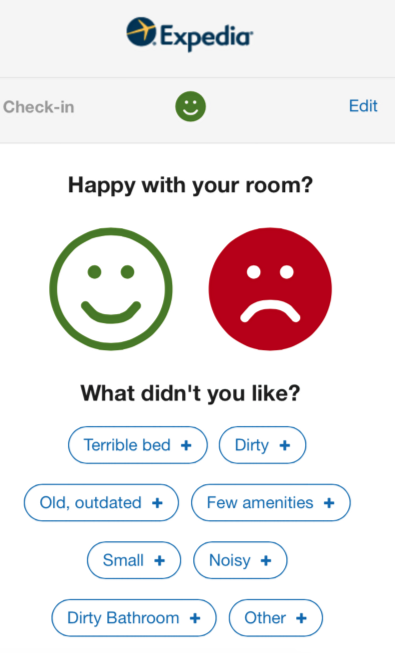 Notice how this message is optimized for a mobile device?
We discussed the importance of that earlier.
Let's focus on the interactive parts of this email.
The customer has already started answering questions.
At the top, they already marked a smiley face for their check-in process.
Now they've selected that they were unhappy with their room.
Once the user clicks the sad face, a new prompt comes up.
It says, "What didn't you like?"
The customer has options to select.
This survey is accomplishing quite a bit, and it's so simple.
You're gaining valuable information about your customer.
You're getting feedback about your products and services.
You're increasing the click-through rate on your emails.
Ultimately, this enhances the overall customer experience.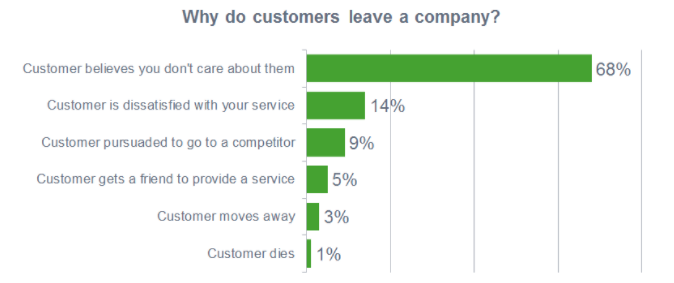 It shows your customers that you care.
This is important.
The number one reason why a customer leaves a company is that they don't feel like the company cares about them.
Your survey will show them that their opinions are being heard.
The ease of access to the survey is even more important.
All they need to do is open up their email.
No need to follow any links or visit third-party websites.
The customer can complete a survey directly from their phone within the email message.
This increases interactivity and clicks.
3. Add unique experiences like scratch cards
Consider working with a company like Zembula.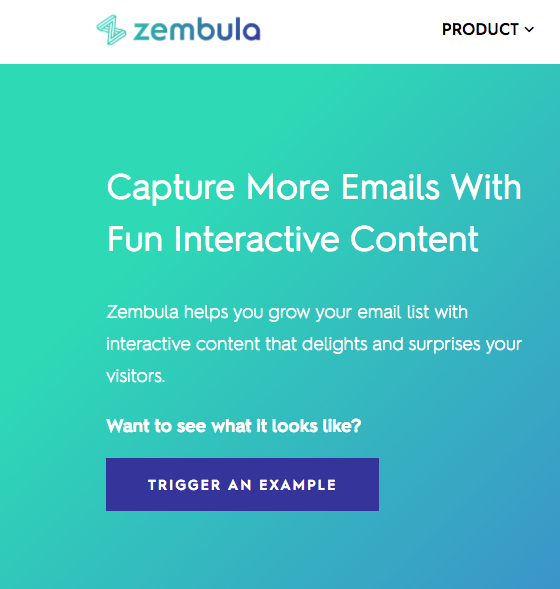 They specialize in interactive content for your emails.
By nature, people are curious.
You can exploit this notion and generate more clicks on your email campaigns.
Instead of just sending an email with a discount, encourage your customers to get involved to discover the promotion.
Here's what I mean.
Zembula has a bunch of cool options to reveal discounts.
Scratch
Peel
Zip
Tear
Pull
Slide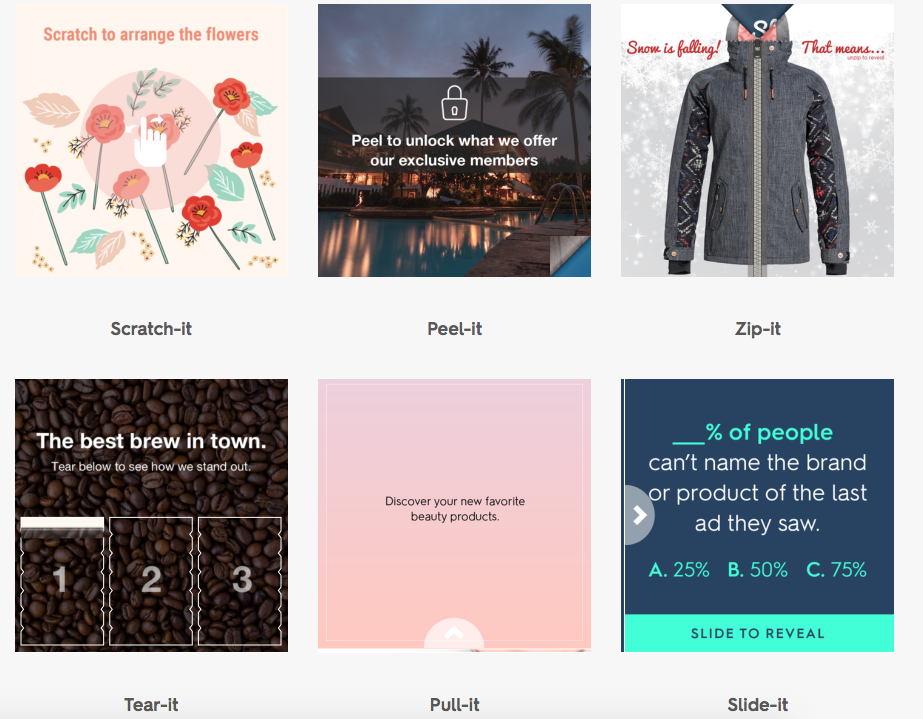 Look at the examples above.
Some are promotional offers, but none of the discounts are revealed.
The customer needs to unzip the jacket with their finger to reveal the discount.
Or they have to peel back the locked image.
It creates interaction.
These campaigns are also a great way to stand out from the crowd and separate yourself from your competition.
On average, people receive 88 emails each day.
Your customers are used to getting boring messages and promotional emails.
These emails that can increase interactivity are more interesting.
Plus, they stimulate curiosity with the consumer.
Here's another example from Forever 21.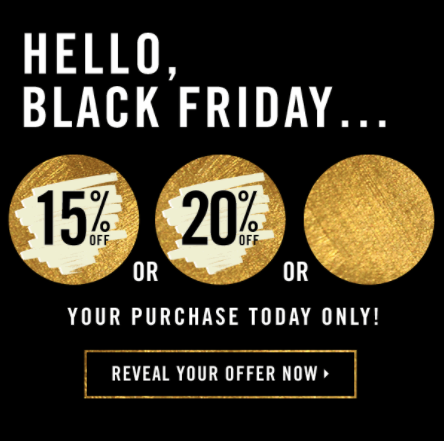 Customers can scratch a square on their phone to reveal a discount.
Your customers can have some fun with this.
It's like a scratch-off ticket or lottery game.
Which circle has the biggest discount?
They need to scratch in order to find out.
Try to incorporate this theme the next time you send a promotional message to your customers.
4. Add menus
I'm sure your website has menus.
So why not add some to your emails?
Interactive emails with a menu can improve your click-through rates.
It's also another great way to generate traffic.
Let's look at an example.
The option above is known as a "hamburger menu" in the industry.
Why?
It resembles three burgers stacked on one another or a burger in between two buns.
Regardless, it's an option for your customers to click.
The menu will act the same way as it would on your website.
Content drops down and gives the consumer navigation options.
Adding menus is a great way to add more content to your emails in a smaller space.
Instead of forcing your customers to scroll to read all of your information, the menu interaction can display more options, without the need to scroll.
It's simple but efficient.
Hamburger menus are not the only way to do this.
You can make your emails mimic the layout to your website, like this example from Kiehl's.

This menu looks just like a regular website would.
But it's directly in an email.
It's also optimized for mobile devices.
Kiehl's created a really simple design with this layout.
It will encourage customers to click and navigate within the email.
This is much more efficient than just sending a message with a link to your website.
5.  Use accordions
Accordions are another type of menu that encourages and increases interactivity.
It's a great way to pack lots of information into a small space without the need to scroll.
If you don't know how to add an accordion to your messages, it's simple.
The software you're using to contact customers may not have this feature as an option.
That's OK.
You can work with a third party to create and embed your accordion design into your emails.
Find a company like Email Monks.

They specialize in email interactivity and can help design your accordion menu.
Email monks create these menus with a CSS3 code.
CCS stands for cascading style sheets.
I won't bore you with the coding details.
In fact, you don't need to be an expert or familiar with coding at all to apply this to your platform.
They'll do all the work for you.
You can just follow the instructions to add the accordions to your existing email software.
Here's an example of what an accordion looks like once it's up and running.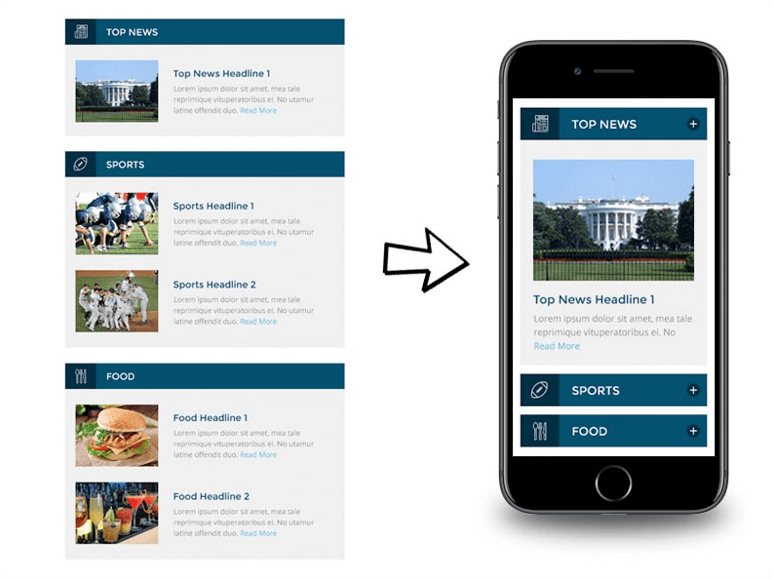 Again, it limits the need for scrolling and makes it much easier for the reader to access your content.
As always, these menus must be optimized for mobile phones.
Look at the image above.
See how simple it is?
Start to think about what kind of menu options you can add to your accordion.
6. Utilize videos
You can use videos to capture the attention of your subscribers and customers.
Videos also provide lots of opportunities to distribute different types of content.
Try using an informative video to keep your subscribers up to date about news in the industry.
Another type of video you can use is a "how-to" instructional message.
Use videos to promote new products or services.
Including a video directly in your email message is more convenient for customers than sending a link to your website or YouTube channel.
Why?
It's less work.
All they need to do is open up the message and click play.
Here's an example.
Look how clean this email is from Patagonia.
It's straightforward and to the point.
The message will entice the reader to watch the video.
43% of consumers want to see more videos from content marketers.
Nearly 50% of people look for videos online about products and services before they visit a story.
Email marketing is inexpensive and also yields a high ROI.
Combining these two strategies is a recipe for success.
If you're not using video marketing, you need to start.
Why?
Your competition is doing it.
Take a look at these numbers.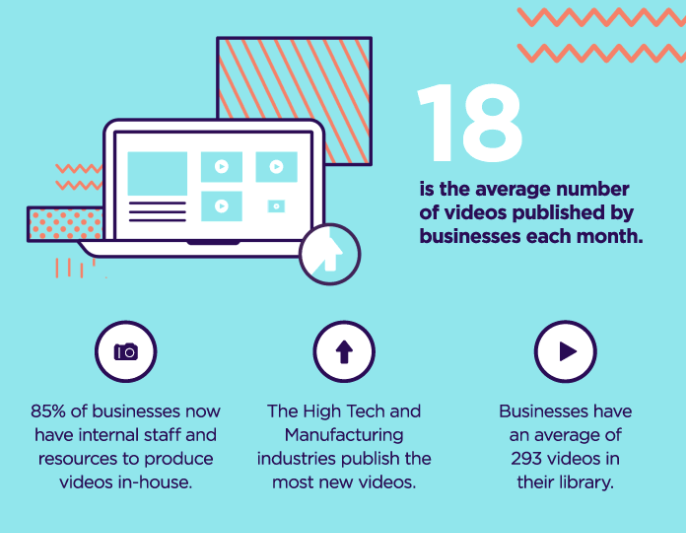 You don't need to outsource video production.
Buy your own equipment and create videos at your facility.
Make sure the videos are compelling and worth watching.
People don't have the longest attention span.
Over half of the videos that were published in the last year are less than 2 minutes long.
You should aim for that same time frame when creating your content.
Only 37% of viewers watch a video from start to finish.
What's that tell you?
Capture their attention early, and get your most important information out of the way at the beginning.
Adding videos to your email marketing campaigns will increase interactivity with your customers.
7. Add GIFs
Incorporate GIFs into your messages.
I'm sure you've heard people pronounce this word a number of different ways, but GIF stands for graphics interchange format.
It's not a photo or a video.
GIFs fall somewhere between the two.
Here's how Feel Unique incorporated GIFs into one of their latest email marketing campaigns.
The GIF captures the subscriber's attention.
It's simple, but it stands out.
It's designed to increase interactivity and enhance user engagement.
Let's take a look at another GIF from Netflix.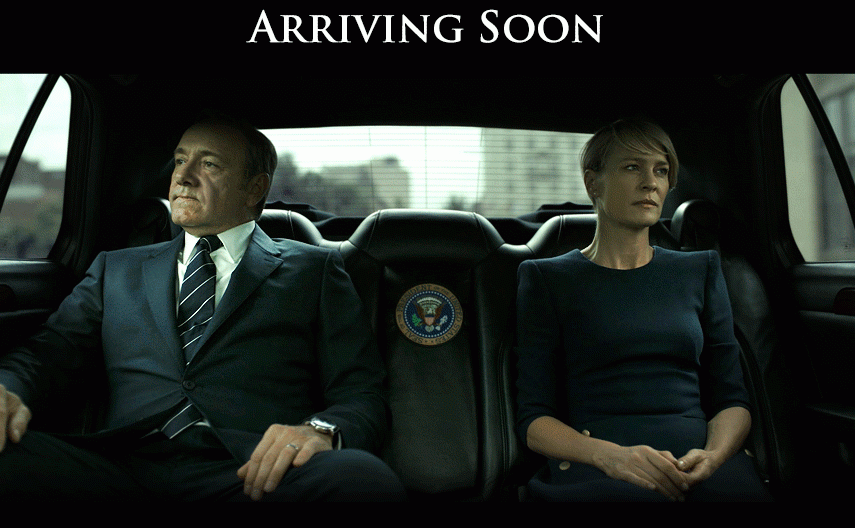 Netflix emailed this GIF to their customers to promote the new season of "House of Cards."
It's more powerful than a still image.
Yet it's not as long as a video.
GIFs are a unique way to engage with your customers and increase interactivity.
8. Add personalization
You always want to be personal with your customers.
I've explained certain ways to do this in your email campaigns.
Use tricks like:
Addressing the reader by their name
Sending messages from your personal email address
Signing all messages with your name
But how can you add personalization to an interactive email?
It's simple.
Send your customers messages about something specific to their interaction with your business.
This is a great opportunity to drive sales.
Try sending out a message about an abandoned shopping cart.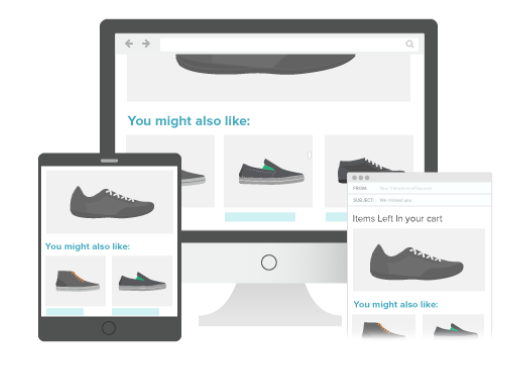 You can also send an email with suggestions about products.
Based on the customer's shopping and browsing history, you can determine which items are most suitable for their wants and needs.
It's simple.
Let's say a customer has been buying items from your e-commerce site for a year.
They always buy t-shirts, sweaters, hoodies, and jackets.
The customer has never browsed or purchased pants, jeans, or shorts.
So, send them a personalized suggestion email about similar items they've bought.
Personalization connects with your customers.
It will entice them to click and encourage interaction.
9. Use live shopping carts
Let's take that last notion one step further.
Rather than just sending your customers some encouragement to complete their checkout, you can create a live shopping cart.
Allow the consumer to shop from within the message.
Here's an example to show you how it works.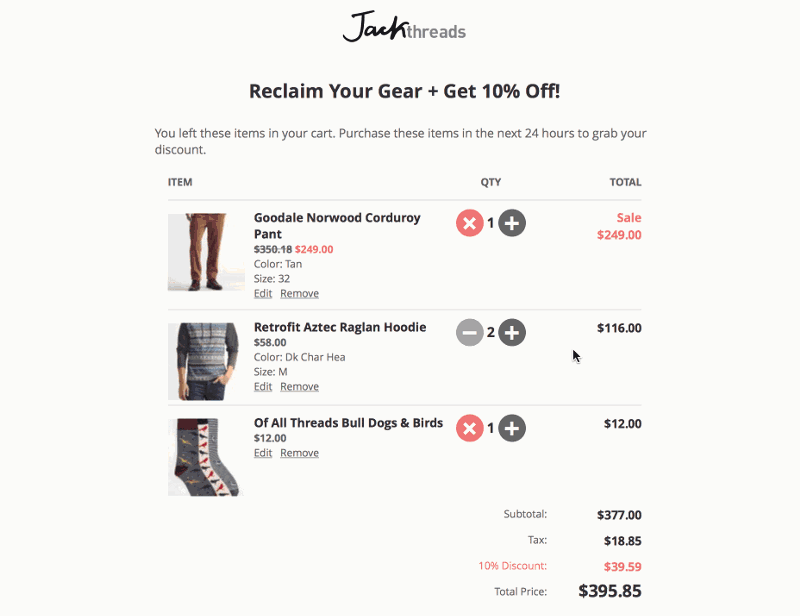 Check out this live shopping cart from JackThreads.
It's easy to use and navigate from within the email.
The cart gets updated and adjusts the price, tax, and discount in real time.
It's a smart marketing technique.
Send a cart abandonment email and add a discount.
Price may have been the reason that the customer didn't finish checking out initially, so a discount may be the motivation to finalize the sale.
This is a great way to improve checkout page conversions.
10. Include add to calendar options
Want to improve click-through rates on your emails?
Well, give your subscribers something to click.
If you're emailing customers to promote an event, you should also include an option for the reader to add it to their calendar.
Here's how it looks.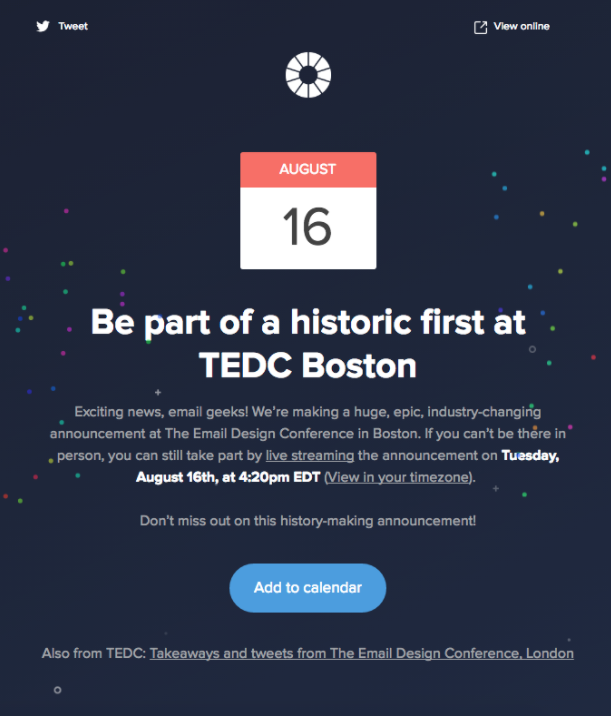 It's another simple but effective message to increase interactivity.
This function will also remind your customer about the event.
If they don't add it to their calendar, they may just forget about it.
Expecting the customers to add it manually is a stretch too.
This simple button will help increase engagement but could also result in a better turnout for your event.
11. Use interactive photos
Earlier we discussed videos and GIFs.
But what about photos?
Yes, we can use photos in our emails too.
Just make sure they are interactive as well.
Let's take a look at another example.
Pret sent this email to their customers.
Instead of just sending a photograph with a drink, they made the image interactive.
It encourages user engagement.
What's your favorite flavor?
Click on one of the 4 options to fill up the cup.
The visual impact of this is great.
Watching the cup fill up with the customer's favorite flavor could trigger a craving.
This craving can lead to additional drink sales.
12. Encourage discussion through forums
Does your website have a forum or message board?
How are you getting your customers to contribute?
Send an interactive email.
Forums are a great space for the members of your community to have an open conversation.
They are also a perfect spot for you to engage and contact with your subscribers.
If your forums are inactive, then it's an ineffective part of your website.
Try sending an email like this to promote the discussion.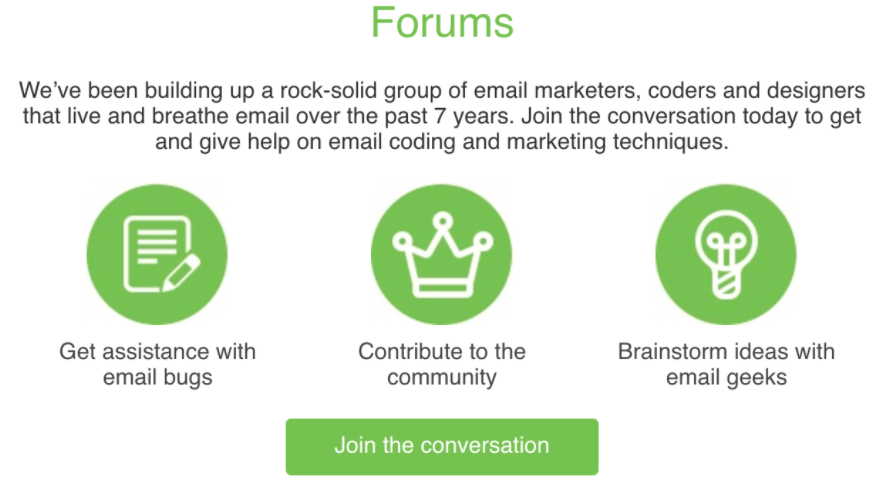 Instead of just linking to the main forum page, this example gives the subscriber different options.
Each option could be based on a specific topic that they prefer to discuss.
Do they need help?
Does your customer want to contribute?
Are they good at brainstorming?
The user has options to choose from.
Sending an interactive email like this can help drive traffic to your website.
Increased traffic can ultimately increase your conversion rates.
Conclusion
Emails are an effective marketing tactic.
Just don't let your current strategy get stale.
Incorporate certain elements into these messages to increase interactivity.
Let your customers respond to surveys, polls, and reviews.
Use real-time marketing tactics to upsell a recent purchase.
Don't underestimate the visual impact of an email.
You can use:
Create a unique experience for your customers.
Instead of just giving them a discount, spark their curiosity.
Make them scratch, pull, or slide within the message to reveal a promotional offer.
Use personalization techniques like a follow up message about an abandoned cart.
Take abandoned carts another step further.
Send your customers a live shopping cart within the email.
That way it's less work for them to complete the checkout process.
Adding menus, accordions, and add to calendar functions are great methods to increase your click-through rates.
Which strategy will you use to increase the interactivity of your email marketing campaigns?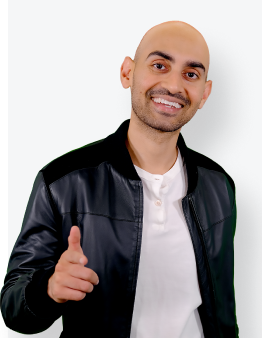 See How My Agency Can Drive More Traffic to Your Website
SEO - unlock more SEO traffic. See real results.
Content Marketing - our team creates epic content that will get shared, get links, and attract traffic.
Paid Media - effective paid strategies with clear ROI.
Are You Using Google Ads? Try Our FREE Ads Grader!
Stop wasting money and unlock the hidden potential of your advertising.
Discover the power of intentional advertising.
Reach your ideal target audience.
Maximize ad spend efficiency.