There are a lot of great marketers out there who create amazing content.
They spend hours upon hours researching, writing, and perfecting their blog posts.
All with one goal in mind: providing value.
Sounds great, right? Of course it does.
But one thing we all often fail to do is promote that content.
Don't forget that the word "marketing" is still in "content marketing."
If you're spending hours of your precious time putting together some really great stuff, you can't neglect to get that content into your audience's hands.
You want your hard work to drive new customers, land more leads, and warm up prospects.
Simply posting your article to Twitter, Facebook, and LinkedIn won't help you grow your audience. You can't just press "publish" and call it a day.
This is especially true if you don't have thousands upon thousands of followers and fans who are actively sharing your content and helping you promote it.
If you only have a few hundred followers, it's unlikely that your followers can do the promotion for you.
They might have a few friends and family to share your content with.
However, you'll never reach a 'critical mass' and go viral.
You also can't risk spending hard-earned money and time working on content that never generates any ROI.
Thankfully, you don't have to.
There are a few great ways to promote your content and extend your reach with little-to-no-extra money.
With these tactics, you can reach more prospects in just seven days without spending thousands of dollars on ads.
Here's why you should be promoting more actively and how to do it.
Why you need to actively promote
Promoting your new content just once on social media is an excellent start.
But that's not a complete promotional strategy. It's a basic tactic at best.
Usually, this will only amount to reaching a few people in the audience you have.
And we want new people.
Facebook's algorithm is designed to limit the number of existing fans you can reach. That number only gets worse over time.
That's why you need to fill the top of your funnel continually.
If you want to get your content in front of the eyes of more people and land more prospects, you need a proactive, consistent promotion plan.
Here's a perfect example of why this is the case.
The more you share the same piece of content on social media, the more traffic you get:
That might shock some people.
There is a widespread fear that your fans might get annoyed if they see the same post three times in a week.
But the truth is that they almost never see it three times. In fact, you're lucky if they see it once.
Most social media posts only last around eight hours.
Let's say you post something at noon. But your audience only checks Facebook or Twitter before and after work.
Chances are, they'll completely miss what you sent out.
That's why posting more frequently works.
These additional posts will help you reach new followers with your content that they didn't see before they started following you.
The good news is that repurposing content to repost it is also pretty easy.
There are multiple techniques to make that content seem fresh.
Try pulling quotes, facts, or striking questions and intrigue from the same post to drive tons more social media traffic without seeming spammy: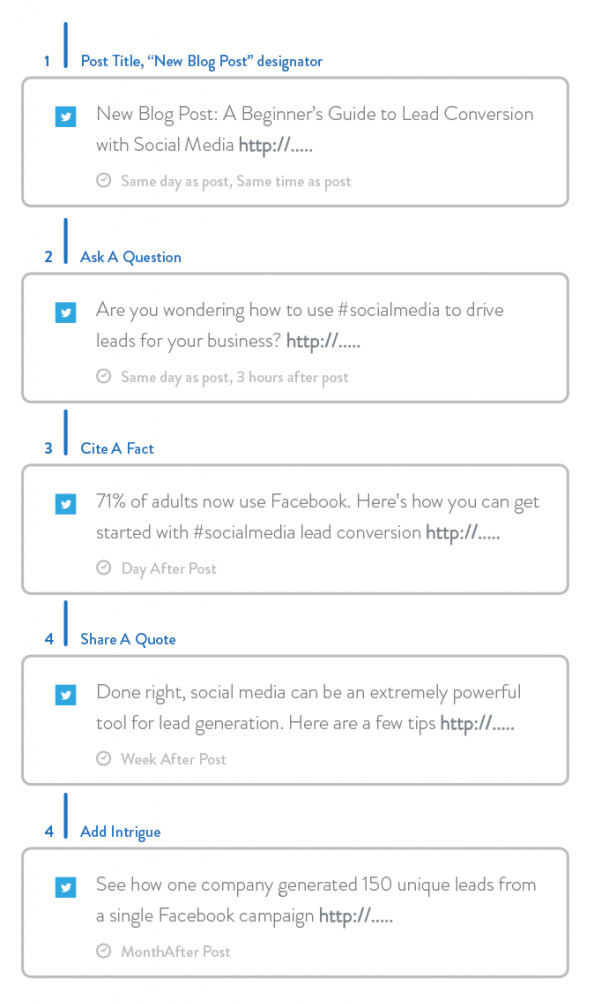 Actively promoting your content is going to help you bring in more viewers, fans, and engagement on your posts.
But don't just stop at promotion with basic social media posts.
In the next section, I'll show you some of the tips and tricks that I've used to promote my content and reach more prospects in just a few days.
Let's jump in.
Repurpose your content into multiple forms
Visual content should be a staple in your marketing and promotion strategy.
If you create an awesome long-form blog post about SEO tips or PPC hacks, you should add in various images to illustrate each point.
Why? Visual content resonates far more with users than blocks of mindless text.
This image perfectly sums up why that's the case:
You look at a massive block of text and feel overwhelmed. But a video is inviting and concise.
In fact, 65% of people identify themselves as visual learners:
And blog posts with visuals get 94% more views.
So if you have a hit blog post on your hands — one with the chance of becoming evergreen content — you should consider repurposing that content for further promotion.
Here are my favorite methods to promote current content in new platforms.
Tip #1. Turn it into a video.
It's no secret that videos are incredibly compelling.
More than 100 million people every day are watching videos on the Internet.
And mobile users are pretty obsessed with video content.
In general, video is the preferred method of gaining more information:
Bounce rates are also much lower on video than on text-based content.
On top of that, video increases your average time on site and the memory retention of that information.
Video or visual content is also the highest driver of engagement:
Just by converting and repurposing content into videos, you'll get tons more likes and shares.
I love to take existing articles and transform them into short, actionable videos.
I base all of my videos on in-depth articles that I've already written.
And I'm not the only one doing this.
Even huge companies like Entrepreneur take advantage of this strategy with their weekly roundup videos on YouTube:
They use these short, informational videos to share pieces of data from the week's top-performing articles on their blog.
Pretty great, right? Instead of taking hours or weeks to develop a video content strategy, they re-promote existing blog content to reach more prospects on different platforms.
In doing so, they save time and can still promote their best content beyond just sharing it on Twitter and calling it a day.
The other reason to do this is that you'll know what works.
For example, creating new videos can be incredibly resource-intensive. It often requires several people, perfect lighting, a studio, and other assets.
In other words, videos are expensive to produce. You have a lot riding on each one. And you can't afford for them to flop.
However, you can 'fail-proof' your video content by basing your videos on blog posts that are already successful.
Here's my method for taking existing blog content and promoting it again to reach new prospects with video.
First, go to an existing blog post that you want to promote actively.
For example, I posted this article that I spent days perfecting:

People loved it. It helped them build more local links and attract more local customers.
But sharing it on social media didn't do all that much for me.
Sure, it got me a few thousand more unique visits. But my goal for this guide was to make it big.
And I wanted people to share it actively!
So I took a different approach to promotion and went the video route.
I did this by analyzing the basic outline and structure of my original post.
You can do the same. Just read through your post and write down the basic outline.
For example, the outline for me ended up being tip-focused:
In my original article, I found that tips served as the majority of my actionable items.
I broke my video down into the main tips and steps to repurpose the content. Then I still linked back to my original piece, driving thousands of YouTube viewers back to my site!
I was able to get hundreds to thousands of visits on my YouTube videos. And the majority went back to my original article, giving me more traffic!
But if a video isn't your thing, you can always try graphics.
Tip #2. Turn it into an infographic.
71% of marketers are using infographics.
Why so many? Because they are insanely effective.
Most marketers believe that it's their most successful form of visual content.
And according to HubSpot, you can turn tons of your blog posts into infographics:
All of those listicle- and "how-to"- based posts are just begging to be converted into an infographic.
And on top of that, there are countless infographic directories like Visual.ly to which you can upload your infographics for free, allowing you to reach a massive infographic-loving audience.
This can quickly skyrocket your promotional efforts and drive tons of high-quality traffic back to your site.
To get started, head to a free site like Piktochart to make a quick infographic.
Click "Start For Free" and create an account. Once you've set up your account, navigate to the infographic section of your dashboard: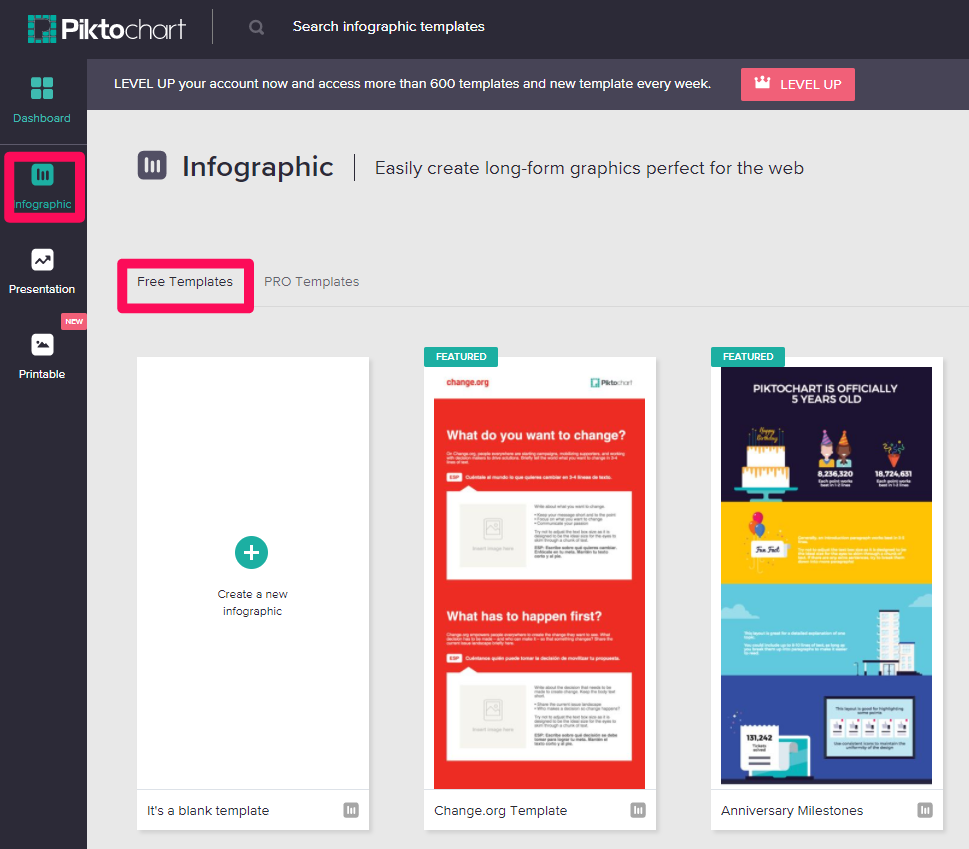 Here, you can pick from dozens of free templates to create an infographic in a matter of minutes.
Be sure to pick an infographic theme that fits your article style.
For example, if it's a listicle or how-to post, this would be a good fit:
It has pre-numbered steps that you can easily swap for your own content. That saves you the hassle of recreating it.
Once you've picked out your infographic template, simply break down your blog post into a condensed outline.
I suggest reading over your blog post and writing down the main sub-headers or action steps.
For example:
Write a good headline.
Don't overdo the clickbait.
And then take the most important information from each step to add as a description of the task.
Piktochart is super easy-to-use, so you should have no trouble creating a great infographic in just a few minutes:
Click on the left-hand menu tabs to add new content, and style it using the toolbar above.
Once you're done creating your infographic, click the "Download" button in the top right-hand corner:
And then select your settings:
It's that easy. Once you're done, you can start promoting that infographic to get it in front of new faces.
And because it's a different form of content, you can re-promote it without your current followers or fans getting tired of seeing it.
Plus, you can even submit it to directories specifically designed for infographics:
Tip #3. Use SlideShare to get tons of leads.
One of my all-time favorite techniques for driving new prospects and leads is using LinkedIn's SlideShare platform.
80 million professionals use LinkedIn's SlideShare.
And they're adding 400,000+ new presentations to the site every single month:
The platform is a treasure trove of potential new prospects.
Even LinkedIn itself is an outstanding way to reach new leads. In fact, in terms of content promotion, it's the best social network for lead generation: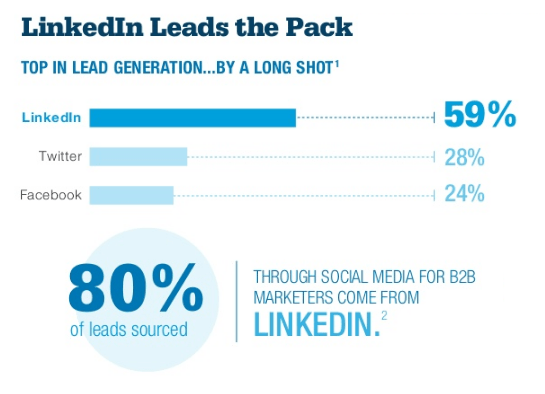 And SlideShare even promotes top posts for free on their site.
So if you repurpose your content into an exceptional presentation, you can easily get featured on the homepage and reach countless more prospects.
Here's how to get started and create a quality presentation from your current blog post to re-promote it and drive more prospects.
First, it's again important to outline your content from the previous blog post.
Just skim the post you want to re-promote and create a basic outline that you can use for the presentation.
For example, I chose this blog post: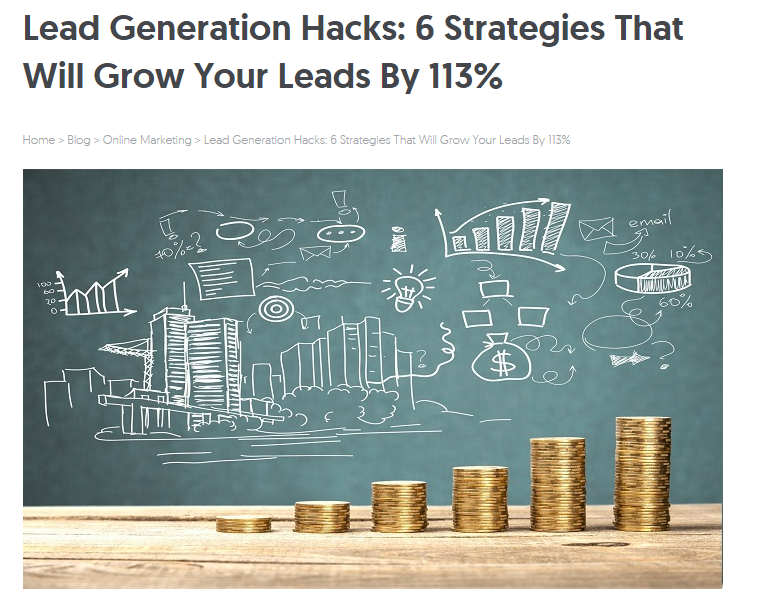 Then I combed through the different headings and subheads.
This helps segment your slides into an order that makes sense.
Just read through the post again and identify useful sections like this:
I could easily transform this long subhead into a section on my presentation like:
"Homepage Messaging for Lead Gen"
Pro tip: Just remember to simplify your existing subheads to make the presentation less wordy. Keep it focused on actionable steps and data.
Next, once you've compiled your information, head over to Google Slides and start to build your presentation.
You can choose from a bunch of different templates. The key here is to keep it clean and professional, but not boring.
Remember to craft a compelling headline. Headlines are key on SlideShare because they give you direct insight into the presentation and a reason to click.
Try using one of these headline hacks to stand out from the crowd of presentations on the site. Create one that matches up with what readers prefer to see: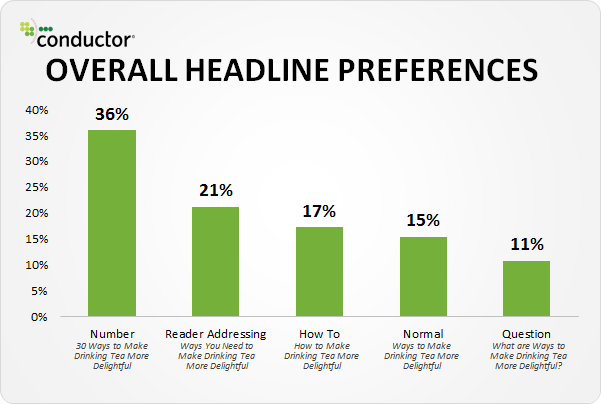 You could also try using some detailed tips to perfect your headline. I have a bunch in this step-by-step guide.
Once you're done customizing your presentation, head to SlideShare's Upload Section and click "Upload":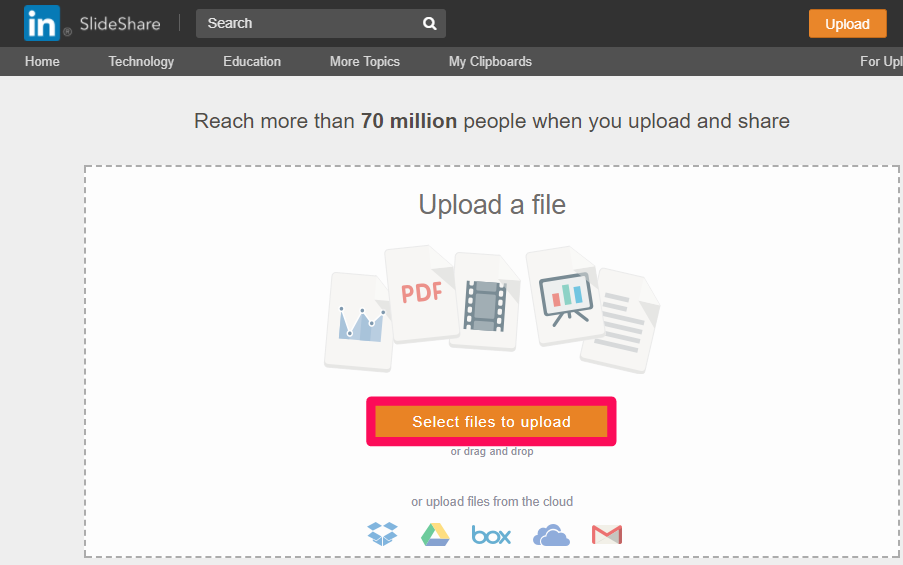 Then you need to optimize this post, just like you would with any social media promotion.
To reach more prospects with SlideShare, tag your video and focus on keywords.
Make sure to place your target keyword — "Local SEO," for example — in your title and description so that users know right away that your content is what they are looking for.
Next, add tags related to your keyword and make sure to choose an appropriate category.
Tags and categories will help SlideShare index your content and show up in the search results.
SlideShare is an excellent site if you're hoping to promote your content beyond the simple social channels that don't always perform.
Plus, just like the video and infographic options, it's free.
So instead of wasting time and money boosting your posts on Facebook, you can still reach valuable prospects through a little repurposing and creative promotion techniques.
Conclusion
Many of the entrepreneurs and marketers I work with on a daily basis are creating some of the best content I've ever read.
But it's not the best content you've ever read.
Because they haven't always mastered the promotion game.
Like most entrepreneurs, they get caught up in the grind of growing their business and following their dreams.
They don't have much time to share their content, so they throw it on social media channels and get some basic shares.
When they do take the time to promote their content, they notice huge gains.
I've noticed this, too.
When I first started promoting my content on social media, I found that traffic was pretty good.
Good, but not great. So I knew that if I wanted to get more leads and convert more prospects, I'd have to take a different approach.
Instead of the same old social media grind, I decided to repurpose my content.
I took existing blog posts and easily turned them into 2- and 3-minute videos.
I broke the pieces down into digestible outlines and turned them into actionable infographics and presentations.
The hard part of creating the content was already done, which made the various methods to promote it a piece of cake.
And those methods were worth it. I reached more prospects in just a few days after my content went live.
How? It allowed me to get in front of new audiences that weren't already seeing my content. And it made my long-form content easier to consume.
What are the best content-promotion techniques you've seen to generate results in less than one week?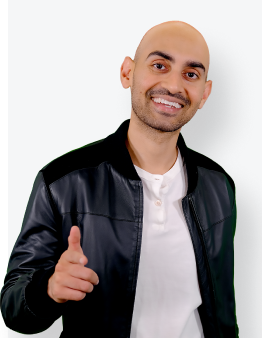 See How My Agency Can Drive More Traffic to Your Website
SEO - unlock more SEO traffic. See real results.
Content Marketing - our team creates epic content that will get shared, get links, and attract traffic.
Paid Media - effective paid strategies with clear ROI.