Are you annoying your customers?
Probably so.
Inundating your audience with multiple messages at inconvenient times isn't helpful. Therefore, it's important to know when and how to engage with consumers.
"Marketing is your way of connecting with your customers as well as a way to convey your business' personality and values – it's an essential channel…Even companies with the best of intentions can often manage to annoy their target market," writes Jennifer Warr, former engagement and awareness cell leader at Klood.
Let's explore what you can do to market your brand without being a nuisance. Here are five strategies to stop your annoying behavior:
1. Prioritize Your Customers' Needs
Customers are the primary asset of your company. If you don't prioritize their needs, everything else falls apart.
This principle is especially true when engaging customers. People can easily recognize when your intentions aren't authentic.
If you're not focused on what matters to them, your brand comes off like a car salesman pushing the purchase of an unwanted product. Then, the customer reacts by ignoring your messages and possibly going to your competitors.
Start approaching the customer relationship with respect. As a trusted advisor, you want to communicate the most relevant information.
To avoid the common myths around customer needs, analyze your behavioral data, including website and email activity, to learn your customers' habits, priorities, and desires. Their actions will help you identify how to craft the conversation.
If your data shows that your customers love matching your blue T-shirts with green shorts, you could send a post-purchase email with a discount for the shorts. In this case, you're not annoying your customers. You're providing valuable content.
There's no good reason to annoy your customers. Learn their needs to become a trusted resource, not a recurring burden.
2. Stay Away from Information Overload
It's important to educate your customer. However, don't overload your audience with too much information at once.
When people see lots of text, a couple of questions pop into their minds: How long will it take to read this? Is this even worth my time? These are the initial hurdles facing companies producing content.
To address the first question, you need to be mindful of the customer's time. She's juggling multiple tasks and wants you to get straight to the point.
For instance, when visitors land on your website, they should know immediately how your product benefits them. That means decluttering your website by removing the multiple pop-up screens and sidebars.
When arriving to Instapage's site, it's easy for consumers to figure out that this brand offers landing page software that increases conversion rates.
The second question is where some companies struggle. For any content to be worth your customer's time, it must offer some type of instant value to the person. It should directly highlight their pain points or lead them to a specific solution.
Let's say you're writing a case study about how a customer achieved success with your product. It isn't good enough to just talk about the outcome. The value in a case study comes from emphasizing the problem, the process, and the result.
Customer engagement is effective when you leave out the unnecessary information. Try producing straightforward content that offers a solution.
3. Convey Every Message Differently
As an experienced marketer, it's likely that you've heard about the rule of seven. It's the assumption that consumers need to see your offer at least seven times before taking action.
It's not an exact science, but the rule gives you a foundation on how many times to engage with your customers.
What's frightening is how companies implement this principle. For some companies, it's sending the same email multiple times to a subscriber until the person clicks the link in the message. Or it's copying and pasting the words in a blog post into a SlideShare.
Repeating the same message over and over isn't useful. It becomes noise to the customer, and that noise becomes annoying.
Instead, every piece of content should not center around the sale. Here's Susanna Tarrant, a digital marketing coordinator for Marketing Copilot, thoughts on the topic:
"Rather than trying to close the deal too early, you should create content filled with information for your audience. A useful content marketing strategy changes the conversation. It makes it about your customer and not about you or the sale."
For example, if you're planning a five-day email campaign, introduce your brand in Email #1, talk about the problem in Email #2, highlight a case study in Email #3, discuss the negative consequences of inaction in Email #4, and present your product solution in Email #5.
Every message doesn't need to talk about your product. Craft your content around the customers' needs and the sales journey.
4. Avoid Inconvenient Surprises
Somewhere between rewards and hidden fees, marketers got confused on what types of surprises customers desire. It's becoming the norm to not tell consumers the whole truth until checkout.
This practice is not healthy for the brand-customer relationship. Hiding the fine print about upcharges or credit card fees only builds a barrier.
Your customer will have one more reason to not trust you. Plus, these unexpected markups can lead to more abandoned shopping carts, negatively affecting your sales.
But it doesn't stop there. Other less known surprises include a 404 page to a critical resource, slow response times with customer support, and payment processing errors.
While your team may see these as minor glitches, your customers perceive them as another reason not to do business with you. Your customers want you to live up to your brand promise.
"Somewhere between best intentions and actual staffing, budgets, and IT limitations lies the real world of customer interactions. Don't tell your customers you value them and then banish them to an automated system or place them on hold for 30 minutes while they wait for a rep," states Samuel Greengard, contributing writer at CMO.com.
Unwanted surprises shouldn't interrupt the customer experience. Work with your team to identify which ones annoy your target audience.
5. Engage in a Timely Manner
When you engage with customers is just as important as how you engage. The right message at the wrong time still equals an interruption to the recipient.
Most content splits into two categories: evergreen and seasonal. Evergreen content is information that continually remains relevant. Seasonal content is information with a finite endpoint.
You'll notice lots of businesses posting evergreen content at random times with a mix of seasonal content, like news jacking pieces. Their strategy is well-founded, but not necessarily results-driven.
The alternative is to send timely content that fits the customer's current needs. An evergreen blog post isn't timely if it doesn't solve the present problem. A seasonal message doesn't help the customer if he wants his year-round issues solved today.
To send timely content, you must understand your customers' behaviors. You're aware of what type of lead magnets they download, how many times they visit certain pages, and the purchasing history with your company.
Triggered email marketing campaigns are one solution to sending timely and relevant content to your audience. With automation and if-then logic, customers can receive messages based on their behaviors.
For example, if a customer doesn't repurchase a product in 60 days, you can send a retention email.
Are you engaging with timely content, or just interrupting? Reevaluate when you communicate with your audience.
Stop Annoying, Start Engaging
It's definitely possible to irk your customers with unfavorable marketing habits. Engagement is a better method for connecting with your audience.
Start by learning and prioritizing your customers' needs. Deliver different messages based on the customer journey. Also, don't surprise your customers with hidden charges.
Treat your customers well. Start engaging with them.
About the Author: Shayla Price lives at the intersection of digital marketing, technology and social responsibility. Connect with her on Twitter @shaylaprice.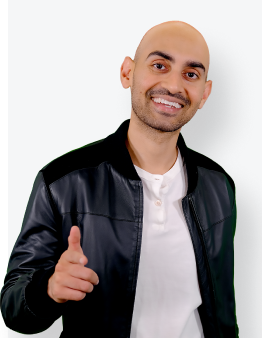 See How My Agency Can Drive More Traffic to Your Website
SEO - unlock more SEO traffic. See real results.
Content Marketing - our team creates epic content that will get shared, get links, and attract traffic.
Paid Media - effective paid strategies with clear ROI.
Are You Using Google Ads? Try Our FREE Ads Grader!
Stop wasting money and unlock the hidden potential of your advertising.
Discover the power of intentional advertising.
Reach your ideal target audience.
Maximize ad spend efficiency.