If you're looking to get more done at your company, you need to revise the culture you encourage.
The way you run your company says a lot about what you value and directly impacts the productivity of the workers under you.
According to Single Grain, happiness makes people 12% more productive, while unhappy workers are 10% less productive.
To increase the amount you and others get done at your business, you can make a few simple tweaks to improve employee happiness.
By changing those few small things, you can also create a thriving culture that boosts productivity and attracts top talent.
Some companies like Google are famous for a powerful culture that encourages innovation and drives massive profits and productivity.
By improving your culture, you can do the same.
How?
In this article, I'll give you the best strategies I've seen.
These are ways to change your culture and increase the amount everyone gets done in a day.
Hire and keep only the best
The culture you build starts, of course, with the employees you hire.
While you can resurrect a flagging culture that discourages accomplish and efficiency, it's easier to get things right from the start.
To do this, you need to be aggressive in your hiring process.
Focus on the most critical factors that will change how your company operates and you'll be more than pleased with the results.
Here's how to ensure you hire only the best employees to work for you.
Interview multiple times
When many companies seek out an employee to hire, they don't put in the time necessary to make sure he or she is a good fit for the culture.
When you work to add a new staff member to the team, expect to have a handful of interviews, and don't rush the process.
If you need a contract position, you should be able to fill this in about two weeks. But if you're finding a direct hire, it should take about a month.
Don't waste time with pointless questions.
It is, however, worthwhile to make sure the new employee is a good fit with each member of the team.
It will save you hours of headache in the long term.
Keep a running list of qualities you expect in employees
So, how do you create a seamless interview cycle that eliminates bad candidates quickly without dragging out the hiring process into multiple interviews?
One of the simplest ways to do this is by creating a checklist of qualities you expect in each new hire.
This is how Chipotle maintains a consistent workforce, despite the constant turnover in foodservice.

Don't make this list all-inclusive, and don't include every possible wish.
Include the most vital characteristics every employee needs to have.
This is much faster than interviewing off of a gut feeling.
Streamlining new employee acquisitions in this way is a great way to growth hack the hiring process
Value personality as much as skills
While technical skills are important, the true personality of an employee is usually what affects the culture the most.
If you only focus on the technical aspects of a new hire, you'll likely miss out on the qualities that make him or her a truly valuable candidate.
When Southwest Airlines hires new employees, they ensure that the attitude of the employee and their behavior matches the expectations of the company.
This is how you can ensure that each person you hire will actually add to the team instead of detract from it.
According to Austin Benefits, poor hiring decisions are extremely costly.

If you're going to be working to keep your employees, you need to spend plenty of time making sure the attitude and character of your employees match your values.
Offer employees money to leave
While it might seem like a crazy way to make sure employees want to stay with your company, it's a strategy used by one of the businesses that is best known for service: Zappos.
When a new employee joins the team, Zappos offers them $2,000 to quit.
If the money is enough of a temptation for the hire to give up, they are not a good fit for Zappos.
This may be a crazy strategy, but when considered in the light of how much it costs to maintain a disengaged and unhappy employee, $2,000 can seem like a bargain.
By maintaining a state of constant happiness and positive attitude amongst your employees, you can make massive improvements in productivity.
When Google boosted employee happiness by 37%, they saw a faster and more effective workforce.

By ensuring you only keep candidates who want to stay with you, you can make sure employee happiness won't experience sudden dips.
Look to improve retention rates
Overall, one of the factors that determines your success with employees isn't the way you hire them, but how you work to actively keep the workers who do the best work.
Even with a perfect hiring strategy, your company culture can easily slide into disarray if you don't keep the employees you worked to acquire.
Maintaining high retention rates pays as well. Taco Bell restaurants with the lowest turnover rates saw a 55% increase in profits.
Thankfully, building a culture and keeping great employees around works hand-in-hand.
According to Washington State University, strong cultures have a 13.9% turnover rate, versus a 48.4% turnover rate in companies with weaker cultures.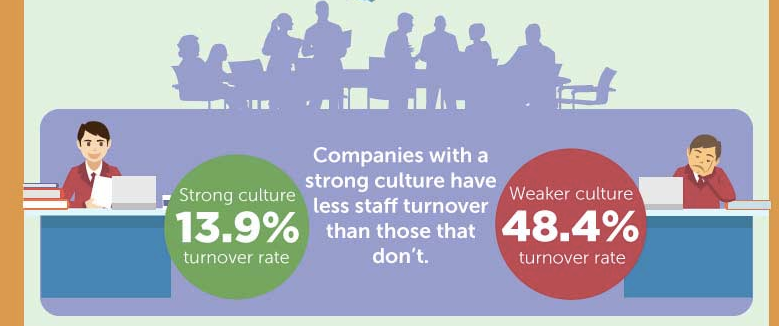 So how do you build up a strong culture that attracts and keeps great employees like a magnet?
It starts with the voice you use to communicate with your employees.
Have a bigger mission
When it comes to techniques that work to keep employees engaged and excited about their work, one of the most positive changes you can make is the mission you support.
While profits and revenue are important for every business, few employees will be motivated by this alone.
And while having a fun and exciting workplace is great as well, it's also not the only factor that will keep employees working with you.
Ultimately, the job itself needs to have an important role in the world at large. Here's how you can create this type of image and communicate it effectively.
Develop a set of common values
When you build a company culture, you need to decide which values that are most important to you.
Develop a common language around core principles that you expect to see in your employees.
You should also create a standard of work and principles by which each employee needs to abide.
While it's a good idea to have this framed in your mind, you'll be best served by writing it down in a way for others to easily see and understand.
This also prevents the common problem of a company's mission gradually shifting to something else. Keeping a mission and purpose in writing keeps it steady for years to come.
Support an important cause
If you haven't fostered a sense of corporate social responsibility (or CSR) in your company yet, now is the time to start.
According to the Chartered Institute of Marketing, 82% of 18-24-year-olds consider CSR when deciding where to work.
True, that's with the younger population, but even 75% of older millennials are looking for this same feature in the places where they work.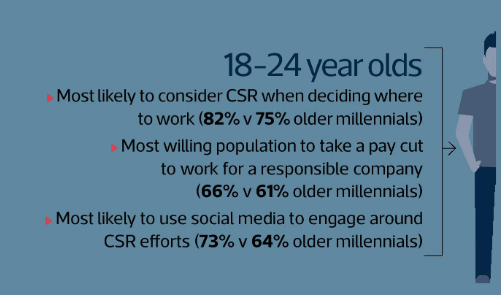 If you're looking to hire younger employees, this is something you can't avoid.
But there's a benefit as well.
These employees are willing to take a pay cut to work for a responsible company, so the cost may not be as steep as you might expect.
Either way, find a cause to support and demonstrate it clearly in action as well as the words you use about the company.
Test and understand
To get started with a larger message in your company culture, you first need to understand exactly what message you're sending right now.
To do this, you need to establish metrics, send surveys to identify strengths, and provide channels for anonymous feedback, according to TINYpulse.
I love testing and believe it's the best way to improve just about everything.
That goes for company culture as well.
To make sure you're really creating a company culture that works, make sure you test regularly.
Of all the things you test and refine, the most important tip is to look carefully at what you measure, track, and reward for your employees.
Ultimately, employees will follow the carrots and sticks you provide, so make sure these focus on the types of behaviors and actions you'd like employees taking on a regular basis.
Communicate the mission regularly
Even if you have a strong company message and mission, you need to communicate it regularly to make it effective.
To do this best, look to provide a common way to show the values that are important to your company.
Since companies with effective changes and communication are 3.5x more likely to outperform their peers, this is truly something you shouldn't take for granted.
But what strategies work to keep your team aligned?
Look to use multiple channels to improve communication.
While digital newsletters, blogging, and communication methods like Slack are useful, communicate outside of the screen if possible.
Consider holding regular meetings to onboard everyone of company changes, have focus groups to discuss new changes, and include groups to discuss solutions to new problems.
Use flexibility to improve employee engagement
If research has borne out one finding, it's that rigid adherence to guidelines tends to drain employees.
Instead of doing this, look to provide new ways to employes to be flexible with how they're encouraged to spend their time.
Research shows that 63% of employees are not engaged, and 24% are actively disengaged.
This is a huge problem!

Unfortunately, these disengaged employees hurt your business and can sometimes even pull other employees down with them.
To make sure your culture values productivity and effectiveness, look toward flexibility to provide an ability to manage engagement.
By being flexible with your employees, you can encourage more productivity and higher levels of engagement.
Offer unlimited vacation time
While it might seem like a ridiculous way to increase engagement, unlimited vacation time actually has a great benefit: Employees are allowed to disengage off the clock.
Most companies offer a limited set of vacation hours, meaning each employee needs to focus whenever he or she is not on vacation.
By providing a more flexible break policy, you can allow your employees to disengage whenever they want to while away from the job.
While this is a massive amount of freedom, most employees don't even use the perk.
It's a win-win for your company that only leads to increased engagement.
Since low-level engagement in employees leads to a 33% decrease in operating income and an 11% decrease in earnings growth, this is something you should at least try.

Meanwhile, high-level engagement in employees boosts operating income by 19%, and earnings growth by 28%.
A flexible vacation policy is a great way to boost this number at your firm.
Allow employees autonomy to work on their own projects
When an employee is working at your company, there's no reason to restrict him or her only to jobs you have on the table.
While this may seem like the most productive way to encourage efficiency, sometimes you get the most benefit from employees working on their own projects.
The classic example of this is Google, which provides its employees a staggering 20% of work time to work on projects that interest them personally.
This has led to massive innovation, including Gmail and AdSense.
There are plenty of other examples as well.
3M famously gives its employees 15% time to work on their projects, which has led to inventions like the Post-It Note.
Allow employees freedom to work on their own projects, and watch your culture and productive innovation skyrocket.
Give flexible work hours
If you aren't providing flexible work hours for your employees, you're missing out on a huge factor that can shape the way employees feel about your company.
To get started, look at the most popular flexible work options from Flexjobs.
While you may not be able to incorporate all of the idea into your current workplace strategy, look to experiment with one or two, like partial telecommuting, to test.
This may increase productivity and worker satisfaction. If so, keep it up!
Small changes like this can boost employee happiness, leading to a workforce that outperforms competition by 20%.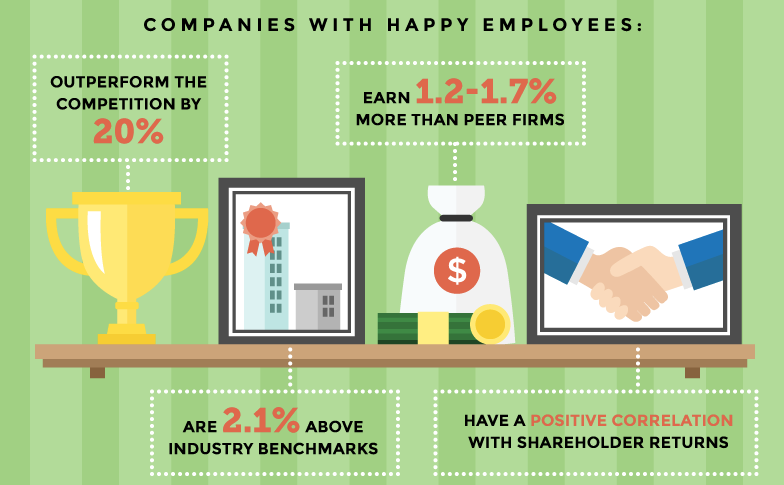 Flexible hours can change the productivity of your employees.
Show respect for people
If you aren't respecting the people that work for you, you're going to have a hard time keeping employees.
According to Careeraddict, firms that valued people keeps employees for an average of 45 months, whereas workplaces that valued work tasks kept them for 31 months.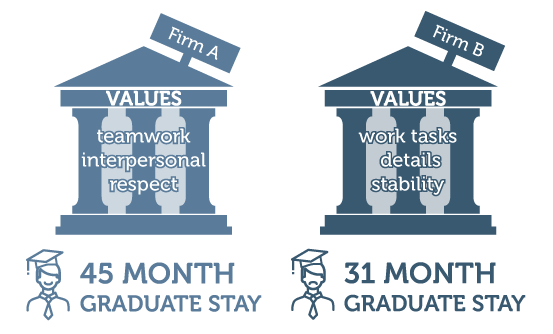 To keep a great retention rate of your employees, look to value them and not just their work.
Build a culture of efficiency
If you're going to increase the productivity of your workforce, you need to build a culture that supports efficiency, hard work, and focus.
While it's important to have a fun and thriving workplace that keeps employees engaged, you also need to make sure there is plenty of space for focused work and accomplishment.
Here' how to build a culture that focuses on your business.
Reduce noise
Research by Cornell University found that workers exposed to noise experience a higher level of stress.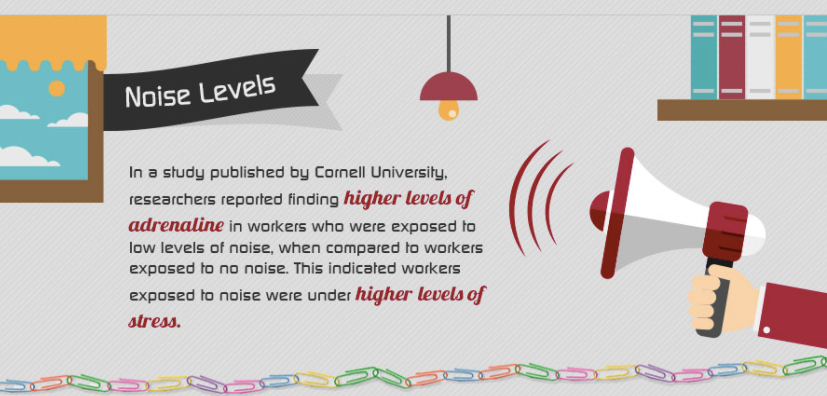 Of course, a stressed-out workplace won't help build a productive workplace culture!
To help improve the productivity of your employees, look to create a way to reduce noise.
Consider reducing the amount of exterior sounds, enforcing quiet times during the day, or even providing separate places to work for employees who need absolute silence.
Keep everything in the same place
The way you shape the resources around your company dictates what the culture looks like.
If you're not concerned about the efficiency of your workplace, your employees won't be concerned about the efficiency of what they're doing with their time, either.
According to Marketcircle, nearly 20% of an employee's time is wasted searching and gathering internal information.
To show that you're serious about efficiency and productivity, work to create a streamlined process for tracking and categorizing internal information.
Nothing says that you value important work more than by reducing the amount of frivolous activities your employees have to do on a regular basis.
Implement the headphone rule
If you want to stop your employees from getting distracted and not being able to do their best work, consider implementing what's known in some circles as the "headphone rule."
This is a simple rule that states that when an employee has headphones in, nobody can bother them.
It's a great way to keep employees concentrated on the effort at hand, while not being pushy or demanding.
If someone wants focus, he or she can easily acquire it with headphones.
Otherwise, there is plenty of opportunity for free discussion.
Since the average employee has 56 interruptions per day and spends two hours recovering from those distractions, it's a productivity change you can't afford to miss.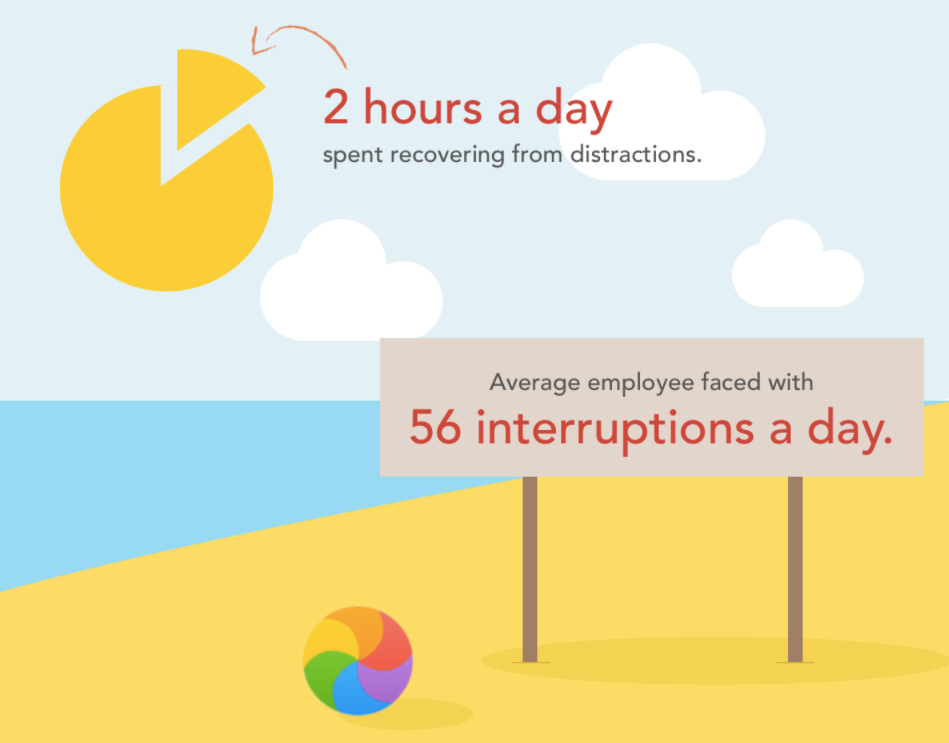 Show your employees you're serious about eliminating distractions from the workplace and watch productivity skyrocket.
Reduce pointless meetings
Let's face it: A lot of the meetings present in every workplace are relatively pointless and unnecessary.
If you're spending time in meetings that aren't valuing your time, or worse, forcing employees to attend meetings that are an absolute waste, you're sending a clear message.
According to Lane End Conferences, employees said 28% of meetings were unnecessary, and 45% said they would be more productive if the company banned meetings for one day.
To prevent sending a message that says productivity isn't important, consider working to make sure your employees don't have to attend any meetings that aren't necessary.
Improve the work environment
Perhaps the most visual way to improve a company's culture is by changing the work environment.
While we often think of the work environment as the biggest way to change culture, it's likely not the most important.
How employees interact, the rewards you have in place, and the culture of communication you have play larger roles in how productive your workforce is.
But that doesn't mean the workplace isn't important.
You need to create a fun and inviting place for employees to come to work each day.
In addition to helping employees it's a great way to build up a powerful brand.
Provide free food
Let's start with the classic example of Google's excellent work environment: the free food.
While it's probably too expensive for you to hire a set of personal chefs to prepare organic produce raised on-site like Google does, there are other ways to improve morale with food.
Besides, there are huge benefits to this kind of treatment.
According to Switch and Shift, employees with poor diets have a 66% reduced productivity than those who eat healthy.
Of course, one of the main reasons for a poor diet is because it can be difficult to find nutritious food.
If you provide this at the workplace, it makes it even easier for your employees to eat right and get more done in the workplace.
According to data published by Entrepreneur, 67% of employees with access to free food are very happy at their current job.
And as we've seen before, happiness is directly related to employee productivity.
If you can't afford a full-scale buffet all day, consider including free snacks, energy bars, or even just free coffee.
Even a small change can increase the amount of time employees want to spend at the company, improve their breaks, and overall extend the work they get done each week.
Play background music
According to WebpageFX, 90% of workers perform better when listening to music.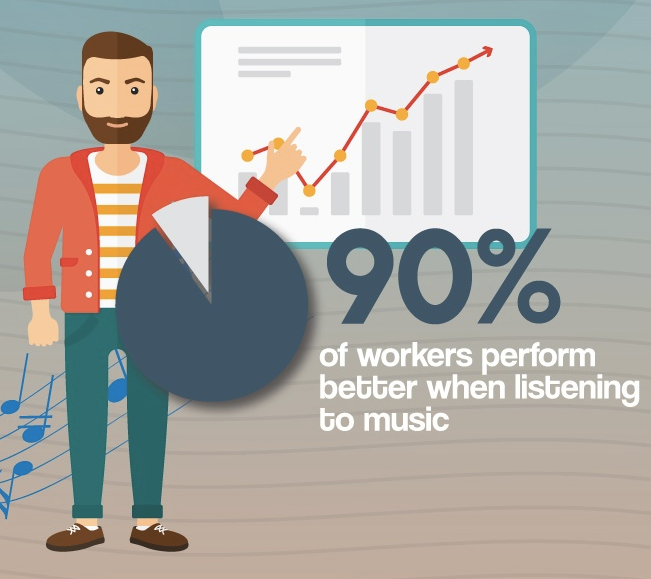 To increase employee focus and change the atmosphere of the work environment, consider adding a soft level of background music to the workplace.
This shouldn't be anything too complicated or distracting, but a soft backdrop can improve employee focus.
Look for calming tracks that have minimal or soft lyrics, and don't play it at a loud volume.
If you're worried about employees disregarding the music or not being able to focus because of it, consider implementing this at the same time as the headphone rule.
This allows employees to listen to the music if they choose but also tune it out with their own music if they need time to concentrate and focus.
Improve the color scheme
Sometimes, the most subtle things can change how your employees perceive the company and the culture as a whole.
According to Careeraddict, one of the best ways to know about a company is through a method they call "The Lobby Test."
Look carefully at the way you've set up your lobby, and determine what kind of culture it creates.
This dictates what employees see every day when they arrive and the kind of work that gets done with the culture you have in place.
One of the most important factors is the color scheme you use for the walls and decor at your workplace.
According to Mainstreet Host, different wall colors indicate different types of work. Cooler colors like green, blue, and purple, are inviting and relaxing.
Meanwhile, warmer colors like red, orange, and yellow are associated with creativity.
Depending on the tie for workplace culture you want to foster, consider painting the walls with a different to create different types of emotions and draw your employees into work.
If your focus is primarily on creative tasks, look to warmers colors. More traditional work environments will benefit from cooler colors.
Change the layout
The way your work environment is set up dictates the kind of work you expect employees to do.
Research published by Entrepreneur showed that 94% believe the office plays a role in attracting top talent and 59% agreed that location has an impact in office space decisions.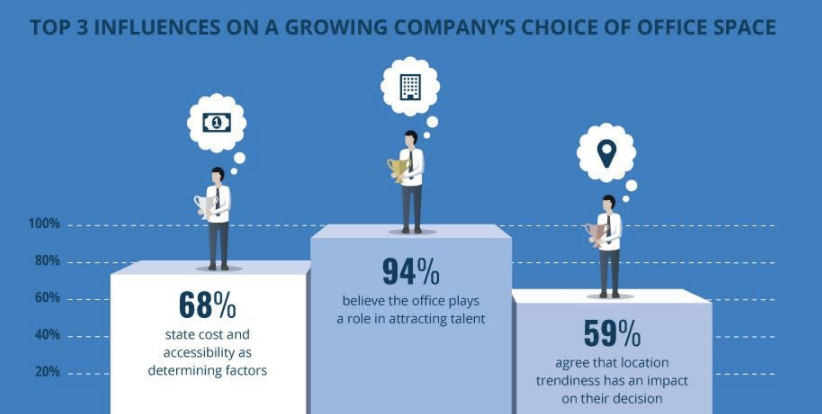 With such large statistics showing the importance of your work environment, you should put thought into exactly how it's presented.
First, consider different ways to arrange the desks. An open layout can promote creativity and social interaction, which is helpful for a more inviting space.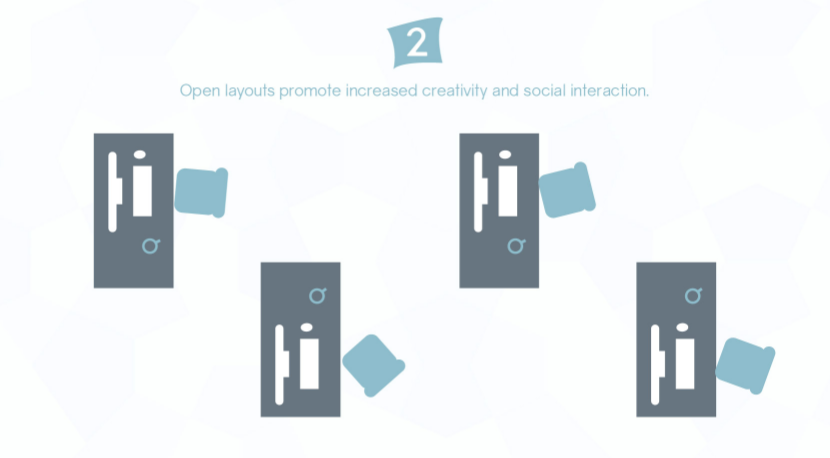 If you're looking for more individual work, however, you may want to include smaller spaces for concentrated activities and focus.
According to Thought Reach, 90% of 200 decision-makers surveyed said that better office design can improve productivity.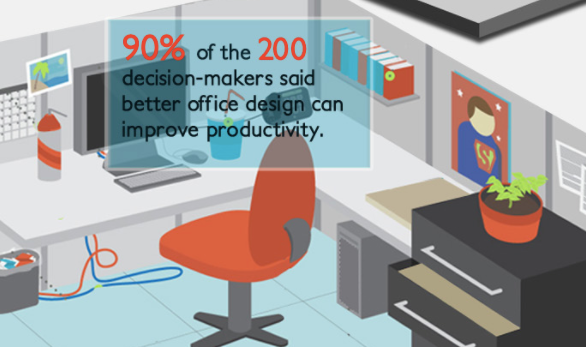 Look for ways to show employees the importance of productivity in the way you set up the space in which they do their jobs.
Improve lighting
The amount of light an employee has while doing his or her job determines the way he or she sees that work.
A lot of light encourages work and makes it easier to see and perform better, while limited visibility can hurt productivity in the long term.
You also want to include as much natural light as possible, especially through the use of windows or skylights.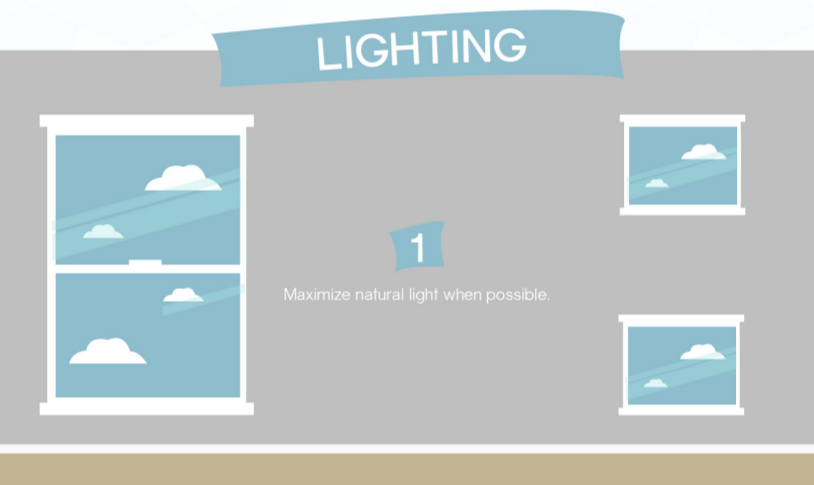 This kind of bright work environment shapes how employees see the place they go to for work and can make small but significant changes in engagement and productivity.
Conclusion
If you're looking to increase your productivity, the answer might be in the way your company operates.
Increasing happiness in the workplace can pay big dividends in the future.
Sears stores that increased employee happiness likewise showed a 5% increase in revenue.
By taking a close look at the culture you're promoting, you can come to understand exactly how you need to improve the environment and start reaping the revenue gains yourself.
It all starts with the employees you hire. By making sure you only hire the best, you'll get a better workforce and more productivity.
To promote productivity without forcing extra hours that make employees unhappy with their workloads, you need to have a clear mission, then give your employees flexibility.
That flexibility in schedule, however, must be accompanied by a focus on efficiency and accomplishment.
Finally, change the physical setup of your workplace to encourage out-of-the-box thinking and problem solving in a way that makes employees even more interested and engaged.
How will you build a company culture that skyrockets employee productivity?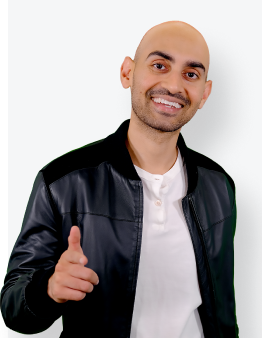 See How My Agency Can Drive More Traffic to Your Website
SEO - unlock more SEO traffic. See real results.
Content Marketing - our team creates epic content that will get shared, get links, and attract traffic.
Paid Media - effective paid strategies with clear ROI.
Are You Using Google Ads? Try Our FREE Ads Grader!
Stop wasting money and unlock the hidden potential of your advertising.
Discover the power of intentional advertising.
Reach your ideal target audience.
Maximize ad spend efficiency.