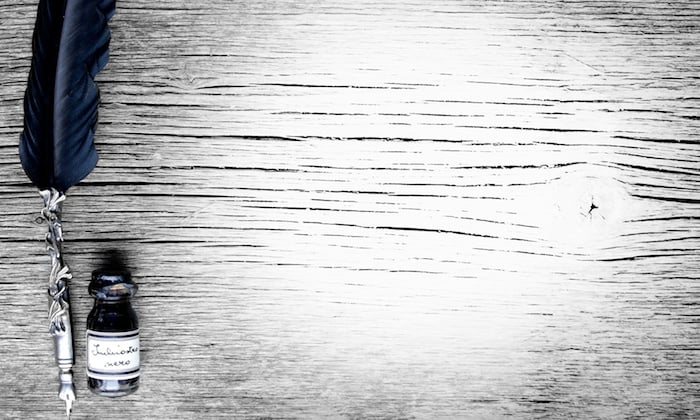 How do you nurture your leads?
When you're spending money to acquire leads, especially through pay per click advertising, you need to also ensure that you're turning them into customers.
You can send different types of emails to your PPC leads. Some of these emails help you built strong rapport while others help you get more sales.
If you're hoping to engage effectively with your audience, it's vital to structure your emails while being mindful of the intervals between messages.
Marketing automation seems like a time saver but can hurt your lead generation results when left unchecked.
To a large extent, your email click-through rate and open rate will be determined by the type of email that you send. Your conversion rate will further be affected by the ability of your landing page to set a sense of urgency.
Across all industries, only 2.5% of emails generate a click-through.
That's why it's of the utmost importance in your marketing campaign to understand your audience and generate only leads that are targeted to your offers. 
1. Welcome Emails
One of the most important emails to send your email subscribers (especially people who have shown interest in your business by either downloading your lead magnet or signing up as a free trial user) is the email to welcome them aboard.
Welcome emails are often automated. That's the beauty of an email autoresponder service.
You schedule the email to be sent the moment a new lead is added to your email list. This is where marketing automation works for you. The lead gets immediate gratification and you get an opportunity to build trust.
Welcome emails enjoy high open and click-through rates. See the Experian chart below: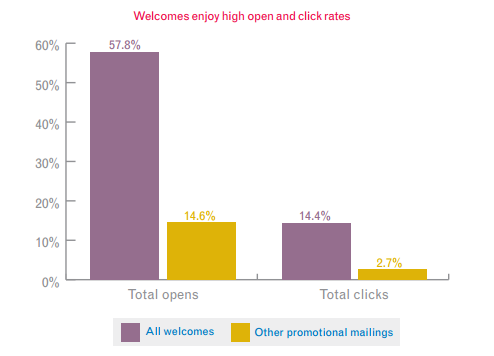 CNET increased its email click-through rate by an average of 26% with a nurturing welcome email to its new leads.
Get to know your new leads better by first welcoming and showing your appreciation of them.
After all, they made a great decision to respond to your offer considering all of the distractions they routinely encounter online, particularly in social media.
Danavir Sarria, from CopyMonk, has a friendly welcome message. Take a look:
A lot of marketers aren't welcoming their leads or integrating them into the fold. 
If you've been paying attention to your email marketing analytics, you'll agree with me that welcome emails have a particularly high open rate.
The good news is that you don't have to do it all the time. Once you set it up, it works automatically as part of your lead-gen funnel.
The welcome email helps to create a good impression, build strong rapport with new leads, and enhance your brand. It's the start of your email content marketing efforts.
Note that a welcome email doesn't have to be a single email. You're free to test what works best with your leads because every industry and niche is unique and your email campaign should match your niche.
As an example, SavvyMom, a Canadian digital publisher, used a 5-step series of welcome emails to increase their new subscriber click-through rate by 450%.
2. Expectation Emails
When you're expecting a cab, or a car from Lyft or Uber, what do you do?
If you're like me, you're alert, watching for that car to get there and expecting it to arrive within the set time.
In the same vein, expectation emails are crucial because they give new leads and email subscribers an idea of what they should expect.
Over time, you'll discover the best time to send emails to your leads by tracking your open rates and based on the expectation that you've set.
The truth is, when somebody first downloads your lead magnet and gets added to your list, they don't know what to expect.
Sometimes they may not even know that they've been added to your email list. Perhaps they responded to a content upgrade on another blog (e.g., where your guest article was published).
As a rule of thumb, don't set expectations too high, especially when you're starting out. You can always reset expectations later based on feedback regarding your email campaign from your leads.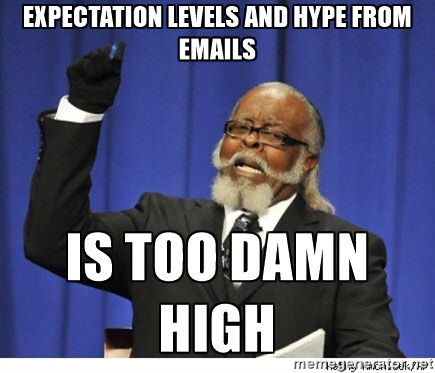 It's always a good practice to send an expectation email, telling them what to look out for, when your next emails will arrive, and how to unsubscribe from the list in the future if necessary.
Set expectations early so that your leads won't be surprised when they receive a new email from you.
3. Standalone Emails
Before you can send a standalone email, you need to segment your email list.
This is crucial because you're expected to tailor your emails based on their interests and circumstances.
Most online stores have standalone email templates, which have proven to convert more leads into customers. You might consider using some of the templates provided by your email autoresponder service. 
Remember, all successful content marketing borrows and steals successful practices from others. Email marketing templates are no different.
For example, you wouldn't send the same offer to those leads who have already responded (e.g., signed up for free or purchased it).
Standalone emails are simple emails that you send to your PPC leads to educate, presell, nurture, or cultivate a habit in them.
For example, if you're selling a new book, you could send a standalone email to a specific segment of your list that shows a sneak peek to further cement the trust that they have in you.
A standalone email can be sent bi-weekly or even once a month. The timing of your marketing campaign can serve to ignite your leads and begin the process of nurturing them ultimately increasing lead generation.
Pat Flynn once sent a standalone email to his subscribers requesting that they participate in his "Will It Fly Experiment" in order to boost his book sales.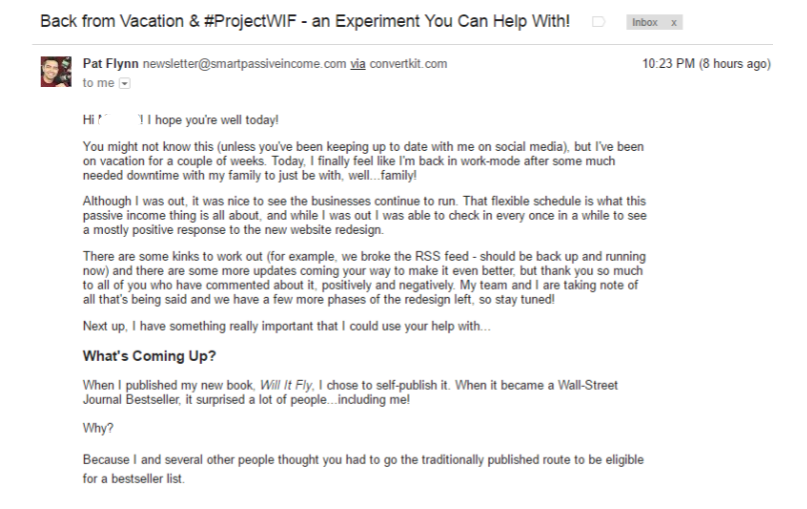 Standalone emails can be transactional (i.e., you're selling a product/service) or informational.
But, first make sure that you offer enormous value before nudging people to take action in email marketing.
4. Lead Nurturing Letters
You'll never get 100% of your PPC leads to convert. No one gets that conversion rate in any email campaign. Period!
According to MarketingSherpa, "79% of marketing leads never convert into sales. Lack of lead nurturing is the common cause of this poor performance."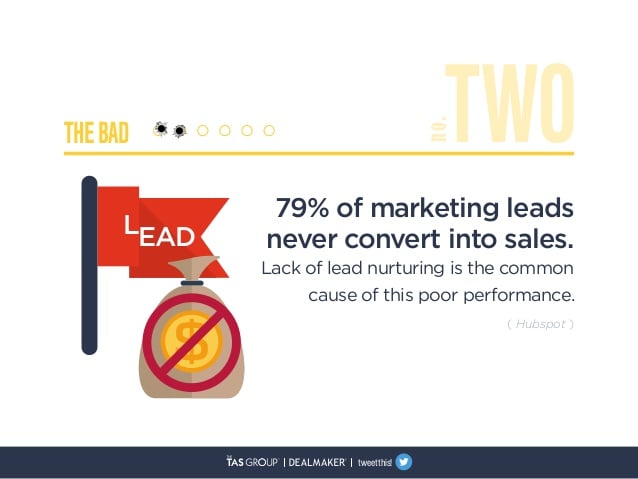 Most brands and marketers spend a lot of money running PPC ads on Google Ads, Facebook, Instagram, and other platforms.
If you can relate to this, then I've got a simple question for you:
"How are you nurturing these leads?"
Trust me, as good as a Facebook fan page is for building engagement with a raving community of fans, it's almost impossible to nurture your leads on social media.
You need to send the right lead nurturing letters.
I like to call these "letters," instead of emails because they must be friendly, interesting, non-sales-y, value-packed, and timely. 
Lead nurturing letters are designed for lead generation and should also have a call-to-action where recipients can click through in order to learn more.
When you study the most valuable features of a marketing automation system, you'll discover that lead nurturing takes a whopping 52%, surpassing even list segmentation at 28%.
It's not enough to acquire leads and cross your fingers that they come to trust you one day. It might never happen.
Worse, studies show that email response rates decline the longer people have subscribed to your list.
That's why you need to nurture them consistently with your interesting and educational letters.
By constantly keeping in contact with your leads, you'll increase CTR by up to 8% compared to general emails, which generate about 3% CTR.
5. Digest Emails
As a digital marketer, I haven't been sending digest emails to my leads. I got introduced to this kind of email by HubSpot.
A digest is the opposite of a newsletter. According to HubSpot, a digest is easier to consume than the typical newsletter because of the way a digest is structured.
With a newsletter, you can tell stories or write a 700+ word email packed with value.
That's a great step towards nurturing your leads but you already know that not all of your leads and email subscribers will like it.
Just as some blog readers love and appreciate long-form content (e.g., 2,000+ words article), there are also those who'll frown at it.
A digest is easy to read because it consists of links and lists.
For example, you could send a list of all of the best articles that you published in the previous week. A key part of any email campaign is to keep your leads active and bring them back to your site.
I started testing this in early 2019 with my Saturday email blast recapping my week in videos and it has worked out very well for me.
The digest email is basically a means to an end. You use it to capture attention and persuade your leads to check out important lists and links in your email.
6. Shopping Cart Abandonment Emails
Are you re-engaging people who left their shopping carts without completing orders? You don't have to lose them.
According to See Why?, "a shopping cart recovery email can generate as much as $17.90 per email sent."
That's because if an average of 20.8% of abandoners return to their unattended cart and make a purchase, they can spend 55% more than buyers who didn't abandon their carts, especially when they're offered a discount price.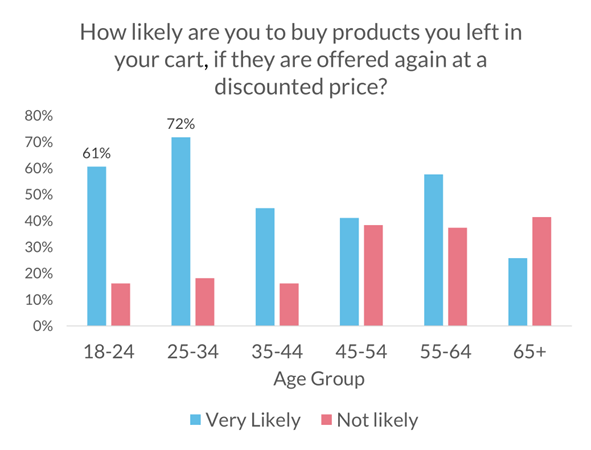 Online shopping has evolved over the last 10 years. That's good news for both consumers and brands. A marketing campaign revolving around bringing customers back can lead to a higher conversion rate.
However, one of the challenges that online store owners face is cart abandonment. You might not understand how frustrating this can be if you're not involved in ecommerce.
But, a lot of people can relate.
In fact, a friend of mine who runs an online Smart Watch store complained to me that he had experienced a cart abandonment rate in excess of 47%.
Of course, people abandon shopping carts for lots of reasons. Here are some of them:
These are just a few reasons why people would add an item to a shopping cart and decide against buying. There are probably more.
But, in reality, there'll always be reasons.
That's why, as a digital marketer who wants to succeed, you have to reach out to these people and remind them of an item in their cart. If you don't, most of them will have forgotten that they visited your store after just a few hours.
This shopping cart abandonment infographic will further inspire you to start sending recovery emails.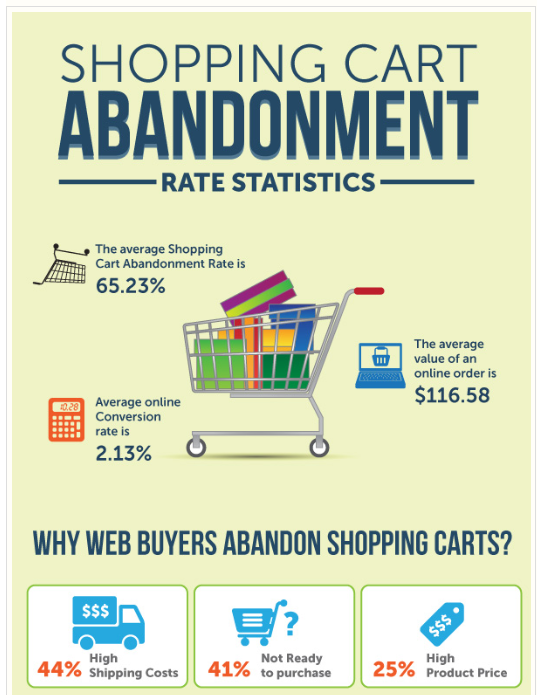 You can't remind them through a tweet.
Social media won't help your conversion rate in this instance. Even if these consumers are your Twitter followers, it's just not an effective means to remind them about sales.
What you do is simple: Write a simple shopping cart abandonment email. This will remind consumers that they've got an unfinished transaction to complete.
You can add a sense of urgency or offer a discount or coupon code as the case may be. Smart content marketing ties these together to bring people back.
7. Latest Content Alert Emails
My email list continuously drives me tens of thousands of monthly visitors. 
I'm really honored and I appreciate all of you. If you're not yet a subscriber, you may want to join to see what these "latest content alert emails" look like. As usual, it's all about serving my audience.
Whenever I publish a new post, I'll quickly write a friendly email to my subscribers. Here's a sample from December of 2019: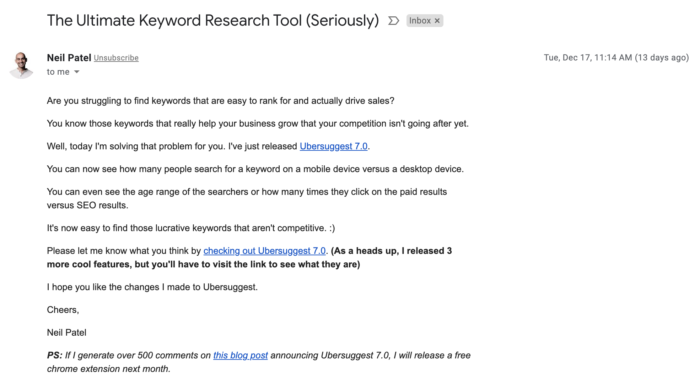 Tens of thousands of people will respond by clicking to read the new article, and, within 24 hours, the comments, social shares, inbound links, and brand mentions will naturally flow in.
I have an email culture, though. I usually don't send promotional emails, except when it's so important that I wouldn't want my subscribers to miss out on the offer. Typically it is either new content that I've published or, in the example above, an announcement of another new (and free!) feature launch on Ubersuggest. 
Side note: I think that you should send your latest posts to your subscribers and leads. The only caveat is that the post must be engaging, useful, practicable, and contain verifiable data.
If your latest post doesn't meet these conditions, then don't send it to your leads. Just promote it on social media networks and search engines.
Treat your leads as kings, whether they came from PPC, search, social media, word of mouth, or from elsewhere. 
Conclusion
Email marketing isn't all about making money. Yes, most people say that the money is in the list and there's truth in that.
But, you don't really build credibility by pushing sales too hard.
In addition to these emails, you can also send an unexpected freebie email to your leads.
At those times, they're not expecting valuable information, but you surprised them with a "freebie" — e.g., ebook, software, or plugin.
Use these 7 email messages and others to nurture your PPC leads, including those you acquired from search engines, guest blogging, and so on.
Which of these practical email messages have you send to your leads and subscribers before? What kind of open rates did you get?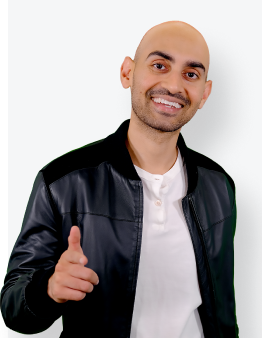 See How My Agency Can Drive More Traffic to Your Website
SEO - unlock more SEO traffic. See real results.
Content Marketing - our team creates epic content that will get shared, get links, and attract traffic.
Paid Media - effective paid strategies with clear ROI.
Are You Using Google Ads? Try Our FREE Ads Grader!
Stop wasting money and unlock the hidden potential of your advertising.
Discover the power of intentional advertising.
Reach your ideal target audience.
Maximize ad spend efficiency.