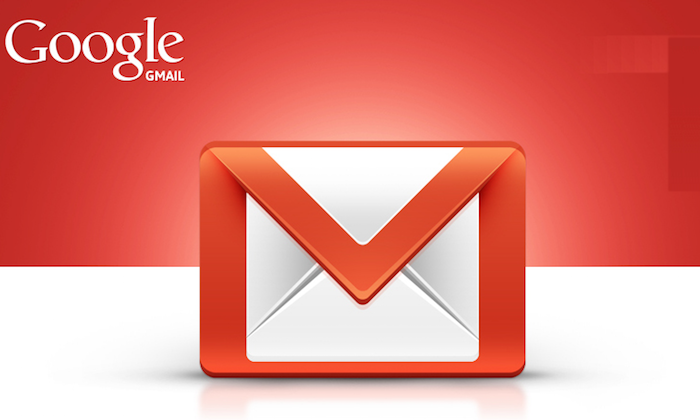 Email marketing is central to your marketing campaign.
Heck, email itself is central to even being in business.
But, first – back up.
Do you remember the early days of email, when everything was so much simpler?
Back then, it was exciting to receive an email.
Today, this isn't typically the case. Despite the fact that email remains a top form of business communication, it's easy to get weighed down by spam, social media alerts, news of a colleague's blog post – really, a variety of distractions.
Our accounts are generally inundated with messages, especially if we belong to more than one email list.
However, with email marketing technology used by more than 80% of B2B and B2C companies, there's no reason to believe that this type of communication is going away anytime soon.
In other words, it's time to embrace your inbox.
Gmail has long been my favorite email service. There are many reasons for this, including the fact that marketing professionals can use the program as a means of growing their blog's traffic.
But, you won't get much out of a basic Gmail account. Instead, if you want to turn it into a powerful tool for your marketing campaign – and general life as a marketing pro – then you need to consider the many browser extensions that are available.
In this post, I'm going to examine 10 Gmail plugins that marketing professionals should consider implementing in the months to come. Most of these tools are easily accessible from your Chrome browser and are a cinch to use.
Let's take a look at the list of these top plugins to keep the chaos in your Gmail account down – and your email marketing efforts up.
What does your email signature say about you?
While some marketing professionals take full advantage of this valuable real estate, others never think twice about what it can do for them, their marketing campaign, and their brand.
If you and I have ever communicated via email, you know that my signature is anything but normal:

With this, I'm able to provide others with a variety of information. In addition to contact details, I take the opportunity to share a link to my new book, while also sending folks to my website, where they can read a blog post, order my book, watch a webinar, and more.
Since it can be difficult to create and manage a custom email signature on your own, it makes good sense to rely on the help of a browser extension like WiseStamp.
You can include a variety of information, such as contact details, social media links, photos and much more. Pretty much anything that you want to share with your recipients can be added.
If you don't understand the importance of your email signature, here's a statistic, shared by the WiseStamp team:
"Users who added their picture to their signature got 32% more replies to their emails."
You may not be able to do this on your own, but when you use the WiseStamp plugin with your Gmail account, the process is simple and straightforward.
Pro tip: experiment with a variety of custom signatures, tracking which one generates the best response rate.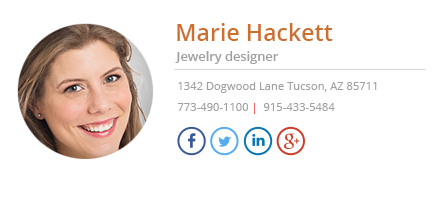 (via WiseStamp)
If you're anything like me, you receive thousands of emails every month. For this reason, it's not always easy to remain organized and ensure that I'm following up with others as planned.
And, that's why I rely so heavily on FollowUp.cc. As the name suggests, it's a Chrome extension for your Gmail account that helps you organize follow-ups, to ensure that nothing slips through the cracks.
The way it works is simple. When you're sending or replying to an email, the browser extension gives you the option to set a follow-up date for the future. This way, you don't have to rely on sticky notes, your calendar or, worse yet, your memory.
In addition to the basics, there's another feature of this tool that's worth noting. It provides the option to "snooze" low priority email so that you can focus your time on things that are more important–like your marketing campaign–and emails that are more urgent than others.
(via FollowUp.cc)
There are times when I need to respond to an email, but it's not as pressing as others. When these situations roll around, I use the snooze feature. It keeps me organized, all the while knowing that I'll eventually respond to the email.
Have you ever wondered if there is a way to schedule emails from your Gmail account, much the same as WordPress posts?
If you believe this could benefit your business, such as by sending marketing emails at a particular time, you'll enjoy the many features of Boomerang.
The tagline of this tool is a reminder of what it has to offer:
"Schedule an email to be sent later. Easy email reminders."
So, as you can see, this Chrome extension can do more than schedule email messages to be sent at a later date. It can also act as a reminder, once again helping with those instances when you don't want to forget to follow-up with someone.
It's only natural to be skeptical, in regards to how this browser extension performs. Fortunately, Boomerang is anything but clunky. It's both lightweight and easy to use. For example, you have the option of using the text box or calendar picker to schedule your message.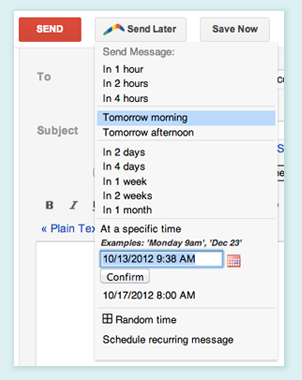 (via Boomerang)
It only takes a few seconds to schedule your message. There's no wasted time, just top notch results.
What's more, the scheduling feature -as I touched upon – can be a boon for your email marketing campaign, ensuring that the email you would have sent at 3am doesn't get buried in your recipient's morning email.
4. Yes ware
Do you ever wonder what happens to your email, after you hit send?
Maybe the other person opens it right away. Maybe it sits in his or her inbox for several hours. Or maybe they never open it at all.
Rather than let these questions circle your mind (itself precious real estate), it's time to use the Yesware Chrome extension.
With this, all you need to do is click the "Track" box before you hit send. From there, you know that every function the recipient takes will be tracked.
With the ability to track email open and reply rates, you can quickly gain a better understanding as to which types of subject lines and content perform best, thereby giving you more insights into your email marketing plan.
Pro tip: don't forget to also track presentation page views and attachment opens–two things that may be important to the success of your marketing campaign as well.
There are a couple of other things you can do with Yesware:
Create and save email templates for later use. This is important, as it allows you to use the highest performing message, once you discover what it is.
Test several variations of your subject line.
With Yesware, you never again have to send emails and simply hope for the best. Instead, you can track the actions that each recipient takes, This will give you the perspective that you need to make changes for the better.
(via Yesware)
What CRM does your company rely on to track everything from contact info to sales calls?
While there are many solutions to choose from, some don't suit the needs of marketing professionals. And, that's why the Chrome extension Streak has become such a big hit.
There is one thing that makes this browser extension unique: it's designed specifically for use with your Gmail account. For those who spend a lot of time conducting business via their inbox, this is certainly a browser extension to consider.
There are several features that give Streak a leg up on the competition, with some of my favorites including:
Collaboration tools, allowing you to easily share contacts, files and much more.
No learning curve. If you know anything about other CRM programs, you realize that the learning curve can be steep. This isn't the case with Streak.
Flexible structure to match the needs of your business.
This screenshot, shared by the Streak team, shows just how powerful the Chrome extension can be: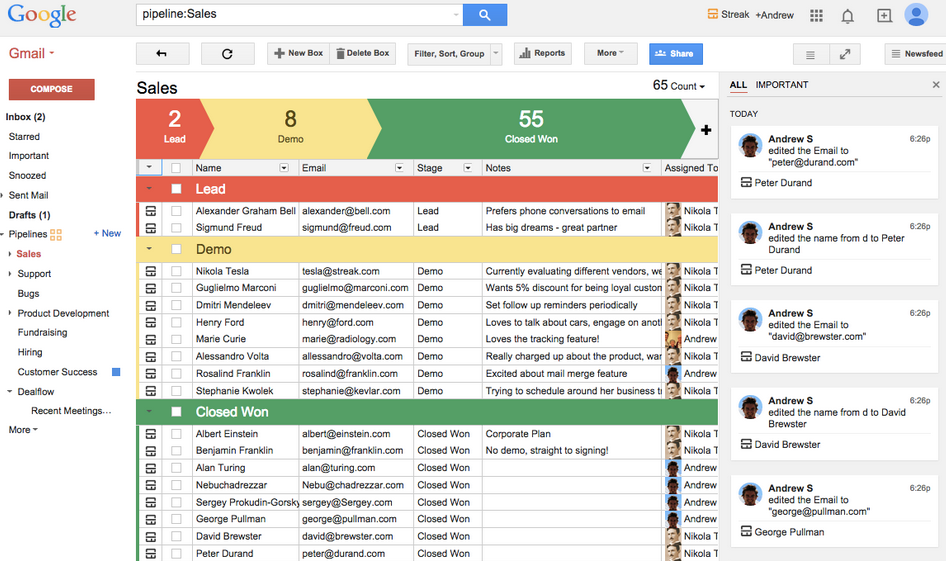 (via Streak)
You can track leads and sales, you can edit contact info on the fly and you can set reminders – and that's just the start.
Depending on how long you've been in the marketing space, you may remember when Rapportive was acquired by LinkedIn.
While many things have changed since then, it remains one of the top solutions for bringing social power to your inbox.
In its most basic form, Rapportive helps bring LinkedIn profiles to your Gmail account. Here's an example: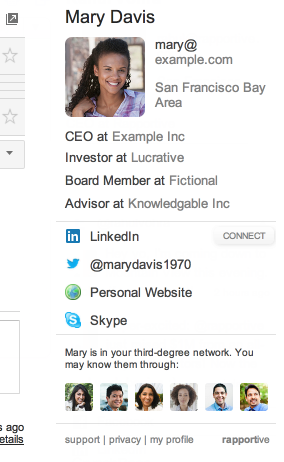 (via Rapportive)
For marketers, this information can be useful, in many ways. First off, it gives you an inside look at what your contacts are all about. You may find a nugget of information in a person's profile, such as a past position, that allows you to make a better connection via email.
Second, it saves you the time of jumping back and forth between your inbox and LinkedIn. And as you know, time is money.
Rapportive only works when your contact is a LinkedIn user–it doesn't access any other social media sites. Fortunately, most people have a profile, as LinkedIn is the number one professional networking platform in the world.
It may sound more like a football app or social network scheme and less like something for marketers, but it truly is one of the best Gmail plugins around.
If you're seeking a way to learn more about your Gmail contacts, all without leaving your inbox, you have to experiment with the features of FullContact.
It can help in many ways, such as:
Hover over a contact to view a full profile, including, but not limited to social media links, contact information or a photo.
Quick search function, to find the person you're looking for.
Edit contacts from your inbox.
There are contact managers and then there's FullContact. It doesn't matter if you want to view Twitter activity from your inbox, record notes or edit a contact – you can do all with ease.
Pro tip: FullContact is known for providing a high quality customer service experience. This is useful for those times when you have questions about how to use a particular feature.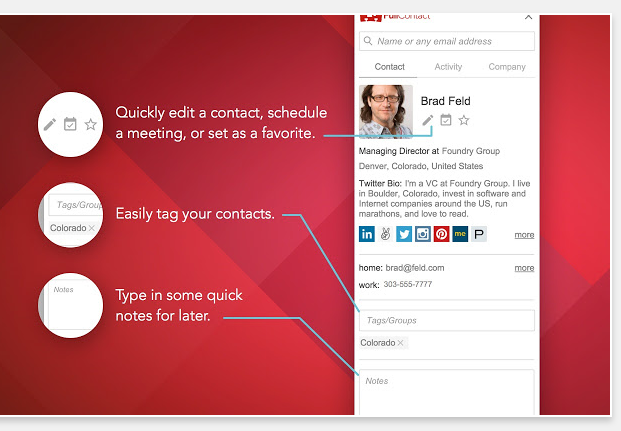 (via FullContact)
Do you ever find yourself wishing that you had an assistant to help schedule all of those important meetings?
This tool gives you all of the help that you need, plus some assistance you may not have expected.
When scheduling a meeting, it's easy to get bogged down with several emails. Even worse, you bounce ideas back and forth, never settling on a day and time that works for both parties.
Assistant.to helps to protect against this frustration and stress.
Once you have the free Chrome extension installed, the process for setting a meeting is simple:
Click the Assistant.to logo in your compose window.
Create a title for your meeting and select a location and time. From there, click the "Insert Times Into Email" button.
Send your email and wait for a response from the recipient.
The recipient can confirm, deny, or make changes to the proposed meeting.
Along with the ease of use and the time you'll save, here are some other reasons to use this browser extension:
No double bookings, which can save you from a potentially embarrassing situation.
It remembers your preferred availability and locations, for ease of scheduling in the future.
Automatic time zone conversion, to avoid confusion.
Pro tip: Assistant.to integrates with a variety of other programs, including Cirrus, Hangouts, GoToMeeting, UberConference and Webex.
(via Assistant.to)
Some plugins on this list are more advanced than others. This is where ToutApp comes into play.
From sales email tracking to templates and analytics, you get a lot with this browser extension. While it can be used by a single individual, it really shows its power when implemented by an entire sales and/or marketing team.
It shares features with other similar tools on this list, such as Yesware, but has been able to move to the top of the industry, thanks to its seamless integration and team approach.
The primary difference between ToutApp and other, similar tools is the way that it tracks email by person, as opposed to an individual email. This is a big deal for sales and marketing professionals, as it's likely that you're communicating with the same person, time and time again.
Thanks to this tracking functionality, you will soon learn what types of emails generate the best response from your contacts–a particular helpful feature when you're launching a new email marketing campaign.
In addition to Gmail integration, you can team ToutApp with Salesforce, Outlook and Exchange.
Pro tip: take full advantage of ToutApp's reports and insights. This is another area in which the browser extension outdoes the competition, as it allows you to analyze all of your data, from emails to calls, to help drive the best results.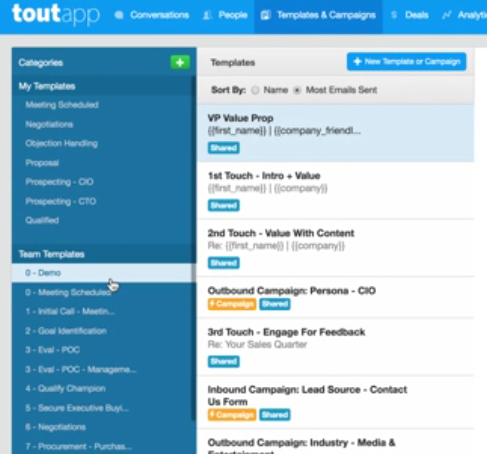 (via ToutApp)
Wouldn't it be great if you could do less, but still achieve more?
This may sound like a pipe dream, but it's the exact type of thing that ActiveInbox can help you do.
As your business grows, so will your email related headaches. It's good to communicate via email, but it's bad for your Gmail account to take up too much of your time.
This Chrome extension helps you to "optimize your output to optimize your income" and that's something that every marketer is interested in.
By bringing together email and task management, your Gmail account turns into a powerhouse of data that keeps you on track, at all times.
You can do a lot with this tool, such as browsing your inbox and adding a due date to each message. Furthermore, you can set a priority for each message, so that you spend your time efficiently.
Other features of ActiveInbox include:
No more disappearing messages. As you know, the more messages that you send and receive, the greater chance there is that something will slip through the cracks. ActiveInbox helps protect against this, by giving you tools, in addition to the standard folders and gold stars.
Email tracking. Don't forget that this browser extension can track emails until you receive a response, making sure that you never overlook an important note.
Send later feature. You can compose an email now, but schedule it to be sent later. This is a feature that you may use more than you think.
With ActiveInbox, you have everything that you need at your disposal. You can focus all of your time on your inbox, as opposed to jumping around from one tool to the next.
Pro tip: take advantage of the free trial, to better learn what ActiveInbox has to offer. This will help you decide if paying for the service is a good idea.
Conclusion
Email has come a long way since the first message was sent in 1971. One of the biggest milestones in the history of email was the release of Gmail, as an invitation-only solution in April 2004.
Upon becoming available to the general public in 2007, Gmail quickly grew to become one of the top email services in the world.
Today, your Gmail account can either deliver a migraine–or deliver a number of solutions that will make your life simpler and more successful.
As a marketing professional, it's important to realize that there's more to Gmail than meets the eye. Enhance your Gmail account with these browser extensions and you'll boost your productivity considerably.
Would you add any other Gmail plugins to this list? Share your favorites in the comment section below.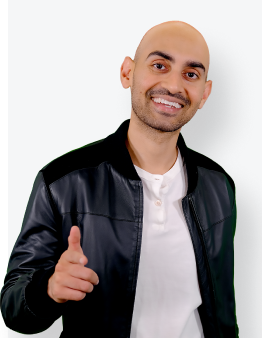 See How My Agency Can Drive More Traffic to Your Website
SEO - unlock more SEO traffic. See real results.
Content Marketing - our team creates epic content that will get shared, get links, and attract traffic.
Paid Media - effective paid strategies with clear ROI.
Are You Using Google Ads? Try Our FREE Ads Grader!
Stop wasting money and unlock the hidden potential of your advertising.
Discover the power of intentional advertising.
Reach your ideal target audience.
Maximize ad spend efficiency.