Your social campaign is just about ready to go.
Tweets are loaded in the queue. Ready to be Buffered. LinkedIn sponsored content is all lined up, too. You send out your blasts with the hopes of landing big sales.
You check back two weeks later, and sales are going up-and-to-the-right.
Great news, right?
But not so fast.
It all seems dandy until you realize that you've got no clue how to tell where these conversions came from.
What sparked the fire and drove sales for your business. Was it your social campaign? Was it a seasonal uptick or a noteworthy backlink?
Still, today, in 2018, measuring ROI is the top struggle for professional social media marketers. Even the pros don't have many answers. Because there are a few technical issues that make social notoriously difficult to track.
Thankfully, there are a few tricks you can use to back your way into the answer. Here's where you should start.
Outline Your Social Media Goals
eMarketer and Simply Measured surveyed professional social media marketers and found that 61% struggle when attempting to track the return on investment of their social media efforts.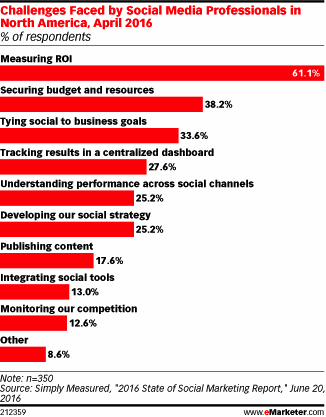 But that's largely because most people have no clear-cut objective behind each activity. See the third response, 33.6% – Tying social to business goals, for evidence of such.
If you don't know why you're doing something, generating a positive return is nearly impossible.
So step #1 is to identifying your social ROI is to first determine your goals on a per-campaign (or per-channel) basis.
For example, posting great blog content is good if you're trying to generate brand awareness.
Problem-solving content like this will appeal to a wide range of people. It covers a common problem, as opposed to hard selling your company's products, so the end result won't be a sudden increase in leads.
Instead, it will be increased reach with a larger, 'warm' audience that you can eventually target with lead-gen offers.
These people are primed for product-related messages, next.
BUT. Expecting hard, lead-gen goals behind it ain't gonna happen. That's not how marketing works.
Yes, these actions will influence sales. Yes, you need to introduce people and warm them up prior to converting them. But no, you're not going to see an amazing ROI (as defined by hard leads and sales) from these activities.
It's too upstream. Too top-of-funnel.
Campaigns focused on sales, sending lead-gen offers to warm audiences, could track metrics like:
Sign-ups (did any social posts drive specific product trials?)
Actual conversions (did anyone buy a product, or become a client?)
Whereas campaigns focused on initially building awareness would be better focused on metrics like:
Reach (how many people did your campaign get seen by?)
Engagement rate (did your average ratio of comments-to-followers increase?
You get the picture. Each campaign needs its own specific goal. The ability to hit those goals depends largely on the channel, investment, effort, and execution behind it.
ROI, then, isn't created equal. Merely "having goals" isn't good enough. Garbage in, garbage out.
You need the right goals with the right actions before you can ever draw a straight line from investment to return.
Use Bitly and UTM Codes to Track Behavior
Basic link clicks don't really tell you anything.
Simply pasting a link into Twitter and hitting publish doesn't provide you with actionable data.
Even simple referral data inside Google Analytics doesn't help you very much:
You need specifics. The source or medium is a good start. But more specifically, which campaign? Which individual piece of content or ad from that campaign?
Link tagging is boring. It's obvious and cliche. And it's very rarely done correctly.
'Cause if it was, each one of those dozens of Buffered messages would contain an absurdly-long link that resembled this:
Then, when you open up Google Analytics, you won't just see "Social." You will see how each specific campaign, that you just identified, is performing:
Meaning you can tell which pages were hit and how those people got there.
So if someone lands on your "Thank You"-based conversion page, you'll know exactly which lead-gen campaigns sent them there.
You need to control what you can control, because forces like Dark Traffic continue to steal your social data.
Create UTM codes using Google's own UTM building tool:
Once you fill out the different formats based on your goals, a new UTM link will be given to you right below:
You can even convert that long URL to a short link. Or you can use Bitly to get a little extra tracking info:
Yes, this all sounds basic. Yes, it's time-consuming, and it sucks. But it's the only way to set yourself up for the next few steps.
Set up Google Analytics Social Tracking
Google Analytics is, typically, the next step.
To get started, head to the acquisition section of your Analytics dashboard under Social > Conversions:
If you haven't touched this section before, you'll get the following welcome message:
The message explains the benefits you can get by enabling social-based Goals in Analytics, like better transaction tracking and bottom-line ROI.
You will be prompted to create a new Goal for this campaign. In the setup process, choose the custom option:
For each new campaign you run on social media, you'll need to make a new Goal. Name this new Goal with your next campaign Goal, for example, eBook downloads.
For this Goal and campaign, we are (hypothetically) looking to drive traffic to a specific landing page where users will download a lead magnet.
So, for our type, we'd select the "Destination" option:
This will allow you to enter a thank you page URL for when each social visit downloads your eBook and becomes a lead.
Set your Goal destination to the thank you page that users will land on after submitting their emails and information to download the eBook:
This should be a campaign-specific landing page. Meaning nobody else should be able to find this via organic or paid search.
Next, you need to assign a value to each conversion to get some concrete ROI data.
Later down the line, when users convert, you'll get a much clearer picture of true ROI. But, for the meantime, it's great to have preliminary data on the value you're getting.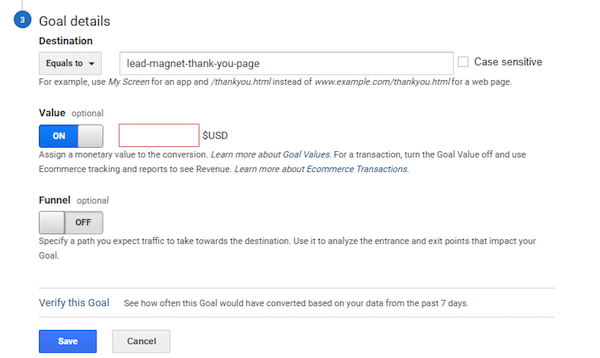 You might not have an obvious Value Per Lead at this point. Otherwise, compare it against your acquisition costs in other channels.
Let's compare social to AdWords, for instance. If it costs you an average of $10 to land a lead on paid ads, add your lead value as ten dollars.
Hit "Save" and repeat this process for each new link and specific landing page campaign you run. The Goal will now track users from each social platform clicking on your latest link campaign and directly correlate your efforts with how many downloads and leads you collected.
Once conversions start to come in, it's time to run some attribution reports.
Run Attribution Reports to Destroy Conversion Bias
We've all heard it before:
"Social media doesn't drive sales. Social is only good for brand awareness."
"You can't reasonably expect to make sales from a simple social post."
But that's simply not true.
That's a manifestation of conversion bias at its finest. Of last-touch attribution bias clouding our judgment.
Almost always, the last touch point a user hits gets all the credit. For example, a typical lead might land on social, get directed to a landing page, view your mobile app, and then convert from an email.
Email gets 100% of the credit in last-touch attribution.
Now, you know what's wrong. That doesn't make sense. The email did the final job. But it would have never worked without all the important stuff leading up to it.
And this is why social almost always gets the shaft. It doesn't get the credit it deserves because people don't typically make a final conversion from social. They do it from Search or Email or Direct.
But what if that social post originally introduced them to your brand for the first time? What if it changed their mind on your brand? What if it pushed them over the edge to continue researching your offerings?
That's where the model comparison tool comes into play:
Clicking on any of these will provide you with the definition, but popular ones tend to be:
Last non-direct click: since many conversions happen when someone is brand-aware, they simply enter your URL and then convert, rather than converting from a specific source).
Position based: first and last touch points are given equal credit.
If you were only running Facebook ads, for instance, you might want to look at "First Interaction," because that would help give you the most feedback on which campaigns are working (and which aren't).
Run these reports to get a sense of how your social campaigns are impacting conversions.
And then you can compare the internal costs (e.g., labor) required for each campaign.
OR, the opportunities you're passing up (e.g., Facebook contest vs. direct mail campaign) to determine if the effort is worth it.
Conclusion
Tracking the return on investment of social media is no easy feat.
The majority of social media professionals don't even have it down.
You can't and shouldn't start any social media campaigns without having a clear goal in mind. Goals will help you establish what return on investment looks like for a given campaign.
Next, be sure to link your Google Analytics tracking to your social accounts. This will give you data on what platforms are giving you the best results on-site.
Be sure to tag each new campaign you run with UTM codes and a Bitly short link for a clear picture of where your conversions came from. That way, attribution modeling can help determine which part of the conversion process social is contributing.
No. Social media often won't drive the "most sales" directly. However, that doesn't mean it's any less important. You just need to know where to look to determine the payoff.
About the Author: Brad Smith is the founder of Codeless, a B2B content creation company. Frequent contributor to Kissmetrics, Unbounce, WordStream, AdEspresso, Search Engine Journal, Autopilot, and more.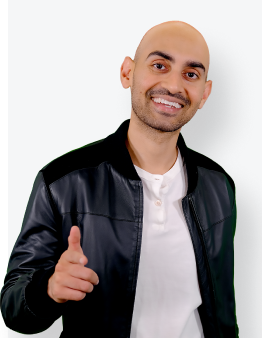 See How My Agency Can Drive More Traffic to Your Website
SEO - unlock more SEO traffic. See real results.
Content Marketing - our team creates epic content that will get shared, get links, and attract traffic.
Paid Media - effective paid strategies with clear ROI.
Are You Using Google Ads? Try Our FREE Ads Grader!
Stop wasting money and unlock the hidden potential of your advertising.
Discover the power of intentional advertising.
Reach your ideal target audience.
Maximize ad spend efficiency.