Google released the Penguin algorithm back in April, 2012. And, ever since this release, the searches for the term 'negative SEO' have been on a rise.
You might have questions or read articles on subjects like:
Is

negative SEO

real?

Can you destroy a website's rankings by building bad backlinks from adult and gambling websites?

Do you actually need to shield your website from getting slammed by a negative attack?
Unfortunately, the answer to all the above questions is….
Yes.
Why else would Google release a disavow tool and offer webmasters to report a negative attack on webmaster forums?
[youtube https://www.youtube.com/watch?v=HWJUU-g5U_I]
Look, Google has a really talented pool of learned engineers that are consistently improving the search algorithm. And, without a doubt, the search engine is getting really smarter every day.
Still your website can experience a fall in search rankings as a result of a negative SEO attack.
Just do a search for 'negative SEO' at fiverr. You'll see tons of freelancers ready to attack a website by building hundreds of thousands of backlinks for a measly $5.
Even Google has changed its stance on competitors harming your website.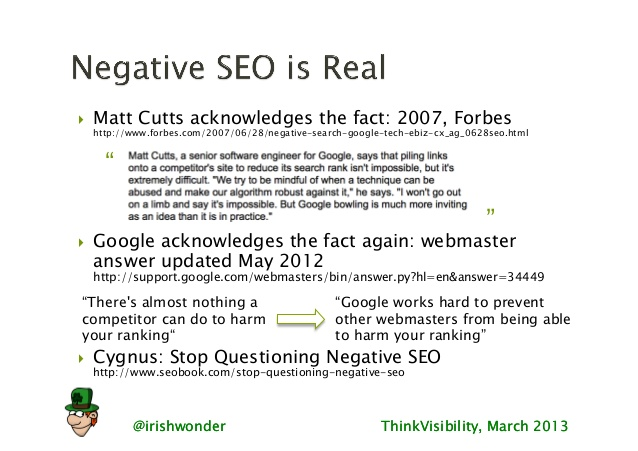 But why have negative SEO tactics started gaining prominence after the Penguin update?
The reason is – this update cracked down on websites using shady links to manipulate Google's rankings. Although black hat SEO has a fading relevance now, negative SEO tactics remain effective.
I've even seen SEOs trying to attack Forbes' search rankings by linking to it from malicious websites. They don't succeed because Forbes has a very authoritative domain.
That might not be the case with a fairly new or a less established website. Your website can get hit by a spam post linking to your website.
So, in this article, I want to help you combat negative SEO. I also want to introduce you to strategies for preventing your website from an attack. I'll show you some tools you can use to ensure nothing nefarious happens to your website's profile.
How about I begin with the different types of negative attacks a website might encounter?
Here we go.
5 Different types of negative attacks on websites
Building unnatural backlinks is the most common type of attack on a website. But there are other kinds of attacks as well. Let's look at them one by one.
1a. Spammy backlinks or removing your website's best backlinks – This is the most widely implemented attack. Your competitor pays pornographic, poker, casino and other malicious websites to link to your domain.
Here are the various ways these links can harm your website.
The result?
Your search rankings tank and your website can even start disappearing for competitive keywords from the first page listings.
Tasty Placement conducted an evil negative SEO attack on a perfectly good two year old website (owned by Tasty Placement): pool-cleaning-houston.com.
It was ranking #3 for the keyword 'pool cleaning houston' before the start of this experiment (April 30, 2012).
They pointed low quality junk links at this website.
The expense for conducting this attack was a measly $45.
4 weeks later the website's ranking for the keyword "pool cleaning houston" was heavily affected.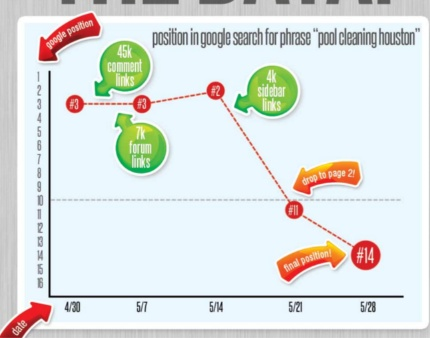 A larger and/or branded website (having high-quality backlinks) is harder to outrank by building such junk links. It's because the authority links outweigh the spammy links.
There is also a possibility that spammers try to remove your best backlinks. They contact the webmasters of high-authority websites linking to you using your name.
Then, they ask them to remove the backlink to your website.
You can such an attack by always communicating with webmasters from an authentic email representing your brand.
Your email for communication should look like: [email protected] your domain.com.
1b. Unnatural anchor text attack – This is another links related attack, by the use of irrelevant (spammy) keywords and over optimizing your website for money keywords.
PRWeb has been under review for selling "search-optimized" anchor text links via its press releases.
These links are placed in spammy articles (low-quality content) that once polluted Google and Bing search results.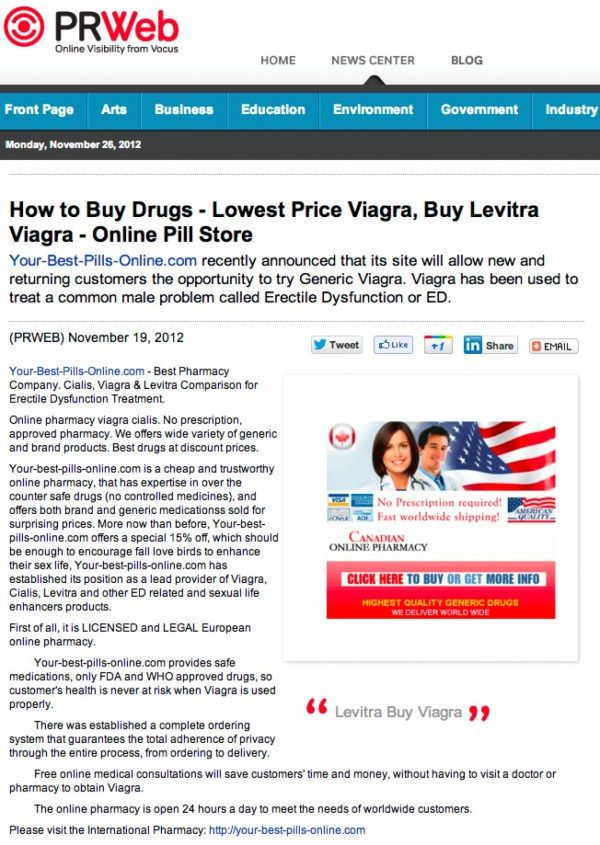 Wonder how a natural anchor text distribution differs from an over-optimized/spammy one?
Then just look at the two anchor text distributions below.
Isn't the unnatural distribution obvious?
Let's look at the unnatural anchor text attack in action.
Spencer Haws had built a niche website that experienced this unnatural anchor text negative SEO attack.
Someone linked to his website (bestsurvivalknifeguide.com) from spammy sites thousands of times, using the exact anchor text "best survival knife."
86.1% of the links had the money keywords "best survival knife," and they were from a low-quality source.
He received an unnatural links warning from Google.
And also experienced a loss in search engine visibility.
2. Spam reporting your website or copying its content – People (or, in case of an attack, your competitors) can report your website to Google if they think that you're serving irrelevant content.
There are a variety of problems that can be reported about your website. Your website can get placed under the Google microscope for disclosing private information, trying to get private information, not complying with Google's guidelines (like buying links), copyright violations and more.

If there a huge number of spam complaints against your website, then the search giant will have a look at your website profile to see if you're manipulating the search results by violating their Webmaster Guidelines.
You can get penalized if you're using black hat techniques like cloaking, scraping, etc. You'll have to reverse your actions and remedy the problems on your website for reconsideration from Google.
Another similar way of attacking is copying and distributing your content extensively on other websites.
This can tank your rankings and search traffic.

The reason is that Google wants to serve the most relevant and high-quality results to its users.  It's a turn-off (bad user experience) to see the same information repeated in search results.
Although rare, it can also cause a website with your copied content to rank higher than you for the same keyword.
Here's an example of David Naylor's original post ranking below the websites that re-published his content.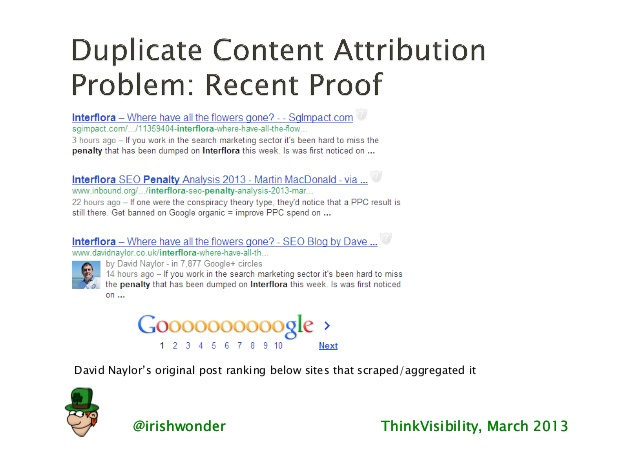 Google used to allow webmasters to report scraper websites by using the Scraper Report Tool.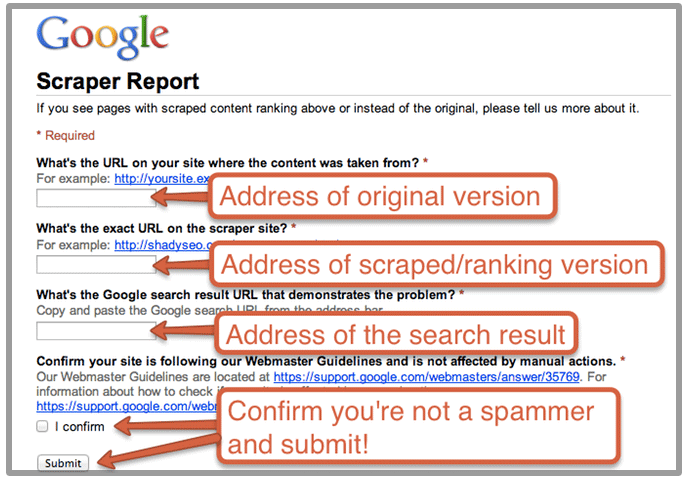 Unfortunately, the tool is no longer accepting responses.
But Matt Cutts clarified that only duplicate content that is spammy or keyword stuffed can get you algorithmic or manual penalty.
[youtube https://www.youtube.com/watch?v=Vi-wkEeOKxM]
A practical example of a website that has been under such an attack is Orbit Media Studios. They had a plagiarism issue with 4 websites. A web design firm even copied 20 content pieces and the exact design of their homepage.
They sent a threatening email to the plagiarists. You can read about their action steps so you know what to do if your content gets stolen without your consent.
3. Modifying your robots.txt file or injecting malware on your website – This is a hacking attempt rather than an attack.
After breaking into your website, the hacker tries to inject spammy content and links or they try to block Google from accessing your website.
It has happened to me at NeilPatel.com. I found a message after logging into to my webmasters account.
I discovered this months later because I wasn't checking my webmasters account. Make sure you either do regular checks or you have created an email on at least one of the addresses listed below to receive notices.
IQMatrix has also faced a malware attack. They received an email from Google about the issue.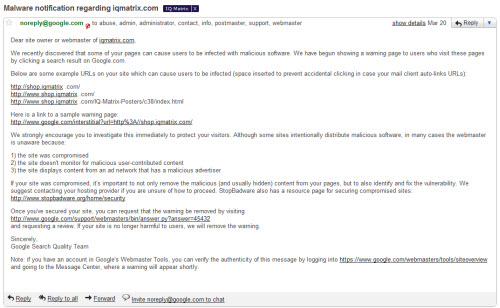 The attack led to a 70% decrease in their peak traffic and a 25% drop in the RSS subscribers count. In fact, the subscriber count fell by 400 on the day of attack itself.
4. Toying with your online reputation by posting fake negative reviews and creating fake social profiles – Negative online reviews and a negative sentiment against your brand can hamper your local search rankings. Only 5% of consumers will convert after encountering a negative review of your product.
The problem is that fake negative reviews can easily get filtered by algorithms of websites like Yelp. Here are a couple of examples of negative reviews.
Websites like webcide.com even offer to help businesses launch negative PR campaigns against their competitors.
You can flag such reviews as spam and inform the website if it violates their terms of service. Or, you can also contact the reviewer directly or respond publicly.
But if nothing seems to work, then you can reply strategically pointing out errors and a fabricated nature of the review.
Another related damaging attack on your online brand reputation is the creation of fake social media accounts with your website/business name.
You should be concerned about this because it's easy to create a fake online presence for your brand.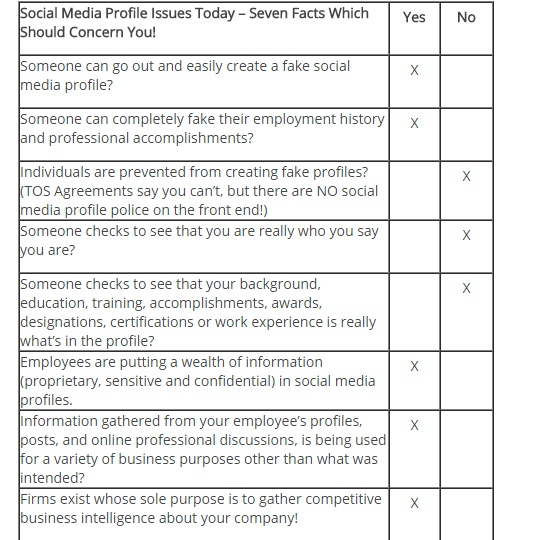 In Feb 2014, Facebook officially stated that 7% of its 1.39 billion accounts were fake and about 28 million were undesirable – meaning they were used for spamming.
Sometimes companies even buy fake likes and followers and create fake profiles to attack a competitor or support their company against a negative backlash.
One such instance was when Chic-Fil-A's president was accused of creating fake social media accounts to counter the debate on gay marriage.
BuzzFeed even found another fake profile to assist Chick-Fil-A in doing damage control after the strong criticism against them.
You have tools to report an abusive user on Twitter and report harassing behavior on Facebook.
Later in this post, I'll list some tools you can use to monitor your brand mentions and prevent getting scammed.
5. 301 redirect unrelated domains to your site – This type of attack occurs when someone 301 redirects banned, gambling, pharma or adult websites to your domain.
So how does that matter?
Well, a 301 redirect passes 90-99% of link juice to the redirected page.
If a penalized or pornographic website is redirected to your website, bad link signals will be passed to your website and you can lose your search engine rankings.
John Mueller (Google employee) believes that this is a theoretical problem. And he hasn't seen a website get penalized through such a redirect attack.
But Google had previously also mentioned that redirecting your penalized website to a new domain will transfer the penalty to the new domain.
[youtube https://www.youtube.com/watch?v=ArBkHv4r4Yc]
In a discussion at Inbound.org, James Norquay claimed that he has worked with a few cases where a penalty has transferred via 301 redirects.
Catching such an attack can be even more difficult for Google if it's to an internal section of your website.
@jenstar they don't do nearly as good a job as they purport, especially if the 301 is somewhat relevant and sent to an internal section.

— Cygnus SEO (@CygnusSEO) November 10, 2014
3 necessary steps to combat negative SEO
It has already happened.
Your website has lost search traffic or you've received a notification from Google.
Now what?
How can you reverse the effects of the negative SEO campaign?

The first thing you should do is remove any malware from your server and make it more secure. You can buy SiteLock or a similar product/service to fix such issues. You should also consider shifting to a more professional host so that there aren't any holes in your website's security.
Once you fix your server security issues, you can follow these 3 steps to combat the most common types of negative SEO.
1. Collect the list of bad spammy backlinks in one place – Use a professional backlink checking tool like Ahrefs to scan your website's backlinks.
Filter the irrelevant, spammy and over-optimized anchor text backlinks.
Then prepare a list of names and email addresses of the webmasters of these bad backlinks.
If a webmaster's email address isn't publicly listed, you can attempt to extract their contact info using the whois tool.
Look for the registrant's email in the information that appears on searching.
2. Use a law firm's letterhead to send a removal request to webmasters – Don't send generic emails with removal requests to spammy website owners. You'll get extremely low or even zero response rates.
I've observed that legal letterheads work much better. Ask permission from your law firm, use their logo and then send the link removal request mails.
Here are tips by Marie Haynes from Search Engine Land on sending link removal request emails.
If you don't get an answer or the link isn't removed, sometimes contacting the company hosting the website can work.
You can find out the hosting company of a website at WhoIsHostingThis.com.
3. The last resort is Google's disavow tool – Your requests got ignored by the website and by the hosting company, but don't give up yet.
Google has released a Disavow tool in its suite of webmaster tools. Using it, you can submit the bad links to Google and ask them not to count those specific links for assessing your website.
Sujan mentions the 3 necessary types of information you should include in your disavow text file.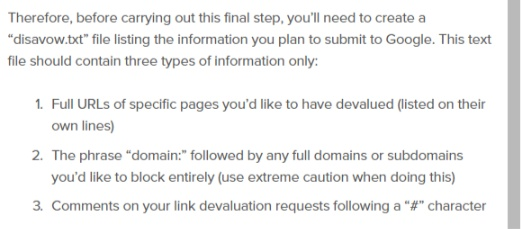 Here is an example disavow.txt file that you can model.

If you've a premium Ahrefs subscription, disavowing is extremely easy.

You can even create a list of your spammy backlinks and upload them in bulk directly to Webmaster tools.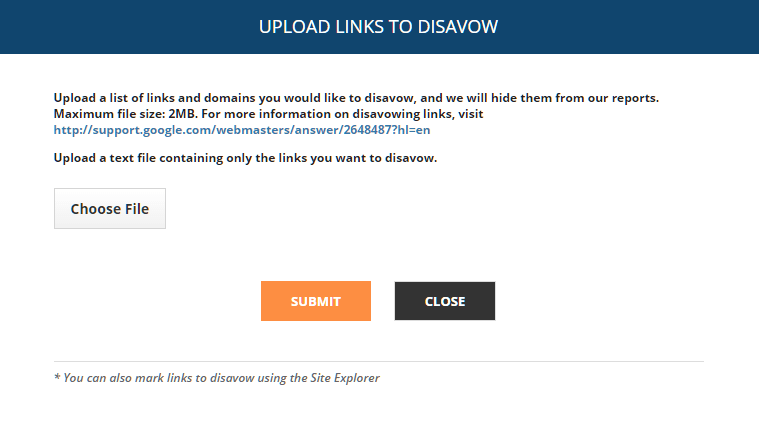 But you shouldn't jump on this disavow tool directly. Google wants you to take action first. So email the webmasters of the spammy websites first.
Otherwise, Google isn't going to accept your low-quality link removal requests.
Note: Please proceed with caution when using the disavow tool. Google even warns you that using the feature incorrectly can hurt your site's performance in search results.
Note 2: Disavowing bad backlinks by using the tool does not guarantee recovery in your rankings and a climb in your search traffic. But it's like your last chance to reverse the penalty.
How to monitor your website and prevent negative SEO?
The disavow tool takes 2-4 weeks to work. And, even after that, your website will probably not return to its normal state.
The indigestible truth is:
Once you're attacked, you'll lose a percentage of traffic permanently, maybe some customers/subscribers and probably some authority in the eyes of Google.
So prevention is much better than combating or fixing negative SEO. Here are 5 steps you can take today to monitor your website and prevent any malicious activity from happening.
1. Setup email notifications from Google Webmaster Tools – First connect your website with Google Webmaster Tools. Opt for receiving email alerts from the Webmaster tool preferences under your account.
Enabling email notifications will ensure that you're aware of any issues that occur on your website.
You'll receive alerts for malware attacks, server connectivity problems, a manual Google penalty and even if your website pages aren't getting indexed.
2. Track your backlink profile using MonitorBacklinks.com – As I mentioned before, building low quality backlinks to your website is the most common negative SEO attack.
Check on your website's backlink profile by using a simple tool like MonitorBacklinks.com.
[youtube https://www.youtube.com/watch?v=XXFa-7XyCYk]
The best part of the tool is its simplicity. You're sent email alerts only when there are new backlinks built or removed from your website.
Additionally the tool also allows you to add tags to your backlinks.
Then, you can filter your best backlinks from authority websites by using tags and keeping a close watch on them.
If you find that a webmaster removes the link to your website, you'll know immediately. Sometimes such a removal can be accidental when moving a website.
You can get in touch with them to ask the reason for the removal and hopefully get your backlink back.
Two other more professional tools for analyzing your website's backlinks are Ahrefs and Open Site Explorer.
3. Protect your website's content using Copyscape – I'm sure that you have least one article on your blog that earned thousands of eyeballs.
The problem is that popular articles also get plagiarized, in full or in parts.
So what can you do to prevent plagiarists from distributing your content under their name?
The first option is to buy a subscription for a professional tool like Copyscape.
It'll check for duplicates of your content on the web everyday.
Using its batch search option, you can check up to 10,000 pages of your website at one time.
The other tedious option is to manually keep a check of your website's content.
The highest probability of content that gets copied from your website are your most popular posts.
There's a tool I love to use for finding the most popular content (even on a particular social network)  – BuzzSumo.
Just key in your website in the search bar to get a list of your most shared articles.
Next, perform a Google search of random chunks of text from your most popular articles. You may find bookmarking or submission results from Inbound or Reddit, or maybe a blog that linked to your post.
But look out for any website that has published your content without your consent and has published it under its name.
If you find such plagiarizing websites, get in touch with their webmasters and request that they take down your article. Filing a DMCA is probably the last option for removing scraper websites from search results.
4. Monitor your social media brand mentions – Mention is a great tool to dive into conversations about your company and competitors happening on various social media platforms.
There are millions of sources that power the tool to monitor your brand mentions in real-time.
You can also setup email aggregates of your mentions from the previous day.
5. Check your website's speed and server uptime by creating alerts at Pingdom – Spammers sometimes attempt to take down your server by sending too many requests.
This can tremendously increase your website load time. And just a second delay can decrease your conversions by 7%.
You can check your website's speed by using Pingdom's testing tool.
But an easier way to monitor your website is by signing up for a free account (for 1 website/server) and activating email alerts. You even get 5 SMS alerts on the free plan.
8 tools to monitor and combat negative SEO campaigns directed at your website
We've covered a lot of ground already.
I Hope that you now feel confident in monitoring and tackling attacks on your website.
But I want to be sure that you're aware of professional tools for handling negative SEO attacks. Here are 8 tools to completely cover you.
1. Google Authenticator Plugin
If your website runs WordPress, you can prevent bots from sneaking onto your website by using 2-step secure login.
Once you install the plugin, you'll need to enter a code generated by Google Authenticator on your smartphone (Android/iPhone/Blackberry).
This is another professional backlink analysis tool. You can use its unnatural link detection tool for identification of bad backlinks on your website – unnatural or suspected.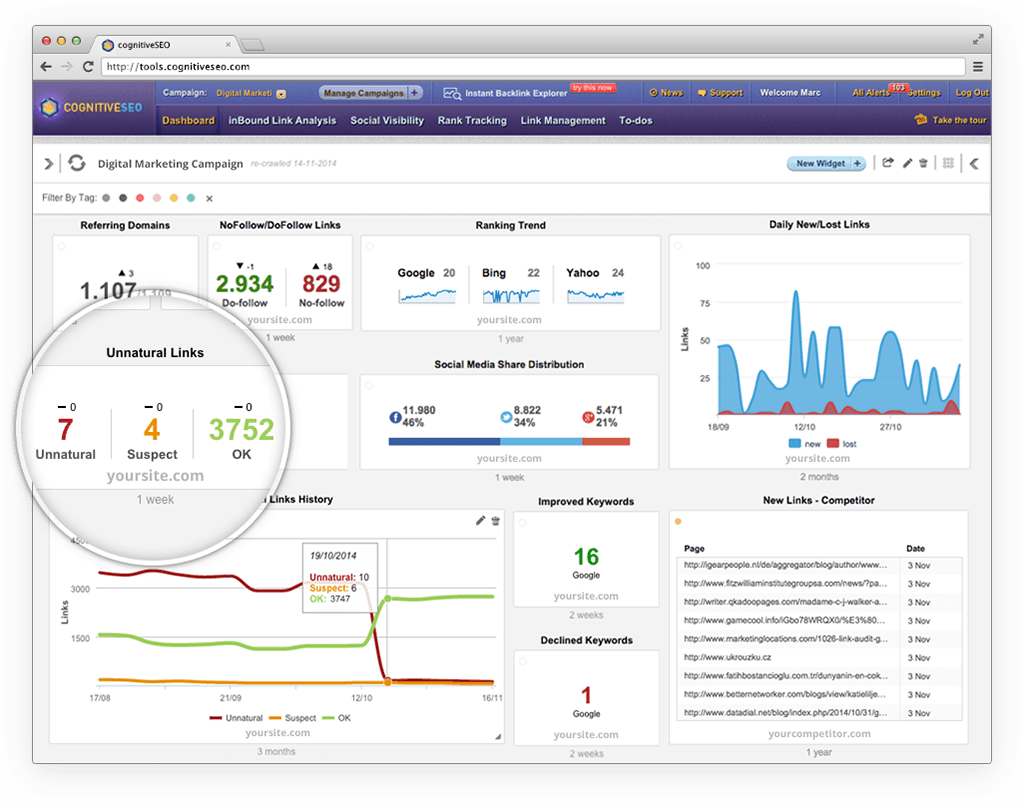 This can come handy after you've been hit with a manual or algorithmic penalty.
Once the link detection is complete:
You can either reach out to the webmasters or generate a disavow file.
3. Authority Labs – Keep track of keyword changes and loss of visibility in search rankings.
4. Link Alerts
This is a Google Alerts equivalent tool for backlinks. You can set email alerts whenever you (or your competitors) receive a new backlink.
You can also evaluate the link's value using the tool's Power Trust metric.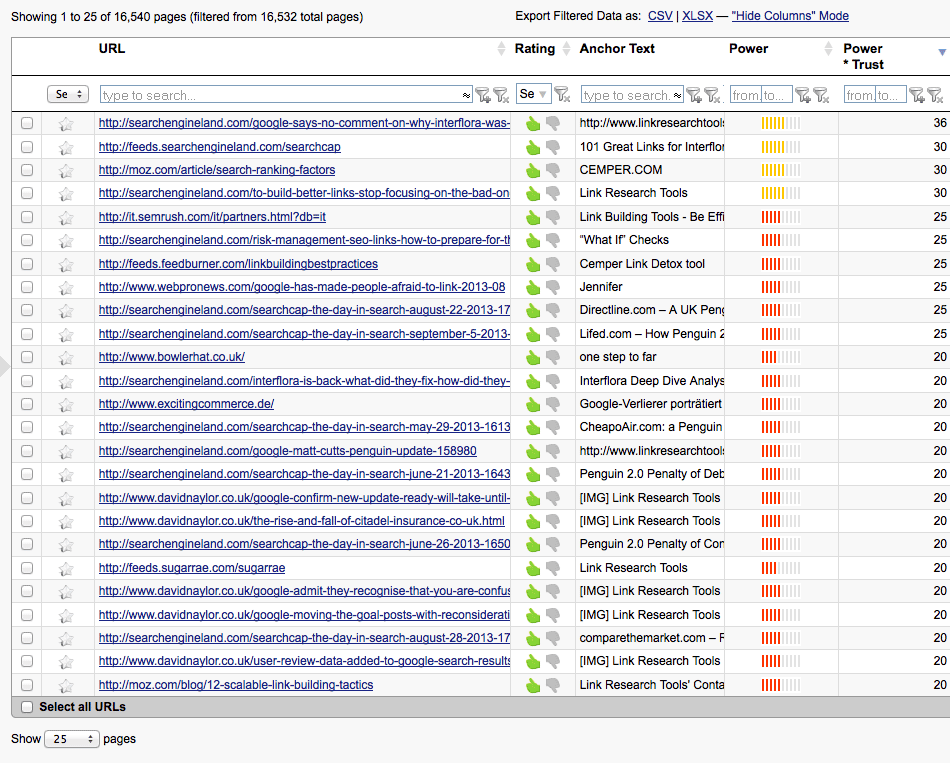 The tool detects link-based negative SEO attacks in the hands-off mode.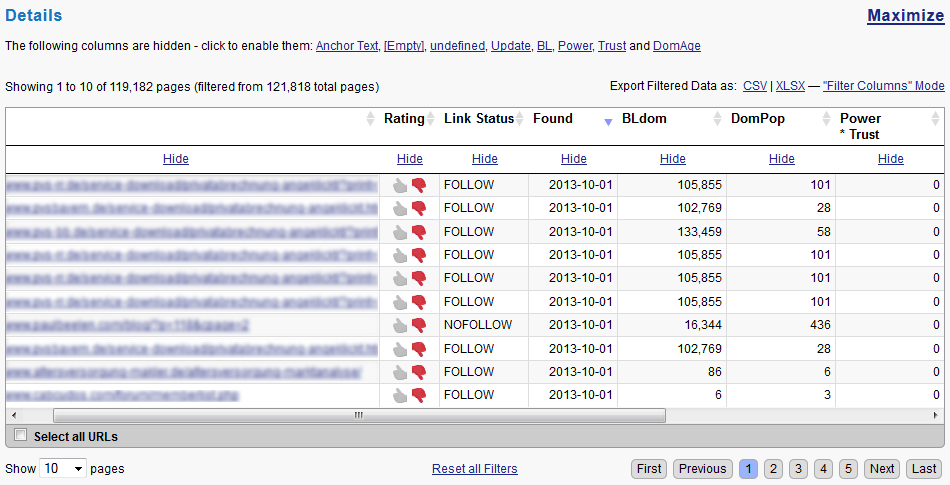 Link Alerts also allows you to export your bad backlinks so that you can upload them later at Google Webmaster Tools (disavow file).
5. URL Profiler
So far, we've looked at many tools for collecting spammy backlinks.
But once you've organized this data:
Would you like to go back and forth to find out the contact details of webmasters?
I don't think so.
URL Profiler is a productive solution.
It's a powerful auditing tool for extracting social data and backlink information.
It'll harvest the contact info of webmasters (their email addresses, website's contact pages, whois emails) from a csv file.
6. Rmoov
Would you like to make sending your link removal requests to webmasters more efficient, painless and scalable?
Then meet Rmoov – a specialist bad backlinks cleaning tool.
It finds the contact info of spammy backlink website owners and sends them automatic link removal requests. Plus, it also sends follow-ups with reminders.
So what do you need to get started?
Just add the list of URLs for the sites you want contact info for.
You can also customize the email templates.
Here is an explanation of the domain editor's functions.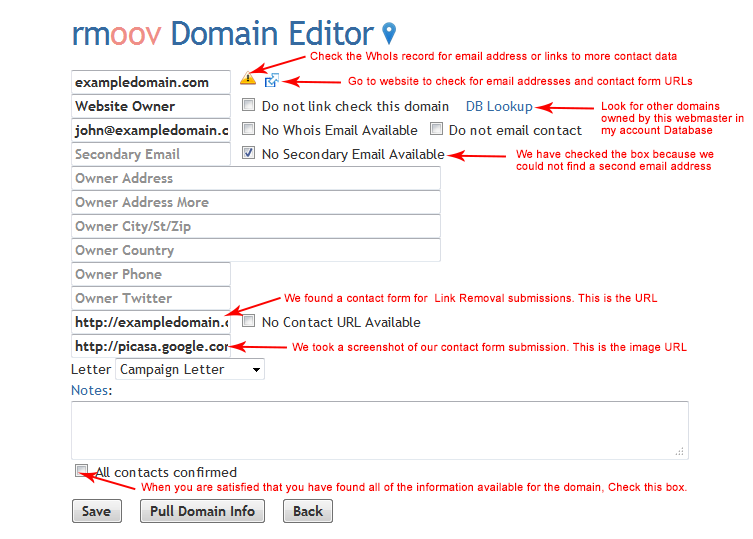 You can register for the basic (free) version that allows you to remove bad backlinks from up to 25 root domains.
Follow these 5 steps to get your link cleanup started with Rmoov.
7. Trackbacks and Pingbacks
Trackbacks and pingbacks (on WordPress) are a constructive way of engaging with people reading/commenting on your posts.
You receive notification every time someone links to your post and they appear as comments on your linked post.
You can find your content stealers immediately via trackback notifications.
But, remember to never set automatic publishing for these trackbacks. Opt for 'manual approval' always.
You can get spammed if someone publishes your content.
You can also set known spammy domains to your spam filters.
8. Cyfe
There are so many tools you will need to use for monitoring your website. It can be daunting to log into multiple dashboards for tracking your keywords, analyzing your backlinks and checking your brand mentions.
Cyfe is a brilliant solution to the problem.
Instead of logging into multiple dashboards, you can just use this tool to compile all of the necessary info for you.
It's useful for businesses to monitor many important aspects of their business, from their marketing, sales, analytics, support, social media and other data.
Conclusion
A negative SEO attack on your website can be very painful. It can hurt your traffic, damage your brand equity, tarnish your image and kill sales of your products.
Bad publicity about Tom Cruise is believed to have cost close to a $100 million in ticket sales for Mission Impossible 3.
Stay vigilant by using the techniques and tools I've mentioned in this article. Don't be shy about spending a little extra cash on a secure host and professional software for monitoring your website.
On the other hand, if you get hit, don't wait for Google to crack down on your rankings.
Take immediate action, in this order:
Send emails to the webmasters of spammy websites and clean your website's backlink profile.

Get in touch with the spammy website's host.

As a final resort, disavow bad backlinks using Google's Webmaster Tools. Or, in the case of plagiarized content, file a DMCA request.
If your homepage isn't penalized, try shifting the affected pages to newer URLs (but not with a 301 redirect). The high-authority backlinks can selectively be transferred to the new URLs.
Recovering from an attack or a penalty on your homepage is more complex, but getting rid of your bad backlinks is your best bet.
Do you use any other tools or techniques to protect your website from attacks? Has your website ever been attacked by a negative SEO campaign?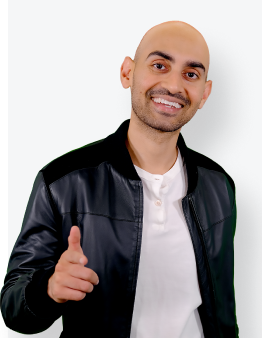 See How My Agency Can Drive More Traffic to Your Website
SEO - unlock more SEO traffic. See real results.
Content Marketing - our team creates epic content that will get shared, get links, and attract traffic.
Paid Media - effective paid strategies with clear ROI.