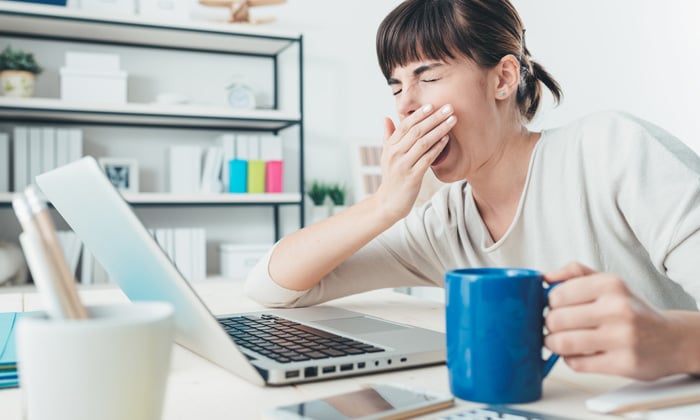 Getting more leads is one of the toughest tasks for a marketer.
New leads and qualified prospects are hard to come by in such a competitive world.
It's even harder to keep in contact with them.
Converting a lead to a final sale is difficult because reaching them in the first place is already a long process.
The buyer's journey isn't an overnight process. Conversions can often take weeks or even months to happen.
But you must follow up with prospects promptly and keep them from ignoring your marketing messages.
Why? You need them to convert.
You can't risk sitting back and hoping that they convert on their own.
You have to reach out to encourage them to buy from you.
But you also have to be careful about invading their privacy and being perceived as annoying or desperate.
Thankfully, marketers have discovered effective ways that you can keep prospects from ignoring you.
They aren't always obvious, but there are a few methods you can use to creatively reach new prospects and convert them.
You just have to think outside of the box.
To get you started, here are 3 ways to keep prospects from ignoring you today.
1. Use direct mail campaigns for big-ticket prospects
Have you ever wanted to land a big client?
Have you dreamed of scoring that huge Fortune 500 company?
Well, it's possible. You just can't do it through typical outlets, unless you have a direct link or connection to a CMO or CEO.
Most people think that direct mail is dead.
It feels like all we get in the mail is junk, local grocery store coupons, and bills. You throw out most of your direct mail almost instantly.
But if you think about your email accounts, you'll come to the same conclusion:
We have tons of junk and spam emails that we don't ever open.
That's why Gmail created these tabs:

Google allows users to hide the junk they don't want to see.
That means your campaigns could go straight to an unused tab, where your recipient is far less likely to open them.
It's no secret that email marketing has a high ROI.
I'm not debating the effectiveness of email. I just want to explain how impactful direct mail can be.
According to Compu-Mail, the average direct mail household response rate is 5.1%, compared to .06% for email and .04% for social media.
On top of that, the prospect response rate increased by 1.9% compared to 2015 data.
And that's not all.
The open rate for direct mail marketing campaigns is 42% on average.
And the average return on investment ranges from 15% to 17%.
That's extremely high compared to other marketing tactics.
The simple fact of the matter is that direct mail works.
There's almost no better way to reach top-level business professionals.
Just think about how many emails you get every single day.
It takes me hours to check my email on a daily basis, so imagine how many emails the CMO of HubSpot might get each day.
If you want big-ticket prospects to respond, direct mail is the way to go.
One of my favorite examples of a direct mail campaign comes from an online-focused laundry business: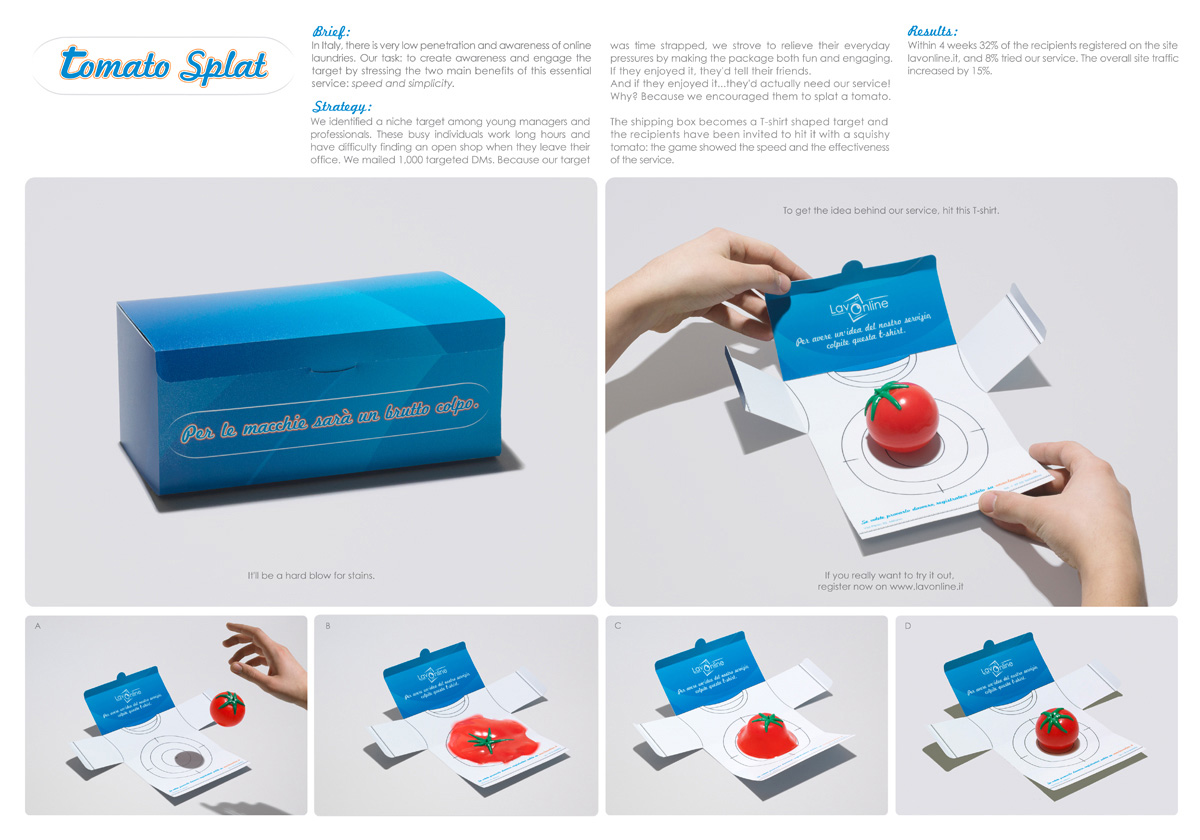 They used creative direct mail marketing to drive incredible results.
Imagine getting this piece in the mail amongst bills and coupons.
How could you resist opening it?
The results were outstanding.
They saw 32% of their mail recipients create accounts on their site. Plus, 8% of those accounts converted to full services, and their website traffic increased by 15%.
Are you convinced yet?
If you want to reach prospects and keep them from ignoring you, then consider running direct mail campaigns.
One of my favorite tools for direct mail campaigns is Lob.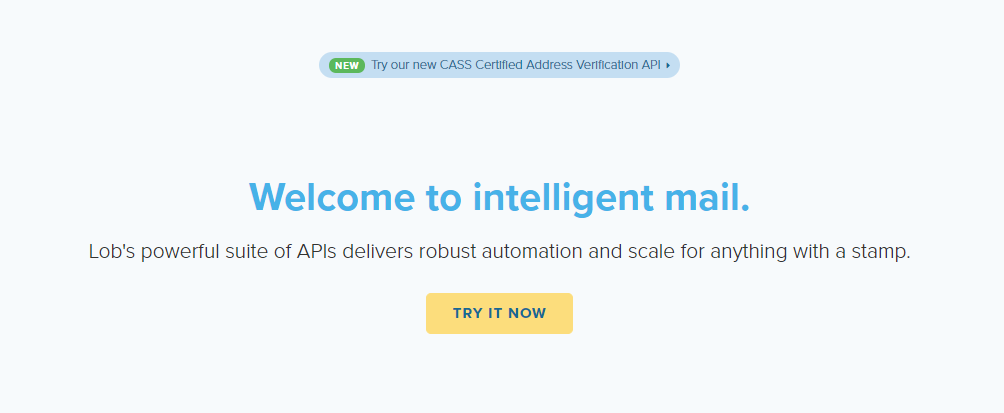 Lob has impressive features for automation, analytics, and even address verification.
That means you'll still be able to track how many people respond to your marketing efforts, and you can see if they have a current address.
To get started, hit "Try It Now" and create a free account.
You can design your direct mail pieces by creating your first test postcard:
They will then ask you to download samples.
For this step, you can skip the sample download and hit "Create Postcard."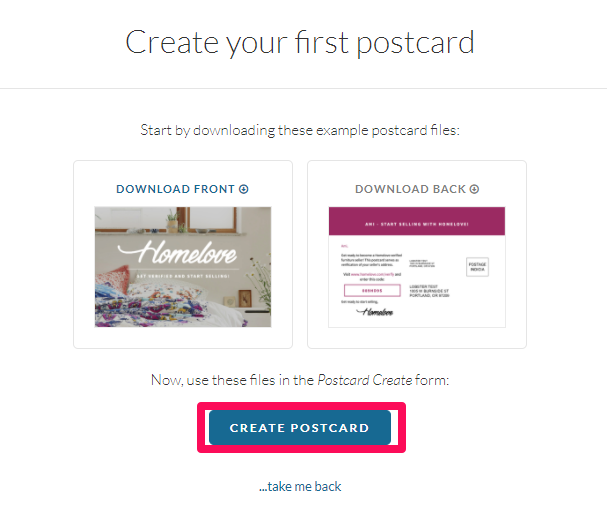 From here, you can edit your sample direct mail piece.
First, give the piece a name so that you can save the test example for later usage: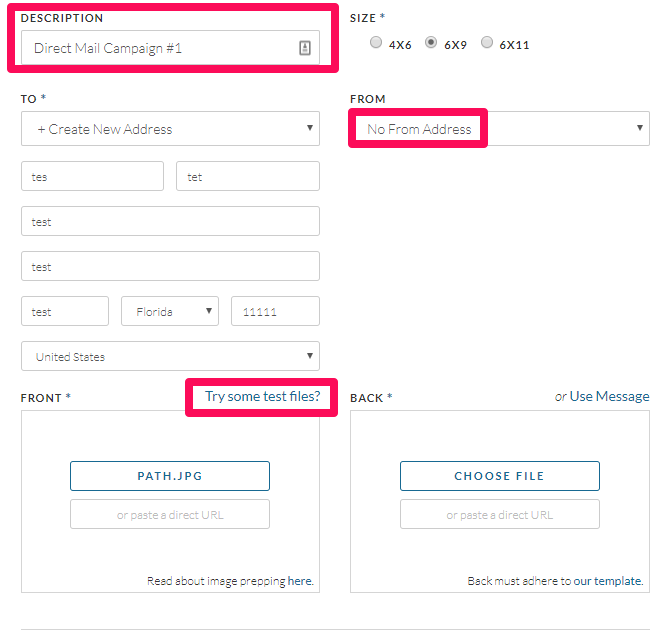 Next, you can choose to have "No From Address."
For the next step, I recommend choosing "Try some test files?" They will give you preset templates to see how these direct mail pieces will work.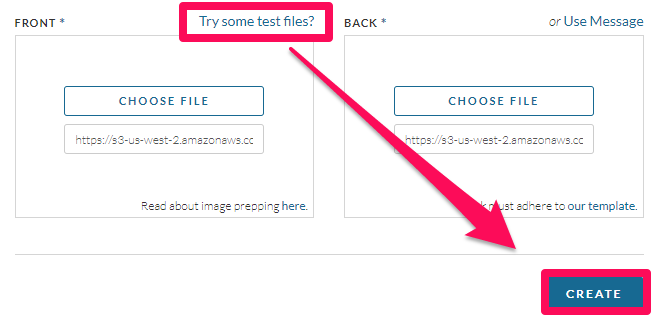 Next, hit "Create" to see a preview of your new direct mail piece. You'll see the front of the piece first: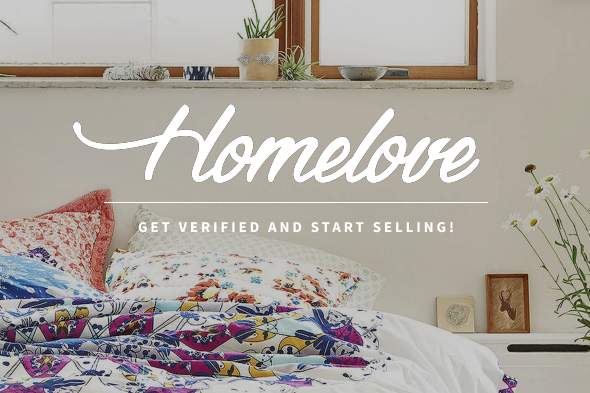 It has a nice design that hooks the recipient into reading the back portion, which you've filled with information, URLs, and value propositions: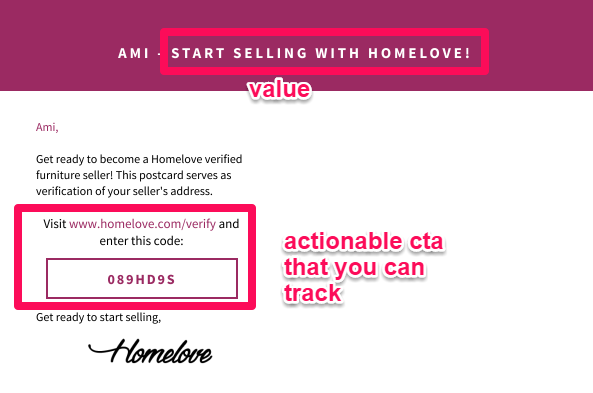 Once you've created a direct mail piece, you can use the address verification tool to upload a list and have it automatically convert your addresses for mailing: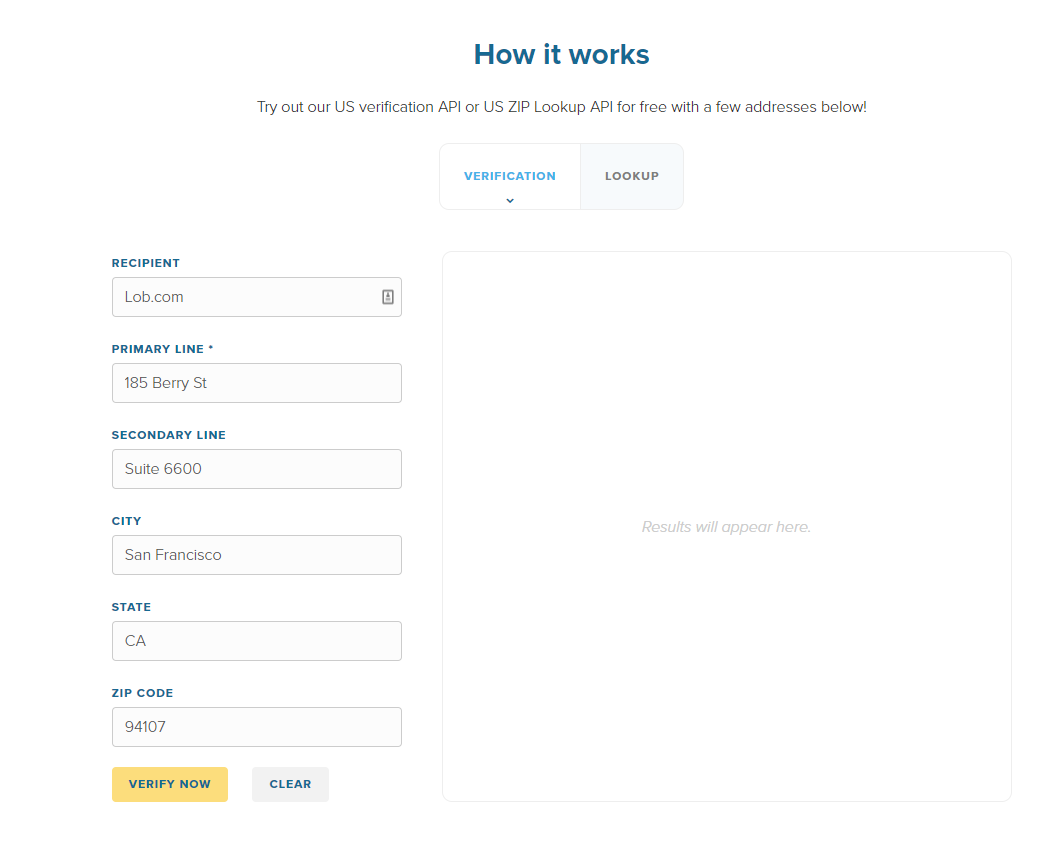 The platform will also eliminate old addresses or update you on any changes.
Lob is an awesome tool that you can use to drive huge value.
Direct mail isn't a popular form of marketing, but those that implement it see massive returns.
Start brainstorming direct mail campaigns to send to your biggest prospects.
Original campaigns are personalized and add a flare to your marketing that you simply can't achieve online.
Emails alone won't be able to reach or convince a big-ticket client to convert.
Try using direct mail pieces to bring more value to the table and show the prospect that you care about their business.
2. Remarket to your prospects
Remarketing is one of the best ways to bring prospects back to your site.
It's great for getting them to convert when all else fails.
If you find that prospects are starting to ignore your email drip campaigns, you need to switch it up.
Remarketing is a crucial aspect of any marketing strategy.
Most people don't convert on their first visit, so you need to be remarketing ads and content to those visitors.
But how do you remarket to keep prospects from ignoring you? You start by creating a list of prospects who you know are ignoring you.
According to SaleCycle's 2017 report, the average abandonment rate for customers online is 75.6%: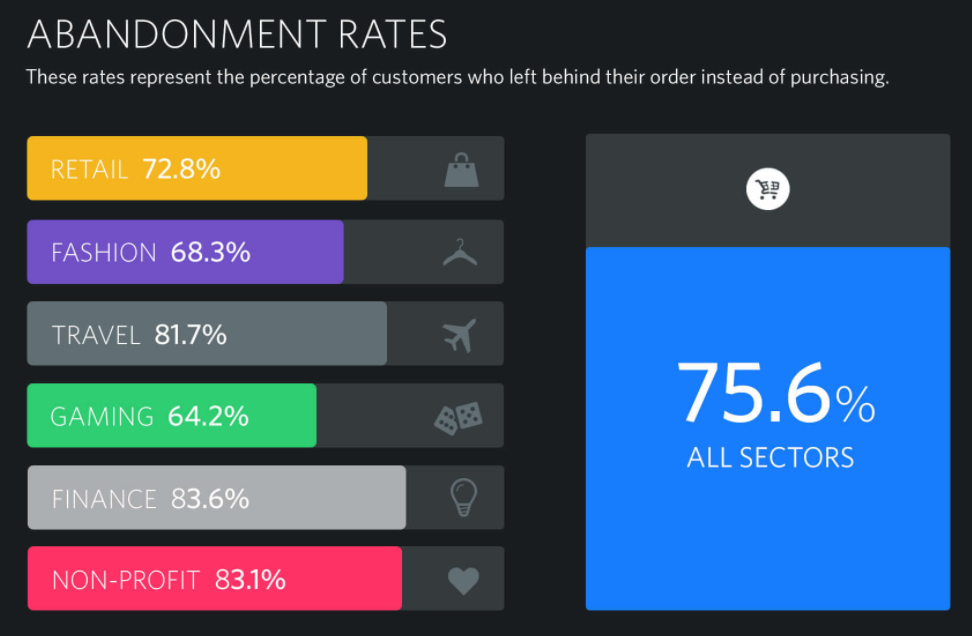 And you can expect similar results for B2B, too.
In fact, according to AdRoll, 98% of site visitors will not convert on the first visit.
But remarketing can fix that.
According to PPCMode, you can expect conversion rates that are in the 30-50% range on retargeted traffic.
Typical display ad traffic only converts at 2-5%.
People leave your website because they simply get distracted or don't realize a need for your product yet.
A great way to bring back prospects is to use Facebook Ads for remarketing.
Check out this ad I got from Autopilot on Facebook. I inquired about their services, but I did not respond to their email drip campaigns. Here's the ad I later received: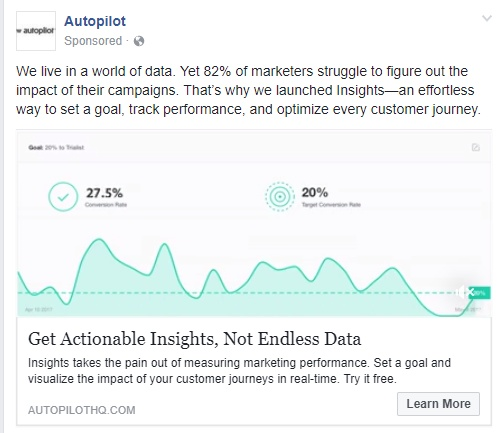 They sent me a remarketing ad to try and drive me back to their site and convert.
It's a great strategy that can help bring prospects back into focus and close the deal.
You can even see this happen when you become a lead or prospect on Kissmetrics: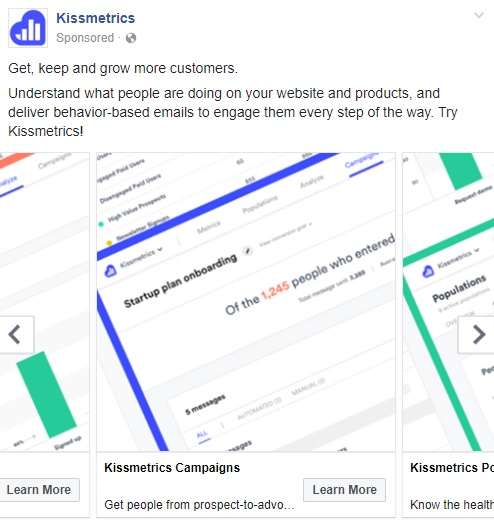 This is a winning strategy because it shows prospects why they need to have your product.
You need to break the wall that they've established and get them to stop ignoring your marketing efforts.
Offering a great, value-driven ad on Facebook can do just that.
If you want to create one today, it's incredibly easy.
You can make these on Facebook and AdWords. Here, I'll show you how to do both.
To begin, let's set up a new custom audience on Facebook's Business Manager.
Look for the "Audiences" section at the top of the "Assets" list:
Next, click "Create Audience." Be sure to select a custom audience as your audience type:
From here, pick the "Customer File" option from the list:

Then you can import a contact file in CSV format or directly import prospects from MailChimp: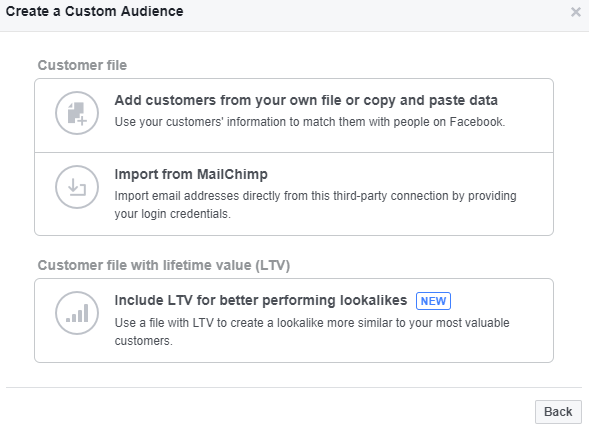 And that's it.
Once you've uploaded your new custom audience, you simply need to create new Facebook Ads that are attention-grabbing.
Here's a prime example from Hotjar of an ad that would get your prospect's attention: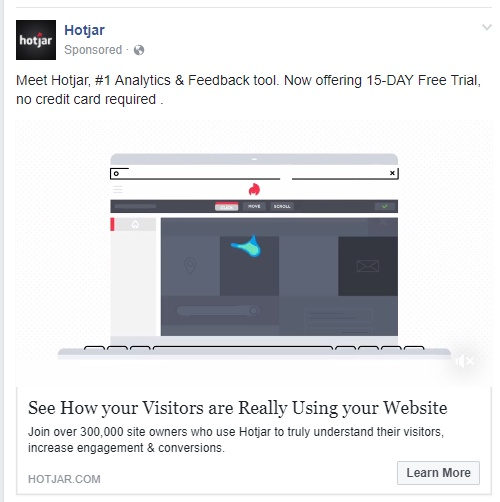 Offer them something that will capture their attention and get them to convert without hesitation.
Give them whatever it takes, even if that means extending their existing free trial.
To set this up on AdWords, head to your AdWords dashboard and navigate to the "Shared library":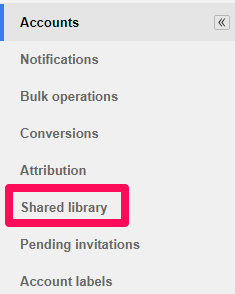 From here, scroll down to the "Audiences" section to create an audience based on your prospect list:

From the options, select "Customer emails" to upload your list:
All you have to do from here is give your new audience a name to recognize it and upload your list-based file: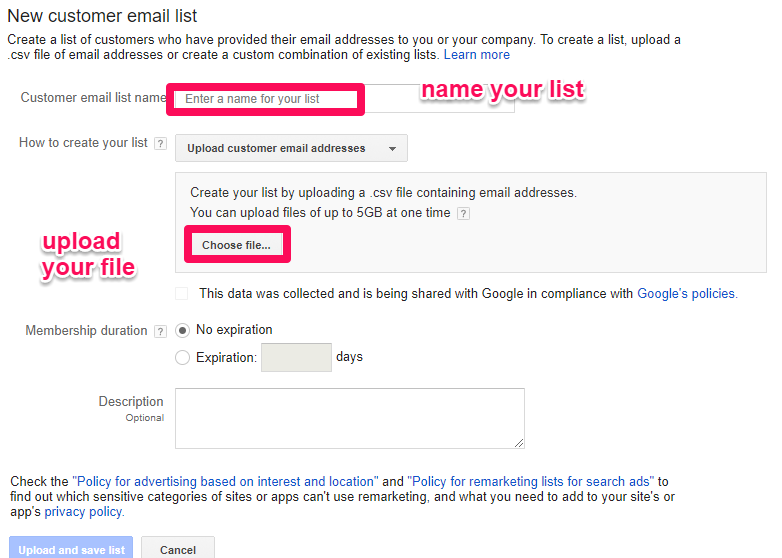 Once you've done that, you can begin running great display remarketing ads for your unresponsive prospects.
Setting up remarketing ads is one of my favorite ways to regain the attention of prospects and drive them back into the funnel.
3. Personally message them on LinkedIn
Personalization seems like a buzzword today.
It's like growth hacking: It's an insanely useful tactic, but most people aren't sure what falls under its scope of view.
The actual meaning of the term gets drowned out by various things that get lumped into the "personalization box."
But the facts remain the same:
Personalization can increase your conversions dramatically.
77% of consumers have made a buying decision with a brand that offered personalized service or experience. They purchased, recommended, and even paid more for products or services.
People prefer getting personalized, relatable marketing messages that are relevant to them.
Think about it:
Were you ever browsing Facebook or Twitter when you saw an ad that was totally irrelevant to you? Almost all of us have had this experience.
I bet it was frustrating. I know that I get annoyed when irrelevant ads are bombarding my Facebook feed.
Personalization is becoming ever more relevant.
According to Gartner, smart personalization engines will be able to recognize user intent and increase profits by the year 2020: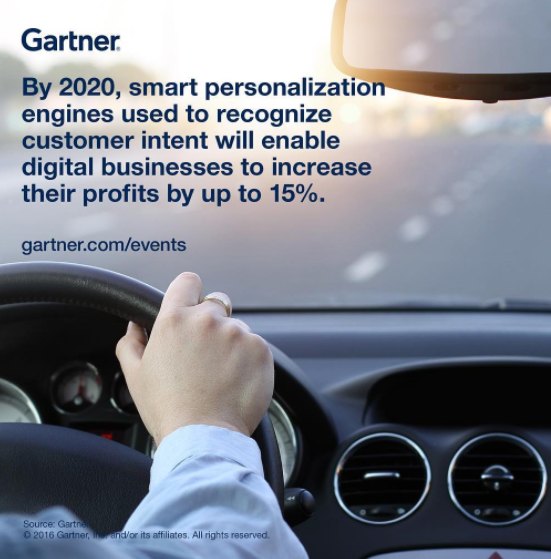 Accenture's 2016 report revealed that 75% of consumers are more likely to buy from a company that recognizes them by name, purchase history, and more:
So what does this mean for your business?
Simply put: if you want prospects to stop ignoring you, you need to focus on personalization.
And that goes beyond a simple, "Hey NAME" email campaign. It involves showing them that you care about their business.
One of the best ways to do this is by contacting each prospect individually with a personalized message using LinkedIn's InMail feature.
LinkedIn's InMail is a tool that allows you to message people on LinkedIn that you haven't yet connected with.
Since it's not a sponsored or paid form of advertising, and you are sending genuine, personal messages, your prospects will be much more likely to respond.
To send LinkedIn InMail, you need to upgrade to a premium account.
Once you've done that, you can search for your prospect in LinkedIn's Sales Navigator: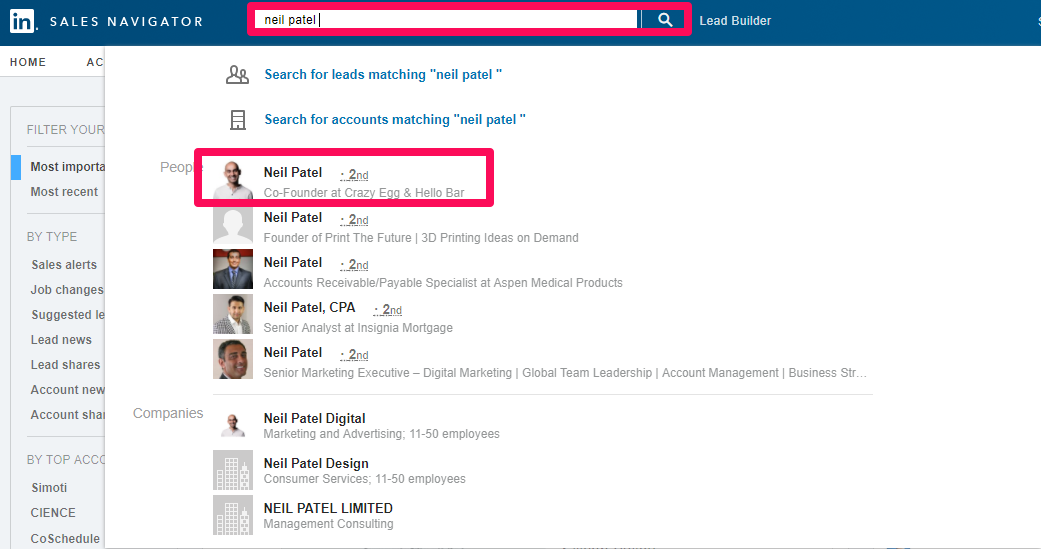 If you've located your prospect, you can click to view their profile.
From here you can send them a message: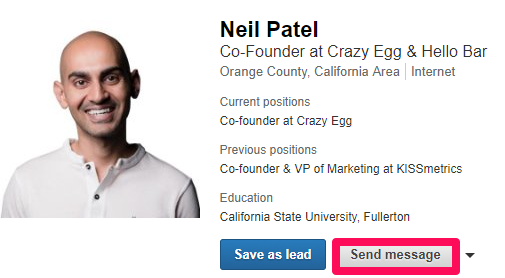 InMail is one of the coolest tools for creating personalized messages that will get your prospects to stop ignoring you.
For example, when you click to send a message to your prospect, it will actually show you their latest activity as a virtual "ice breaker" to start the conversation: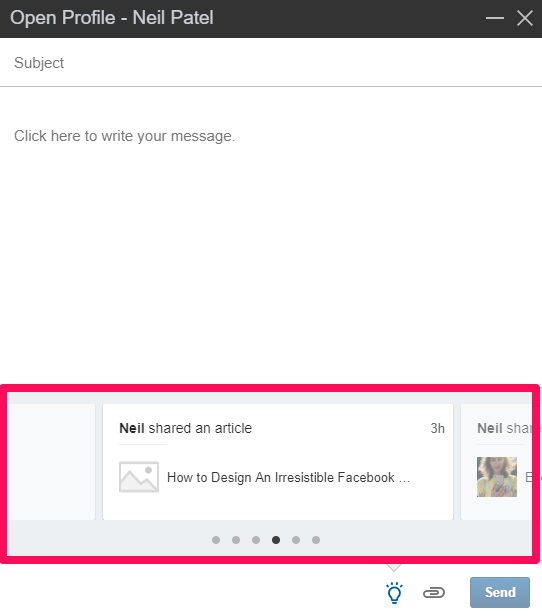 You can leverage these detailed insights to craft a more personalized email.
For example, you could say something like:
Hey ___,
Just saw that you posted this awesome article on designing an irresistible Facebook page.
I wanted to let you know that it was a great post! I really enjoyed the tip where you showed how to add better quality images and drive more social shares.
Great stuff.
If you're still interested in (company tool), I'd love to schedule a call with you. We can help you (actionable benefit like: save time or be more efficient).
If you want to chat, here's my personal cell number: X
If you want to give the free trial another try, please let me know and I can extend it for you.
Cheers.
Neil
The goal here is to personalize your messages as much as possible.
One of the advantages of InMail messages is that they won't come from your company page. They'll come from your personal account.
Instead of seeing your company name in their inbox, your prospects will see your personal account. That means that they're almost guaranteed to open your message.
This approach is going to give you a much better shot at getting them to open and respond again.
If they routinely see your company name and ignore it, you can generate big open rates with this strategy.
If you want to add more content to convey additional value, you can upload attachments like photos or videos: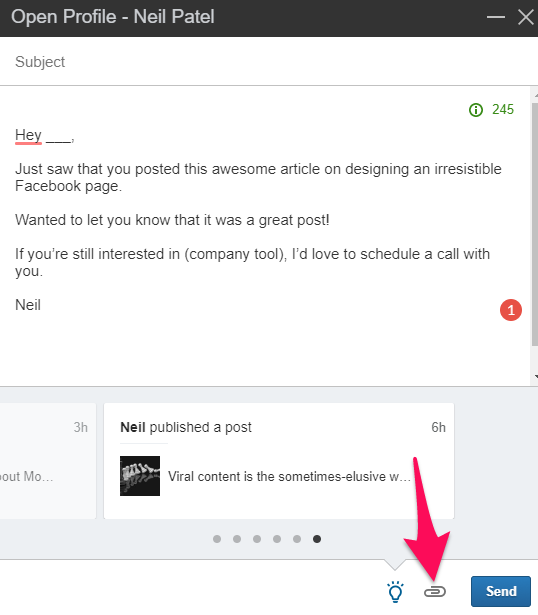 Use this to have a better shot at getting these prospects to engage with your content and come back to your site.
Remember: visuals are great for marketing.
If you want to send simple messages, you can do that, too.
Use InMail to show that you really care about specific prospects, rather than sending out emails to them with a standardized, impersonal template.
Conclusion
Marketing managers and sales teams often have the hardest job of all:
Collecting more leads and nurturing them until they convert.
But getting new leads and qualifying prospects is one of the toughest things to do in such a competitive landscape.
Once you have qualified prospects, you still have to follow up with them to get them to convert.
The buyer's journey evolves in three stages: awareness, consideration, and decision.
People don't simply convert overnight or on the first offer you give them.
And most people refuse to answer your sales calls.
Especially if they are a big-ticket prospect you've been pining after.
So how do you stay in touch with prospects and keep them from ignoring you?
Start by trying direct mail.
The response rate of direct mail is much higher than the response rate of email, so there's going to be a better chance that they'll actually engage with your marketing message.
On top of that, it's personalized and creative.
Another great way to keep prospects from ignoring you is to use remarketing.
They often won't respond to emails. Give them an offer they can't refuse with intensely-targeted remarketing ads.
Lastly, try personally reaching out on LinkedIn to make a better connection.
This type of outreach is often the best way to make a connection and close a deal.
If you want to keep prospects from ignoring you, then get creative with your marketing tactics.
What are your favorite ways to keep in contact with qualified prospects?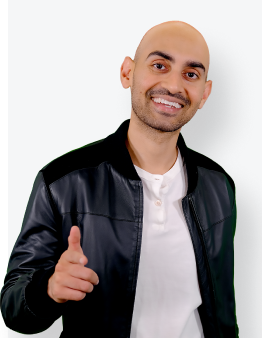 See How My Agency Can Drive More Traffic to Your Website
SEO - unlock more SEO traffic. See real results.
Content Marketing - our team creates epic content that will get shared, get links, and attract traffic.
Paid Media - effective paid strategies with clear ROI.