If you're looking to reach a B2C audience that likes to buy, Pinterest has got you covered.
After all, 55% of online shoppers report that Pinterest is their favorite social media platform.
On top of that, Pinterest users also spend 2 times more money, online, than the average U.S internet user.
And now, with their relatively new advertising option, Pinterest makes it amazingly easy to reach this huge B2C audience.
If you want to learn more about the specifics of setting up Pinterest ads, you can read this guide.
For today, however, we're going to take a look at how you can use some of the more technical features and strategies that are provided by the Pinterest ad platform, in order to supercharge your ad campaigns.
You'll learn how these 'advanced' features can be implemented, in order to boost ROI, so that you're not leaving excess amounts of money on the table.
By the end of this post, you'll feel confident, in terms of knowing how these advertising methods can be applied and how you can get the best results with each one.
Let's begin!
Visitor retargeting campaigns
One advanced feature provided by Pinterest Ads is 'visitor retargeting.'
Using visitor retargeting, you'll be able to reach people who have visited your site in the past.
Retargeting can be powerful, because it allows you to show ads to people who are already familiar with your brand and hence, more likely to convert.
There is evidence to suggest that users who are retargeted, are 70% more likely to convert.
Now, there are many creative uses for retargeting and you don't have to use the strategy only to get people to buy something that they didn't buy the first time around.  
Provided you think outside the box, there are other uses for retargeting.
Remember, with retargeting, you're showing ads to people who have taken an action in the past.
You know what this action is, so you should craft campaigns that complement the action.
For example, if you're running a store that sells running gear, you could build a list of people who have bought running gear from you and create retargeting campaigns directed towards these people.
You now know these people are interested in running and buying running gear.
As a result, you can think about selling gloves, if they take a look at running hoodies, or shaker bottles, if they're looking at protein shakes.
If you want to keep things simple, though, you can use this option to show people ads that simply remind them to buy items that they didn't purchase before.
In any case, here's how you can set up a visitor retargeting campaign on Pinterest.
First, you need to install a conversion tag, otherwise known as a 'Pinterest Tag,' on your site.
To do this, log into the Business Manager section of Pinterest.  Then, hover your cursor over the 'Ads' option.
Then, click on 'Conversion tracking.'
You'll then see the following screen. Here, you need to click on 'Create tag.'
Give your tag a name and click on 'Generate code.'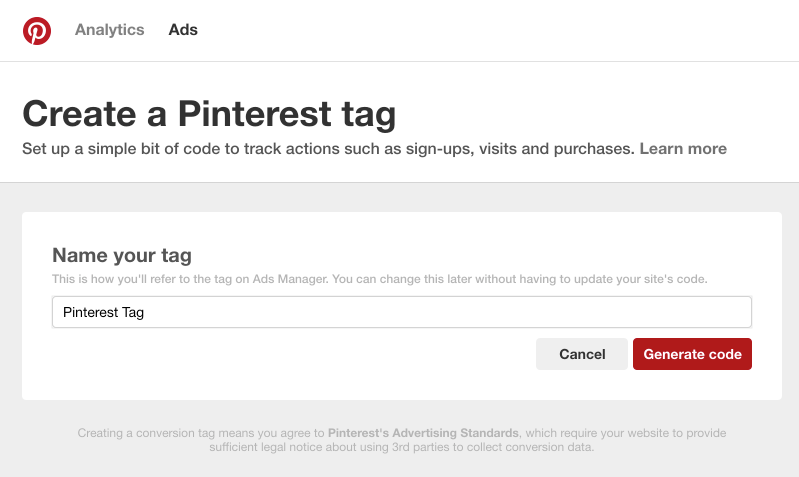 You'll then be given your 'Pinterest tag code.'
Install this code within the <head> section of your webpages.
You need to also use the following codes, to track specific conversion events that will guide your retargeting efforts.
Installing these codes can be a little long-winded to explain. However, if you want a detailed instruction manual on installing these tracking codes, read this guide that's provided by Pinterest.
Once you've set up and installed your tag, you then need to wait for it to become active.
If you visit the 'Conversion tracking' section again, you'll see your tag there.
If it has been set up properly, you should then notice that it is verified and that it is tracking 'events.'
Next, it's time to go about creating your actual retargeting ad.
To do this, go back to the 'Ads dashboard' and select the type of campaign that you want to run.
As you can see, there are three types of campaigns that you can run here.
With a retargeting campaign, you're often looking to drive sales. To generate these sales, you need to send people to your site.
Because of this, it might be a good idea to go with the 'Traffic campaigns' option.
Click on the 'Promote' button that's next to 'Traffic campaigns.'
In the next section, click on the similar option, 'Get traffic to your website.'
Then, give the campaign a name and input your budget for the campaign.
In terms of the budget, you can also decide if you want to set a 'Daily budget' or a 'Lifetime budget.'
You probably won't forget that you're running a campaign, so the 'Daily budget' option should be fine.
You also need to decide when you want to campaign to start running. There's an optional section where you can decide when you want it to end, too.
After completing this section, you then need to click on 'Pick a Pin.'
Note: This is something that you'll want to give special consideration.
There's no point in picking any old pin here.
Remember, you're showing ads to people who are already familiar with your brand.
On top of that, there's a good chance that you're targeting them, so that you can influence them to take a specific action.
Because of this, it's important that you create custom pins for this audience that relate to what you're trying to sell and what action you want them to take.
Keep in mind that you can only promote pins that are on your 'Public Board.'
Therefore, if you create a custom Pin for a visitor retargeting campaign, you'll need to make sure that it is first visible on your Public Board.
If you're interested in uploading a pin, you can do so by going to the upper right hand section of the page and selecting 'Upload an image.'
You can then 'Upload a Pin.'
Make sure that this pin is available on your Public Board, so that you can select it.
Once you've picked your pin, move on to the next section.
Give your campaign a name and then enter in a URL for the campaign.
You'll also need to pick an audience for this campaign.
If you have not created an audience already, based on your Conversion Tags, then you'll need to click on 'Create.'
Then, pick 'Visitors who went to your site' and click 'Next.'
Give the 'visitor audience' a name and description.
Finally, select the relevant conversion tag.
Note: Make sure that your conversion tags are set up before you do this or you won't be able to pick a tag or audience to retarget.
Click on 'Create audience.'
As you scroll down the page, you'll notice that you can further refine your audience.
You won't need to place too much attention on these options, as your ads are already highly targeted, due to your initial method of retargeting.
Bear in mind, however, that your targeting options can also affect where your ads appear.
You then need to decide on a bid for your campaign.
Pinterest will give you an estimate, in terms of how much you should be bidding.
For the moment, it can be a good idea to not stray too far from this figure, as doing so could lead to mediocre results.
Once done, click on 'Next.'
After, you might be asked to enter in some 'Business Information.'
You'll now have to wait for Pinterest to review your ads.  They'll soon go live.
That's how you can set up retargeting on Pinterest!
Now, let's look at what else can be done.
Actalike Audience
Pinterest also offers you the option of creating something known as an 'Actalike Audience.'
This audience is developed in relation to another audience that you provide Pinterest with.
The idea is that the audience developed by Pinterest will 'act like' the audience that you have provided.
This, in a sense, is similar to what can be found with Lookalike Audiences on Facebook.
In fact, Pinterest themselves sometimes will refer to this kind of targeting as 'Lookalike targeting.'
Pinterest states that by using this form of targeting on the platform, some companies have raised their CTRs by 63%. There is also evidence that some have managed to boost 'Reach,' by up to 30x, using this targeting method.
You can create an 'Actalike audience' by uploading a list of your customer email addresses to Pinterest.
Note: Pinterest requires at least 100 Pinterest users, from your uploaded email database, in order to create an Actalike audience.
So, a 500 strong email list, with only 50 Pinterest users, won't work.
Here's how you can create an Actalike audience.
Go to the Ad Dashboard, then hover your mouse cursor over 'Ads.'  Select 'Audiences.'
Then, select 'Create audience.'
Select 'A list of customers that you upload.'
Give this customer list a name and description. Then, upload the audience.
Once done, click on 'Create audience.'
You'll then need to wait for Pinterest to verify the data.
Once Pinterest has verified the audience, you can then create an 'Actalike audience.'
Click on 'Create audience' again.
But, this time, select 'An actalike audience that behaves similarly to one you already have.'
Click 'Next.'
Provide a name and description and then select the audience that you want Pinterest to emulate.
Next, select a country and a drop down number (Percentage).
The percentage refers to how tight you want to keep the targeting. The lower the percent, the more relevant the targeting will likely be.
This is similar to Facebook's targeting, when setting up a Lookalike Audience.
Once done, click on 'Create audience.'
If you want to target this audience when creating ads, you can do so when setting up your campaign.
As was the case with the retargeting campaign, simply select the audience from the 'Your audiences' section.
Note: As you might've guessed, you can also target the people who belong to the email list you uploaded.
If you want to do this, then just select the list from this section, when setting up your ad.
The Actalike Audience option can work well, if you find that a previously well-performing campaign targeting your own list is beginning to lose steam.
By using Actalike targeting, you can widen the potential exposure of the ad, while ensuring that it isn't shown to an audience that will find the ad irrelevant.
Actalike targeting can also work well if you're collecting data based on certain website actions.  For example, a newsletter sign up could be an action and you want to show ads to other people who are hence likely to also take that same action.
Engagement targeting
Engagement targeting is essentially a form of retargeting, but based only on the interactions that people have had with your Pinterest pins.
You can use this form of targeting to promote products that might relate to a piece of content that someone has consumed on your Pinterest board.
For example, imagine you're a store that sells kitchen equipment.
If someone has engaged with a Pin related to making something using a slow cooker, you might want to advertise a slow cooker to that person.
You can do that, using Engagement targeting.
This kind of targeting is effective because by engaging with your Pin, people have demonstrated that they an interest in items or topics related to your offering.
This can signal an intention to buy in the near future.
In fact, according to Pinterest, when someone engages with a pin, they're 2.2x more likely to make a purchase, in the next 30 days, than someone who didn't engage.
This fact is made even more powerful when you consider that 87% of people on Pinterest buy, when they've seen a product that they like on the platform.
If people are already interacting with your brand and like your brand, the odds of them liking that product are most likely higher.
For this type of campaign, you need to make sure that Pinterest has your website on record.
This is because you're targeting ads, based on engagement related to pins that link to your site.
Therefore, to link your account to your website, go to https://www.Pinterest.com/settings and scroll down to the 'Website' section.
Enter your website URL and then click on 'Confirm website.'
Then, you have to confirm your website, using the options provided.
Either insert a 'tag' or upload a HTML file.
Once you have done that, you can then create your 'Engagement audience.'
To do that, go to the 'Audiences' section and click on 'Create Audience.'
Then, select 'An engagement audience that engaged with Pins from your confirmed domain.'
You then need to give your engagement audience a name and description.
You can filter what counts as engagement here, by choosing what you want to track.
For example, you can track 'URLs.'

Or, you can track 'Action Types.'
Or, track a 'Pin ID.'
You can also layer 'Filter types,' if you want to get really specific with your targeting.

What you pick here will depend on how you're looking to organize your campaign and what your goals are.
Once done, wait for Pinterest to verify the audience.  Then, go about the normal ad campaign set up process, to create ads, as I've detailed in earlier sections.
Conclusion
Pinterest is one of the best ways to advertise, if you're dealing primarily with a B2C audience.
If you're already familiar with Pinterest advertising, using some of the advanced features we have just covered can add more power to your existing campaigns.
You can, for example, create visitor retargeting campaigns.  Or, create campaigns that use 'Actalike audiences.'
Set up a few small campaigns, using the advanced features now.  See if you can become even more profitable than you currently are.
With a little bit of tinkering, there's no telling what kind of amazing campaigns you'll be able to craft.
Good luck!
Do you have any tips to share, when it comes to making use of advanced Pinterest advertising features? Please let me know in the comments below.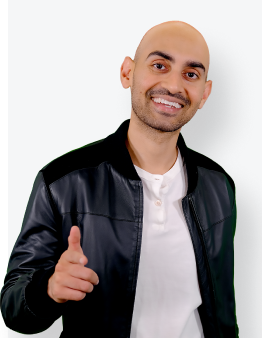 See How My Agency Can Drive More Traffic to Your Website
SEO - unlock more SEO traffic. See real results.
Content Marketing - our team creates epic content that will get shared, get links, and attract traffic.
Paid Media - effective paid strategies with clear ROI.
Are You Using Google Ads? Try Our FREE Ads Grader!
Stop wasting money and unlock the hidden potential of your advertising.
Discover the power of intentional advertising.
Reach your ideal target audience.
Maximize ad spend efficiency.