Growth hacking is the name of the game right now for startups, and why shouldn't it be? It's all about bringing in more traffic and putting more users at the top of the conversion funnel.
Many consider these goals to be the job of their content marketing, too. With each blog post or infographic, they hope to secure more visitors and more traction for whatever it is they are selling.
They want to see results. And both growth hacking and content marketing are about results.
What happens when we bring these two worlds together? It's a little something called Content Hacking.
By the way, what is a growth hacker? Growth hacking was introduced by startup marketer Sean Ellis as a way to redefine the marketing role for startups and online brands. He believed that the more traditional "Vice President of Marketing" title had lost its luster for startups and that it no longer described the job accurately.
Now, startup marketing needs to think beyond traditional advertising methods and should include engineering, creative thinking, and MacGyver-like ingenuity.
The growth hacker's job is to use human psychology and engineering to drive measurable results. For the content hacker, life isn't much different. Content marketing works, but as it grows in popularity, we need to rethink our approach. We need to find ways to use our content for explosive growth.
There are several examples we can look to for inspiration with our own content hacking.
Some Real Life Examples of Growth Hacking
Hotmail.com
Hotmail.com circa 1998 – A classic growth hack.
One of the earliest recorded growth hacks was accomplished by Hotmail.com in the late 1990s. As a way to stimulate growth, the Hotmail team added the intriguing bit of text "PS I love you" at the bottom of every email they sent, with a link back to their homepage. In less than a year, this little piece of content was responsible (in part) for their massive growth of more than 12 million email accounts.
You may remember that Hotmail later was purchased by Microsoft for an estimated $400 million. Not a bad return for a little nugget of content marketing.
Tripl Parking Tickets
Y Combinator startup, Tripl, seized the opportunity to make an impression on more than 200 of the biggest names in tech by placing fake parking tickets on their cars while they were listening to a multitude of product pitches. The tickets read "Violation: You have illegally been subjected to make a big investment decision based on a 2 minute demo pitch."
Tripl's Peter Sullivan grabbed a photo of the stunt, which he quickly uploaded to Y Combinator's Hacker News site. Within hours, the story held the top spot and helped guide his startup to 40,000 users in its first year.
5 Easy Ways to Become a Content Hacker
#1 Write Awesome Headlines
Yeah, I know, this sounds like old news, but there is so much riding on headlines that I would be crazy not to bring it up at least one more time – the headline is everything.
If we screw it up, we lose our chance at ever achieving a real content hack.
Upworthy.com knows a thing or two about headlines. In their slide deck The Sweet Science Of Virality, they emphasize the importance of the headline again and again. More importantly, they emphasize the value of writing more than one headline. For each post, Upworthy writes a minimum of 25 headlines. Then, they pick two and run a quick A/B test. When they have a clear winner (and usually there is one), they launch.
The full Upworthy presentation is excellent and definitely worth a look, a bookmark, and possibly even a print out. It's that good.
#2 Make Your Content More Shareable
Once you've gone through the effort of writing a killer headline, you need to make sure it's easy to share your headline and content with the world. And, there are more ways to do this than just the usual share buttons at the top and bottom of your site.
Click To Tweet
Adding simple Click to Tweet calls-to-action in your post is another great way to boost shares. Rather than waiting until the end of your post to passively prompt the user to share your content, "click to tweet" boxes add the call-to-action within the article. These tweetable opportunities can be added easily, using a super-simple Click To Tweet WordPress plugin, or they can be created manually using the ClickToTweet.com service.
WP Socializer
WP Socializer is an excellent plugin for creating share buttons throughout your post. Adding the "floating share bar" that scrolls with the browser window keeps share buttons persistent and readily clickable.
#3 Contribute Guest Blogs
This is a classic content hack. It can be a grind, but it is worth it. Leo Widrich, one of the founders of Buffer, cites guest posting as one of the biggest drivers of their success. His startup wrote more than 60 guest posts over a few months that included a link back to their app. Leo says that they still can see the benefits of the effort even today. Search Engine Watch has a great interview with the founder, who explains how guest posting, in part, helped them go from 0 to 100,000 customers.
#4 Write Longer Copy
Neil Patel recently published a great post regarding search rankings and post length on his blog. In his research, he discovered an "average content length for a web page that ranks in the top 10 results for any keyword on Google has at least 2,000 words."
The big takeaway here is that more content-rich sites get more traction in Google. There are many bloggers who love to tout the benefits of the 600 word blog post, but there may be a bigger payout for those who invest a bit more time and effort. Even more impressive is the correlation between the length of content and the number of links; they go hand-in-hand.
Check out the full post for more details and tips on this, but longer copy definitely should be on the radar for any true content hacker.
#5 Tell a Better Story
What type of story are you telling? Startup founder, Alex Turnbull, realized that, even though his blog was bringing in more than 1,000 visitors per day, it wasn't telling much of a story. His entire team spent an afternoon coming up with a new plan. Eventually, they launched a new blog that documented their journey from 35K per month in revenue to more than 100K. Not a bad idea for a company whose primary clients are web-based startups.
The posts coming from the Groove team were detailed, focused, and continually told the story of Groove. In short, they were brilliant and brought them more than 5,000 email subscribers in just five weeks. We all have a story to tell. We just need to figure out how to frame it so that people actually will care about what we have to say. Groove found this, and you certainly can, too. For a great resource on this topic, I again refer you to the Upworthy Sweet Science Of Virality slide deck.
The Characteristics of a Content Hacker
Content marketing is on the rise, and it is becoming more important now than ever to get the most we can out of our content. This is where the content hacker comes in. Would you like to know what's in the DNA of a content hacker? Here are a few of the characteristics…
Looks for Fit – For the content hacker, it's not product/market fit, it's content/audience fit.
Thinks Growth – A content hacker has to be focused on growth: growth in traffic, growth in the content base, and growth in the bottom line.
Opportunistic – A content hacker sees opportunities to use his contacts to make connections and grow his reach.
Seeks Sustainability – Where a growth hacker sees scale, a content hacker sees sustainability.
Data Driven – Content hackers see data as their primary tool for measuring their success. They don't settle for anything but growth that moves the needle forward.
SEO Minded – A content hacker understands how and why Google does what it does, and knows how important it is.
Searches for Virality – The content hacker constantly looks for the next big idea that will go viral. Hot topics and attention-grabbing headlines are just a way of life.
Ignores Style Guides – Style guides and repetition have little value to the content hacker. Content hackers ship content that their audience loves.
About the Author: Garrett Moon is a founder and designer at Todaymade, maker of CoSchedule, a content marketing editorial calendar for WordPress. It makes blogging and sharing on social media easier than ever before. Follow him on Twitter or Google+. Pssst…Are you a content hacker? View our content hacker infographic.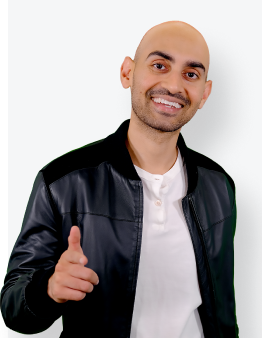 See How My Agency Can Drive Massive Amounts of Traffic to Your Website
SEO - unlock massive amounts of SEO traffic. See real results.
Content Marketing - our team creates epic content that will get shared, get links, and attract traffic.
Paid Media - effective paid strategies with clear ROI.