One of the best ways to find out if your online marketing efforts are leading to results is to create goals in Google Analytics. Goals will tell you about a visitor's behavior prior to completing a conversion on your website. The easiest goal type to use is the URL destination goal – it tells Google that when a visitor arrives on a specific page, a goal has been completed.
In this post, we're going to show you how to set up a URL destination goal, three things you can track with this goal type, and what you can learn by tracking each.
How to Set Up a URL Destination Goal
To set up a URL destination goal in Google Analytics, go to the target website profile in your Google Analytics account and click on the Admin button.
Under the View (Profile) listing, click on Goals.
Note that you can create up to 20 goals. Goals are broken up into sets – each profile has four sets of goals, giving you the ability to add five goals to each set. Some areas of Google Analytics, such as the Explorer view, will only allow you to review data for one goal set at a time, so organize your goals wisely. Also note that goals cannot be deleted once data is recorded under them. You can deactivate them, but you can't remove them.
Click the Create a Goal button.
Give your goal a recognizable name, select Destination as the type, and click Next step.
Enter the URL that a visitor will land upon when completing the goal. The URL you enter should be everything after your domain, so if the full URL destination is http://www.yourdomain.com/thankyou.html, you would enter /thankyou.html. If you do not have an exact URL, use the dropdown to change Equals to either Begins with or Regular expression. You can learn more about match types here and expressions here.
Finally, you will have two optional items to choose from. First, you can assign a value to your goal. For example, if you knew that every time a conversion was made, you would earn $5, you would enter that as the value. This way, Google Analytics can calculate the total value of conversions throughout Google Analytics, giving you the ROI of some of your marketing efforts.
You can also choose to turn your URL destination goal into a funnel. Commonly, this is for multi-step goal conversion processes such as the three URLs used in your website's checkout process. This can help you find any conversion optimization opportunities (or holes) in the process by noting where the most conversions are lost (i.e., when people exit your funnel).
Now, let's look at three of the most important things you can track with URL destination goals, how to set them up for tracking, and what you will learn by tracking them. Keep in mind there are many things you can track – below are just some ideas of what you could get started with.
1. Sales
Product sales are probably the most obvious thing to track with URL destination goals. If the sale is made on your website using a shopping cart, you can use a goal funnel to track a visitor's progress through each step of the sale.
If the sale is made offsite, where you can't track the visitor's journey (such as using Paypal as the processor or other systems like Clickbank, Ejunkie, etc.), you can still use the URL destination type, but without the funnel. Instead, you will track the goal by using the URL of the page you redirect visitors to after they complete their purchase. This could be a thank you page, order confirmation page, membership registration page, or page with additional directions needed to complete their order.
Why Track Sales as Goals
Tracking your sales as goals in Google Analytics is a great way to measure the ROI of your online marketing. For example, you may discover that referral traffic from Facebook buys more than referral traffic from Twitter. Or you may discover that traffic from one keyword phrase you target for PPC buys less than another phrase. These discoveries can be crucial when determining which strategies to focus your energy and budget into.
2. Form Submissions
If you have a service-based business or collect leads from your website for your business, then form submissions may be the next best thing to track with your Google Analytics URL destination goals. All you have to do is use (or create) a thank you page for people who submit a quote request or ask for more information about your products and services. Then use a contact form system or plugin that allows you to redirect visitors to a specific page on your website after they submit the form.
Not only is a thank you page great for easily tracking form submissions as goals, but it's good for visitors as well. You can use it to instill confidence that their form was properly submitted and that you will be responding to them within an appropriate time frame. If your form submission just redirects back to your homepage or does nothing at all, then the visitor may think it didn't work properly, get frustrated, and turn to your competitor.
Why Track Form Submissions as Goals
If your forms send leads to your inbox that could become sales, then they should be measured almost like you would measure a direct purchase from your website. This way, you can similarly determine what sources of traffic generate the most leads for your business.
3. Mailing List Opt-Ins
Assuming you use a double confirmed opt-in (recommended by most mailing list service providers), there are two points you can track conversions. The first is by using the page you redirect visitors to after they submit their information. The second is by using the page you redirect visitors to when they confirm their subscription.
The latter is definitely more important as you want to know about confirmed opt-ins, however it is also the most variable as people could leave your website and confirm their subscription at a later time (or even later date). The former, on the other hand, would be part of the same visit, but may also include conversions that have not confirmed their subscription.
Either way, make sure you are redirecting your visitors to a custom thank you page on your website when they sign up for your mailing list. In Aweber, for example, you would add the page redirect after they submit their information to your sign-up form settings.
You would add the page redirect after they confirm their opt-in as the Success Page under List Options > List Settings > Confirmed Opt-In.
Both are good to have regardless of whether you are tracking your mailing list opt-ins as goals in Google Analytics. You can use these custom pages to encourage visitors to continue browsing your website or take additional actions.
Why Track Mailing List Opt-Ins as Goals
A popular expression in the Internet marketing world is that the money is in the list. If you know that you drive a lot of sales from your mailing list, then you will want to make sure you are tracking sign ups as conversions to determine which online marketing tactics are driving the kind of traffic that ultimately opts-in to your mailing list.
Additional Ideas
You may have guessed it by now, but the key to tracking a conversion on your website using the URL destination goal type is to send visitors to a specific page for each conversion you want to track. So think about all of the things you want visitors to do on your website, and how you can track them as goals by redirecting visitors to a simple confirmation or thank you page after they have completed the action.
Some additional things you could track as URL destination goals in Google Analytics include the following.
Tracking sign-ups to your forum using the registration confirmation page.
Tracking free trial sign-ups for your product using the thank you page.
Tracking free downloads using a thank you page or tutorial page.
Tracking first time comments on your blog using a thank you page with the Comment Redirect plugin (WordPress users only).
The possibilities are endless!
Getting More Out of Your Confirmation & Thank You Pages
As an added bonus, think of ways to optimize your confirmation or thank you pages for additional conversions. For example, after someone makes a purchase as a guest, the confirmation page could encourage them to create a new account. After someone submits a contact form, the thank you page could encourage them to sign up for your mailing list. After someone signs up for your mailing list, the thank you page could inform them about how to find your email in their new Gmail inbox tabs.
If you're not sure what to add to the pages you redirect visitors to after they complete an action, consider taking an interactive stroll through your competitor's websites and see how they handle mailing list opt-in thank you pages, lead form submission thank you pages, and others.
Viewing Your Conversion Data
Once you have set up your goals, you will need to wait until visitors to your website start completing them. This will vary based on your business – if you have 1,000's of sales per day, then you'll get a lot of great data quickly. If you have one per day, you might want to wait a while before diving into your data.
When you're ready, you can start by looking in various sections within the standard Google Analytics reporting, such as your Traffic Sources > Sources > All Traffic. At the top of the Explorer tab, you will see options to view Site Usage, Goal Sets, Ecommerce, and AdSense (if applicable).
Click on the goal set that you created your goal under to view conversion rates for your goals. You can now view which traffic sources led to the most goal conversions.
Other ways to view your conversion data are to create dashboards or custom reports. Both are good options if you need to send regular reports to your boss or your clients about their conversions.
In Conclusion…
Using Google Analytics goals can help you identify the most valuable traffic you receive to your website in terms of sales, lead generation, and email list building. The URL destination goal type is one of the easiest to use. All you need is a page to redirect users to once they complete a goal and you are ready to learn more about the best referral traffic, content on your site, and much more for your business!
What types of conversions do you track with URL destination goals in Google Analytics? Please share in the comments!
About the Author: Kristi Hines is a freelance writer, professional blogger, and social media enthusiast.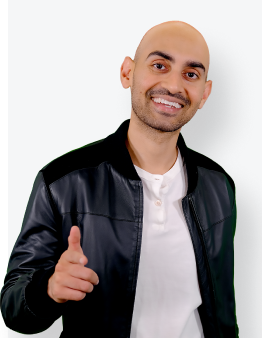 See How My Agency Can Drive More Traffic to Your Website
SEO - unlock more SEO traffic. See real results.
Content Marketing - our team creates epic content that will get shared, get links, and attract traffic.
Paid Media - effective paid strategies with clear ROI.
Are You Using Google Ads? Try Our FREE Ads Grader!
Stop wasting money and unlock the hidden potential of your advertising.
Discover the power of intentional advertising.
Reach your ideal target audience.
Maximize ad spend efficiency.