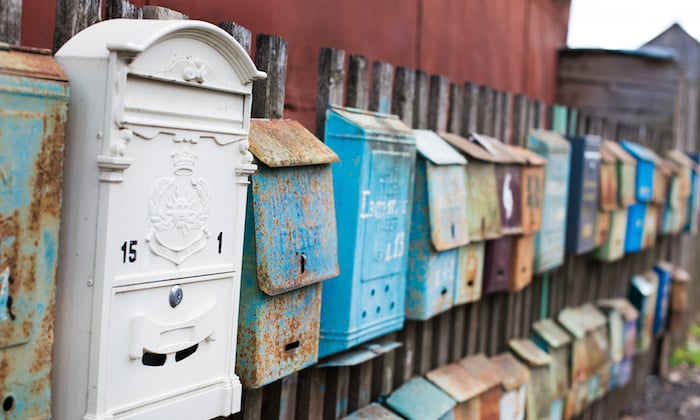 The average email open rate is 24% industry-wide.
That's not horrible, but it's also not great.
And that's just the open rate. Not the click-through rate.
You'd be lucky to generate a CTR higher than just a few measly percentage points based on that.
Because only a tiny portion of that 24% is actually clicking on your content after opening.
Meanwhile, direct mail open rates are nearly double at 42%.
Why? Because we get less direct mail than email, and because we're sick of the standard junk that floods our inboxes daily.
The point is that nearly half of your target audience would open your direct mail, whereas less than a quarter of them will open your emails.
Best of all, this old-school marketing tactic can still work in today's fast-paced digital world.
Here's how to land high-paying clients with direct mail and avoid those low open rates on your email campaigns.
Start by prospecting for your mailing list
The first and most obvious step in running a direct-mail campaign is to build your mailing list.
Obviously, there are some spam restrictions when building an email list. Those, fortunately, don't exist for offline mail.
Here I'll teach you how to identify prospects through various channels to build a mailing list that actually works.
First, use your regular site visitors to identify valuable traffic and potential leads.
The trick is to identify prospects ahead of time.
That's different from your standard email marketing blast. Typically, you get as many people on this list as possible.
Only afterward do you filter them out to qualify them.
The opposite is true with direct mail.
In this case, you qualify them up-front so you only add quality targets to your list.
Narrowing down your prospects ahead of time allows you to send more personalized direct mail that will drive conversions.
When done correctly, you can deliver huge results.
But, don't just take my word for it:
Optimizely took a similar approach and used dynamic text replacement to constantly change the messaging on its home page based on its campaign audiences.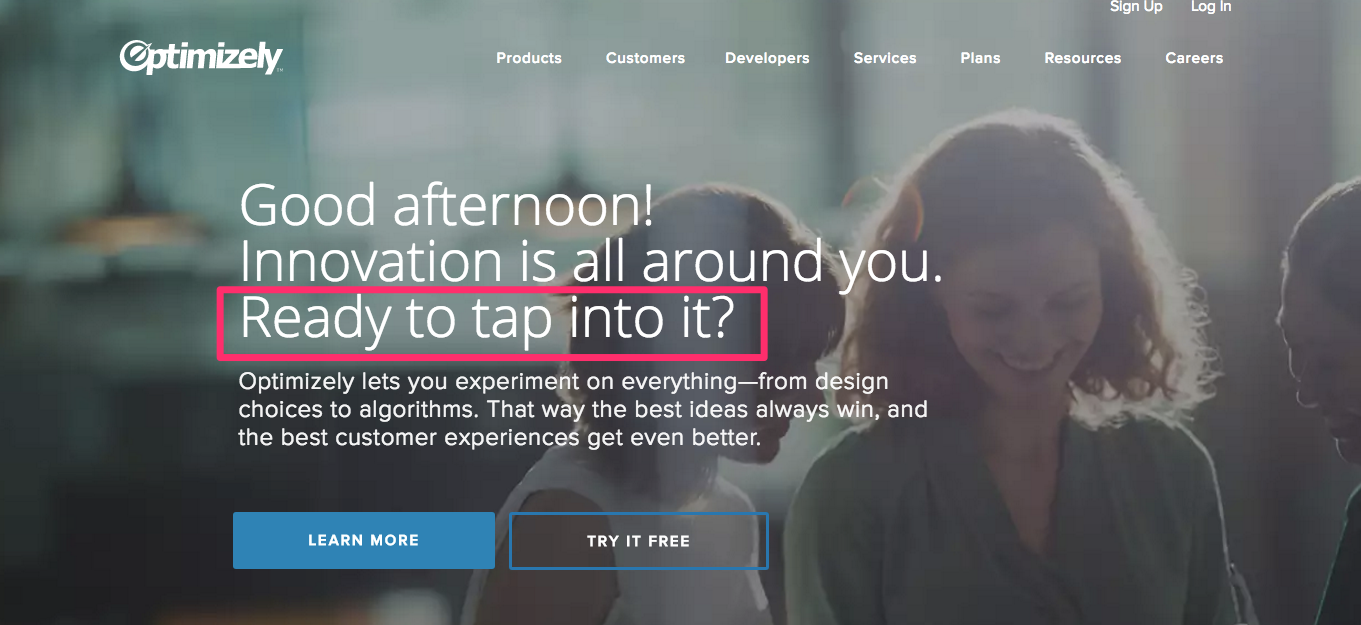 The result? An impressive 117% increase in visitors who decided to start their service and create an account.
These site visitors are primed and ready to convert. They just need a little push.
Similarly, KlientBoost takes on the strategy of messaging visitors based on how many times they've visited the site and what pages they've shown interest in.
The trick is to use personalization techniques like this to cut through all the other spammy noise out there.
Now, you clearly know that these leads and prospects are warming up to your brand.
You can use classic on-site tactics like messaging or forms to drive new leads. Or you can identify target accounts that you'd like to go work with one day.
A few minutes of Googling can help you find these potential clients' contact information using specific queries like this:

If that doesn't work, you can try a tool like VoilaNorbert and simply enter their name and company.
This tool can also help you collect addresses to save steps when building your address list.
And if none of that works, you can hop over to LinkedIn.
How to build a prospecting list with LinkedIn
LinkedIn is the best choice for finding B2B executives who're difficult to reach.
That also makes it the perfect place to start prospecting for your direct-mail outreach list.
First, head over to LinkedIn.
Then, type a search based on the typical customer segment you need.
For example: "customer relations manager."
Next, filter the results by people:
Use the filter to refine the results and weed out the unqualified prospects.
To do this, start with industry segmentation and demographics.
For example, if you are targeting customer relations managers, you can select the appropriate industry.
You can also use these filters for company size or the number of employees, depending on how expensive your product might be.
Shoot for a list of around fifty people to start with.
That will give you a large enough batch to see some real results. But it will be small enough that you can still personalize your approach. (More on that later.)
Once you've narrowed down your list using filters, set up a search alert to get consistent updates with new people to add to your list.
Linkedin's Sales Navigator is a perfect place to flesh out this prospecting list.
You can find and save new leads to an ongoing list, like so:

Now you can track all sorts of data about them. For example, you'll get notifications if they update their websites or start posting new content.
You can also head over to their company websites or LinkedIn company pages to get their physical addresses.
Now, simply add that email address to your spreadsheet and note the contact's name.
Disqualify prospects using BuiltWith and Ghostery
This process is a little unique in that you want to disqualify people first.
Direct-mail campaigns aren't cheap.
Each piece is going to set you back a few bucks in postage and boxes. These campaigns are also labor-intensive.
You might be able to find hundreds, if not thousands, of potential prospects on LinkedIn. But most of us just can't manage to send everyone something in the mail.
Let's say you want to sell them marketing services.
The first place to start is to check if they're already spending money on marketing services.
Here's what I mean.
Pull up BuiltWith to see what scripts are on someone's website.
For example, I'll drop my domain name into the URL field and hit "Lookup."
Next, you can look through the "Technology Profile" of the site to see what they use and what they don't.
If you see high-end software like Crazy Egg, Unbounce and HubSpot, you instantly know they're a good fit.
Why would this be a good sign?
It means two things:
These people are smart. They're sophisticated marketers that understand how your marketing services or programs might be different from someone on Fiverr.
And it means they're used to spending serious money to get more customers.
If these prospective companies are already spending thousands of dollars a month on specialized, industry-leading software, they're more likely to consider spending money on yours as well.
Another way to disqualify leads is by using the Google Chrome extension Ghostery.
This simple plugin allows you to track the various tags on any given site.
It will show you similar information. For example, this site is using Facebook ads, AdWords, HubSpot, Crazy Egg, and more.
Once again, this is a great sign!
This lead looks like a perfect fit.
Now, let's send them something in the mail.
How to send your first direct-mail campaign
Direct mail and email share one thing in common: They're full of junk.
Bills, too, obviously. You can auto-pay those, though.
But the big difference is in the junk.
Email junk is largely newsletters and company offers, whereas direct mail contains junk coupons for your local grocery store.
That's where your creativity should come into play.
You're never going to sell someone something on this first attempt.
All you want to do is catch their attention.
For example, Conversion Fanatics runs direct-mail campaigns to companies worth more than $30 million and gets a 25% response rate.
Here's how to replicate their success.
Step #1. Create a compelling hook.
Your first direct-mail piece should be short and sweet.
Get to the point quickly or the recipient will likely toss it in the trash.
That starts with a compelling headline. It needs to jump out at them so they can't put it down.
I suggest using a variety of tactics, like specific numbers and speaking directly to the recipient.
Numbers work because they help put data into perspective.
There's always a cost-versus-benefit calculation running through the backs of our minds.
If you're asking someone to read something, they need to see what's in it for them instantly.
For example, listicles show us the "5 simple hacks" that promise a better life after the time spent reading.
You can also address the reader by using "you" more. It creates a one-to-one connection with each person.
Our attention spans today aren't the best.
So you can't waste time trying to build up suspense.
Instead, use direct copy and a catchy format to dive right in.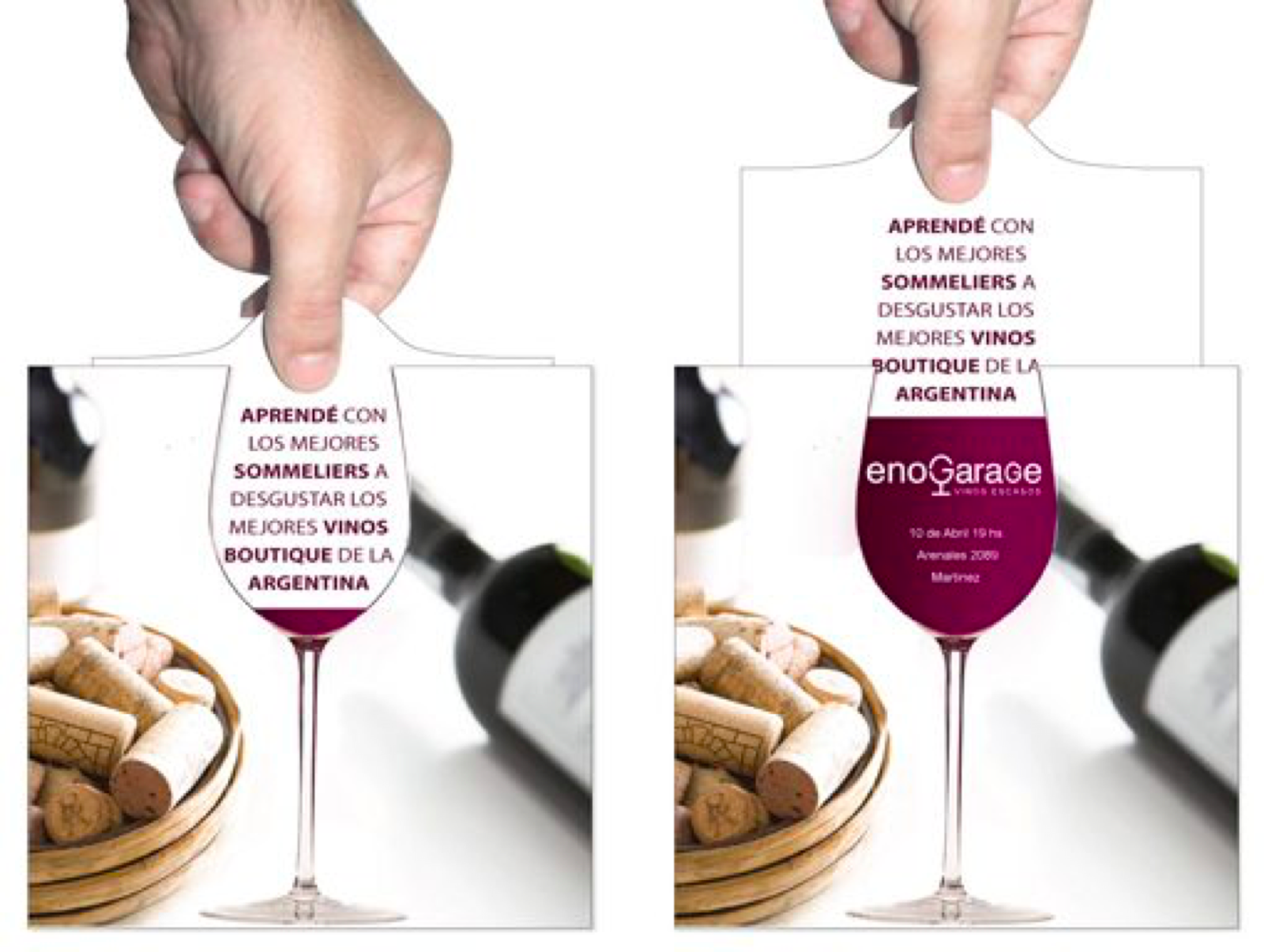 That's a great example, right? Have you ever received a piece of direct mail like this?
Probably not, and that's why it works! It's incredibly unique, creative, and effective at getting your attention.
It's so creative that you might keep it around and show your friends!
Here's another great example:
This company sent prospects a functioning record player to get their attention.
Now, obviously, you don't have to go all out and build a functioning record player to succeed with direct mail.
But the point is that you have to do something to stand out.
You can grab attention with a powerful headline, stunning creative — or, ideally, both.
Now that you have the creative juices flowing, let's see how you can automate this process.
Step #2. Send your direct mail with Lob.
Lob can automatically create and send direct mail on your behalf.
You can and should still personalize messages. Handwritten notes can still go a long way.
However, you can use a tool like Lob to help supplement your one-to-one tactics.
Here's how it works.
First, head to the Lob website and sign up for a free trial.
All you need to sign up is a name, email, and password.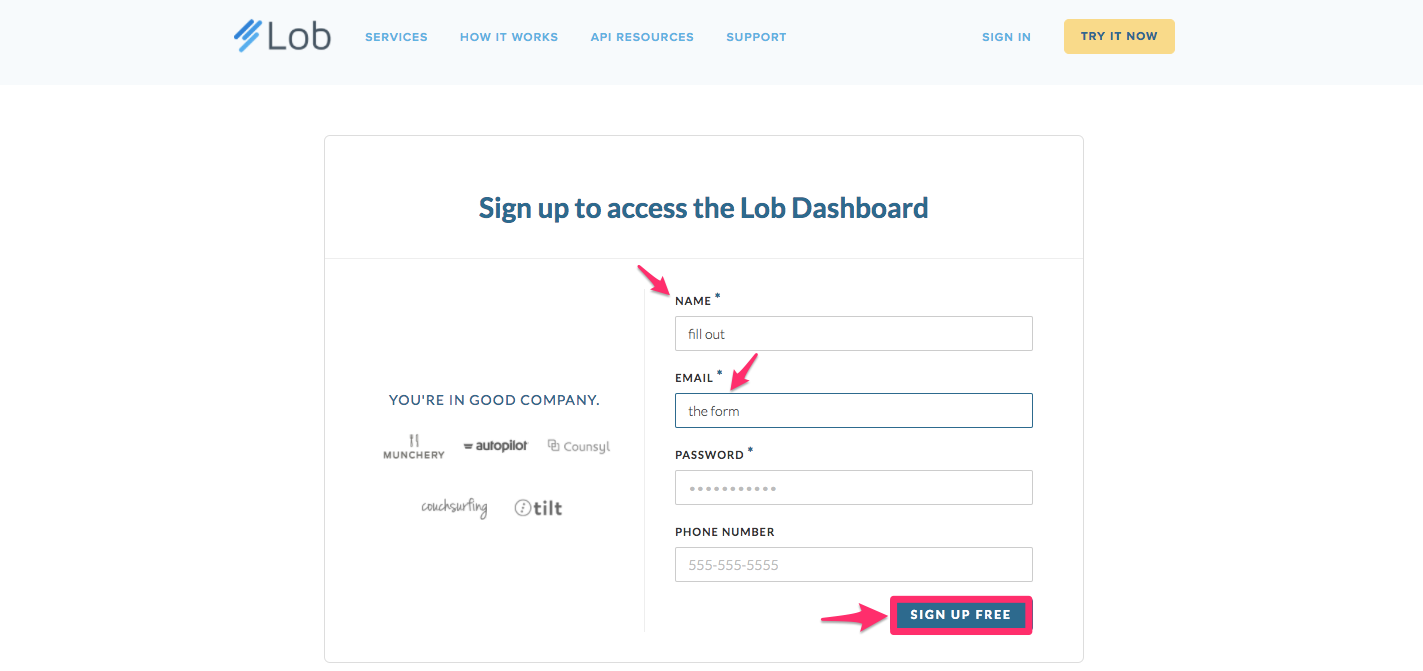 You can go ahead and try Lob out without paying first. You can create a test postcard for free before fully committing.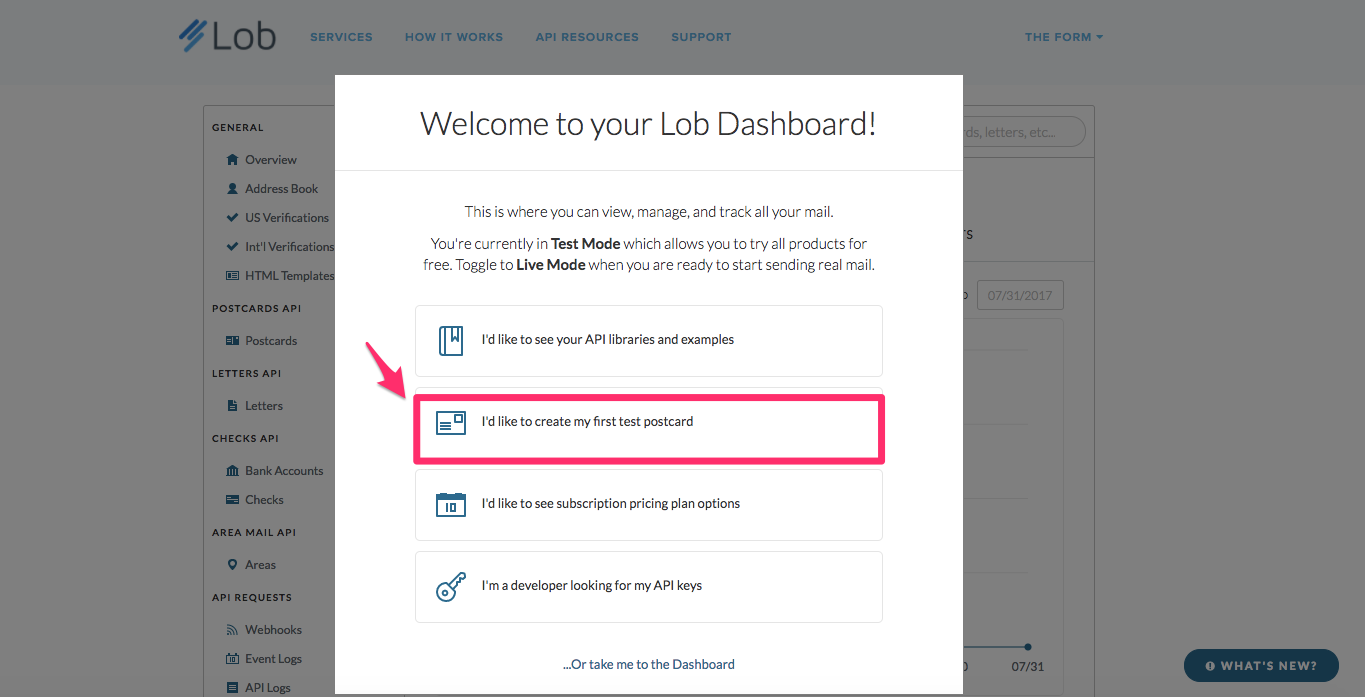 Next, Lob will ask if you'd like to download samples of your work. It's not necessary at this stage, though. So just skip that step and create the postcard.
Next, set a description and size for your test card.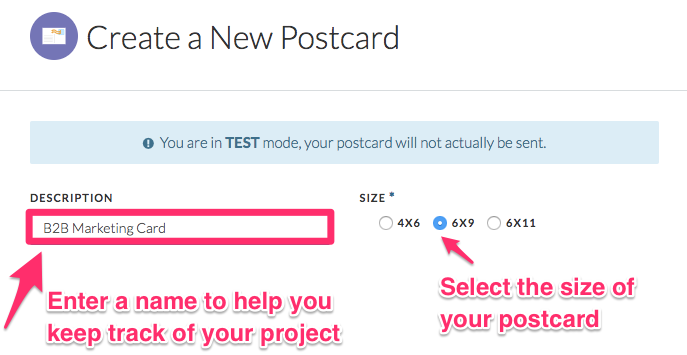 Now all you have to do is simply upload the list of prospects you created earlier!
You can also exclude a "from" address if you don't have one.
If this is your first test card, you can select "Try some test files?" to see how it works.
Selecting this option will fill in the files for the front and back of your test postcard. That way, you don't need to have already created real designs.
Now, just hit "Create" when you're ready.
Congrats! You've generated your postcard.  If you'd like to take a look at the finished product, click on "View Postcard."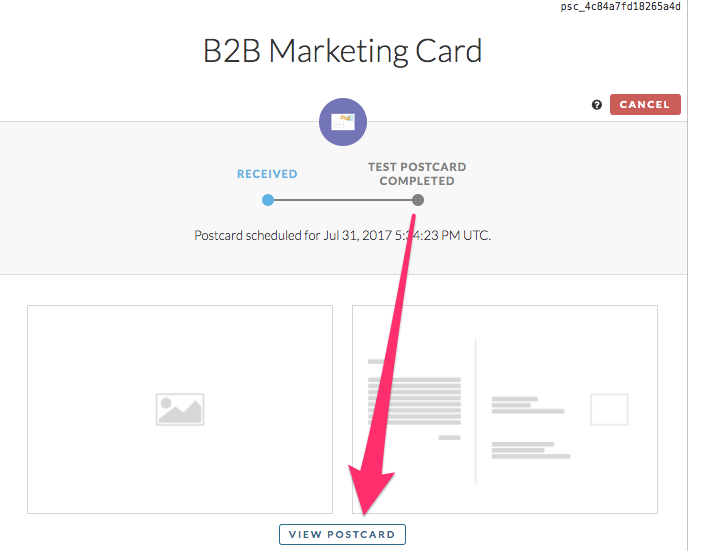 Here's what our sample looks like:
You can upload your own images and copy.
They also allow you to include a URL to direct recipients back to a landing page.
Now simply repeat the process to have these direct-mail pieces delivered straight to your list of prospects.
Lob's dashboard can help you toggle from test to live to get started on the real thing.
Don't feel like using Lob? No problem!
Step #3. Find local commercial printing shops to work with.
A quick Google search should help you find a list of local printing companies.
These shops will have countless materials and pre-set design concepts from past clients that you can easily tap into.
Plus, they've likely done this before and can even provide useful tips on what works and what doesn't.
Make it memorable and worth their time, or kiss those prospects goodbye!
How to track your direct-mail results
Tracking your direct-mail campaigns can seem like a daunting task.
Online campaigns are easy to track in comparison. Google Analytics will automatically pick up where a new site visitor is coming from and tell you how much they spent.
Offline tactics like direct mail aren't that straightforward.
You probably have no idea who opened your direct mail or tossed it in the trash with the grocery store coupons.
But the good news is that there are ways to track it.
For example, you can easily differentiate the normal site visits from your direct-mail campaigns with a special, dedicated landing page.
Make sure you no-index the page so that only your direct-mail leads will find it.
You can also use a coupon code for this specific campaign.
So when someone completes a purchase on your site, you can track their code back to the campaign that generated it.
You want them to use a coupon code or check out a product or service.
How to retarget leads with Facebook ads
The typical customer journey is all over the place.
People often bounce from channel to channel and device to device.
So when you see articles comparing channels, like "Email Vs. Social" or "Email Vs. PPC," you should steer clear.
Why? Because it's never one or the other.
You should be using both, ideally. In fact, they should be working together.
That's where direct mail and Facebook come into play.
You can combine the best of both worlds.
You can use direct mail to get your foot in the door. And it will lead people back to your website.
Then you can follow up with retargeting ads on Facebook to make sure they remember who you are.
Data shows that 'omnichannel shoppers' like these are also among the most profitable. Their lifetime value is 30% higher than a single-channel shopper.
Here, I'll show you how to leverage Facebook ads to aid your direct-mail campaign.
First, head to Facebook Ads Manager and create a custom audience based on the prospects you collected before sending the direct mail.
Now you've got two excellent options based on how you've collected and stored these leads:
Uploading them manually from a file or spreadsheet, or
Syncing your MailChimp list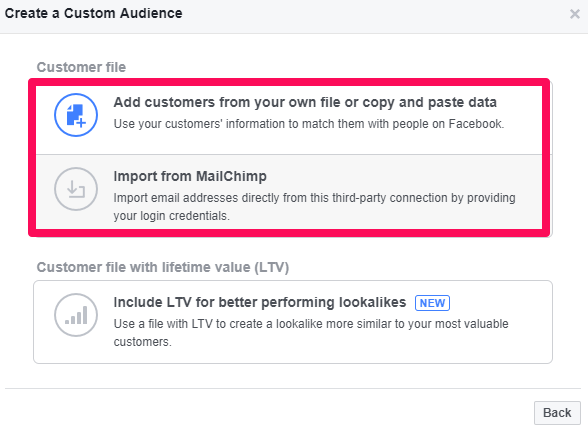 If you don't use MailChimp, but you have a list of prospects, choose the customer file option and quickly import your list as a CSV or TXT file.
Once you've got the custom audience created, run some retargeting ads that direct prospects back to the same link that your direct-mail campaign used.
Again, focus on the same headlines, graphics, and design as your direct mail so that these prospects will immediately recognize your brand.
Here are a few steps to ensure success:
Your destination URL should mimic the URL from your direct-mail campaign.
Your headline should either mimic or be related to your direct-mail campaign.
Your text description should mimic or relate to the same copy used on your direct-mail piece.
Your CTA should be relevant to what you want them to do (shop, download, etc.).
See? All that took was a few minutes worth of work.
And now you're automating these campaigns so that Facebook does the follow-up for you.
Conclusion
Most people think direct mail is a thing of the past.
They think it's too expensive, too time-consuming, and less effective than email.
But that's not the case when you look at the data. Direct-mail open rates are nearly double that of email.
The truth is that direct mail can still land high-paying clients. You just have to get your hands a little dirty.
First, you need to prospect like you've never prospected before.
Any old lead won't convert with direct mail. And you risk diluting your messaging if you combine too many customer segments.
So you qualify specific leads with tools like LinkedIn, BuiltWith, and Ghostery.
Then use Lob to automate your direct-mail outreach and watch those prospects head straight to your dedicated landing page.
If they don't, simply retarget them with Facebook to bring them back to your site.
Direct mail has been unpopular for years. However, I think it's making a comeback.
You just have to know how to tap into it.
Have you received a memorable direct-mail piece recently? If so, what company sent it?