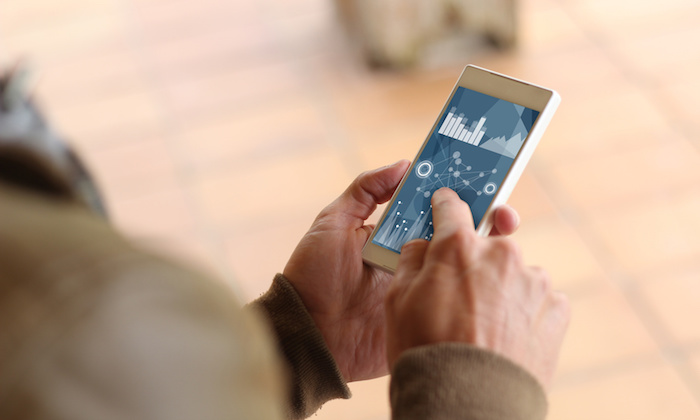 Growth hacking is more than just simple tricks to grow faster.
It's creating a sustainable and profitable growth strategy.
And one of the most profitable growth areas right now is mobile.
But finding conversions for mobile websites can be challenging. You want to find a way to squeeze as many conversions as you can from your mobile-marketing efforts.
And that's exactly what growth hacking is.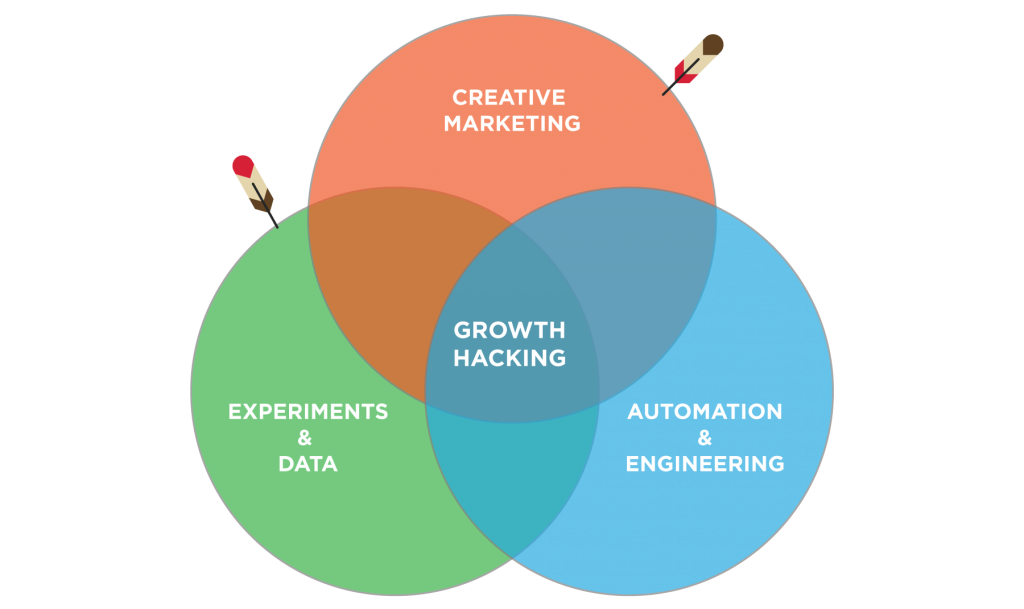 It's a way to increase conversions without spending all the money you have with traditional-marketing tactics.
But it moves fast. You have to pivot quickly.
So here are ten free growth-hacking tips to help you increase your mobile conversions.
1. Create a growth hacking framework
Growth hacking means nothing if you don't have high-quality products.
That says pretty much everything, right?
If you don't have a great product that people will want, we have bigger problems than growth hacking.
So first, fix that.
Once you've got that out of the way, recognize that growth hacking isn't a tactic.
It's a strategy that needs systems and processes, just like every other business element.
Growth hacking moves fast. You are quickly making changes.
And that means you can't just jump in and wing it.
That's a recipe for disaster.
So first, let's plan your growth-hacking strategy by giving it a solid framework for success.
The growth hacking framework provides seven steps to guide you to a solid campaign:
Define objectives and key results. Start with the end in mind. Think of three to five goals. Make them specific. And make sure they offer a clear way to tell whether your growth-hacking strategy was successful.
Brainstorm ideas. Write down as many as you can. Don't spend time choosing which ones will work, just keep coming up with ideas. Shoot for at least 25.
Prioritize. Once you have 25 or more ideas, start ranking them. Which ones are most likely to succeed?
Test. Test, test, and test again. Pick different pieces of a campaign and test it. Evaluate the performance.
Implement. Give yourself 30 to 90 days to test your performance. Measure your results weekly.
Analyze. How did your tests go? Use the data and make it better. That's the point.
Systematize. Now that you've got those steps down, make a system of it. You want to be able to repeat this, not start from scratch.
Many growth-hacking tactics fail because there's no underlying system to support them. And there's no buy-in with the rest of your company.
Putting a plan like this in place first will make sure the next few tips have a fighting chance to succeed.
2. Build it before you need it
Growth hacking is about doing things faster and more efficiently.
You are increasing conversions at each tiny, minute step in a bigger process.
But that means you have to prepare.
Otherwise, you could get swept under the rug. So build it before you need it.
This is particularly true in mobile marketing. If you've finished your mobile app or website and haven't started marketing your company, you're behind.
For example, look at what Magic Leap did.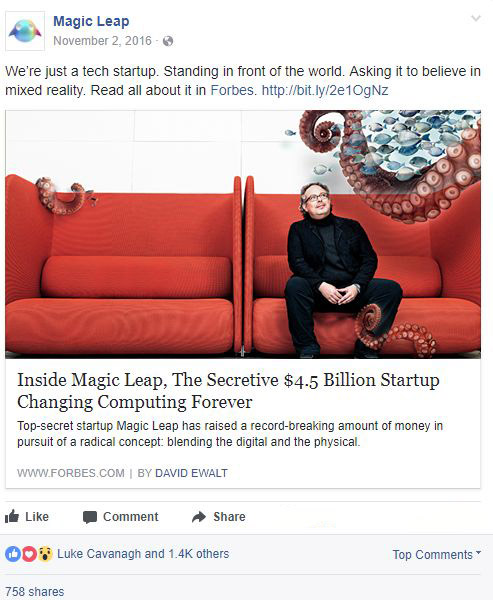 It's too early to even tell what they're developing!
But they already have a significant social following. This gives them a place to interact with their followers when they do launch.
Magic Leap is developing their following and drawing attention before launch.
Why? Because this way they can use the secrecy and mystery to pique everyone's interest.
It takes time to build the website and social following to succeed.
Use the development period to grow your network, so it will be primed for success when you do launch.
3. Act quickly: don't get bogged down in details
Growth hacking is about moving faster with fewer resources and still getting the same results or better. To do that you have to act quickly.
For example, Secret Escapes is a startup in the competitive travel industry.
When they created the mobile landing page for their app, they weren't sure if they should force users to sign up.
Instead of debating the issue, Secret Escapes launched the mobile split test below.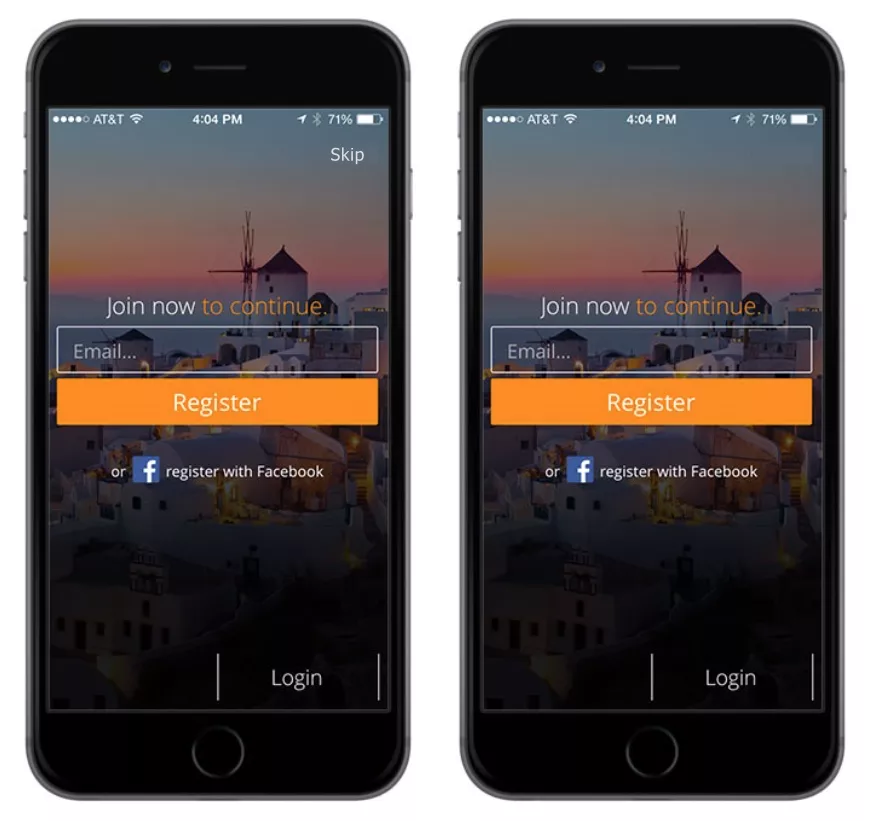 The two pages look almost identical except for one item. The image on the left has a Skip link in the top-right corner.
By starting with a split test of the two pages, they quickly discovered that using the page without the Skip link doubled conversions.
Instead of getting bogged down in theory and debates, they tested their theory as they grew their audience.
This is a tiny example, of course. But it illustrates the bigger point about growth hacking.
Nobody knows the right answer, per se. The only way to verify is to create your hypothesis and test it with your audience.
4. Allow your customers to tell you how to sell
Don't assume you know what your customers want.
That's why the most significant growth hack to increase your mobile conversions is to listen to what your customers want or need from you.
Since 81 percent of users research a product online before they buy, use their research period to do your own product-development research.
In many cases, customers tell you what they need. All you need to do is listen and implement their requests.
Social listening is a fundamental component of any company's listening campaign. Let's break down the numbers a little to understand how much of a gold mine social media is for any mobile growth-hacking strategy.
Currently, social media has over 2.789 billion users around the world. A mind-boggling 91 percent of those users access social media through a mobile device.
Essentially, you have a sample audience of 37 percent of the world.
Even more amazing is that this sample audience produces over 3.3-million Facebook posts, 500 hours of YouTube videos, and 448,800 tweets every minute on social media.
The amount of data from this activity is staggering. It makes finding what your customers want not only possible but extremely doable when you spend a little bit of time evaluating the data.
For example, food-website Allrecipes had some problems with their mobile app.
Their app store rating was a 2.5 out of 5. By listening to over 450,000 pieces of data, they discovered what their customers wanted and increased their app rating from 2.5 to 4.5.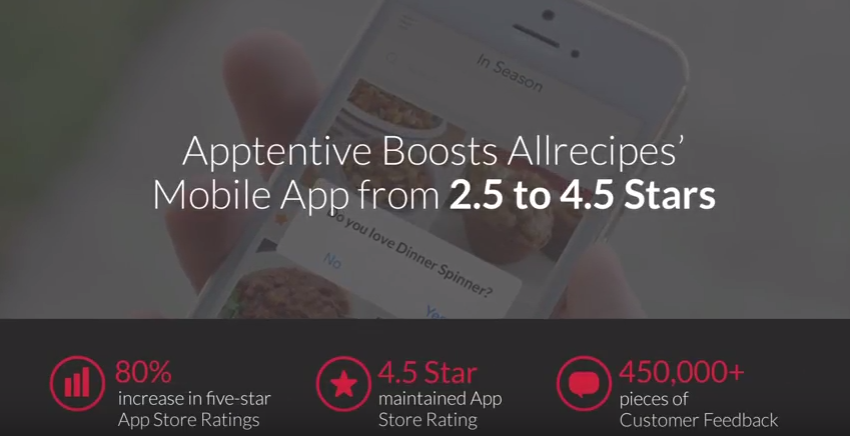 Start listening to your audience so you can improve the blocks in your business. You will be shocked to discover how much valuable information they have to help you.
5. Growth hack your mobile SEO
Did you know consumers average more than 15 hours per week researching products on their mobile devices?
The vast majority of their purchases start on mobile devices. The most interesting part of this trend is that 93 percent of these potential buyers use their smartphones to research and buy their products.
For example, let's say you want to look up "used cars" online. Here's what you'd see:
Therefore, one of the most important free mobile-growth-hacking tips is still optimizing your website for search traffic. To do this, examine a few major components many mobile sites lack.
First, your site needs to load quickly, so users don't bounce ASAP.
Kissmetrics discovered that 37 percent of users believe your mobile load time should be equal to or faster than your desktop site.
Now brace yourself. An eye-popping 47 percent of website visitors expect your site to load in two seconds or less based on that same data set.
So how do we go fast?
Start by understanding how fast your site loads right now on Google PageSpeed Insights.
As you can see below, there is always room for improvement. However, make sure you at least have a passing grade for your mobile website.
Note: the grading scale is Good, Needs Work, and Poor. From the sites we ran through Insights, you need a score of 70 or greater to pass.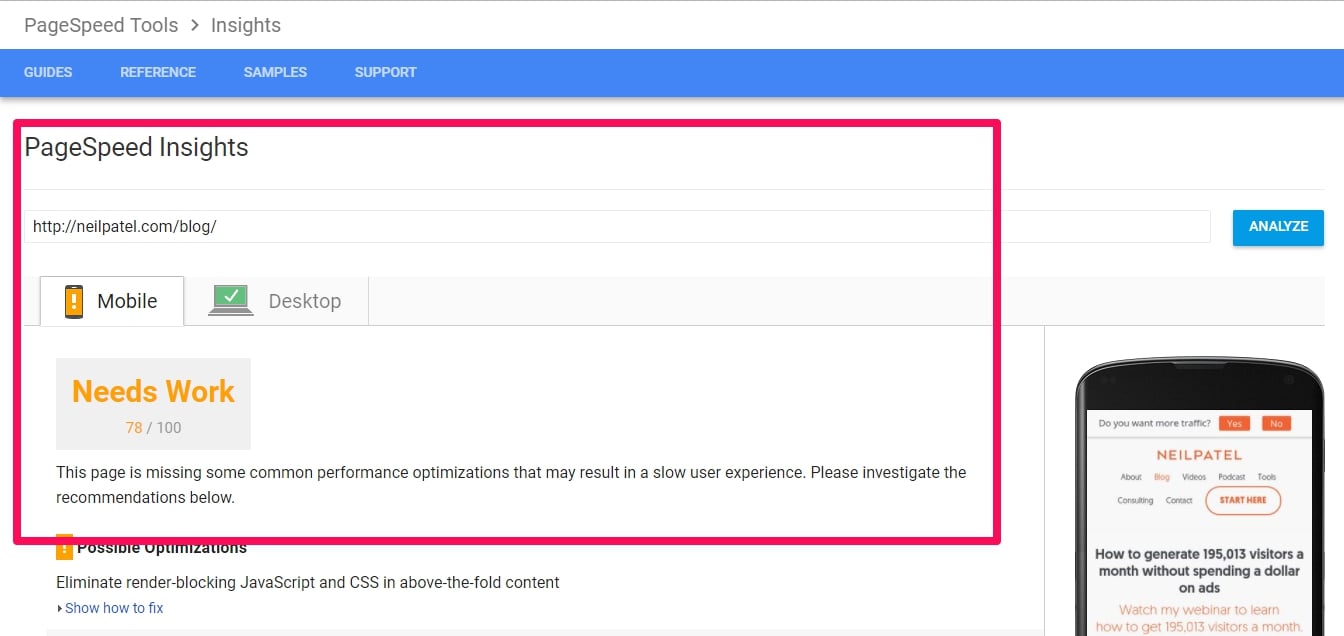 It looks like I have some work to do on my mobile site. The great thing about Google PageSpeed is that it shows me how to fix it.
Second, you need a mobile-optimized website.
CMS Report discovered that 57 percent of users wouldn't recommend a poorly designed mobile website.
They want the design and navigation to be easy for them to use. Otherwise, it's too much of a hassle to deal with it on a mobile device.
Kissmetrics has a clean and easy to use mobile site. It keeps the text to a minimum and adds striking images that attract mobile users.
The drop-down menu is visible at the top of the page. This makes navigation quick and easy for visitors.
Third, while it could somewhat affect your conversions, you might want to test it using Google's Accelerated Mobile Pages (AMP).
Google created the platform to ensure that mobile websites load quickly and provide quality information to users.
Currently, these pages account for seven percent of all traffic to top US publishers just one year after launching.
If you want to improve your mobile search results, adding the AMP code into your mobile website is a great option.
Look at online-auction site eBay. Their mobile site utilizes AMP, which increases their traffic and still allows them to show off the products on their mobile website.
6. Funnels of fun… and leads!
Getting quality search traffic is great.
However, it requires an entire funnel to transform visitors into leads.
That often translates into testing multiple different offers at each stage. So you might run that newsletter sign-up CTA against ebooks and webinars.
For example, I'm always testing high-quality, relevant training to help people.
Video is one of the best places to start because it can generate 1,200 percent more shares than text and images combined.
Even more impressive is the fact that when you have the same video on your landing page, it increases the conversion rate by 80 percent.
For example, take a look at this Taboola campaign on Facebook:
First, the Facebook video engages users to visit their website.
Then they use the same video below the fold. It creates a unified campaign and reinforces the information they want to present to their target audience.
Remember, lead-generation funnels don't stop when someone subscribes. You still need to give your audience amazing content that encourages them to keep coming back.
Take this simple growth hack from Starbucks.
They celebrate their customers' birthdays. When you spend a lot of time at coffee shops writing your next article, you sometimes fall into the trap of signing up for a gold card.
The good news is that Starbucks keeps you up to date with your points and they give you discounts for major events, like your birthday, with a simple automated message.
It's easy for them to do and a perfect way to make you feel a little bit better about getting a year older.
7. Understanding mobile hacking through analytics
Mobile app developers used to look solely at the number of downloads to gauge their success.
That was until it was discovered that 77 percent of users abandon an app within three days.
Those high abandonment numbers have led app developers to look at more customer behavior patterns to determine how to keep the users they acquired.
For example, the Weather Channel mobile app does more than just display the weather.
They also used qualitative advertising to create climate data and behaviors of their users in over three-million locations worldwide to provide advertisers with a bonanza of targeting data.
Are you in a humid location?
After splitting time between Seattle and Las Vegas the past few years, I'm not used to the humidity.
So while in Chicago recently, I downloaded the app, and within seconds it started giving me tips on what I could do in Chicago.
How can you start analyzing your user base?
Use qualitative-analytics software like Kissmetrics to explore what behavioral trends show up as users interact with your mobile platform.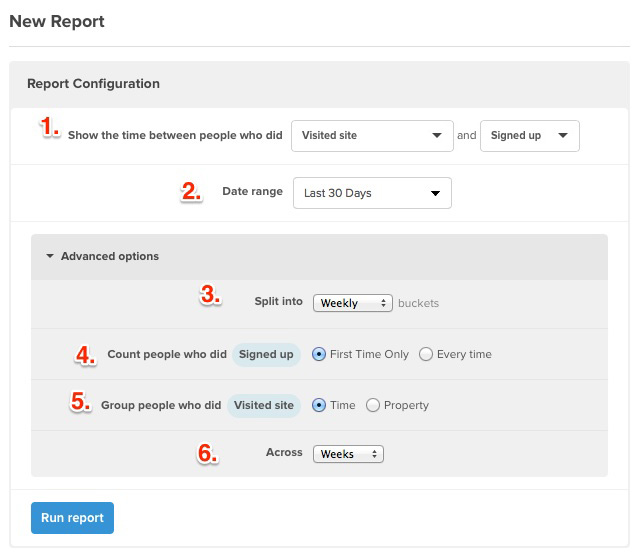 The heart of being a growth hacker is in the analytics.
You see what ideas you got right early on and where you need to improve. The better you understand the qualitative analytics, the better your results.
8. Customer service: the forgotten growth hack
The hidden growth hack most marketers miss is how to provide quality customer service after a prospect pays you.
This is your chance to shine. After all, statistically it costs five times more to find a new client or customer than it does to retain a current one.
Take scheduling tool Calendly's approach to helping their customers.
Because of the inherent viral nature of their tool, they didn't have to spend a lot of time growing it. Every new user would bring in other new users simply by working with the Calendly tool.
Instead, Calendly had to flip the funnel to keep users on board.
To do this, they spent more time segmenting their lists to understand their customers' needs.
They wanted to know the real reasons people used their product, not just the reasons they were telling themselves.
For example, Calendly was surprised to discover how many marketing-automation campaigns relied upon their software for the later stages of a funnel.
Once they learned this, the company added support documents to help other marketers use their tool for automated-marketing campaigns.
A growing knowledge base was built to help all subscribers see how to incorporate Calendly into their next campaign.
Fortunately, you can do the same for your campaign.
Use free software like Survey Monkey to find out what your customers think of your business.
The more they tell you about what you are doing right and wrong, the more customers you can retain and the higher your return on investment.
But, what if you don't want to get that formal with your surveys?
Fortunately, social media can help you. Both Twitter and Facebook have quick-polling tools you can use to find a fast answer from your audience.
For example, Denny's recently put a poll on Twitter to uncover what their followers thought was the best spice combo. This is a deceptively serious question.
Denny's is receiving a gold mine of information.
For example, they can use this data to either create a salt-and-pepper or cinnamon-and-spice pancake. They already know what percentage of their 9,246 customers are interested based on the voting.
Now they know exactly where to devote their time and energy.
9. Referrals are still necessary
Once you treat your customers right, we want to go a step further to get some referrals.
It's easy to become so engaged in social, search, and other digital-marketing strategies that we just forget to ask our customers for referrals.
We all know that referrals are important for business.
Airbnb used referrals as a growth-hacking strategy to increase their business by 300 percent.
Their referral program is simple to use and lucrative for users. Every new customer gets $40 in credit for their next trip when they sign up.
The referral source then gets a $20 credit whenever their new sign-up pays over $75 for a trip.
The best part is that Airbnb makes it easy with a quick "Share your link" button on the mobile app.
In seconds, you can share this link across all your social networks with your friends and family.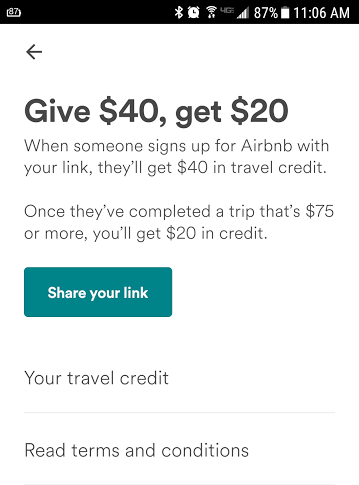 Airbnb got their referral-marketing chops from Dropbox.
Dropbox used the lure of extra storage space on your account as a growth hack that built their data–storage empire.
The final example is from ride-sharing company Lyft.
While they are not the front-runner in the space, they are rapidly gaining traction as a competitive player in the ride-share economy.
Lyft offers incentives, large and small:
The potential to earn an extra $1,000 in your first 60 days of driving
As a result, they're sure to see a lift (no pun intended) in their market share.

In May of 2016, there was a 125-percent gap in app downloads between Uber and Lyft.
This year the gap in mobile-app downloads is only 70 percent.
10. Find the influencers to amp your referral engine
Being blessed with a great referral-marketing engine is terrific.
However, not all referrals are equal. That's why one of the best strategies for growth marketers is to work with influencers to improve your referral engine.
A well-executed influencer marketing campaign can deliver 11 times the return on investment over traditional digital-marketing strategies.
The key is to find influencers who do NOT have competing products with you but also target the same audience that you do.
You can do this the harder way by researching influencers on sites like Instagram and Twitter.
There are also platforms like Tapinfluence where potential influencers can promote your product.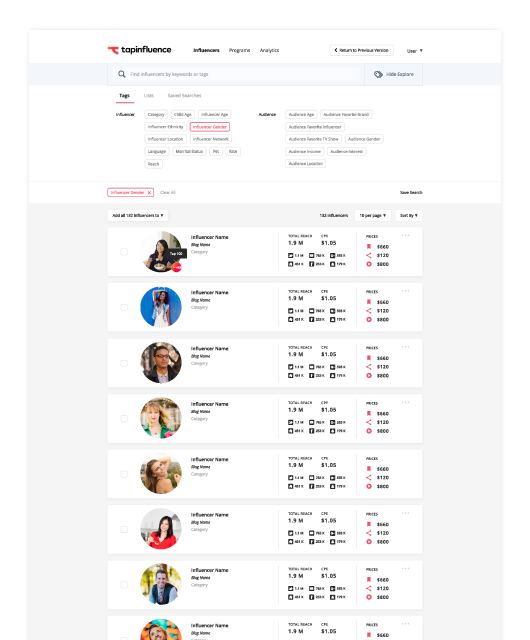 That keeps things nice and smooth.
You don't have to approach influencers manually. Instead, you can do a few simple searches and quickly test out a few potential candidates.
Once again, testing is crucial here.
You can even split test influencers against each other.
Have them promote the same campaign, see who outperforms who, and continually refine each microstep of the process.
Conclusion
Growth hacking for mobile conversions has less to do with the technology.
Instead, it has more to do with the people you're trying to reach.
Put yourself in their shoes.
What are they trying to do? How is that different or more complicated on mobile?
The more you learn from your customers and study what works and what doesn't, the more you can create a successful growth-hacking strategy.
The best techniques should increase mobile conversion but they should also improve results across the board.
What's the best technique you've discovered to increase mobile conversions?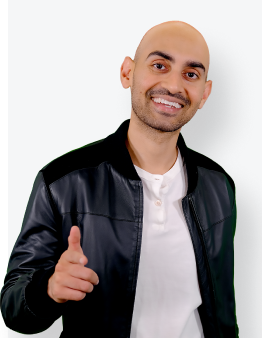 See How My Agency Can Drive More Traffic to Your Website
SEO - unlock more SEO traffic. See real results.
Content Marketing - our team creates epic content that will get shared, get links, and attract traffic.
Paid Media - effective paid strategies with clear ROI.