Sometimes when your business is doing well, it can be tough to push it to the next level. And you'll hear comments from team members like: "Why stir up the status quo? We're doing so great!" and "If it ain't broke, why fix it?"
The irony is: the period when your business is doing well becomes the best time to iterate and test (and perhaps fail a little) in order to reach an even higher plateau. It's the time when you can afford to try it!
Today we are going to go over how Studentbeans.com was able to push their email marketing to the next level.
Now, this may not seem like a difficult challenge to improve your email marketing, but email is a very sensitive and easily interruptible marketing channel. You can easily run into problems with spam filters or a quick flood of unsubscribes. Tweaking email campaigns can become a dangerously delicate situation, which makes most marketers afraid to venture into the world of email campaign optimization.
Let's get into the nitty-gritty of how Studentbeans.com entered this world and came out successful!
A Quick Background
Studentbeans.com offers discounts, entertainment, and advice to university students in the UK, attracting more than 6 million visits and 300,000 new registered users every year. The discounts, offered on behalf of other brands for affiliate commissions, are a vital revenue channel for the site.
Studentbeans.com had a steady system in place of sending new subscribers a welcome email and a weekly email with the top 20 offers. But something didn't seem quite right to the team – they felt like they could be reaching higher goals..
So what were they doing wrong?
They Weren't Striking While the Iron is Hot
The problem is that Studentbeans.com was missing out on the chance to increase engagement when they had the highest odds of success.
"Subscribers are at the height of their interest when they sign up for your list," writes Gail Goodman, CEO of Constant Contact. "I've gotten many welcome emails that include a coupon for 20% off or a free appetizer. If I wasn't planning on going there for dinner that week, I am now!"
So immediately after a new subscriber signs up, you have the opportunity to strike while the iron is hot. But the Studentbeans.com welcome email didn't even try to convince subscribers to make a purchase right away.
They were missing out the opportunity to increase engagement when they had the greatest chance of success!
Why Marketers Don't Sell When Odds are in Their Favor
So if you have the greatest odds of selling to new subscribers, why not launch a big marketing push when they sign up?
Studentbeans.com was worried about negative reactions to a "salesy" email welcome.
For one, they were concerned about catching their new subscribers off guard. An unexpected onslaught of emails could be marked as spam.
Also, they were worried about list fatigue, which occurs when you email your subscriber list too frequently, causing them to complain, unsubscribe, or mark your emails as spam.
Everyone knows what it's like for a company to send so many emails that you finally get irritated and unsubscribe. "Just because email gives you instant access to your subscribers doesn't mean you can email them impulsively or impetuously," writes Megan Ouellet, Director of Marketing for Listrak.
Two Classic Methods For Converting Prospects into Customers
Studentbeans.com needed to increase engagement to increase revenue, without annoying new subscribers. But these goals aren't unique to Studentbeans.
Here are two classic methods other companies have used to address these same goals:
The first method is the email autoresponder. Now this isn't the same as an "out-of-office" autoresponder that tells people when you'll be back from your vacation! This email autoresponder enables you to send emails to your subscribers automatically.
A great example of an email autoresponder is the one AdWords expert Perry Marshall uses to sell his information product about how to use white papers to generate leads.
But before prospects are willing to purchase his infoproduct, he has to educate them about how valuable white papers are for generating cheap leads. To do that, he uses an email autoresponder. Then he sends pre-written, follow-up emails automatically on a set schedule.
Agito Internet Marketing created the flowchart below as an example of an email autoresponder follow-up campaign:
An autoresponder campaign can include any number of messages scheduled to be sent out over any period of time you specify. You also can restrict "send time". For example, you could specify that subscribers only will receive your emails during business hours, which ups the odds that they'll actually read them.
"Creating a sequential 'drip marketing' or 'nurturing' campaign is the essential next step to creating effective, automated, online marketing to turn those prospects into qualified leads and sales," says Agito.
The content of these emails is static, meaning it never changes. Every new subscriber receives the same series of emails with the same content.
The second method is to create dynamic content. Unlike static content, dynamic content changes frequently.
One example of dynamic content is a letter exchange program used by charities like Save the Children. Save the Children needs to get people to care about helping kids. But "saving the children of the world" is too big of a problem. People can't imagine saving all of the children in the world. But they can imagine saving one child.
So Save the Children has a program where sponsors can exchange letters with their sponsored child.
When a sponsor reads about their child's progress, the bigger problem seems less insurmountable. And they're also effective dynamic content since each one is different.
The Studentbeans.com Hybrid Method: A Series of Welcome Emails with Dynamic Content
Studentbeans.com combined both of these classic methods, the email autoresponder with static content and dynamic content, to strike while the iron is hot.
The marketing department set a goal to increase revenue by encouraging new subscribers to make their first purchase sooner.
To do this, they first stretched their welcome email into a six-part series, similar to an autoresponder.
But what about catching subscribers off guard and fatiguing the email list?
To prevent those problems, the first email in the series alerts subscribers to the coming messages, so they know what to expect. It tells them they can expect to receive special offers for food and other deals for the next six days.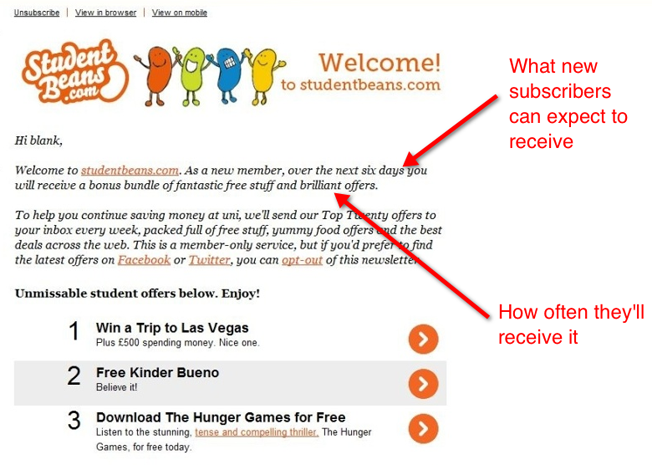 Then, Studentbeans.com monitors data analytics for open rates and unsubscribes to make sure their new subscribers aren't unhappy.
Also, because their discount deals don't last forever, they couldn't create an autoresponder with static content, so they made the content dynamic. Their welcome emails feature the most popular discount offers at the time.
The result? Using this method, Studentbeans.com increased revenue 13%. Open rates for the team's newsletters increased 66%.
And best of all, the team increased revenue and engagement without increasing customer complaints.
Taking It to the Next Level
By sending daily emails to new subscribers for several days, Studentbeans.com took steps toward becoming an email-centric daily deal company. Groupon and LivingSocial are two exemplars.
One way they could expand is by sending daily offer emails to all of their subscribers on an ongoing basis, rather than sending weekly emails.
There are plenty of examples of email-centric daily deal providers that focus on various niches or markets. One example is DailyCandy, which partners with local businesses to offer a limited number of unique deals for their readers, such as discounts, exclusive perks, and custom packages.
Another example is Thrillist, which offers similar kinds of deals, but for a male demographic.
Switching from weekly to daily deals might require more resources, such as hiring additional business development employees to source more deals or hiring more writers to create dynamic content. But it might be a worthwhile move. Groupon's market cap is still 4.7 billion dollars, despite the stock price falling a lot since the initial public offering.
Borrowing email marketing tactics is a great way to try strategies with a proven track record. Nevertheless, what works for one company won't necessarily work for another, which is why testing on your own audience is critical. Mix and match proven strategies, and always be testing.
About the Authors: April Dykman is a guest blogger, you can find her on Twitter here. Sean Work is the former Marketing Director at KISSmetrics – you can follow him on Twitter here.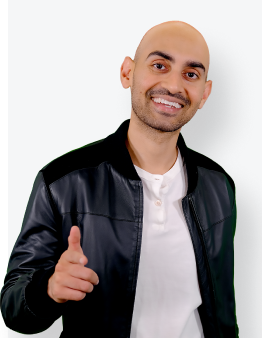 See How My Agency Can Drive More Traffic to Your Website
SEO - unlock more SEO traffic. See real results.
Content Marketing - our team creates epic content that will get shared, get links, and attract traffic.
Paid Media - effective paid strategies with clear ROI.
Are You Using Google Ads? Try Our FREE Ads Grader!
Stop wasting money and unlock the hidden potential of your advertising.
Discover the power of intentional advertising.
Reach your ideal target audience.
Maximize ad spend efficiency.