Recently, I was tasked with designing a marketing strategy for the launch of a new version of a product. Our main goal for the early stages of the launch was to get as many user signups as possible.
Looking for a little inspiration, I researched how other tech companies tackle user acquisition during product launches. I wanted to know: How do companies get users to share their products, either pre-launch, during beta or at the beginning of a public launch?
I divided my research into two main categories: viral sharing tactics executed outside the tool, and viral sharing tactics that exist within the tool (or at least originate there, like integration with major social networks).
Incorporating features that make your product highly-sharable from the get-go is key. When done right, these kinds of features––such as integration with pre-existing, well-known tools and referral rewards––can contribute significantly to sustainable, long-term growth. Luckily, they are no longer seen as belonging solely to the domain of the engineering team; the rise of growth hacking has put the ball in the technical marketer's court.
But come launch time, what you do outside of the tool in order to get people to share and talk about your product is also critical. It can give you that little extra push you need to gain initial traction and generate buzz. Plus, planning and executing these tactics is a lot of fun.
In this article, I'll examine a handful of ways in which companies get people to start sharing their product (aside from features that live within the tool).
Let's get started!
1. Ask for Shares on Key Landing Pages & in Follow-Up Emails
The company UpStanding––makers of an affordable, ergonomic, portable desk that converts any standard desk into a standing workstation––invites people to sign up for a pre-order waiting list and then asks subscribers to spread the word.
The company keeps it simple and elegant; after filling out the contact form you arrive at a landing page that invites you to share the company website in several ways: on major social media channels, via email or by copying a shortened link and pasting it wherever you like.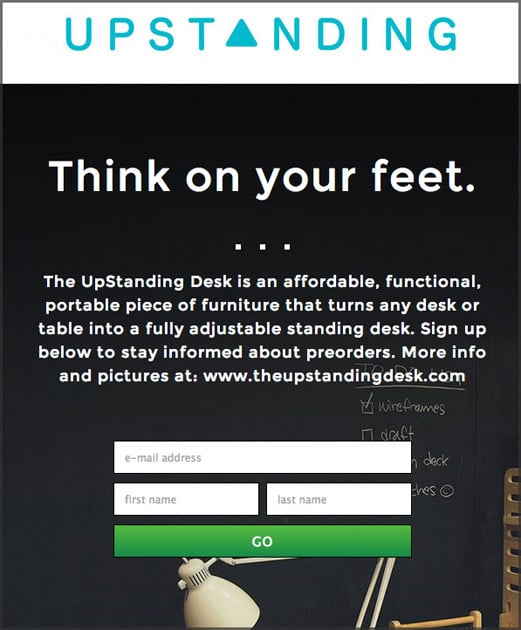 UpStanding also sends an email to new pre-order subscribers thanking them and asking for a share.

This is a great idea.
For the launch that I worked on, we also asked new users to share the product with their community by linking to a pre-written tweet in the welcome email. The result: within the first week of launch we saw about 100 pre-written tweets published and over 430 visits to the product signup page via clicks on these tweets.
Robinhood, a stock trading tool that has over 350k people on their waiting list yet hasn't even launched, gamifies the process of sharing their website: the more friends you get to sign up for the waiting list, the higher up your position on the waiting list becomes. Robinhood even tells you exactly how many people are ahead of you on the waiting list.
Besides activating people's competitive impulse, seeing that hundreds of thousands of others have signed up is an effective form of social proof, as Sean Ellis points out in his write-up of Robinhood's pre-launch promotion strategy.
Robinhood follows up with a welcome email that reiterates the opportunity to get early access by referring friends, and it provides a link to a page where you can check your position on the waiting list, further prompting you to want to get ahead.
Unroll.Me, an application that helps you quickly unsubscribe from all those mailing lists you never even knew you signed up for, asks new users to share during the initial setup process, right before they get to their dashboard for the first time. They give the option to publish a pre-written tweet or post about the service on Facebook.
If you want to replicate this, Click to Tweet offers a super-easy way to create your pre-written tweet and track the results. Similarly, you can use Pay with a Tweet to require new users to tweet about your product before getting access.
2. Take Advantage of Milestones To Inspire Shares
You can also take advantage of major milestones to reach out to existing users and influencers and inspire them to talk about your product. Ryan Hoover at Product Hunt sent the email below to users when PandoDaily published a piece about the company. He then included a click-to-tweet option at the end of his email.
Inviting people to talk about your product when you've received recognition from a well-respected publication or reached an important milestone (such as a large number of user signups or the launch of an important new feature) is a great way to get an additional boost in shares and mentions. Perhaps you already asked these people to share your product when they signed up for the waiting list or for the beta trial, but an impressive achievement is a great excuse to ask again.
3. Get People to Publicly Request Access, or Ask An Influencer to Gift Access to Their Community
The personal finance startup Blueleaf added an interesting twist to the refer-a-friend tactic used by many (in which current users invite people from their community to sign up): they turned on the ability to invite a friend for a limited time period (an hour or two), and during that time wannabe users scrambled to find people they knew who already had access, which often led to people publicly asking for an account, like in the tweet below.
This inspired us to try something similar for our product launch––something that gave us impressive results and didn't involve creating or tweaking any features within the tool.
When accounts for our tool were still invitation-only, we gave an access code to a major influencer in our space. He published the code on Twitter and Facebook and specified that it would only be active for an hour. People scrambled to sign up for the tool before the hour was up, and we saw a surge in mentions about our tool on Twitter. The campaign resulted in over 120 new signups in 60 minutes, plus many more on the waiting list.
4. Use Badges To Reward People With Early Access
When Noah Kagan took on the position of Director of Marketing at Mint he was tasked with getting 100,000 users within the first six months of launching. Kagan admits to being a bit nervous at first, but by the end of six months the fledgling personal finance application had over 1 million users.
Mint's success can be credited to a variety of things, including building a truly excellent product, Kagan's quant-based marketing plan and press mentions in the right places.
One way that Kagan got people to broadcast Mint to their communities was through badges. The badges were actually a solution to the system's inability to handle the 20-30k people on the waiting list; Mint told users that they could have special access to the tool if they placed the badge on their blog.
In fact, Mint continues to offer the badges for personal-finance enthusiasts; check them out here.
Kagan points out that Xobni, the email productivity company recently acquired by Yahoo, also rewarded people who placed badges on their websites and blogs with early access to their beta. Xobni attached a referral number to each badge click to determine which blogs had audiences interested in their product, allowing the company to collect data that would help target its marketing efforts later on.
There are many ways to generate buzz around a new product; you'll want to test different approaches to see what works for you. More importantly, think about how you can combine the tactics discussed above and put your own spin on them in order to create your unique recipe for viral growth.
As Nate Desmond points out on his blog, during the early stages of user acquisition the goal is to "throw things at the wall and see what sticks".
But you don't want to throw in the dark, so make sure you get to know your customer before planning your launch strategy. Creating buyer personas is an excellent exercise that will spark ideas about how to tailor your launch to your audience.
Now I'd like to hear from you: What are the most interesting, innovative ways to get a product shared and talked about that you've come across?
About the Author: Chloe Gray specializes in digital marketing strategies for startups. Be sure to say hi to her on Twitter.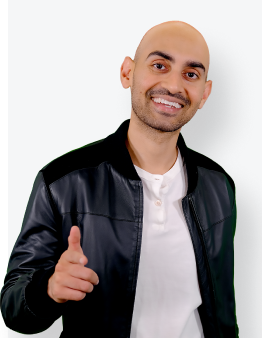 See How My Agency Can Drive More Traffic to Your Website
SEO - unlock more SEO traffic. See real results.
Content Marketing - our team creates epic content that will get shared, get links, and attract traffic.
Paid Media - effective paid strategies with clear ROI.
Are You Using Google Ads? Try Our FREE Ads Grader!
Stop wasting money and unlock the hidden potential of your advertising.
Discover the power of intentional advertising.
Reach your ideal target audience.
Maximize ad spend efficiency.