I've had the privilege of working with highly reputable companies as a consultant. And, one of the key reasons that they turn to me is that their internal media marketing campaigns don't get them desirable results.
Indeed, most marketing campaigns are doomed to fail within 3 months.
But, failure does not necessarily need to be an evil event. If you can analyze your data from the ad campaigns that failed and adjust your efforts to achieve your business objectives, then you'll have meaningful insights. By taking new actions because of mistakes, you can ensure that you don't commit the same mistake in the future.
So, if you have a failing media marketing campaign that's not meeting your expectations or have previously lost money running an ad campaign, then this article will help you derive insights from these media campaigns.
Hopefully, you'll walk away with at least one important marketing campaign takeaway, after you've read this post.
Here goes one of the most common reasons why marketing campaigns fail.
Reassess your product demand, target audience definition and your targeting strategy
In between the enthusiasm of starting your business and launching your first product, you might have messed up. Instead of understanding target market demand and appealing to their wants/needs, you probably ended up designing a product that you wanted to create.
With the dominance of "follow your passion" advice today…
you might make a completely emotional decision – to do what your heart says and hope that the money will follow.
I am sorry to break it to you, but it doesn't work that way.
Vanessa Horn shows the correct way of choosing a career (that pretty much transfers to making a product as well).
A great example of this mistake is the manufacturing of the Edsel by the Ford Motor Company. The founder of the company, Henry Ford, wanted to honor his son "Edsel." So, he launched a yearlong teasing ad campaign to make the consumers believe that the Edsel was "the car of the future."
As soon as it was unveiled to the public, the car was deemed unattractive and overpriced. Ford lost $250 million in manufacturing and marketing the Easel.
A smaller version of the same mistake was committed by Ryan Robinson. He created iStash – an iPhone-like case to put cigarettes in.  But, he didn't validate the need for his product.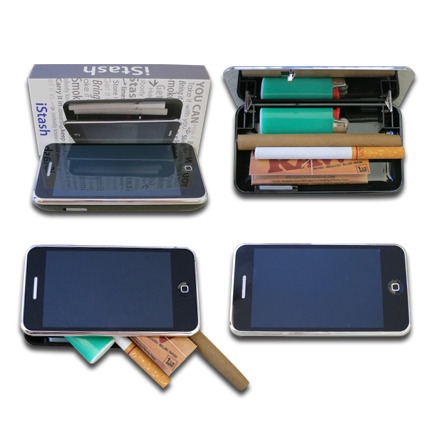 The result?
He ended up losing $6,537.
The lesson:
Keep emotions aside and assess the demand for your product idea. No amount of marketing can help sell an irrelevant product that doesn't help make the life of your customer base better.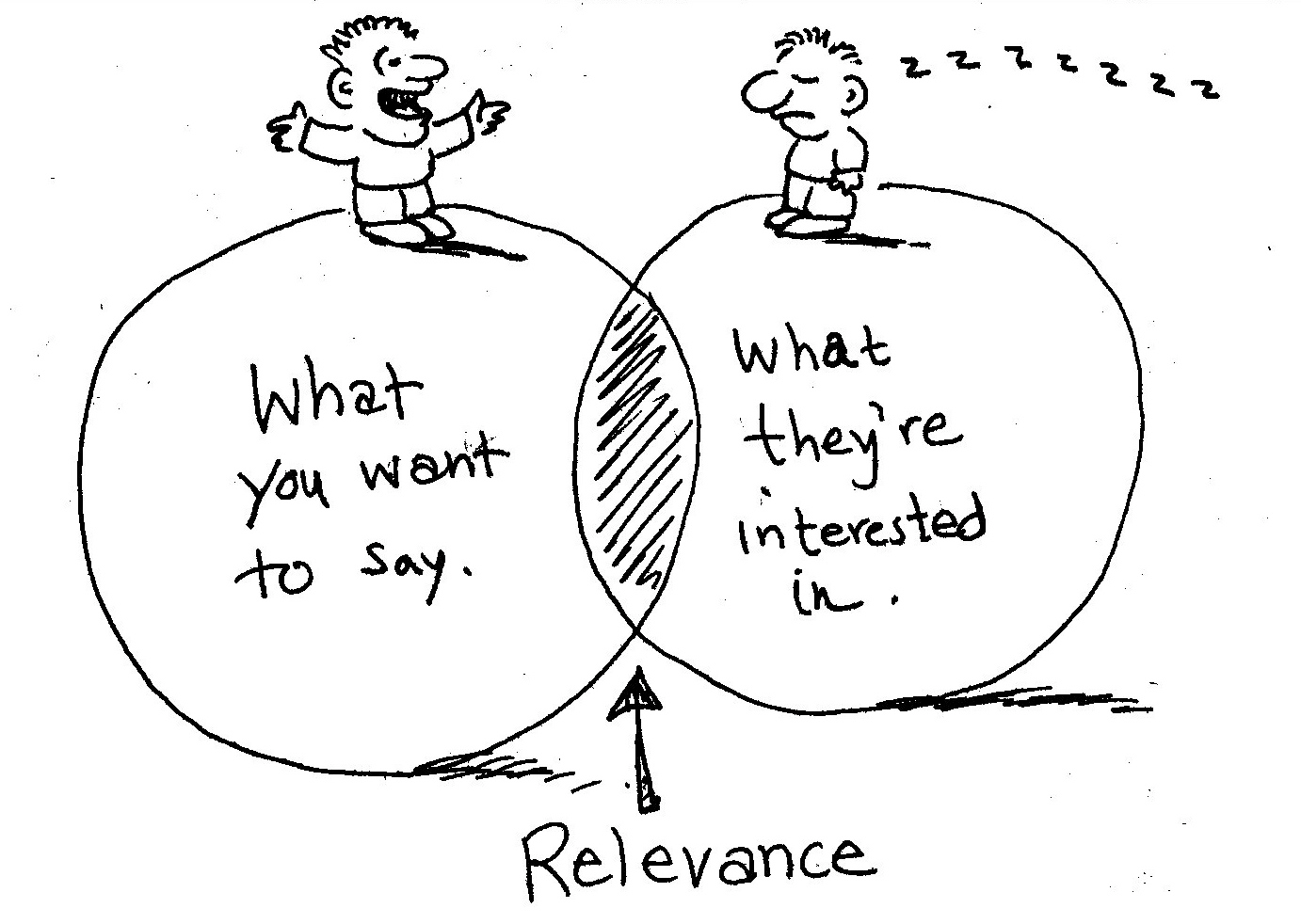 Shopify shares nifty strategies, in this article, for validating your idea's demand.
A closely related mistake that I am guilty of committing is not defining your target audience correctly. Even if your product is revolutionary, you must have a documented picture of your ideal customer base.
When I launched KISSmetrics, I thought that every business that's online was our customer base.
I advise you to not get greedy, trying to extend your reach to as many customers as possible. It will become incredibly difficult to tailor your viral marketing campaign message and remain relevant to everyone.
Further, you won't earn quality traffic that actually cares about your products.
I hope you understand that smart targeting flows to every aspect of your business. B2B firm, Skytap, revisited the company's understanding of their customer base. Then, they created personas and launched a targeted content marketing campaign strategy.
The result was a 124% increase in sales (YoY).
Similarly, VisualDNA helped a fashion retailer to better understand their target market and their buying motivations.
Then, they tailored their advertising messaging to these personalities and ended up increasing the ad campaign's ROI by 56%.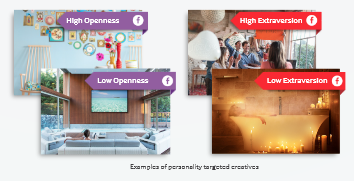 Refer to this Greg Ciotti article, from Convince and Convert, for help with profiling your custome bases.
Note: Many startups end up overdoing niche targeting. Yes, the 'riches are in the niches.' But, your horizons also need to remain optimal. Paul Graham lists "marginal niches" among the most common 18 mistakes committed by startups.
In his words,
Choosing a small, obscure niche in the hope of avoiding competition.
Clearly tie your marketing activities with your bottom line through data
Have you gone all gaga over big data and want to leverage it in your viral marketing?
Then, I want you to meet its smaller component that will probably be much more useful for your company…
Small data.
Instead of the huge analytics and zettabytes of information, it relies on people.
Here's how best-selling author Martin Lindstrom defines small data:
Seemingly insignificant behavioral observations containing very specific attributes pointing towards an unmet customer need. Small data is the foundation for breakthrough ideas or completely new ways to turn around brands.
The reason I wanted to introduce you to small data is because most organizations aren't aware of their personal data stock.
Per a survey by PwC and Iron Mountain, only 4% of businesses actually extract full value from the information that they hold and 43% end up getting little benefit from their already captured data.
If you've followed me for a while, you know that I am all about data-backed marketing. McKinsey found that companies with data at the heart of their viral marketing and sales activities experience a 15-20% increase in ROI.
So, if you aren't already, then starting today…
match your marketing spend on different advertising campaigns and platforms to the return that they are giving you.
Don't rely on vanity metrics, like traffic…you need conversions/sales to build a sustainable and profitable business.
If you've got data from a recent marketing campaign that didn't quite meet your expectations, then analyze the performance of specific channels. Eliminate the culprit and double-down on the winner.
Here's a simple ROI formula that you can employ:
(Sales Growth – Marketing Spend) / Marketing Spend
Occasionally, you might find that your ROI isn't as simple as direct revenue from your viral marketing efforts. For example, Contently thinks of content marketing in terms of a series of concentric rings. And, they believe in calculating ROI from "inside out."
If you're willing to get into more technical ROI analytics, then Marketo has compiled 5 strategies here.
It's also important to think of both short-term and long-term ROI from your viral marketing campaigns. I previously shared how content marketing and SEO can take anywhere between 6-9 months before they start to pay you back.
Sam Slaughter from Contently shared how they brought in $82,000 in revenue from their content marketing efforts (at 7.3x ROI). But, they have been in the content game for a while.
For a company that's just getting started with online marketing, it's important to add PPC advertising and remarketing to the marketing mix.
They are investment intensive, but give immediate and effective results. If you get a positive ROI (which is easily measurable in paid marketing), then you can invest back in long-term marketing campaigns.
Do you see how, over time, you can fund your marketing campaigns by themselves?
Leverage your collected data to analyze your micro conversions
Do all of your visitors immediately press the buy button on your website during their first visit?
That's not how people buy.
But, many companies invest in viral marketing campaigns (especially content marketing) thinking this way:
Here's how it actually works:
A prospect comes to know about your brand, while searching for some information. Then, he visits your website multiple times and builds a relationship with your brand. Once he trusts you as a value-adding source, he might consider buying from you.
That's what the conversion funnel is all about.
Since the customer follows a journey on your website prior to the purchase:
Doesn't it make sense to measure the in-between steps of the journey?
That's what micro-conversions are all about.
Depending on the nature of your business and the elements in your marketing strategy…
You can measure one or more of the following activities that your customer base engages in before converting.
Email signups
PDF downloads
Account creation
Product added to cart
Visiting multiple pages in a single session
Google Analytics provides you with the option to create 3 types of goals: destination URL, event based and engagement. Justin Cutroni breaks down these different goals in the video below.
If you've got data about your micro-conversions, you can identify the places on your website to improve your user experience.
Let me share an example.
Photo publishing media site, Photonatura.org, had a conversion rate of 1.72% – which is pretty decent.
But, instead of using this single metric for measuring his website's performance…the founder, Fernando, was also keen on tracking the micro-conversions.
So, he has set 4 goals for getting a complete picture of how his visitors are behaving. These four goals tell him:
New registrations on the website
The number of users that publish a new photo
The users that end up buying (probably) a premium account
People that have signed up for the website's newsletter
See how Fernando gets a good grasp of his website's UX?
If you're an eCommerce media site owner, then your micro-conversion goals can look like this:
Get it?
An important aspect to remember is that your micro-conversions don't need to lead up to the macro-conversion. They can be subordinate to your major goal, but give you a good idea if you're treating your visitors well.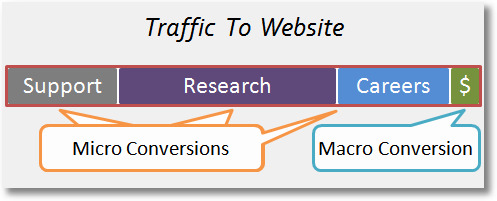 Further, you can analyze and assign a monetary value to your micro-conversions. For example, Matthew Woodward has found that every email subscriber is worth $17.81 over 3 months.
Avinash Kaushik shows you how to calculate these types of economic values in this post.
In your failed marketing campaigns, you can get a sense of whether or not you're moving in the right direction, by measuring your micro-conversions.
Ran a new PPC campaign that didn't get expected results?
Then, check if your form fields are intimidating.
Getting a lot clicks on your ad, but none goes far?
Then, look at the average session duration (available when you link your AdWords account with Google Analytics).

See how the second media campaign is deriving low-quality traffic that's spending 16 seconds on this website?
It's time to stop this advertising campaign.
Get back to the basics by asking these three questions
It's the cold hard truth:
Most marketers mess up with basic strategy.
I want to help you avoid these mistakes. Here are 3 questions you need to answer.
1. Did you document your viral marketing strategy?
It makes perfect sense. Everyone knows about it. Yet, most marketers aren't ready to put in the work. Only 35% of marketers said that they have documented their content marketing strategy.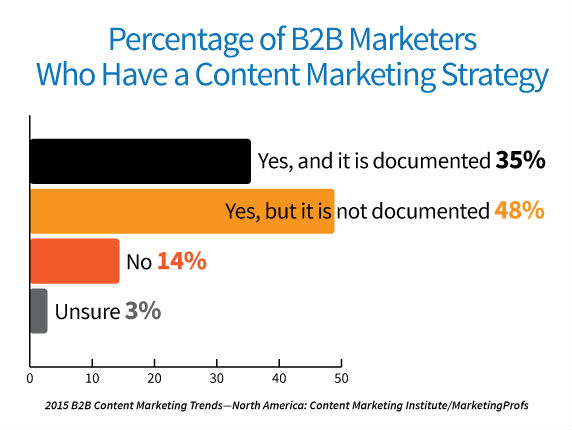 And, it's not a surprise that among the content marketers that have a verbal strategy, only 32% consider themselves to be effective. Compare that with the 60% of B2B marketers who have documented their strategy and consider themselves effective.
Without writing down a plan to achieve your realistically set goals, you'll most likely slip in your media marketing efforts.
Do yourself a favor :
Write down how you plan to achieve your media marketing goals. List the key performance indicators (KPIs) that you'll check at the end of every month to measure your progress.
2. Have you let the advertising campaign run for sufficient amount of time?
It takes time.
Period.
Don't plan a quarterly spend on your inbound media marketing campaigns. They will need about a year to actually give you a return.
Until then, you'll want to budget for the money that you're probably going to lose in the short-term. Simultaneously, invest in PPC and other advertising, to get business results quickly.
3. Are your media marketing and sales teams on the same page?
These two departments need to work together for higher profitability of your business. They need to communicate and better inform each other with the insights they personally gather.
Karen Newcombe shows you how the two funnels actually relate with each other.
Conclusion
When running a business, you need to have a thick skin. Emotionally-charged decisions won't make your business profitable.
It's okay if you failed at a marketing campaign. Most successful businesses do. But, they don't let the data from these campaigns slip through the cracks.
In this article, I've shown you actionable strategies to make the most of your failed media campaigns. It's up to you to make the most of them.
What kind of insights have you drawn from failed media marketing campaigns? I would love to hear about them in the comments below.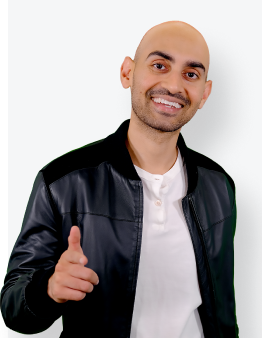 See How My Agency Can Drive More Traffic to Your Website
SEO - unlock more SEO traffic. See real results.
Content Marketing - our team creates epic content that will get shared, get links, and attract traffic.
Paid Media - effective paid strategies with clear ROI.
Are You Using Google Ads? Try Our FREE Ads Grader!
Stop wasting money and unlock the hidden potential of your advertising.
Discover the power of intentional advertising.
Reach your ideal target audience.
Maximize ad spend efficiency.