PPC advertising is a brilliant way to get leads for your B2B business.
But, it's not the easiest thing in the world to get right.
In fact, you might find that while PPC advertising is driving revenue, the majority of your leads are actually wasting your time and money.
If you find yourself in a situation like this, it's important to figure out how you can improve the quality of your B2B PPC leads, so that you can generate a higher ROI and reduce wasted time and financial cost.
In this article, we're going to take a look at how you achieve this and improve the overall quality of your B2B PPC leads.
We'll go through how you can analyze each stage of a PPC marketing campaign, so that you can find things that need to be changed, in order to produce better results.
By the end of this post, you'll understand why your lead quality is so poor and what needs to be done to turn things around.
Let's begin!
Be very clear on who your customer is
For most people who are running PPC campaigns, be it B2B or B2C, the main cause of poor leads/sales is improper targeting.
Now, there are a lot ways that you can improve targeting, using all of the fancy features that are provided by the PPC platforms of today.
However, the main thing that you need to be sure of is that you know who your end customer is.
If you don't know who your customer is, then your targeting mistakes are going to affect a lot of the other downstream aspects of your campaign.
So, review your data and understand who, exactly, you're trying to turn into a customer.
It can be a good idea to develop a Buyer Persona.
With this Buyer Persona, you'll be able to develop a portrait of your ideal customer.
You can then use the information you gather to better target your campaign, so that the right people see your ads.
You can also use the information to write better copy within your ads and landing pages.
When you're creating a Buyer Persona for a B2B PPC campaign, it can also help to add a few additional details that you might not otherwise find in a traditional Buyer Persona.
You can use this information to better define your targeting on different ad platforms.
For example, think about the keywords that these people might type into Google Search, when they're looking to engage with a business like yours. Also, think about the websites that they enjoy visiting.
This is helpful for AdWord Search campaigns and Display campaigns.
Another facet to add to your Buyer Persona are the interests of your ideal customer. Consider what companies, individuals, products and publications influence them.
This is helpful for Facebook campaigns.
It's also a good idea to think about what kind of companies your ideal customers work in. What is the average size of the company, what is their job title, what sector are they in and what skills do they have?
This information is good to know for LinkedIn campaigns.
If you develop the above, you'll eventually begin to find that you have a very clear idea of who your ads need to be shown to.
If more of the right people are seeing your ads, then, naturally, there is an increased chance of your ads performing very well.
This is because the ads are more relevant to the people that they're being served to, so more of the right people will engage – improving lead quality.
Do people understand your product?
This is a key point that you'll need to take into account, especially if you're conducting B2B sales.
For some B2B companies, the issue is that they have a solution/product that will obviously benefit the end customer.  But, they're not taking the time to educate the customer as to why they need the solution in the first place.
In some cases, your ideal customer isn't yet aware of the benefits that your product provides or how your offer can be implemented into their business.
Therefore, they're unlikely to engage, right off the bat, with an ad that markets features and end results.
For example, say you're selling a solution for businesses that helps them establish what is known as a 'paperless office'.
Though some businesses are aware of the general benefits of having a paperless office, it's arguable that many might not be aware of exactly how the concept applies to them and their business.
Therefore, you'll first need to educate people, by letting them know the 'why' and 'how' behind your offering.
Why does moving over to a paperless office matter?
Why should someone invest in a solution like yours?
How will it save them time and money?
What are common issues and how does your business address these issues
What have other businesses experienced, as a result of making this change?
You can use blog posts/customer testimonials/case studies/videos/webinars to deliver this education.
This why it can be a good idea to combine Content Marketing and PPC advertising.
Marketing to potential customers this way is often known as 'top of the funnel' marketing.
Because people move through your funnel (or start at different stages), you're going to target them with different types of content and even different ads, depending on their current stage.
For the most part, here's a rough example of how your PPC ad might change, depending on the goals of your ad.
If you're looking to sell people right away, then your ad copy might look like the following.
Easy to Implement Paperless Office Solution
Affordable cost, Great customer support and 100% money back guarantee
But, if you're working on educating customers who are at the 'top of the funnel,' so that they can understand why they have a need for your offering, your ad will look more like these…
Guide: How to Cut Printing costs by 50% and Maintain a Clear Paper Trail
Learn how your business can cut printing costs by 50% while tracking
each and every document.
Case Study: How This Company Reduced Paper Costs by 50% – While Cutting Energy Bills
The cost slashing journey made by one business to become paperless
and more eco-friendly. Interviews with real business owners inside.
You can see the difference between an ad that is designed to sell people on the product right away and an ad that is designed to educate people so that they develop an interest in your offering.
Here are some similar examples that came up when I typed in 'big data.'
As you can see, many of these ads are designed to educate, rather than sell right off the bat.
If you find that your current ads aren't generating many quality leads that interested in what you have to offer or that they're not aware of how your business can help, the above points can help.
If you place more focus on educating those who click on your ads,  your leads will be better qualified when they do get in touch with you, because they'll already be aware of the benefits.
This method, of course, helps to generate more leads, as well as improving lead quality.
This is because you're now making even more businesses aware of why they need your solution, rather than just reaching those that are actively looking for it.
Make use of different forms of advertising
Another key step that you'll want to take is to make sure that you're creating different forms of advertising.
Now, there is a caveat here.
Format, isn't really the issue. I'm not saying that you should just go out and create video ads and traditional Search PPC ads.
I'm talking about making use of the advanced features afforded to you by the platform that you're using.
So, if you're using AdWords or Facebook, a typical example of this is remarketing/retargeting.
For example, if you're using AdWords, then remarketing can help you to reach past website visitors in all manner of ways.
You can reach them in the search listings, using remarketing lists for search ads.
Or, you can reach them on other websites, using display remarketing.
You've probably read that remarketing is a good way to encourage someone to buy something that they didn't buy the first time around.
However, with B2B PPC, remarketing can also be a good way to move people further into the funnel.
So, for example, imagine someone goes to your blog and reads a piece of educational content that highlights why they have a certain need for one of your services.
You can then create a remarketing ad for these people that asks them to book a call or download a whitepaper/case study that is more detailed and interesting.
Here's an example of how that can be done for a phone appointment.
The process of 'content remarketing,' is indicated by the graphic below.
When these leads engage with your offer, they're arguably higher quality, because they're more qualified while also being familiar with your brand and expertise.
Another option is to make use of 'audience matching' features that are provided by PPC platforms.
On Facebook, this includes the option of Lookalike Audiences and, on AdWords, this includes Similar Audiences.
When you use these forms of targeting, you'll ensure that your ads are shown to people who are more likely to convert.
This takes a lot of the headache out of the nitty-gritty of targeting your ads.
As long as you're giving the platforms a representative base audience, you should find that the leads generated using such targeting methods are higher quality.
Reviewing your landing pages
If you're using lead generating landing pages, you probably already know that they can also have a massive impact on the quality of your leads.
When optimizing your landing page to improve the quality of your leads, you might not necessarily improve the quantity of your leads.
The reason for this is simple.  When optimizing for quality, you want to make sure that the right people are entering the details into your landing pages – as opposed to just attempting to get more people to enter their details.
Therefore, one thing that you can do to improve lead quality is make sure that you're using the right number of form fields.
Take a look at this landing page, from Salesforce.
Also, take a look at this one, from LinkedIn.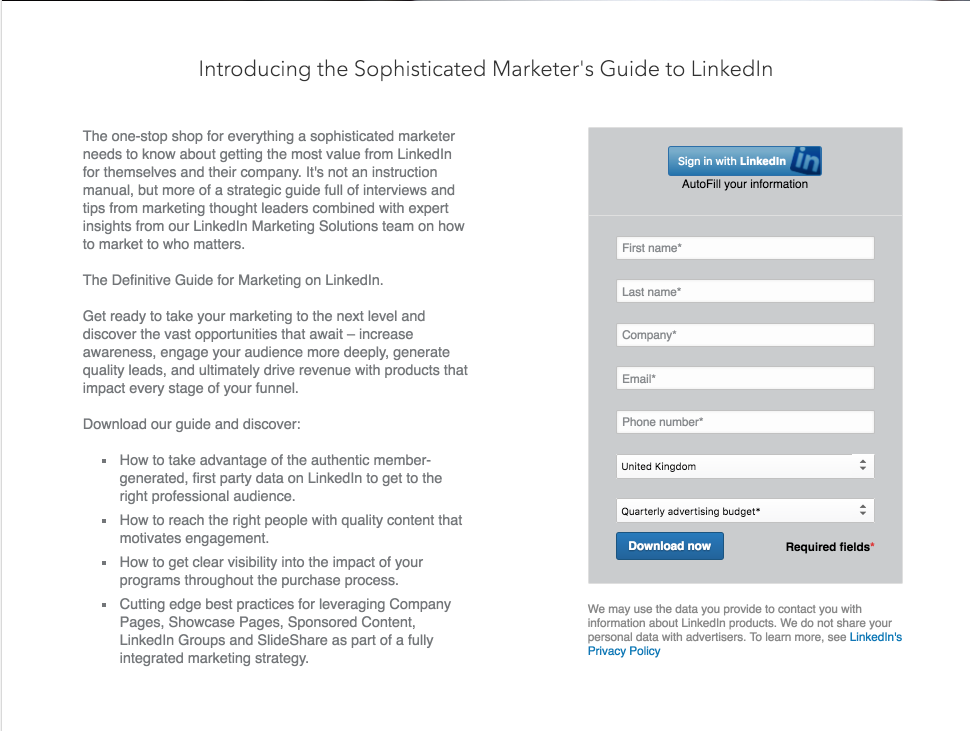 You might be thinking that these companies could probably raise conversions, by reducing the number of form fields.
And while you're probably right, it's also worth noting that the increase in landing page conversions might not necessarily equate to more sales.
The people that fill out all of these fields are invariably higher quality leads.  They signal this with the time and effort that they've spent to fill out all of these fields.
On top of that, these companies can also better help these leads and provide them with better forms of content, because they know more about each lead.
Filtering out ultra-high quality leads is also easier. LinkedIn knows that their best prospects will be those who have higher advertising budgets, for example.
This, therefore, can be used to help improve the odds of a lead converting, later on down the line.
So, if your current landing page only has two or three form fields – consider adding more. Ensure that these form fields help separate high value leads from low value leads.  This will most likely reduce your lead form submissions total, but improve the quality of each lead.
It's also important that you don't 'dumb down' your landing page.
If your target audience uses technical language, make sure that you use this language on your landing page.
This will entice the high quality leads to enter their information.
Additionally, make sure that you build custom landing pages for each ad that you create.
This will help improve conversions, as those clicking on your ads will each be given a customized experience.
Here's how Optimizely executed this strategy.
This is what their approach looked like before they started building custom landing pages:
And, this is how it looked after: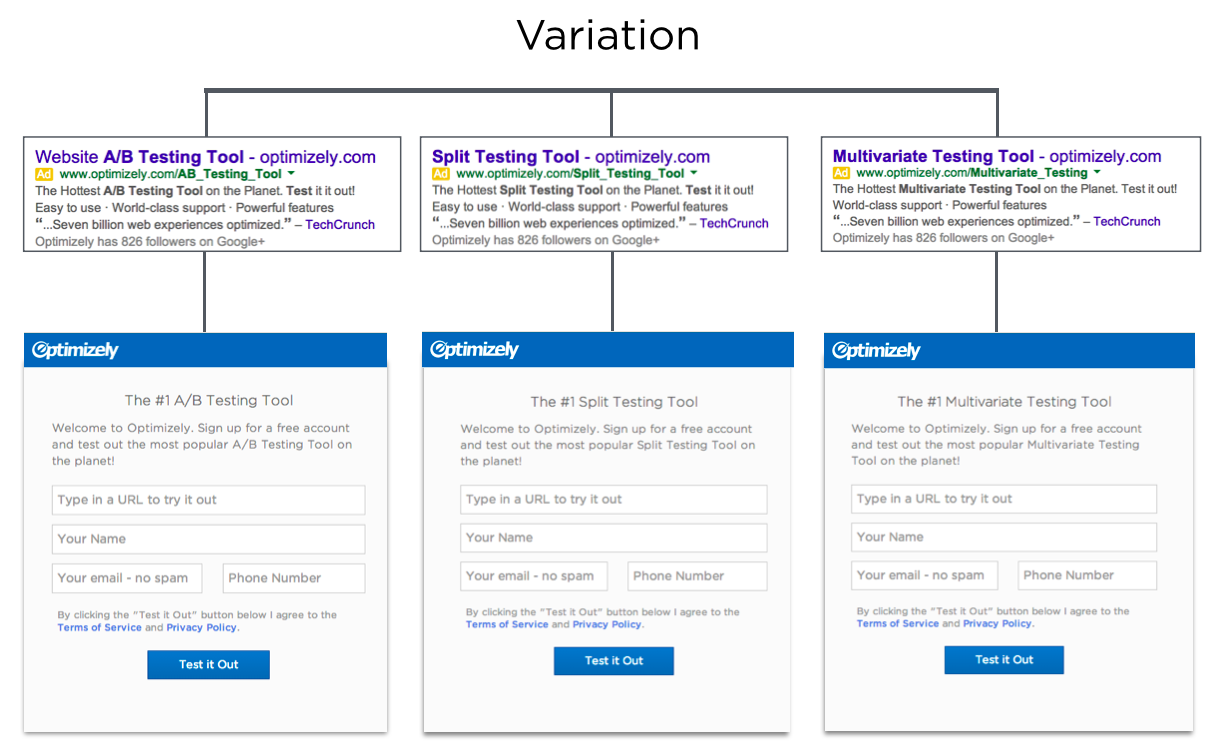 This change led to an increase in conversions by 16.99%.
Though this relates to driving more leads, it will also lead to more quality leads, if you do it in conjunction with the tips that I shared earlier in this post.
Make sure you're bidding enough
There's not much to say here, except that you need to make sure that you're bidding enough for your ads.
If you think that you have everything covered, but your ads are still producing low quality leads, it might be that you're attracting low quality leads with your low bids.
Raise your bids to the top end of the recommended figure that's provided by the PPC platform and give things a week or two.
If you notice that there is still nothing changing, you'll most likely need to revisit the drawing board and review your targeting.
Conclusion
Understanding how to improve lead quality for a B2B PPC campaign isn't always obvious.
Yet, there are some simple steps that you can take to figure out how you can change things for the better
You can, for example, review your targeting. Or, you could create different ads for different stages of the buyer's journey. You might even want to consider bidding higher for your ads.
I've covered plenty of tips that you can take action on in this blog post.
All you need to do now is to take action!
Do you have any tips that you can share, when it comes to generating higher quality leads from a B2B PPC campaign? Let me know in the comments!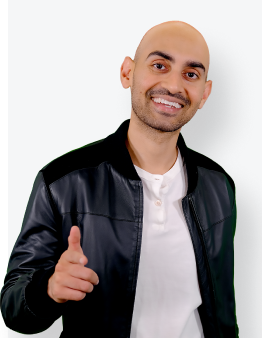 See How My Agency Can Drive More Traffic to Your Website
SEO - unlock more SEO traffic. See real results.
Content Marketing - our team creates epic content that will get shared, get links, and attract traffic.
Paid Media - effective paid strategies with clear ROI.